The International Arena at Wellington International once again welcomed hunter and equitation competitors for the third week of the 2023 Spring Series, presented by Florida Coast Equipment. Riding Cayman and Calutano, Lanie Wimberly reigned supreme on Friday, dominating both sections of the California-split $10,000 USHJA National Hunter Derby "Hunt and Go", presented by the Bainbridge Companies.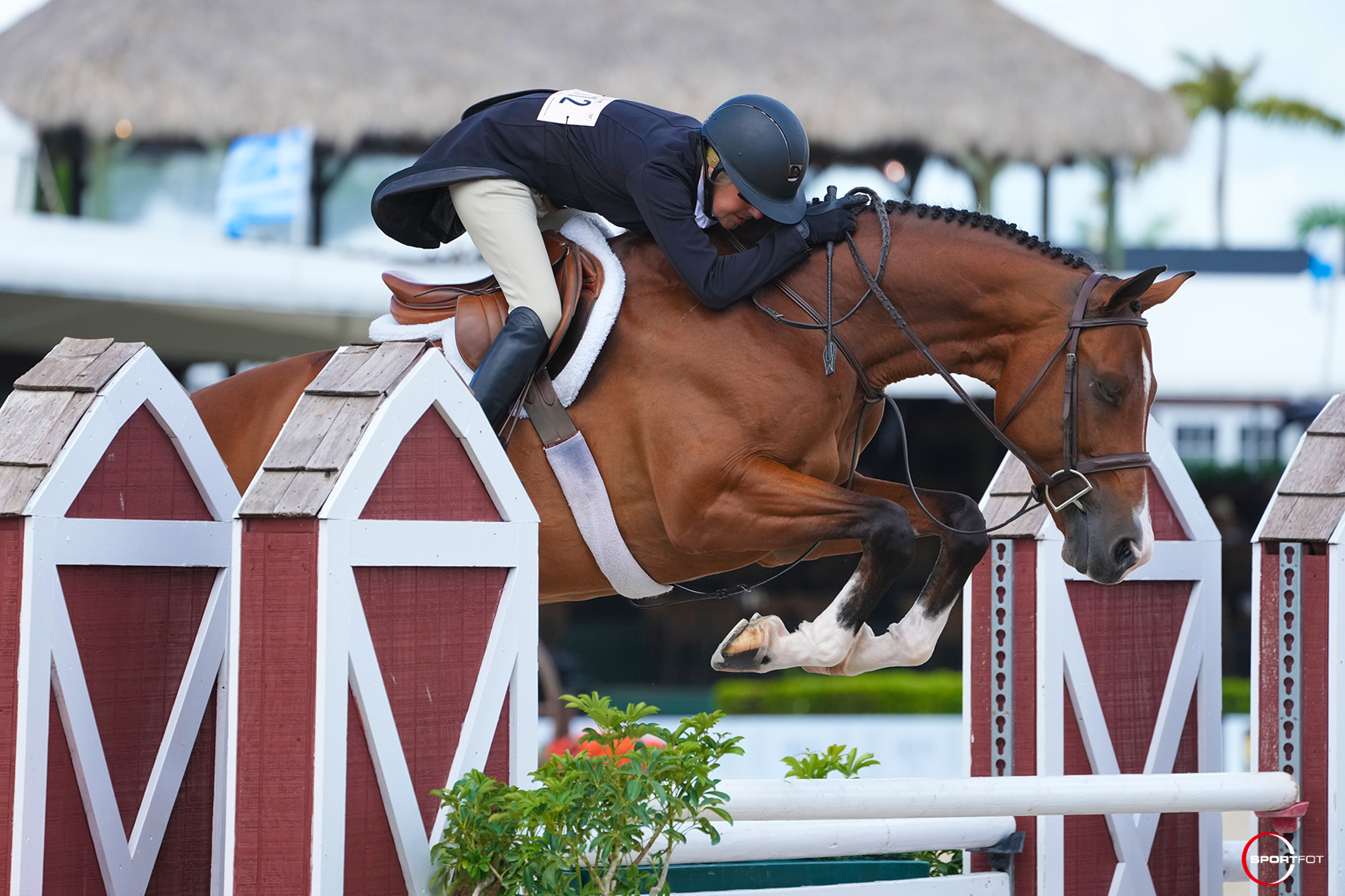 Wimberly of Ridgefield, CT, was thrilled after her winning rounds and said, "This is definitely the highlight of my season here in Wellington. Earlier this year, I won the Hunter Style Award with Cayman, which was really special, but winning both sections of a derby in the International Arena is certainly a feather in my cap, and I feel really proud of my horses."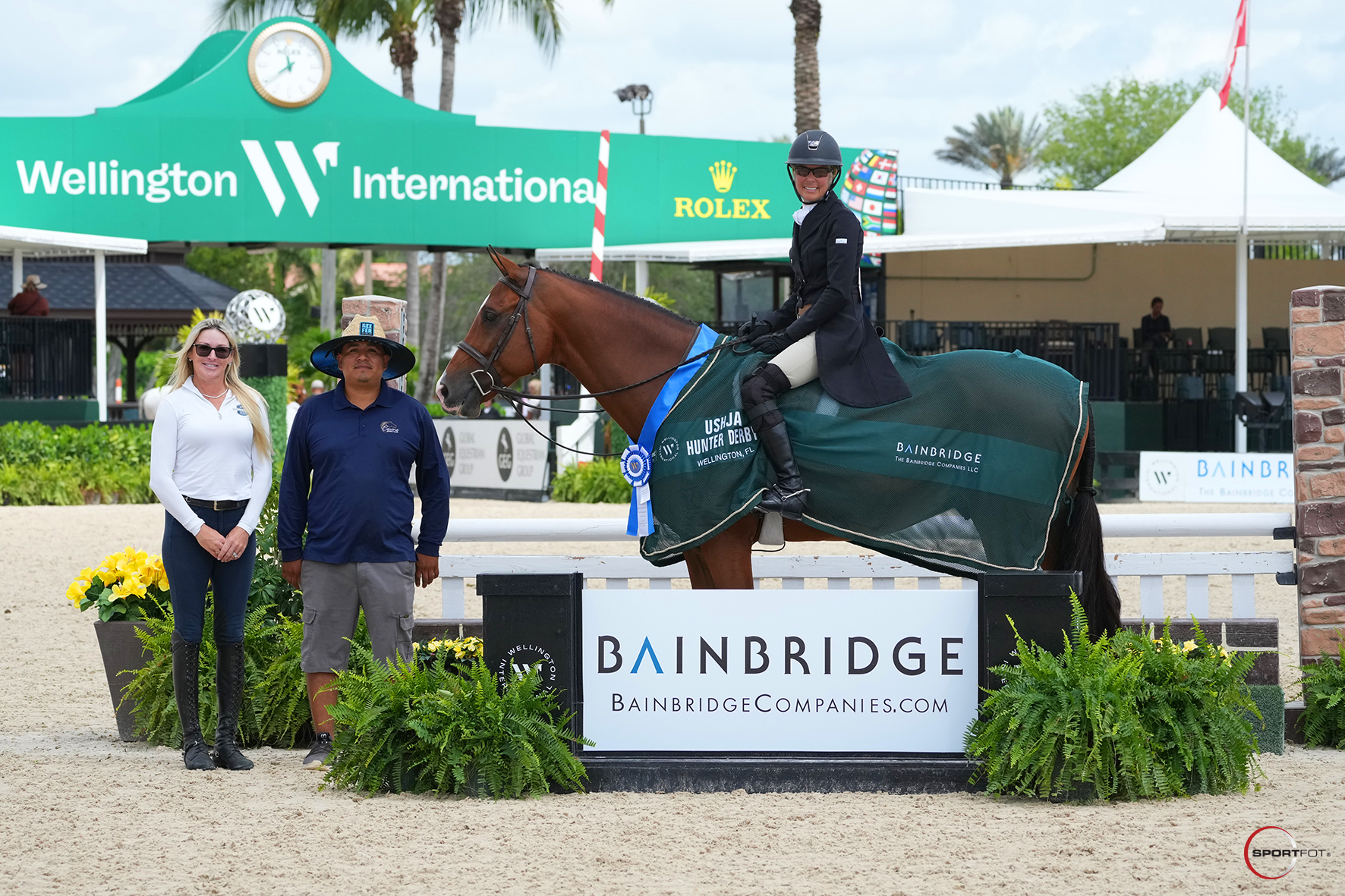 Wimberly has been working with both horses since November, sharing, "They're very easy and kind, and they want to please. Calutano is what you think of as your quintessential derby horse. He's very straightforward, has a lovely canter, easy to see a distance on, and is super handy. He's also easy to get to the ring because he doesn't require any prep, which is very unusual. Cayman, on the other hand, did a lot of jumper classes in Europe before he was imported here a few years ago. I challenged him today by doing some of the handier turns and he performed beautifully and stepped up to the plate. I'm thrilled with both of my horses, and I've been very lucky to be able to bring them along."
The competitive class saw 45 entries step into the ring, all searching for brilliantly smooth rounds and fitting scores to follow over Robert McGregor's flowing course. The best two scores of the class – a 184.5 and a 180 – were posted by Wimberly's mounts, Cayman and Calutano, who are both owned by Laurie Stevens. Wimberly and Cayman posted the highest overall tallies thanks to two high scores of 90.5 and a 94 over the two phases of the track, while she and Calutano posted a consistent round for scores of an 88 and a 92 to claim the blue ribbon in Section B.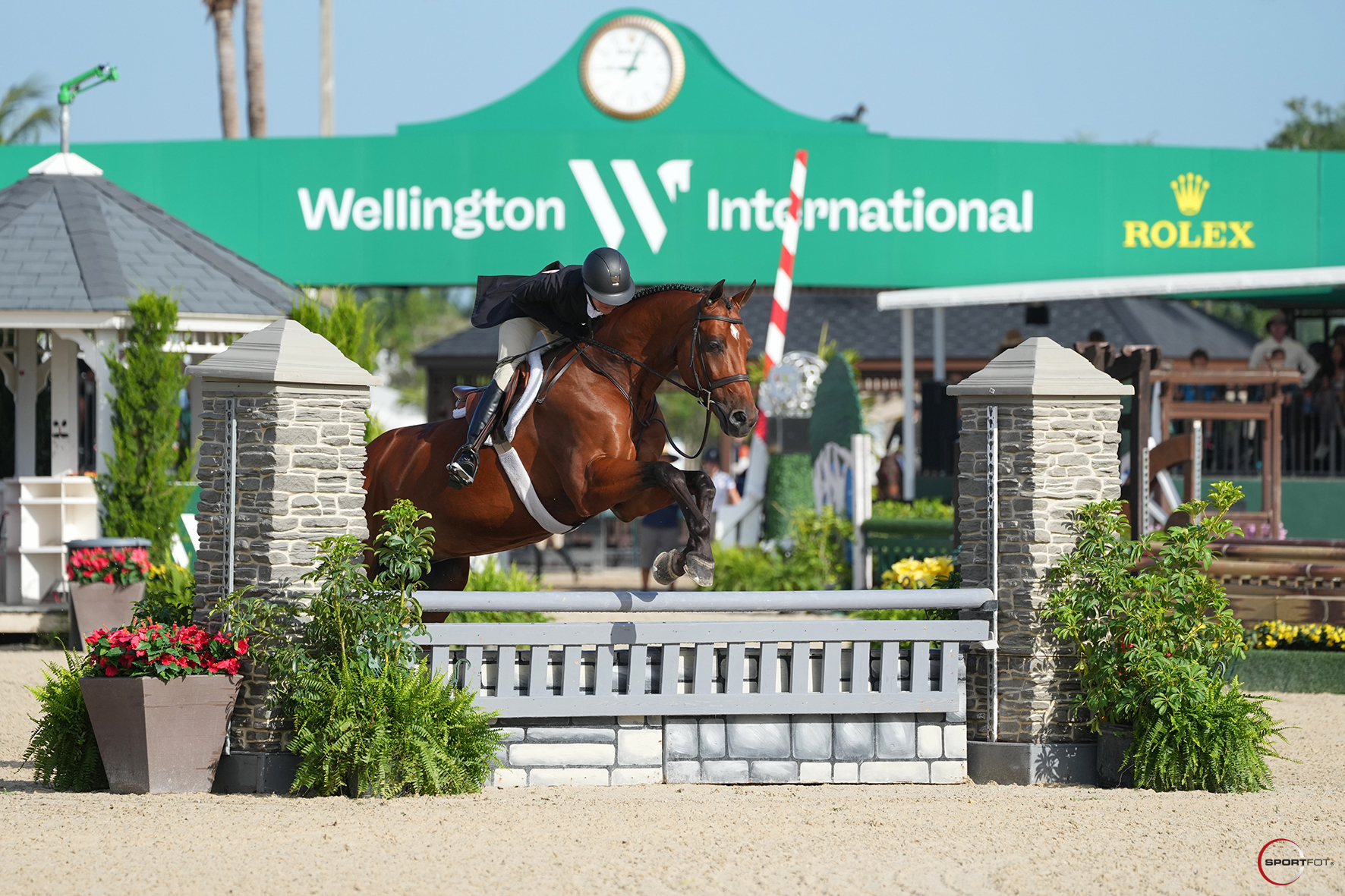 Reserve honors were shared by Jennifer Bliss of Wellington, FL, and Geoffrey Hesslink of Shelbourne, VT. Bliss piloted Harris Hill Farm's Poker Face to a total score of 179.5, while Hesslink and Sandstone, owned by Sara Hogan, finished with a score of 177.5. Bliss also claimed a third-place finish with 176 points in Section B with Flight for Dandelion Farm. Jennifer Hannah of Wakefield, RI, rounded out the podium for Section A after earning a score of 177 aboard Kate Ellis' Swing Easy.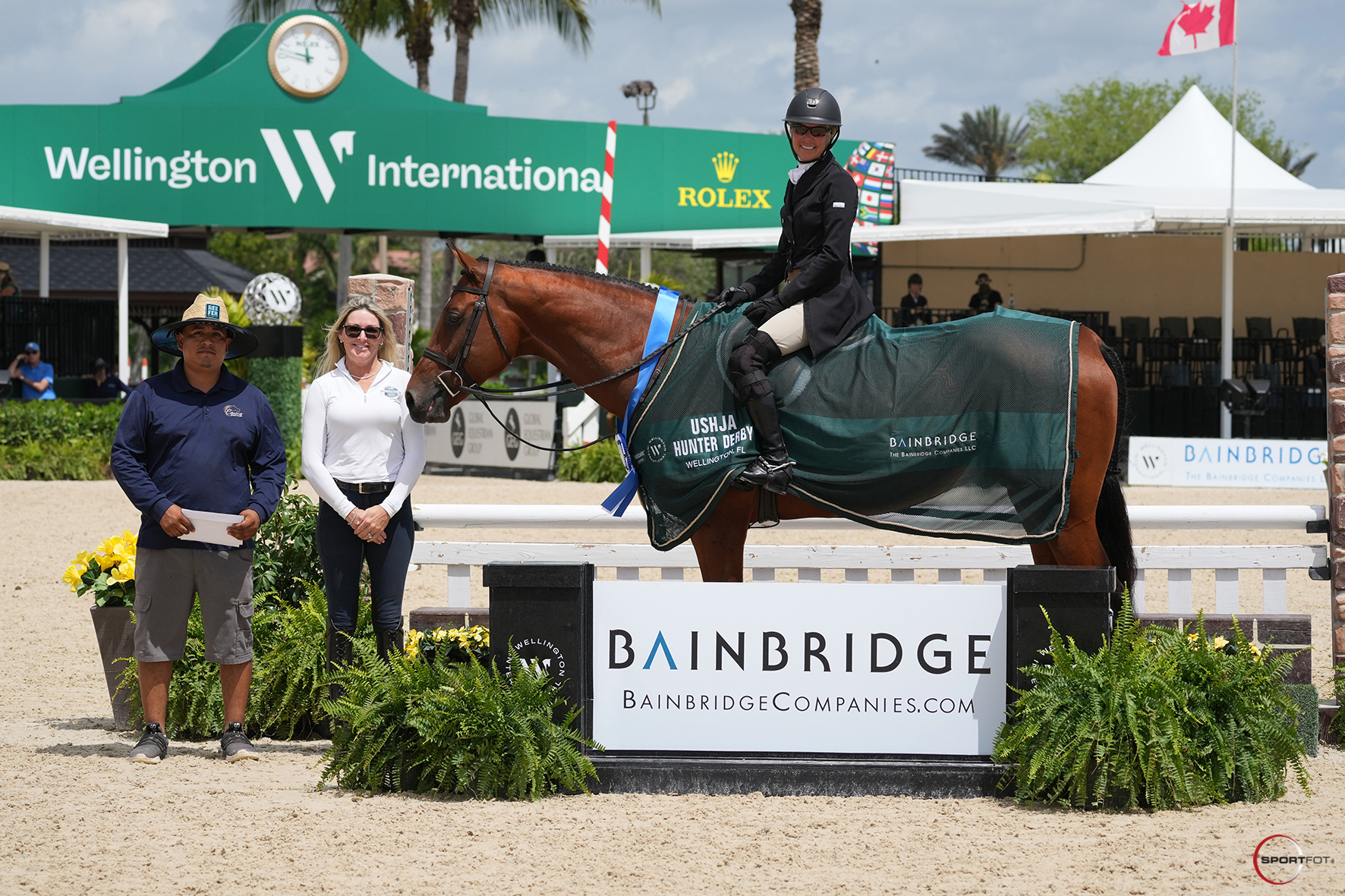 Later in the day, the E.R. Mische Grand Hunter Ring hosted the SAS Equestrian 2'6"/2'9" Hunter Derby. Juniors, amateurs, and professionals alike navigated the two rounds, which were designed by Jasen Shelley. Ultimately, Abby Stearns of Wellington, FL, was awarded top honors with Purple Lane Farm's High Limit after posting consistent rounds from the opening and handy tracks for scores of 86 and 88. Riding Kelly Labrecque's NVF Pegasus, Elizabeth Carreiro of Mansfield, MA, earned second place with 166.5 points, while Kate Ellis of Weston, MA, rode her own Condor to a score of 165 and a third-place finish.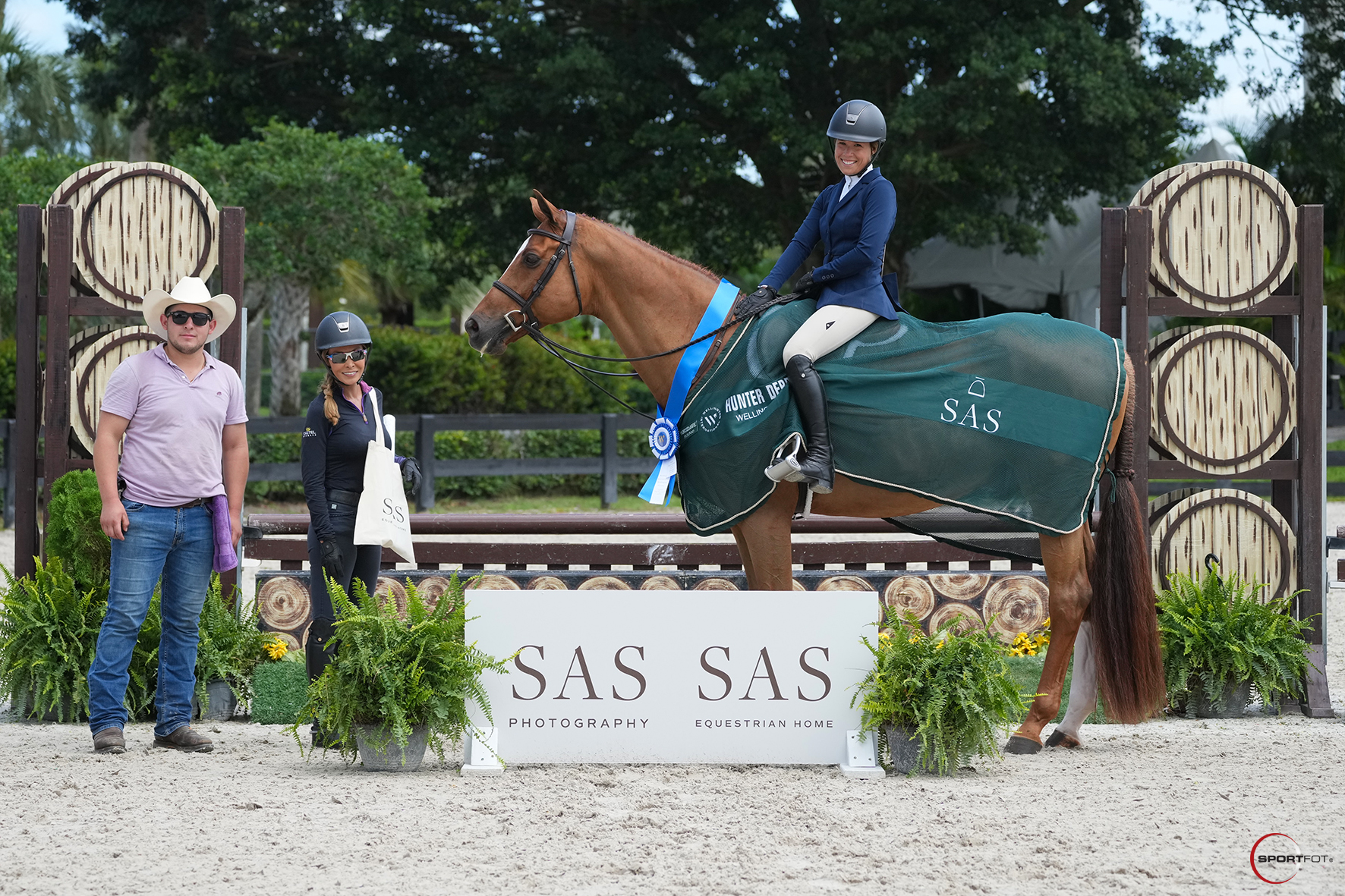 Spring III will continue through Sunday, April 23, culminating with the $146,000 Palm Beach County Sports Commission CSI3* Grand Prix. There will be a week-long break before the fourth and fifth weeks of the Spring Series, which will both feature National "A" and Jumper 4* competition.