Welcome to Wellington International
Wellington International is open to visitors from January through March. General admission is free from 9 a.m. until 5 p.m. (competition times may vary) Wednesday - Sunday. Visitors can expect exciting competition, shopping, dining and more!
About Us
Wellington International is the home of the internationally recognized Winter Equestrian Festival (WEF) in addition to 28 weeks of the Annual Series horse shows. WEF came to Wellington in 1974 and boasts more than 111 acres, 18 competition arenas, over 400 permanent equine stalls, horse trails, pedestrian paths, and golf cart tracks. This award-winning venue operates the world's largest and longest-running hunter/jumper horse show while annually welcoming thousands of riders from 50 states and over 34 countries. In addition to equestrian sporting events, Wellington International offers VIP, hospitality, event spaces, world-class shopping and much more!  With the support of their parent company, the Global Equestrian Group (GEG), Wellington International is focused on the future of equestrian sport better to serve exhibitors, stakeholders, and the community.
Saturday Night Lights
We host Saturday Night Lights from January through March, where you can watch the highest level of show jumping competition. General admission is free, and parking is $20 per car. Our doors open at 6 p.m. and the show starts at 7 p.m. This event is family-friendly! Visitors can expect a live band, face painting, games, pony rides, a petting zoo, a magician, and more for free each week!
To learn more about Saturday Night Lights, visit here. 
Wellington  International hosts hunter/jumper horse shows year-round. Our biggest show is the Winter Equestrian Festival (WEF), which runs from January through April. For specific show dates, please click here for our list of upcoming events and join us on Facebook for current information on our shows, themed events and live updates as they happen. If you've never been to a horse show, our Horse Show 101 page is also helpful for learning about the competition you'll be watching!
Admission to our horse shows and events is free and no tickets are required. We hope you'll bring the whole family or a car full of friends! Parking is free for our daytime horse shows and daytime valet is available for $15.
Our Saturday Night Lights Grand Prix show jumping events during WEF are also free, with just a $20 charge per car-load for parking. Free off-site parking for Saturday night is available at the Equestrian Village facility across the street at 13500 South Shore Blvd., with a free shuttle to Wellington International. For more information on Saturday Night Lights, click here.
Wellington International is located conveniently at 3400 Equestrian Club Drive, Wellington, FL, 33414. For a map and detailed directions, please click here.
Our hunter/jumper shows run Wednesday through Sunday, starting at 8 a.m. and winding down in the late afternoon. We recommend arriving mid-to-late morning and staying through the afternoon to catch the height of our show jumping events and other classes. This allows time to browse our many shops and equestrian vendors and enjoy lunch in a relaxed, comfortable atmosphere. For information on our Saturday Night Lights show jumping during WEF, visit this page.
Horse shows at Wellington International are casual outdoor events. We recommend sensible walking shoes so that you are comfortable while exploring the showgrounds. If you've never been to a horse show before, we recommend visiting our Horse Show 101 guide to learn about some sights, competition and fun you'll experience at Wellington International!
All of our events are rain or shine —some of the most exciting jumping competition is in the rain! We only cancel or postpone a competition if the weather is severe to the point of risking anyone's safety. We will post on Facebook and our website for major events such as Saturday Night Lights if there are last-minute cancellations, postponements, or other changes.
Bring the whole family! Kids will enjoy walking the grounds and seeing hundreds of beautiful horses up close. Wellington International is the perfect place to begin your love affair with the equestrian sport! Our Saturday Night Lights events are also great for children and feature activities such as face painting, circus performers, dance contests, t-shirt tosses, petting zoos, pony rides, free riders on the Venetian carousel and lively music! For more information on Saturday Night Lights Grand Prix events, click here.
Come hungry! Our food vendors are open during our horse shows and boast a diverse range of affordable dining options. Whether you've planned a Saturday night out with the kids or lunch with friends, we have it all!
One of our favorite nights of the week, Saturday Night Lights, is a Grand Prix equestrian event during the Winter Equestrian Festival featuring food, fun, live music, and the highest level of competitive show jumping. For more information, click here.
Unfortunately, no. We are a sporting competition venue and do not offer trail rides. However, on Saturday nights during the Winter Equestrian Festival season, we do offer pony rides for children. 
Wellington International and the National Polo Center offer separate equestrian disciplines and facilities.
Wellington International offers international hunter/jumper competitions and the National Polo Center offers polo competitions. Separate operating companies own each facility.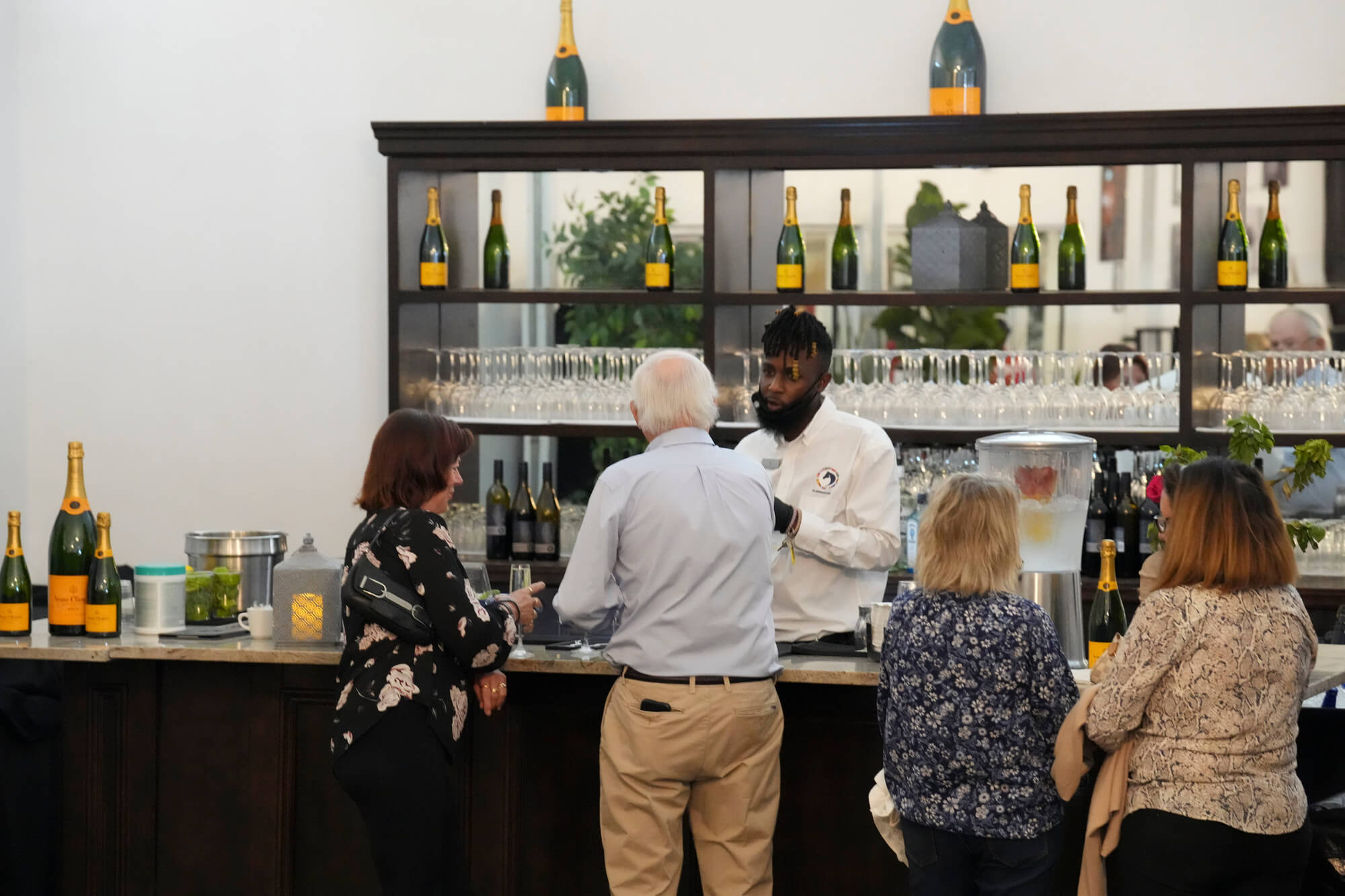 Explore our hospitality options.
Enjoy direct access to exciting competitions, first-class service, and delicious catering.
From the informal Tiki Hut to the exclusive atmosphere in the International Club, there are venues for every individual and group.