Wellington International is one of the world's most recognizable and premier equestrian facilities and hosts the Winter Equestrian Festival and Annual Series horse shows.
Wellington International
Wellington International is considered the most recognizable equestrian sporting venue in the United States. Thanks to the facility, the Village of Wellington in South Florida is known as the "Winter Equestrian Capital of the World." The Winter Equestrian Festival came to Wellington in 1974, made its permanent home at the property in 1989, and has continued its unprecedented growth ever since, along with the entire Village of Wellington and Palm Beach County, to become the pinnacle of equestrian competition throughout North America and beyond.
Equestrian Sport Productions (ESP) operates the show grounds and its events. ESP owns and operates 41 weeks of United States Equestrian Federation (USEF) rated competition. The flagship event is the Winter Equestrian Festival (WEF), but the Annual Series includes Spring, Summer, Fall and Holiday series. 
The main grounds sit on approximately 155 acres and house over 400 permanent stalls, horse trails, pedestrian paths, golf cart tracks, and dedicated shopping and hospitality areas. The 18 arenas with adjoining schooling rings feature state-of-the-art footing. 
The International Arena has VIP box seating, stadium seating, and prime viewing clubs. It is highlighted by the famous Rolex Bridge arching over the in-gate, where horses enter the arena.
Spectator Entrance: 3400 Equestrian Club Drive, Wellington, FL 33414
Competitor Entrance & Administrative Offices: 14440 Pierson Road, Wellington, FL 33414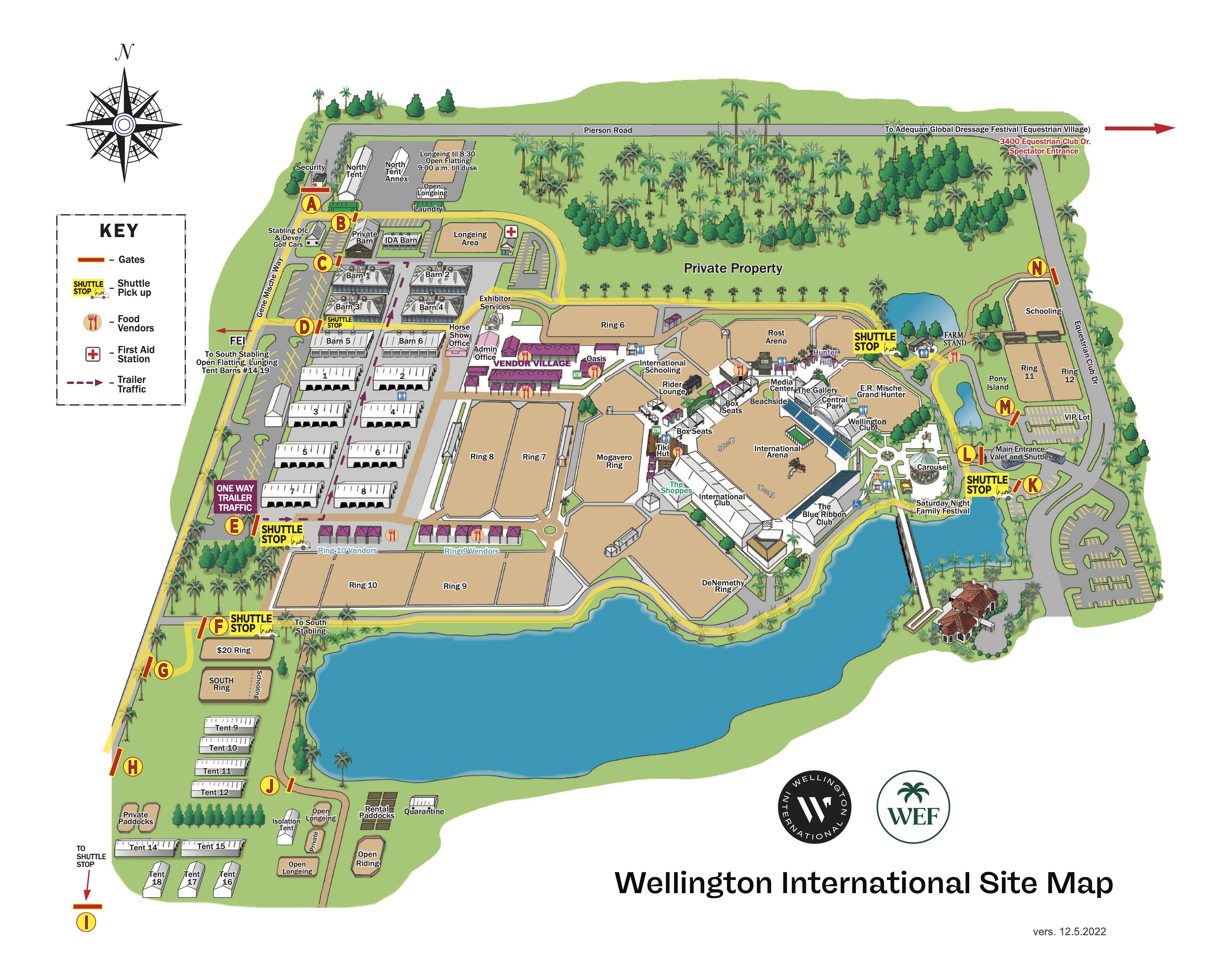 Wellington International Competitor Entrance & Equestrian Sport Productions Administrative Offices:
14440 Pierson Road
Wellington, FL 33414
(561) 793-5867
For directions to the Competitor's Entrance on your mobile device, click here.
Equestrian Village – Home of the Adequan® Global Dressage Festival and the Derby Field
13500 South Shore Blvd.
Wellington, FL 33414
*Please click here for more information or detailed directions to Equestrian Village. 
Wellington, FL, is conveniently located in Palm Beach County, 20 minutes from Palm Beach International Airport (PBI), 45 minutes from Ft. Lauderdale International Airport (FLL) and approximately 1-hour from Miami International Airport (MIA), all offering direct flights from most major cities.