For Immediate Release
Summer Grace and Amanda Picciotto Feitosa for Jennifer Wood Media, Inc.
Wellington, FL – March 24, 2022 – The penultimate week of the Winter Equestrian Festival (WEF) wasted no time delving into its highlight classes on Thursday, March 24, 2022, in the International Arena. The morning kicked off with the $37,000 Douglas Elliman Real Estate 1.45m CSI4* where Nayel Nassar (EGY) reigned supreme with El Conde, owned by Evergate Stables LLC. WEF 11 is sponsored by the Palm Beach County Sports Commission, and runs through Sunday, March 27. WEF concludes with week 12 on March 30-April 3.
Fifty-one horse-and-rider combinations led the way across the speed track, which was designed by Olaf Petersen Jr (GER). There were 19 clear rounds, but it was Nassar and El Conde who jumped to the top roughly halfway through the class and clocked in under 58 seconds to produce a real challenge for the field.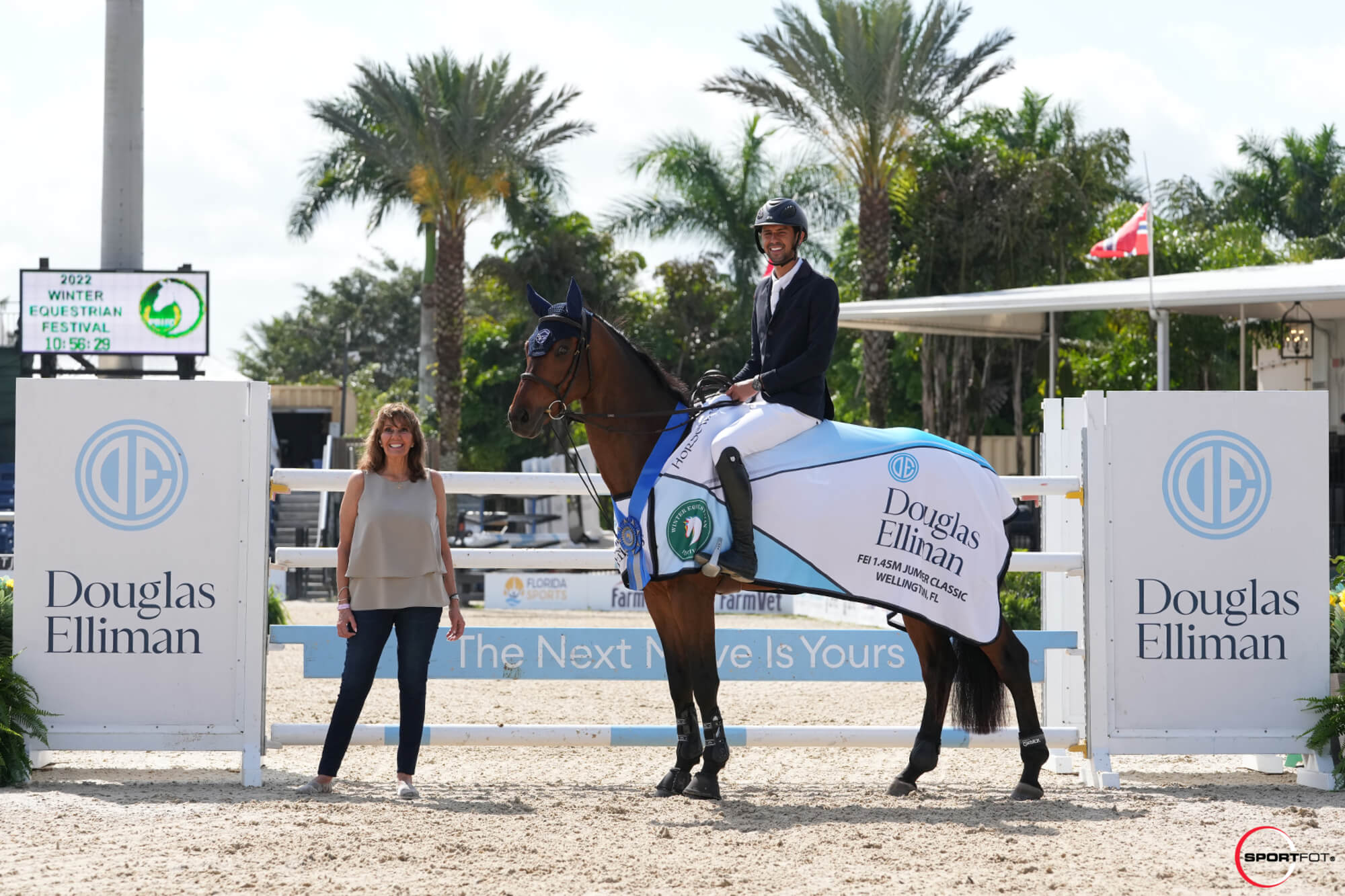 "I have to say, this is a bit of an unexpected win," admitted Nassar. "We were using this as prep for the rest of the week, but he has such a good engine. As long as you turn him on and leave him there, he generally doesn't waste much time. Our goal today was just to set a pace and keep it, but he's such a cool guy he really locks on to the jumps and as soon as you think of a direction, he's going there."
Nassar noticed the 11-year-old SBS gelding (Lord Piana Filou De Muze x Final Shot) in November 2021 but was able to secure the ride at the beginning of February 2022.
"It took us a while to put something together, but I am very glad we were able to acquire him because he is such a cool addition to the team," said Nassar. "He is really a fighter in the ring. He has a lot of character, and he tends to build in the warm-up ring. I was a bit rushed getting on today so I did not have as much time to warm up, and he actually seemed to prefer that because he never got a chance to get his adrenaline boiling. As soon as he goes into the ring though, he knows it's time to perform and he just turns it on."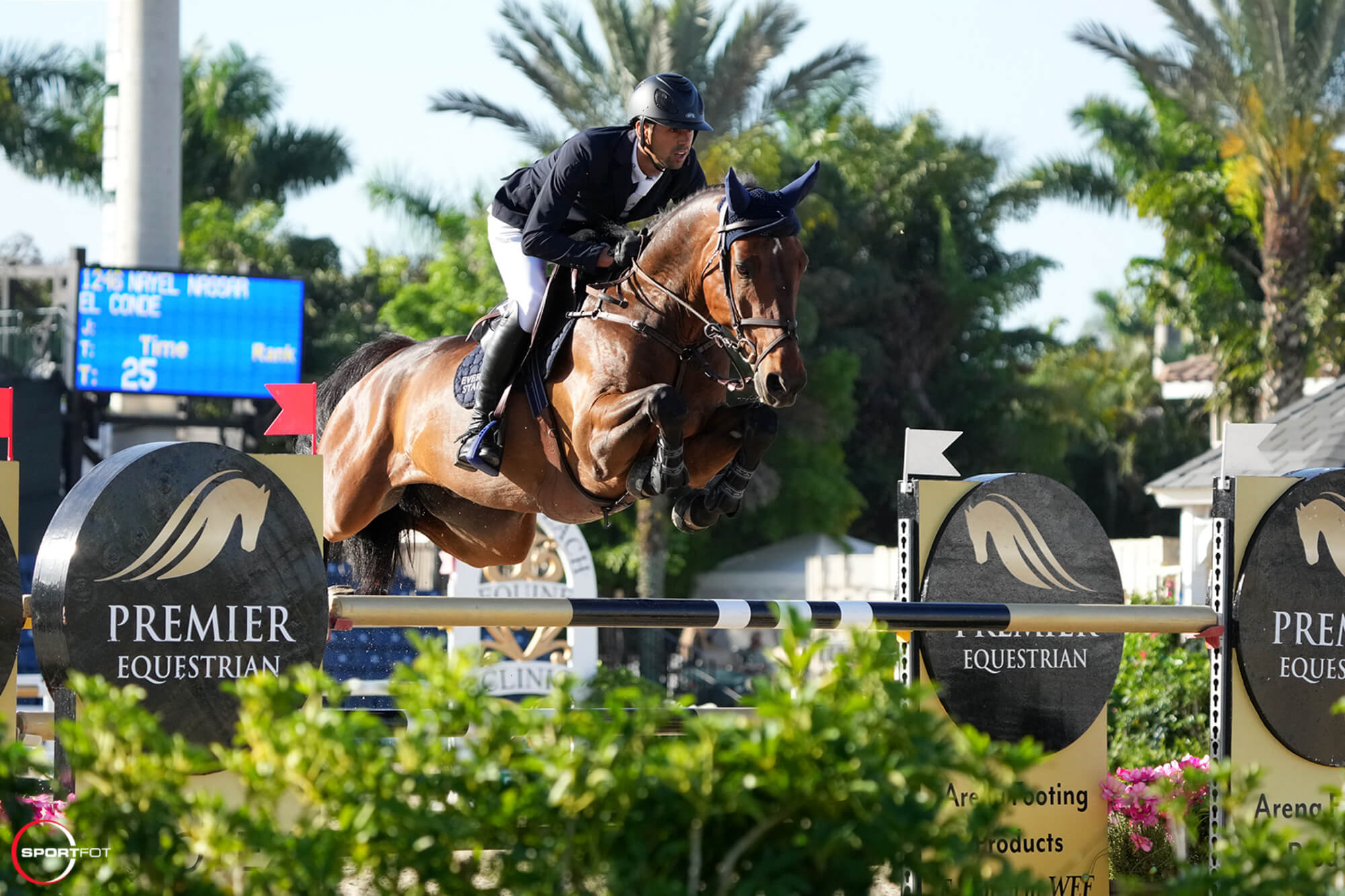 Abdel Saïd (BEL) came the closest to the win to secure second place aboard Bandoit Savoie. Saïd navigated a clear round with a time of 58.03 seconds on his own 11-year-old Selle Francais gelding (Qlassic Bois Margot x Alcamera). Laura Kraut procured the third-place position for the USA with Eugenie Angot's 10-year-old Selle Francais gelding Calgary Tame (Old Chap Tame x Kashmir Van't Schuttershof) by stopping the clock with a final time of 58.55 seconds.
Final Results: $37,000 Douglas Elliman Real Estate 1.45m CSI4* 
1. EL CONDE: 2011 SBS gelding by Lord Piana Filou De Muze x Final ShotNAYEL NASSAR (EGY), Evergate Stables, LLC: 0/57.84
2. BANDIT SAVOIE: 2011 Selle Francais gelding by Qlassic Bois Margot x Alcamera
ABDEL SAID (BEL), Abdel Saïd: 0/58.03
3. CALGARY TAME: 2012 Selle Francais gelding by Old Chap Tame x Kashmir Van't Schuttershof
LAURA KRAUT (USA), Eugenie Angot: 0/58.55
4. DUBLIN: 2007 ZfDP gelding by Cobra 18 x Calido I
JESSICA MENDOZA (GBR), Windsor Farms: 0/58.88
5. CLASSIC PENNY: 2012 Norwegian Warmblood mare
SYDNEY SHULMAN DESIDERIO (ISR), Jill Shulman and Ilan Ferder: 0/59.65
6. CONTHINDER: 2011 OS gelding by Conthargos x Nintender
ANDRZEJ OPLATEK (POL), Gospodarstwo Rolne and Andrzej Oplatek: 0/59.89
7. JASMIEN VD BISSCHOP: 2009 BWP mare by Larino x Chin Chin
DANIEL DEUSSER (GER), Stephex Stables: 0/61.23
8. LAVALLINO TER KLOMP: 2011 BWP stallion by Clearway x Coriano
SHANE SWEETNAM (IRL), Sweet Oak Farm: 0/61.28
9. JACKOFHEARTS: 2012 DWB gelding by Heartbeat x Baloubet du Rouet
MARGIE GOLDSTEIN ENGLE (USA), Gladewinds Partners, LLC: 0/61.69
10. EL BALOU OLD: 2012 OS stallion by Eldorado VD Zeshoek x Balou Du Rouet
DAVID O'BRIEN (IRL), Chansonnette Farm LLC: 0/63.76
11. J'ADORE FLAMENCO: 2012 AA gelding by Je T'Aime Flamenco x Corofino 2
MARIA GABRIELA BRUGAL GASSO (DOM), BG Stables LLC: 0/65.88
12. GREYA: 2014 OS mare by Colestus x Contender
KENT FARRINGTON (USA), Kent Farrington LLC: 0/67.02

Matthew Sampson Charges to the Finish in the $37,000 Beerbaum Stables Grand Prix Qualifier CSI2* 
In the largest class of the day, 89 international pairs crossed under the bridge into the International Arena for the $37,000 Beerbaum Stables Grand Prix Qualifier CSI2*.  Petersen Jr. set a sufficient course to challenge the impressive number of entries. With a tight time-allowed, 12 riders had their hopes dashed by added time to the clock, and another 13 incurred just a single jumping penalty.
Only 11 duos managed to successfully produce a fault-free first round leaving them to contest the day's final jump-off track. As the clear round trailblazer, Laura Chapot (USA) and her long-time partner Chandon Blue were the first to test their skills a second time but would end up settling for seventh place with a downed rail. The top honors eventually landed with Matthew Sampson (GBR) as he landed over the final obstacle thirteen-hundredths of a second faster than the runner up. Sampson and his 10-year-old Irish Sport Horse gelding Curraghgraigue Obos Flight (Obos Quality 004 x Errigal Flight) have been knocking on the door of victory throughout the season and their efficient time of 38.62 seconds over an arguably challenging track sealed their fate.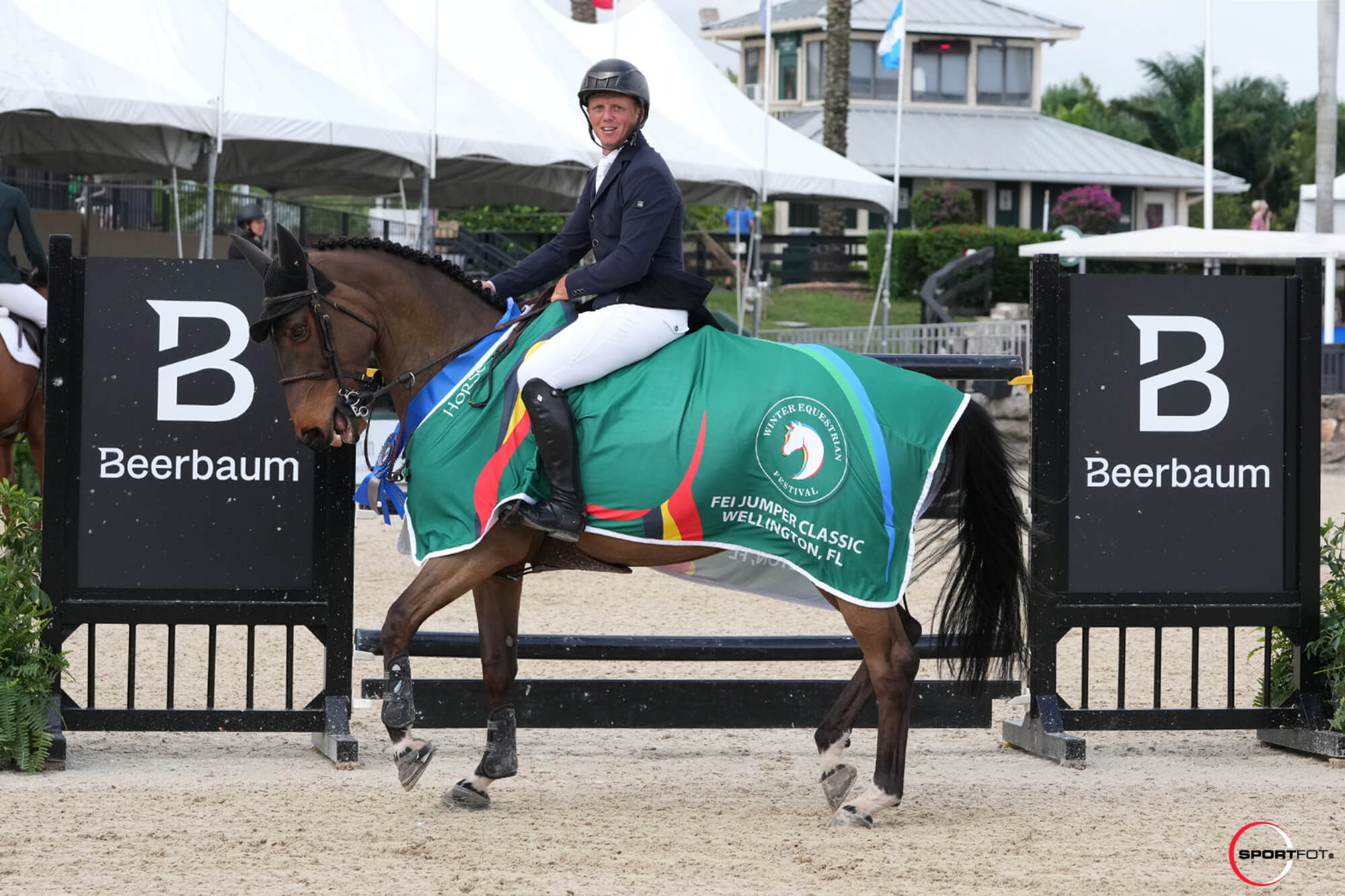 "Today's course was very difficult – you could tell that when you walked it – but with the amount of entries that there were, the course designer had a lot of decisions to make," explained Sampson. "To me, it definitely rode more like a two-star grand prix than a qualifier but my horse jumps amazing, and he has deserved this win for a while. He has had some incredible rounds this season with maybe just an unlucky rail keeping us from the top."
Sampson has been paired with the "game-y" gelding for close to three years and has been competing him successfully up to the five-star level.
"He is the type of horse that wants to win as much as I do," he stated. "He has had great rounds the rest of the season in some of the bigger five-star events, but today's two-star was equally as difficult. Where I think the course suited us best was his smaller stride allowed us to be quick down several of the lines that other riders may have had to steady for."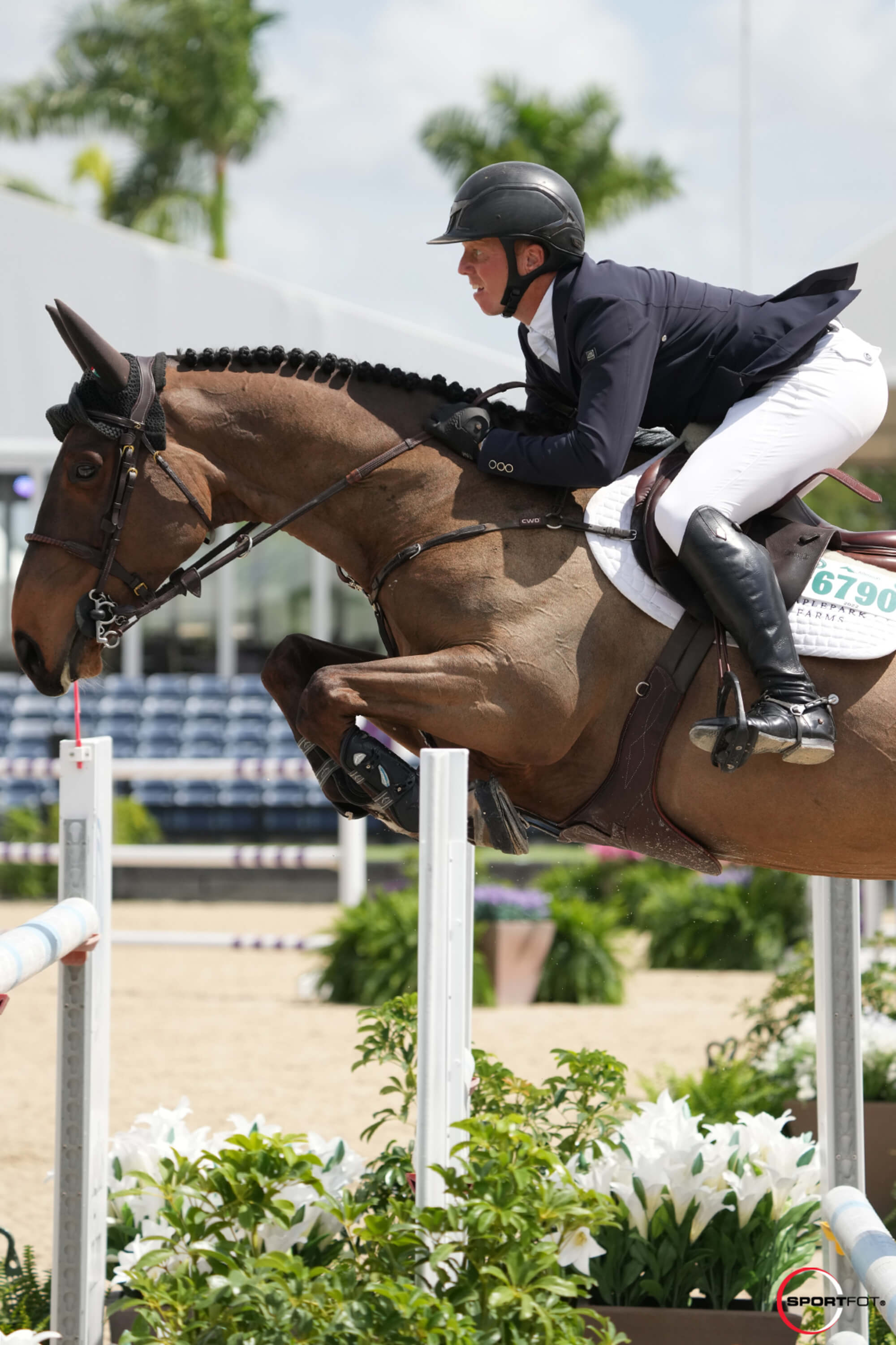 Caelinn Leahy (USA) and Coldplay 31 dashed around the arena in an effort to overthrow Sampson but the ride settled for second place. Leahy piloted Steve Schaefer's 13-year-old Westphalian gelding (Cassini II x Phantom) in a time of 38.75 seconds. Wesley Newlands (CAN) and Weslands Farms' 10-year-old BWP stallion Maestro Van Het Binnenveld (Hunter's Scendix x Conan Z) rounded out the finishing lap of honor on a clear-round that clocked them in at 40.30 seconds.
Final Results: $37,000 Beerbaum Stables Grand Prix Qualifier CSI2*
1. CURRAGHGRAIGUE OBOS FLIGHT: 2012 Irish Sport Horse gelding by Obos Quality 004 x Errigal FlightMATTHEW SAMPSON (GBR), Matthew Sampson: 0/0/38.62
2. COLDPLAY 31: 2009 Westphalian gelding by Cassini II x Phantom
CAELINN LEAHY (USA), Steve Schaefer: 0/0/38.75
3. MAESTRO VAN HET BINNENVELD: 2012 BWP stallion by Hunter's Scendix x Conan Z
WESLEY NEWLANDS (CAN), Weslands Farms: 0/0/40.30
4. CARAGHS QUALITY LADY: 2013 Irish Sport Horse mare by Obos Quality 004 x Limmerick
ANNA BETH ATHEY (USA), Anna Beth Athey: 0/0/40.40
5. FLYING DUTCHMAN: 2010 KWPN stallion by Quasimodo Van De Molendreef x Burggraaf
VICTORIA HEURTEMATTE (PAN), Victoria Heurtematte: 0/0/40.50
6. GARANT: 2011 KWPN gelding by C'est La Vie x Verdi TN
CALLIE SCHOTT (USA), Southern Arches, LLC: 0/0/41.30
7. CHANDON BLUE: 2005 OS gelding by Chacco-Blue x Landcapitol
LAURA CHAPOT (USA), Laura and Mary Chapot: 0/4/38.97
8. ATHLETIX HERO Z: 2012 Zangersheide stallion by Aganix Du Seigneur
SIMON MCCARTHY (IRL), Dermot Lennon: 0/4/39.12
9. FAIR FIELD: 2010 KWPN gelding by VDL Zirocco Blue x Chin Chin
KATHERINE STRAUSS (USA), Katherine Strauss LLC: 0/8/41.41
10. EVITA: 2009 KWPN mare by Otangelo x Cash
LEXI RAY (CAN), Lexi Ray: 0/8/44.55
11. INAJOTTIE VDM: 2013 KWPN mare by Carrera VDL x Indoctro
JAMES BILLINGTON (GBR), Samantha Mackenzie: 0/12/49.51
12. CARISTINA: 2010 mare
LUIS FERNANDO LARRAZABAL (VEN), Anna Ishiyama: 1/76.44

Caroline Olsen and Spark of Phoenix Rise Up to Win EMO Insurance/USHJA 3'3" Jumping Seat Medal
The FarmVet Ring 7 hosted junior equitation medal classes all day, led off by the EMO Insurance/USHJA 3'3" Jumping Seat Medal. After a jumper-style course and a vigorous flat work-off, Caroline Olsen (Sherborn, MA) walked out of the ring with the blue ribbon aboard Olsen LLC's Spark of Phoenix.
The class, as the name describes, tests riders on their equitation and ability to navigate a challenging track in the allotted time allowed, akin to a jumper course. Forty-two talented young athletes took to the course with a time allowed of 76 seconds, forcing riders to be smooth and efficient in their execution. After the first round of competition, the top 12 scoring riders were called back for further testing on the flat. Judges put the riders through their paces, asking them to demonstrate a lengthening and collecting of stride at both the trot and canter. Riders also had to show off a lead change in front of the judges from the counter canter to the true lead.
"He's a very quiet horse, so I wanted to make sure that I had enough canter everywhere, but his stride is huge, so I wasn't really worried about any of the lines," explained Olsen. "I just didn't want to have any time faults, because we both kind of like to go slow, so we have to think about going forward for the time allowed."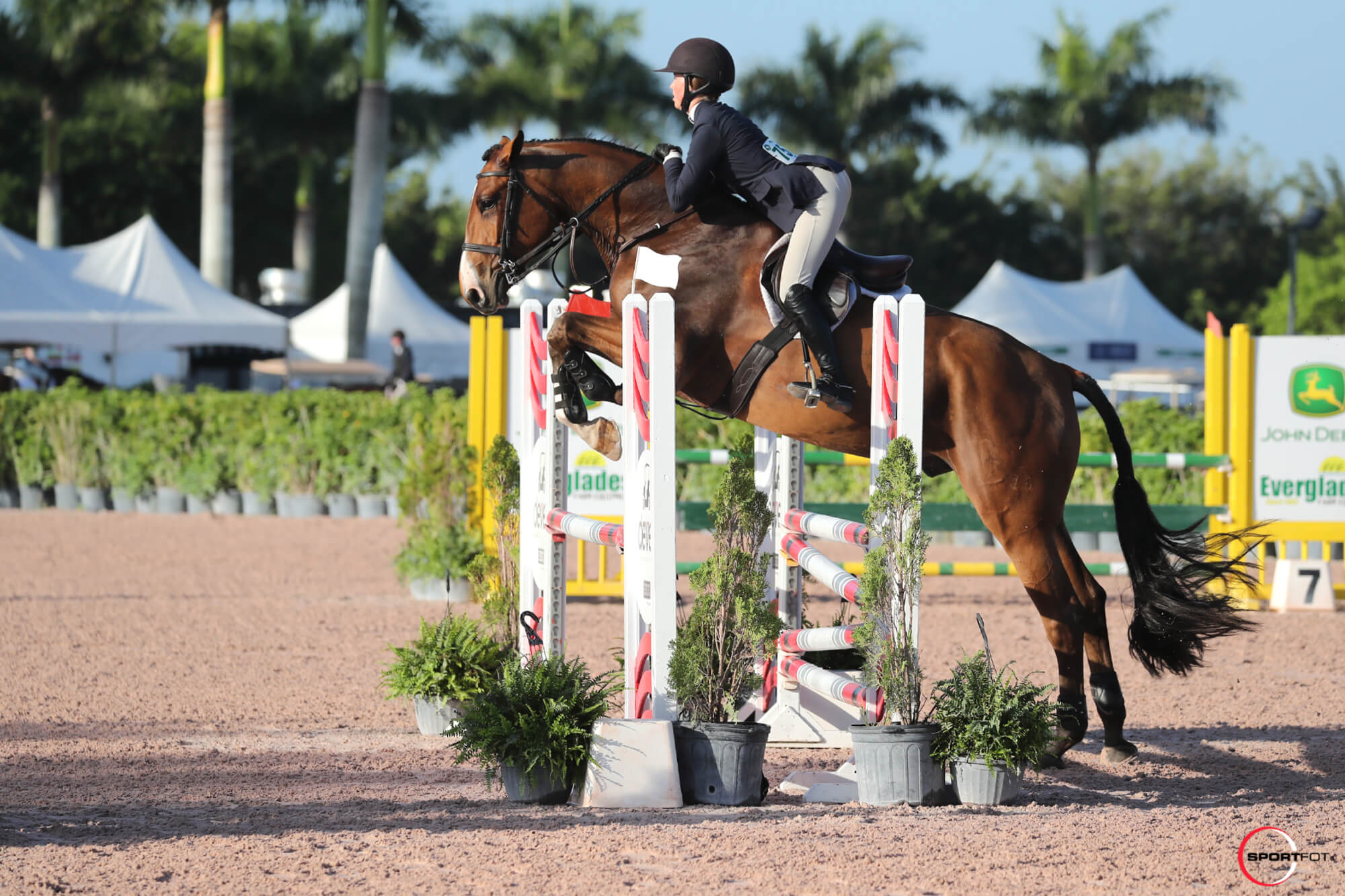 Spark of Phoenix is a recent resident in the U.S., having only been imported by Olsen and her mother a couple months ago. They saw videos of the six-year-old Oldenburg gelding by Stakkato jumping at shows in Europe and knew he would be a great partner for the equitation classes.
"He's as perfect as we thought he would be, but he's actually a lot sweeter than I expected. He is just the sweetest horse in the whole world. He loves attention and likes to be around people and get love," said Olsen.
Olsen and "Sparky" have developed a strong relationship in the short time they've had to get to know each other, demonstrating their readiness for week 12's WEF Equitation Championship and the rest of the equitation season.
"I think we definitely know each other pretty well now," she said. "He trusts me and I trust him, so we're able to work really well together."
Calista Smith (Carbondale, CO) piloted Diamond Day, owned by Missy Clark and North Run, to second place. Paige Walkenbach (Paradise Valley, AZ) finished third with Taylor Madden's winning, veteran equitation mount, Mac One III.
Competition continues tomorrow with the $50,000 Adequan® WEF Challenge CSI4*, which is the qualifier for Sunday's $216,000 Palm Beach County Sports Commission Grand Prix CSI4*, as well as the $15,000 International Hunter Derby Hunt & Go and the $10,000 USHJA National Hunter Derby on the grass Derby Field at Equestrian Village.