Daniel Bluman (ISR) experienced a pleasant case of déjà vu on Saturday night after winning the $425,000 Wellington Equestrian Realty CSI5* Grand Prix during Week 9 of the Winter Equestrian Festival (WEF) in Wellington, FL. He and his steady partner Ladriano Z won the same event in 2019 and lead the victory gallop once again during 'Saturday Night Lights' in front of a packed house at Wellington International.
The highly anticipated track from internationally renowned course designer Alan Wade (IRL) produced top sport from a stacked field. Bluman was last to punch a ticket to the jump-off after Egypt's Nayel Nassar, Ireland's Shane Sweetnam and Karl Cook (USA) paved the way.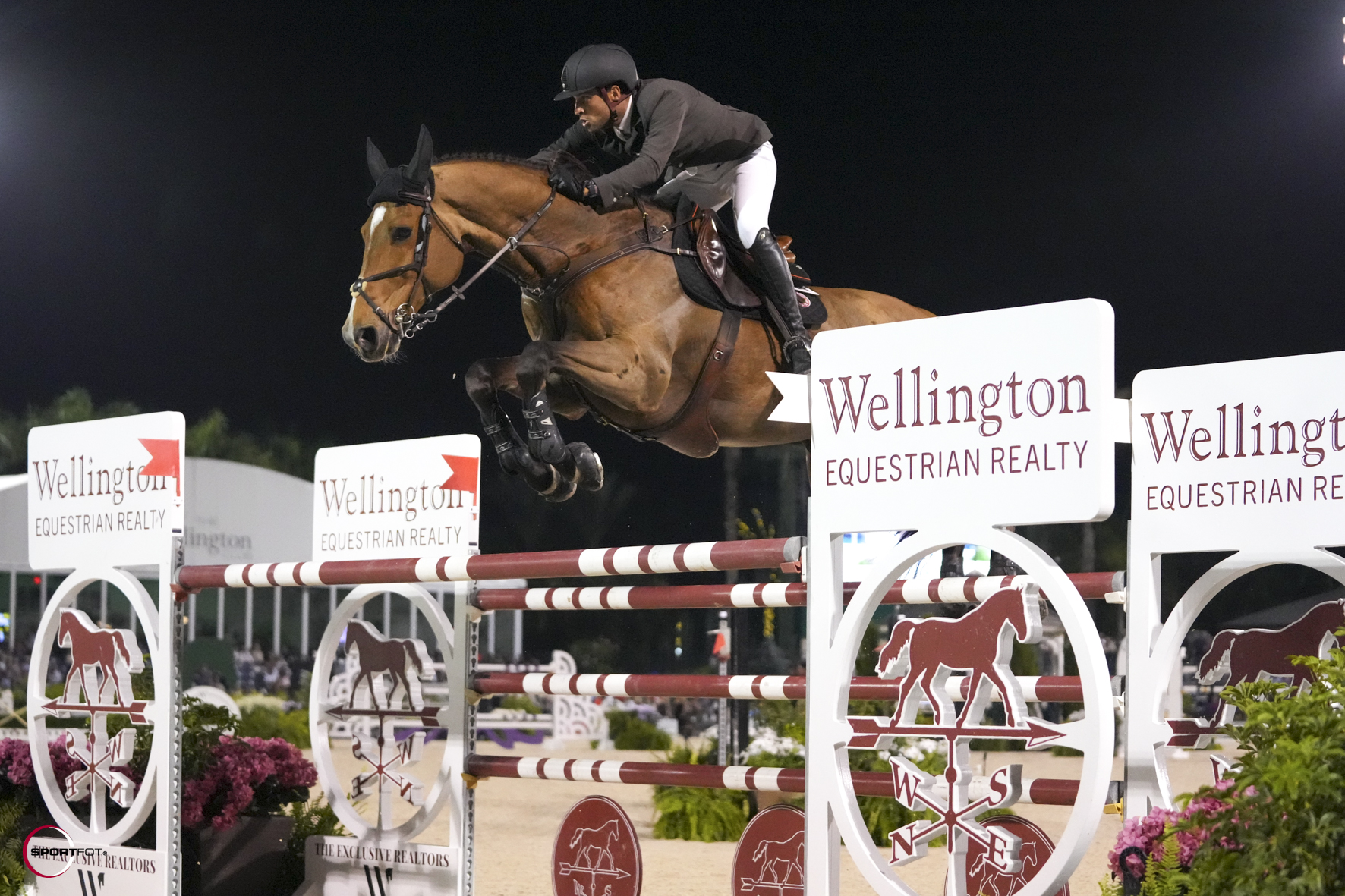 If Bluman felt the pressure as he returned for the short course, he didn't show it while putting Ladriano Z's massive stride to good use over the expansive track. "I watched Shane's round and his horse and mine are both big and scopey, so I tried to do the same as him and edge him in a couple places," said Bluman of the 15-year-old Zangersheide gelding (Lawito x Baloubet Du Rouet) he owns with Blue Star Investments and Over The Top Stables.
"He's a really big horse so he's naturally not the fastest one moving his feet, but you do cover a lot of ground, especially in a jump off like this where it had big galloping," continued Bluman.
When Bluman pushed Ladriano Z through the timers, the clock showed they were six tenths of a second ahead in 43.24. Sweetnam and the promising James Kann Cruz, a 10-year-old Irish Sport Horse gelding (Kannan x Cruising) owned by Gizmo Partners, LLC settled for second after another strong showing in five-star competition at WEF.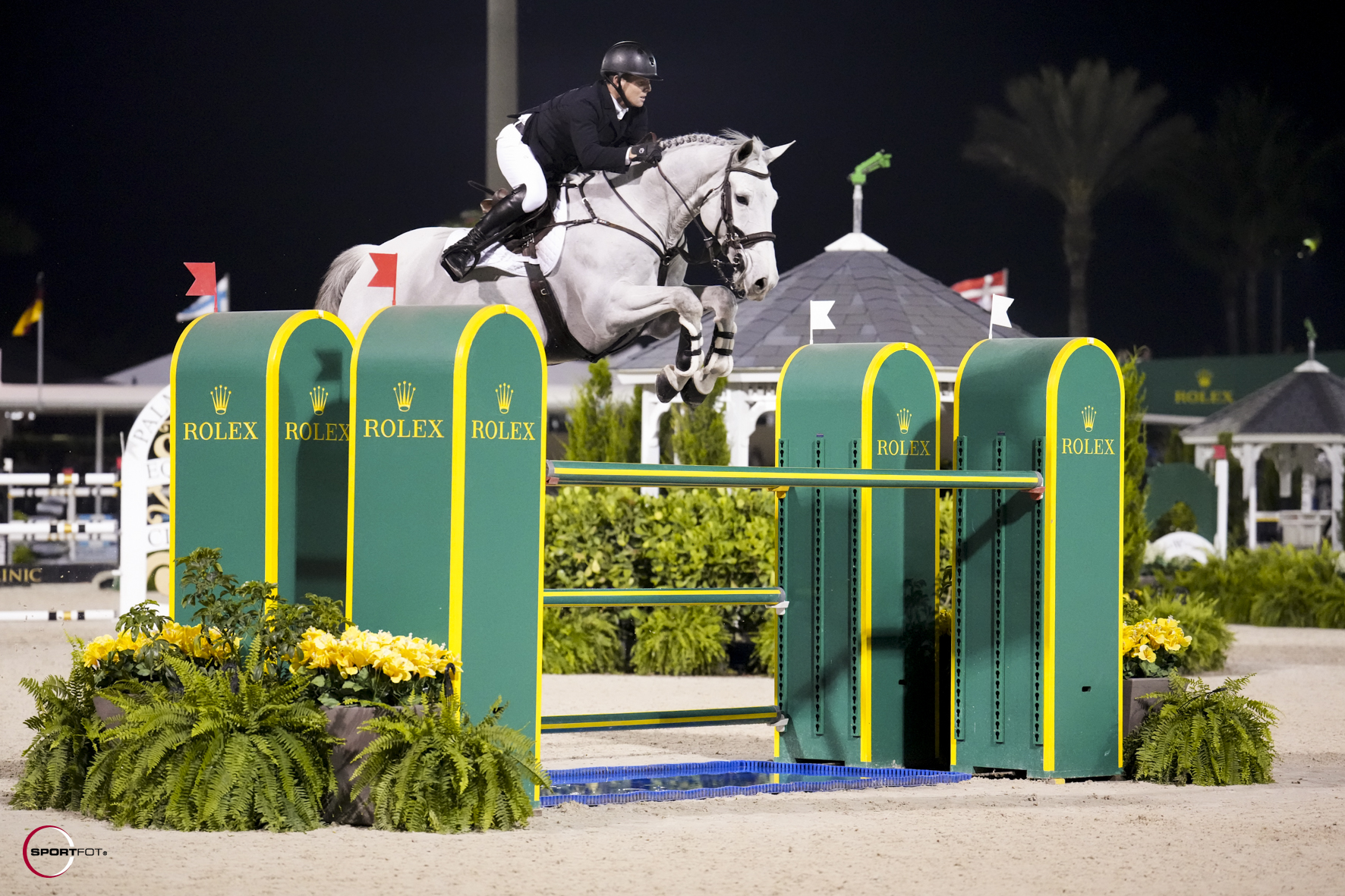 After finishing third in the Lugano Diamonds CSI5* Grand Prix two weeks previous, Sweetnam mentioned looking forward to another quality track from his fellow countryman Alan Wade. "It was very difficult in a different way; not dimensionally but especially the last line for a bigger strided horse was very difficult. He made a point to put the last jump in the corner where it's normally not, and the horses thought they were a done. This was top sport with four great horses and riders in the second round, and no poles."
Bluman echoed Sweetnam's sentiment about Wellington attracting the best in the world during the winter months, saying, "This time of the year you have some of the greatest riders in the world here for the season so it's very intense. You have to really plan, and I think part of the reason you see this podium here is because we know how to make a plan. These are big jumps, very technical, high competition and you have to treat it that way. If you know how to manage the season it's a great tool for you, your clients, owners and your family."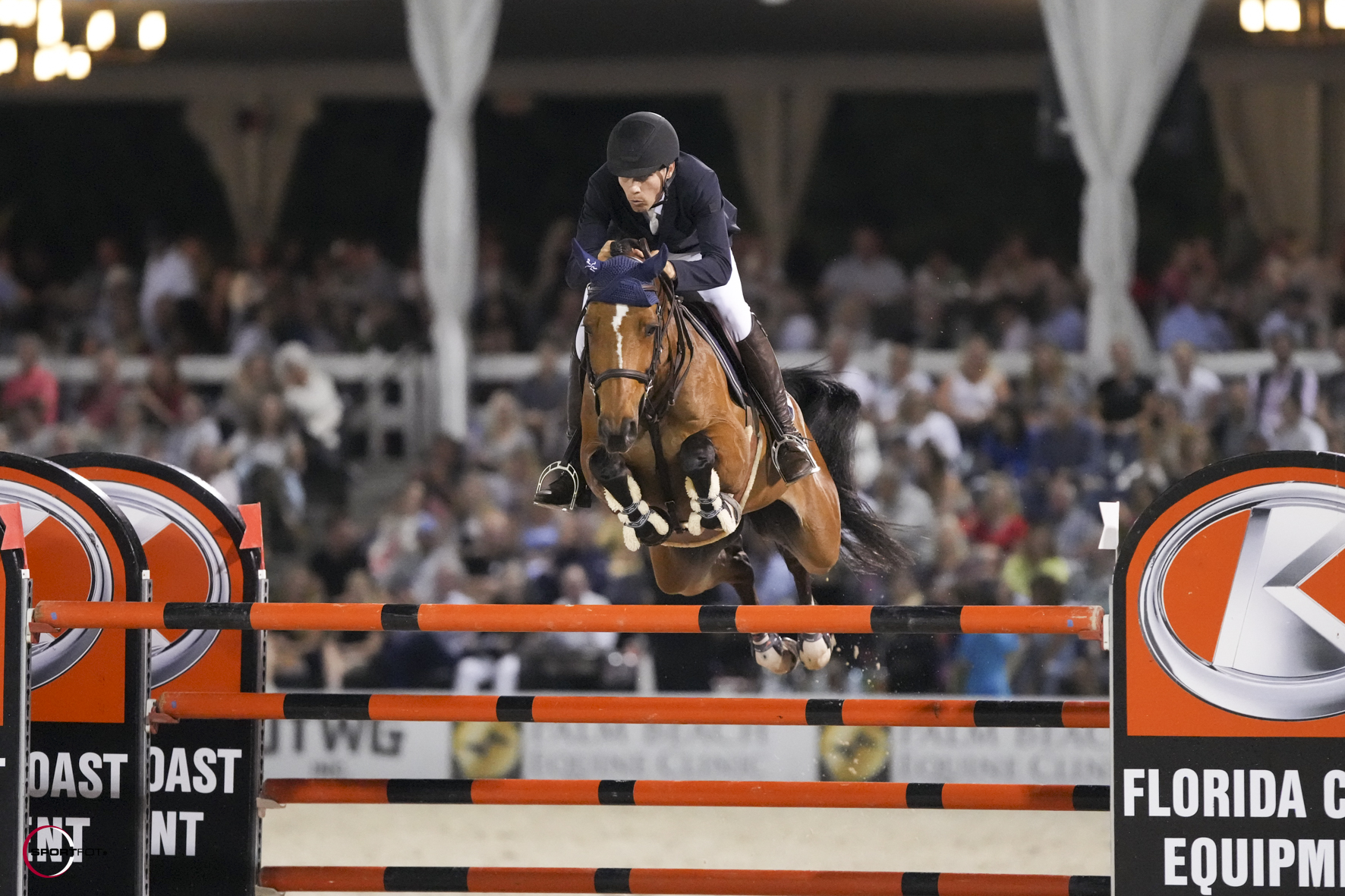 Also jumping double-clear on a much slighter but lightning-fast horse, Cook finished third for the home country riding Kalinka Van't Zorgvliet, a 13-year-old Belgian Warmblood mare (Thunder Vd Zuuthoeve x Flipper D'elle) owned by Helen Signe Ostby.
"This jump-off really rewarded how fast you could cover ground more so than turning," said Cook. "There were three turns, so it was basically about ground coverage and on a horse like her she flies with a bit more turn, whereas these guys' horses are just faster across the ground. So, the goal was just to cover the ground as fast as I could but after watching I knew I had to go fast. After fence two, I knew I probably wasn't going to make it.
"This class was really important for us because I haven't shown her since December and chose to give her a few months off so she could rest and save her legs for later," continued Cook. "It's always a bit of a risk to hold your cards closer to the end because it puts all the pressure on those couple times you decide to show. So, I knew I put a lot of pressure on myself and the last two 'Saturday Night Lights' I fell off and stopped out so, we're doing alright."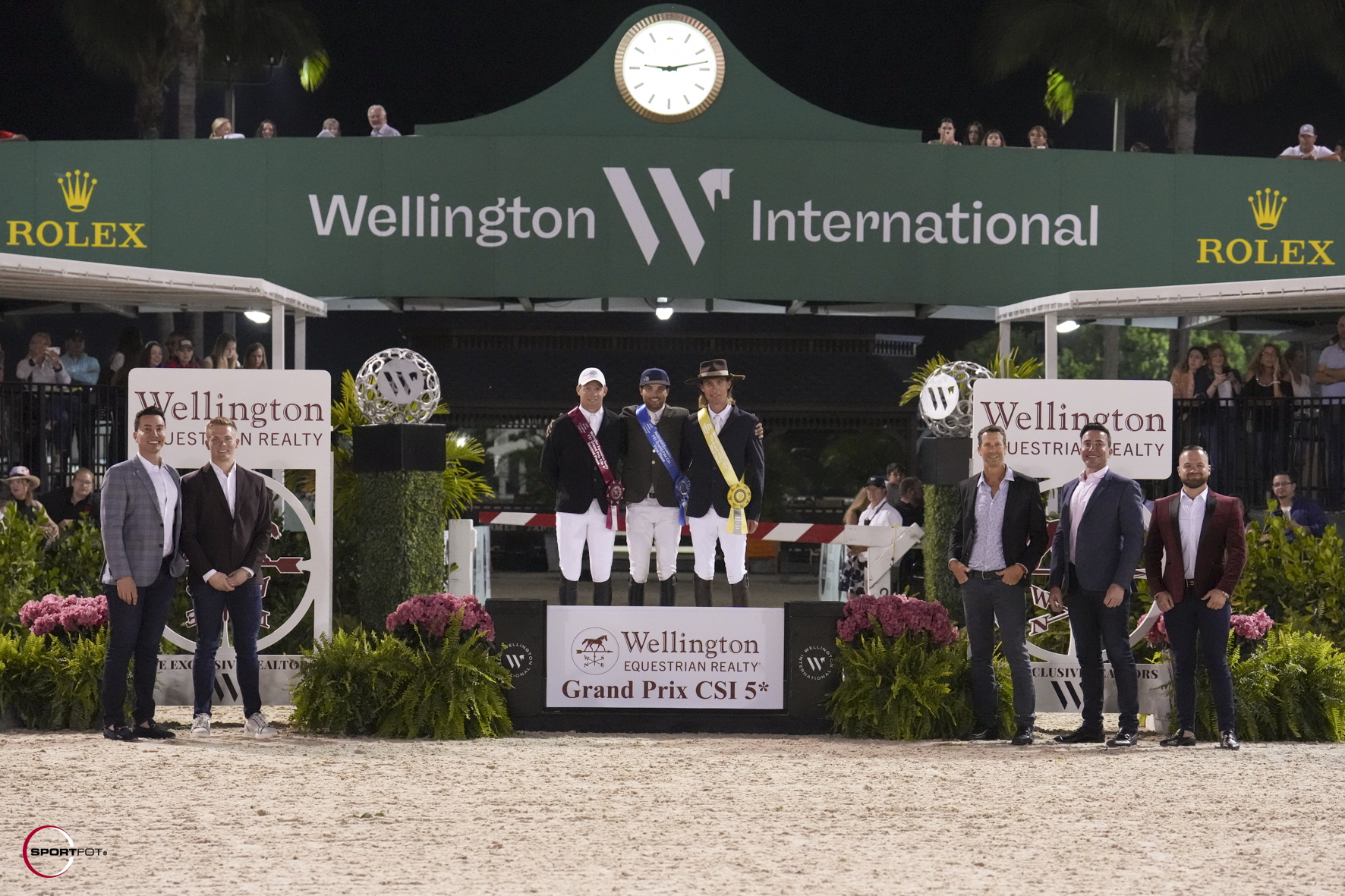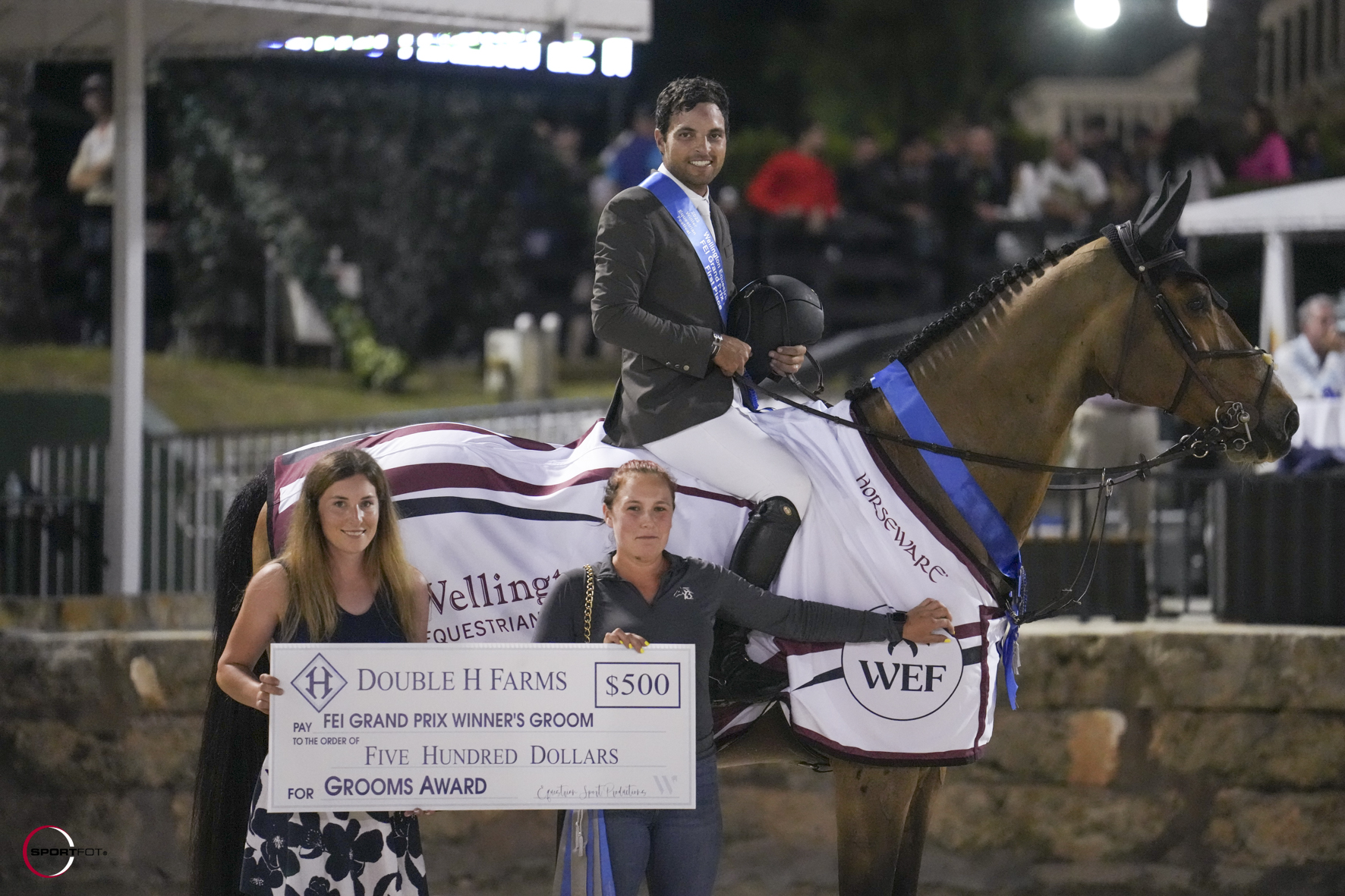 Rounding out the jump-off field without a rail down, Nassar took fourth aboard Igor van de Wittemoere (Cooper Van De Heffinck X Orlando) owned by Evergate Stables.
Looking back on the evening, Bluman recapped, "We live to have moments like this where you're competing against people you really admire and horses you really like. It was just the right group in the jump-off and I was really motivated to win it and when I crossed the timers I had a feeling I had."
As winners of the $425,000 Wellington Equestrian Realty CSI5* Grand Prix, Bluman and Ladriano Zwere presented with the Herman 'Kappy' Kaplan Perpetual Memorial Trophy. Bluman and Ladriano Z will next compete at FEI World Cup™ Finals in Omaha, Nebraska.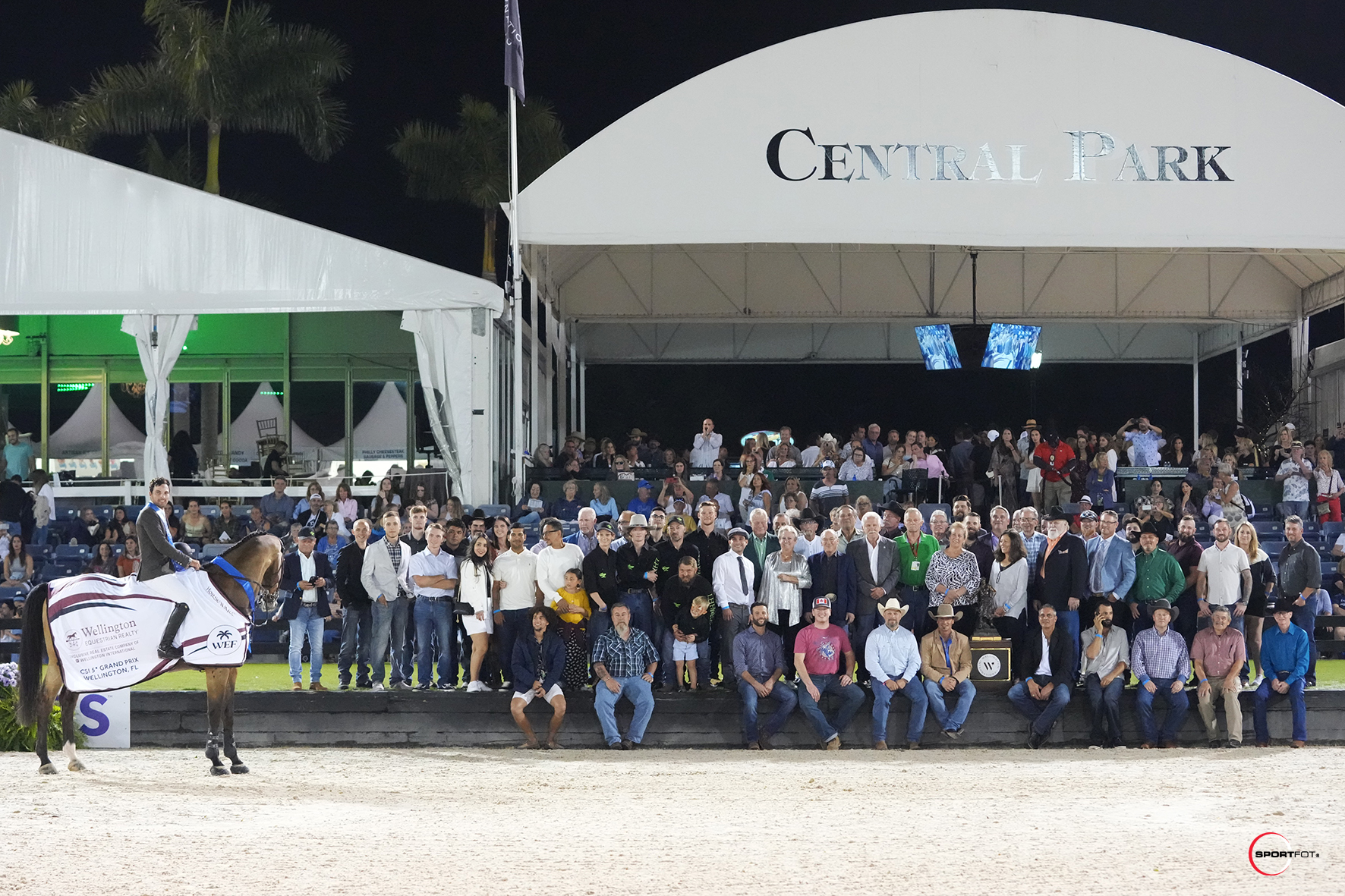 Top five results: $425,000 Wellington Equestrian Realty CSI5* Grand Prix
Daniel Bluman (ISR) & Ladriano Z: 2008 Zangersheide gelding (Lawito x Baloubet Du Rouet)
Owner: Blue Star Investments, Over The Top Stables & Daniel Bluman
Shane Sweetnam (IRL) & James Kann Cruz: 2013 Irish Sport Horse gelding (Kannan x Cruising)
Owner: Gizmo Partners, LLC
Karl Cook (USA) & Kalinka Van't Zorgvliet: 2010 Belgian Warmblood mare (Thunder Vd Zuuthoeve x Flipper D'elle)
Owner: Helen Signe Ostby
Nayel Nassar (EGY) & Igor van de Wittemoere: 2008 Belgian Warmblood gelding (Cooper Van De Heffinck X Orlando)
Owner: Evergate Stables
Eduardo Menezes (MEX) & H5 Elvaro: 2009 Dutch Warmblood stallion (Calvaro F.c. x Heartbreaker)
Owner: H5 Sporthorses
Victoria Colvin and El Primero Top USHJA International Hunter Derby, Presented by Barnwalkers
Superstar junior rider turned consummate professional, Victoria Colvin and El Primero came out on top during Week 9 of the Wellington Equestrian Festival (WEF) with a winning ride in the $25,000 USHJA International Hunter Derby, presented by Barnwalkers on Saturday.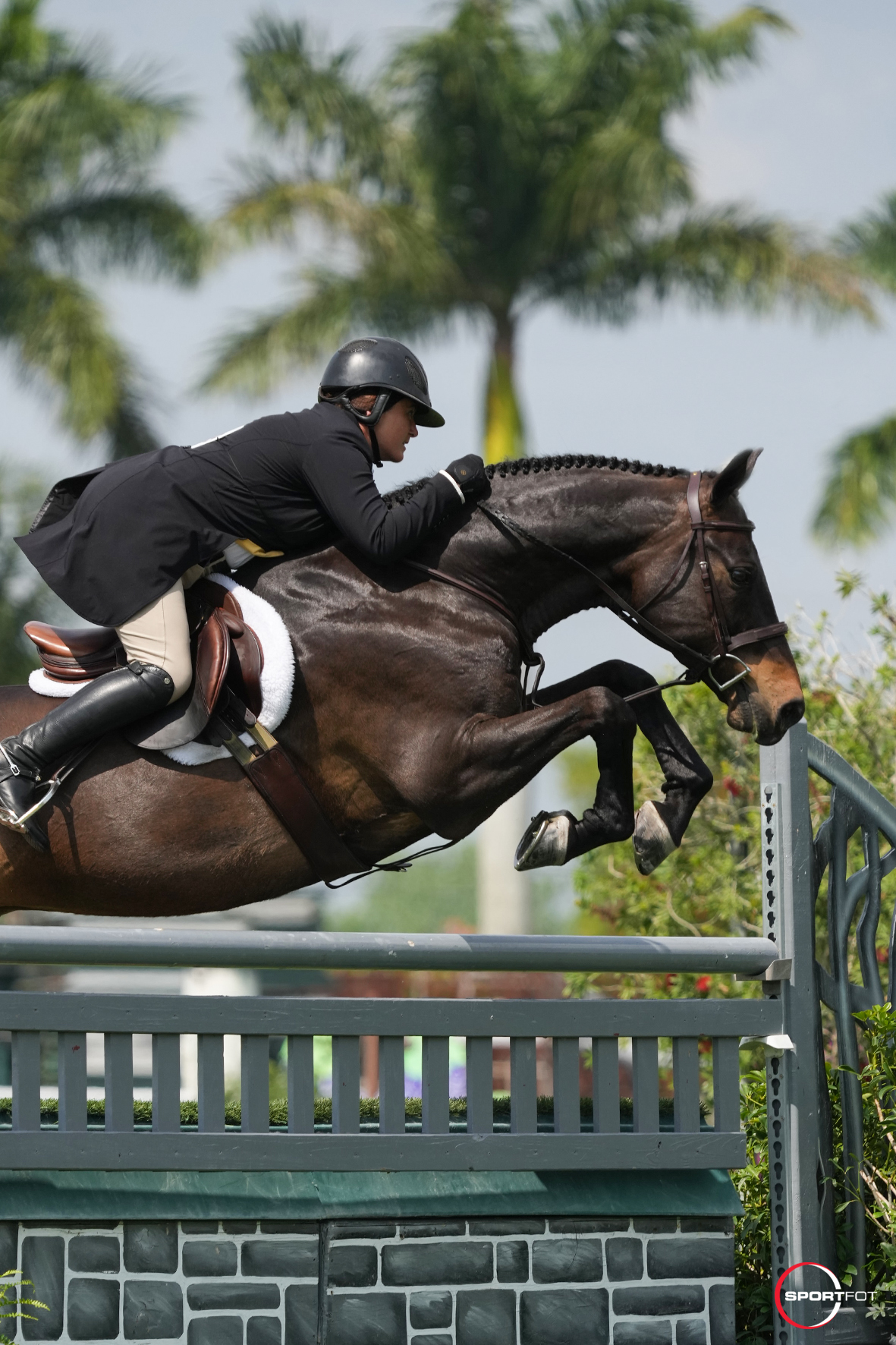 Colvin and El Primero, a 14-year-old Dutch Warmblood gelding by Numero Uno, owned by Meralex Farm Inc., scored a staggering 96 over the handy course to seal the deal on their victory. That winning number was combined a first-round score of 89.25 for a total of 185.25 and the top spot without contention.
Andy Christiansen, Jr. built a stunning two-round track on the Derby Field at Equestrian Village for forty-four hopeful pairs. Second place went to Greg Crolick and Chappy, who combined a 91 and 93 for a 184 final score, and third went to Jennifer Hannan and Mindful on a 183 after tallying a pair of 91.5s.
Colvin and El Primero have an unwavering bond that's been developing now for several years. "The course was very flowing and beautiful," said Colvin, 26. "Primo started out great. He jumped the first high option wonderfully, as well the first half of the course. He felt fantastic in the handy portion and was very tidy."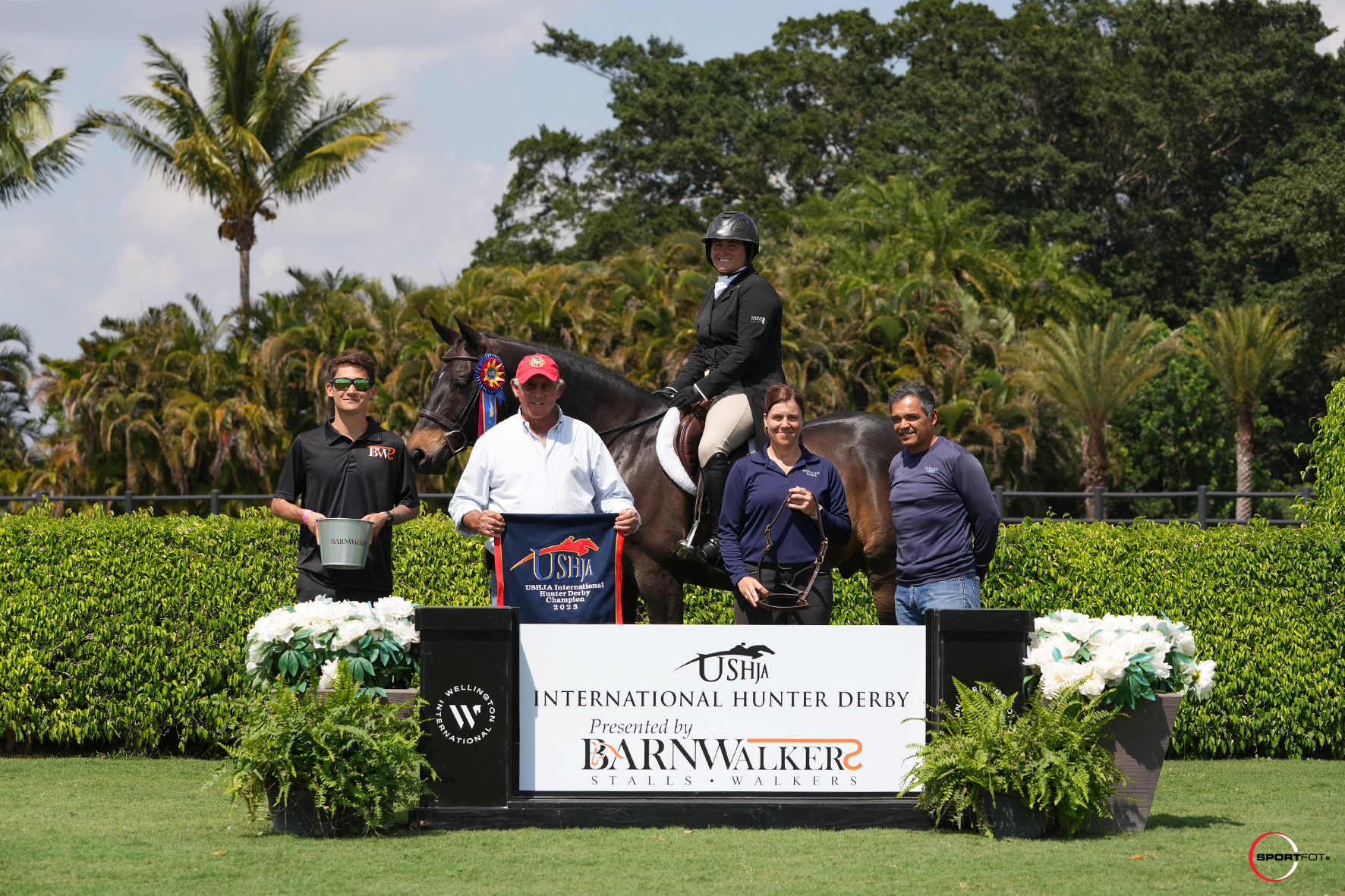 Great partnerships aren't built overnight and when asked about Primo, Calvin was beaming, "I have been riding 'Primo' for almost five years now, so we obviously know each other quite well. He's the absolute best horse, never spooks and you know he'll just go right into the arena, march around and try very hard to win. He always tries so hard and gives it his all." She continued to say, "he is a great derby and one of the most fun horses to ride.
"I'm very thankful for 'Primo's' owner Bryan Baldwin and for everyone surrounding him," concluded Colvin. "We couldn't do it without a great team behind this horse."
Nina Mallevaey Delivers in $50,000 Florida Coast Equipment CSI2* Grand Prix 
Daytime competition in the International Ring on Saturday stoked the fires of excitement for 'Saturday Night Lights' as France delivered a one-two punch in the $50,000 Florida Coast Equipment CSI2* Grand Prix. Twenty-three-year-old Nina Mallevaey (FRA) cruised right to the lead position after overthrowing 14 other horse-and-rider combinations in the jump off with her small and speedy partner, Crack D'la Rousserie.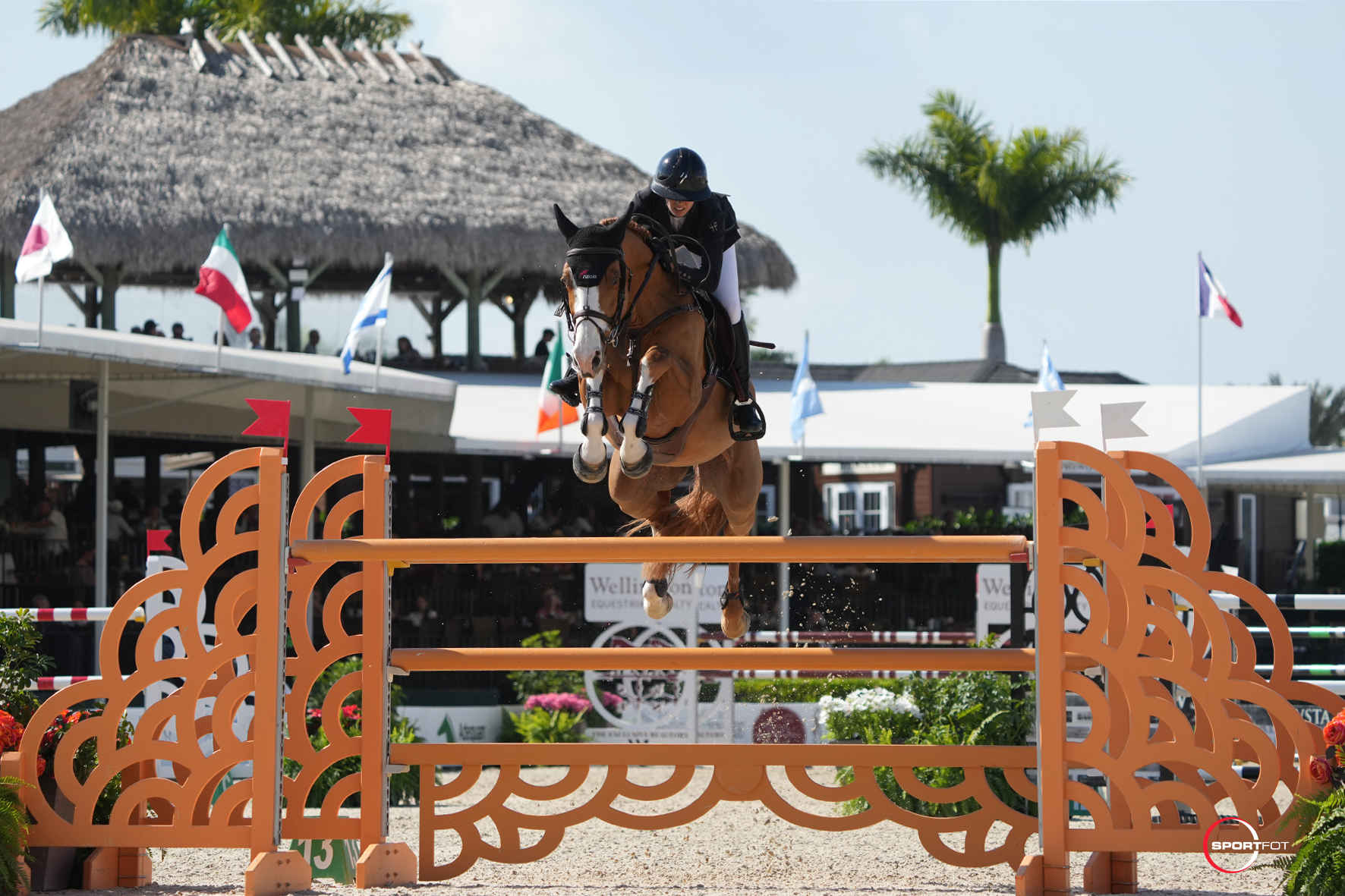 Alan Wade produced a difficult but fair first round that 45 combinations representing an even dozen countries contested. Despite Wade's challenge, an impressive 15 entries proved capable of advancing to the jump-off while only one pairing fell victim to a single time-fault penalty, and another nine had one downed rail. Returning to lead the pack, Callie Schott (USA) started the second round off fault-free on a time of 38.26 seconds to set the pace but would ultimately settle for fourth. By the class's completion, Mallevaey had shaved three seconds from the starting best to put forth an unbeatable finish of 35.55 seconds. 
Fellow countrywoman Marie Hecart (FRA) held the top time for a lengthy majority of the jump-off after crossing the timers with Edonna D'Udine in 35.77 seconds. She and the Old Station Equestrian LLC's nine-year-old Selle Français mare (Vigo Cece x Major De La Cour) accepted second place as their score was bested by mere milliseconds.
"I didn't see Marie in the jump-off, so I don't know where she was faster or slower," explained Mallevaey. "We did the seven strides from jump one to two and it was an easy seven for him, so I was able to make a nice turn to jump three. We were able to keep going nicely to the big vertical and to the last jump, and I think it was a good jump-off for him because he was able to use his big stride but also his nice turns. 
The season is only Mallevaey's second in Wellington, but she has already had a phenomenal outcome throughout the week snatching first in two classes at the national level with her mount Mademoiselle-A and second in the $10,000 Florida Coast Equipment CSI2* 1.45m on her other international mount, Cartier SR.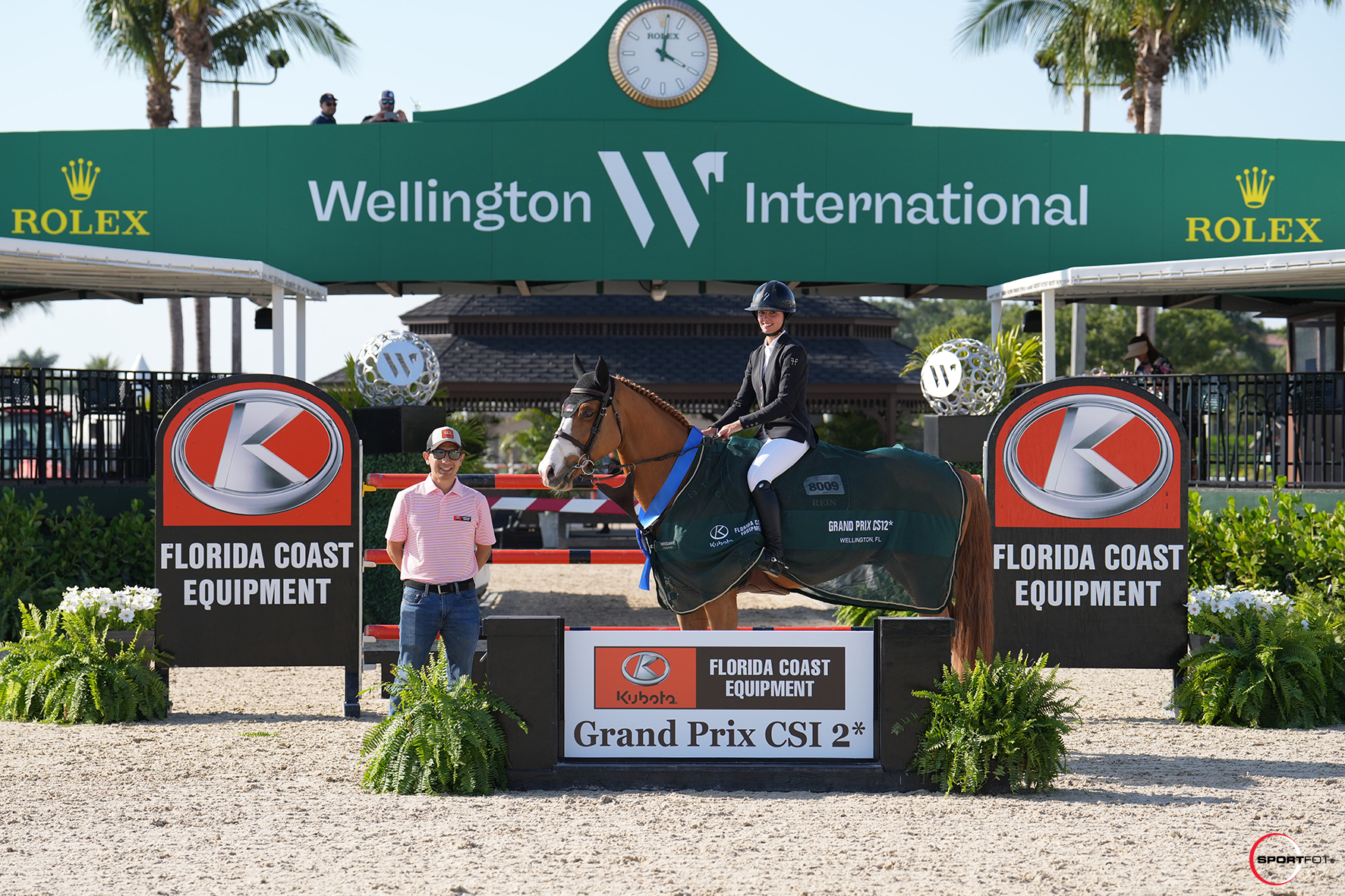 "I've had him a little less than a year, but he has had a nice show break since he last competed in Prague," she continued of the Rein Family, LLC's 11-year-old Selle Français gelding (Quaprice Bois Margot x Apache D'Adriers). "This is his first show back so it's a great start to his season. I give him a quiet warmup, and then when we go in the ring, I put a little pressure on, and he immediately knows it's time to turn it on." 
Karen Polle (JPN) piloted her 13-year-old Mecklenburg mare Celine (Conthargos x Grandino 25) into the third and final spot in the victory gallop with another fault-free effort but a slightly slower time of 37.13 seconds.