Jacobs Jumps to Top in $25,000 Lövsta Future Challenge Seven-Year-Old Young Jumper Final
The future looked bright as the Lövsta Future Challenge welcomed the $25,000 Seven-Year-Old Young Jumper Final to the International Arena at Wellington International on Friday. The Lövsta Future Challenge, founded by Lövsta Stuteri owner Antonia Ax:son Johnson, has been running throughout the 2023 Winter Equestrian Festival (WEF) season under the common vision to give young horses the best possible conditions to develop towards top international sports.
From the seven-year-old division, U.S. rider Charlotte Jacobs piloted North Star's Irish Sport Horse Pablo C. (Pollux de Muze Z x Chino C) to two flawless rounds to take the win and the final title. "This series is unbelievable for a young horse," described Jacobs, who stopped the clock with only fractions to spare in 41.963 seconds. "[Pablo] was a pretty experienced seven-year-old for his age when we got him, and he just keeps getting better and better; I'm incredibly excited for him."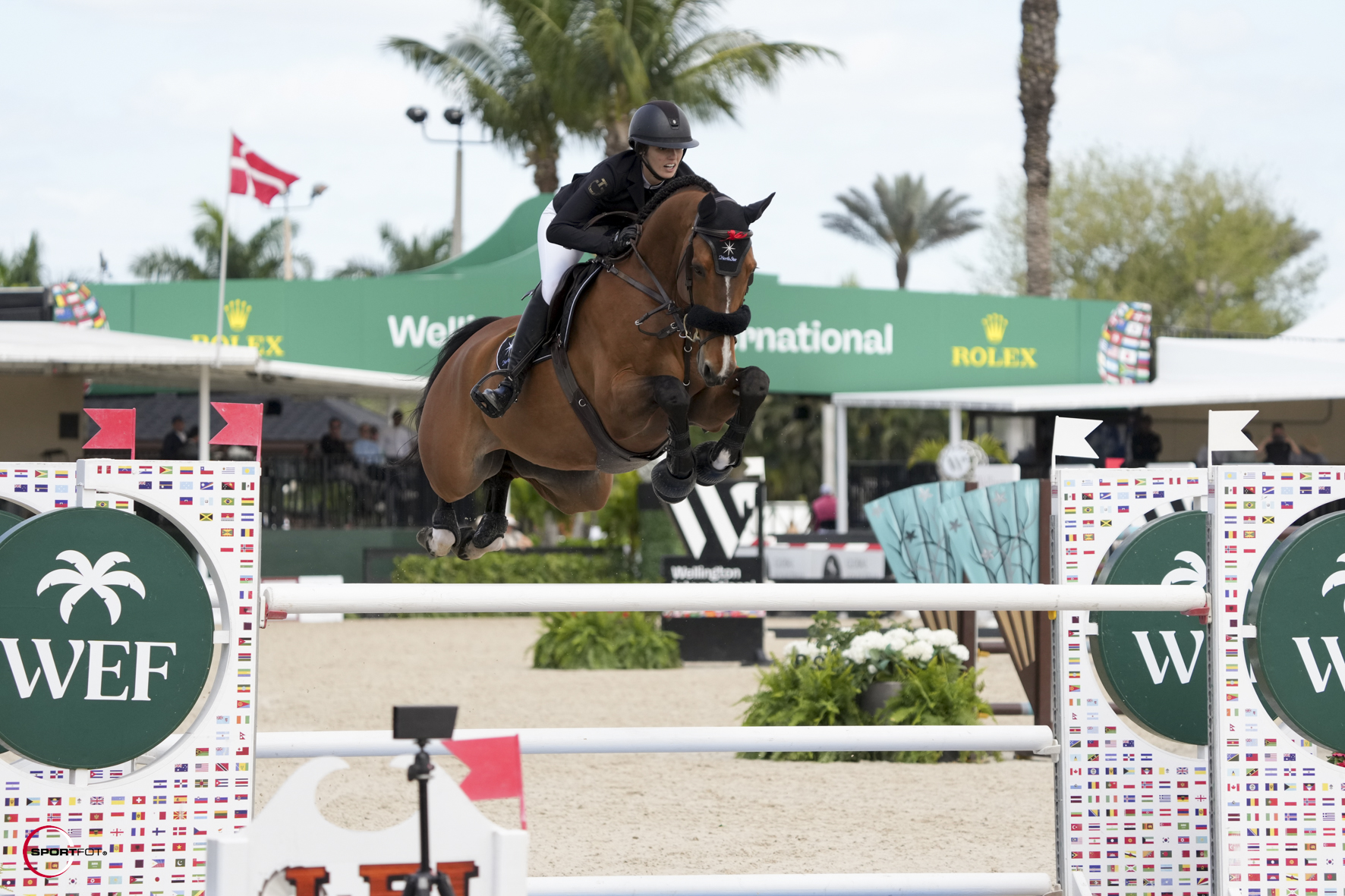 For Jacobs, young horse development is a family affair and one that the whole Jacobs family and their own North Star Sport Horses dedicates much of its efforts to.
"We plan our whole season around this for the young ones, and they make it a big deal now which is really great," commented Jacobs, who also piloted Pablo C to a six-year-old final win at WEF in 2022. "We had eight horses showing this week and were knocking on the door all day, so to get the win in the seven-year-olds was great."
From a nine-horse jump-off, the podium was produced from sheer girl-power as Great Britain's Amanda Derbyshire and Israel's Nataly Leibovitz joined Jacobs in the winner's circle. Derbyshire clocked in a little less than a second behind Jacobs on The Billy Stud's Anglo European mount Billy Legend (Cevin Z x Rieseling du Monselet) in a time of 42.275 seconds.
"This was definitely a competitive field today and I knew the jump-off was going to be fast," stated Derbyshire. "He's still a bit green for a seven year old, but I'm incredibly pleased with how he handled everything today especially considering I've only shown him three times this season."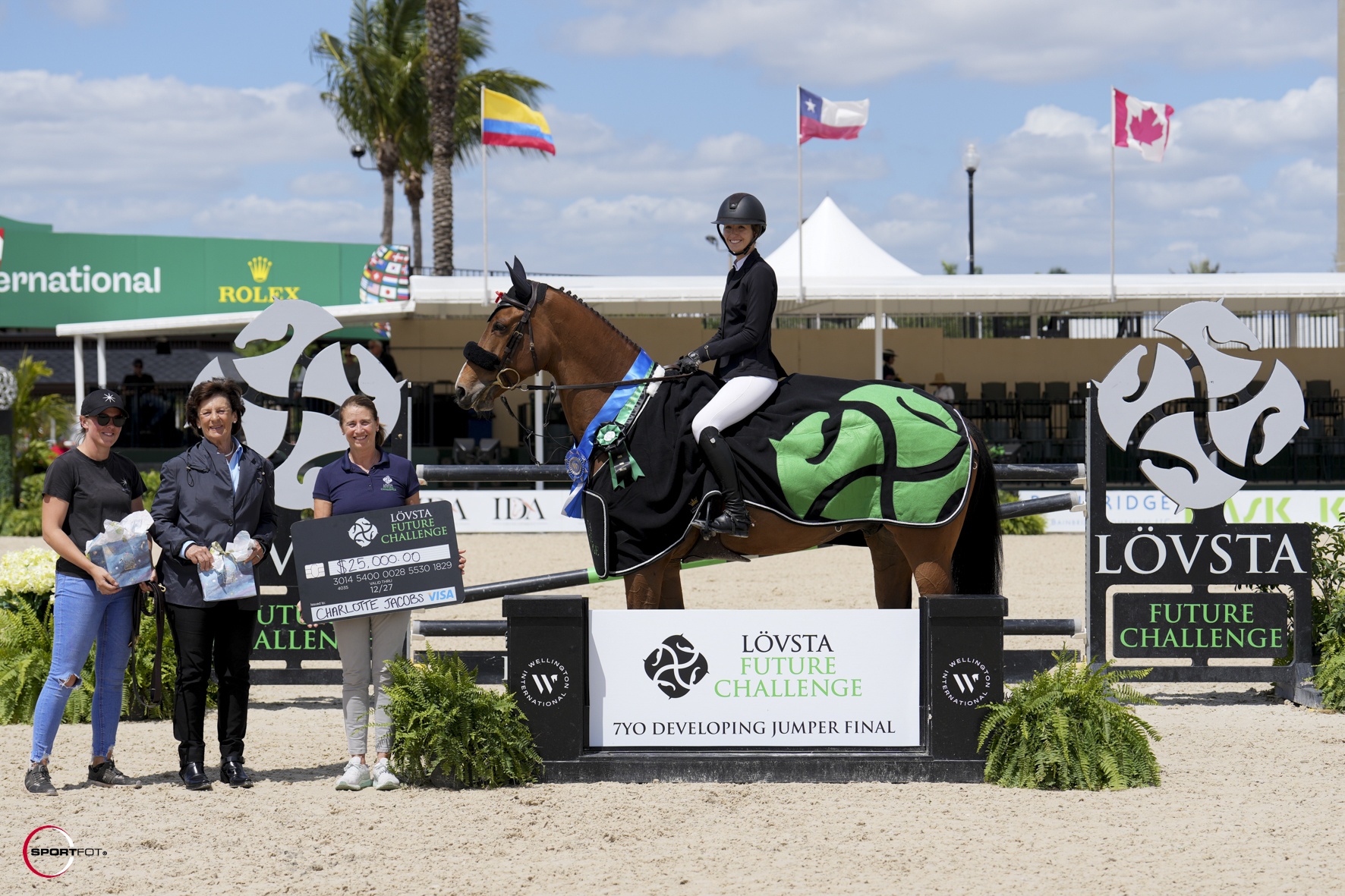 Leibovitz's one-and-only mount for the class Cheers N, an Oldenburg mare (Casiro 3 x Argentinus) owned by Leibovitz Holding Ltd., rounded out the top three landing a bit over a second slower than Derbyshire in 43.831 seconds. 
"Cheers is amazing," Leibovitz gushed. "She came to us about four months ago, and she is incredibly rideable for her large size. I was very proud of her today because this is the first jump-off we really tried to win and she was game. She was on it, and she seemed to be loving it."
For Ax:son Johnson, the class was the pinnacle of successful young horse development she hopes to continue to foster.
"We started this series because we recognized a real need for a stepping stone for the young horses between the normal young horse classes and the grand prix level," explained Ax:son Johnson, who also supports a Lövsta Future Challenge for young dressage horses at the Adequan® Global Dressage Festival in Wellington. "I think the success of our series stems a lot from our view on horses. We are passionate about them, but also believe that they have to be allowed to develop under their individual conditions. There's something very special about giving the horses the conditions to do the best they can."
Mischievous Steals the Win in North Star Six-Year-Old Young Jumper Final 
Ireland's Senan Hayes celebrated St. Patrick's Day in style by winning the $15,000 North Star Six-Year-Old Young Jumper Final aboard Mischievous for owner Cody Parker.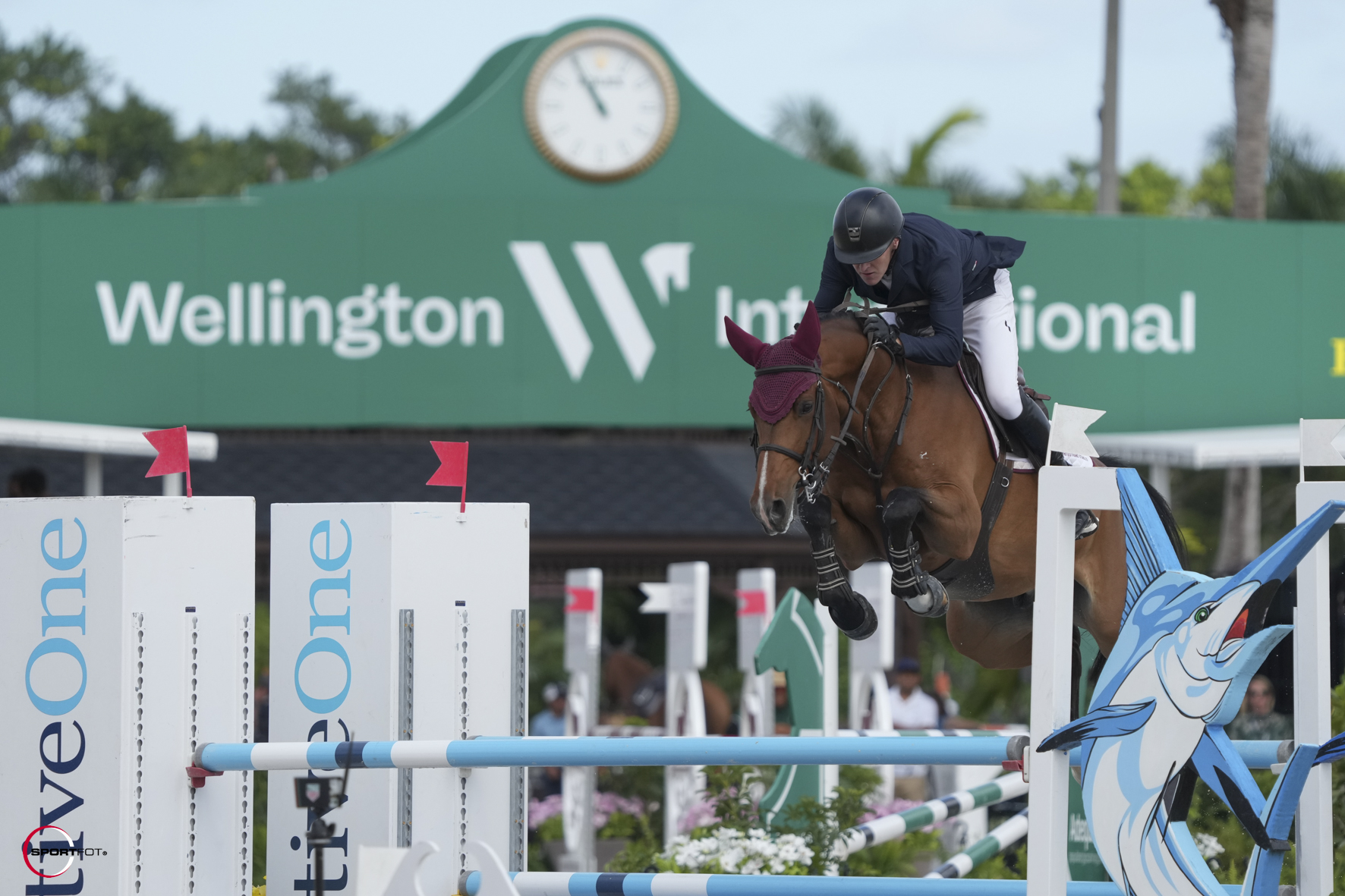 The top 25 horses from the six-year-old division took to the International Arena with 10 advancing through to the jump-off. Mischievous, a Dutch Warmblood gelding by Van Gogh out of Ambitious did just enough to seal the victory with a time on the board of 38.168. Second place went to Alice Tapper (SWE) and her own Ccstud's Money Maker in 38.252, while third was collected by Alexis Bodo (USA) and Timeless with a time of 39.397 seconds. 
"Cody Parker, the owner, bred Mischievous here in the USA and she jumped his dam in the high amateurs," said Hayes. "I was asked during the summer if I'd take him on even though he had not done much yet in his career. I got him around June this summer and have been bringing him along."
While Parker starts her family and recently welcome a new addition to the family, Senan will focus on continuing to develop Mischievous.
"We started schooling on Tuesdays and then came to WEF and straight into the six-year-olds," continued Hayes. "He's brave, careful and scopey so he's been a pretty straight forward horse to bring along.
"These young horse classes are great for development," continued Hayes, who piloted three mounts. "It was great to get the horses in this ring today. This season has offered a great range and change of scenery for the younger horses. These classes are brilliant."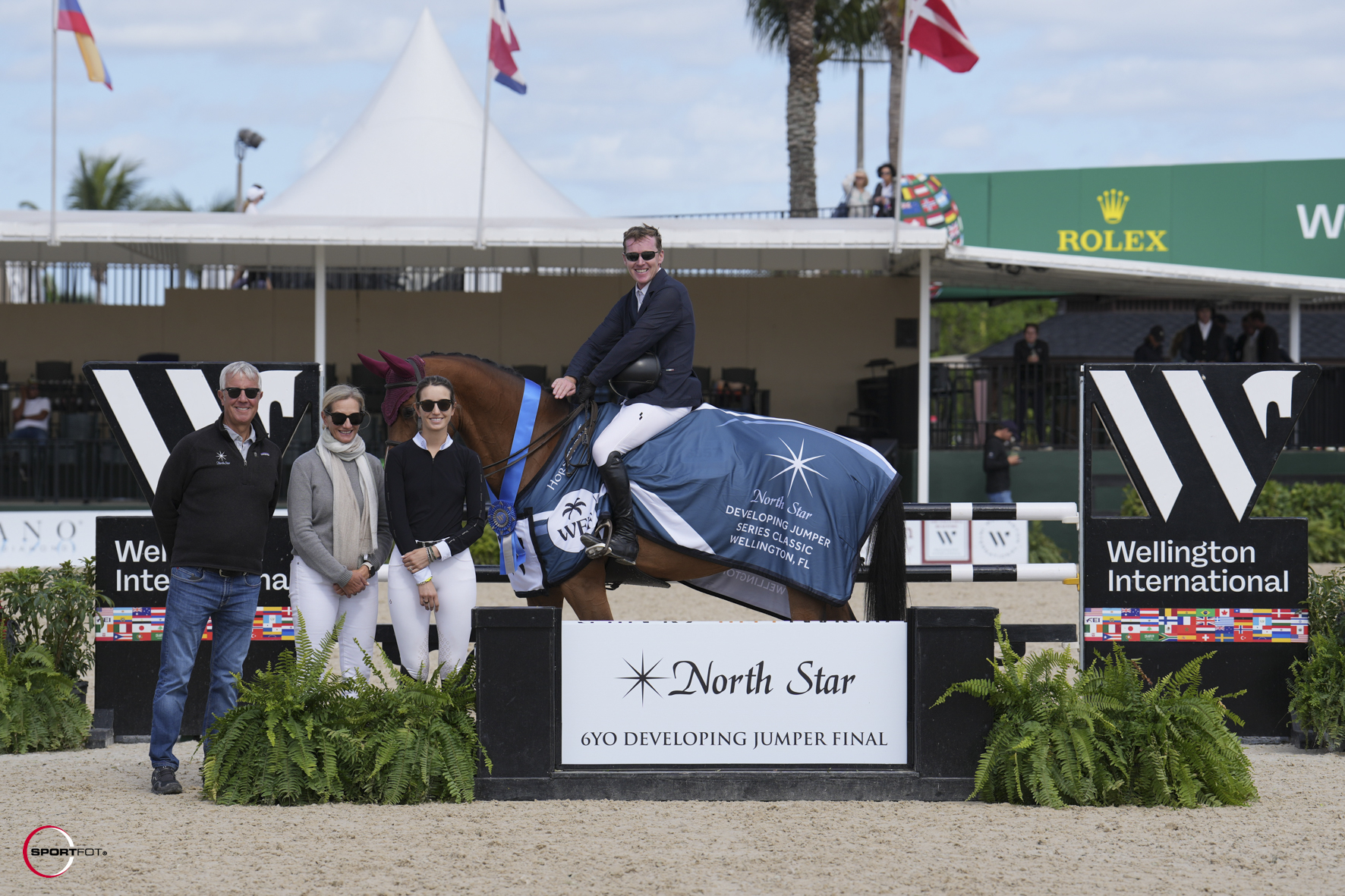 Hayes described what it's like bringing along and producing the younger string, saying, "There's a reward with bringing along the younger ones just from day one where the four-year-olds are learning how to canter, and then getting them into the shows as five-year-olds, and then you really get to see the development when they are six. All of a sudden, they are seven and you are starting to get a real horse, which is a nice progression to be a part of."
Barone Dominates $10,000 Wellington International Five-Year-Old Young Jumper Final 
Andrew Barone (USA) was the one to beat in the $10,000 Wellington International Five-Year-Old Young Jumper Final. He guided Valcor ODF to the win and Wizard ODF to second for owner Alex Jayne.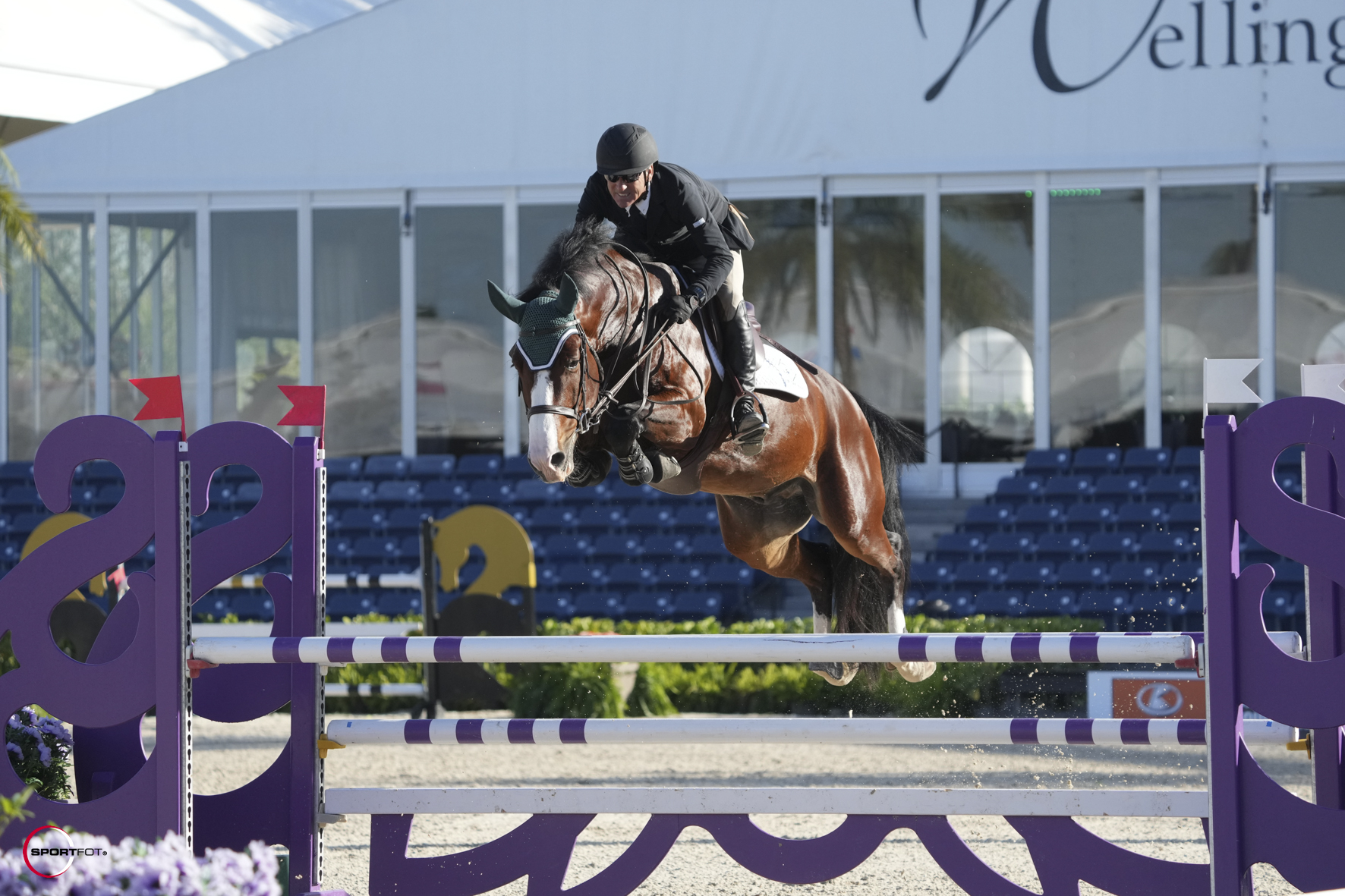 From the qualified top 25, eight promising young horses advanced to the jump-off. Barone (USA) and Valcor ODF, a stallion by Dulf Van Den Bisschop crossed through the finish flags in 34.191 seconds. Winning by a margin of three second, Barone had only himself to beat as he also took second with Wizard ODF in 37.093 seconds. Third place went to Juliana Starbuck (USA) on GR Trophy Wife, clocking in at 38.93.
In addition to the win, Valcor ODF was presented with the Champion Equine Insurance Jumper Style Award for WEF 10.
"I went and tried horses at Alex Jayne's farm at the end of August and he has nine five-year-olds right now, so I picked a couple I really liked and went partners on them and the rest I'm showing for him," said Barone. "Alex and I have done business now for over thirty years, so it's been a natural progression."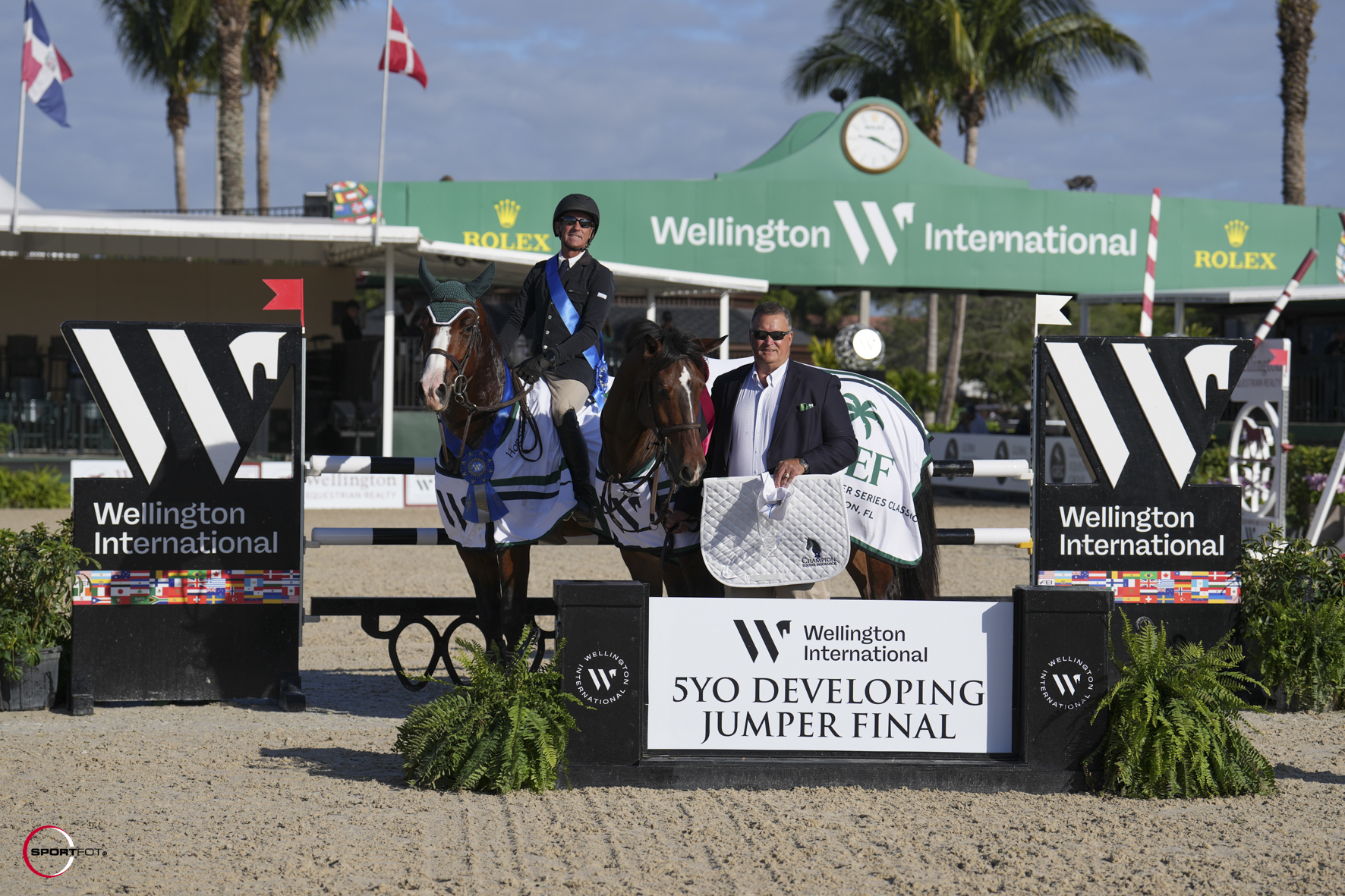 Barone offered some insight into his thoughtful training process which has clearly paid off in the young jumper ring, saying, "Surprisingly enough, neither of these horses had ever been to a horse show before January of this year in their lives. It's been a process of trial and error which is the honest truth. They're all very well-bred horses and ride quite well. It was a matter of figuring out bits to use on them and what they are familiar with versus what they are afraid of.
"Today was definitely a finals course," said Barone. "It certainly tested everybody. I love these classes at WEF because it allows us to bring them along nicely, and they have been in several different rings now, so they are getting a lot of invaluable exposure."