Germany's Richard Vogel struck again, kicking the Horseware Ireland sponsored Week 10 at the Winter Equestrian Festival (WEF) off to a strong start with a win in the $78,000 Adequan® CSI4* WEF Challenge Round 10 on Thursday afternoon, aboard the talented Cepano Baloubet.
Andy Christiansen Jr. built the track for fifty-eight horse-and-rider combinations, and from a nine-horse jump-off, Vogel, 25, bested a competitive field. Vogel has had the ride on Cepano Baloubet, a nine-year-old German-bred gelding (Chaman x Stakkato's Highlight), since the horse stepped into the international ranks two years ago. A recent owner change allowed Cepano Baloubet to remain in Vogel's string, now under the ownership of Veronica Tracy (USA).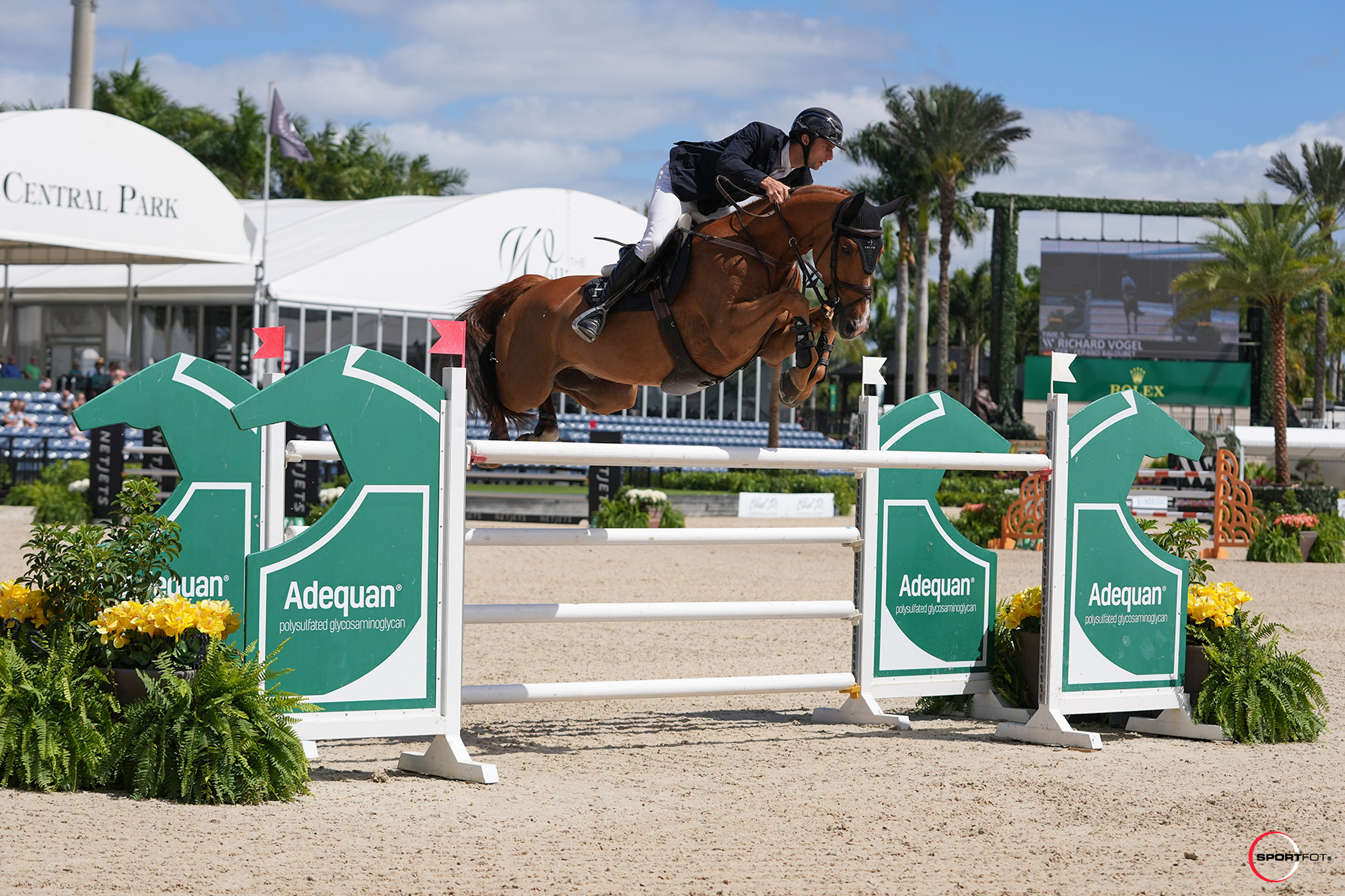 Cepano Baloubet's ground speed was more than enough to sail through the finish flags in a time of 36.02 seconds, leaving two seconds between him and second place. Adding another chapter to a rivalry that's been brewing all season, Mclain Ward (USA) finished second behind Vogel riding Kasper Van Het Hellehof in 38.21 seconds for owner The Kasper Group, LLC. Third went to Thaisa Erwin (AUS) and Vanturo, owned by Michael and Wendy Smith, in 41.13 seconds.
"The plan was to start from the right so I that I would land on the left lead and do nine strides to the next, and I got there well enough thanks to his big stride," said Vogel. "I slowed down in front of the oxer a little bit to get a good rollback to the next vertical. I got there in eight strides and I saw Mclain, who was just before me, did nine so I knew I'd be a little ahead of him there."
Vogel, an up-and-coming rider in his own right, has experienced tremendous success in the ring this season at WEF. After pocketing a CSI4* win with Cepano Baloubet earlier in the season, Vogel added another with to his personal international tally for the 2023 season, which now counts to three.
Of the depth of field seen at WEF, Vogel takes it as a positive for him, noting, "Riders like Mclain have tremendous experience and you can learn a lot from them. I like to watch him a bit in the warm-ups, and then obviously also in the ring and where he makes up time in a jump-off and I think you can learn a lot just watching those kinds of riders. In general, Wellington is a great place for us young riders to watch and learn from the older and more experienced riders."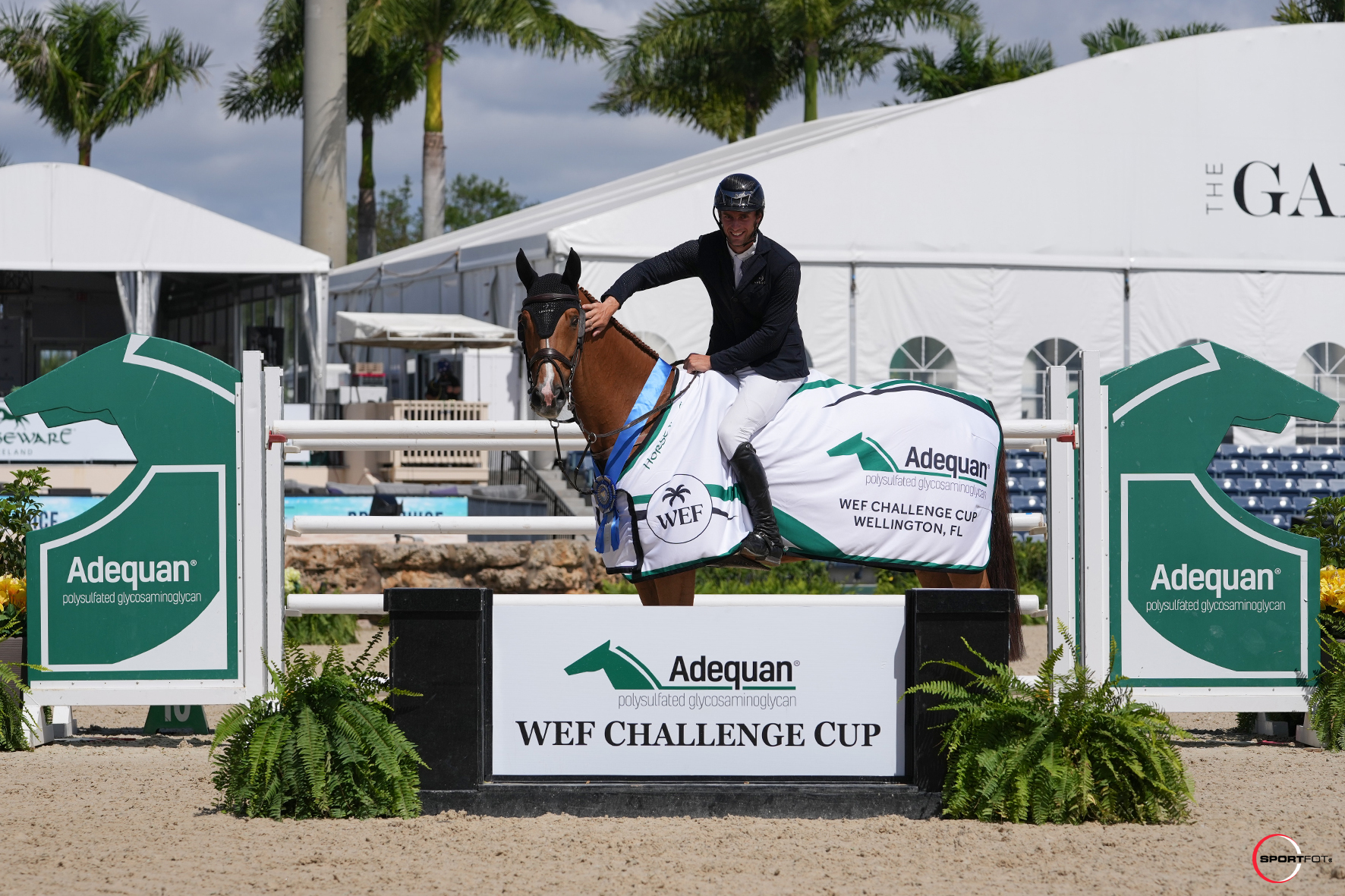 "I've had a great season and the horses are all jumping very well," said Vogel. "I have some young horses that have been moving up the levels and have made great progress and then I have the older horses who are jumping very well also."
Vogel and Cepano Baloubet will next contest the $226,000 Horseware Ireland CSI4* Grand Prix during 'Saturday Night Lights.'