The ESP Labor Day show kicked off on Friday with the $2,500 USHJA National Hunter Derby, presented by FreeJump.Eight riders competed in Friday's National Hunter Derby, but at the end of the class, Faith Schuttemeyer, out of Boca Raton, FL, and Tucker Eyckenhoeve, owned by The Gelt Group, stood at the top of the scorecard with a final score of 170. 
The derby took place in the "Hunt and Go" format, meaning that the riders competed in a single round. The first part of the round was scored as the traditional Classic round, while the second part of the course was scored as the Handy round. The two scores were combined to produce an overall score for each horse-and-rider combination. 
Schuttemeyer shared that this was the first Hunt and Go derby she had competed in with Tucker Eyckenhoeve, "This is my fourth or fifth time showing him, and it's his first hunter derby ever. I just wanted to have a solid round today, and he was fantastic!" 
Schuttemeyer and Tucker Eyckenhoeve topped the podium with a classic phase score of 84 and a handy phase score of 86, which combined for a grand total of 170. Taking the second spot was Lissa Bachner of Wellington, Floriday, and her own entry, GTF Snax, with a combined score of 167. The duo received an 85 in the classic phase and an 82 in the handy. Schuttemeyer also bookended the podium with a classic score of 87 and a handy score of a 79 on Stock 'Em's M Monroe with an overall score of 166. 
Friday also featured jumper competitors on the main Derby Field for the $10,000 Bainbridge Companies 1.40m Open Stake. A total of 18 combinations navigated the first round, with five advancing to the jump-off. Second to last to go in the jump-off, Spain's Gonzalo Busca Roca and his mount Cristiano Obolensky, tripped the timers in a clear 40.835, making them the only combination with two clear rounds. Putting forth the quickest round with an unfortunate rail was Sheer Levitin (USA) and her own, Vitus K, settling them into the second place position with Richard Neal and his own entry, Catemaco LS, rounding out the podium with a 4-fault 37.271 time. 
Competition kicked off on the Derby Field Saturday morning with the $5,000 Florida Coast Equipment 1.35m Stake. A total of 13 horse-and-rider athletes took to the field with four returning to put in speedy clear rounds. Coming out on top was Canada's Gavin Moylan aboard Alden Moylan's Butterfly, with a clear 45.303 seconds. Just behind the winning pair was Declan Egan (USA) and Hedwina De Villee, owned by Mackenzie Hirsch, with a time of 45.776 seconds, while Valentina Maury (VEN) and her own, Quentin, cleared the short course in 45.854 seconds.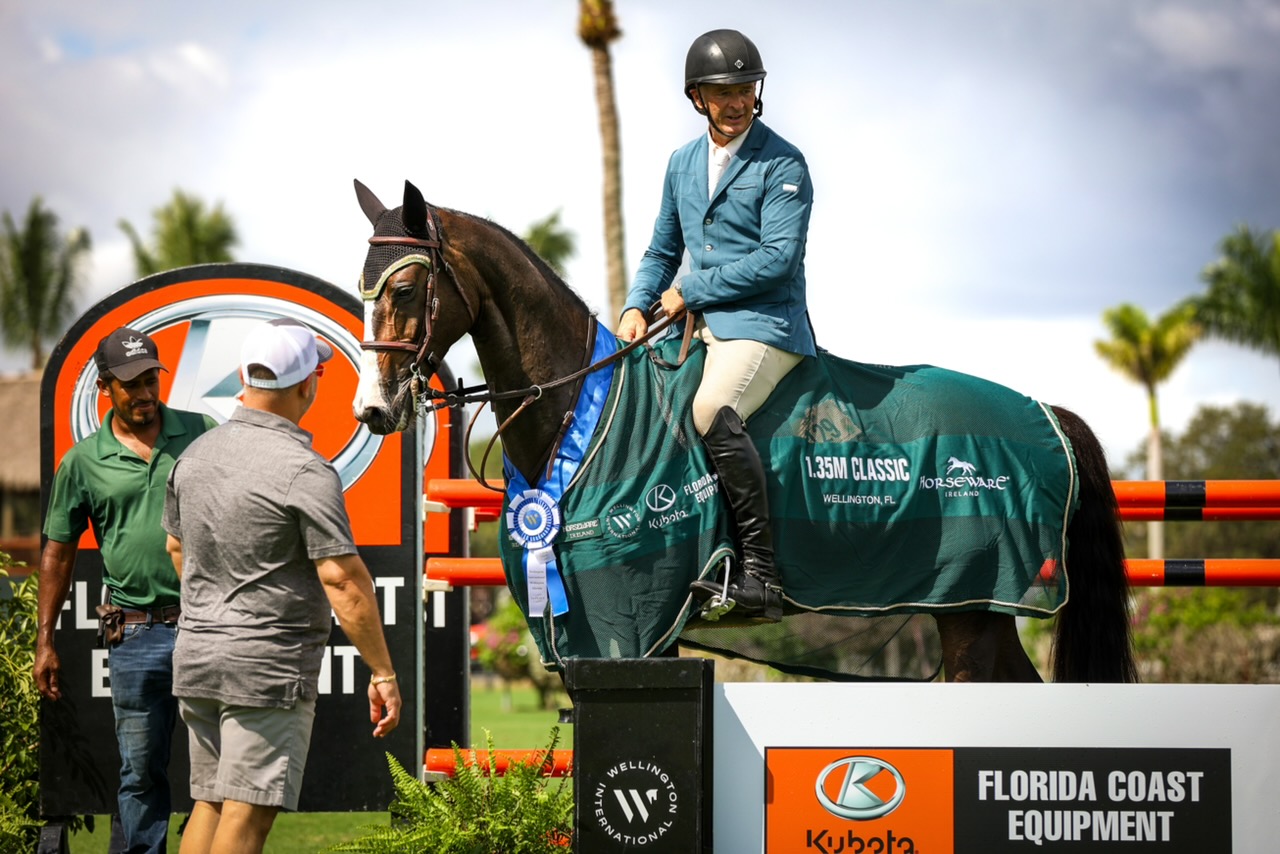 Hunter competitors showcased their talent once again in the $1,000 2'6"-2'9" Hunter Derby "Hunt & Go," presented by CLPR Wind. Taking top honors in the phase-combined track was Blythe Karolyi (USA) and Natalie Bass's Fantasy with a score of 175. Earning the second-place ribbon with a score of 158 was USA's Ashley Glica aboard Alex Jimenez's F-Neat Freak, while Margaret Kosyk (USA) and her own, BB Valiente, took third with a combined score of 146.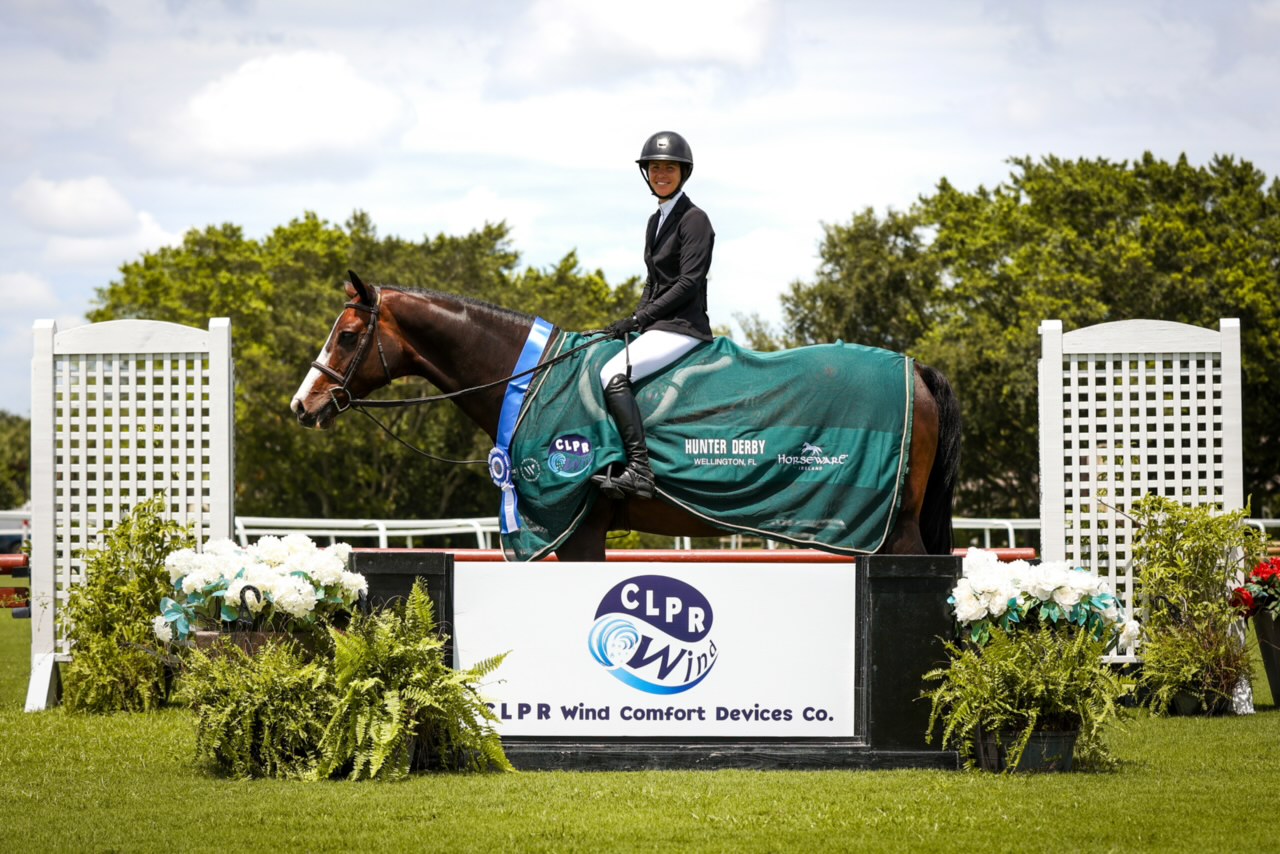 Junior and amateur riders gave their all Sunday morning in the Palm Beach Equine Clinic NAL Medium Junior/Amateur Jumper (1.30m). The last pair to take to the field, Ana Cristina Rodriguez (GUA) and Ferdita, owned by Rodriguez Equestrian, put in the fastest clear round with a time of 37.42 seconds. USA's Laura Rubinate and Alberto Michan's Judika Kim, earned the second place ribbon with a clear 39.029 seconds, while Lauren Brody (USA) and Nutou, owned by LJB Equine LLC, rounded out the top three.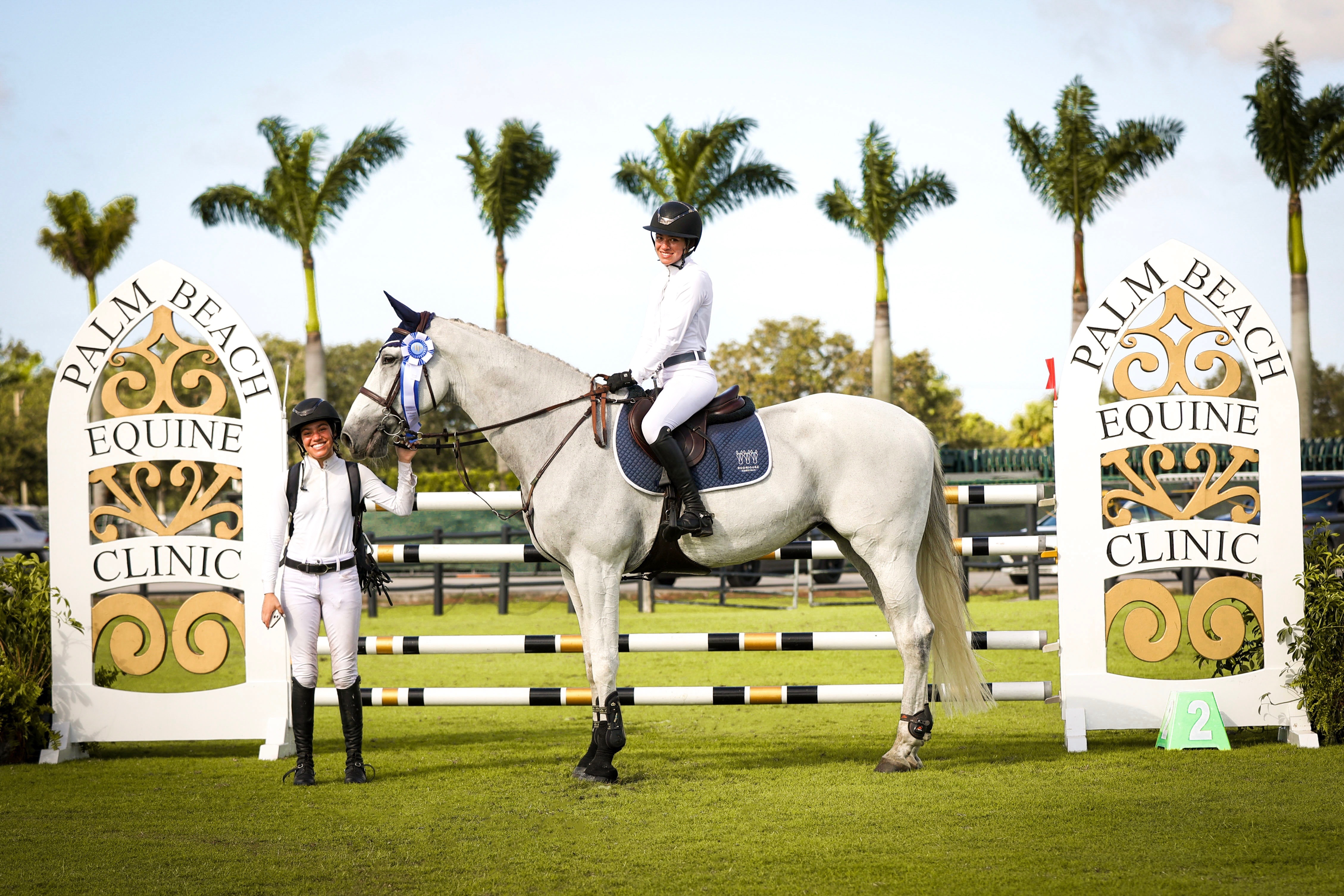 Competition came to a climax on Sunday as 27 horse-and-rider combinations stepped out on the grass Derby Field to compete in the $25,000 Palm Beach Equine Clinic Grand Prix with Jimmy Buffett playing in the background. The winning pair was New Zealand's Sharn Wordley and Valentine Car, owned by Fernando Cardenas. 
"I thought the course was great," shared Wordley. "The time was a bit fast for younger horses, but there were already 10 clear, and if the time had been slower there would have been 13 or 14 in the jump-off. For riders, where there's a tight time on the first round, that's where you must make your best judgement as to the pace you feel that your own horse is comfortable."  
Designing for the International Arena throughout the week, Héctor Loyola (PUR) challenged the riders to a thirteen-jump round, followed by a seven-jump jump-off. Twelve riders managed to complete the first round without knocking any rails, but two of those riders finished just outside the time allowed of 81 seconds to keep them out of the final phase. Wordley tested later in the jump-off round, allowing him to make the best plan for his winning track. Sharn and Valentine Car completed the jump-off fault free, with a time of 41.798 seconds. 
Following Wordley's track was Brazilian rider Gabriel de Matos Machado and Evabellie W, owned by Emily Wood, in second place with a double-clear performance and a jump-off time of 41.866 seconds. Completing the podium was Irish native, Dylan Daly, and Cinderella Z, owned by Jacqueline Steffens Daly, with a fault-free jump-off time of 44.28 seconds. 
Wordley shared that he and his winning partner have been together for two years, stating, "He's 15 now, and he has won a lot of grand prix classes with me over the last two years. He's very quick footed, so even in a fast jump-off like the one today it's hard to beat him. He just skims over the jumps." He continued, "I think we'll do one more of these shows this summer, and then we'll start doing FEI classes in the fall. The shows here are great for younger and older horses to help prepare them for bigger classes, so I want to bring them down here once more this year." 
The 2023 Summer Series will take a one week break before resuming with ESP September, which begins September 14, 2023, and is followed by the ESP Florida State Fall show, which will host the Region 10 ASPCA Maclay Championship, THIS NHS Adult Area Championship, and the Hamel Foundation NHS 3'3" Championship. For the full Summer Series Prize List, please click HERE.