Wellington, FL – March 20, 2022 – Week 10 of the Winter Equestrian Festival (WEF), sponsored by Horseware Ireland, concluded its competition on Sunday, March 20. Richard Vogel (GER) bested 28 of the world's most promising young show jumpers for the win in the $50,000 Hermès Under 25 Series Grand Prix Final. 
The young athletes brought their A-game against Michel Vaillancourt's (CAN) track, and 11 members of the opening field navigated their way into the jump-off. The time-allowed produced an issue for only two riders, and six riders did not advance due to a downed rail. Grace Debney (GBR) took the lead for the return and set a challenge for the remainder of the exhibitors with her time of 37.81 seconds. As the first to go however, Debney left the door open for two pairs to find a slightly-faster clear path around and settled for third place aboard the Temple Equestrian LLC's 11-year-old Selle Francais mare Boheme De La Roque (Kannan x Quick Star).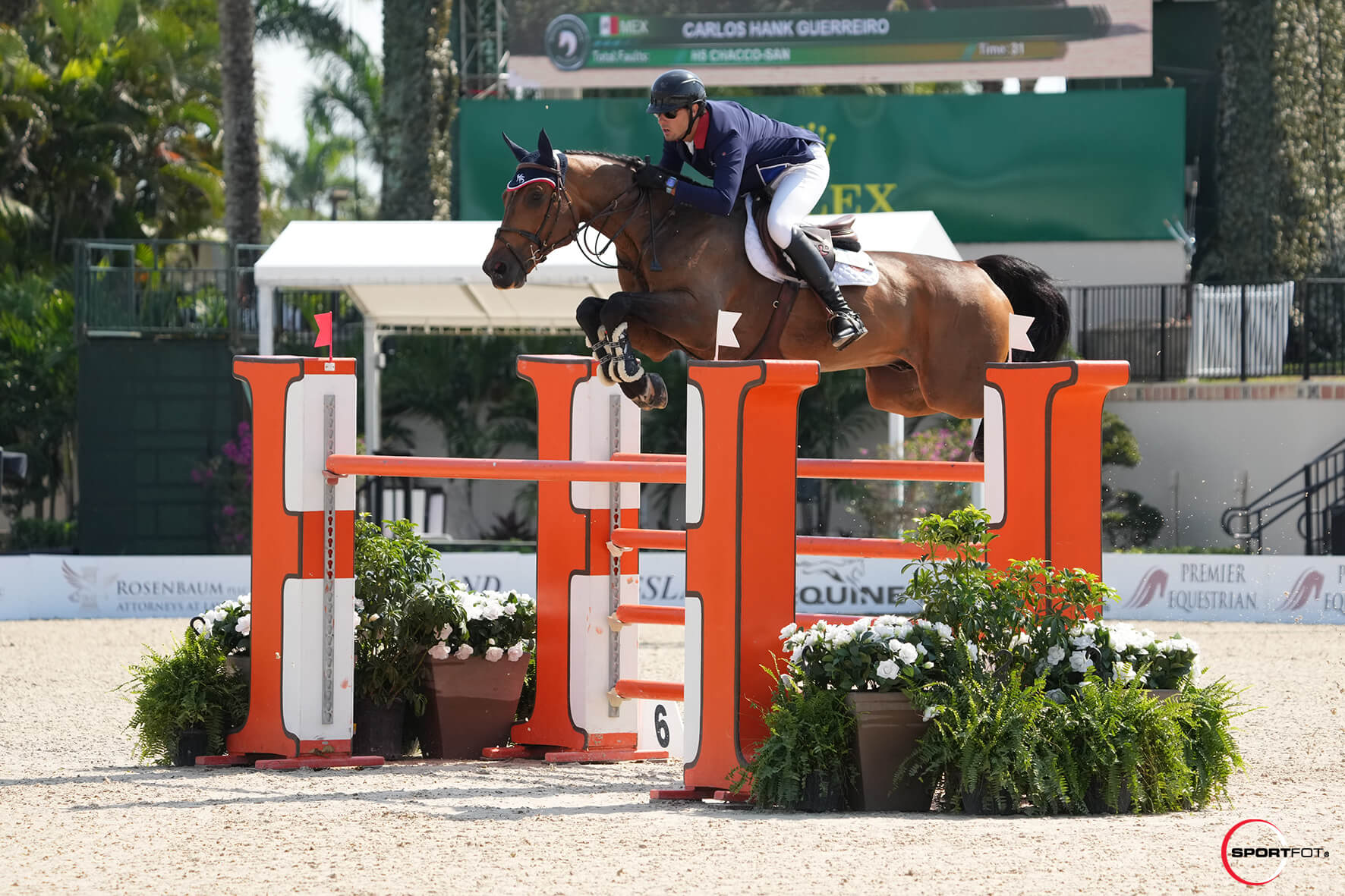 "I knew that jumps one through four were the most important part of the course," described 18-year-old Debney. "They appeared to be the easiest so that is where you were going to make up the time. I didn't catch everything the way I wanted to, but I still thought I did a good job of finding the jumps out of the turn to make it smooth.
"One of our biggest goals was this series this year, and this mare is definitely one of my top horses so that is why we chose her," continued Debney. "She is always looking to do the right thing, and sometimes I think she wants to win more than I do!"
Carlos Hank Guerriero (MEX) had one of his best rides to date aboard the H5 Sport Horses LLC's 11-year-old Hanoverian gelding H5 Chacco San (Chacco-Blue x Sandro Boy). The 21-year-old left all of the rails untouched and sliced over the fences to overthrow Debney by mere milliseconds with a time of 37.76 seconds.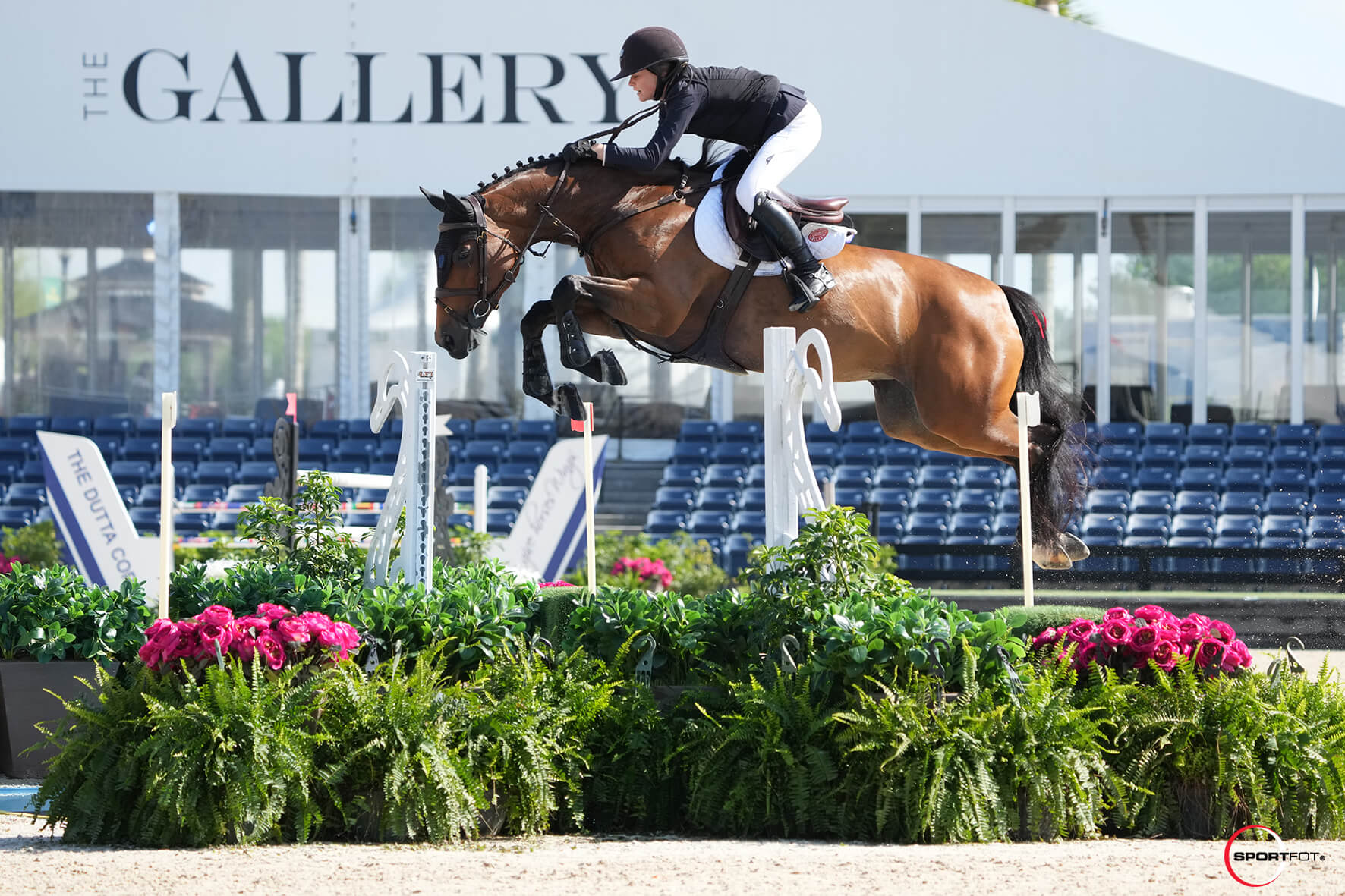 "Even now that I am participating in some of the four and five-star events, this series is still a highlight for me," said Guerriero, who is 21 years old. "I have been competing in this series for probably six years, and it really feels like the show puts forth an effort for us young riders to step up and gain more experience at a higher level than junior or amateur classes. I didn't have as many horses this year so I was lucky to qualify and then I decided to bring my most competitive horse today. He is careful but always wants to fight for you. I'm very happy with how it played out."
However, the class's winning ride would come from Germany's Richard Vogel. Having seen where he needed to make moves for the win, Vogel piloted the Horse Management GMBH's eight-year-old Hanoverian mare Looping Luna (Lord Fauntleroy x Calido I) over a clear round in 36.16 seconds and knocked over a second off of Guerreiro's time.
"I think the key for the jump-off today was to just be as smooth as possible," explained Vogel, who has a business with German team rider David Will in Frankfurt, Germany. "There wasn't really anywhere you could get a good gallop because there were a lot of turns and angles. I saw Grace go, and I knew I had better give it my all because she was going to be hard to beat."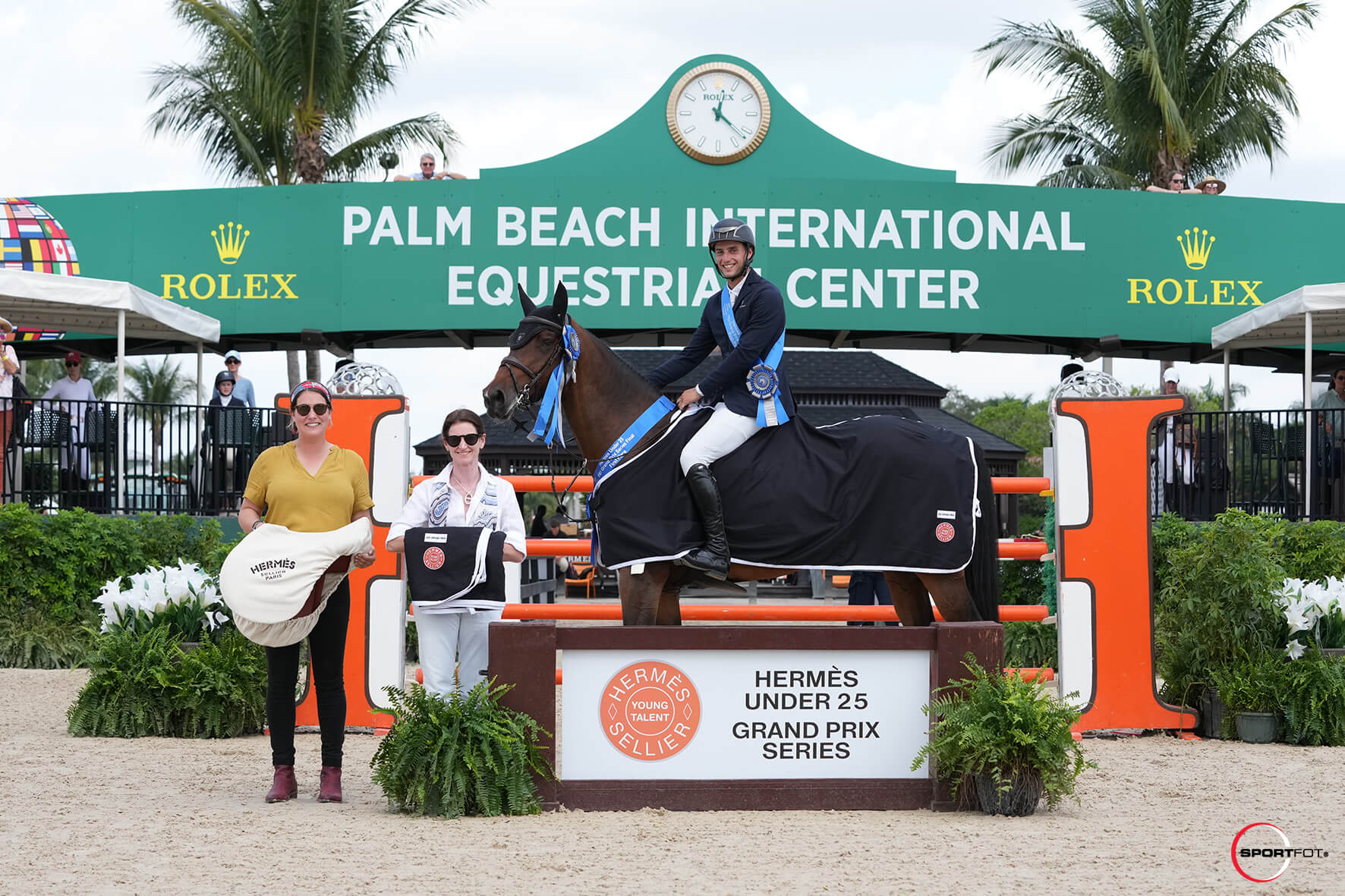 While Vogel won the final grand prix, he also took home top honors for the entire series, which encompassed events over five different weeks of the WEF circuit. The victory felt extra sweet for Vogel who, at the age of 24 years old, is in his final year of eligibility for the Under 25 series. 
"I think this series is amazing for us younger riders to be able to compete between ourselves," stated Vogel. "From the beginning of the season I was very focused on this tour. I had three horses for this series, and my plan was to use the horse that was most suited to the venue we were competing in."
Final Results: $50,000 Hermès Under 25 Grand Prix Final 
1. LOOPING LUNA: 2014 Hannoverian mare by Lord Fauntleroy x Calido I)
RICHARD VOGEL (GER), Horse Management GMBH: 0/0/36.16
2. H5 CHACCO SAN: 2011 Hannoverian gelding by Chacco-Blue x Sandro Boy)
CARLOS HANK GUERREIRO (MEX), H5 Sport Horses LLC: 0/0/37.76
3. BOHEME DE LA ROQUE: 2011 Selle Francais mare by Kannan x Quick Star
GRACE DEBNEY (GBR), Temple Equestrian LLC: 0/0/37.81
4. ELCO VAN HOF TER NAILLEN: 2010 SBS gelding by Elvis Ter Putte x Toulon
SARA TINDALE (CAN), Tindale Farms: 0/0/40.13
5. LUKAKU VD BISSCHOP: 2011 BWP gelding by Plot Blue x Celsa vd Dreef
LEXI RAY (CAN), Lexi Ray: 0/0/43.99
6. ICARUS: 2008 BWP stallion by Douglas x Sioux de Baugy
FRANCISCO GOYOAGA MOLLET (ESP), Straburg Morin Inc: 0/4/35.69
7. MY GIRL 52: 2012 Hannoverian mare by Montender 2 x Ritual
MAYA ARYAL (USA), Maya Aryal: 0/4/37.65
8. QUINTINI: 2009 OS gelding by Quintender 2 x Cassini II
MAX WACHMAN (IRL), Coolmore Show Jumping: 0/4/38.55
9. HOLSTEINS MATINA: 2009 DWB mare by Party Dance x Charmeur
SOPHIA STUDD (DEN), Studds Show Stables: 0/4/40.29
10. STELLA LEVISTA: 2008 Hannoverian mare by Satisfaction FRH x Levisto
CAROLINE MAWHINNEY (USA), Caroline Mawhinney: 8/38.68
11. AMAZING: 2012 Swedish Warmblood mare by Baltimore 1178 x Talexis Van't Voorhof
DOMINIC GIBBS (USA), Mountain King Ranch LLC: 0/8/36.76
12. LE CORDIAL: 2012 Holsteiner gelding by Lyjanero x Singulord Joter
ANDRZEJ OPLATEK (POL), Gospodarstwo Rolne and Andrzej Oplatek: 1/73.35
Irishman Darragh Kenny Closes Out Horseware Ireland Week with Win in $75,000 CaptiveOne Advisors 1.50m Classic CSI4*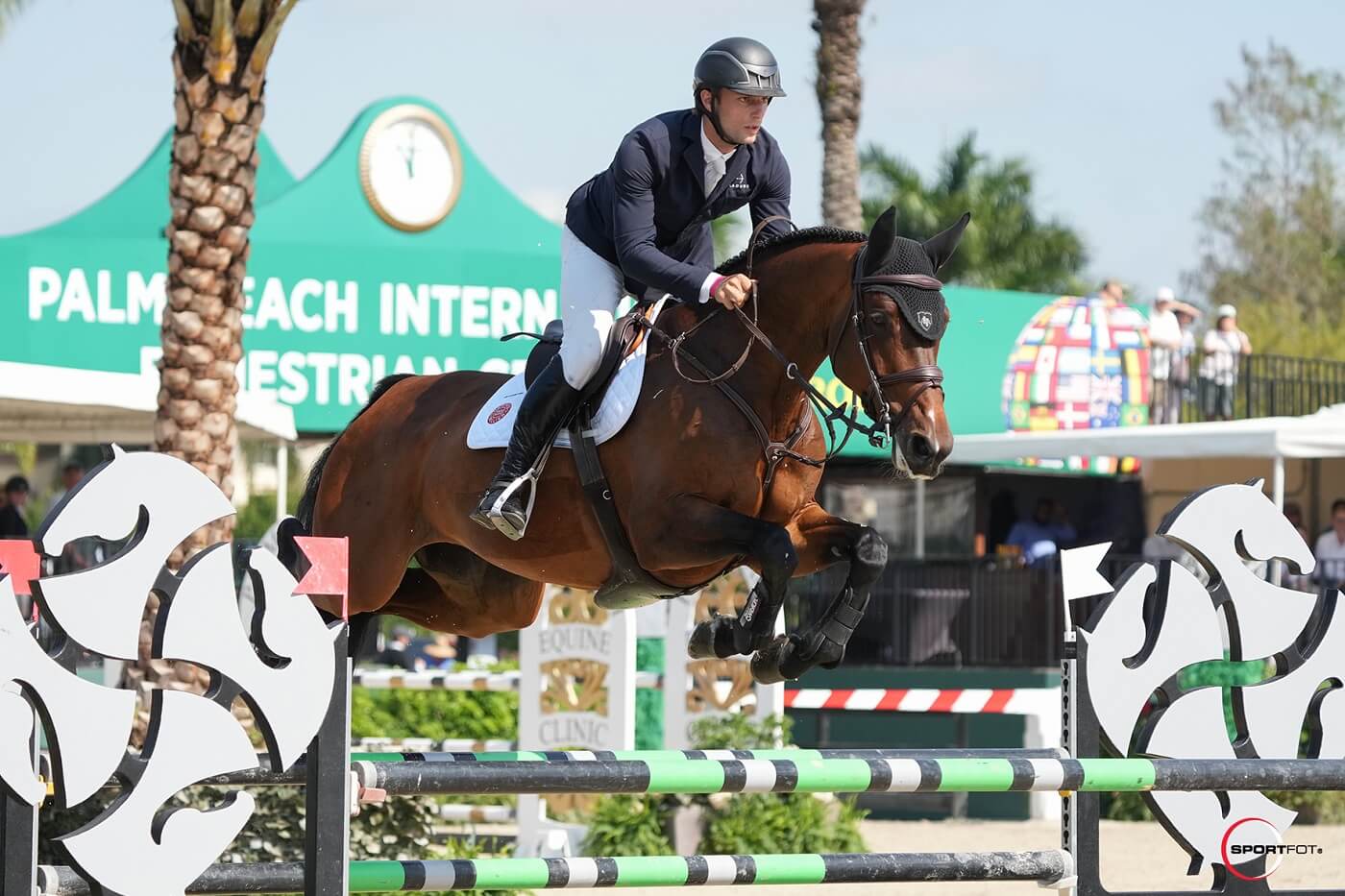 The  $75,000 CaptiveOne Advisors 1.50m Classic CSI4* rounded out show jumping in the International Arena on Sunday of WEF 10. Vaillancourt's final design of the week was an unbeatable challenge for many, and the class saw only eight combinations advance to the jump-off track. The large starting field included 58 horse-and-rider pairings from 15 nations, but only three of those countries would be represented in the jump-off. Challengers accrued faults in various areas throughout the tough track with the time-allowed of 76 seconds dashing the hopes of three entries and a combination of downed rails alongside additional time penalties disappointing the rest. 
Ever the dominating force, McLain Ward (USA) was the first double clear with his newer mount, Kasper Van Het Hellehof. The lead would be short-lived however, as Ireland's Shane Sweetnam upped the ante aboard the Triple S Group's 10-year-old KWPN mare Holliewood (Nabab De Reve x Diva). Sweetnam however, would hold the title for mere minutes as his fellow countryman, Darragh Kenny (IRL), once again rode to the fastest time as he blazed forward into the lead with a time of 36.64 seconds.
"I thought today's course was brilliant," said Kenny. "Michel did a great job, and to be able to end up with only eight clear out of that large of a field was pretty impressive. The jump-off was always going to be quick, but I know he is a naturally fast horse. I just had to do my own plan and it worked out for us today.
Volnay Du Boisdeville, a 13-year-old Selle Francais stallion (Winningmood x Jalisco B), is yet another mount acquired through the Vlock Show Stables LLC for the Irishman.
"I took over the ride on this horse in the middle of the summer and just took it slow to build up a partnership with him," he finished. "He was brilliant for Teddy [Vlock] when he had him, and it's starting to go well for us. He jumped clear in the WEF Challenge this week, and he was just fantastic today so I am very happy with him."
The victory gallop was poised to be all-Irish until the USA's Lillie Keenan battled her way into the boys club as the final contender on course. Keenan piloted her highly-successful partner Skyhorse, a 15-year-old BWP gelding (Calvaro F.C. x Quidam de Revel), to the spot directly behind Kenny with a tight time of 37.20 seconds. Daniel Coyle (IRL) bookended the Irish podium as he stepped into the third-place position aboard Ariel Grange's 14-year-old Holsteiner gelding Oak Grove's Carlyle (Casall x San Patrignano Corrado).
Final Results: $75,000 CaptiveOne Advisors 1.50m Classic CSI4* 
1. VOLNAY DU BOISDEVILLE: 2009 Selle Francais stallion by Winningmood x Jalisco B
DARRAGH KENNY (IRL), Vlock Show Stables LLC: 0/0/36.64
2. SKYHORSE: 2007 BWP gelding by Calvaro F.C. x Quidam de Revel
LILLIE KEENAN (USA), Chansonette Farm LLC: 0/0/37.20
3. OAK GROVE'S CARLYLE: 2008 Holsteiner gelding by Casall x San Patrignano Corrado
DANIEL COYLE (IRL), Ariel Grange: 0/0/37.61
4. HOLLIEWOOD: 2012 KWPN mare by Nabab De Reve x Diva
SHANE SWEETNAM (IRL), Triple S Group: 0/0/38.08
5. KARLIN VAN'T VENNEHOF: 2010 BWP mare by Fantomas De Muze x Quasimodo Van De Molendreef
LACEY GILBERTSON (USA), Seabrook LLC: 0/0/38.49
6. KASPER VAN HET HELLEHOF: 2010 BWP stallion by Emerald x Nabab De Reve
MCLAIN WARD (USA), The Kasper Group LLC: 0/0/39.32
7. CASSINA Z: 2010 Zangersheide mare by Casado v't Gelutt Z x Lux
PETRONELLA ANDERSSON (SWE), Stephex Stables: 0/4/38.29
8. VINCI DE BEAUFOUR: 2009 Selle Francais gelding by Diamant De Semilly x Heartbreaker
SAYRE HAPPY (USA), Devon Macneil: 0/4/41.54
9. LAZZARO DELLE SCHIAVE: 2009 MIPAAF gelding by Acodetto 2 X Gluecksgriff
TOM WACHMAN (IRL), Coolmore Show Jumping: 1/76.48
10. NIKKA VD BISSCHOP: 2013 BWP mare by Emerol NOP x Nabab de Reve
NINA MALLEVAEY (FRA), Rein Family LLC: 1/76.74
11. LEGOLAS TER WILGEN: 2011 BWP stallion by Emmerton x Chin Chin
EMILIE CONTER (BEL), Stephex Stables: 1/76,82
12. DON VITO: 2008 KWPN gelding by Quaprice Bois Margot x Jus De Pomme
LORENZO DE LUCA (ITA), Poden Farms: 4/70.64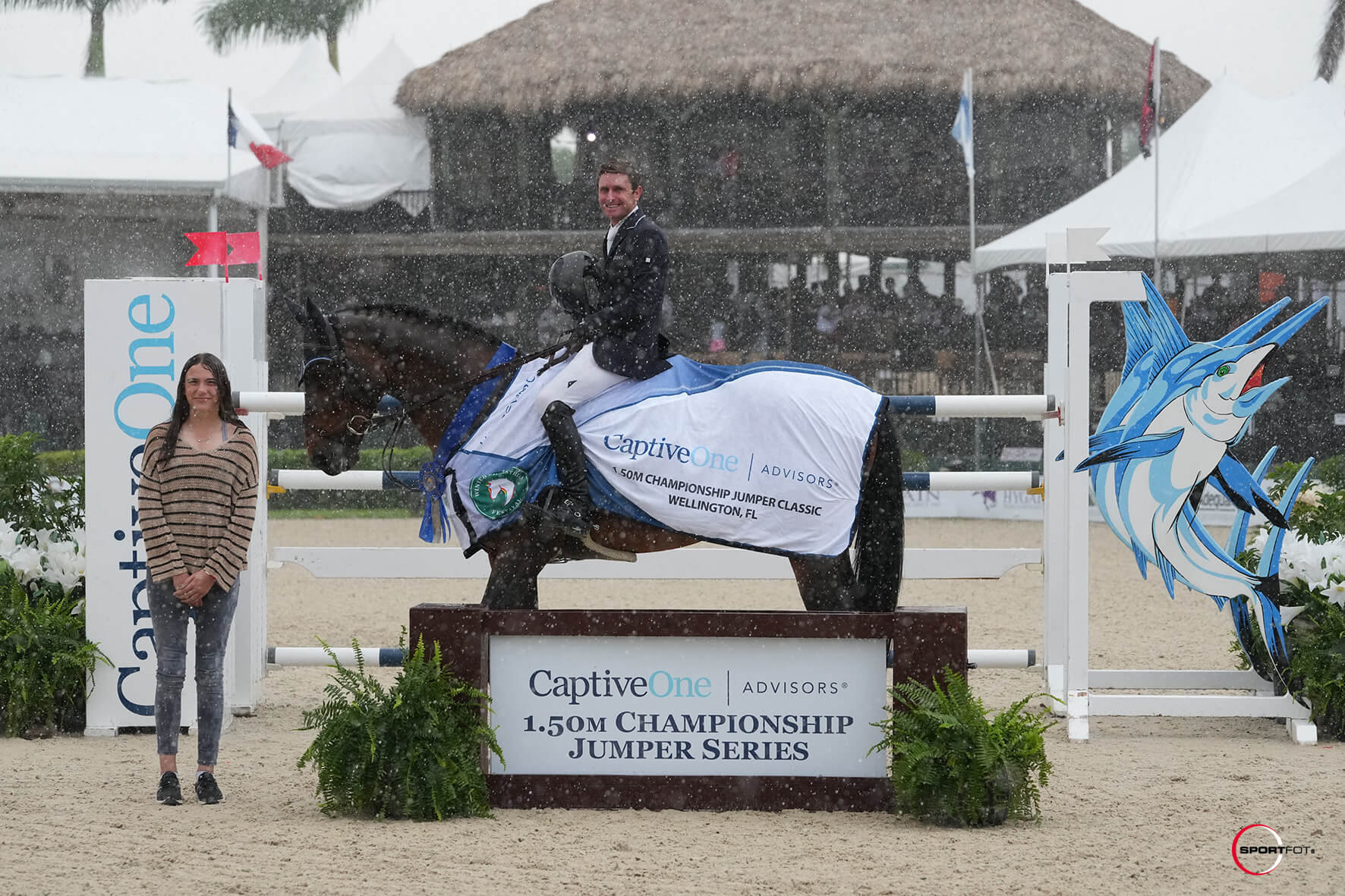 Valentino Victorious in Children's Hunter Older Division
In a competitive field of Children's Hunters (Older division) that showed in the FarmVet Ring on Sunday, Madison Frankel and her own Valentino donned the championship ribbon.
Day one of the division took place in the South Ring where Frankel and her nine-year-old Selle Francais gelding took third-place honors in the under saddle and had a win over fences.
"I feel like it made a bit of a difference being in this ring today," said Frankel, of Roslyn Harbor, NY. "There's more space in this ring compared to the South, and the distances come up a little better in here."
Day two brought a pair of second-place ribbons over fences earned with scores in the 80s.
"I felt very confident with my horse even though he's very green," noted Frankel. "I prepped him very well for this, so he felt perfectly fine with everything and very confident with all of the different changes."
The change in ring hasn't been the only change for Valentino as of late. Being a younger horse that has been brought along by Frankel, the gelding is currently doing his first full year in the three-foot and having new experiences that come along with the transition.
"I've been at WEF since pre-circuit, but he just came down two weeks ago, so he was adjusting to the weather at first," Frankel said. "It's also his first time being out of New York, so he's still learning about traveling, and it's his first week with my new barn Beacon Hill, so he's adjusting to that as well."
Despite all the changes, Frankel is happy with her horse's progress and plans to continue his career in the hunters.
Reserve champion honors in the division went to Kylie Elias, of Boca Raton, FL, and Birthday Boy, owned by Anna Duff.