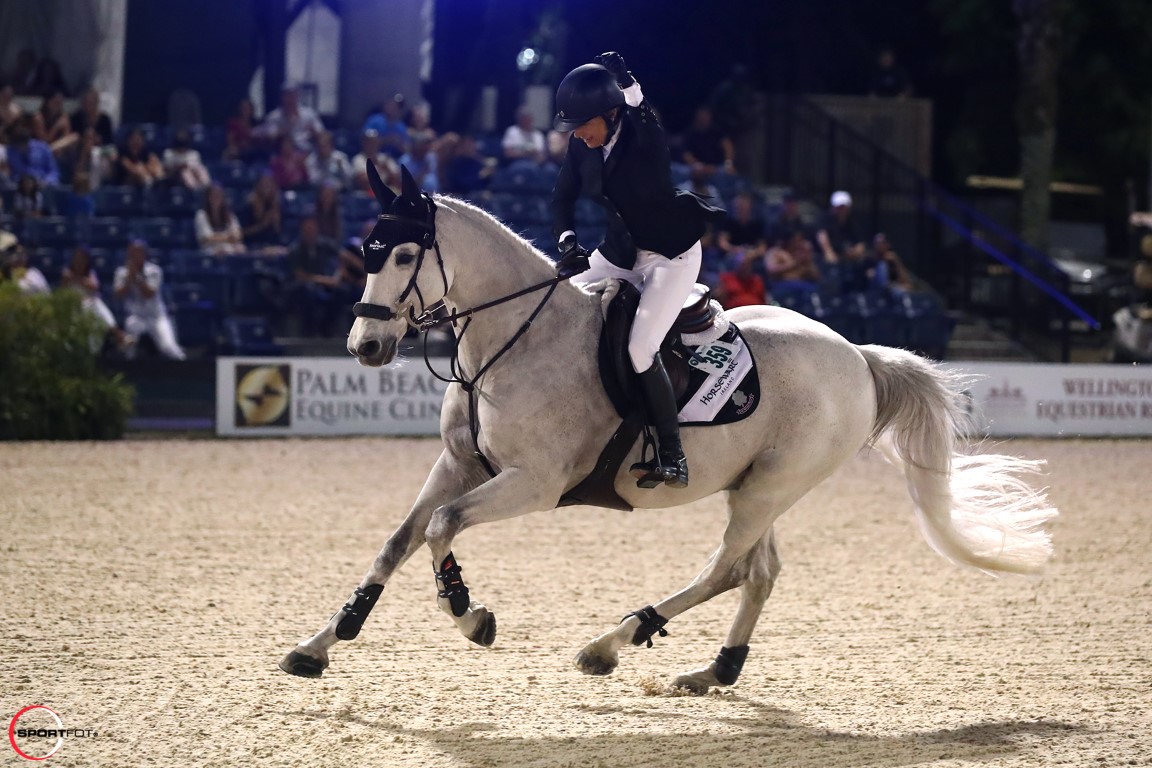 For Immediate Release
Jennifer Wood Media, Inc.
Wellington, FL – March 19, 2022 – Events at the Winter Equestrian Festival (WEF) on Saturday, March 19 culminated in the $216,000 Horseware Ireland Grand Prix CSI4* during the "Saturday Night Lights." WEF 10, also sponsored by Horseware Ireland, is the fourth week of FEI-rated four-star competition hosted throughout the circuit. At the night's conclusion, Olympic team gold and silver medalist Laura Kraut (USA) took home the top prize with her long-time partner, Confu, owned by St. Bride's Farm.
In addition to the variety of national hunter, jumper, and equitation classes, WEF 10 will shine the spotlight on the up-and-coming stars of show jumping on Sunday, March 20, in the $50,000 HermèsUnder 25 Series Final Grand Prix. 

Forty-five entries from 14 nations across the globe contested Michel Vaillancourt's (CAN) opening course. His challenge for the riders included two double combinations, a triple combination, and a triple-bar early on at obstacle three. The first clear-round came as the fifth rider on course, Ashley Vogel (USA), produced a top ride aboard Madiba AG Z. Two horses later, Sweden's Petronella Andersson put in her bid for the top title and ensured a jump-off. As the class neared its halfway mark, the field of returning riders grew with Mark McAuley (IRL), Lillie Keenan (USA), and Ben Maher (GBR) adding their names to the coveted list. Belgium's Abdel Saïd put forward a heroic effort to repeat his winning performance in the WEF 9 grand prix but tipped just over the time allowed of 83 seconds and incurred a single penalty.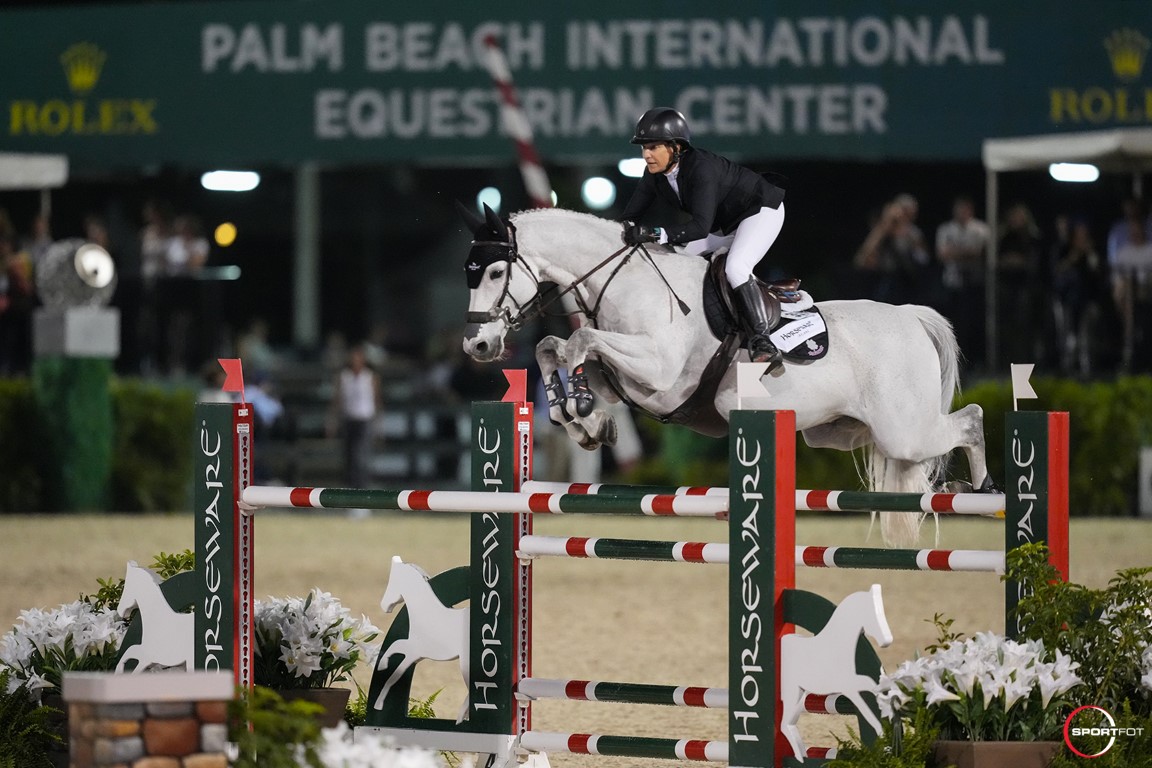 A final tally of 10 world-class pairs set the stage for an exciting jump-off across the evening's final short course. Vogel led the charge but would not see the top of the podium as she accrued four faults. Andersson was the first to put in a successful double-clear, but McAuley was quick to up the ante. The night looked to be in the bag for the Irish as McAuley sat in second and Conor Swail put in a blazing round as the second to last to go into the lead, but Kraut and Confu clearly had other plans as the last to go in the jump-off. 
The duo proved they are never a pair that should be counted out. Kraut and the 15-year-old Holsteiner gelding (Contact Me x Cambridge 8) exploded into action, finishing with a final time of 36.44 seconds.
"I knew how quick all of the riders were tonight, so when I was heading in, I thought, 'I would be happy with fifth,'" explained Kraut. "My plan was just to go at his pace and hopefully let him be double clear. The turn to the wall and the rollback to the oxer felt incredibly fast to me. I was then lucky to get a good jump on the second to last fence, and then also lucky to keep the final fence up. He knew exactly what to do."
The win was extra special for both Kraut and the Horseware Ireland team. Horseware Ireland has been a long-time supporting partner of Kraut, and the win seemed almost fated after the two appeared in a promotional item for the company earlier in the week. 
Kraut admitted that if she had been told Confu would produce this victory several months ago, she may not have believed it. The event was the first grand prix for Confu since November of 2021 in Europe. She shared that the gelding suffered from a serious virus at the end of 2021, and his future had been extremely unclear.
"The win tonight means everything," emphasized Kraut. "A few months ago, we were crying because we weren't sure he was going to make it. It means the world to have him win, and to win on Horseware week, I don't think we could have scripted it any better. I'm so thankful to have had their support for many years, and it feels like winning this class was meant to be."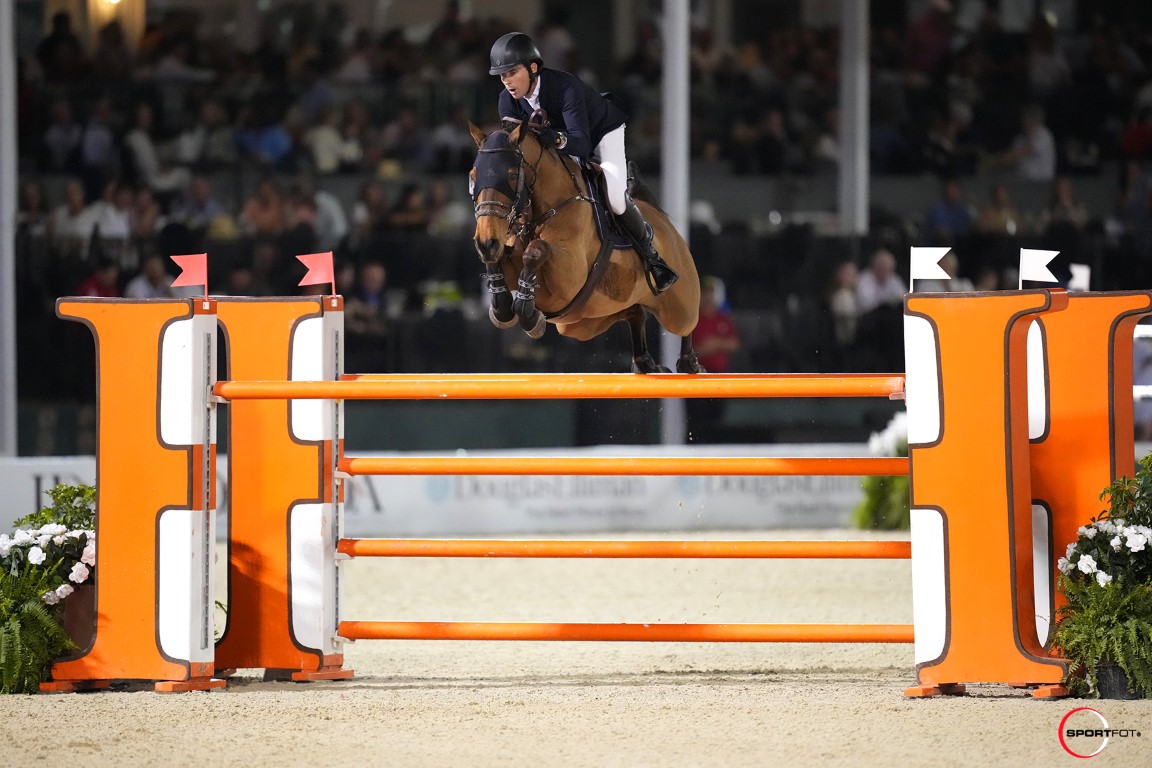 The luck of the Irish was clearly still strong during the penultimate day of the Horseware Ireland week as both Swail and McAuley joined Kraut in the lap of honor. Swail once again locked in the honors of the runner-up position, this time with his own 13-year-old Selle Francais gelding Vital Chance De La Roque (Diamant De Semilly x Rivage Du Poncel) after flying over the final fence in 37.10 seconds. 
"I'm very pleased with how tonight went, and I think we are a great partnership," stated Swail. "He's quite a buzzy little chap; he is quite aggressive, but he uses it to his advantage because he is so small. He is small and mighty."
The pair have had a successful season thus far, but Swail admitted he may left room for a quicker ride.
"I wouldn't have minded going a little better from fence one to two," he described. "I was a little behind in some areas, but I thought I was quite tight back to the oxer and had a good shot to the last fence. The final fence I rode forward and wide to give him a little space and the best chance to jump it well."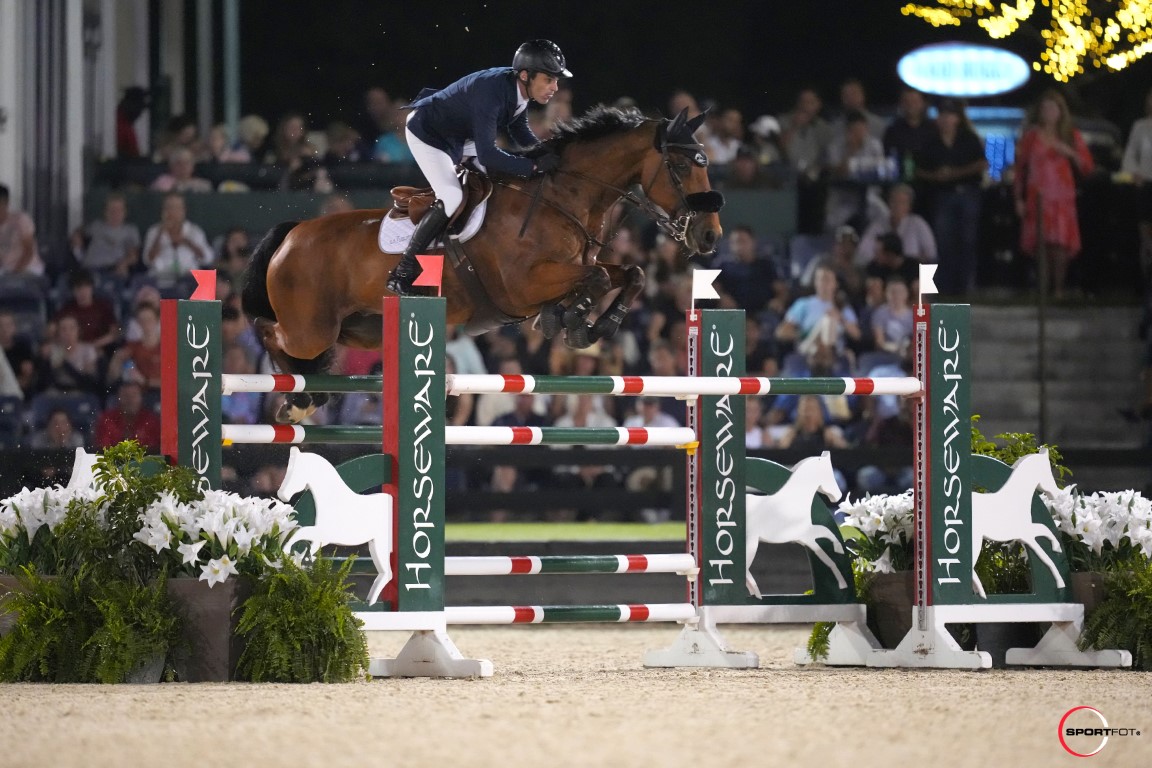 McAuley and SNC McAuley Equestrian's 13-year-old BWP gelding Jasco VD Bisschop (Dulf Van Den Bisschop x Krunch De Breve) duplicated their third-place finish in a four-star grand prix when they stopped the clock mere milliseconds behind Swail for a finishing time of 37.55 seconds. The pair were previously second-place recipients as well in the $216,000 NetJets Grand Prix CSI4* during WEF 3. 
"He hasn't jumped much under the lights, but I think this circuit has been great for him," said McAuley. "It felt almost easy to ride him this evening compared to when we competed in the evening on week three. No matter what I did as third to go tonight, I was always going to leave the door open with a field of competitors like these behind me."
"In the end, maybe I should have taken some stupid risks and I would've won," he added, "but Laura deserved her win tonight and I am very happy for her."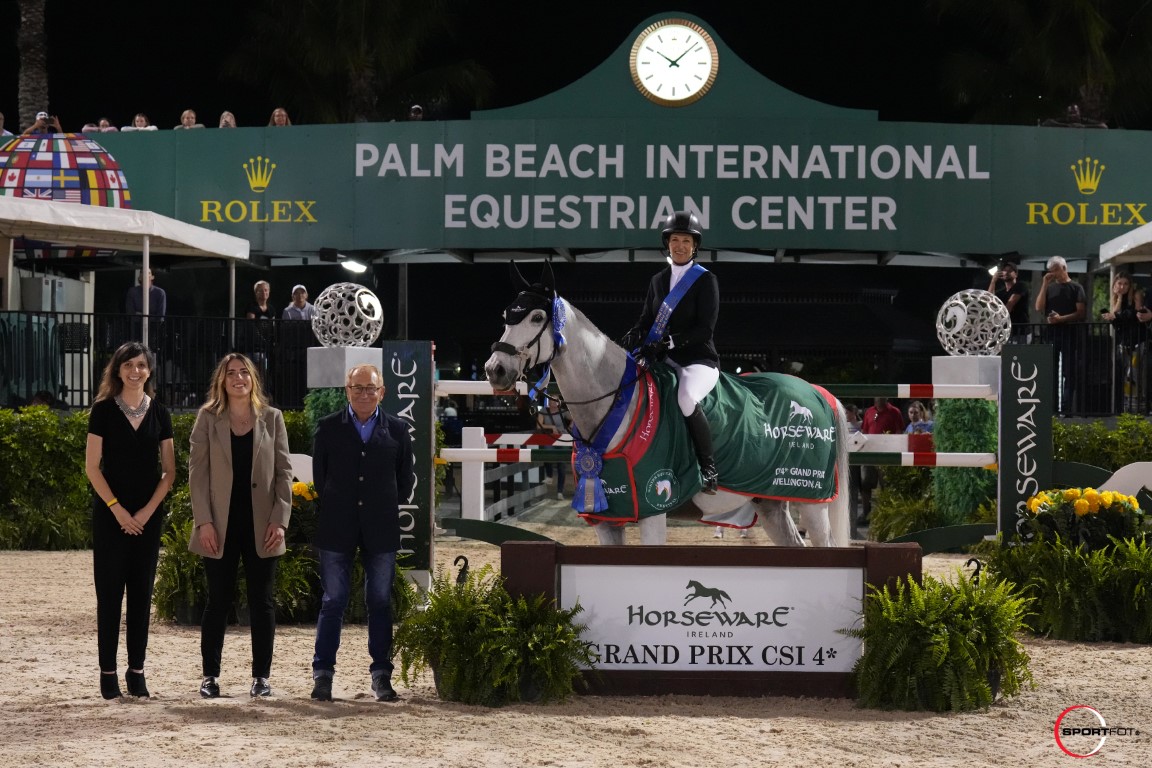 Lillie Keenan was named the Martha W. Jolicoeur Leading Lady Rider for WEF 10, while Margo Thomas took home the $500 Double H Farm Groom's Award.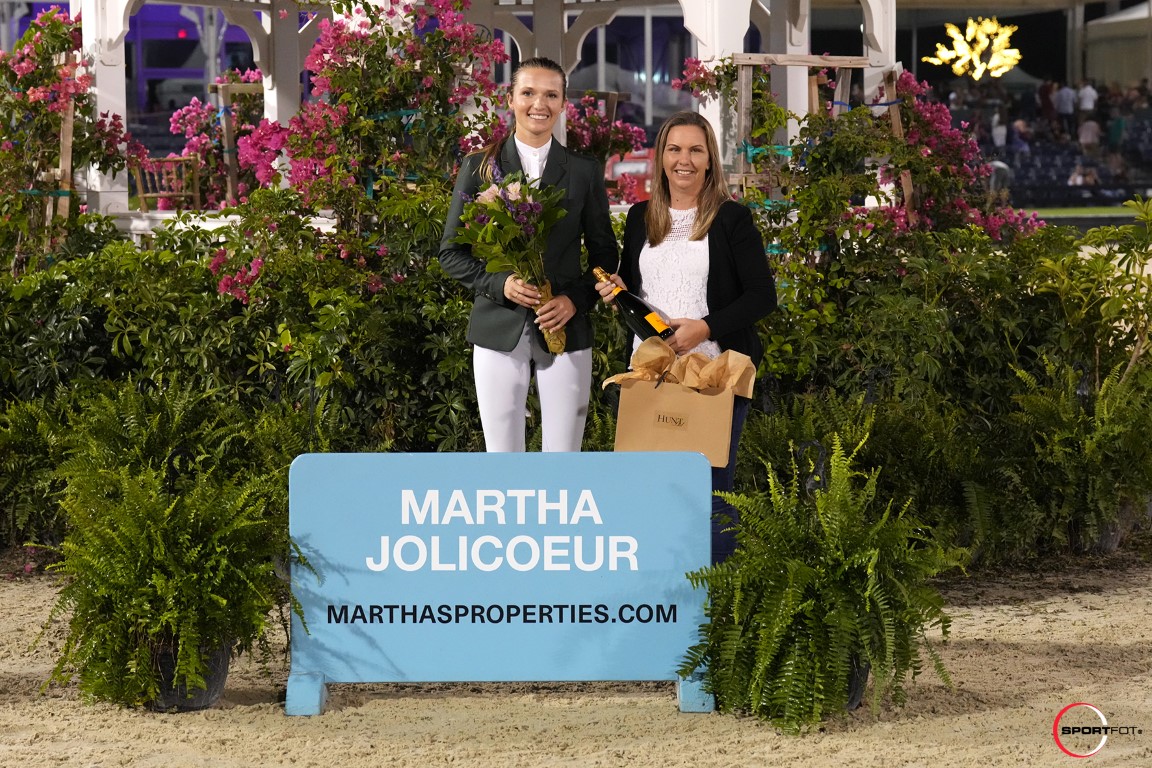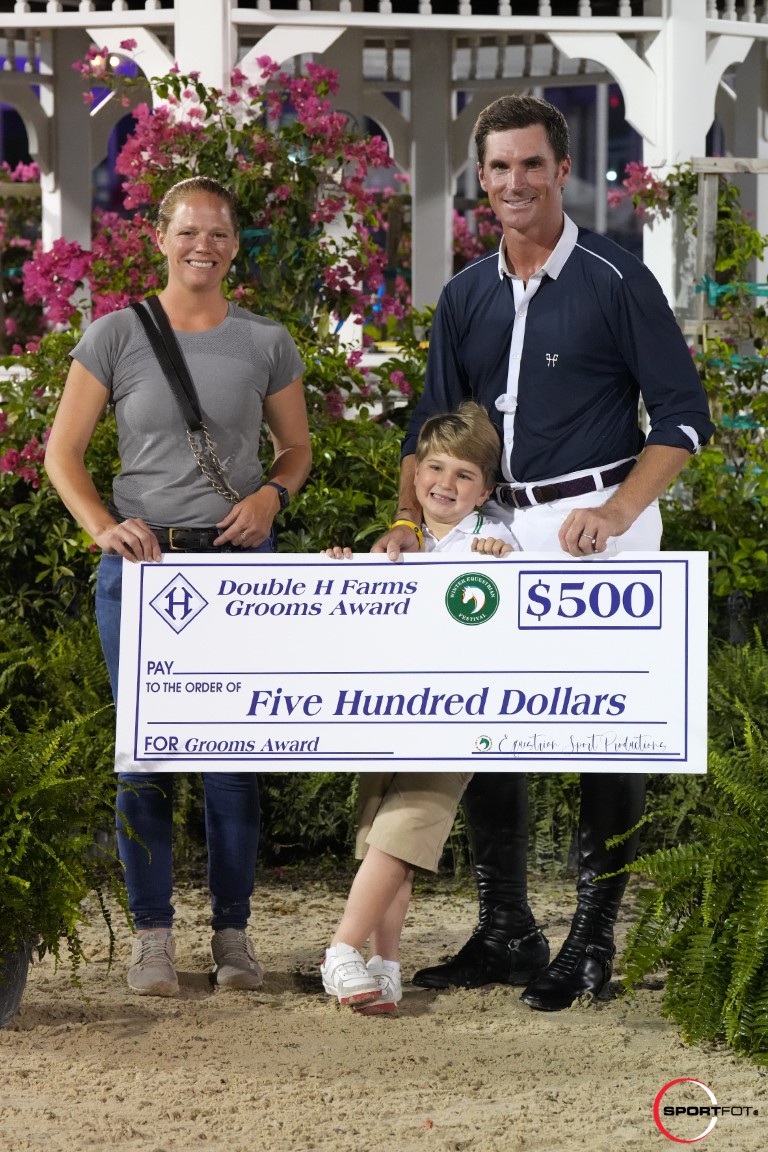 Final Results: $216,000 Horseware Ireland Grand Prix CSI4* 
1. CONFU: 2007 Holsteiner gelding by Contact Me x Cambridge 8LAURA KRAUT (USA), St. Bride's Farm: 0/0/36.44
2. VITAL CHANCE DE LA ROQUE: 2009 Selle Francais gelding by Diamant De Semilly x Rivage Du Poncel
CONOR SWAIL (IRL), Conor Swail: 0/0/37.10
3. JASCO VD BISSCHOP: 2009 BWP gelding by Dulf Van Den Bisschop x Krunch De Breve
MARK MCAULEY (IRL), SNC McAuley Equestrian: 0.0.37.55
4. GINGER-BLUE: 2011 KWPN mare by Plot Blue x Royal Bravour
BEN MAHER (GBR), Jane Forbes Clark: 0/0/37.63
5. AGANA VAN HET GERENDAL Z: 2011 Zangersheide stallion by Aganix Du Seigneur x Topas
LILLIE KEENAN (USA), Chansonette Farm LLC: 0/0/38.56
6. HALITA O: 2012 KWPN mare by Eldorado VD Zeshoek x Heartbreaker
PETRONELLA ANDERSSON (SWE), Stephex Stables: 0/0/38.75
7. VALDES Z: 2013 Zangersheide stallion by Vigo d'Arsouilles x Ircolando
EVAN COLUCCIO (USA), Hampton Green Farms LLC: 0/0/38.75
8. CORNWALL BH: 2008 Holsteiner stallion by Con Air x Cambridge
AMANDA DERBYSHIRE (GBR), Gochman Sport Horses LLC: 0/0/40.40
9. FARONA: 2010 KWPN mare by Baltic VDL x Lux Z
DANIEL COYLE (IRL), Ariel Grange: 0/4/36.35
10. MADIBA AG Z: 2012 Zangersheide mare by Mylord Carthago*hn x Corland
ASHLEY VOGEL (USA), Ashley Vogel: 0/4/43.95
11. CASALOR: 2012 Holsteiner mare by Casall x Acodetto
ABDEL SAID (BEL), Abdel Saïd: 1/83.07
12. MY WAY: 2010 OS stallion by Mylord Carthago*hn x Cassini II
LUIZ FRANCISCO DE AZEVEDO (BRA), Santa Cecilia Stables: 2/84.35
Eva Mackenzie Makes a Move in THIS Children's Medal 14 & Under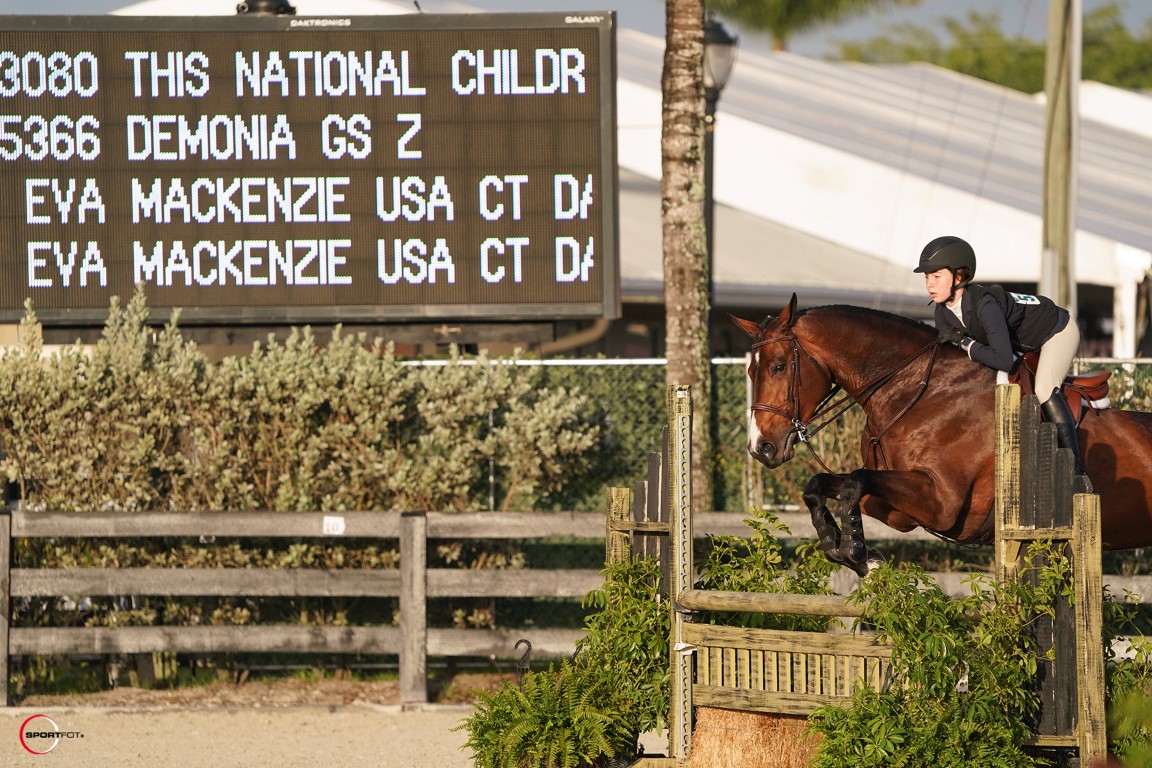 There were 32 entries that participated in the THIS Children's Medal 14 & Under on Saturday in Equine Tack and Nutritionals. Of those young riders, only the six with scores of 82 or above would return to test.
The top six riders waited in the ring, heard their test, and attempted the test in reverse order of their scores from the first round. Eva Mackenzie on her own Demonia GS Z would be the last to test on her score of 88 and would hold on the top spot to secure the win.
"I was a little nervous because I haven't really done this horse in that many of these classes," said Mackenzie. "I've only been riding her for about three months."
Though newly formed, the partnership between Mackenzie and her nine-year-old warmblood mare has been a fruitful one. The pair have been champion or reserve in the Equitation 11 & Under division each time out this season and have a significant lead in the circuit standings.
"She's really comfortable, and she just canters to the jumps, always with her head up," said Mackenzie. "She's also really sweet in the barn. She's just a really good girl."
Instead of testing on the flat, the medal's final placings were decided with a test over fences that included a trot jump, an option of line on a rollback, and a halt. This presented a unique challenge.
"I was a little bit nervous [about the test]," said Mackenzie. "I was trying to just listen and figure out which jumps I was supposed to jump and have a plan for which way I was going to go."
The testing kept Mackenzie and Demonia GS Z in the top spot but allowed two other riders to move up in their initial placings.
Hayley Hewitt, who returned with a score of 85.5 that had her in third place, moved up to second with Martel VDL owned by the winning rider Eva Mackenzie.
Emma Brody, with Lolita owned by Ashland Farms, also was able to better her position coming back in the sixth spot on a score of 82 to finish third.
WEF 10 will conclude on Sunday, March 20, with an action-packed day of competition. All rings will resume with national hunter, jumper, and equitation competition. Highlights in the International Arena will include the $50,000 Hermès Under 25 Grand Prix Final and the $75,000 CaptiveOne Advisors 1.50m CSI4*.