Competition during Week 8 of the 2023 Winter Equestrian Festival (WEF), presented by IDA Development, rolled into the night on Friday at Wellington International. Sixty-four up-and-coming show jumping talents sported their white breeches under the lights of the International Ring as they vied for the top spot in the $39,000 Hermès Under 25 Semi-Final Grand Prix. While 'Saturday Night Lights' will focus entirely on the CSIO4* Nations Cup, the spotlight was on Sheer Levitin (USA) on Friday night as she blazed a trail straight to the top with her own Vitus K. 
Anthony D'Ambrosio (USA) designed a first-round track that proved difficult for many contenders in the field, leaving three pairs on only time-fault penalties and an additional 13 with a single downed rail. Throughout the entirety of the event, seven combinations managed to dodge both jumping and time faults to advance to the jump-off, but the short track came with its own difficulties.
Following three faulted efforts, Ireland's Max Wachman found a path to the first double-clear performance of the night with a tidy time of 40.31 seconds. The victory was short-lived however, as Levitin returned with her 'unconventional' mount and shaved over two seconds off the clock as she dashed home in 38.67 seconds.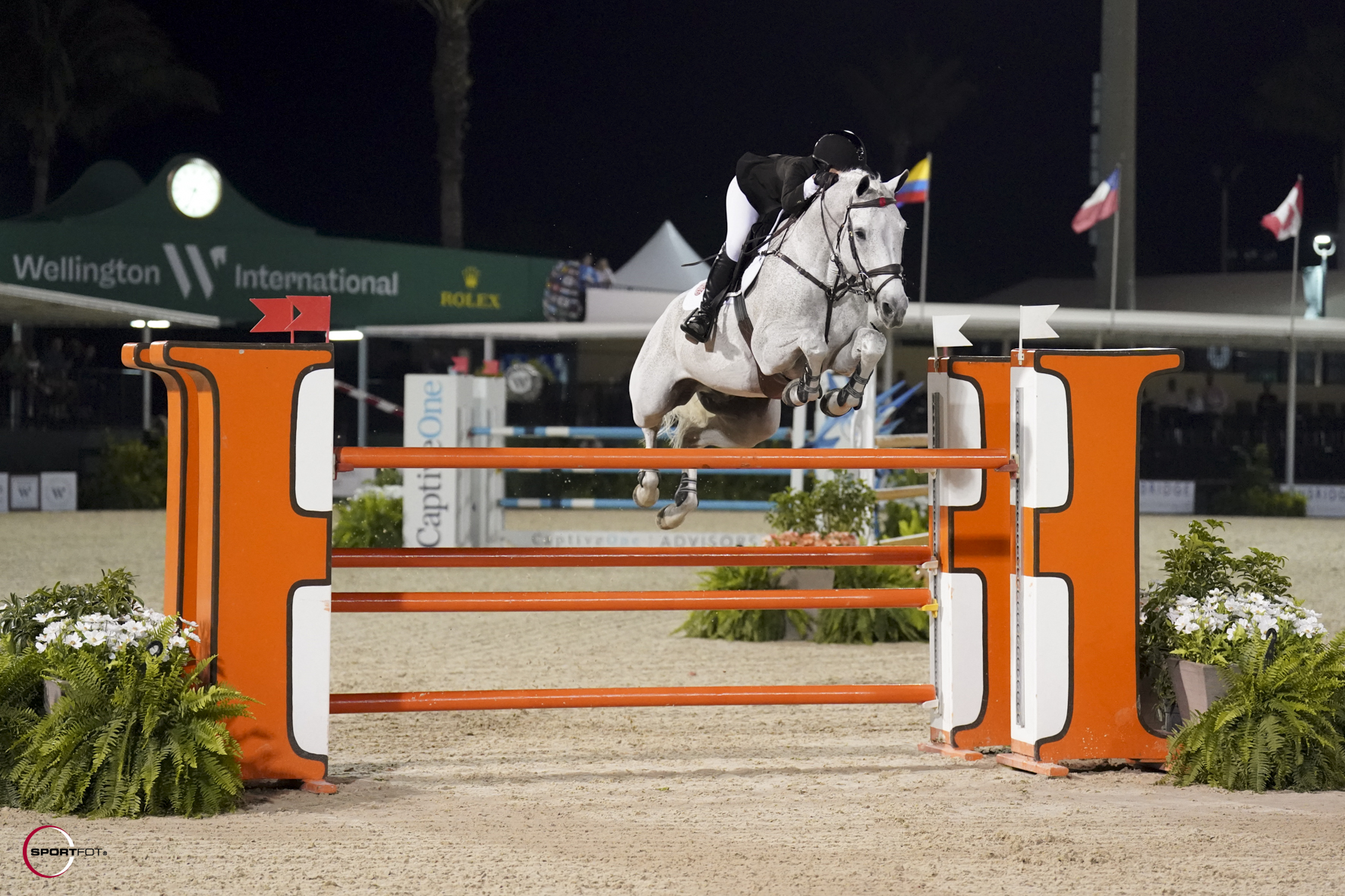 "He is unconventional in the way he goes, and I don't think he is everyone's ride," she detailed of the tiny but mighty 13-year-old Hanoverian gelding (Verdi TN x El Bundy). "It's been a process getting to know each other; I'm super confident in him and I know no matter what I do he will try his hardest for me." 
Vitus K has been a game-changing mount for Levitin, who explained that she was only competing in the medium amateur-owner jumper division when Kent Farrington found the gelding for her. Once partnered, the pair continued to improve and are now in their first Under 25 season as a team. 
"My goal in this division this year was to be overall top five, and I was hoping to get a top placing in a grand prix, so this has already surpassed my goal," Levitin admitted. "When I walked the course, I was initially a bit nervous because I haven't done a night class since last summer. I was most worried about the six strides to the five strides with the double because it was a bit forward, and I had a very similar line down two weeks ago in another class. Once I got past that, I wasn't too concerned."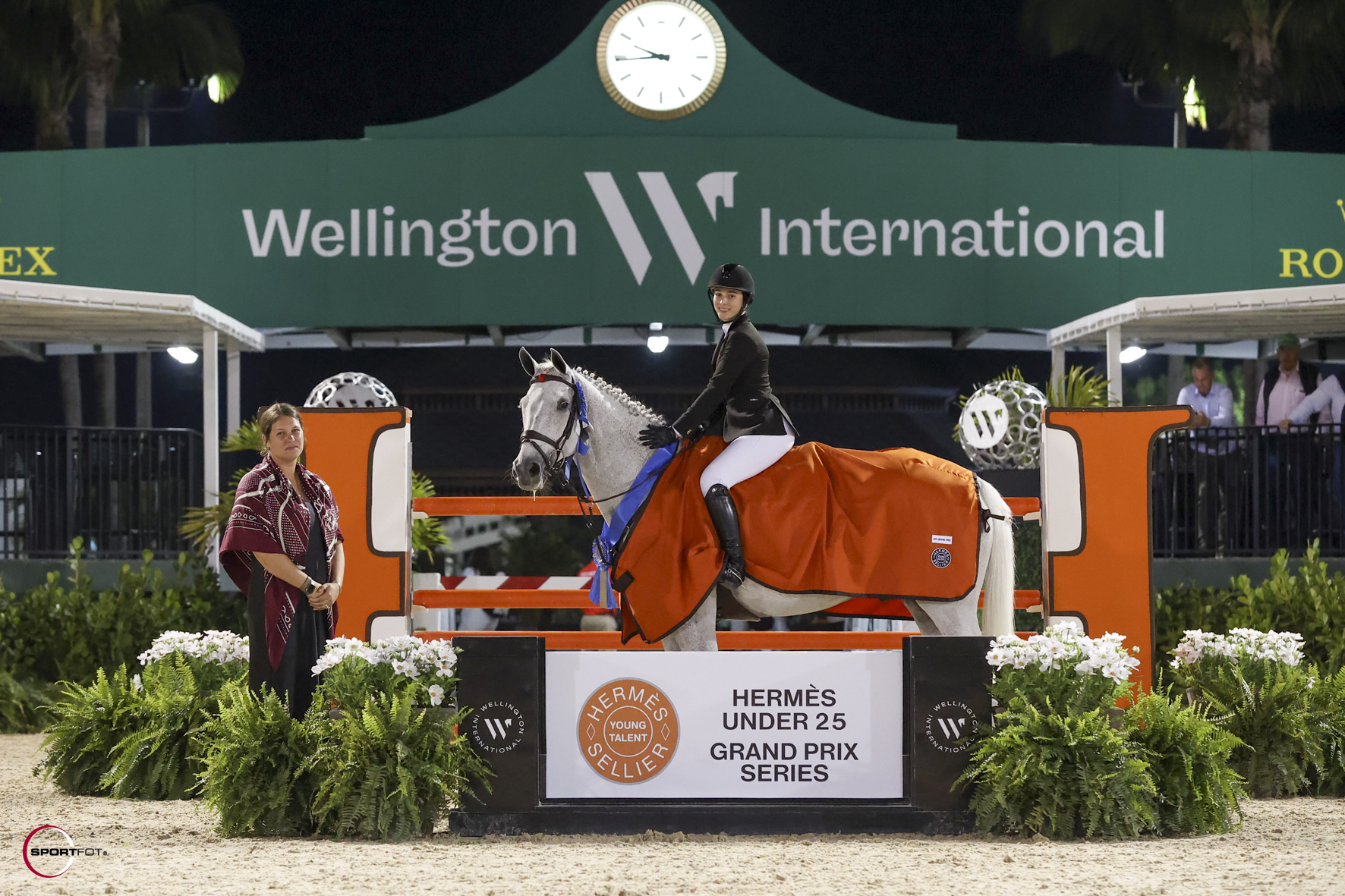 Wachman and the Coolmore Show Jumping's eight-year-old Selle Français stallion Fancy de Kergune (Berdenn de Kergane x Cor de Hus) remained the only other flawless duo of the night and received the runner-up honors. Summer Hill (USA) was one of two jump-off finalists to end their night with one unlucky rail, but as the faster of the two she completed the victory gallop for third place. With a time of 40.73 seconds and four faults on her own 12-year-old Belgian Warmblood mare La Belle SCF (Diktator van de Boslandhoeve x Baldini), she edged out fellow American Caitlyn Connors whose time of 41.27 seconds on four faults earned her fourth place. 
Jad Dana Doubles Down During WEF 8 
Lebanon's Jad Dana and Fleur-De-Lis' Cherie brought plenty of excitement to the International Arena on Friday as they captured the $39,000 Wellington Equestrian Realty CSIO4* 1.45m Classic.
From a field of forty-six, only nine horses jumped clear, though the pair that could not be caught was Dana and his 2012 Dutch Sport Horse mare (Clarimo x Lancer II) owned by The Cherie Group. They crossed the timers in the one-round speed format in 64.57 seconds, putting almost three seconds between them and second place finisher Lacey Gilbertson (USA) riding Seabrook, LLC's Damzelle STE Hermelle. They broke the timers in 67.01 seconds. Lastly, third place went to Daniel Coyle (IRL) and Legacy, owned by Ariel Grange clocking in at 67.19 seconds.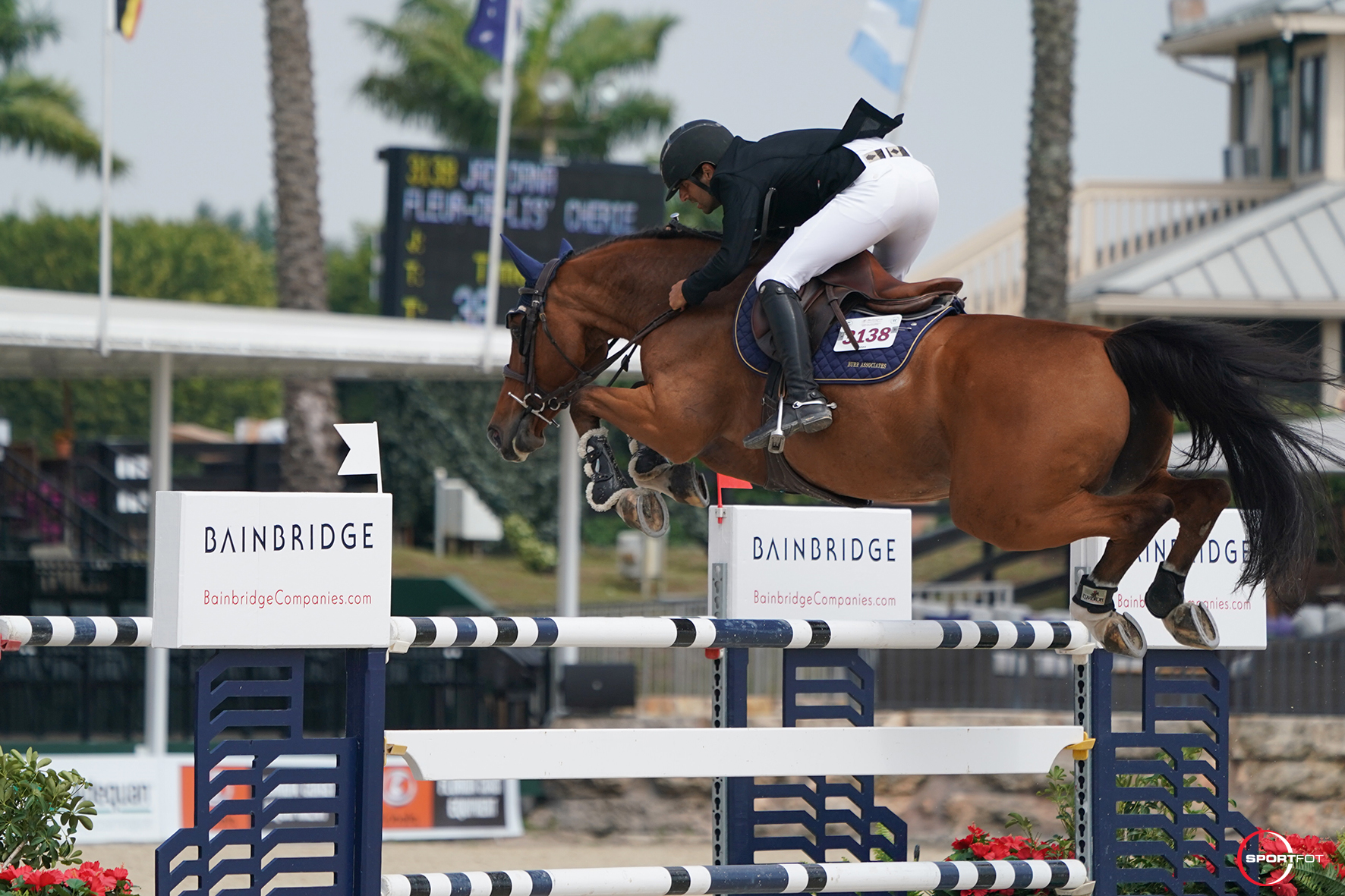 "I went early in the order, so I didn't know how fast everybody was going to go, but I had a plan and sometimes I like it that way when you make a plan and just stick to it," said Dana. "I tried to go as fast as I could and keep her jumping well. I did what I had to do and I think I put enough pressure on everyone. Rails were falling all over the place I think because some people were trying to go too fast."
"Cherie" is a sales horse partly owned by Dana's family and trainer Leslie Howard, who gave him the ride a year ago. "I was thrilled with how hard she tried today. She really was spot on, looking for the next jump and everything showed up the way that I wanted it to. I'm very happy to finish on top today."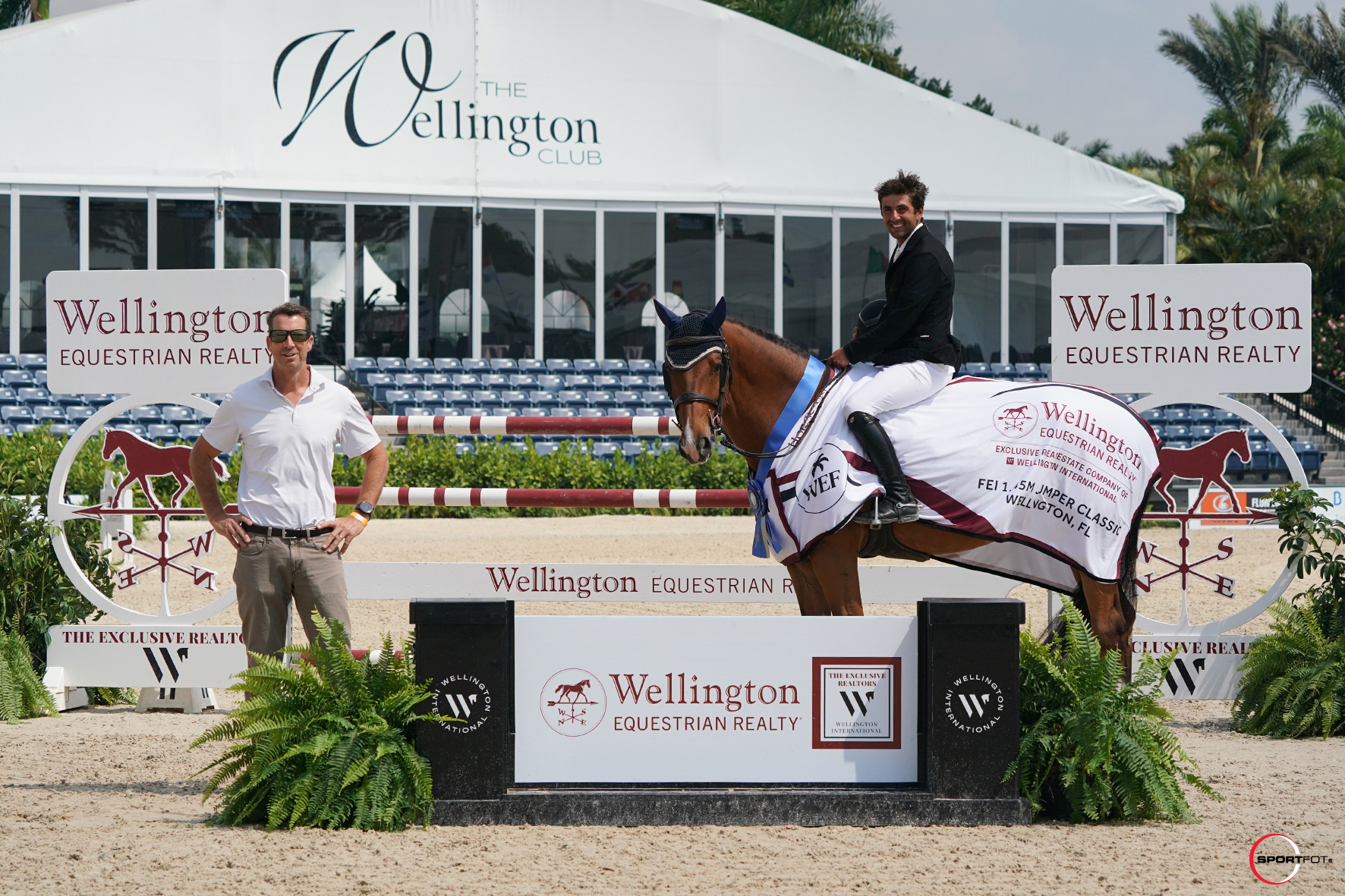 Dana was pulling double duty on Friday with a win in the big ring as well as in the Lövsta Future Challenge 7-year-old Developing Jumper division. He bested a 39-horse field of up-and-coming talent aboard the promising young mount Qadira. 
Twelve pairs went on to fault-free rounds across both tracks. Dana and the Burr Associates, Inc.'s Belgian Warmblood mare (Diktator van de Boslandhoeve) however, were the fastest of the contenders and the only ones to stop the clock under 31 seconds with a finishing time of 30.67, also earning them the champion title for the week.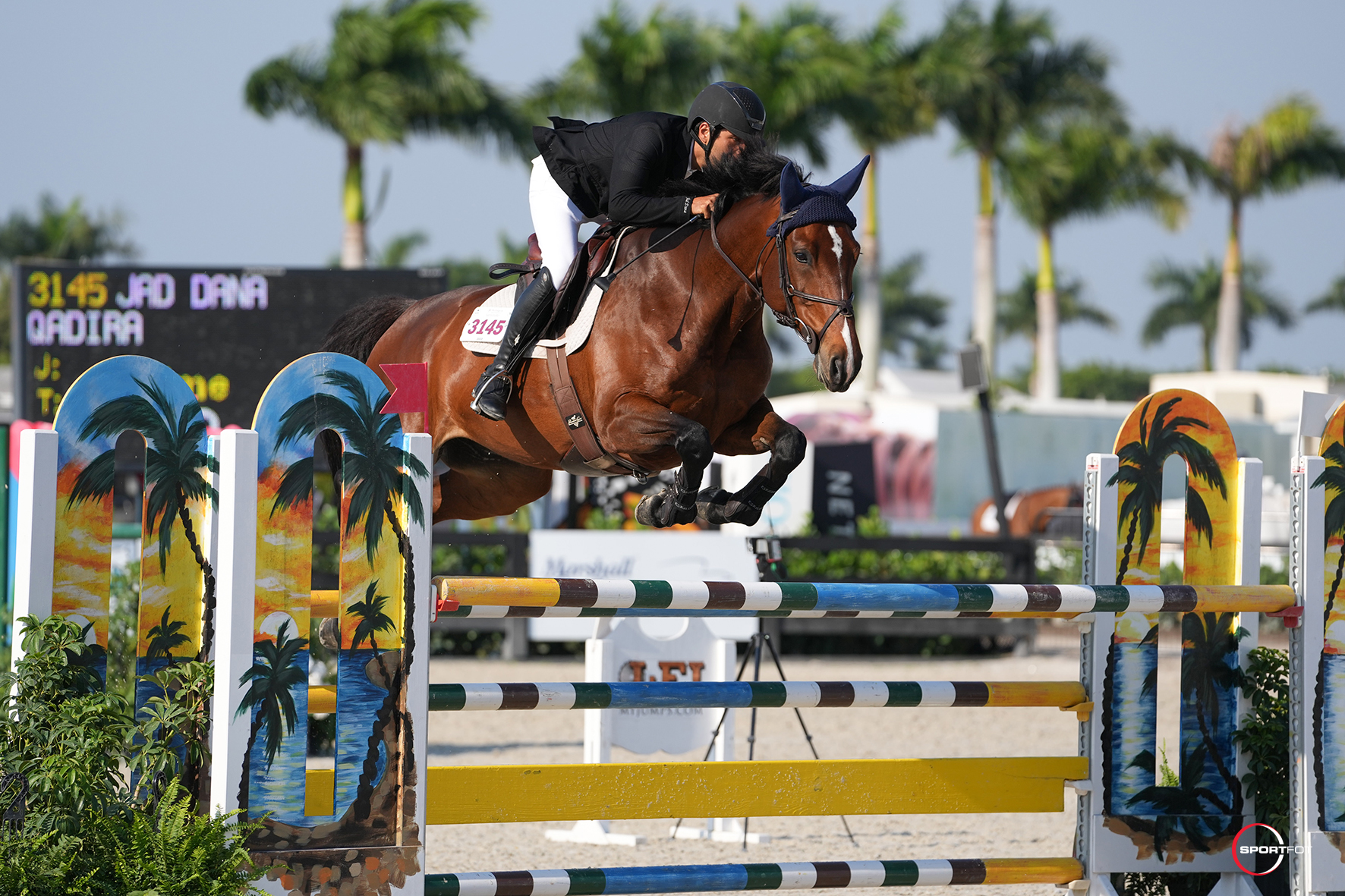 "Our young horse program is incredibly important to us because they are the future," he explained. "This series with the final during WEF 10 gives us the same motivation and goals with our young horses as much as our grand prix horses. The final, for all intents and purposes, is a grand prix of a different level, and our goal throughout the season is to be able to qualify for it – and then hopefully win it!"
Sara Sturges rounded out the top three as she and Sarah Sturges, LLC's Labyrinth landed less than half a second behind Burr-Howard in 31.67 seconds.