The 2023 Summer Series returned to Equestrian Village after a two-month hiatus to welcome horses-and-riders to the ESP Summer II horse show. The competition showcased hunter derby competitors in the Derby Field Annex on Friday during the $2,500 USHJA National Hunter Derby "Hunt and Go," presented by FreeJump, with Meredith Gallagher and Quantico, owned by Frida Jagger Cifra Hallberg, taking top call.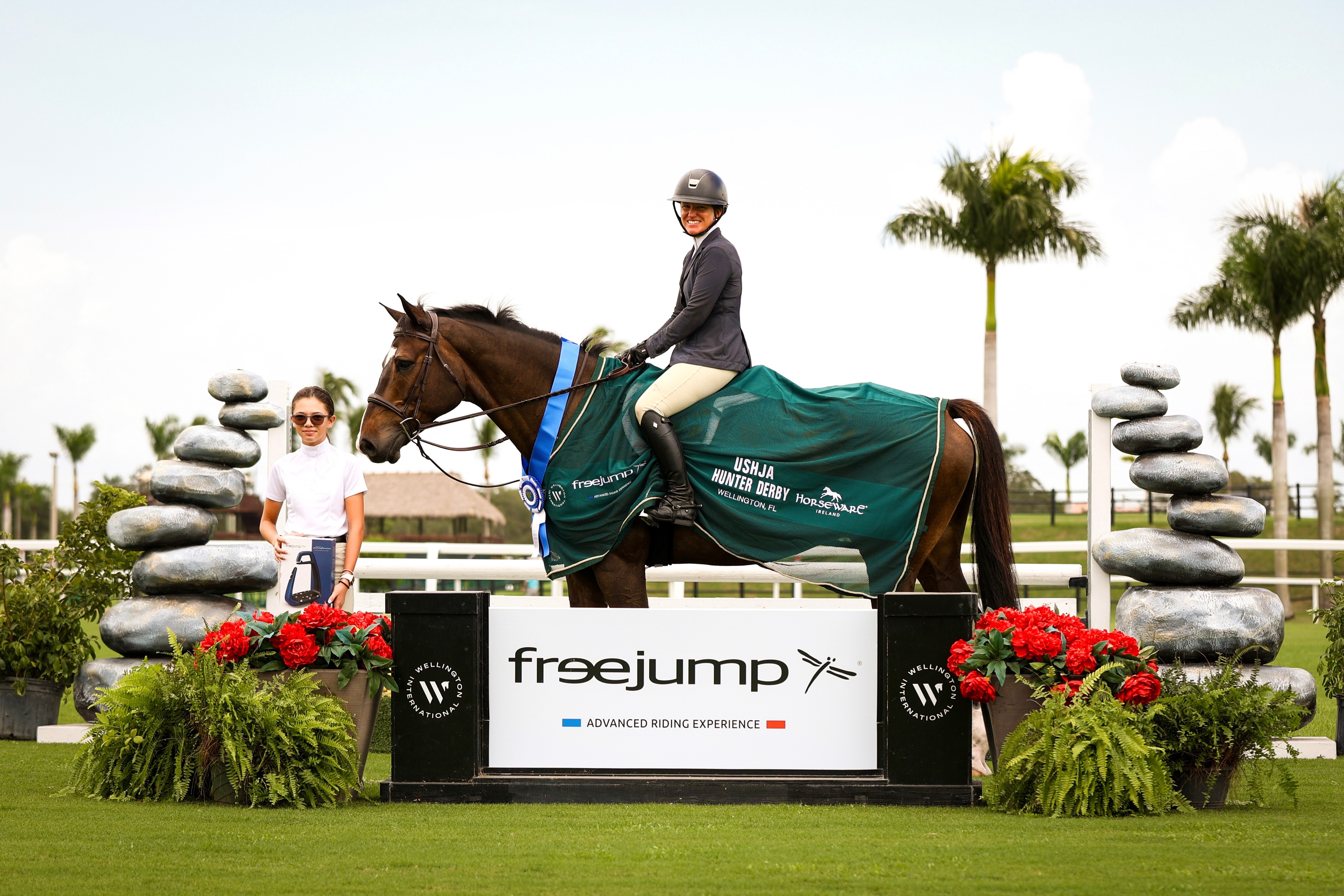 Gallagher of Haines City, FL, was ecstatic following her win, sharing, "This is Quantico's first hunter derby, he did the 11 and under equitation this morning with his owner and ended up being champion with her, so to win this class as well is just fantastic. He's seven years old and is just learning the ropes but I think he's a three-ring horse in the making. He's going to be the real deal." 
The class saw six competitors over the phase-combined track. Gallagher and Quantico were first to go in the order, setting the standard high with an overall score of 164, that held the lead all the way through the class. Gallagher also nabbed a second-place finish with Annette Friend's Casual Water with a total score of 157. Cody Quintana of Wellington, FL, rounded out the podium with Evergate Stable's Cajulio thanks to an overall score of 152.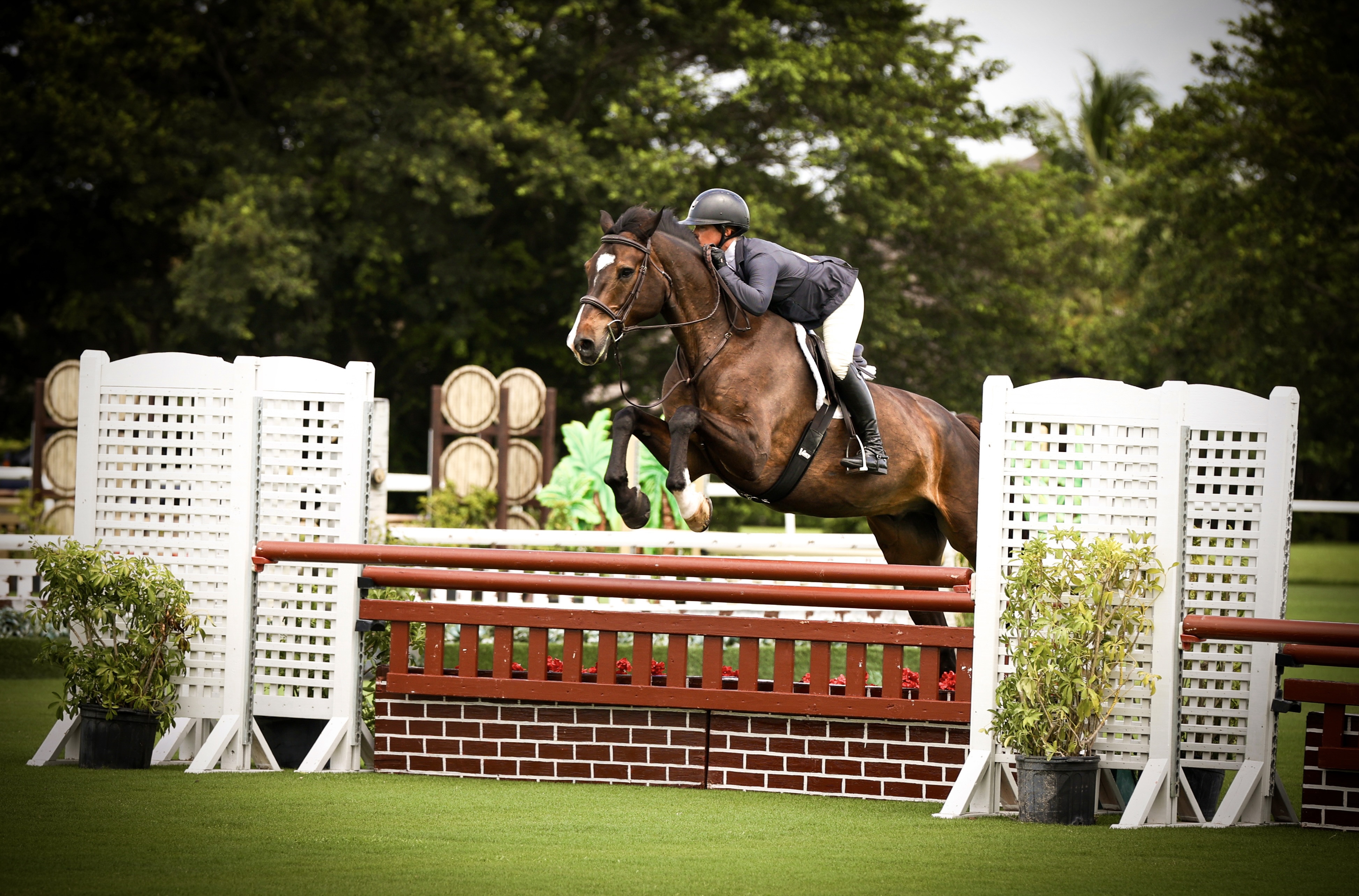 With their eyes set on upcoming equitation finals, Gallagher plans to continue competing with her students in Wellington to help them prepare. "We're going to continue to focus on the equitation prep. We just love David [Burton's] shows, he runs a great show, and we love how local they are." 
Friday also featured jumper competitors on the main Derby Field for the $10,000 Bainbridge Companies 1.40m Open Stake. A total of 17 combinations navigated the first round, with eight advancing to the jump-off. Going midway through the order, Venezuela's Luis Fernando Larrazabal piloted Alexia Thermiotis' Balou's Penny to the top of the standings by mere fractions of a second, tripping the timers in 43.272 seconds without making any faults. Just off the pace, Gabriel de Matos Machado (BRA) and Evabellie RW, owned by Emily Wood, cleared the jump-off in 43.364 seconds to claim the runner-up position. With a double-clear time of 43.788 seconds, Anselmo Alvarado (VEN) secured third place aboard his own entry, Charatinus.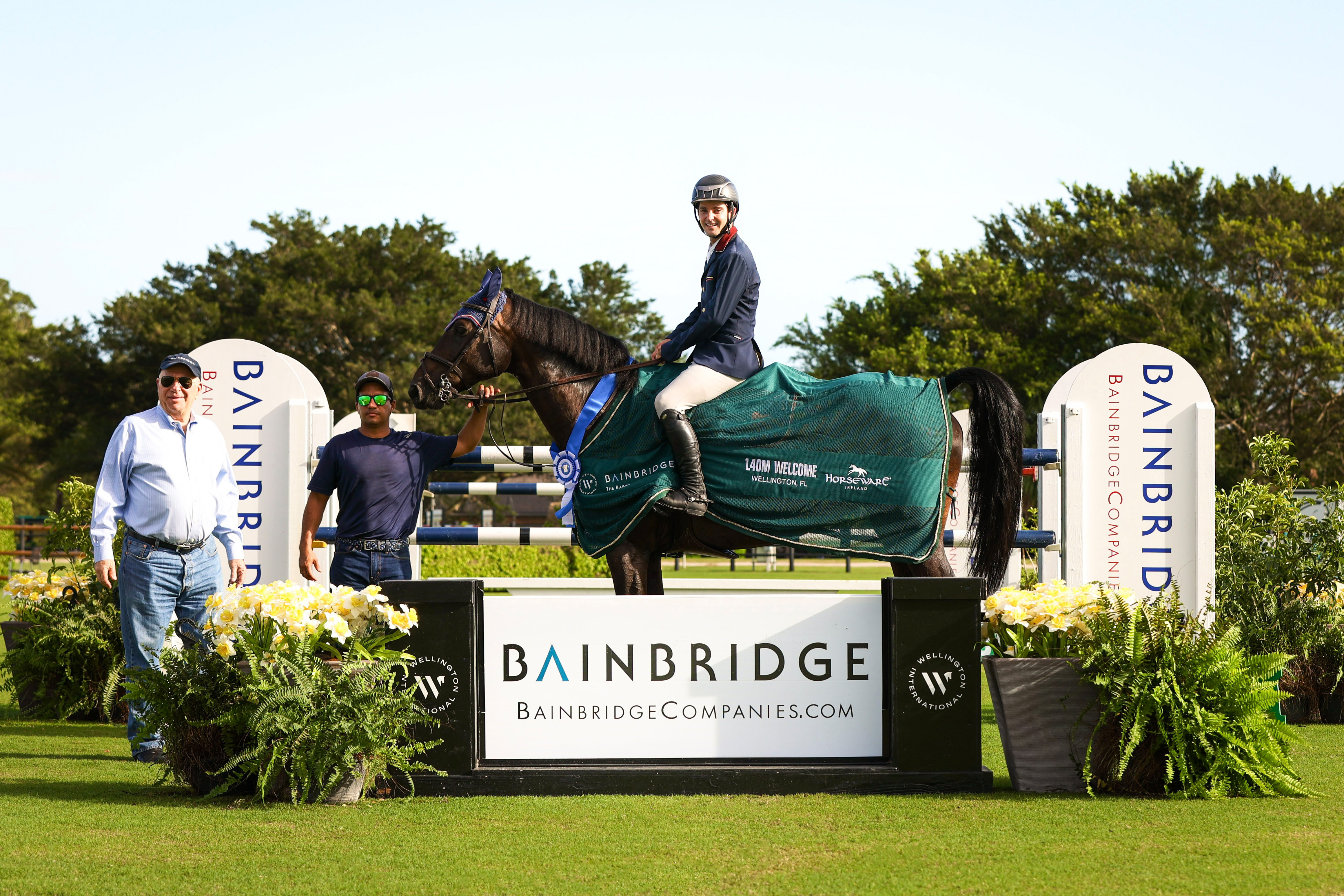 Competition kicked off Saturday morning with twelve competitors competing in the Elite Horse Transport 1.35m Stake. Half the competitors advanced to the jump-off, and four of those finished the contest without any faults. Diego Javier Vivero Viteri (ECU) and Don Ramon Z, owned by Joaquin Guerra Tafur, emerged as the winners after stopping the clock in 41.969 seconds. Just behind the winning pair, Tanimara Maria Macari Carrillo finished in second place with Rupert Carl Winkelmann's Quinn 33 in 41.995 seconds, while Luis Fernando Larrazabal (VEN) and J-Love, owned by Victoria Heurtematte, cleared the short course in 44.43 seconds to round out the podium.  
Junior and amateur riders took to the derby field Sunday morning for the Palm Beach Equine Clinic Medium Junior/Amateur Jumper Classic. The last pair to take to the field, Emma Butchard-Nagata (USA) and Brasil emerged as the clear winners after tripping the timers in 44.798 seconds. Jordan Gibbs (USA) piloted Ostwind 59, owned by Peter Howard and Laure Sudreau, to second place with a foot-perfect time of 47.731 seconds. Finishing in third place, Chloe Versteegen raised the flag for Australia as she and her Cera Quantero finished the short course in 46.051 seconds with eight faults to finish in third.  
Competition concluded on Sunday with the $25,000 Arthramid® Vet Grand Prix, but not before Australia's Sharn Wordley galloped to victory aboard Della Wordley's Brin D'Or de Haute Melen Z in a competitive jump-off.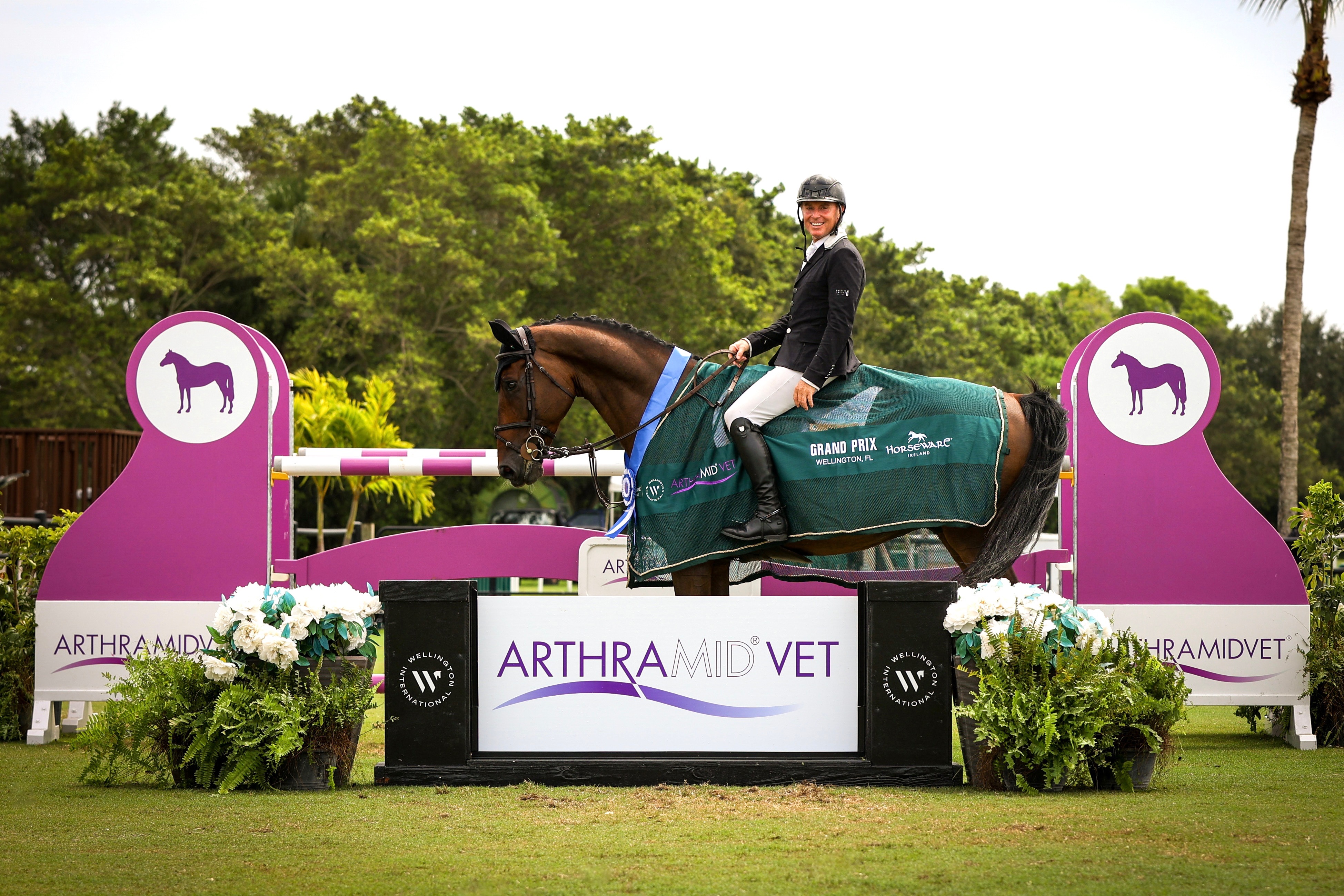 An international field of 24 riders contested the opening track, set by Héctor Loyola (PUR), with ten pairs jumping clear to advance to the tie-breaker round. Up against a time to beat of 40.615 seconds, Wordley and his mount stepped out on the field as the final combination to navigate the jump-off.  
"I think he [Héctor Loyola] did a great job. The course was very technical but fair. My plan in the jump-off was basically just to go faster than Dylan, I probably should have left a stride out somewhere because I was a little too close to comfort, but it worked out. This horse [Brin D'Or de Haute Melen Z] is still learning, but to be able to ride the young horses for money and get experience competing on a grass field is fantastic," Wordley shared.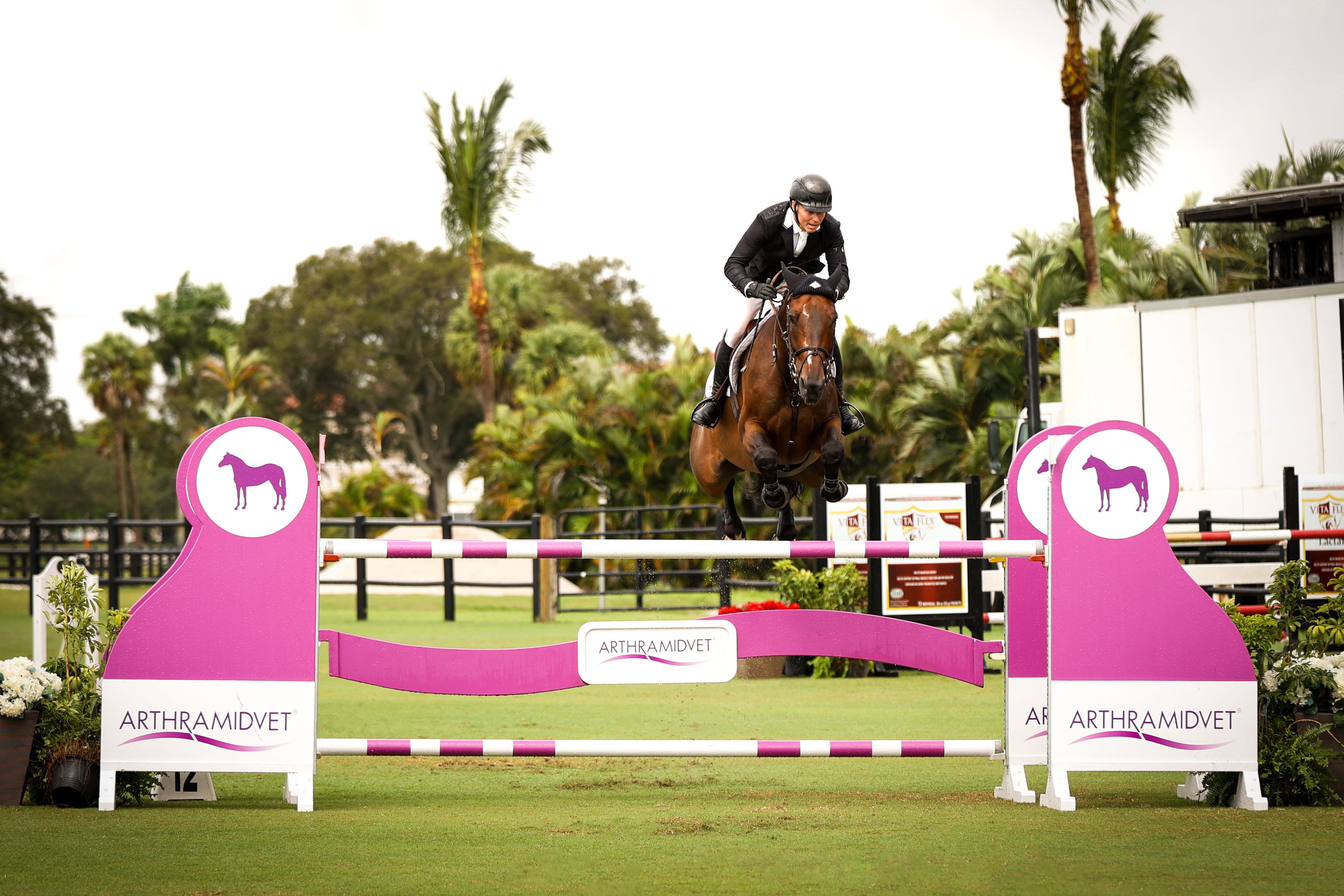 With a fault-free time of 40.615 seconds, Wordley and Brin D'Or de Haute Melen Z took home top honors and the lion's share of the prize money. Finishing in second place, Dylan Daly (IRL) piloted Cinderella Z, owned by Jacqueline Steffens Daly, to a double-clear time of 40.837 seconds. Luiz Francisco de Azevedo (BRA) rounded out the podium with Santa Cecilia Stables' Collin after tripping the timers in a clear 41.178 seconds.  
The 2023 Summer Series will continue with ESP Summer III, which begins August 24, 2023. For the full Summer Series Prize List, please click HERE.