The pinnacle event of Thursday's competition on the Equestrian Village derby field during the Winter Equestrian Festival (WEF) Week 4 was heavily populated with some of the sport's best international competitors. Athletes representing eleven different nationalities lined up to contest Anderson Lima's (BRA) first round track in the CHF50,000 CSI4* Adequan® WEF Challenge Cup Round 4.
From an original starting field consisting of 51 horse-and-rider combinations, 13 produced clean efforts to advance to the short course. No stranger to the winner's circle, Mexico's Santiago Lambre was at the bottom of the returning order but shot straight to the top to claim the day's featured victory.
The field was full of top pairings as four-star classes took their turn on the stunning grass derby field in preparation for the weekend's highly anticipated CIS4* Grand Prix, presented by MARS EQUESTRIAN. Lambre was one of eight entries to emerge fault-free throughout the two rounds but shaved mere milliseconds off the previous leading time to take the prime position. Aboard his recently acquired 13-year-old Hanoverian mare Casey (Caratani 4 x Grannus), Lambre breezed across the field and left all rails standing to overthrow previous leader Amanda Derbyshire (GBR) with a time of 36.60 seconds.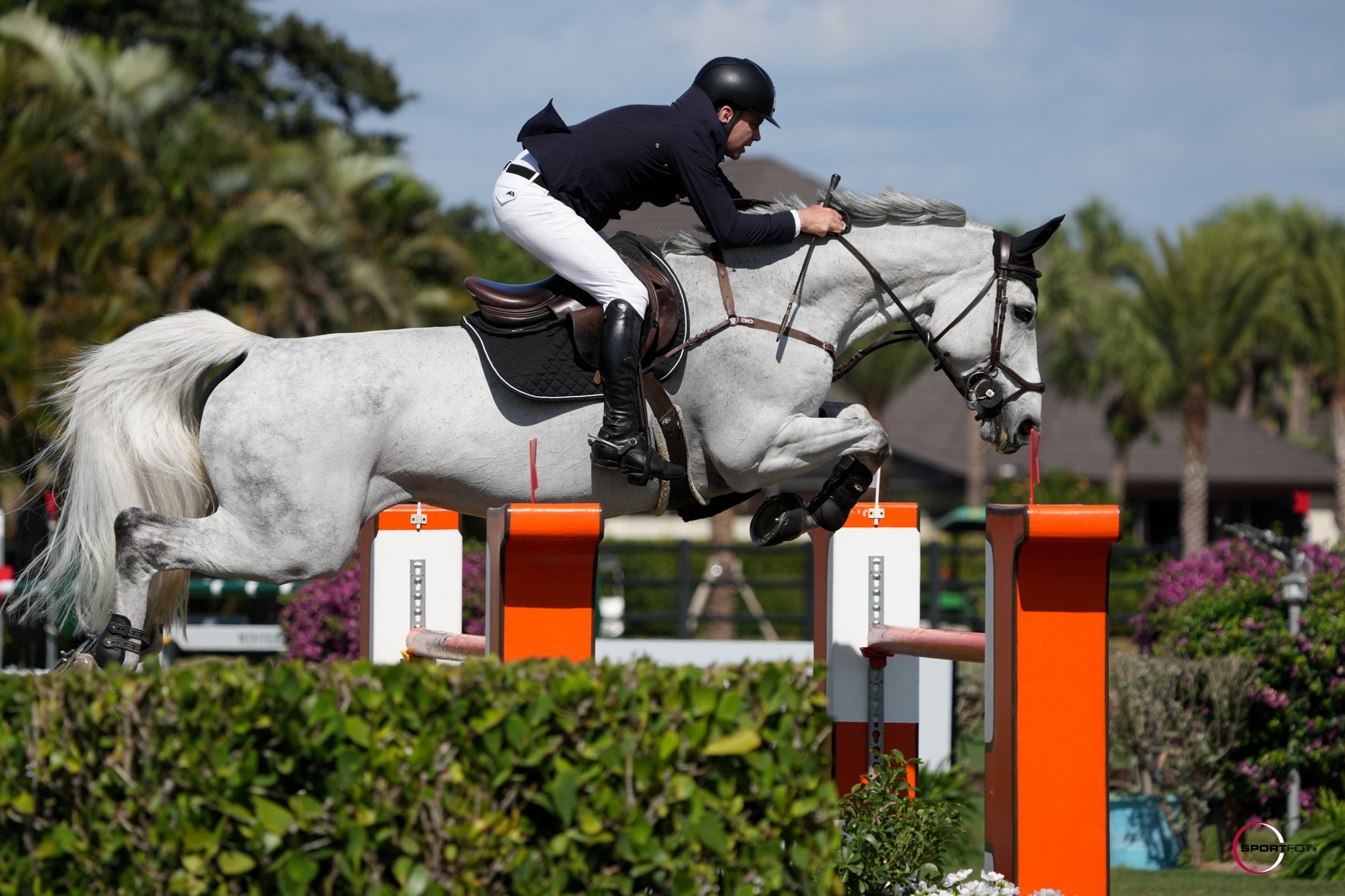 "This horse is quite new for me, I've only had her for eight months," Lambre stated. "I jumped her on the grass two weeks ago for the first time and she did very good so I felt she was ready for this week."
While she is new to his string, Lambre's brother had Casey for several years in Mexico and Lambre believes she has all the makings to become an international star.
"She originally was competing in Mexico with my brother before she got sent to me last year," he added. "I know the mare and she just needs some miles but she has proved that she is a fast horse and I think she is ready for the five-star next week."
Derbyshire settled for second with her longtime partner Cornwall BH, a 15-year-old Holsteiner gelding (Con Air x Cambridge 8) owned by Gochman Sport Horses, LLC, with a finishing time of 36.91 seconds. Ashlee Bond added Israel to the ribboning results as she rounded out the top three on Aurora Farms, LLC, and Stal Horn's 12-year-old KWPN gelding (Chellthago Z x Numero Uno) Garfield.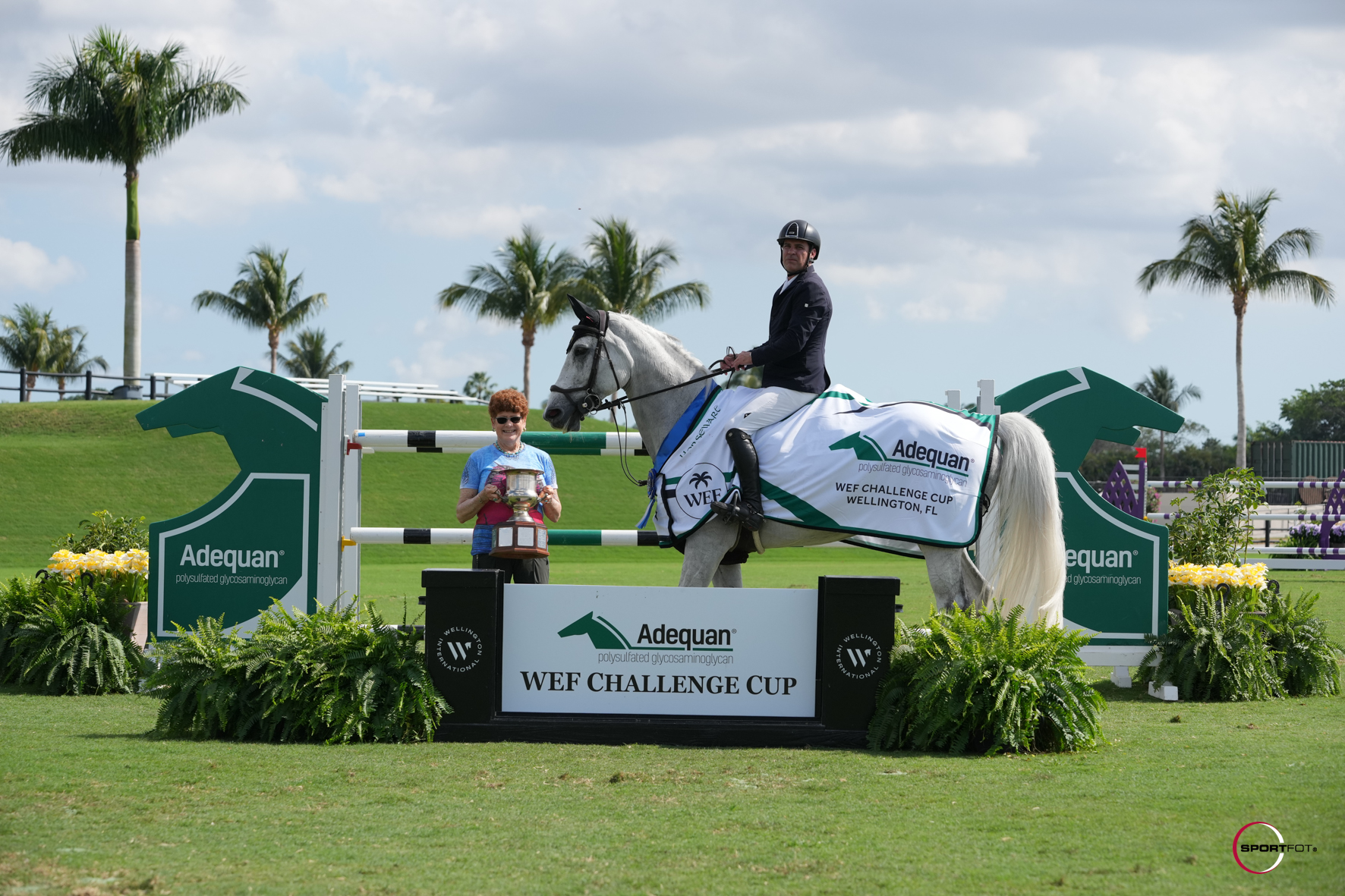 For their win, Lambre and Casey were presented with the Barry Louise Lane Perpetual Memorial Trophy by Debbie Lane.


Tom Wachman Tops Leaderboard in CHF6,000 Helgstrand Jewellery CSI2* 1.45m
The day on the derby field began with the CHF6,000 CSI2* Helgstrand Jewellery 1.45m class which put forth a single round speed test for the thirteen starters. Eight of the 13 entries contributed a clear round over the track but it was Ireland's Tom Wachman who soared to the pinnacle position aboard Coolmore Showjumping's, I'm Here. For their debut class on the grass, Wachman and the 10-year-old KWPN mare (Carambole x Numero Uno) breezed over each obstacle and landed in an efficient time of 60.65 seconds.
"She is new to me as I only started with her at the beginning of WEF," explained Wachman. "In her last four classes, she won three and was second in one so she's been quite successful. She has a very big stride so I tried to use that to my advantage today and leave out strides in a few places."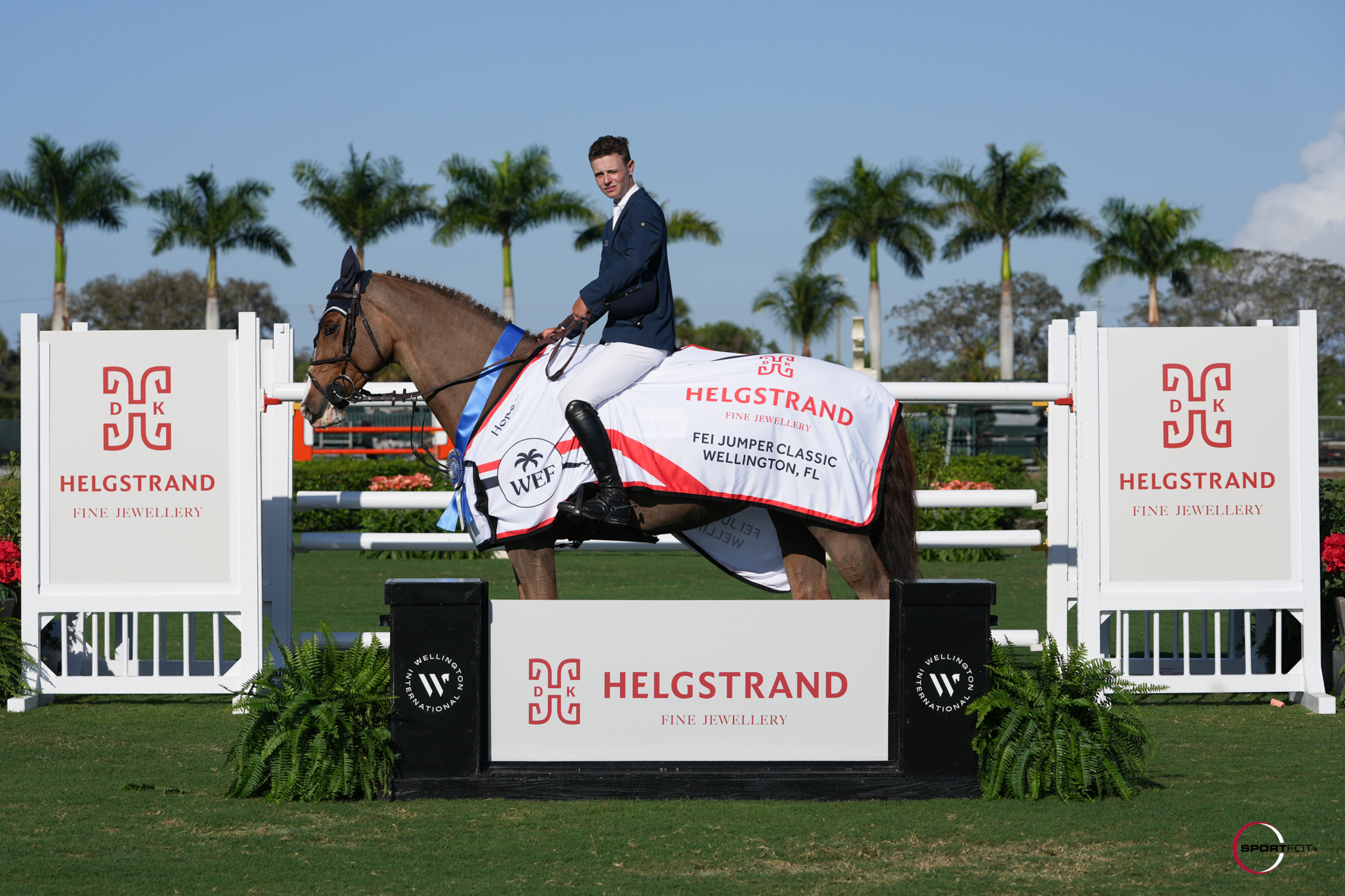 Long-time show jumping professional Laura Chapot (USA) slid into the runner-up position just over a second shy of Wachman's time after landing in 61.85 seconds aboard her and Mary Chapot's 13-year-old Oldenburg gelding Diarado's Flying Dutchman (Diarado x Landadel). Caelinn Leahy (USA) rounded out the top three on Steve Schaefer's 11-year-old Selle Français gelding Halo (Koltaire du Moulin x Caretino 2).
Jef Lauwers Pilots Easton Blue to Equine Tack & Nutritionals Green Hunter 3'9" Championship
The Equine Tack & Nutritionals Green Hunter 3'9" division concluded Thursday in the E.R. Mische Grand Hunter Ring. The horse that dazzled the judge was Easton Blue, a 2011 Dutch Warmblood by Lordanos, owned by Papandreou Hunter Jumper, LLC. Easton Blue was expertly ridden by Jef Lauwers to two victories over fences and a high score of 88.
Lauwers was all smiles after Easton Blue's tremendous effort and win in the stake. "Easton Blue did the junior hunters and now the amateurs with his owner Aphrodite Papandreou," he said. "She studies at Georgia and flies in for the weekends to show. It's nice to be able to help her to produce this horse and show him for her. We had two good days in a row and that's really fun."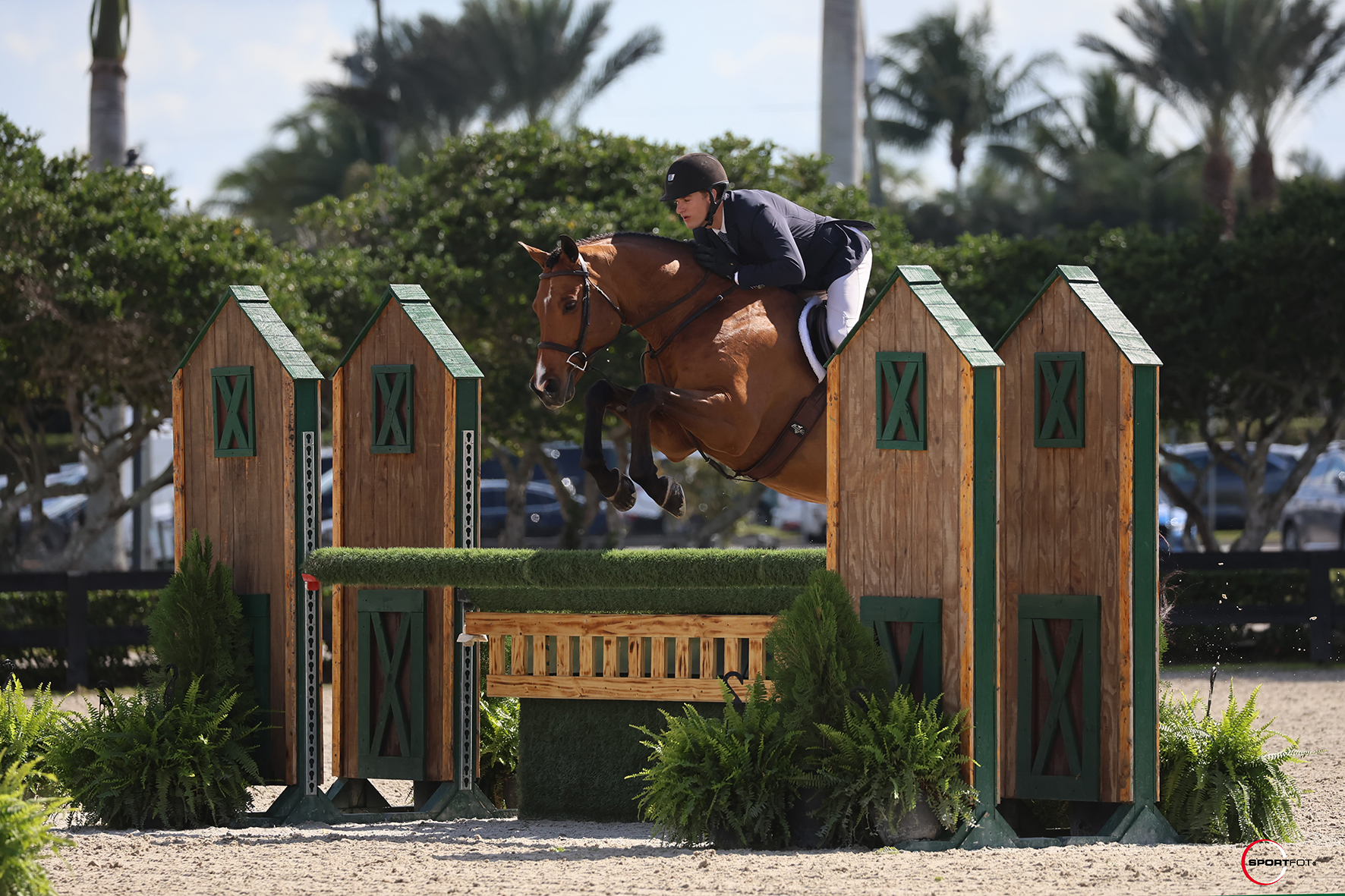 East Blue is a relatively new horse for all parties involved. Lauwers noted, "We got him, not even a year ago. He's such a great horse; he's a good mover, he's pretty, he's got a little bit of his own personality, but most of the good horses have their own personalities.
Lauwers has a special cheering section this week as his dad and sister flew in from Belgium to watching compete. "Winning a championship for them at WEF is pretty special."
The Equine Tack & Nutritionals Green Hunter 3'9" reserve championship went to Jordan, piloted by Scott Stewart for Sophie Gochman.