Germany's Richard Vogel picked up another win at Wellington International during week five at the Winter Equestrian Festival (WEF). This time, the win came in the CHF37,000 Bainbridge CSI5* 1.45m Speed on Friday in the International Arena aboard Accoton PS.
Sixty-six entries tackled a large and technical one-round speed track designed by Frank Rothenberger (GER). Vogel set an early time to beat at 59.16 seconds from the 18th position in the original order. A pair of Irishmen tried their best to top him but came up just shy of his winning time. Bertram Allen and Over Lux finished second by only fractions of a second in a time of 59.31 seconds for owner Ballywalter Stables. Third place went to Ireland's Daniel Coyle and Amalia, owned by Ariel Grange's Lothlorien Farm, after crossing the timers in 59.49 seconds.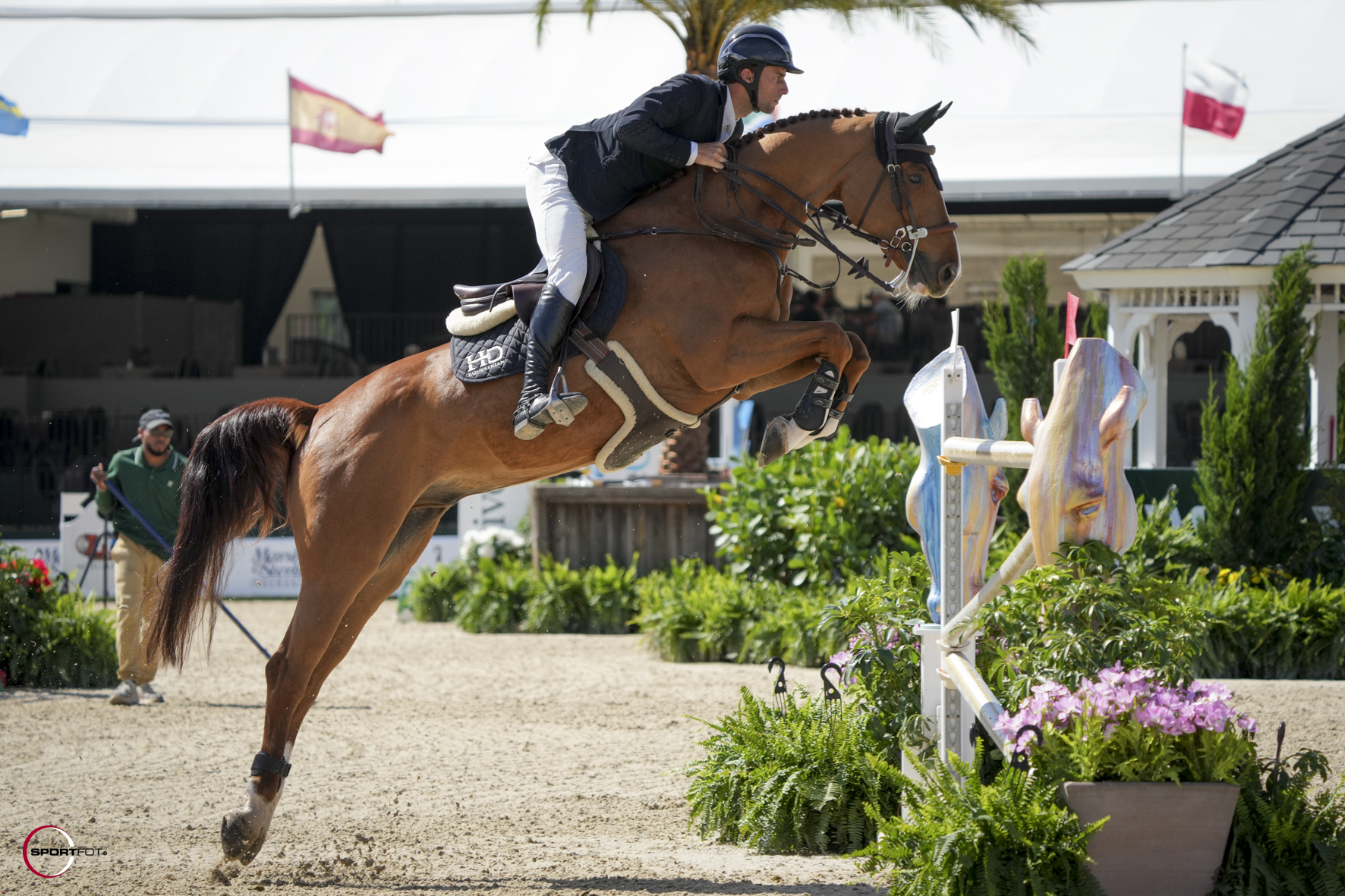 Vogel's lead stood strong, delivering a win for Accoton PS, a 2012 Oldenburg gelding (Pikachu De Muze x Chacco-blue) owned by Csakvari Agrar KFTS.
Vogel described his strategies and thoughts going into today's round, saying, "I had a good feeling from the beginning, and I got the first distance everywhere. I did one less stride into the double, I had a good rollback and then also to the plank, and after the plank was good. The five-stride got short but that was a good setup for the turn. Then in the last line I was a bit lucky; I didn't get there with one less, so I had to add a stride at the end. He saved me so I think it was a good team effort."
While their partnership is relatively new, the pair has been successful together and Vogel is excited about the gelding's future. "I've had him now for five months and he was produced by Patrick Stühlmeyer and he comes from the stable of Paul Schockemöhle so he's a very talented horse.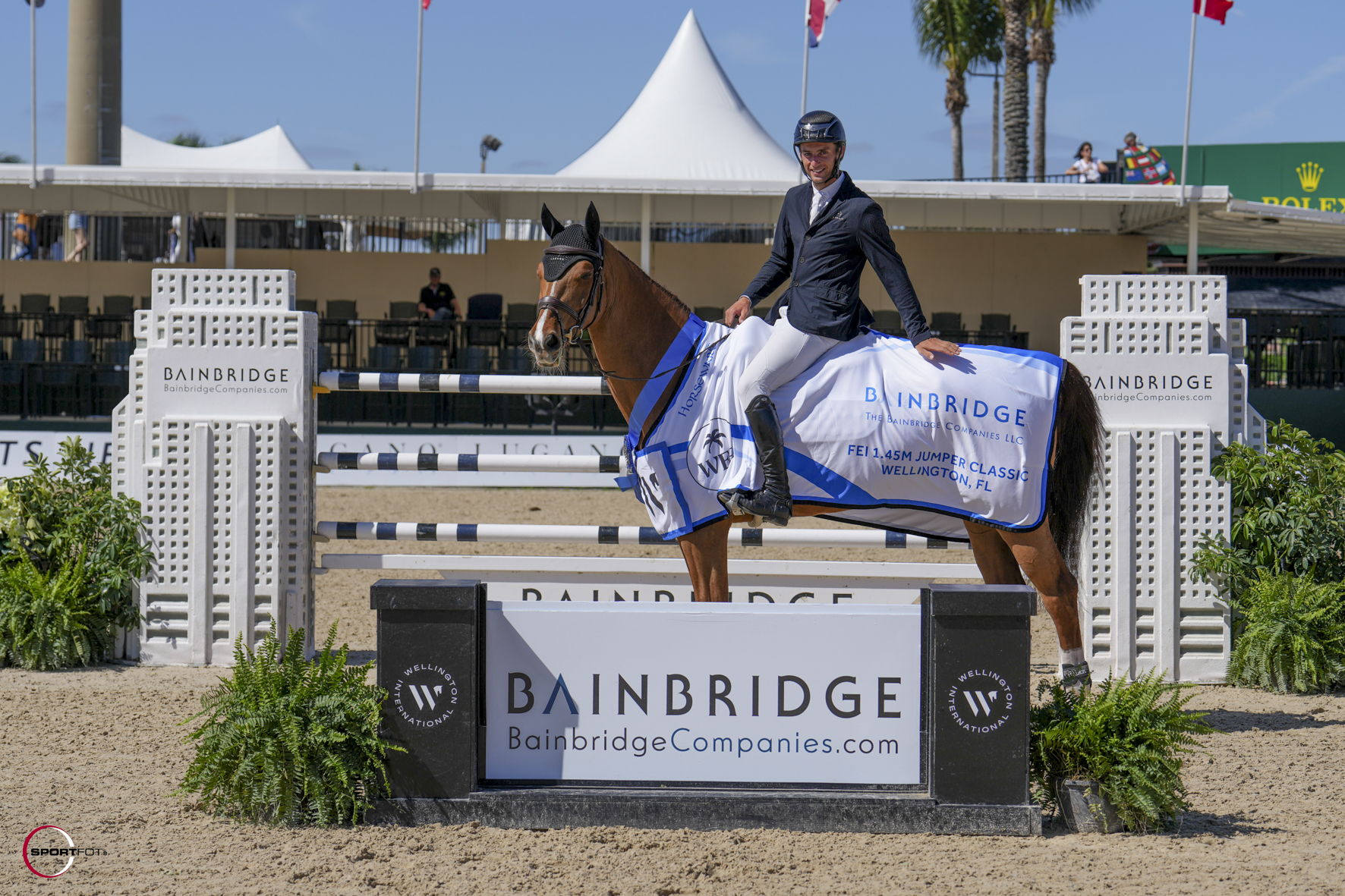 "He's a fast horse and he never gets tired," continued Vogel. "The course could be five times as long and he would still be on it. He really wants to go forward so every now and then we let him do some speed rounds and he is very happy, but in-between sometimes he needs to learn to slow down. He does get really motivated at shows but at home he's a bit more relaxed, which is a good combination."
Vogel, who now has two FEI wins to his credit at WEF, has high hopes to step Accoton PS up to the 1.50m level by the end of the season while continuing to improve the gelding's speed and technique.
Jacqueline Ruyle Grabs Another CSI2* Win
Jacqueline Ruyle (USA) and Cyramo Z took another win in the CSI2* ranks this season on Friday. The pair claimed top spot in the CHF37,000 Griffis Residential CSI2* 1.45m, a qualifier for Sunday's CIS2* Grand Prix.
An impressive seventy-one entries came together to close the day in the International Arena. Seventeen horses qualified for the jump-off with Ruyle and Cyramo Z, a 2011 Zangersheide mare (Clarimo x Vigo D Arsouilles Stx) eventually stealing the win in a time of 43.71 seconds. This pair also won on the derby field at Equestrian Village during WEF 4.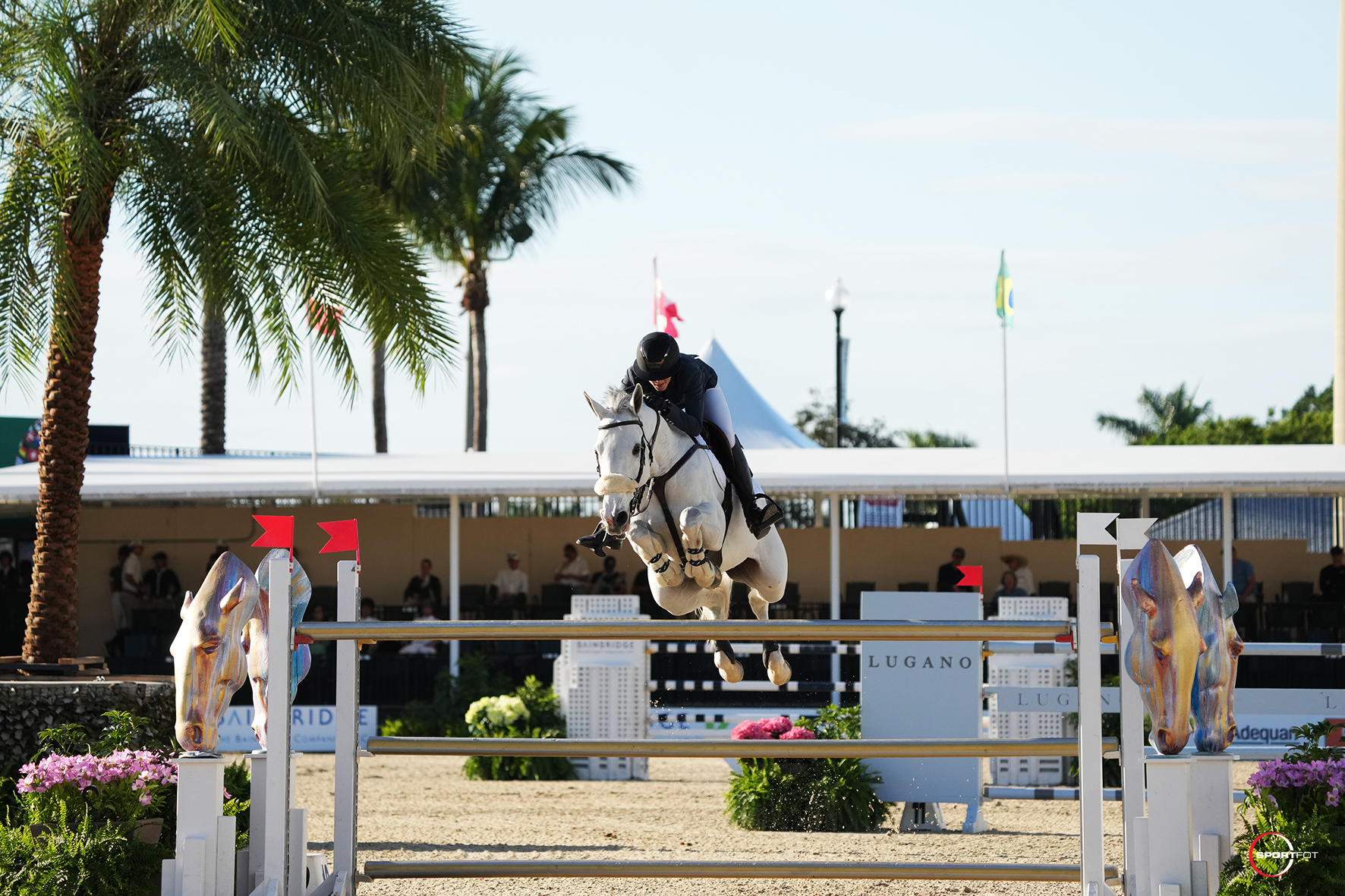 Second place went to Mckayla Langmeier (USA) aboard Jiselle NS, clocking in at 44.69 seconds for owner Linda Langmeier. Right on their heels was Francis Derwin (IRL) and his own AHG Whiterock Cruise Down finishing third in 44.74 seconds.
Ruyle and Cyramo truly shined over the short course, noting, "Honestly, it was not a lot of related distances and very similar to the derby field where we won last week, so I got a really good rhythm and had a patient mind and hoped things would appear."
The pairs long partnership together was obvious in the ring. Ruyle has been riding the now 12-year-old mare since she was seven years old. "She's really fast and hot but tries so hard and you can feel how much she gives you, which just makes me want to try even harder."
Cyramo is well on her way to ending her final week at WEF on a high note. Ruyle, who trains with Daniel Bedoya, will spend one more week in Wellington while Cyramo rests and then return home to Texas.
Jodi Lennox Looks Better In Blue
The Karina Brez Jewelry Adult Amateur Hunter 36-49 division kicked off the day in the Rost Arena of Friday at the Winter Equestrian Festival (WEF). The one to beat was Jodi Lennox and her aptly named partner, Better In Blue, a 2009 Hanoverian gelding by Cassus, owned by First Blue LLC.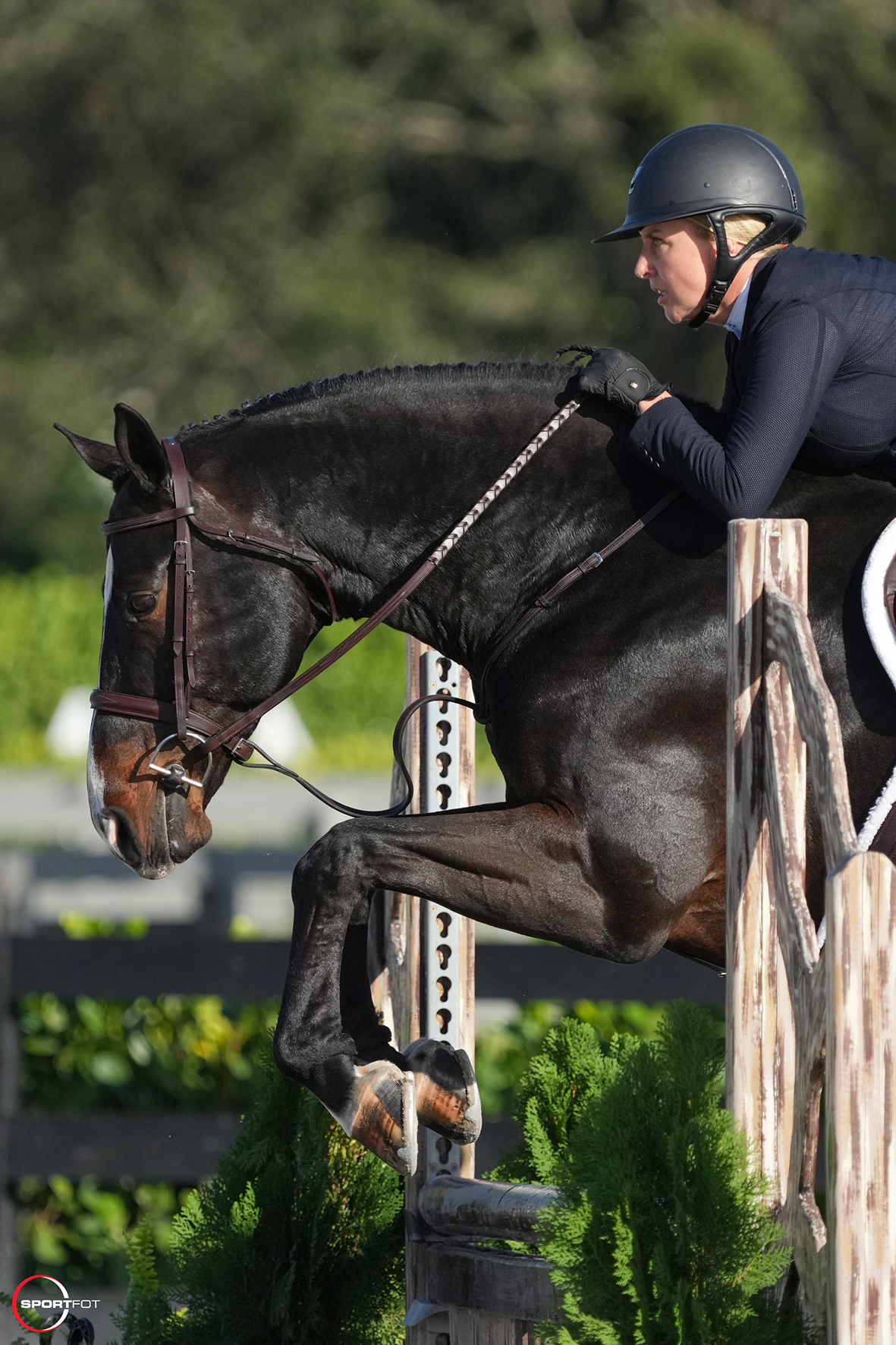 Lennox was all smiles after her ride and could not have been more pleased with her horse. "My first trip, I was under the pace a little bit, but he was really good," she said. "The second trip I was better with my pace and he is always there for me. Any mistake is going to be mine."
Their partnership has been developing very nicely for almost a year now and all their hard work is paying dividends in the show ring. "I started leasing him from Jenna Whiteford and First Blue LLC around the beginning of March last year," continued Lennox. "He is truly the absolute perfect horse. I have nothing remotely bad to say about him. He loves to be loved on and he's always there for me, which as a working adult, is very important."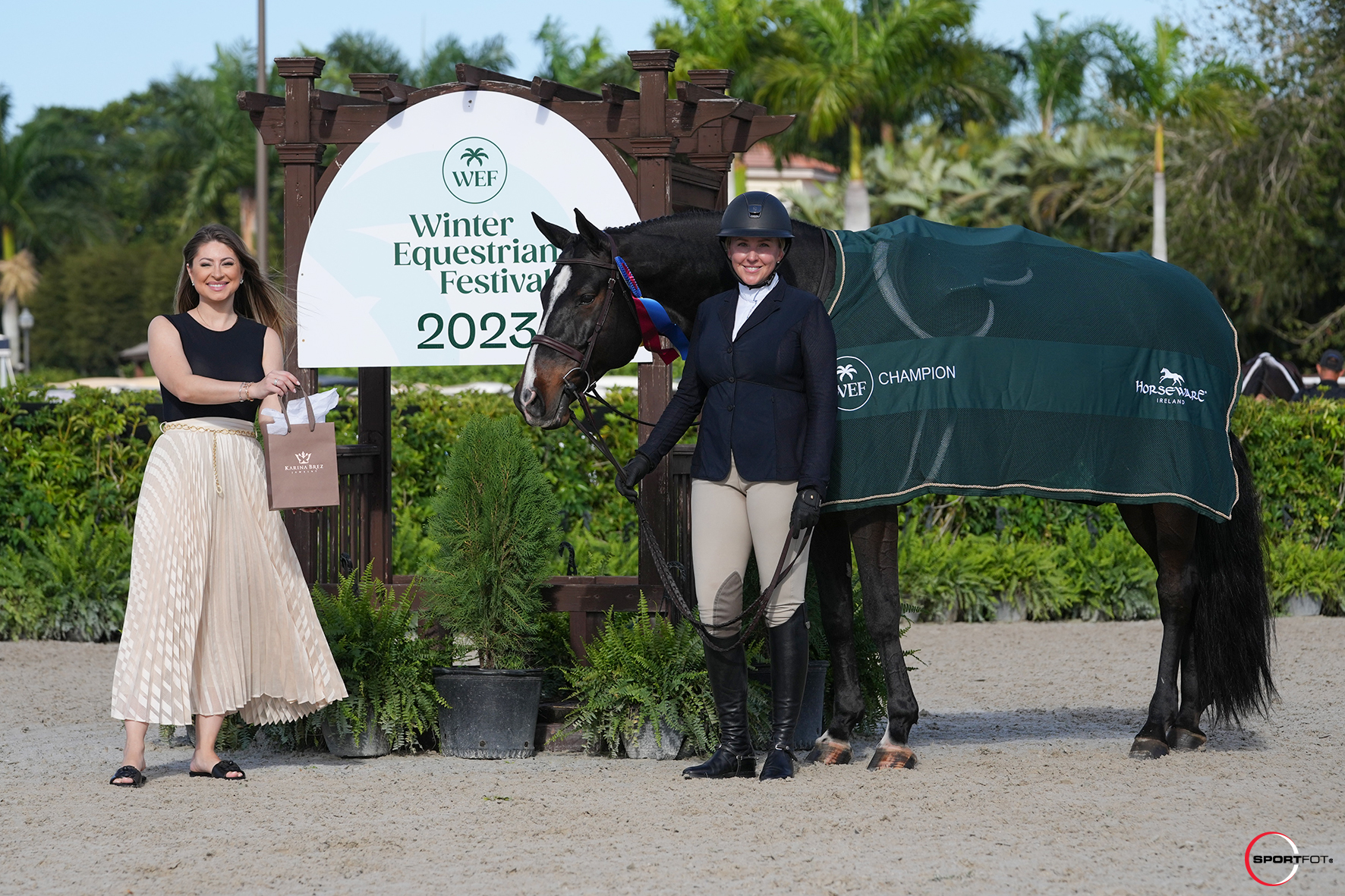 When Lennox isn't collecting championship ribbons, she is a full time Physician's Assistant in Orthopedics and travels to Wellington from Michigan to compete. Lennox will now focus on competing during World Championship Hunter Rider (WCHR) week at during WEF 6.