Germany's Richard Vogel closed out Week 4 of the Winter Equestrian Festival (WEF) in the Van Kampen Covered Arena at Equestrian Village with a win in the CHF75,000 CaptiveOne Advisors CSI4* 1.50m aboard Cepano Baloubet on Sunday.
The day gave riders a variation in venue after jumping on the grass derby field throughout the week as their quickness was then tested in an indoor environment. From a field of 32, six advanced to the tie-breaking jump-off designed by Anderson Lima (BRA).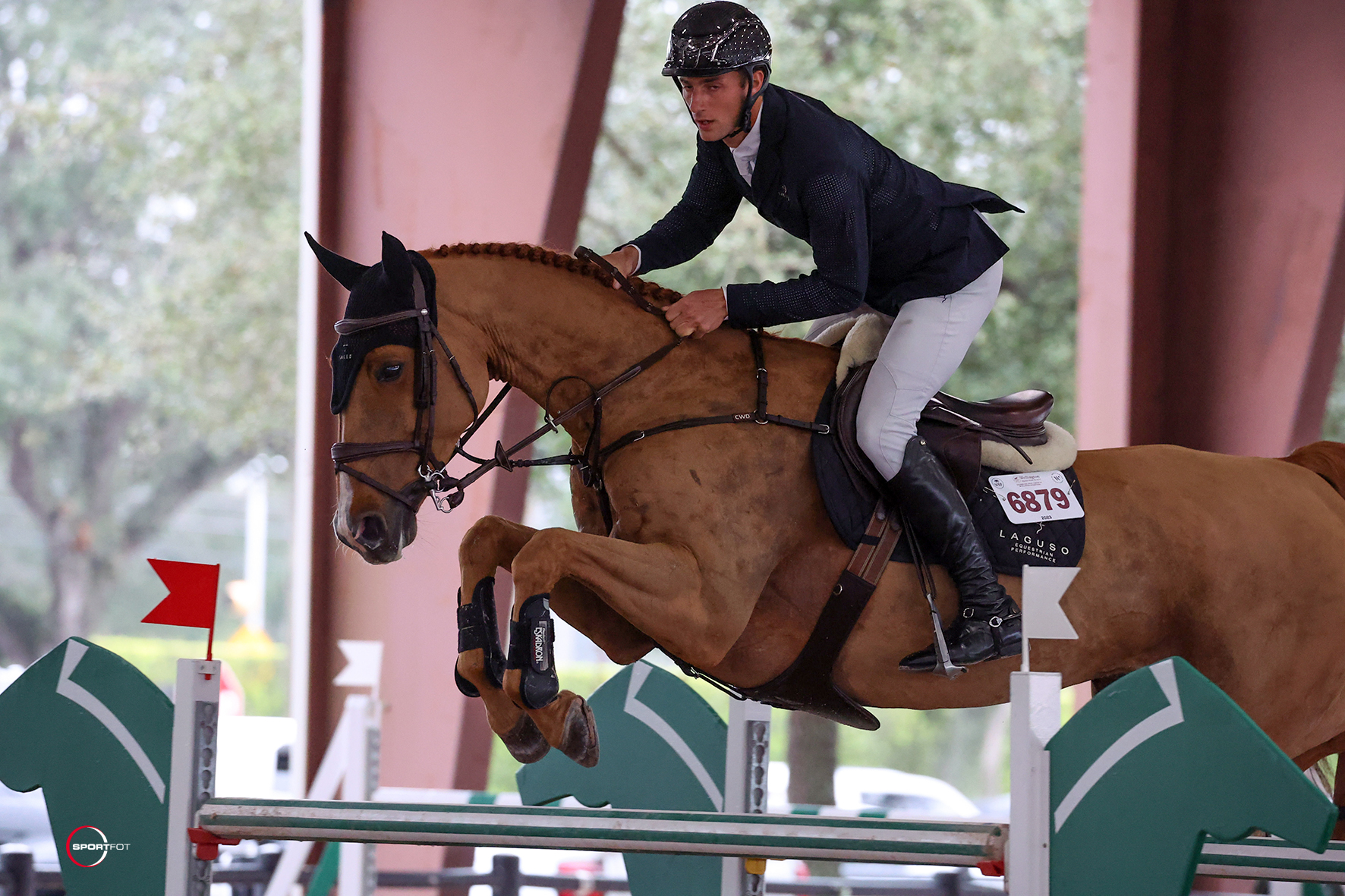 Setting the pace in the jump-off, Jos Verlooy (BEL) clocked an opening clear with five to follow. Second to go clear over the opening track, Vogel and Cepano Baloubet, a 2014 German-bred gelding (Chaman x Stakkato's Highlight) owned by Veronica Tracy, clocked in at 33.16 seconds in the jump-off to take the win. Second went to Alex Matz (USA) and Cashew CR for owner Dorothy Matz just off the lead in 34.20 seconds. Third went to Mclain Ward (USA) and First Lady, owned by Robin C. Parsky, coming in at 35.15 seconds.
WEF 4, presented by MARS Equestrian™, is only the second show for Vogel and Cepano Baloubet after the gelding joined his string. "Last week he did really well in the International Ring, this week he was also great on the grass and now under these circumstances he was very good in the indoor today," said Vogel, 25, of his versatile mount.
"I knew there were competitive people in the jump-off, but my horse felt very good in the first round so I was quite motivated," continued Vogel. "I saw Jos [Verlooy] going first, which was a bit lucky. To see him go from the second to last combination to the last fence in eight, but a bit steady, I thought I could do one less there and then also from fence two to three I tried to get there with six and my horse did a very good job which made it a bit easier for me today."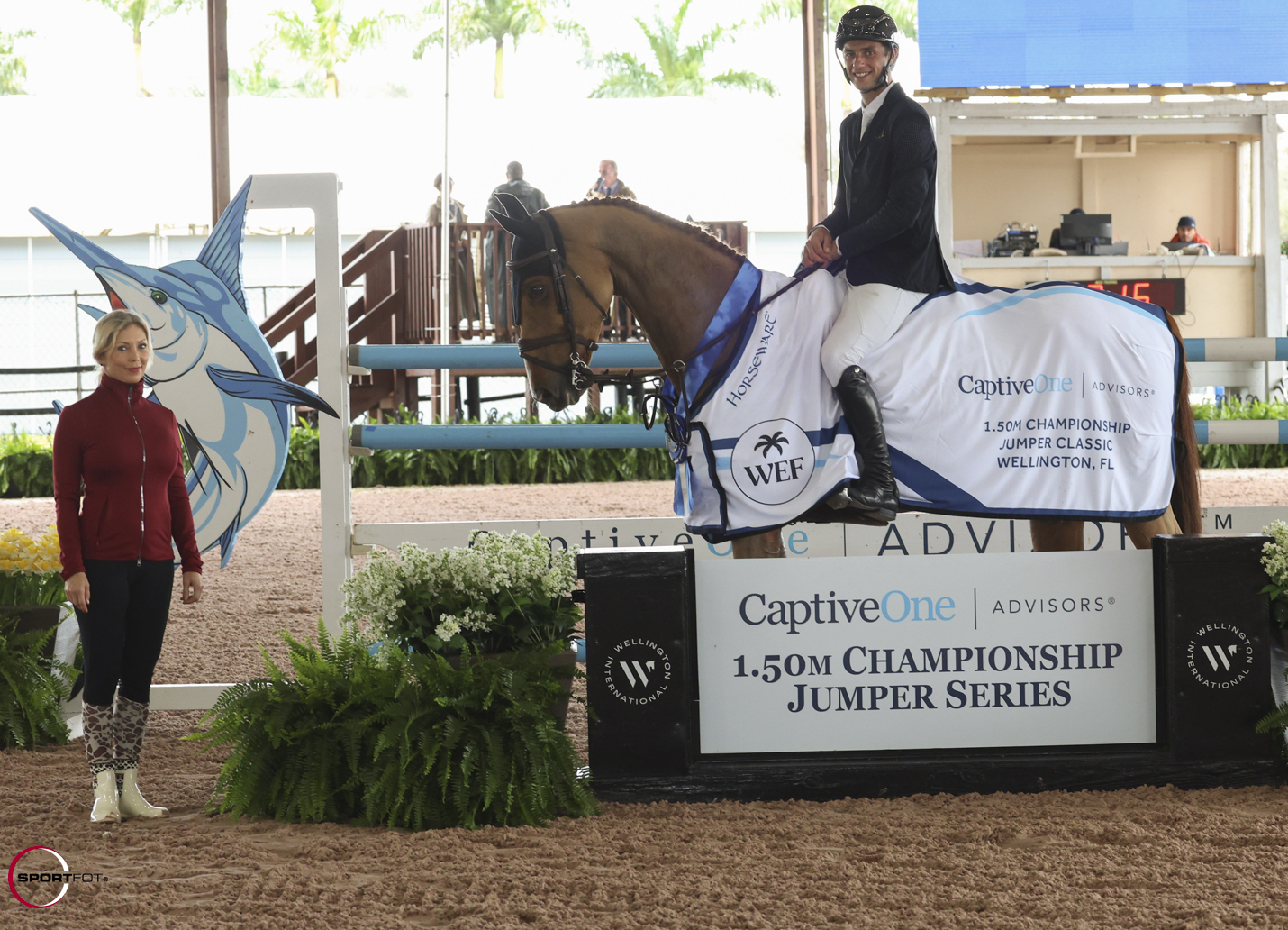 After pocketing their first FEI win together on Sunday, Vogel sees unlocked potential in Cepano Baloubet. "He's nine years old now, so not too inexperienced or too old but I think he has the abilities, the attitude and the will to jump the bigger classes," he said. "The is a great spot here to bring the horses up into the bigger levels so I'm very happy with how he's going at this level right now and in a few weeks I think we can start thinking about the next step."
CSI2* Win for Mexico's Tanimara Macari
The CHF50,000 Helgstrand Jewellery CSI2* Grand Prix capped FEI competition for the week during WEF 4 on Sunday. From a seven-horse speed duel over the jump-off track, Tanimara Macari (MEX) and IB Chica, a 2013 Hanoverian mare (Cador 5 x Escudo 19) owned by Eickendorf Horses, emerged the winners in a time of 36.54 seconds.
Second place in the CSI2* feature event of the week went to Daisy Farish (USA) and Flairvona, owned by Bridgeport Farms coming in at 36.94 seconds, while third place went to Kelli Cruciotti Vanderveen (USA) and Gideon 38.82 seconds for owner Serenity Farm.
Not hiding her excitement over the win, Macari said, "We didn't really have high hopes today because she's so long and being in the [Van Kampen] Covered changed our plan, but it worked out in the end. She was amazing today, and even with all the turning but she was so game."
IB Chica joined Macari's string at the end of 2022 and they have posted four top-five FEI finishes together, including and CSI5* win in December. "We got her because one of my good horse's got injured and she's been on a roll I have to say."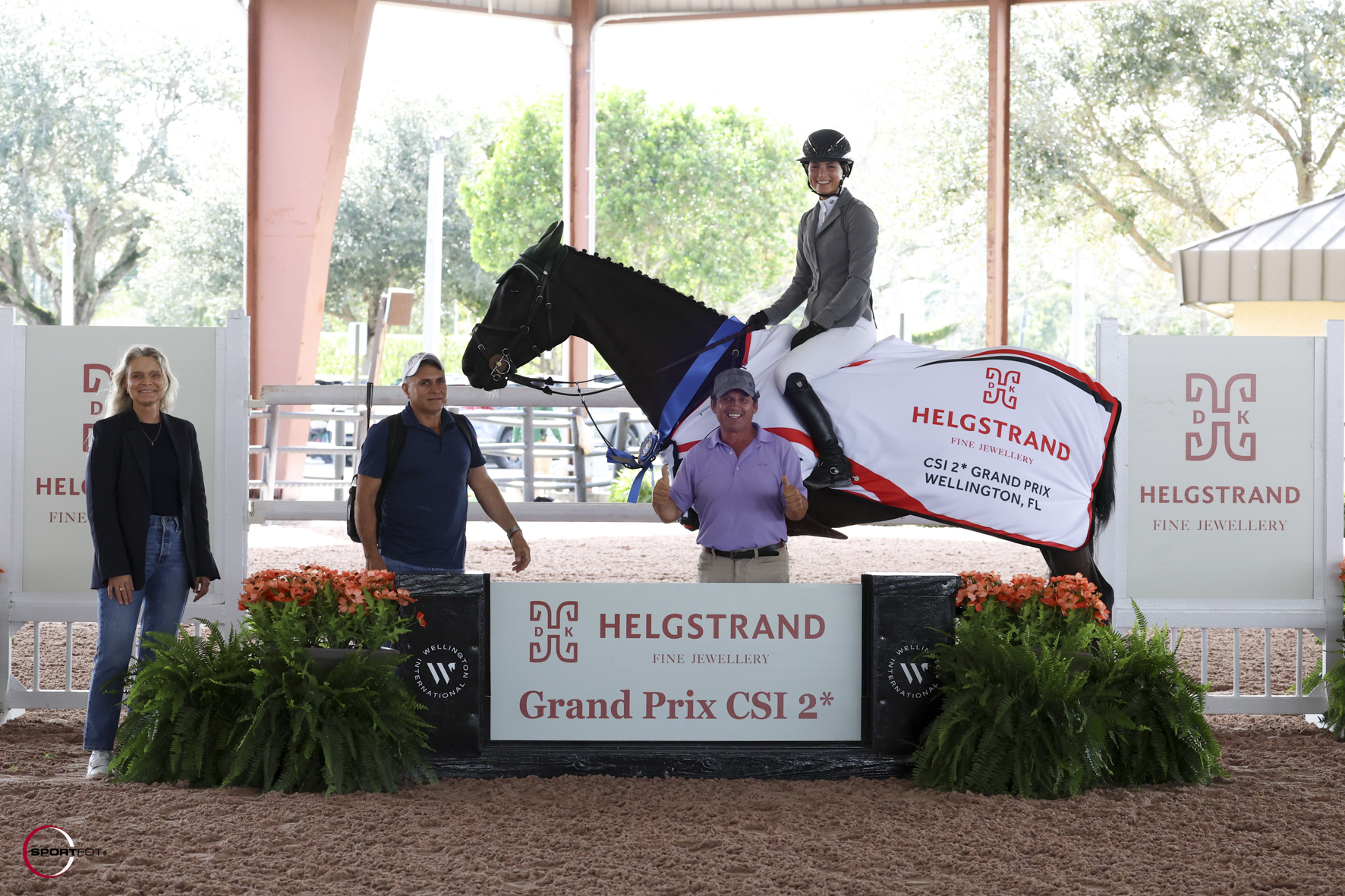 Macari admits the mare is not as straight forward as she may appear, noting, "She's definitely unconventional. She has a very weird canter and has a few quirks, but it works. She's a super nice mare and easy to take care of. She has a fighting spirit so when she goes in the ring she really gives everything."
Macari is now hopeful that she and IB Chica will jump for Mexico in the Nations Cup CSIO4*, presented by IDA Development, during WEF 8.
Dow-Rein Closes Out WEF 4 with Tricolors 
The final day of WEF 4 honored champions of the weekend's various hunter divisions taking place across multiple arenas at Wellington International. Tara Dow-Rein produced a clean sweep in the Hunt Ltd. Amateur-Owner Hunter 3'6" 36 and Over division as she earned both champion aboard Wayland Square and reserve with Epic Style.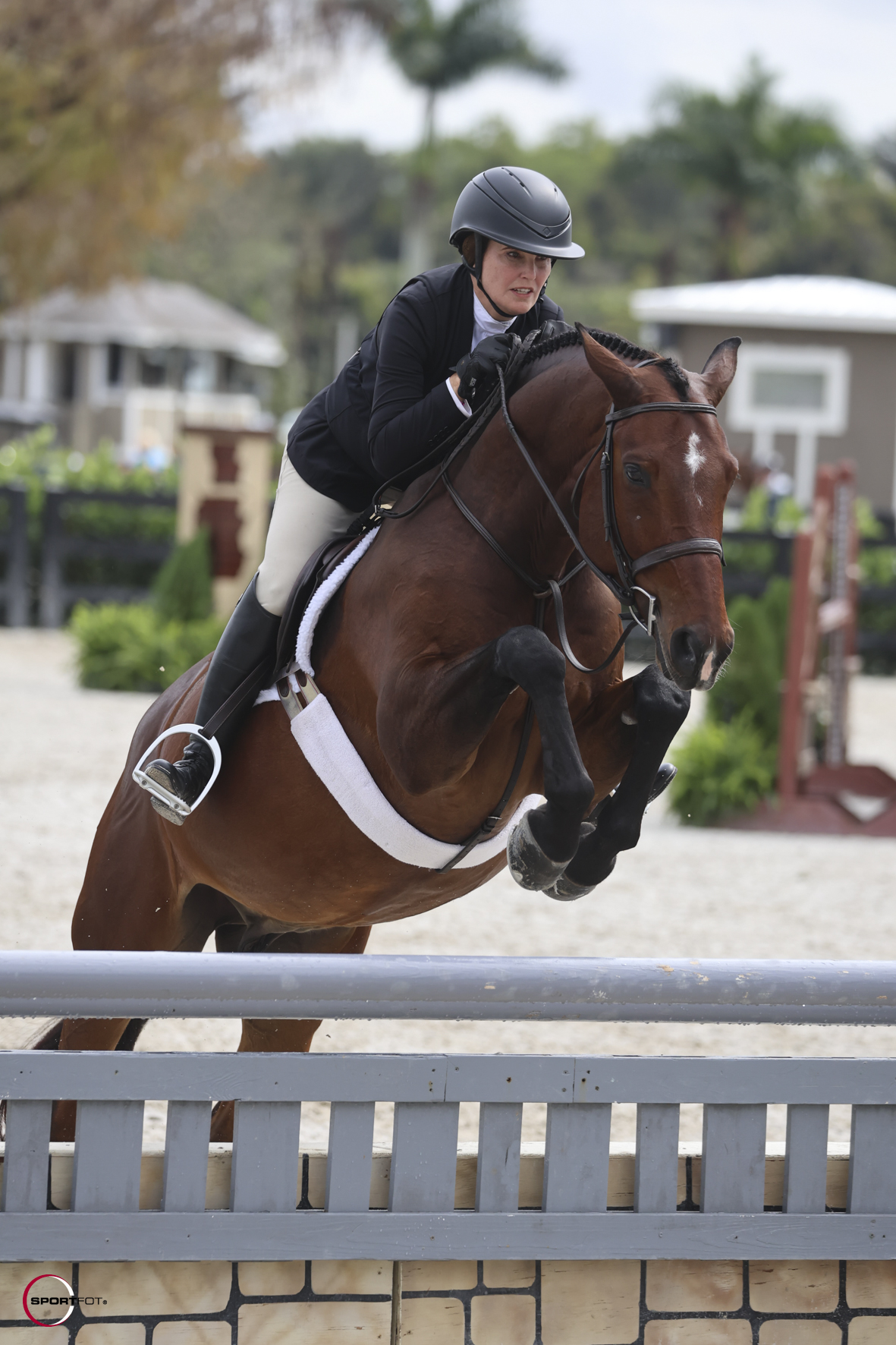 Dow-Rein achieved top placings over fences and a flat phase win aboard the10-year-old American Warmblood gelding Wayland Square and came out the victor of the $1,000 Stake class to take the lead in points of the division.
"Wayland is a fantastic mover, and when I get to the correct distance he has a phenomenal jump," Dow-Rein described. "I've had him for roughly four years now and he has always been such a good, honest guy."
Dow-Rein credits her coach, Brady Mitchell, with much of her success in the show ring stating, "I get on and my main objective is to execute the plan he tells me. His hard work and preparation with my horses makes all of the difference."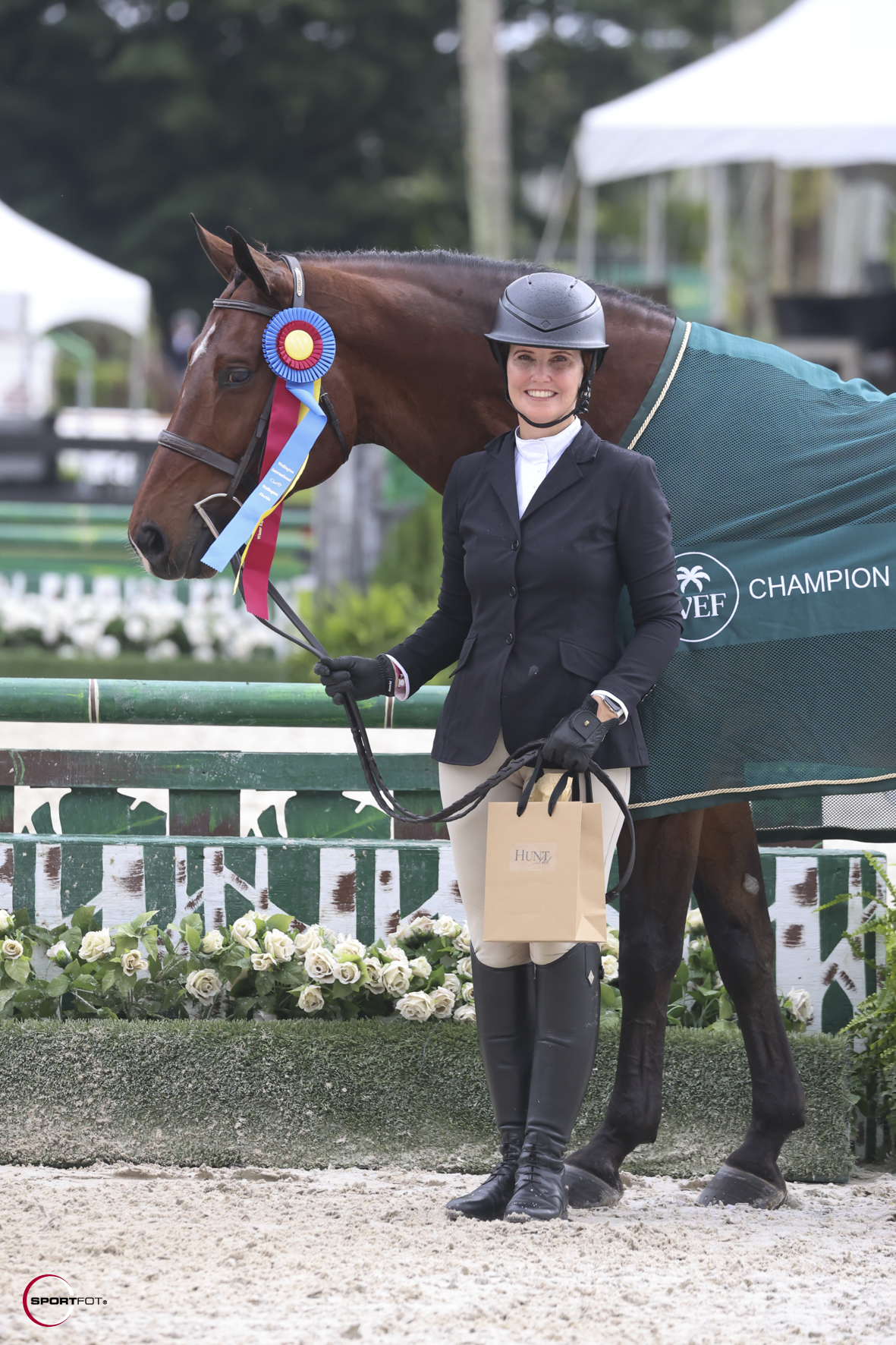 She earned second place in the $1,000 Stake with her reserve champion mount, 11-year-old Warmblood gelding Epic Style, as well as third in the flat phase.
"I've only had Epic Style since early 2020, and he has been a bit more of a challenge," Dow-Rein added. "His jumping form has always been phenomenal, but he was a bit of a project in between the fences. We've got it down now though."