Richard Vogel Wins $35,000 Adequan® WEF Challenge Cup Premiere Round
The highly anticipated 2023 Winter Equestrian Festival (WEF) season debuted this week at Wellington International. Germany's Richard Vogel launched into the new year with a victory in the $35,000 Adequan® WEF Challenge Cup Premiere Round on Thursday. All eyes were on Vogel and his mount, Codex 28, as the pair stormed to victory over 11 other jump-off contenders.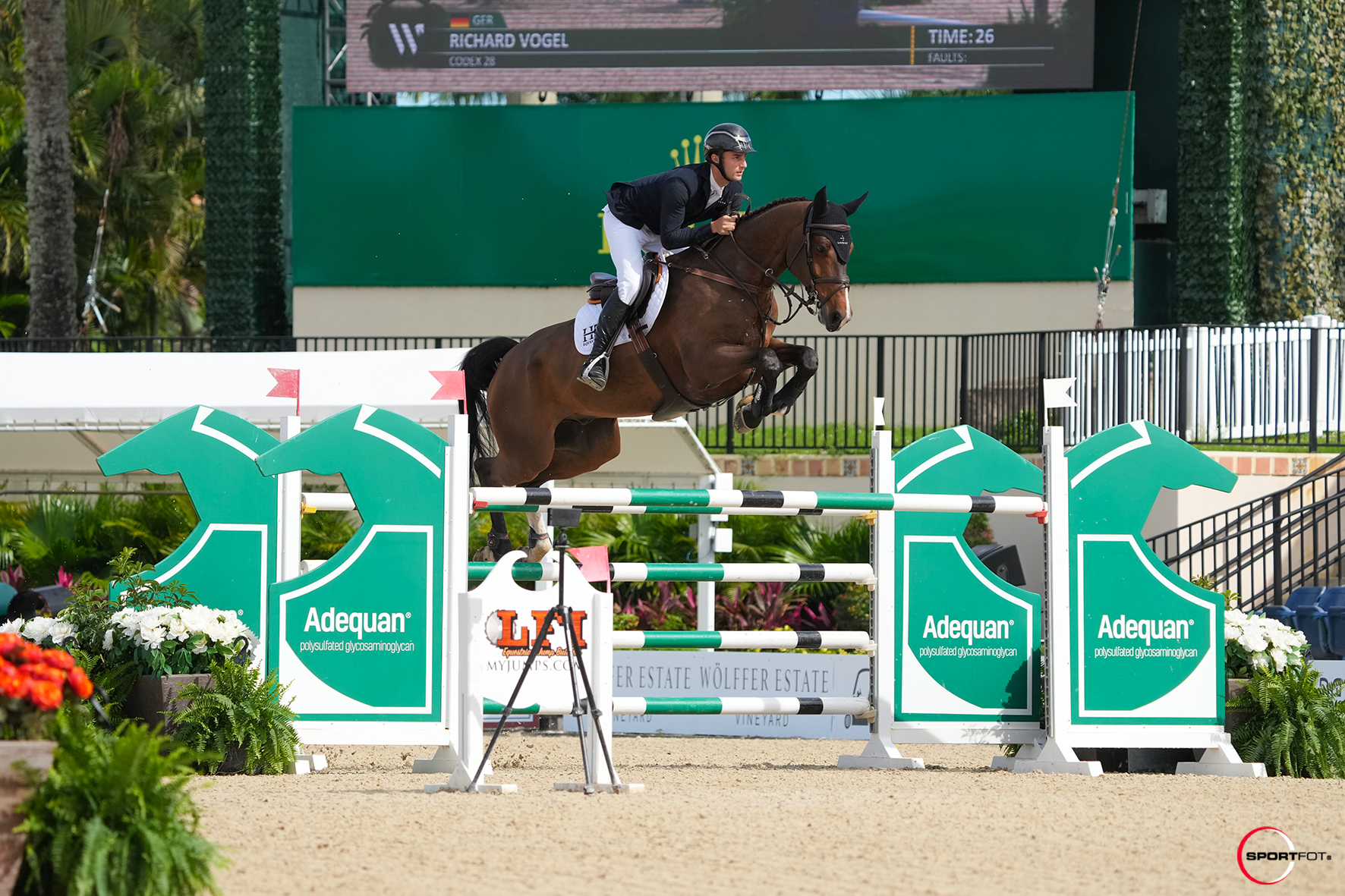 A total of thirty-one entries jumped course designer Eric Hasbrouck's (USA) first round. Of the twelve pairs that advanced to the tie-breaking round, eight were double clear. Vogel and Codex 28 (Contendros 2 x Espri) were the ones to beat, and they showed off an effortless and speedy final round finishing a quarter of a second ahead of two-time U.S. Olympic team gold medalist McLain Ward and Catoki.
Vogel and Codex 28, a 10-year-old Hanoverian gelding owned by Sportpferde Herbert, have a dynamic history together as the pair began their journey when the talented gelding was five years old. After competing for a time at the national level with its owner, Codex 28 is now back under the direction of Vogel and is pointed towards lofty goals. Vogel said that the athletic mount has to be one of his most "promising horses for the future."
He continued, "[Codex] is very sensitive which is good to have in a horse. He's careful and is always focused. It's a special horse and I'm glad I have him."
Vogel went on to describe their partnership and what draws him to this type of horse saying, "I like when you have to be patient with them and need to think about each step before you actually do it. It's more complicated for the rider but it's a good mission."
After pocketing three international wins during WEF 2022, including the Under 25 Final, 25-year-old Vogel is gearing up for another promising season in Wellington. "I have to say I really looked forward to coming back," he said. "It's a really nice lifestyle here and it's super for the horses. At the show, there are plenty of opportunities to bring them in the ring and allow them to grow in bigger sport. I try to have them all sound, healthy and happy and the rest comes by itself."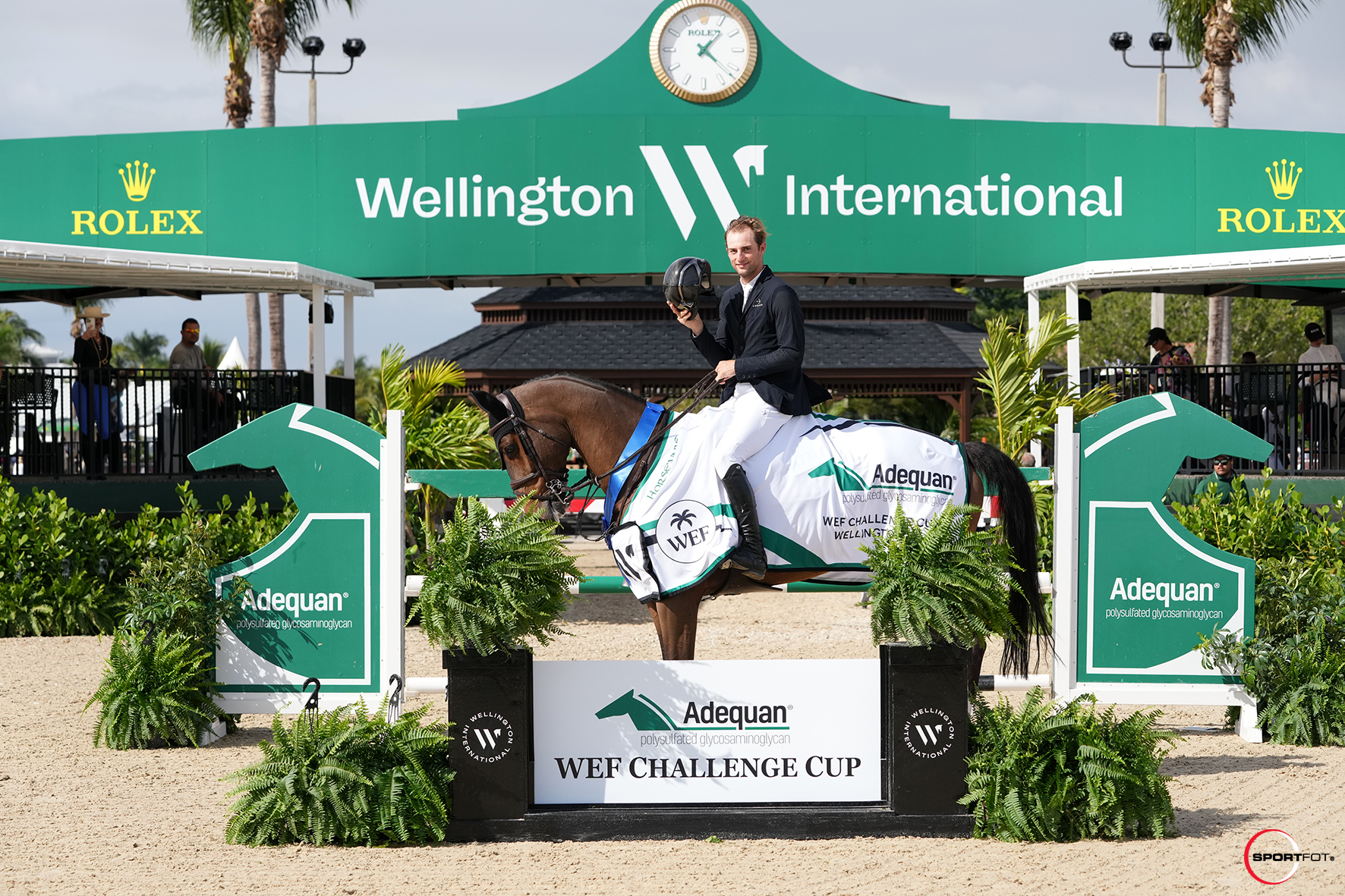 Top five results: $35,000 Adequan® WEF Challenge Cup Premier Round
Richard Vogel (GER) & Codex 28: 2013 Hanoverian gelding by Contendros 2 x Espri. Owner: Sportpferde Herbert.
McLain Ward (USA) & Catoki: 2009 Holsteiner gelding by Catoki x Caretello B. Owner: Marilla van Beuren, Bob Russell, & Mclain Ward.
Catherine Pasmore (USA) & Curious Friday: 2011 Swedish Warmblood mare by Cardento x Camaro M. Owner: Pasmore Show Stables (USA). 
Jimmy Torano (USA) & Kochio Z: 2014 Zangersheide stallion by Kannan x Diamant de Semilly. Owner: Jimmy Torano. 
Ali Wolff (USA) & HH N-Joy: 2013 Belgian Warmblood gelding by Elvis ter Putte x Bentley vd Heffinick. Owner: Chloe Stables LLC, Double H Farm and Pumpkins Patch Farms (USA).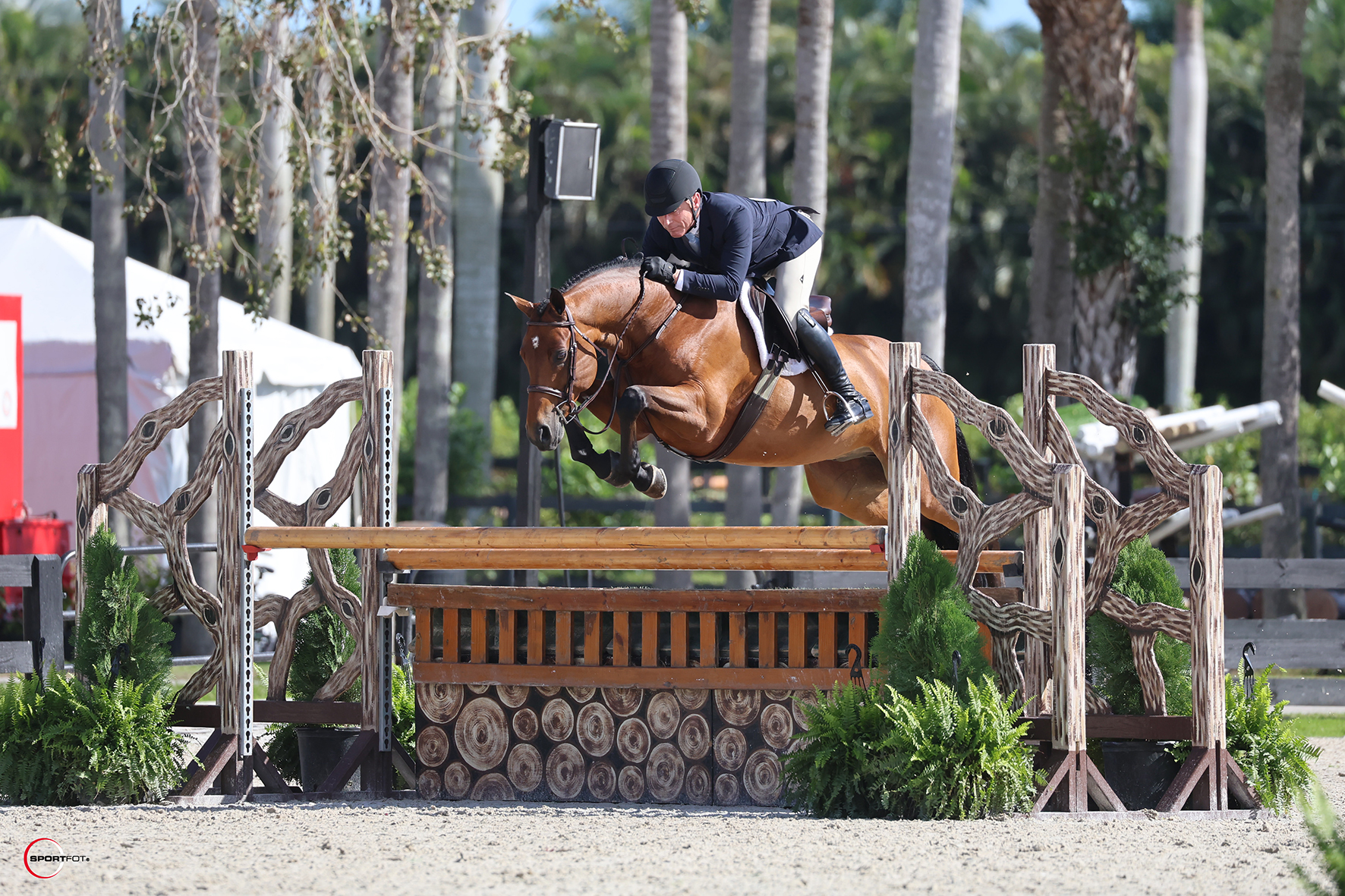 Scott Stewart Shines During Opening Week
An ever-present "one to beat" in the Winter Equestrian Festival (WEF) hunter ring, Scott Stewart collected tri-colors in three divisions during the first two days of professional hunter competition at WEF. The first championship came in the Equine Tack & Nutritionals 3'9" Green Hunter division in the E.R. Mische Grand Hunter Stadium on Thursday.
Stewart, of Wellington, FL, piloted Jordan, a 10-year-old Selle Français gelding by Paname de Varnel owned by Sophie Gochman. Earning first, second, and third-place ribbons across the board, Jordan posted two scores of 88.5, 87 and 88 throughout four rounds of jumping.
"It's exciting to be back – I love it here. I brought out a small group of horses and they all did well this week," said Stewart of the start to his WEF season. "Sophie bought Jordan at the end of last year and he was champion throughout indoors. He's such a good jumper and a real trier."
Standing at about 15-hands, Jordan is small but has enough style to catch the judges' eye in the hunter ring every time. "He's so scopey and one of the most fun to ride," continued Stewart. "The goal for him this season is really to do well in the amateurs with Sophie."
When not winning the professional ranks with Stewart, Jordan is in the reins of Gochman in the 18-35 Amateur-Owner Hunter division.
Reserve champion in the Equine Tack & Nutritionals 3'9" Green Hunter division was presented to Jeff Lauwers of Magnolia, TX, aboard Easton Blue, owned by Aphrodite Papandreou of Houston, TX. Their tri-color finish was highlighted by a win over fences on a score of 88.