Partnership Pays Off for Alex Matz and Cashew CR
Wellington International is welcoming the world during Week 8 of the Winter Equestrian Festival (WEF), presented by IDA Development. Stamping their ticket in the number-one position for the JTWG, Inc. CSIO4* Grand Prix on Sunday, Alex Matz (USA) and Cashew CR were picture-perfect in the one-round qualifier. He and the 15-year-old Holsteiner gelding (Cassini II x Quinar Z) topped the $39,000 Adequan® CSIO4* WEF Challenge Cup Round 8 on Thursday afternoon for owner Dorothy A. Matz.
"I knew I had a naturally fast horse, and the track was proving to be quite difficult, so I did one to two in eight strides and I thought if I did that I would establish a good rhythm and then just get to take-off spots balanced and let him do the rest," said Matz of the mount he's been partnered with for the past eight years. "I feel like I know him like the back of my hand. He is a true winner, and he fights like no other horse I've ever ridden."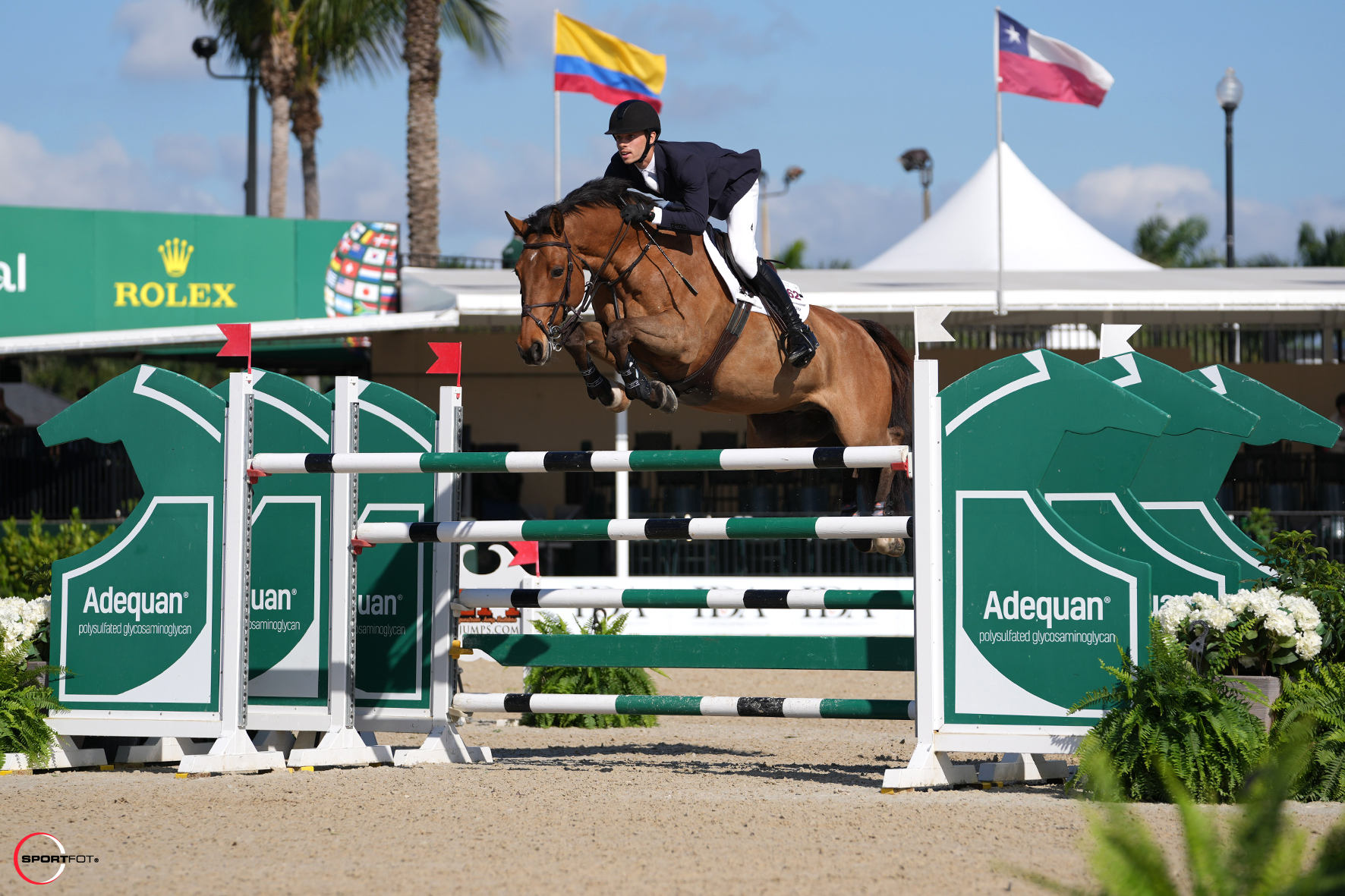 Matz, 26, posted a blistering time of 67.07 seconds over Anthony D'Ambrosio's (USA) course, besting the rest by more than six full seconds. Canada's Amy Millar riding the Future Adventures-owned Christiano took second in 73.35 seconds. Margie Goldstein-Engle rounded out the podium placings riding Dicas just fractions off Millar's pace in 73.37 seconds for owners Selma Garber, Gladewinds Partners, Show Horses, Inc. and Storm Ridge Capital.
"I told my parents earlier that I could have a 105-degree temperature and really not feel like riding, go in there and he would do it for me," remarked Matz, son of 1986 World Champion Michael Matz. "He's very careful and very competitive, so I know if I give him a chance then I will be very competitive."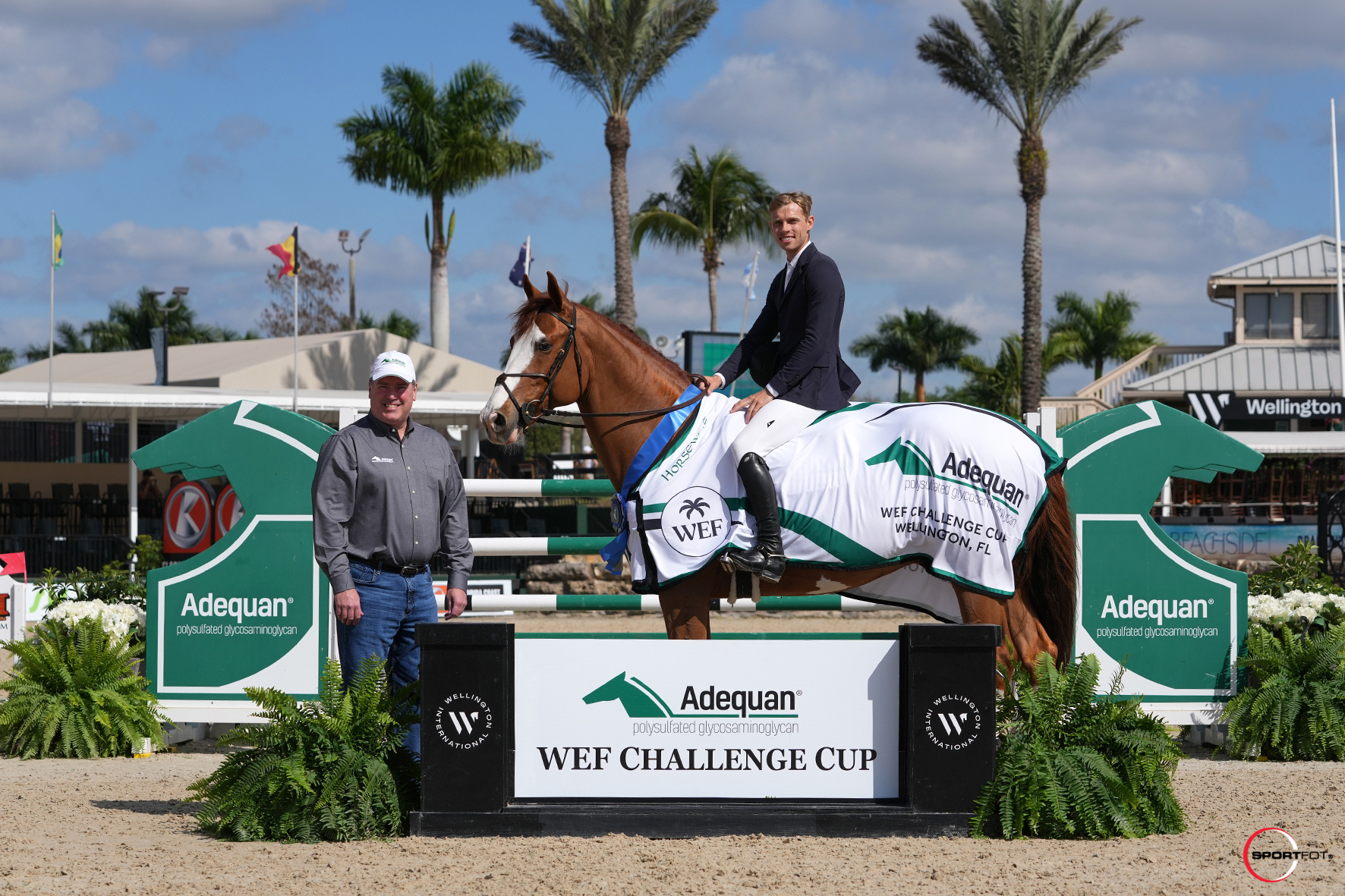 Matz scored a CSIO4* victory ahead of Saturday's CSIO4* Nations Cup, presented by IDA Development, which takes center stage in the International Arena during 'Saturday Night Lights'.
"I think WEF has done a great job of putting on world-class shows and Nations Cup week is a huge week, so to come out and win… hopefully I can keep the ball rolling and keep up this momentum," concluded Matz.
Luke Jensen Conquers Hermès U25 Welcome
Luke Jensen (USA) kicked off Week 8 at WEF in the International Arena with a big win in the $10,000 Hermes U25 Welcome on Thursday aboard Fayuri AWR.
A field of 64 tackled a challenging Anthony D'Ambrosio-designed speed course all vying for a smooth, quick and clear round. It came down to Jensen and Fayuri AWR, a 2013 gelding (Favorit Ask x Larissa KB XXV CH) owned by Missy Clark & North Run, finishing on a time of 56.09 seconds. Second went to Zoe Conter (BEL) and Lazy clocking in at 59 seconds flat, and third was Sofia Cady (USA) and ZG Bella coming in at 61.8 seconds.
Jensen was thrilled after his speedy winning round. "He's such a sharp and careful horse, and he's very attentive; paying attention to what's going on and you can tell he's excited to jump. He's a fast horse, which we took advantage of today and it paid off."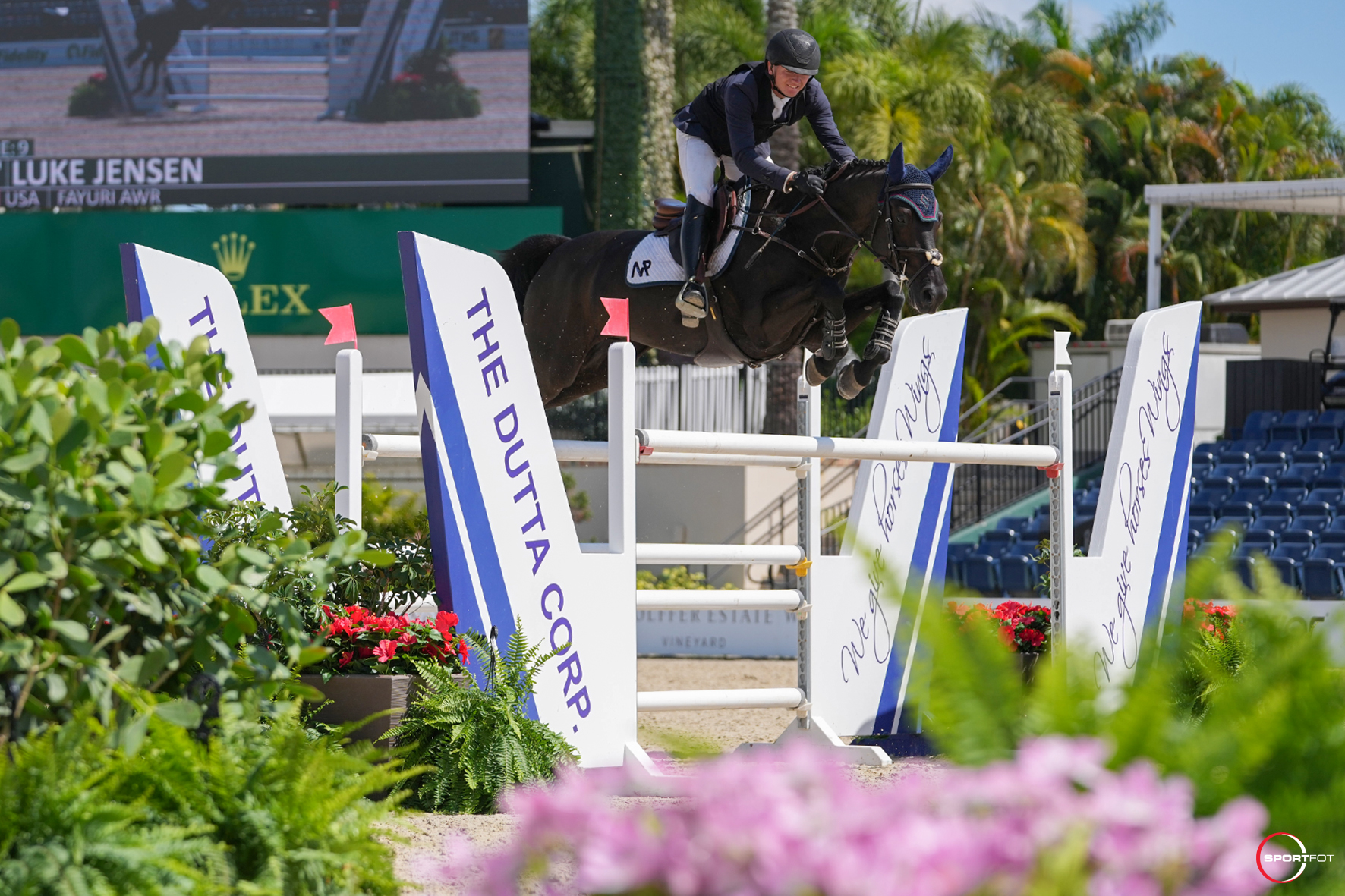 This is a relatively new partnership that began early January, but it seems to be a perfect match with Jensen noting, "He's extremely attentive, and sharp, he's always watching the jumps and reading them with you. He's always looking for the next jump."
This marks Jensen's second year participating in Hermès U25 division. "it's been super being a part of the U25 series and I was lucky to have two in the class today, so it's been a great experience and it's been a super fun class so far for me."
Drumroll Steals Equine Tack & Nutritionals 3'9" Green Hunter Win
Kelly Mullen and Drumroll sailed around the E.R. Mische Grand Hunter ring during week 8 at the Winter Equestrian Festival (WEF) to take a tricolor the Equine Tack and Nutritionals 3'9" Green Hunter division on Thursday.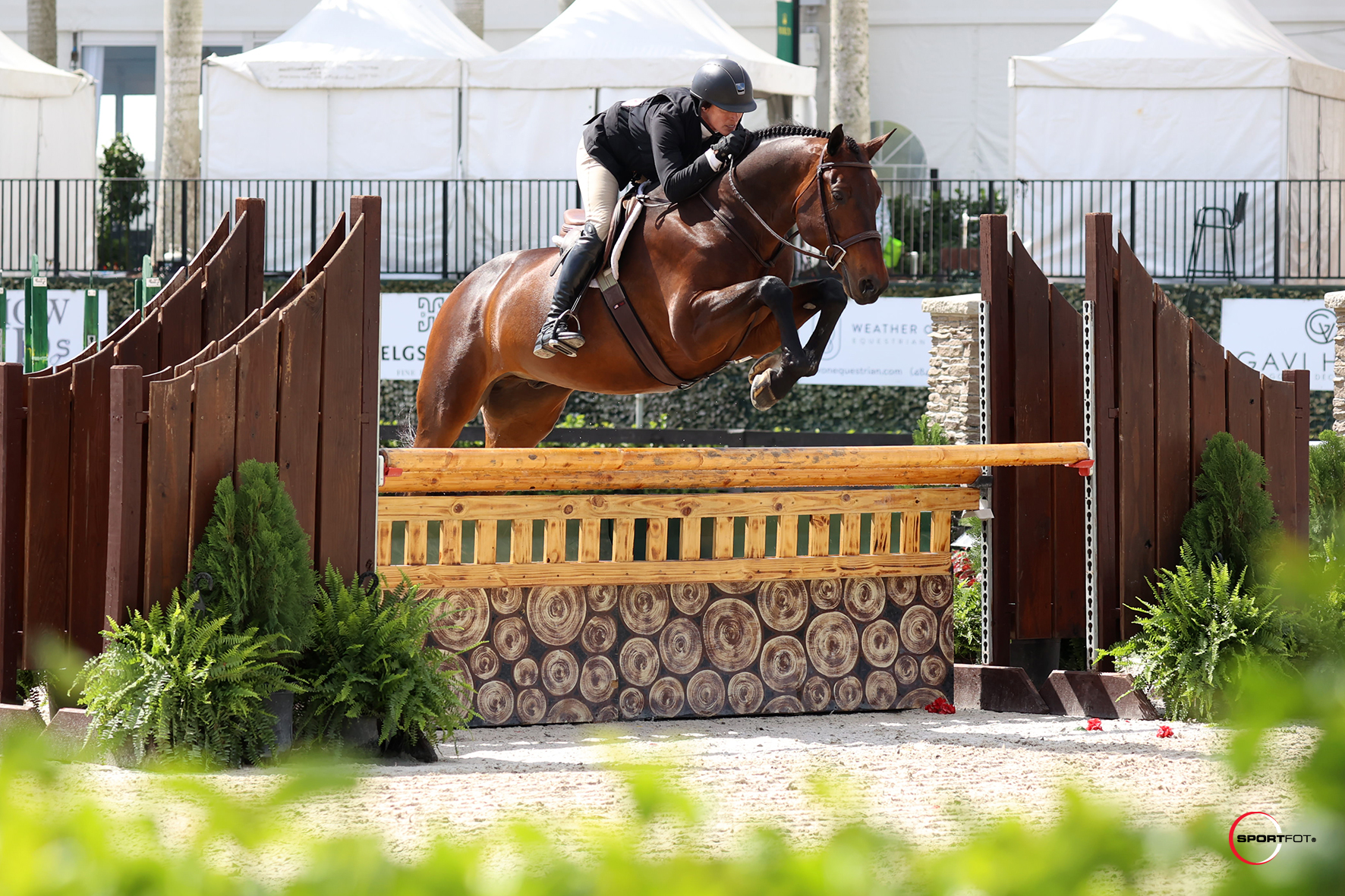 The pair impressed the panel of judges, who rewarded them with an 87 over fences and an 88 in the handy round on the first day of the division. Their standard was unbeatable on day two of jumping as Drumroll, a 2014 Holsteiner gelding by Diamant de Semilly and owned by Mary Jane King, took champion.
"The first class we were focused on keeping him very straight and he did have a couple rubs, so we didn't get a great ribbon," said Mullen. "The second trip I let him have his head and he jumped amazing and after winning both classes yesterday we squeaked out as champions."
Mary Jane King bought this lovely young horse for Mullen to show about a year ago. "He is one of the sweetest horses," said Mullen. "He is big and strong so you have to make sure you have him under your control because at times he can get away from you, not in a mean way, he simply has a big and powerful stride."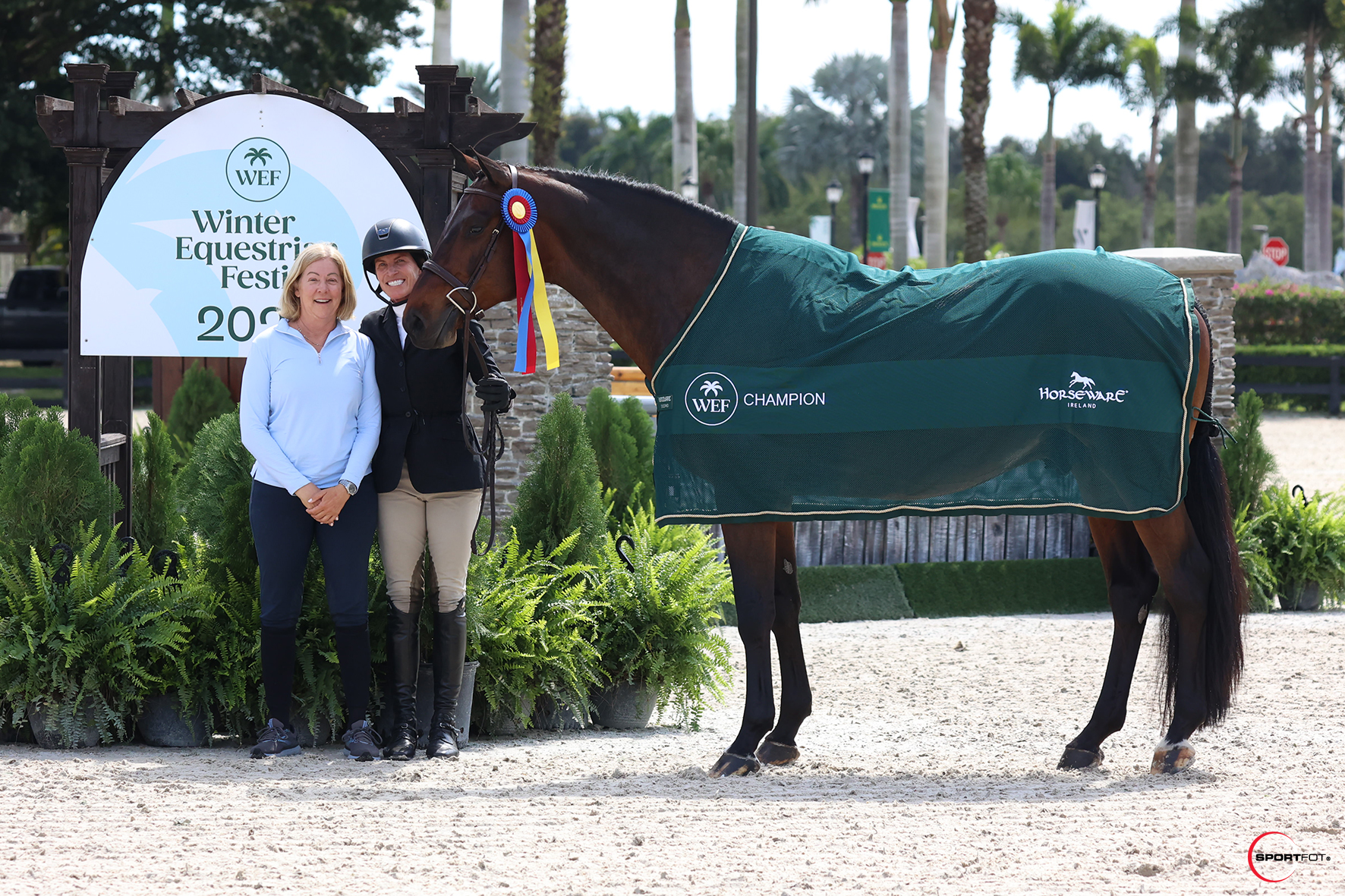 This pair will be looking forward to, "the international derby on the grass field that we are going to enter next week and of course there's Devon after that, and Derby Finals in the summer so hopefully it's all uphill from here."
Drumroll's owner, Mary Jane King added, "I told Kelly when we were looking for a horse that I would be proud to own. The girl who had him imported him from Germany and really went slow with him. He has had a light schedule and been slowly and carefully produced, which is probably why he is turning out so nicely. We got lucky!"
Vogel Scores ProElite Jumper Classic Victory
Germany's Richard Vogel and Jonage LVP scored a win in the $25,000 ProElite Jumper Classic on Thursday afternoon.
Only four pairs made it into the jump-off, including Ireland's Daniel Coyle on two different horses. Vogel could not be caught, however, as he and the Dietmar Gugler-owned mount posted a jump-off time of 34.23 seconds. Second went to Isabella Russekoff (USA) and C Vier 2 with a 40.196 time, and third went to Daniel Coyle (IRE) aboard Phaeton VD of Colors finishing in a time of 37.094 with one rail.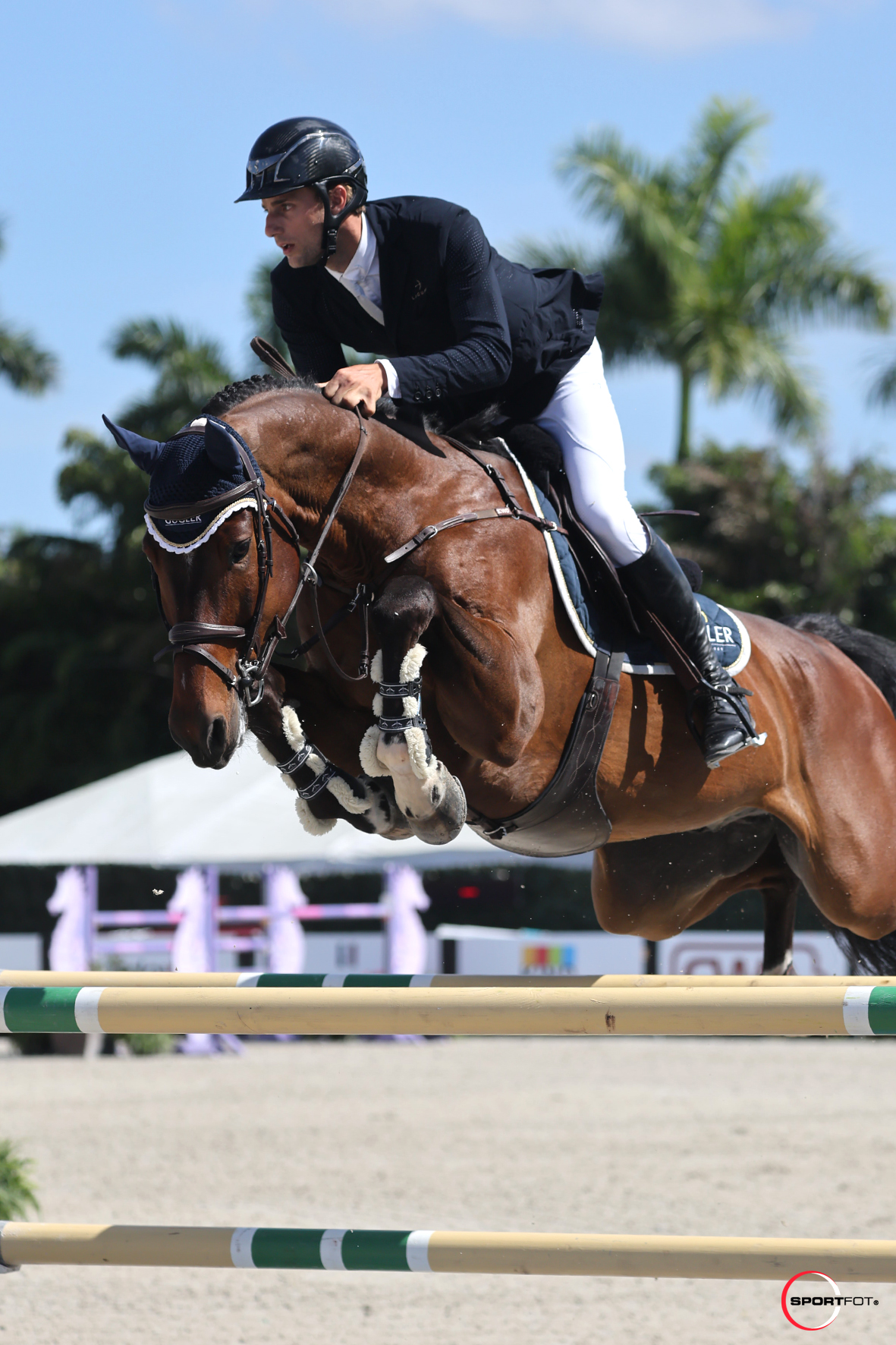 Vogel is no stranger to victory and has been collecting top placings here at WEF for weeks now. "It's quite a new ride for me. I showed him two weeks ago and now this is the second week. He's only eight, so he's a very promising horse for the future. I thought it was a big enough track, also we only had four of us in the jump-off so that showed how tough the first round was. I was happy with how well he managed that and for the jump-off I thought 'we have not much to lose so let's give it a try.'"
This promising young horse came from Germany from a friend of Vogel's. "The family owned the horse before we got him and they had him since he was a foal and did a good job of bringing the horse up and developing him," said Vogel. "He was probably his most promising seven-year-old at the time, so we thought it was a good decision to bring him here and get him into some bigger classes."