Wellington, FL – January 27, 2022 – The Winter Equestrian Festival (WEF) continued at the Palm Beach International Equestrian Center (PBIEC) on January 27, 2022, with week three competition sponsored by NetJets. The International Arena at the venue held three international jumper classes with the $50,000 Adequan® WEF Challenge Cup Series Round Three as the feature. The class had the most entries of the day and rising to the top was Nayel Nassar (EGY) riding Igor Van De Wittemoere, owned by Evergate Stables, LLC.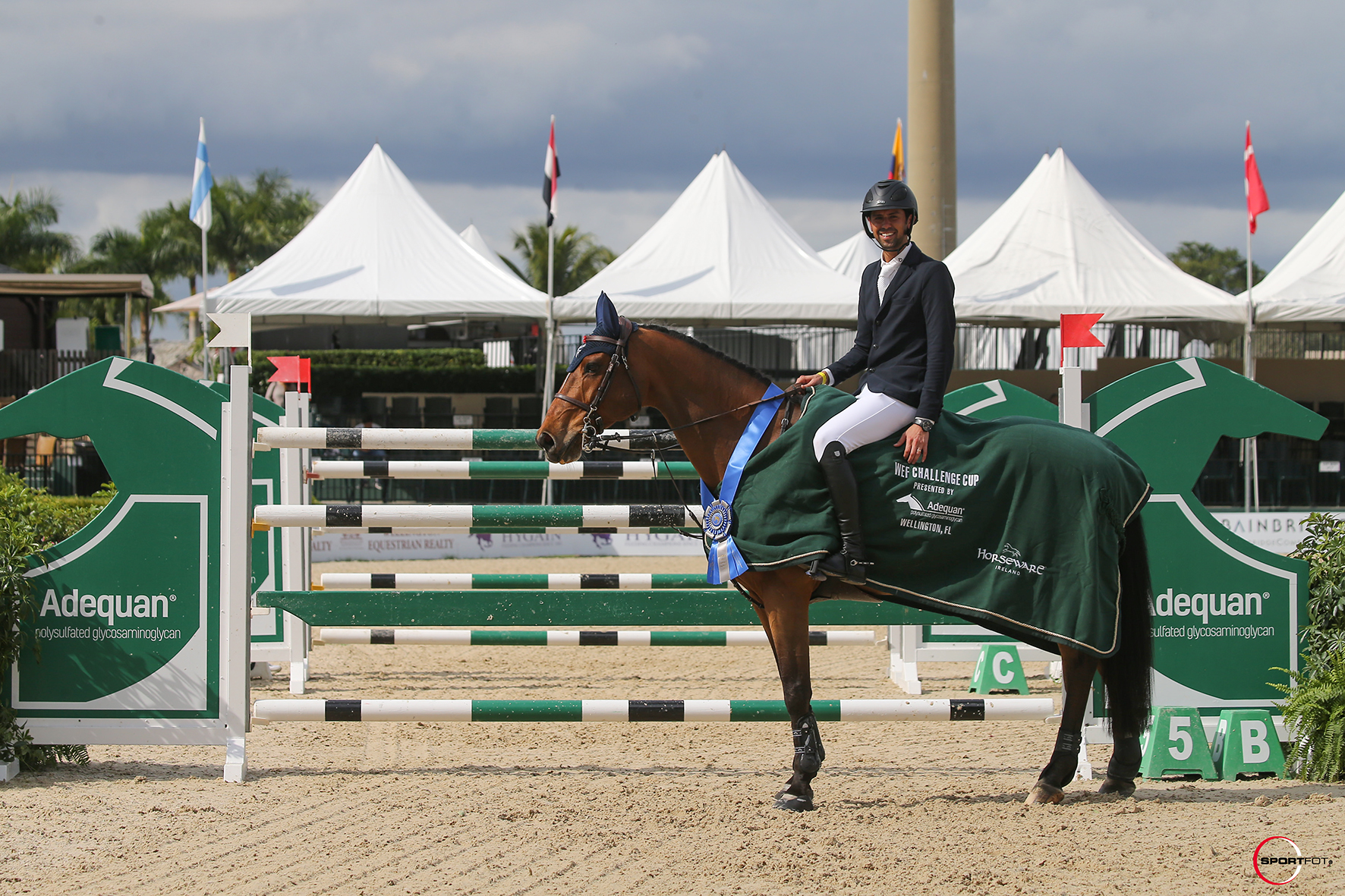 WEF includes AA-rated hunter, jumper, and equitation competition and week three features CSI4* and CSI2*, sponsored by Helgstrand Jewellery, competition. The feature class of the week and part of the "Saturday Night Lights" series is the $216,000 NetJets Grand Prix CSI4* during Saturday Night Lights.
Peter Grant (CAN) produced a course which tested 66 first-round combinations across a thorough track which included both a triple bar and a triple combination to size up the competition. An impressive 22 countries were represented in the international event and by the halfway mark, seven of those had earned themselves space in the jump-off. Time was definitely a determining factor of the class as it kept eight entries from advancing to the short track. Alessandra Volpi (USA) and Tiffany Foster (CAN) made the decision to withdraw from the eventual returning field of 15 which left just over a dozen pairings for the second phase. Olympian Nassar took the early lead with his trusted partner Igor Van De Wittemoere and held it in 40.18 seconds.
"We changed our plan a little bit this week, and it seemed to work out for the best," explained Nassar. "Igor usually jumps a warm-up class first because he is so high strung, and it just takes the edge off. This week we decided against it though because it's a long circuit and he is a year older and wiser now. We went without it today, and he was a little fresh but he jumped fresh and was still manageable."
Nassar and the 14-year-old BWP gelding (Cooper Van De Heffinck x Orlando) have had multiple major wins since the inception of their partnership and have navigated the keys to success against tough competition.
"He was awesome in the jump-off. I wasn't necessarily planning to go that fast with him, but once he gets rolling it's a lot easier to just go with him instead of trying to conserve him," he admitted of the gelding. "His general footspeed is incredible; he really is always going somewhere, and I was very impressed with how he rolled back to number three. Typically, full right-hand rollbacks are difficult for him, so when he gave that to me so easily, I figured I might as well keep my foot on the gas and keep rolling."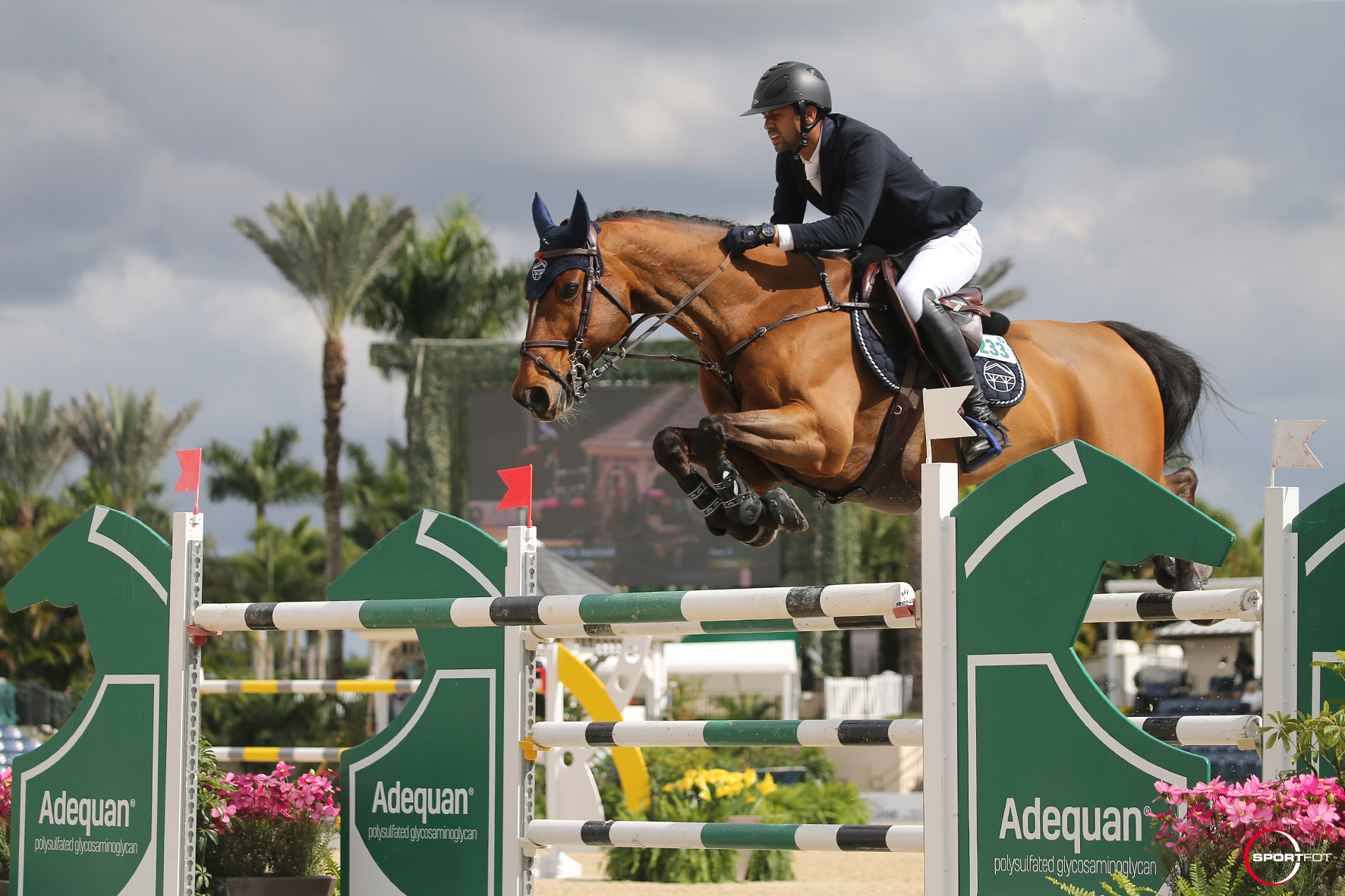 Nassar noted of the first-round track, "I thought it was a very fair; it wasn't overly big but technical enough with a tight time allowed that it pressured you into making some decisions you probably wouldn't make if you weren't up against the clock. That being said, there were enough places where you could make up that time and then address the technical parts of the course."
Bluman and his own 10-year-old Selle Francais gelding Cachemire De Braize (Nissan Quality Touch Z x Jaguar Mail) laid down a tidy and fault-free effort with a time of 41.64 seconds, which was good enough to earn runner-up honors. Young up-and-comer Tanner Korotkin (USA) rounded out the top three on Volo's Diamond. He and the 11-year-old OS gelding (Stakkatol x Baloubet Du Rouet) owned by Sandalwood Farms blazed ahead as the final combination to return and catapulted to the podium with a time of 42.01 seconds.
Thursday also produced a win for the USA's Quentin Judge in the $8,000 Douglas Elliman Real Estate1.45m Jumpers. Judge piloted Double H Farm's nine-year-old BWP gelding HH N-Joy (Elvis Ter Putte x Bentley vD Heffinck) to two flawless rounds for victory. The $6,000 Helgstrand Jewellery 1.45m Jumpers CSI2* rounded out competition in the International Arena with victory going to Ireland's Darragh Kerins and Eve Jobs's 11-year-old Irish Sport Horse gelding Intuitive (Beach Ball x Sandiamo) as the fastest of two double-clear finishers.
Final Results: $50,000 Adequan® WEF Challenge Cup Series Round Three CSI4*
1. IGOR VAN DE WITTEMOERE: 2008 BWP gelding by Cooper Van De Heffinck x OrlandoNAYEL NASSAR (EGY), Evergate Stables, LLC: 0/0/40.18
2. CACHEMIRE DE BRAIZE: 2012 Selle Francais gelding by Nissan Quality Touch Z x Jaguar Mail
DANIEL BLUMAN (ISR), Daniel Bluman :0/0/41.84
3. VOLO'S DIAMOND: 2011 OS gelding by Stakkatol x Baloubet Du Rouet
TANNER KOROTKIN (USA), Sandalwood Farms: 0/0/42.01
4. LUCIANO VAN HET GEINSTEINDE: 2011 BWP gelding by Quinn Van De Heffinck x Air Jordan
JOS VERLOOY (BEL), Eurohorse BVBA: 0/0/42.27
5. F ONE USA: 2010 KWPN gelding by Toulon x Tangelo Van De Zuuthoeve
LORENZO DE LUCA (ITA), Poden Farms: 0/0/42.84
6. ABC QUANTUM CRUISE: 2009 ISH gelding by Obos Quality x Cruising
HECTOR FLORENTINO ROCA (DOM), Wyndmont: 0/0/44.26
7. DOUBLE O SEVEN 111 Z: 2011 Zangersheide stallion by Der Senaat 111 x Otangelo
JUAN MANUEL GALLEGO (COL), Jorge Andres Barrera: 0/0/44.28
8. UNE DE L'OTHAIN: 2008 Selle Francais mare by Conterno Grande, Old x Cento
HARRIE SMOLDERS (NED), Evergate Stables, LLC: 0/4/41.60
9. ARPEGE DU RU: 2010 Selle Francais mare by Apache D'adriers x Quat'sous
ABDEL SAÏD (BEL), Abdel SaÏd :0/4/41.95
10. MY WAY: 2010 OS stallion by Mylord Carthago*hn x Cassini II
LUIZ FRANCISCO DE AZEVEDO (BRA), Santa Cecilia Stables: 0/4/43.72
11. L'ARTISTE DE TOXANDRA: 2011 BWP gelding by Toulon x Kashmir Van Schuttershof
IOLI MYTILINEOU (GRE), Elia Construction SA: 0/8/49.18
12. CALYPSO DES MATIS: 2012 Selle Francais gelding by Paddock Du Plessis*hn x Perle De Cheux
EDUARDO PERIERA DE MENEZES (BRA), Eduardo Periera De Menezes: 0/12/44.10

Steven Gregorio Sweeps Perfect Products USHJA 3' Hunters
A competitive field of more than 30 entries led to the USHJA 3' Hunters, sponsored by Perfect Products, to be pinned as a California Split.
The division came to a close with Steven Gregorio, of Wellington, FL, earning the champion ribbon in both sections of the split. Gregorio rode Logan, owned by Ava Scharbo, and Hollywood, owned by Ava Cukrowski, to the dual championships.
Hollywood is a 10-year-old Belgian Warmblood who Cukrowski shows in the 3'3" Junior Hunters.
"He's a great mover," said Gregorio, who went on to list the USEF Junior Hunter Finals and the indoor finals as goals for Hollywood and Cukrowski this year.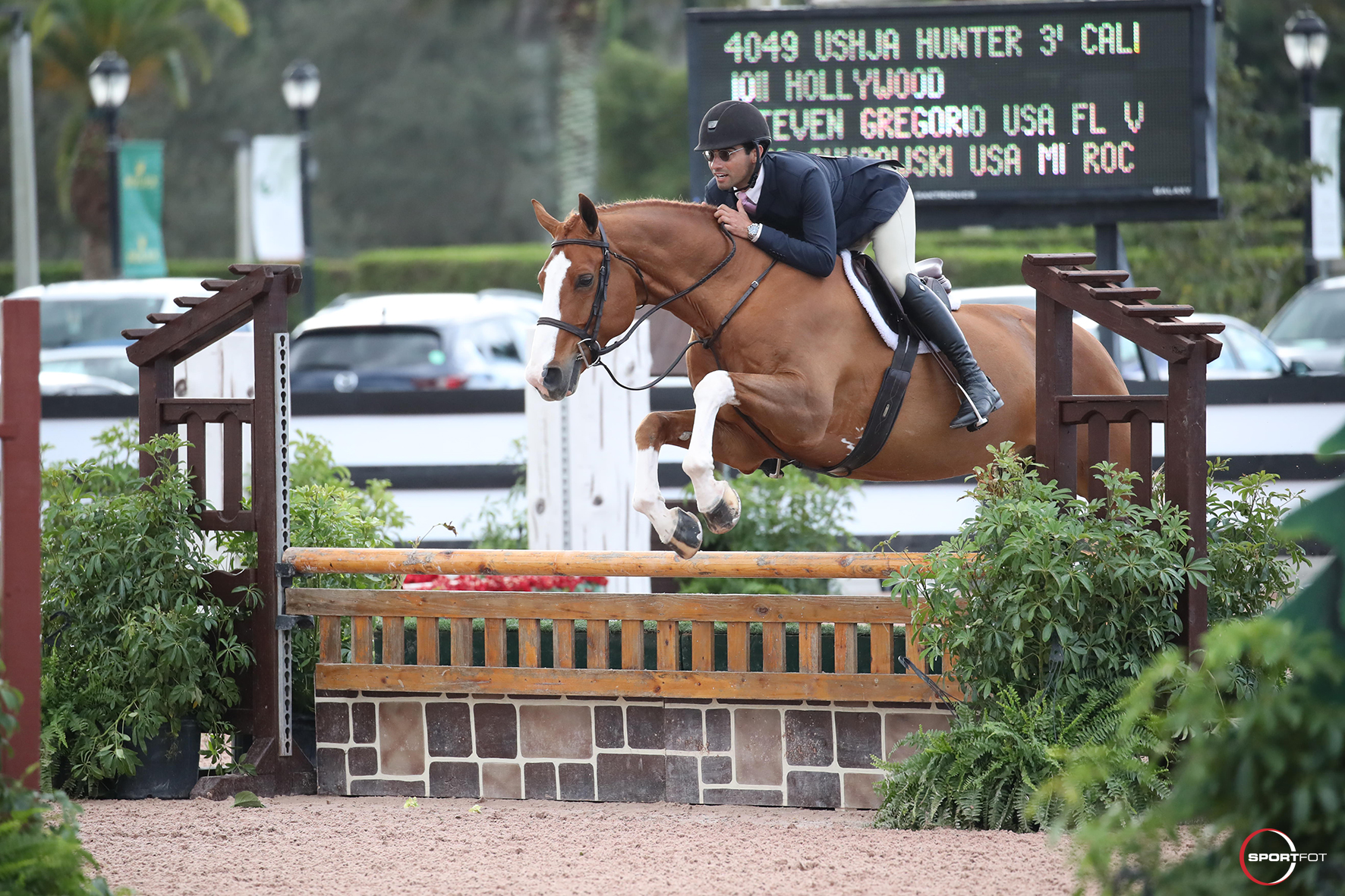 Cukrowski's gelding by Bustique also won a section of the under saddle and claimed an additional win and two second places over fences.
"He's a bit more opinionated than Logan," said Gregorio of Hollywood, "but he's dependable and will always get you to the other side of the jumps."
While Hollywood and Cukrowski have already had success together, Logan is a new ride for Scharbo.
"We just purchased him last week for Ava [Scharbo], who will show him in the Children's Hunter Younger division this weekend," said Gregorio.
"He is straightforward, brave, has a perfect lead change, is a nice mover, and is sweet," said Gregorio of Logan, an 11-year-old Danish Warmblood gelding.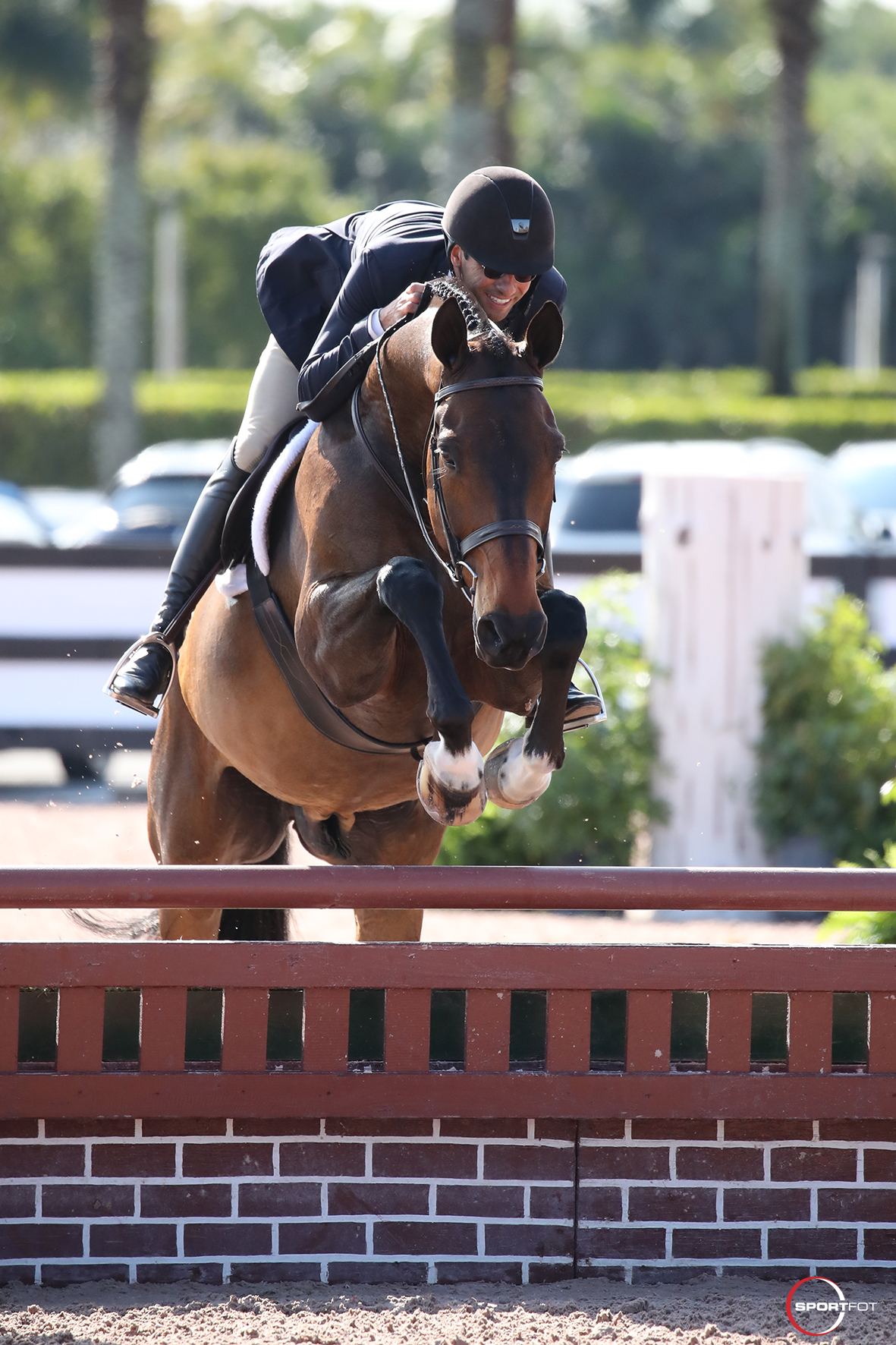 Scharbo's gelding by Languster claimed the top spot of the division by winning four of five classes in the division and placed second in the remaining class.
"It's great that even after not having shown for awhile, he came out so consistent," said Gregorio. "That consistency is really what's most important."
Gregorio also went on to success in the Equine Tack and Nutritionals Green Hunter 3'9" division with reserve champion aboard Sweet Caroline, owned by Sterling Malnik.