As Week 5 of the 2023 Winter Equestrian Festival (WEF) came to a close on Sunday, Mclain Ward (USA) continued his winning streak from the previous night into the final five-star event of the week. Ward topped a field of 67 in the CHF75,000 CaptiveOne Advisors CSI5* 1.50m Classic to be the first rider to win the grand prix and 1.50m classic back-to-back at WEF since 2014. Frank Rothenburger (GER) built a track worthy of its contestants which included some of the world's best from 13 individual nations. Fifteen of the original starting lineup advanced to the short track while heartbreaking time faults kept an additional six riders out of contention. 
Hot off his win in Saturday night's CHF406,000 Fidelity Investments CSI5* Grand Prix, Ward delivered again, this time aboard Alanine De Vains. Germany's Richard Vogel appeared to have the win in the bag as he took the early lead, but Ward knocked a little over a second off his posted time with Sportpferde Herbert's 10-year-old Hanoverian gelding Codex 28 (Contendros 2 x Espri).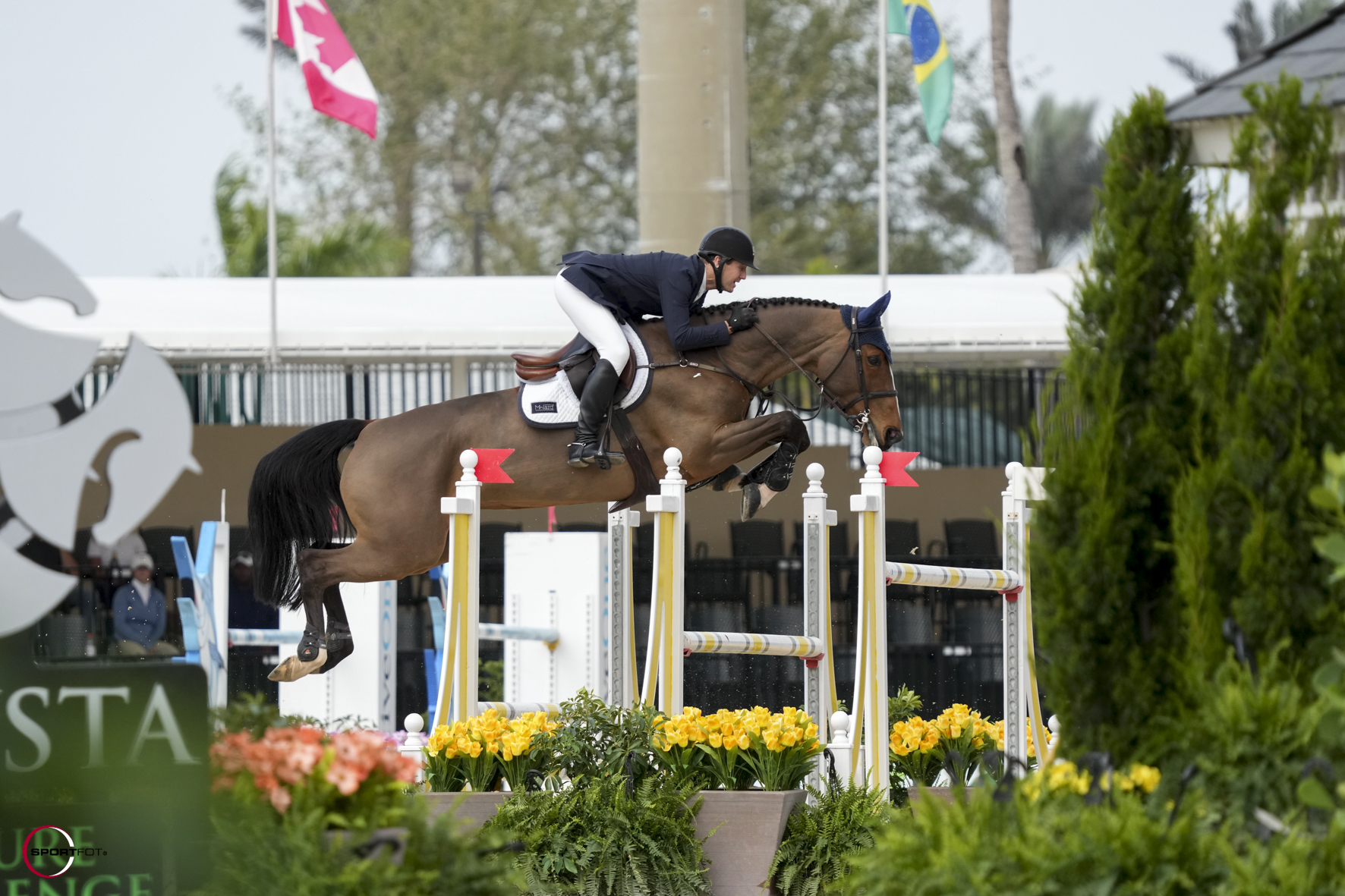 "I didn't think Richie went full out today," explained Ward. "He took a notch off, and I was aware of that. It allowed me to take a breath and ride my round, and it was just good enough."
The ride on the 13-year-old Selle Français mare (Allegreto x Adelfos) is a recent acquisition for Ward, who has a long-standing relationship with the mare's owners. Lindemann Barnett Sporthorses asked for his help in campaigning the horse for sale – a task that Ward has kicked off to a good start.
"This is only the second class I've shown her in," he continued. "She should have won the class earlier in the week, but I made a mistake. She's very careful and very fast, so that plays into my hand with a jump-off like this."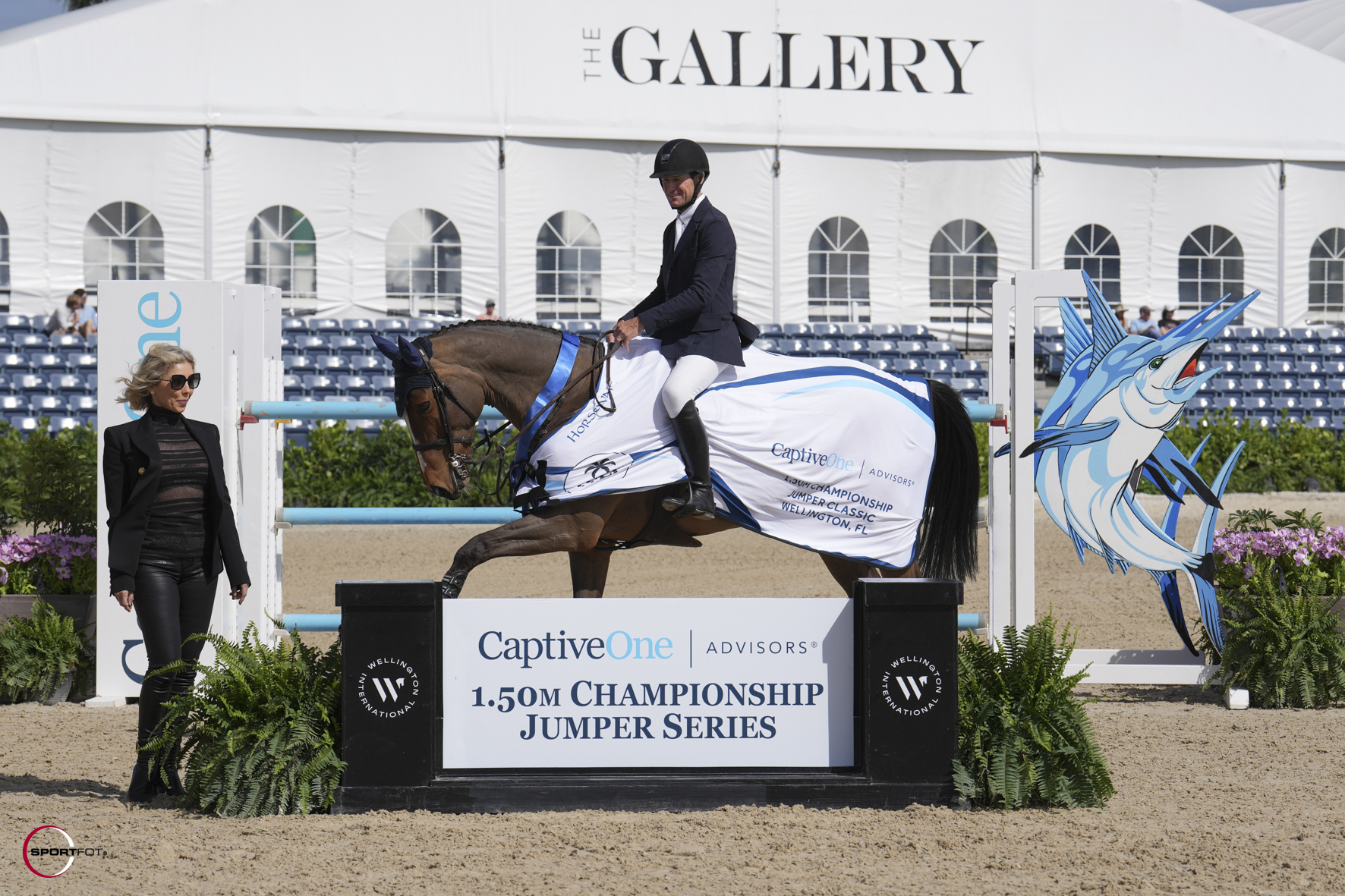 While commenting on his recent string of successes, Ward expressed that one of the things he is most proud of in his operation is the management of their horses. 
"We've worked really hard to build a great string of horses, and also to maintain them so that they last a long time," Ward expressed. "My top horses are 17 years old, 15 years old, and 14 years old. They are experienced which gives you such an advantage and their health is a great testament to my team. We have great owners that allow us to show these horses the right amount and not put too much pressure on them."
Up-and-comer Zoe Conter rounded out the victory gallop aboard the Stephex Stables' 11-year-old Zangersheide stallion Dawa De Greenbay Z (Diarado x Schilling ET). 
Parker Peacock's Jumper Turned Hunter Takes First Tricolor in Small Junior Hunter 3'6" 15 and Under, presented by Kask 
Parker Peacock checked off a milestone in her young hunter career this weekend as the 14-year-old North Carolina native was awarded the champion honors in the Kask Small Junior Hunter 3'6" 15 and Under division.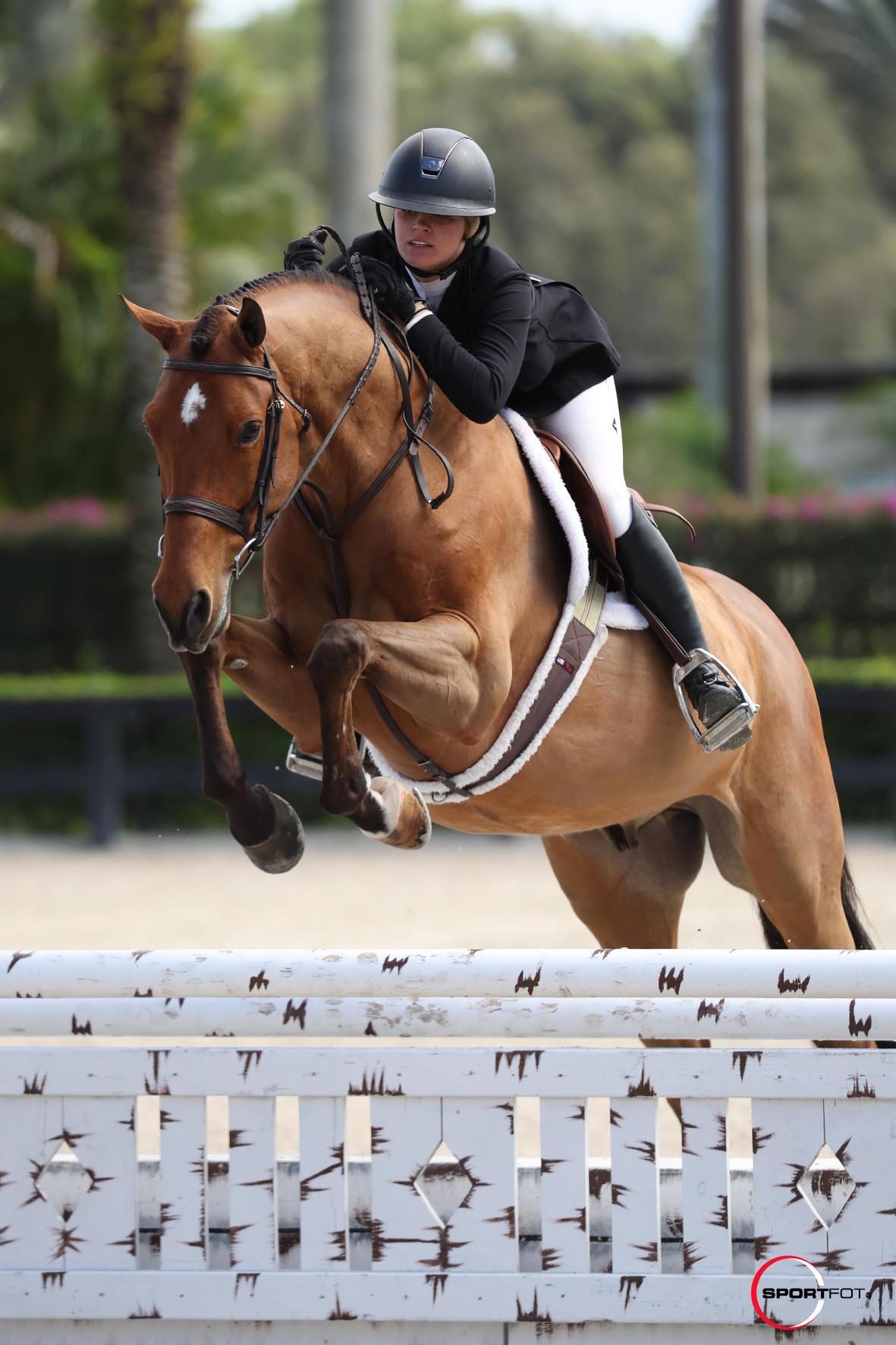 The win marked a career milestone for Peacock's mount, an 11-year-old Oldenburg gelding Acclaim (Heartbreaker x Calanda Z) as he transitions into the hunter ring after a successful upper-level jumping career. 
"Acclaim was originally being shown by Luiz Francisco de Azevedo in the jumper ring when we found him," Peacock detailed. "My trainer – Victoria Colvin – saw him competing one day and convinced me that I needed to try him for the hunter ring. I fell in love with him the moment I sat on him." 
With the help of the Colvin family, Peacock has spent the past few years guiding Acclaim in his transition and feels they have found a firm footing in their partnership.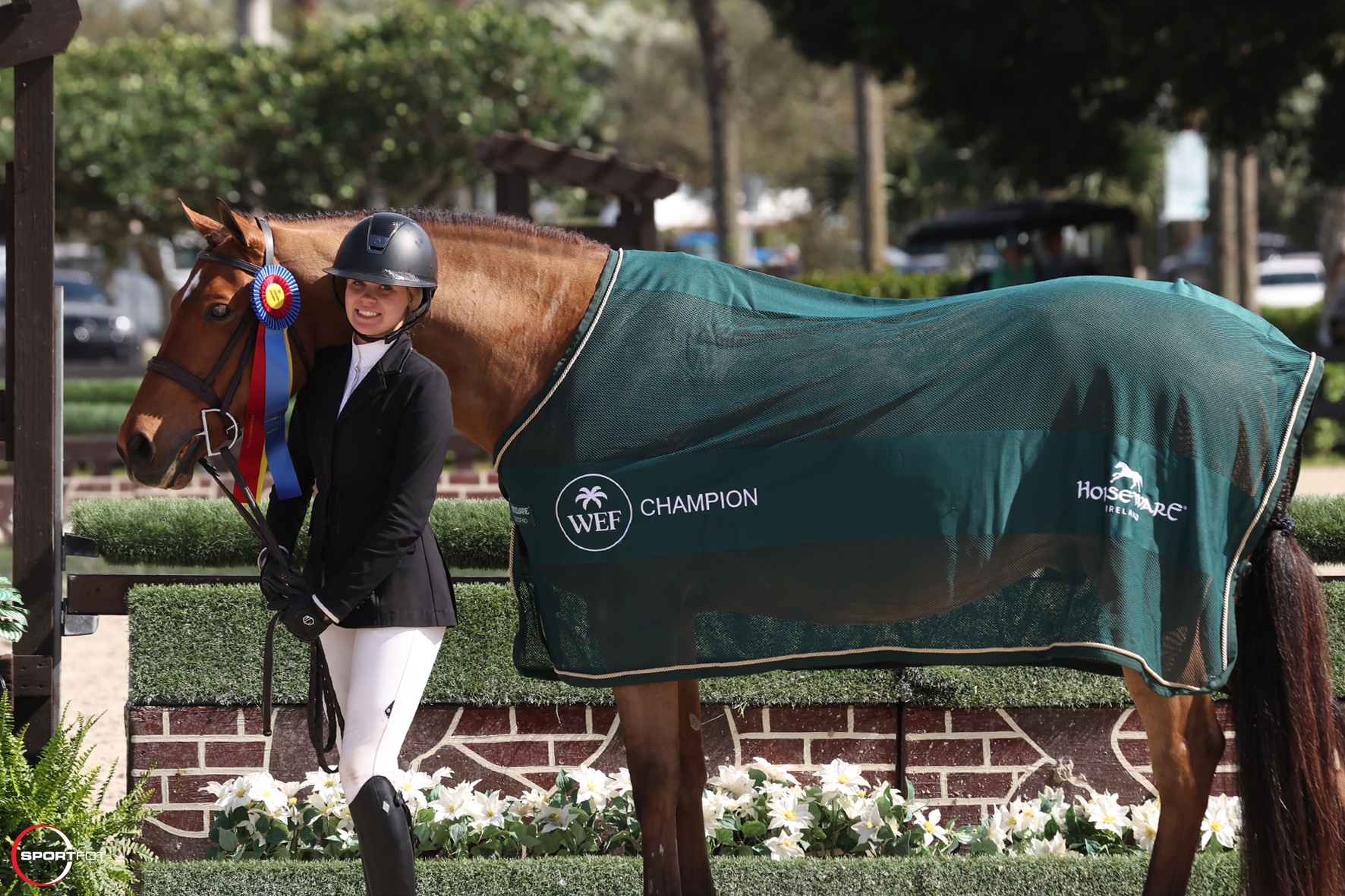 "We had to make him a bit more comfortable with the height because he was overjumping at first, and he was a bit spooky at the hunter fences in the beginning," she recalled. "Now he fits right in. Last year, our show career was spent getting him used to the competition and moving up, but I think we know each other very well now. I'm really hoping we are able to qualify for the [WCHR] Hunter Spectacular next week." 
The duo pinned first in three of the over-fences classes, including a high score of 92, and a respectable third in the under saddle for the tricolor ribbon and a total of 40 points. Wilmette, Illinois's Elodie Watrous piloted Joyride, Eq LLC's 11-year-old Warmblood gelding Paper Trail (Carrira VDL x Molivia) to Reserve Champion honors with placings of first, three seconds, and third to total 32 points overall.
Jacqueline Ruyle Can't Stop, Won't Stop in CHF50,000 Griffis Residential CSI2* Grand Prix
After winning the qualifier on Friday, Texas native Jacqueline Ruyle raced to the top of the leaderboard in the CHF50,000 Griffis Residential CSI2* Grand Prix. With a first-round field of 44, the lucky number of the day seemed to be 15 as again 15 competitors advanced to the jump-off. Of those that advanced to the next course, nine exhibitors produced double-clear efforts. The lap of honor, however, was dominated by American female athletes as Ruyle led the charge, followed by Mimi Gochman, and rounded out by Molly Ashe Cawley.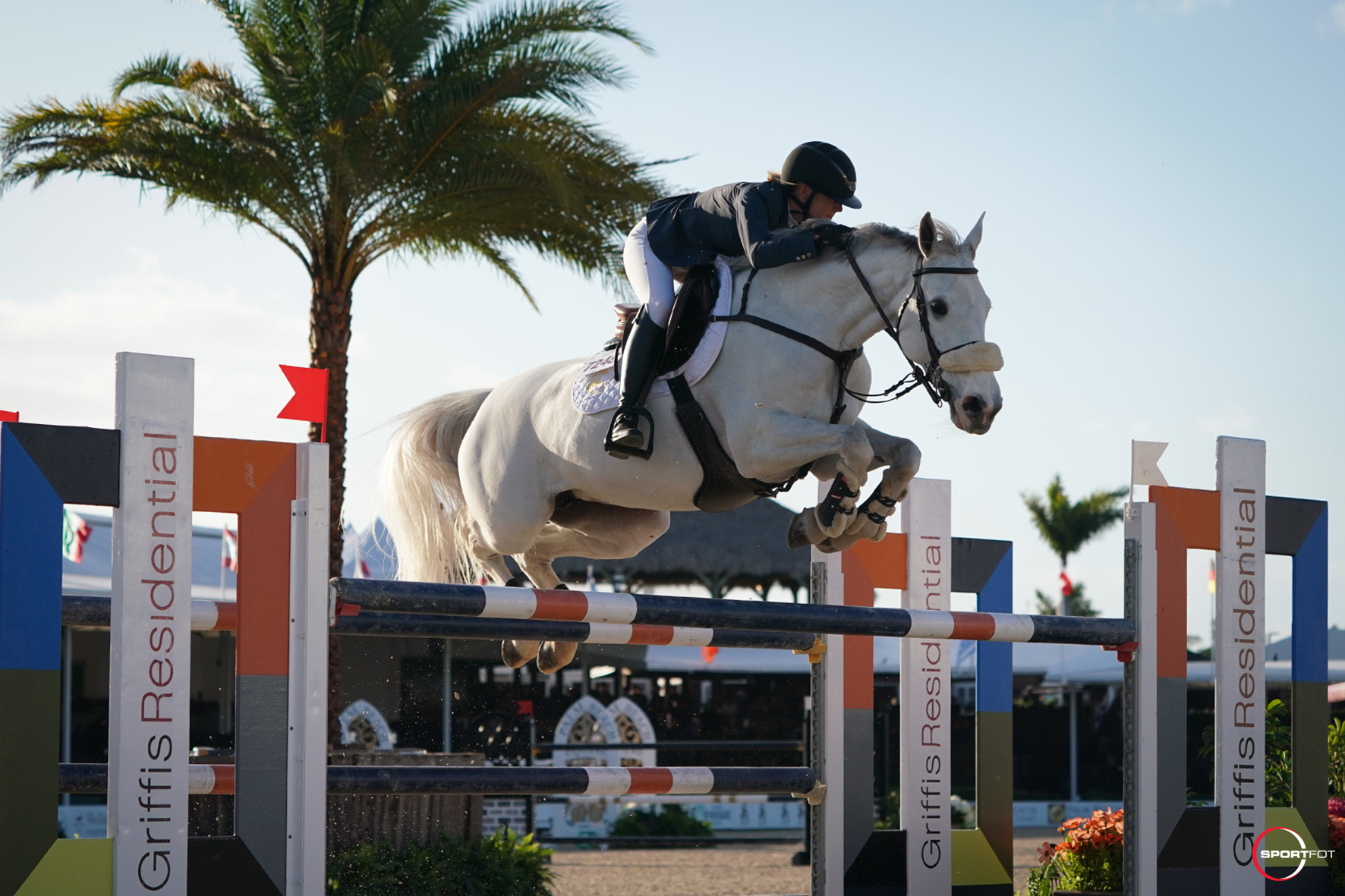 The phrase 'tiny but mighty' was practically made for Ruyle's partner, the 12-year-old Zangersheide mare Cyramo Z (Clarimo x Vigo D Arsouilles Stx). Standing not significantly taller than a pony, and looking even smaller with the backdrop of large fences in Wellington International's expansive International Arena, the mare proved that heart counts more than size. 
"She is by far the smallest, hottest, fastest horse I have," Ruyle laughed. Her time of 34.93 seconds, a full two seconds ahead of runner-up Mimi Gochman, proved as testament to the statement. "I bought her as a seven year old and she was competing in the 1.20m classes and we thought she would be an awesome Medium Amateur horse."
The move into two-star grand prix competition was not one that Ruyle saw coming for either her mount or herself, but the partnership prompted both horse and rider to put their best efforts forward. 
"I was a slow rider competing in the medium amateurs when I got her and she taught me how to go fast," said Ruyle. "She has jumped everything we've put in front of her and is always incredibly brave. She's honestly my favorite ride of the horses I have." 
Gochman flew to the second place position with the Gochman Sport Horses, LLC's 10-year-old Zangersheide stallion Cosmos BH (Chellano Alpha Z x Artos Z) with a tidy time of 36.94 seconds. Veteran professional Molly Ashe Cawley and Oakridge Farm's 12-year-old Belgian Warmblood gelding Loukas de la Noue (Malito de Reve x Mr Blue) stopped the clock in 37.33 seconds to earn the final top-three position.