The ESP September show kicked off on Friday with the $2,500 USHJA National Hunter Derby, presented by FreeJump. Eleven riders competed in the National Hunter Derby, with Jennifer Bliss and Harris Hill Farm LLC's Sugarman coming out on top with a final score of 177.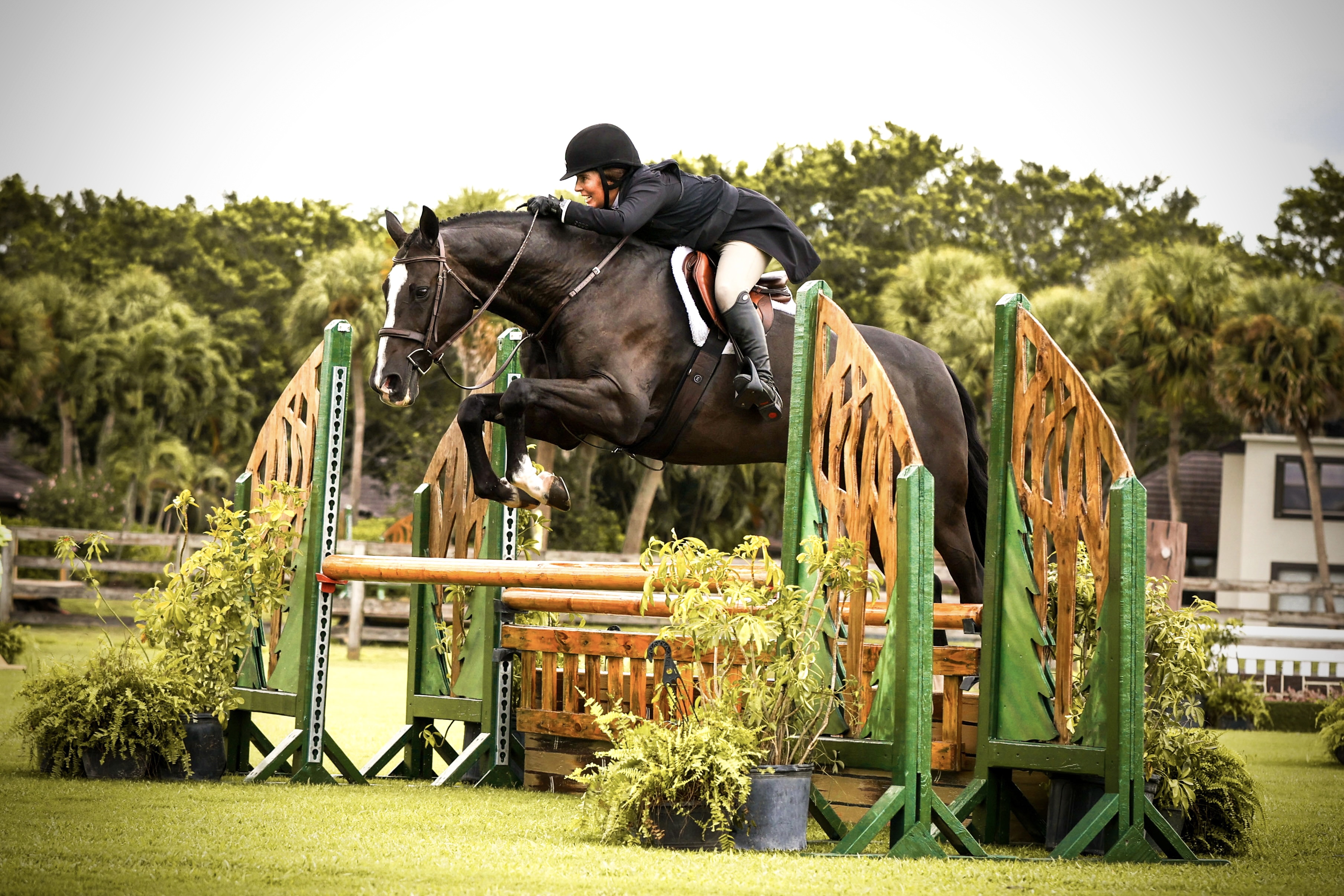 The derby took place in the "Hunt and Go" format, meaning that the riders competed in a single round. The first part of the round was scored as the traditional Classic round, while the second part of the course was scored as the Handy round. The two scores were combined to produce an overall score for each horse-and-rider combination.
Bliss and Sugarman topped the podium with a classic phase score of 89 and a handy phase score of 88, which combined for a grand total of 177. Taking the second spot was Lexy Reed of Fort Lauderdale, FL riding Beth Congel's Legist, with a combined score of 176.75. The duo received a 91 in the classic phase and an 85.75 in the handy phase. Rounding out the podium was Keri Kampsen aboard Lissa Bachner's Mango, with an 88 in the classic phase and an 86 in the handy phase for a combined score of 174. 
Friday also featured jumper competitors on the main Derby Field for the $10,000 Bainbridge 1.40m Open Stake. A total of 24 horse-and-rider combinations navigated the first round, with seven advancing to the jump-off. With three different rides in the class, Mexico's Maya Ines Denis Chambon came out on top with her very own, Callypso De La Hamente Z, with a clear 43.209. Chambon also secured the third-place ribbon with a clear 45.425 on her own, Postin Ls La Silla. Earning the second-place title with a clear 43.225 was Venezuela's Luis Fernando Larrazabal aboard Leeann Ablin's, Baroness.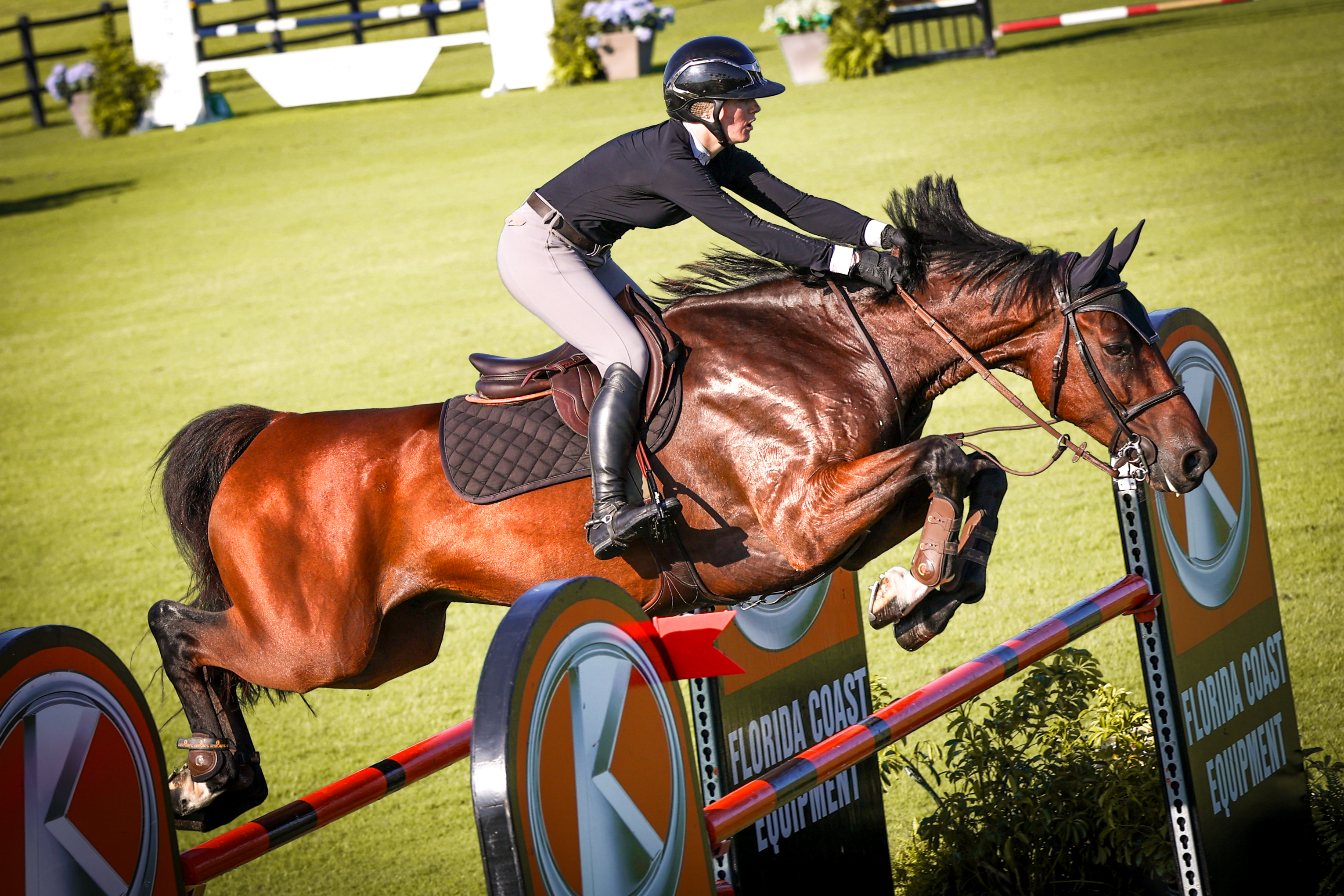 Competition kicked off on the Derby Field Saturday morning with the $5,000 Zen Elite 1.35m Stake. A total of 31 athletes took to the course with 14 returning to take on the jump-off. Coming out on top for the second day in a row was Mexico's Maya Ines Denis Chambon and her own, Callypso De La Hamente Z. The speedy duo put in a clear 36.619, earning them their second blue ribbon of the week. Just behind the winning pair was USA's Alannah Wagstaff and Mill Pond Farm Inc's, Great Thing. Wagstaff and Great Thing gave it their all, earning a clear 36.703 but ultimately fell just below Chambon's winning time. Rounding out the podium aboard Pond Lane Farm's, Keniki, was USA's Kelsey Cruciotti with a clear 38.096.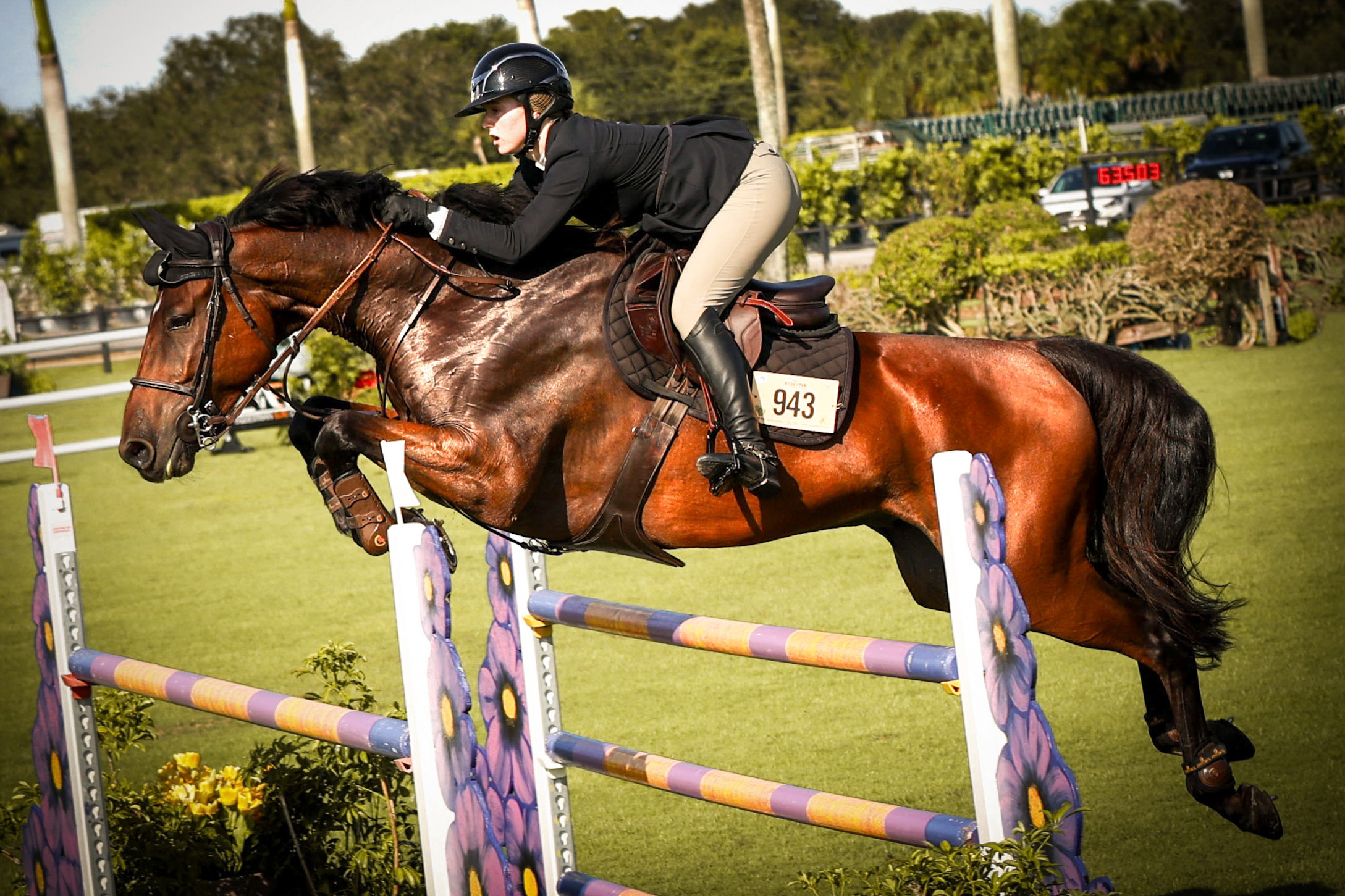 Hunter competitors showcased their talent once again in the $1,000 2'6"-2'9" Hunter Derby "Hunt & Go," presented by CLPR Wind. Taking top honors in the phase-combined track was Ella Bostwick (USA) and Summerfields Equine LLC's Ondine D'Orleans. The duo earned scores of 83 and 85 for a combined 168. Earning the second-place ribbon with a combined score of 159 was USA's Hannah Lundgren and her own, Eagle, while Dominique Knowles (BS) and her own, Hewig Un Prince, scored a 157.
Equestrian Village saw stiff competition Sunday as 29 horse-and-rider pairs took to the Derby Field to compete in the $25,000 ESP Wellington Equestrian Realty Grand Prix. Earning both first and second place was Mexico's Maya Ines Denis Chambon aboard her own two horses, Chagolando PS and Postin LS LA Silla.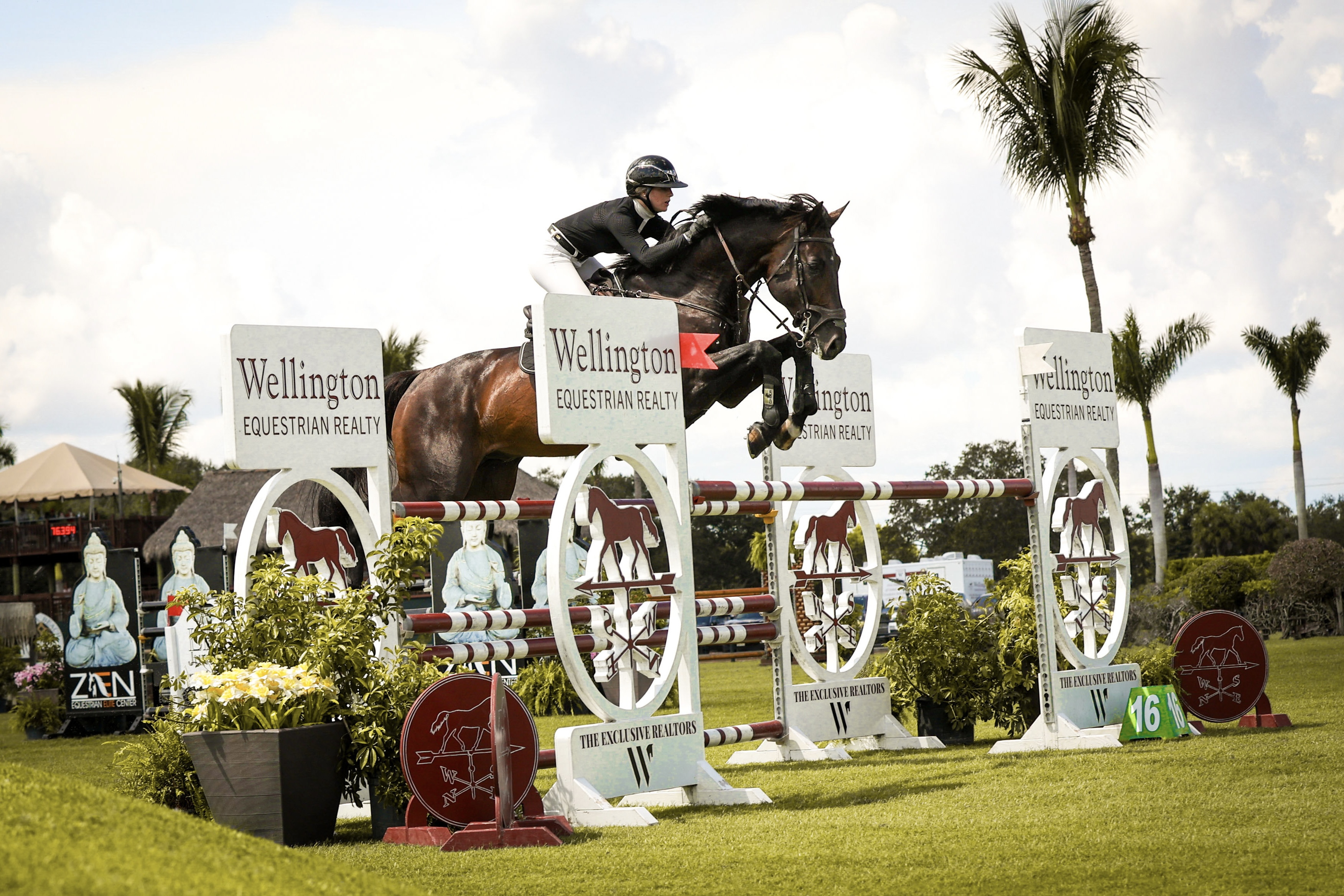 "I've had him [Chagolando PS] since the end of May, so our partnership is fairly recent. He is a big, strong stallion so it took some getting used to at the beginning, but I feel like we're both comfortable with each other now," said Chambon. "He is also one of the sweetest stallions I've ever met and I'm so grateful to have him."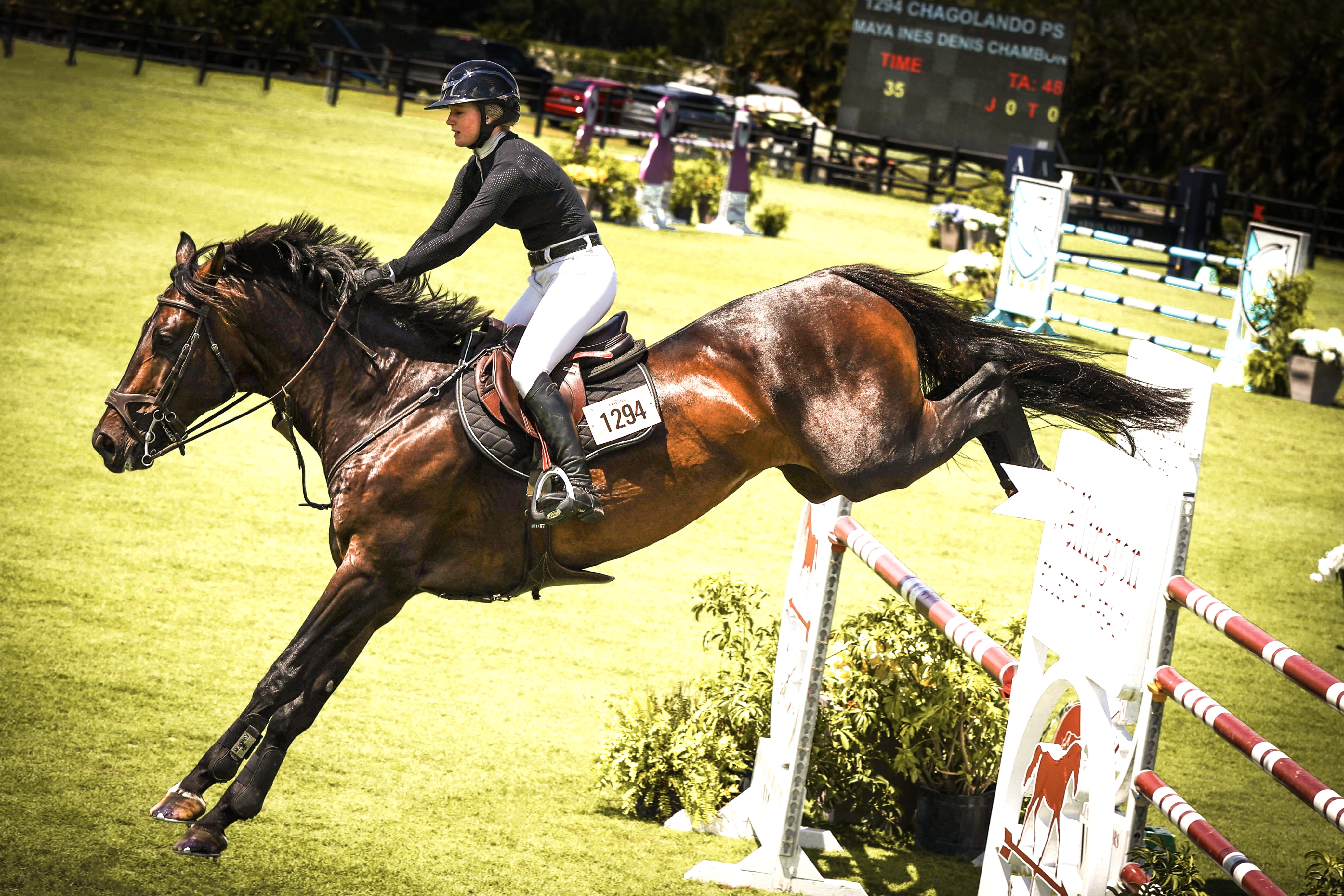 Designing for the Derby Field throughout the week, Andy Christiansen (ECU) challenged the riders to a thirteen-jump round, followed by a seven-jump jump-off. A total of nine riders cleared the first round, immediately advancing them to the second round. Chambon was first to navigate the shortened course aboard Postin LS LA Silla, putting in a fault-free round of 38.749 seconds where she would remain for numerous rounds until later returning with her second mount, Chagolando PS, overtaking her own time with a clear 38.595 seconds. 
Rounding out the podium in Sunday's Grand Prix was Australia's Benjamin Meredith aboard Two Mates, LLC's Nichole HPF. The pair was last to go in the jump-off, earning a fault-free time of 40.028 but was unfortunately unable to beat Chambon's time. 
Chambon shared "My future with him [Chagolando PS] short term is to step up to the 1.50m classes and do more FEI shows. Long term I would love to be able to do the 5* Grand Prix's but we'll see how we keep developing as a partnership."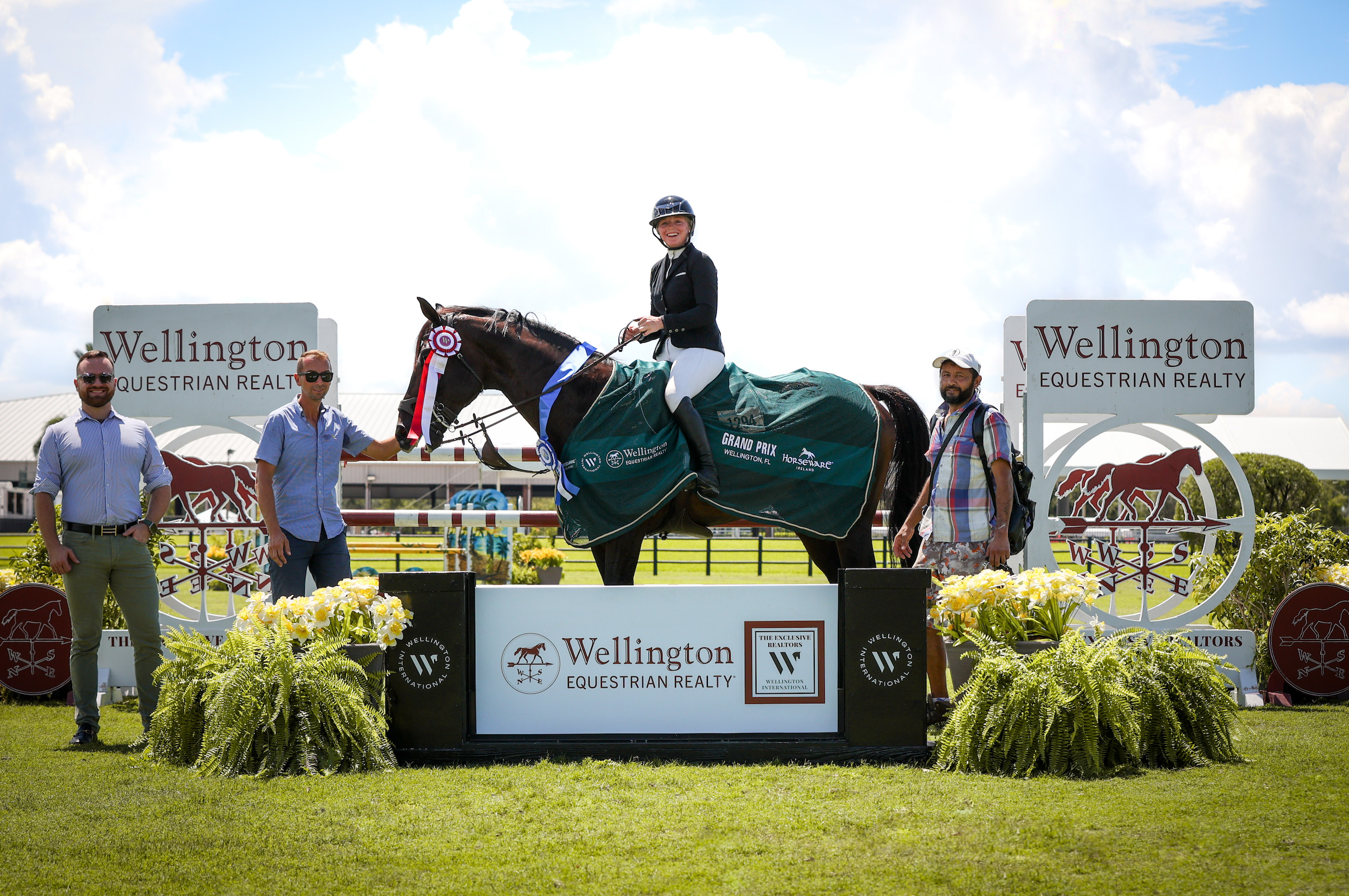 The competition returns to Equestrian Village next week for the ESP Florida State Fall show, which will host the Region 10 ASPCA Maclay Championship, THIS NHS Adult Area Championship, and the Hamel Foundation NHS 3'3" Championship. For the Summer and Fall Series Prize Lists, please click HERE and for the Region 10 ASPCA Maclay Championship Program click HERE.