Luciana Lossio Scores Victory in Beerbaum Stables CSI2* Grand Prix
Action during the NetJets sponsored Week 3 of the Winter Equestrian Festival (WEF) concluded at Wellington International on Sunday with the CHF50,000 Beerbaum Stables CSI2* Grand Prix. Peter Grant (CAN) designed a substantial and tricky first round for 46 horses and riders. Brazil's Luciana Lossio emerged victorious from a five-horse jump-off riding Lady Louise Jmen.
A former Minister of the Superior Electoral Court of Brazil, Lossio was all business out of the courtroom and in the show ring this weekend to take the featured class in the Beerbaum Stables CSI2* division. Lady Louise Jmen, a 2010 Brazilian-bred mare Lossio owns herself clocked a jump-off time of 35.01 seconds. It was less than a second faster than second-place finisher Hardin Towell (USA), but enough to drop him to the runner-up position on his own Boheme du Moulin. Third place went to Wesley Newlands (CAN) and Maestro van het Binnenveld for owner Wesland Farms.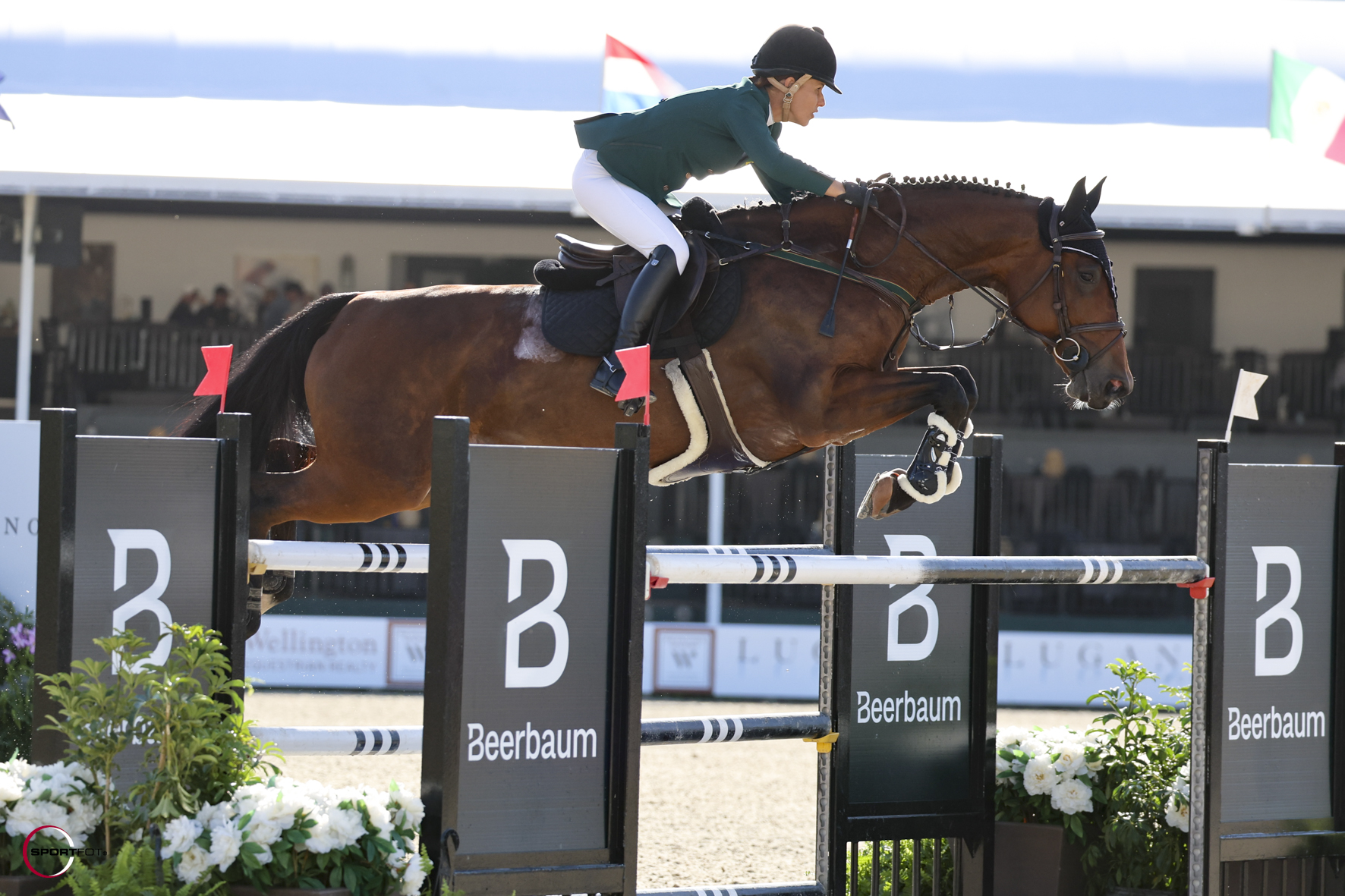 Lossio was beaming when she came out of the ring on Lady Louise Jmen, and with an ecstatic smile, said, "I very concentrated on my plan in the jump-off, and I went jump by jump in my mind. I took care of each jump and she was fantastic today. I'm so happy that we got it!"
The magic witnessed in the arena didn't happen overnight for Lossio and her mare. "I've been with Lady Louise Jmen for six years now and I know her very well. She's very calm, and a very intelligent mare. She has a lot of strengths; she can jump whatever you put I front of her. We have a really good relationship. She trusts me and I trust her like no other horse."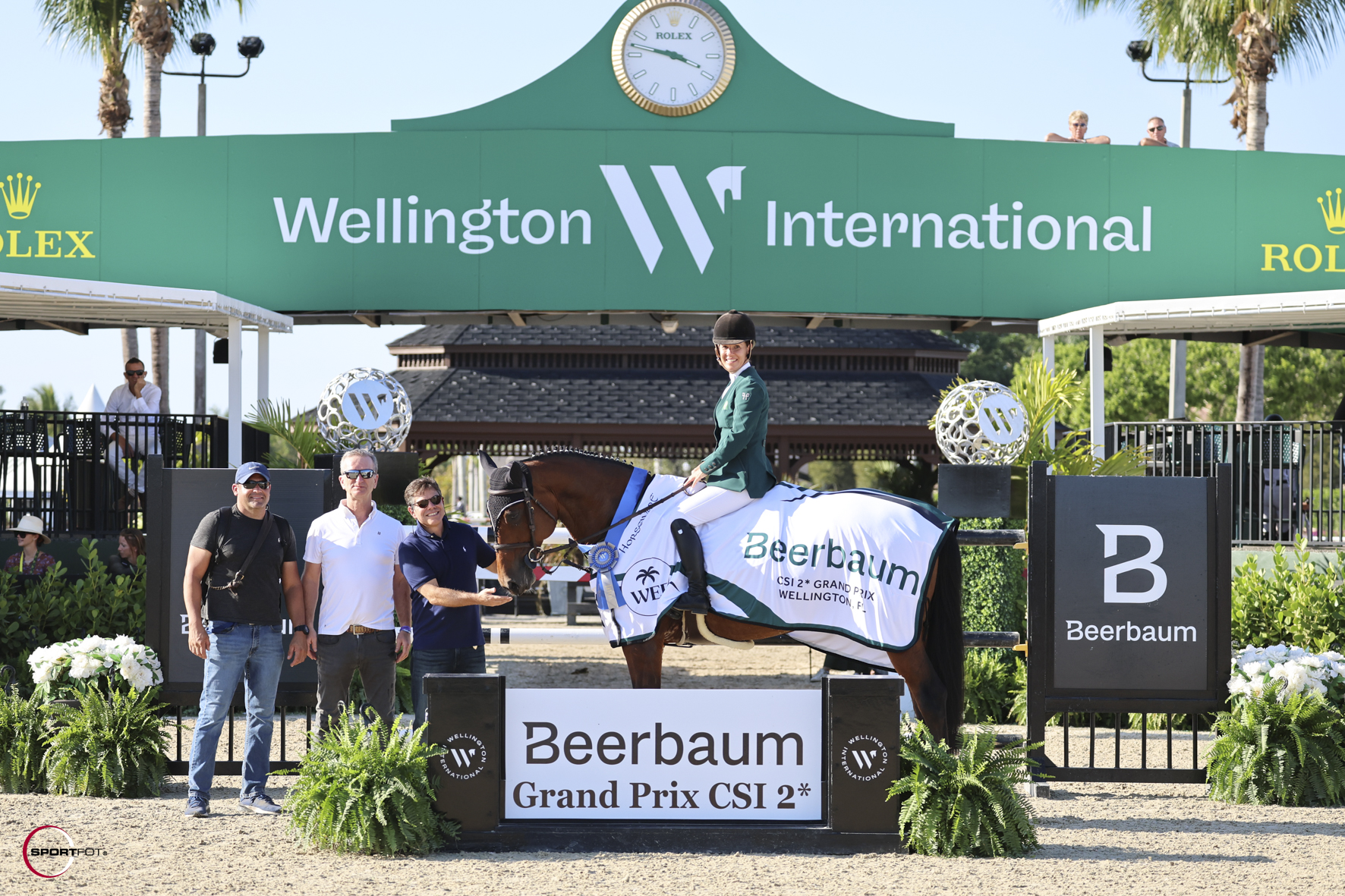 Lossio began riding at the age of six but took fifteen years off from competition to focus on her career as a lawyer. Still a full-time lawyer, Lossio is back in the show ring enjoying her horses on the weekends.  
In addition to CSI2* competition, the Captive One Advisors CSI4* 1.50m Classic highlighted the day on Sunday. Ireland's Darragh Kenny took the victory riding Chic Chic, a 2011 Westphalian stallion owned by Vlock Show Stables.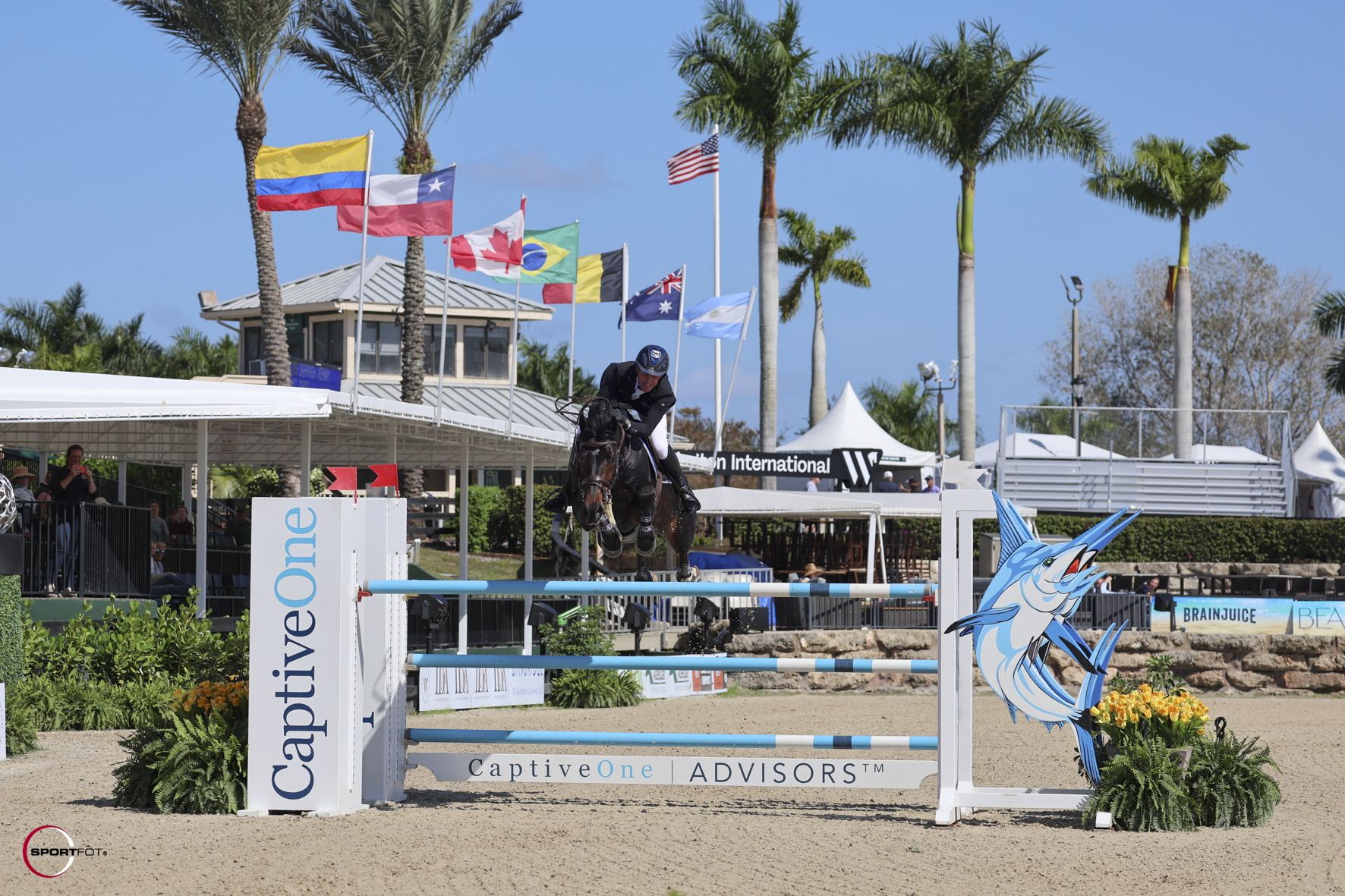 Junior Hunters Shine During Closing Weekend of WEF 3
The T& R Development Large Junior Hunter 3'6" 15 & Under division kicked off weekend activities in the E.R. Mische Grand Hunter Ring with Infinity G taking the champion tricolor under the direction of Clara Propp. 
Propp guided the 2013 Warmblood gelding by Carthino Z and owned by Aquitaine Equine to consistent top-three finishes over fences and a second-place ribbon under saddle to seal the high-point title.
"Going into today, I just wanted to stay consistent because he was so good yesterday," said Propp. "I didn't want to have any major mistakes and I think we accomplished that."
Propp and Infinity G posted a personal high score of 86 in their victory over the handy course.
"I've only been riding him for a year now," continued Propp. "We got him last winter during WEF and I'm proud of his progress. He's literally the sweetest thing ever; he loves to give you kisses."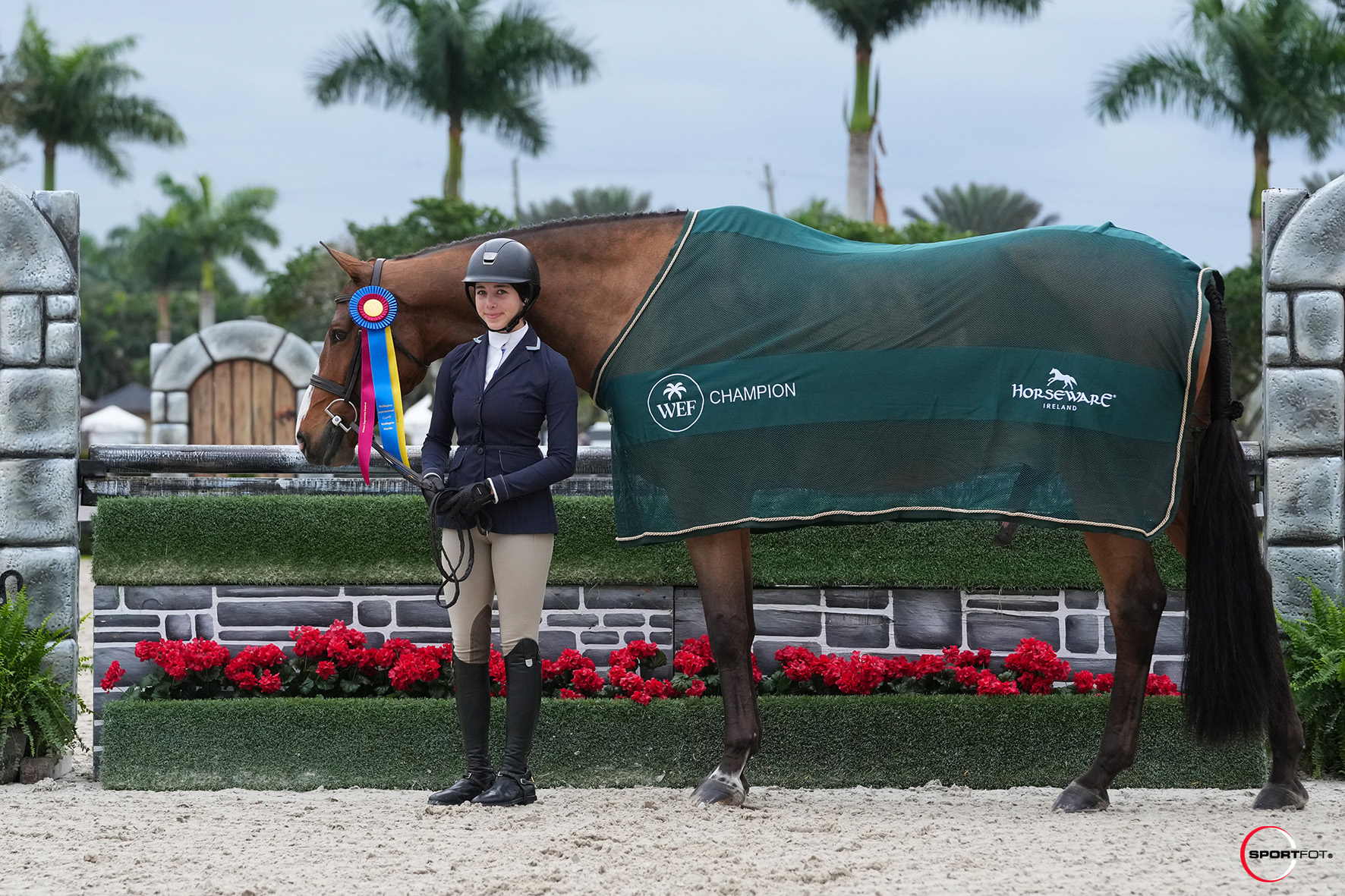 At only fifteen years old, Propp explained her day-to-day and how she balances everything, saying, "I am in school right now. I do online classes while I am down here, and I stay down here for the winter so we can get the maximum amount of practice and it's been going well. It can be a little hard to manage the schoolwork and the horses, but I think my trainers, with the schedule they help me accommodate it and it all works out."
The Snaks 5th Avenchew Junior Hunter 3'3" 15 & Under division capped WEF 3 for junior hunters in the E.R. Mische Grand Hunter Ring on Sunday. The pair to shine the brightest was Agatha Lignelli and Pritchard Hill, a 2012 Warmblood gelding owned by Lignelli and her family.
"The course was simple, but the jumps were on the bigger side," recalled Lignelli. "There were a couple spooks, but I thought he was jumping amazing."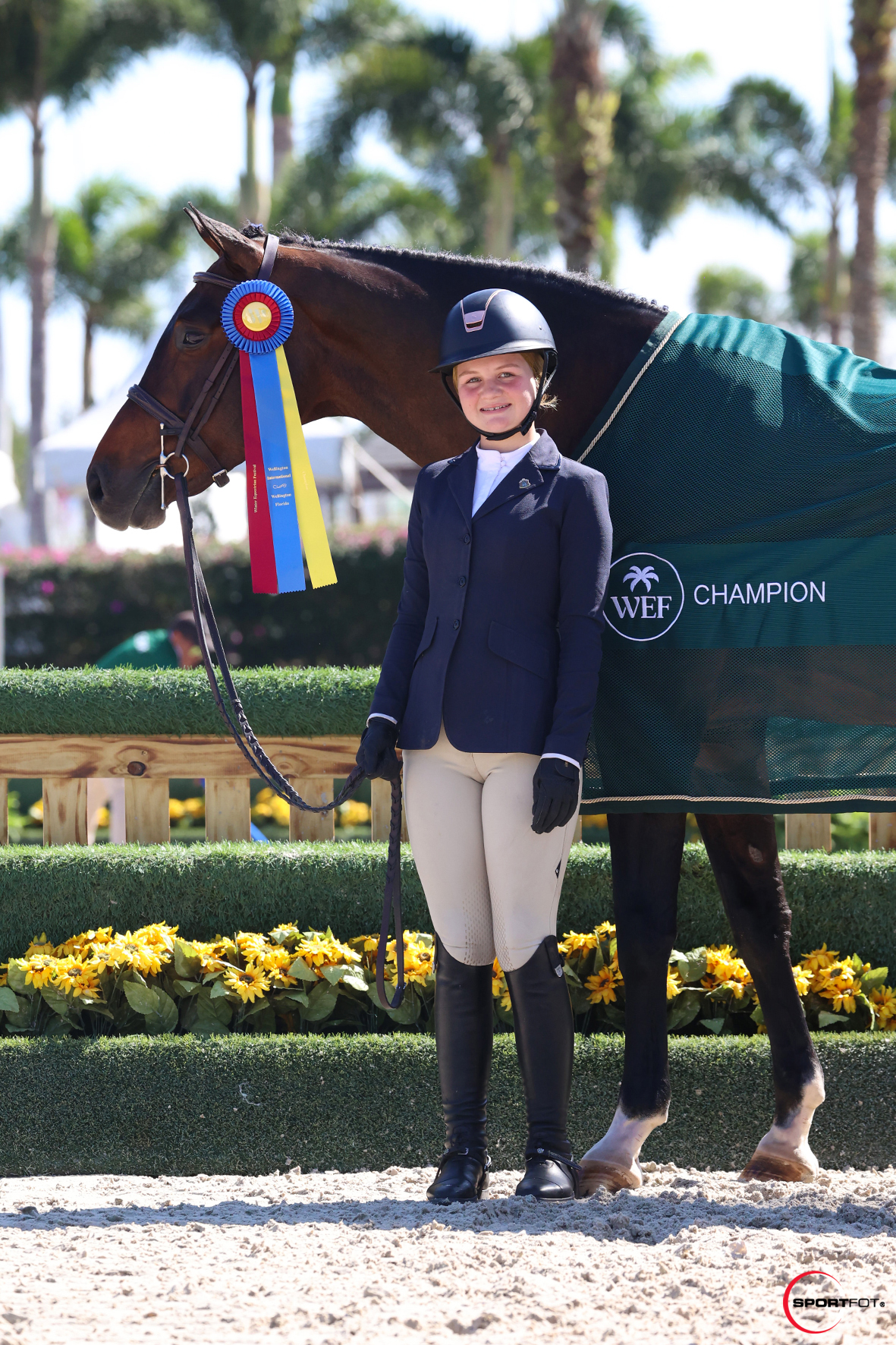 Even though their partnership is relatively new, Lignelli described their bond and what Pritchard is like to have around the barn. "My sister has had him for about a year and then this is my first year with him. My sister is mostly doing the jumpers and equitation now and I do jumpers and hunters so he's mine to ride for now. He's super sweet and he doesn't have a mean bone in his body. He always tries his best.
"I am down here for the entire show season, though I am from New York, and I attend Palm Beach Day Academy in Palm Beach," noted Lignelli. "My goals for the year are the FEI North American Youth Championships on my jumper and maybe pony finals. I have a lot to look forward to."