The third week of the 2023 Winter Equestrian Festival (WEF) saw national level jumper competition peak on Saturday night during the $50,000 Palm Beach Equine Clinic Grand Prix. WEF 2, presented by Florida Coast Equipment, went under the lights at Wellington International for a win that went to Kent Farrington (USA) aboard the rising star, Greya. 
Besting the field of 44 in a time of 37.756 seconds over a track designed by Catsy Cruz (MEX), Farrington topped a seven-horse jump-off from the lead-off position. Farrington, a U.S. Olympic team silver medalist, is currently ranked 18th on the FEI world rankings.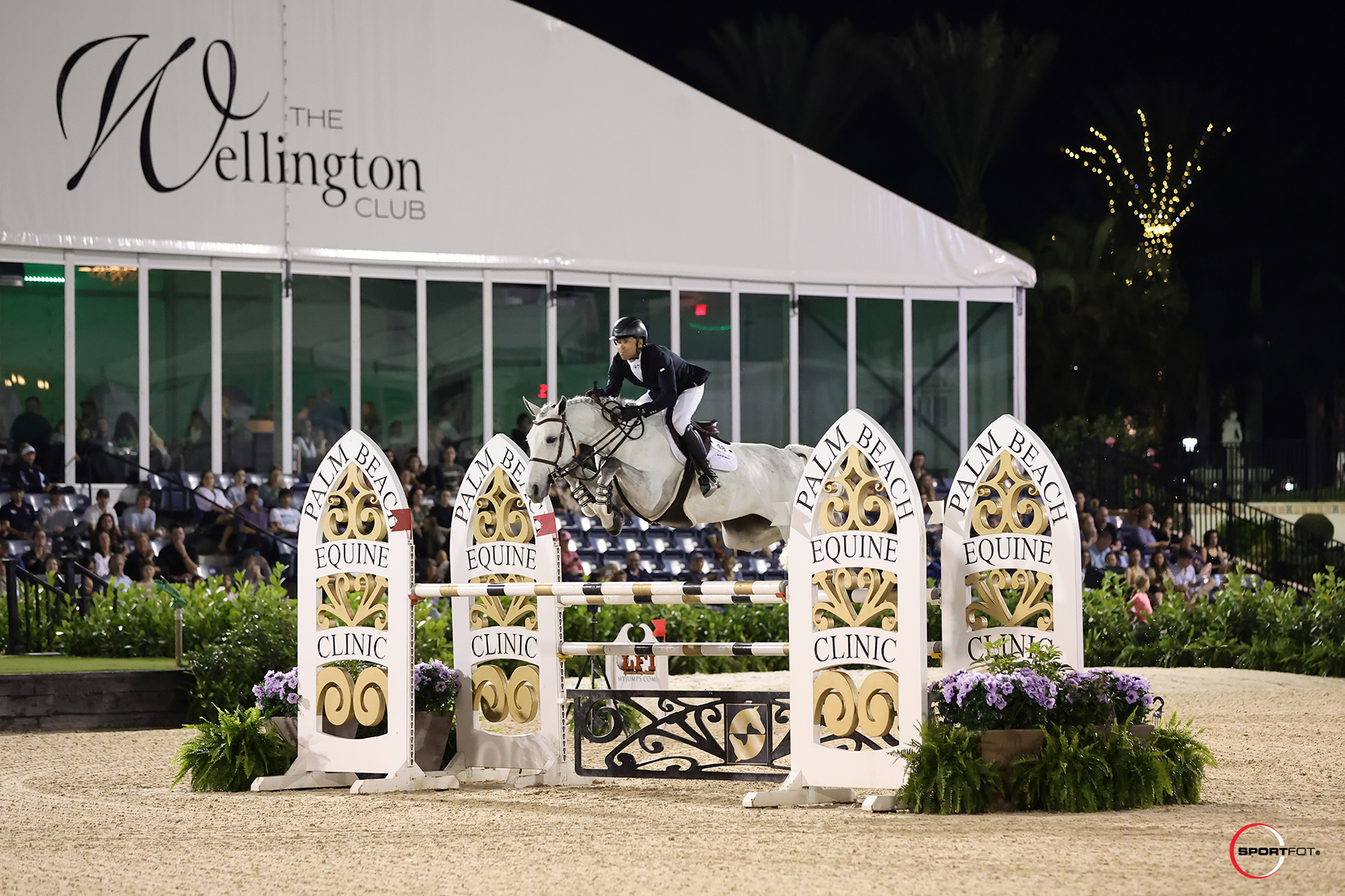 A tight time-allowed was a factor in the outcome for several riders as only time faults on the clock kept two from advancing to the short course. Top young Canadian Sam Walker ensured that the evening would have a jump-off aboard Amy Mason's 10-year-old Dutch Warmblood mare Equine America Ivanhoe GPH. Olympic champion Ben Maher (GBR) produced one final clear before the halfway drag with a fault-free round on Charlotte Rossetter and Pamela Wright's Enjeu De Grisien. Four more competitors added their names to the jump-off order in the class' second half including Ireland's Bertram Allen and Belgium's Jos Verlooy. 
As the first to return, Farrington and his nine-year-old Oldenburg mare (Colestus x Contender) immediately set forth a challenge for the remaining contestants with all rails still in the cups on a seemingly uncatchable time. 
"It's [Greya's] first time jumping under the lights," explained Farrington. "So, I tried to just work out of her normal gallop which is already pretty quick. Luckily, it worked out tonight and I thought she was incredible." 
The 2023 WEF season is an exciting one for Farrington's team as he looks forward to introducing his younger string of mounts to top international competition at the venue. 
"The last year has been a rebuilding time for my string as some of my main horses are winding down their international careers," he continued. "It's time for the young ones to step up; I have a group of horses – the oldest being ten – that are starting to jump in the international scene and I'm excited to see what happens with each of them."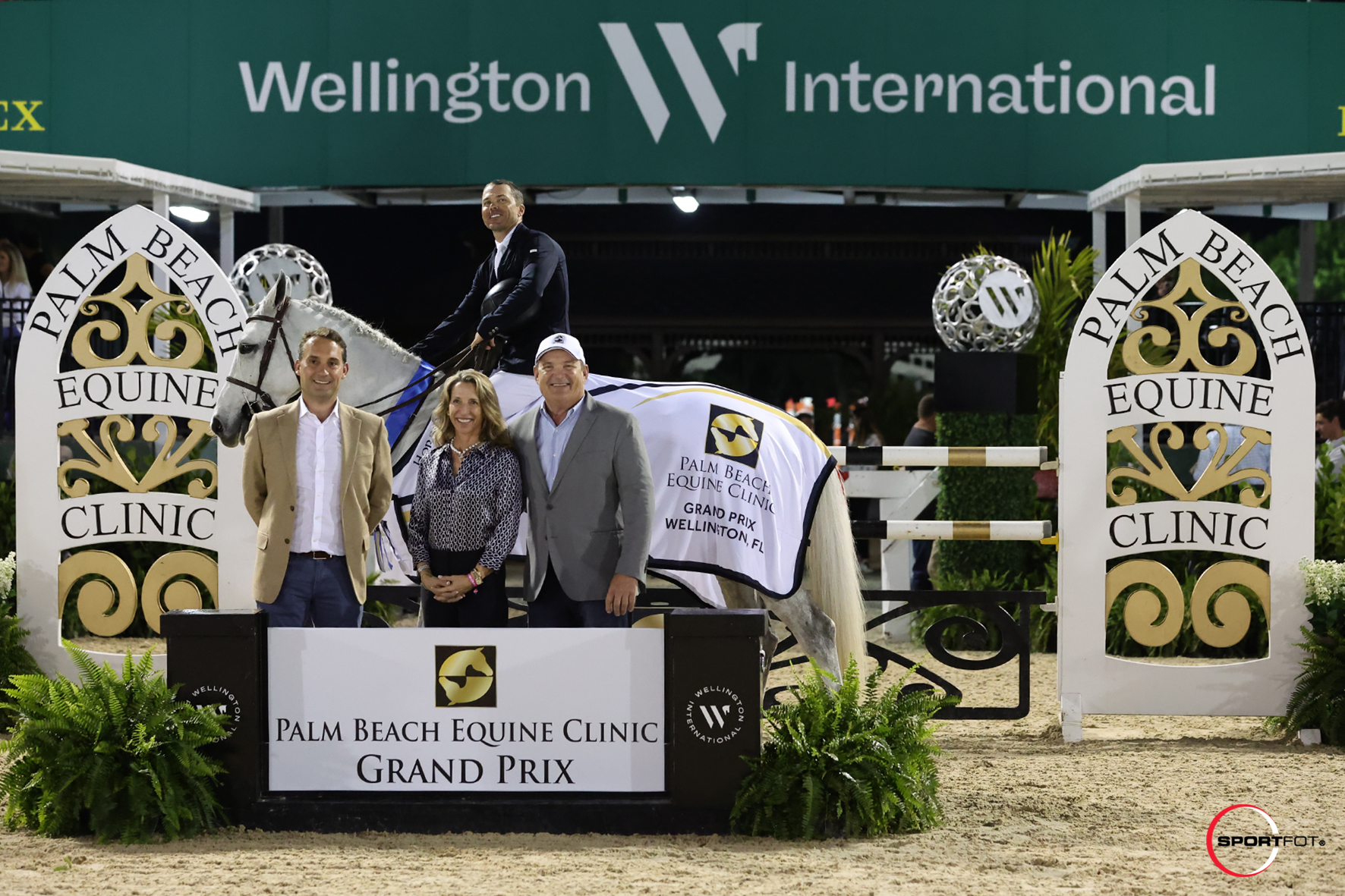 Greya is among the promising young horses in that string, and her 'opinionated' personality has already made her a favorite for Farrington. "She's a very special horse and I thought she jumped very well tonight," he said fondly. "She's an opinionated mare; she has her own ideas but those are my favorite horses because I think in the end they are the best. When you can train the horse to work with you and use all of their energy to go in the right direction it can be great."
Dr. Richard Wheeler, Dr. Robert Brusie and Melissa Brusie presented Farrington as the winner. "Palm Beach Equine Clinic is proud to be a long-time partner and supporter of Wellington International," said Dr. Wheeler, representing Palm Beach Equine Clinic, the official Veterinarian of WEF. "It has been very nice to see the event get stronger and stronger each year, and it's an honor for us to serve the Wellington equestrian community."
Posting the second-fastest double-clear effort was Maher and the nine-year-old Selle Français gelding (Toulon x Andiamo) as they finished just behind Farrington with a time of 38.835 seconds. Verlooy rounded out the victory gallop aboard Eurohorse BVBA's ten-year-old Belgian Warmblood stallion Nixon Van't Muelenhof (Denzel vt Meulenhof x Carthago).
Top sport at Wellington International will resume Sunday as WEF 2 comes to a close with the featured CHF140,000 Florida Coast Equipment CSI3* Grand Prix at the Equestrian Village derby field. For a full list of results from Saturday Night Lights, click here.
Top Five Results: $50,000 Palm Beach Equine Clinic Grand Prix 
1.Kent Farrington (USA) & Greya: 2014 Oldenburg mare (Colestus x Contender)
Owner: Kent Farrington, LLC. 
2.Ben Maher (GBR) & Enjeu De Grisien: 2014 Selle Français gelding (Toulon x Andiamo)
Owner: Charlotte Rossetter and Pamela Wright
3.Jos Verlooy (BEL) & Nixon Van't Meulenhof: 2013 Belgian Warmblood stallion (Denzel vt Meulenhof x Carthago)
Owner: Eurohorse BVBA
4.Sam Walker (CAN) & Equine America Ivanhoe GPH: 2013 KWPN gelding (Marome MW x Indorado)
Owner: Amy Mason
5.Bertram Allen (IRL) & Edison De Hus: 2014 Selle Français gelding (Conrad x Galoubet du Rouet)
Owner: Ballywater Stables
Luiz Francisco de Azevedo and Collin Back to Winning Ways at WEF
The CHF37,000 CaptiveOne Advisors 1.50m Classic highlighted the action on the derby field at Equestrian Village on Saturday afternoon. A star-studded lineup consisted of 29 pairs over a course set by Oscar Soberon (USA). Eight riders advanced to the jump-off, but Luiz Francisco de Azevedo (BRA) and Collin, a 2007 KWPN gelding (Colandro x Amethist) owned by Santa Cecilia Stables, clinched the win with a jump-off time of 41.09 seconds.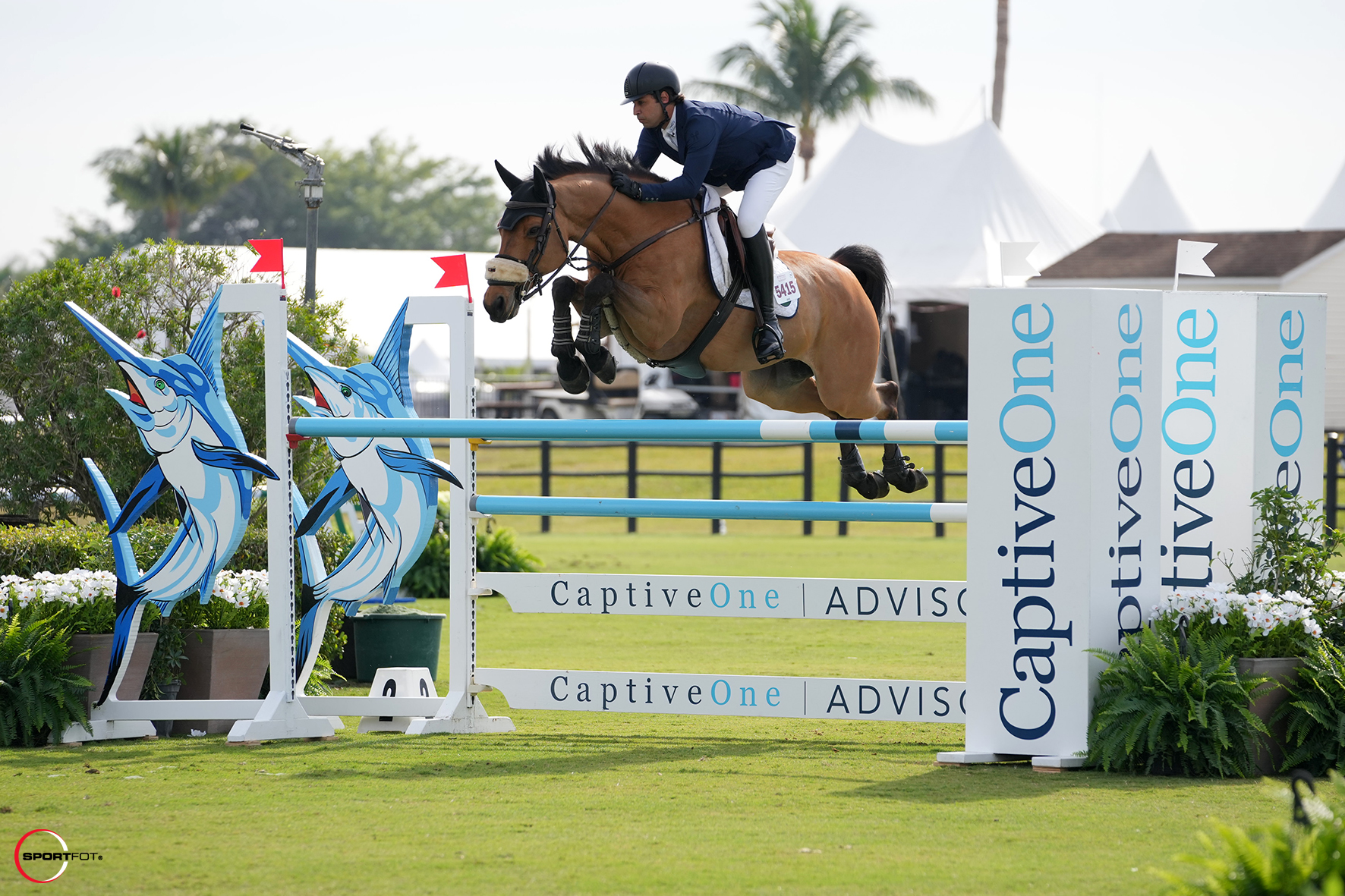 Francisco pipped Max Wachman (IRL) and Quintini, who posted a time of 41.98 seconds, and Ben Maher (GBR) found himself in the victory gallop on the 20-year-old Tic Tac for the second day in a row, this time in third, with a time of 42.04 seconds.
"He's a once-in-a-lifetime horse," said Francisco de Azevedo of Collin, a mount he's had for ten years. "We rescued him from a devastating situation, so I'm really proud to share this story because he's one in a million. A friend of mine, Didier Jackmen, is an equine dentist in Belgium and he called me about the horse which was about to be sent to slaughter.
"He was really difficult to ride, but the only thing I was trying to do was give him the chance to show his confidence," continued Francisco de Azevedo. "With a lot of patience we learned that he needs as much paddock time as we can give him and to only jump at the show. He knows when it's go time!"
Collin certainly knew his job on Saturday when he cruised around the derby field with impressive foot speed. "In this kind of competition, the plan is to use the horse's speed otherwise you don't even need to go to the jump-off," joked Francisco de Azevedo.
Speaking to how Collin has made a home in his string, Francisco de Azevedo concluded by saying, "He's super intelligent, he knows he's mine forever and now he's like part of the family."
Natalie Dean Shines in Hermès Under 25 Welcome
The CHF10,000 Hermès Under 25 Welcome saw up-and-coming talent take to the derby field at Equestrian Village. Seventy horses and riders battled it out for top honors, but it was Natalie Dean (USA) and Dotcom D'Authuit, a 2013 Selle Français mare (Diamant de Semilly x Quidam de Revel), owned by Marigold Sporthorses, who topped the field.
Their one-round speed time of 64.04 seconds could not be caught. Second place went to Eden Leprevost Blinlebreton (FRA) and Go With The Flow who finished on a time of 64.55 seconds, and third place went to Sam Walker (CAN) and Evita, who cleaned up with a time of 65.18 seconds.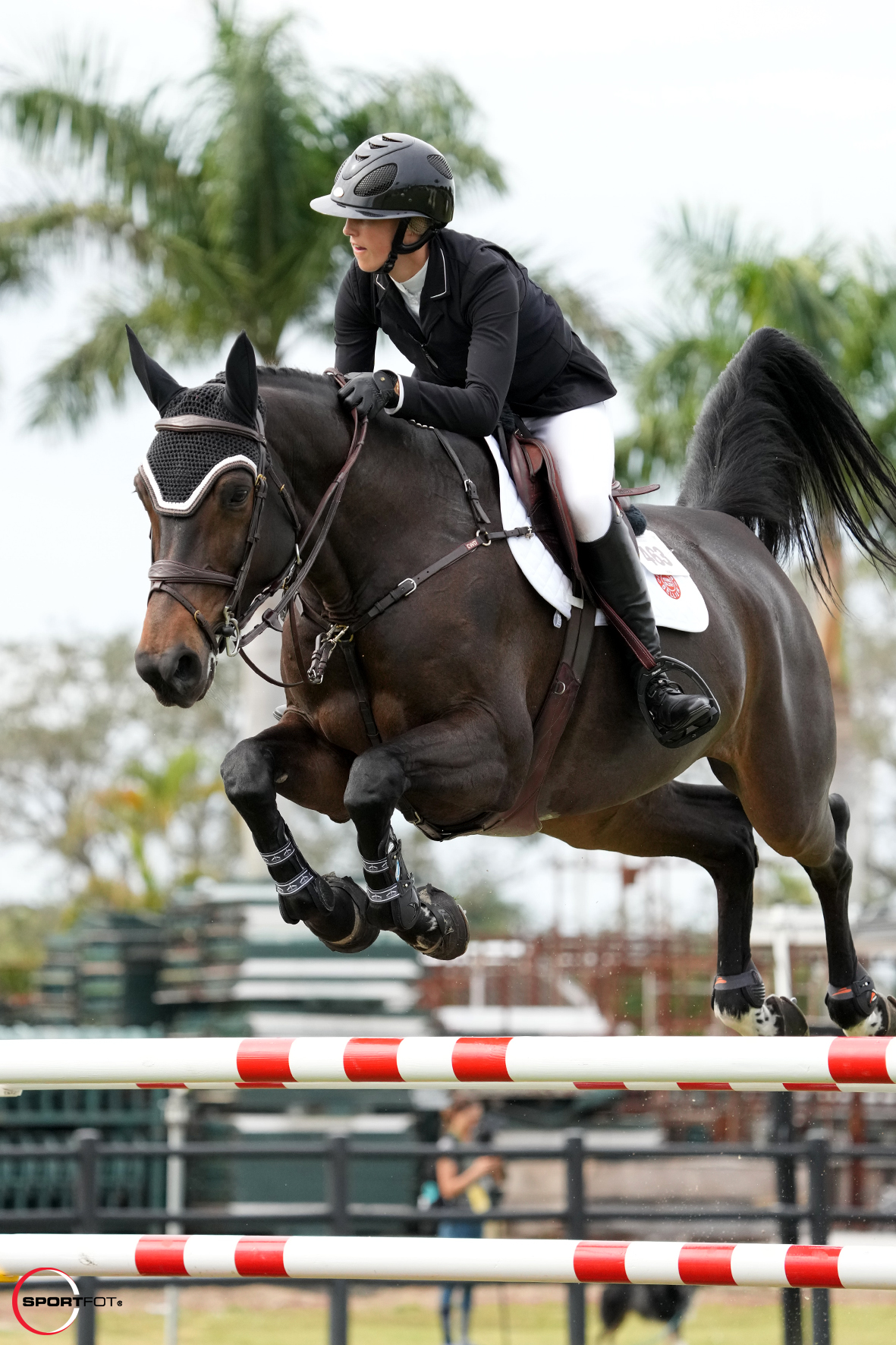 Dean was thrilled to participate in this division and gave some insight as to why this particular class is beneficial. "I think this division is an amazing division for both younger riders and also for younger horses," she said. "I tend to use it for a lot of my eight- and nine-year-olds and really move them up throughout WEF. It gets you in the grass, in the little ring, under the lights, and it gives those horses experience. I think it's a really useful division and I'm happy I'm still young enough to do it."
Dean and Dotcom have a special relationship which was clearly demonstrated on the grass field. "I've had Dotcom since she was seven, so for around three years now. She's an amazing horse; so careful, brave and really fast. I know in these classes I don't have to necessarily run her off her feet; I can just go smooth and she can be pretty competitive.
"I love this grass field," continued Dean. "It's my favorite grass ring anywhere in the world."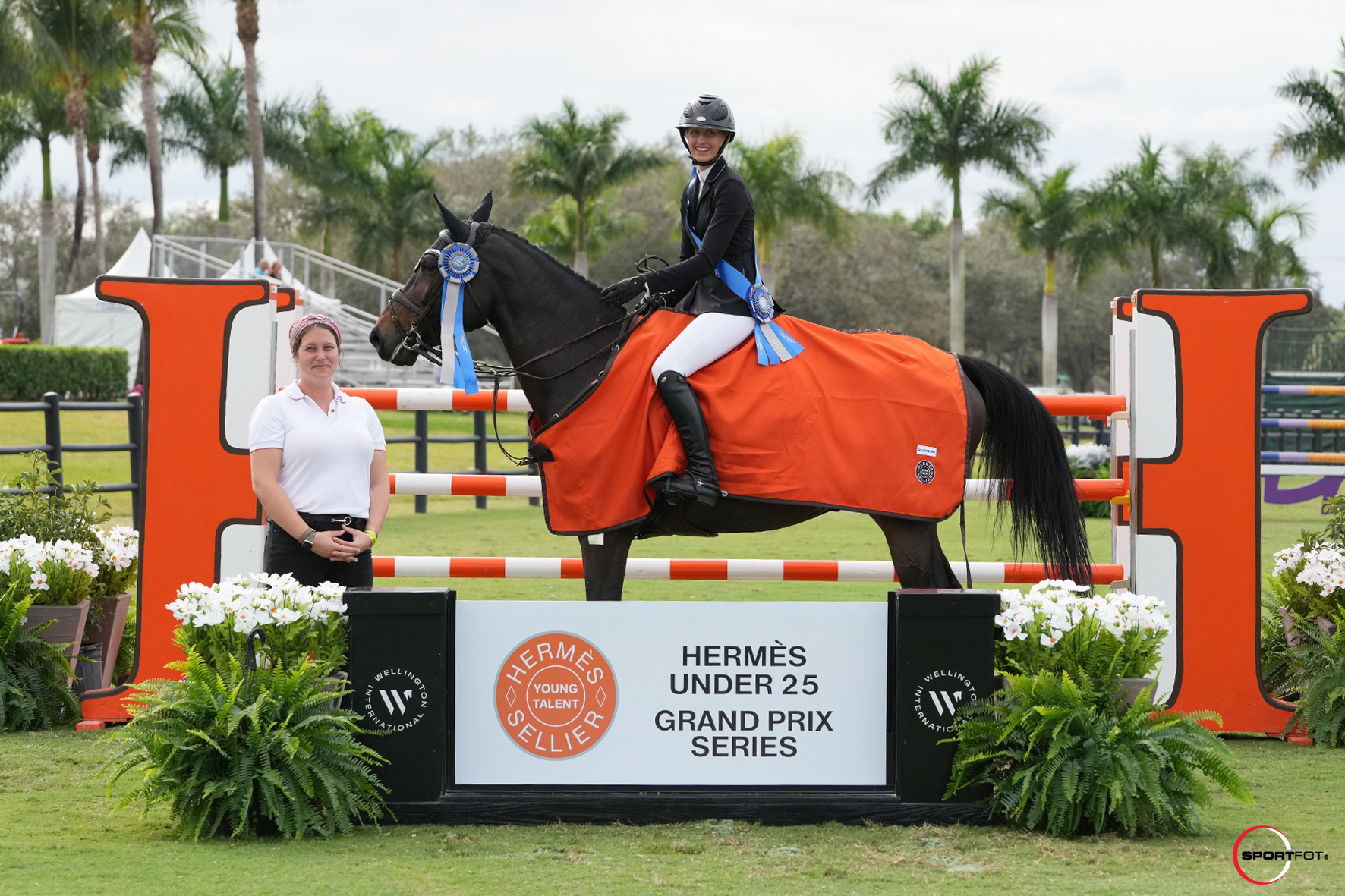 Corras and Amira Kettaneh Debut on Top
The Voltaire Design Large Junior Hunter 3'6" 16-17 highlighted hunter action in the Rost Arena on Saturday. Tri-color honors went to Amira Kettaneh and Corras, a 2014 Latvian Warmblood gelding by Corrwiko and owned by Robert Ruckh. The reserve champion ribbon was presented to Carlee McCutcheon and Casimir, owned by Anne Glunk.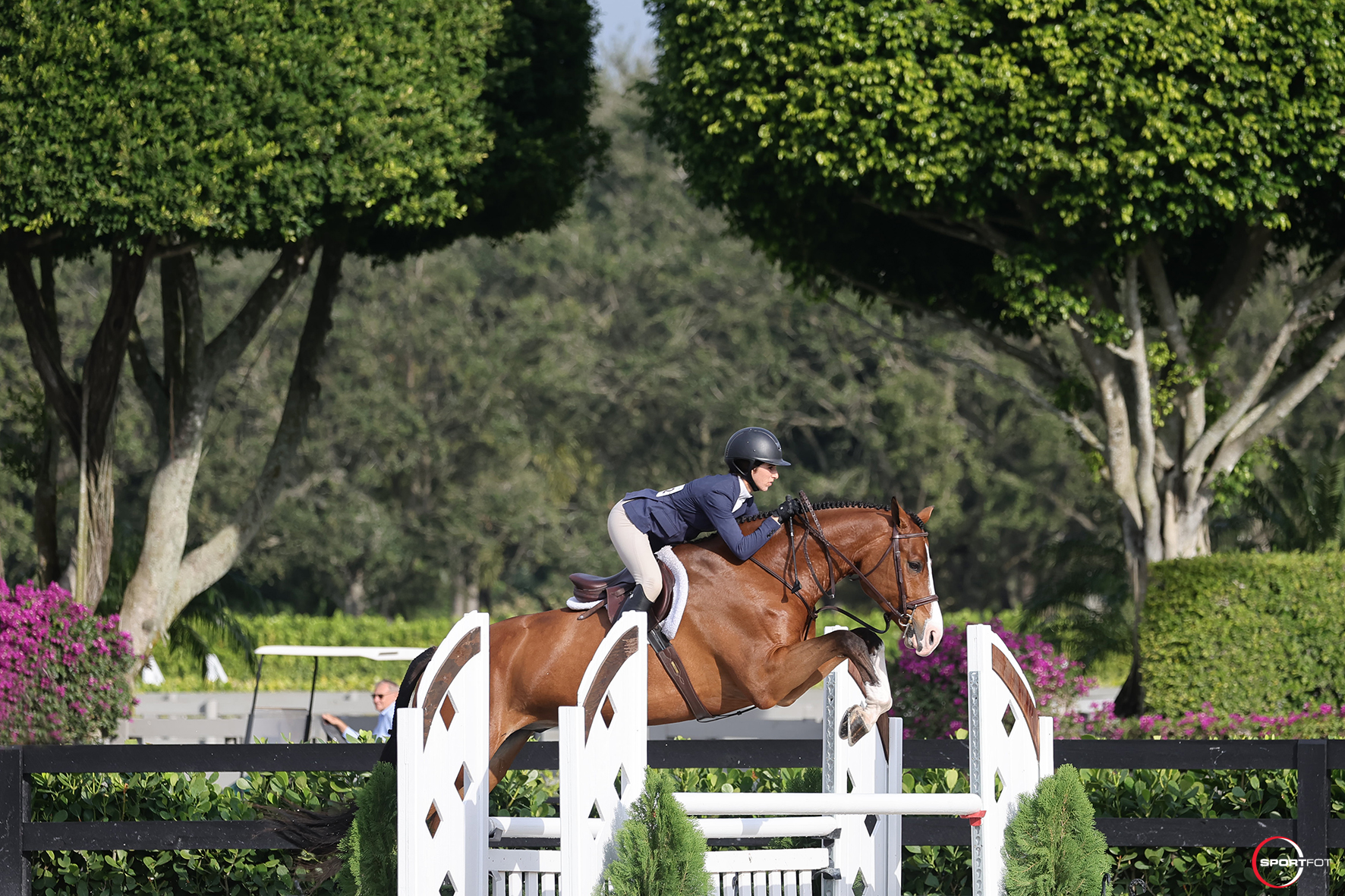 Kettaneh first sat on Corras the day before earning a championship in their first outing together. Their performances were highlighted by two wins over fences and a high score of 89. "I got this ride yesterday which was very exciting and I'm very grateful for this opportunity," she said. "This was only my second time riding him. He jumped amazing in the first round, and it was really fun to get the ride on such a nice horse."
The talented catch rider rides for Andre Dignelli's Heritage Farm and has found much success as a flat rider as well as in the show ring. "I've been helping bring along some young ones and I have a bunch of ponies right now," said the talented Kattenah.
As far as goals for the season, Kettaneh hopes to "keep having consistent rounds and hopefully get into the big jumpers."