Ponies took to the Derby Field at Equestrian Village on Friday as the spotlight shone on 81 tiny but talented pony hunter riders. Pairings in the class came from the large, medium and small divisions to contest the first round of the Andy Christiansen Jr.-designed derby track in the $5,000 USHJA Pony Hunter Derby, presented by MARS Equestrian™.
Four panels of judges put forward scores for each entry that were then averaged into one overall tally for the first round and another overall score for the handy phase. Shooting straight to the top in round one, Katherine Mercer and Goldhills As You Like It paired a high-score of 92 with an 81-point score in the handy round to take the top spot on a final overall score of 173.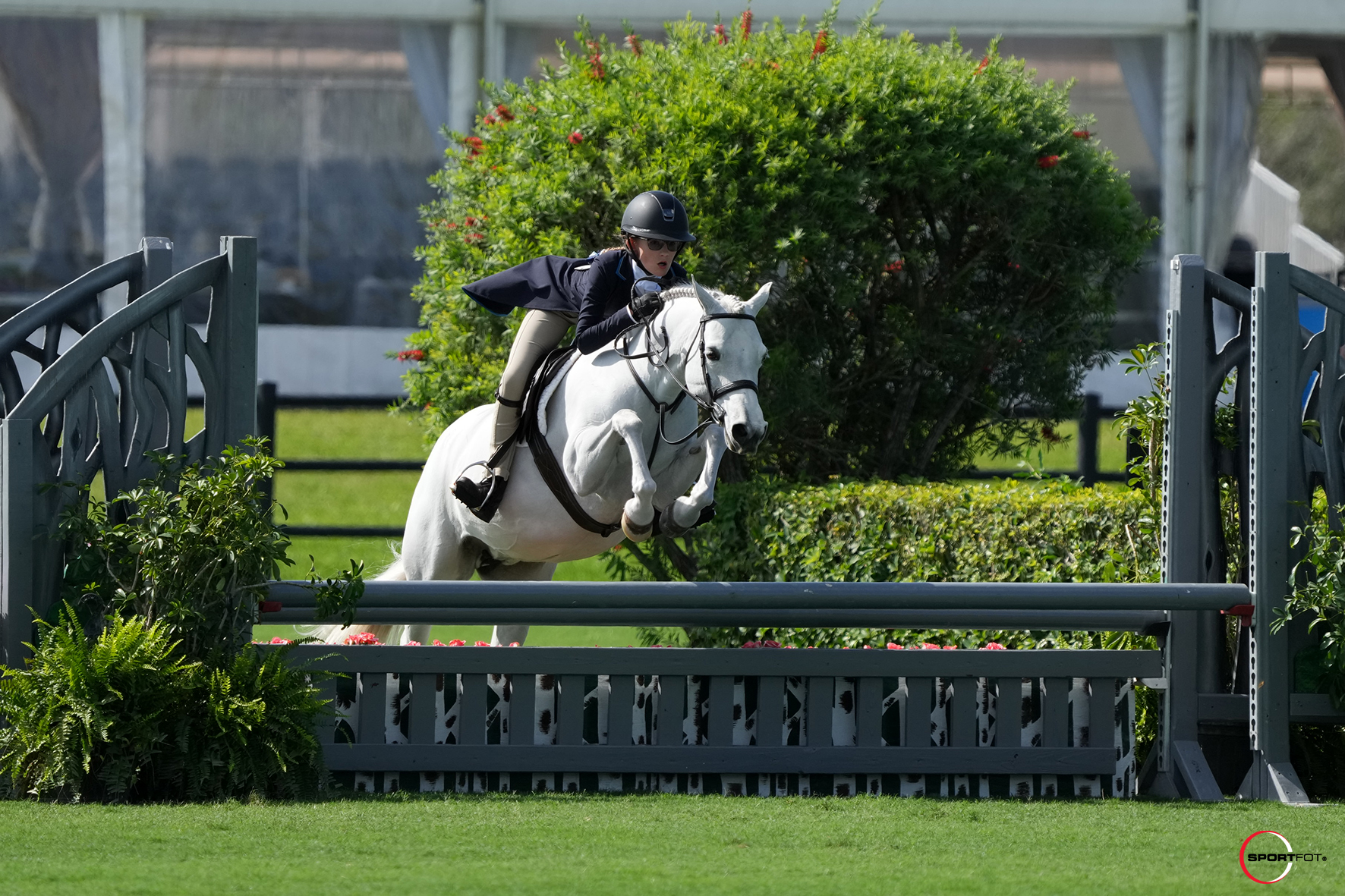 At the completion of round one, the 14 leading entries were invited to return for the handy course and the lineup featured the best of the best from each section. Mercer sat two points in the lead from first course with her medium pony mount, Goldhills As You Like It and was the final entry to return as the mediums were the final grouping to take their turn over the handy track. Christiansen fully utilized the field he was given and included a trot fence, rollbacks, and combinations in the second round.
"Today felt amazing," gushed Mercer of her round on Vivian Golden's 15-year-old Welsh Pony mare by Gayfields Call The Cops. "I did this derby last year and it didn't go so well for me, so it felt really good to come out here and have two solid rounds. She's a bit mareish in that she likes having her way, so if I just listen to her and let her do her thing it usually goes well."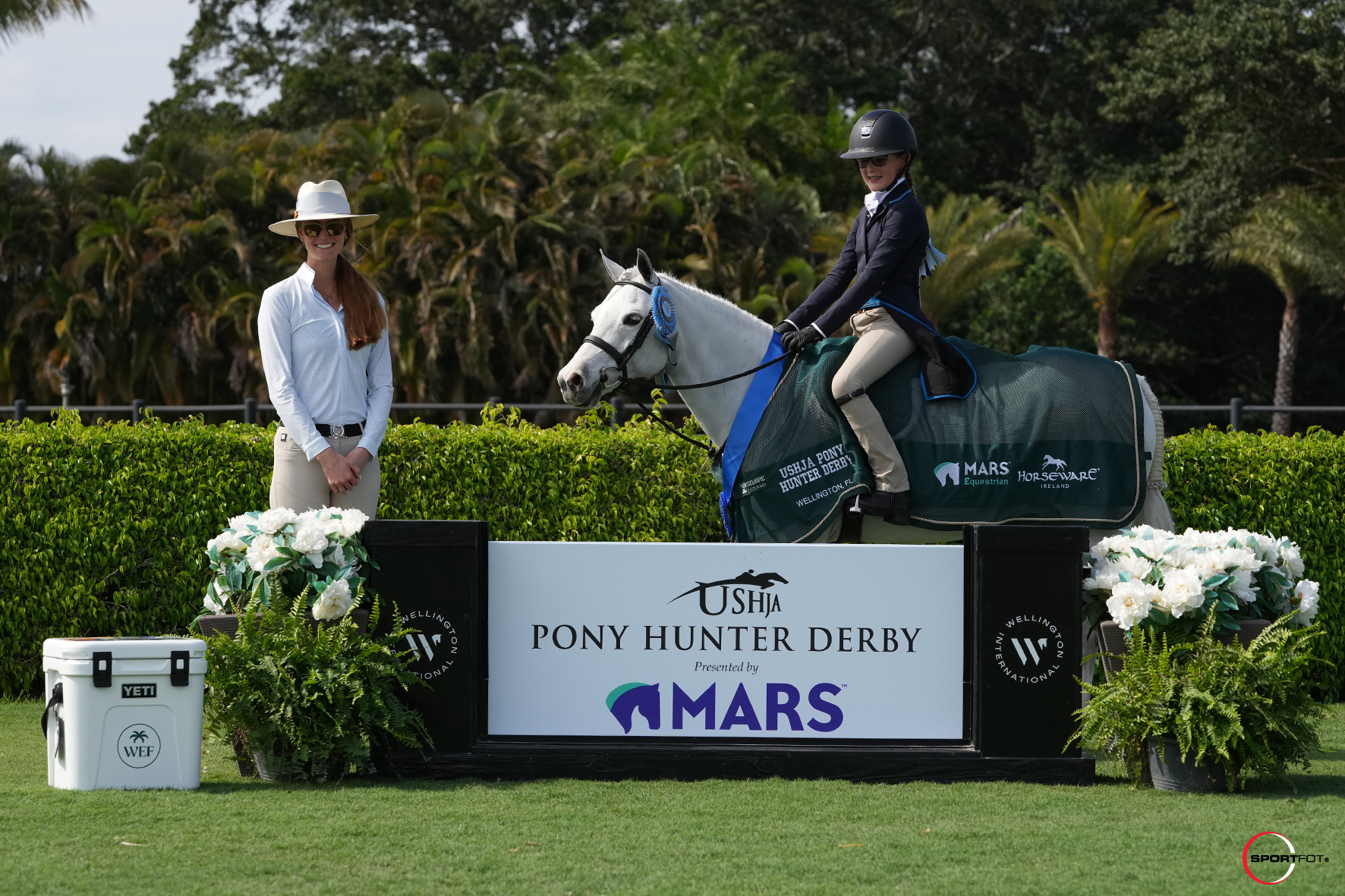 Mercer's plan for redemption this year consisted of having a clear head and being consistent.
"I tried not to overthink today and just keep a clear mind while being patient," said Mercer, who trains with Ali Sweetnam. "When I get on a rhythm it's easy to find the jump out of stride, so I tried to just sit and wait for everything to come up. As I went in for the handy my trainer was telling me 'don't blow it out of the water' because I have a tendency to get overzealous for the long spot and then end up with a chip instead. I really worked on that today."
Scarlett Samuels procured the highest score in the handy round as she completed the course with an 86 aboard Royal Treasure. Combining that with her first-round score of 78.5, she secured the second place ribbon on Catrine Golia's 15-year-old Danish Sport Pony with a 164.5. Hailey Guidry, who returned for the handy in second place, completed the day with a third-place ribbon aboard Honor Hill Farm's nine-year-old Dutch Riding Pony Prince Charming as she paired her scores of 90 and 74 for a two-round total of 164.
Shane Sweetnam Dominates Bainbridge CSI5* 1.45m
Ireland's Shane Sweetnam and Alejandro made easy work of Friday's $39,000 Bainbridge CSI5* 1.45m as they cruised around the International Arena during the Wellington Equestrian Realty-sponsored WEF 9.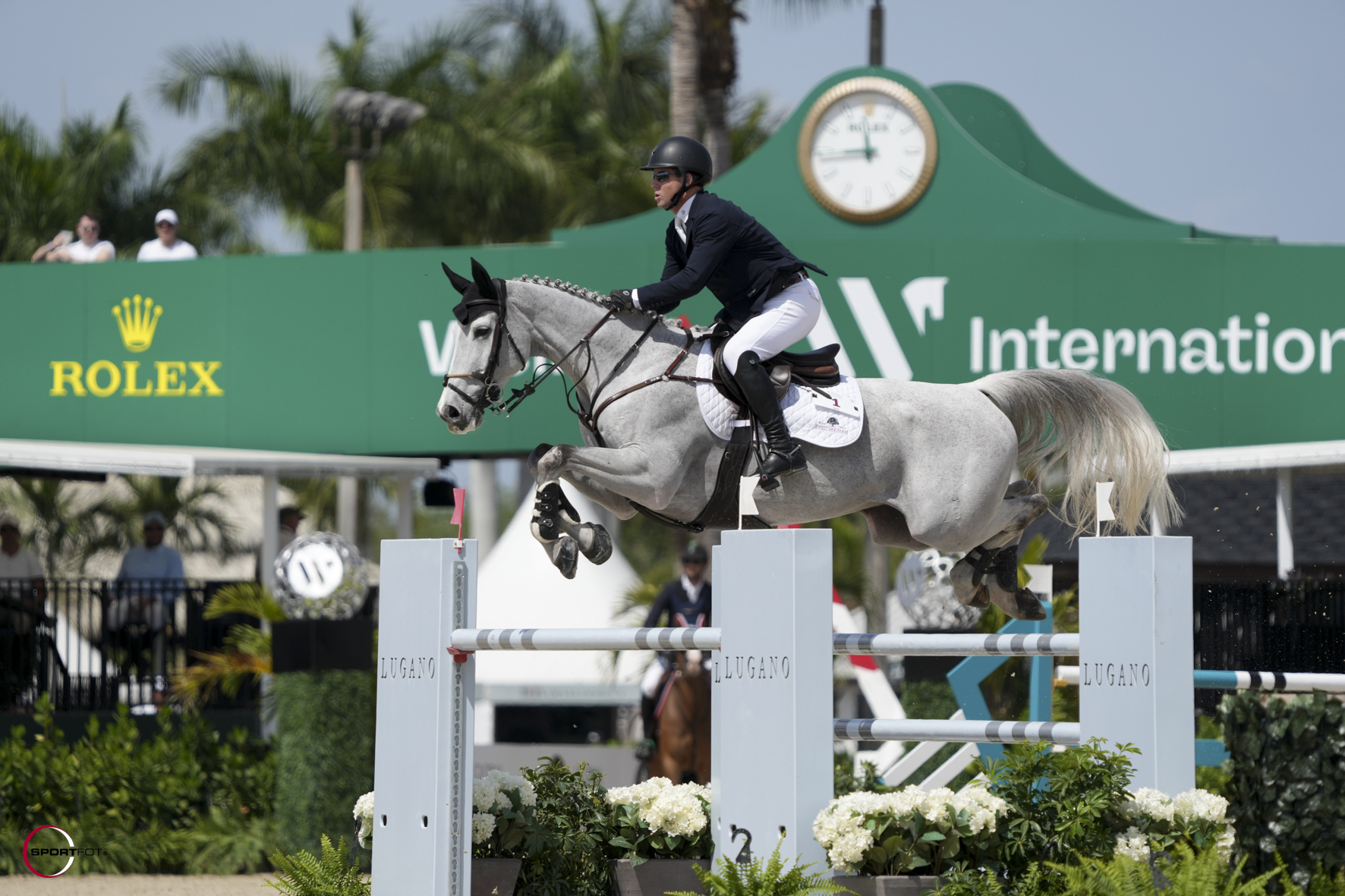 Sixty-one hopeful entries set forth around Alan Wade's (IRL) speed track. Ultimately, Sweetnam and Alejandro, a 14-year-old gelding (Acorado's Ass x Continue), owned by Sweet Oak Farm, Spy Coast Farm and Seabrook, LLC, clocked in at 57.2 seconds for the win. Second place went to Kristen Vanderveen (USA) aboard Bull Run's Faustino De Tili (58.55 seconds) and third went to Tanner Korotkin and Quinn 33 (59.53 seconds).
While Sweetnam's round did go to plan, it came as a slight surprise that his early leading time held on for the victory in a large and competitive class. "Alejandro jumped great; I was early in the class and in such a big class I was surprised I held out till the end, but I thought he was pretty quick. He was meant to show last week in a grand prix but he got a little sick, so he had a couple days off, but this week he's been feeling great and I'm super happy with the result."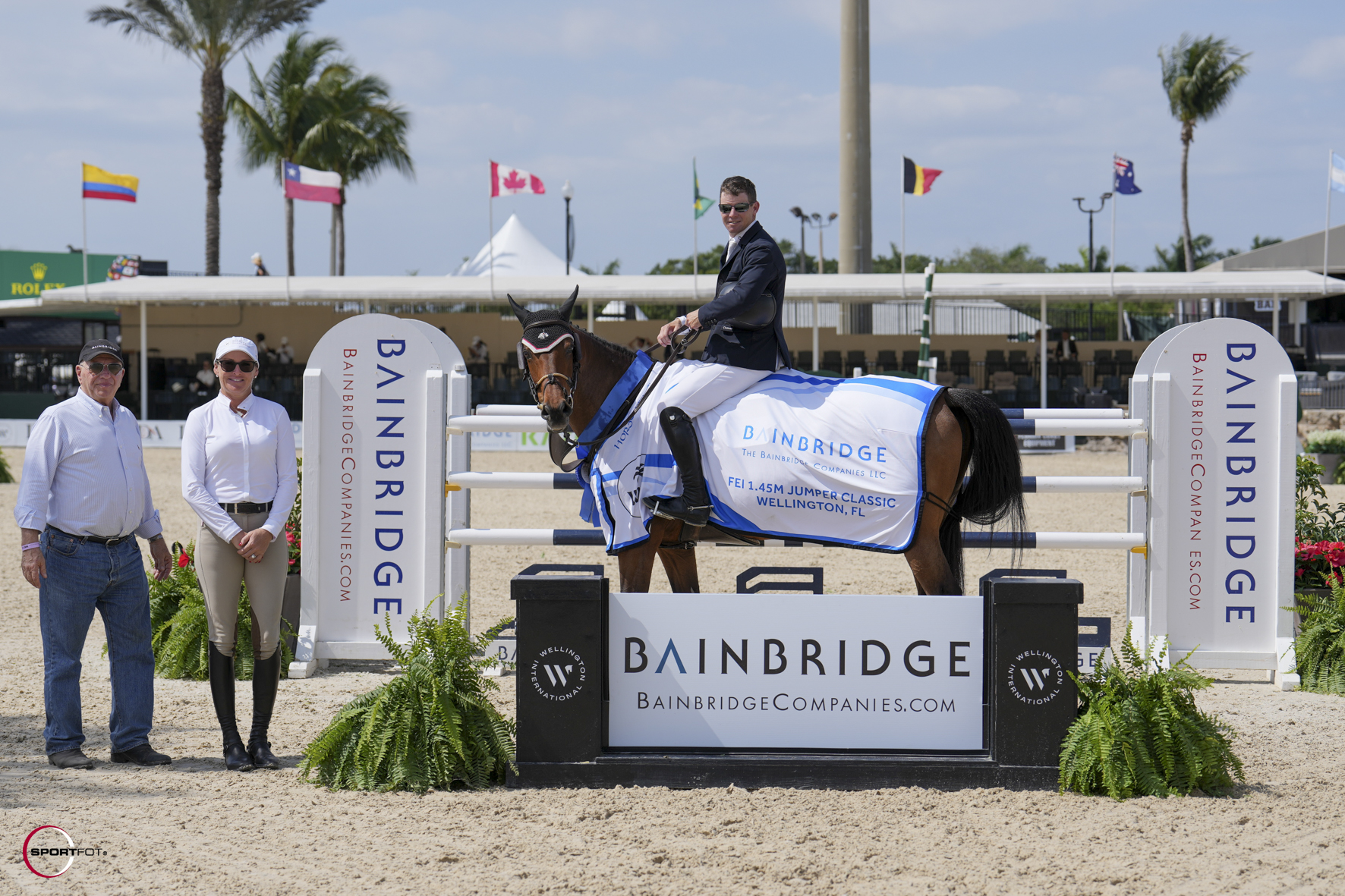 When asked what Alejandro is like to ride, Sweetnam noted, "he's always eager, so he can get a little strong but that also helps us to be fast in these classes. He really tries hard and has a huge heart, so you always feel like he's giving you one hundred percent."
Later in the afternoon on Friday, Catherine Pasmore (USA) and Freedom DE S.B. rode to victory in the $10,000 Florida Coast Equipment CSI2* 1.45m.
A tenth of a second ahead of runner-up Nina Mallevaey (FRA) and Cartier SR, Pasmore eclipsed her time of 63.23 seconds, which held for more than 20 rounds. Pasmore and Freedom DE S.B., a 2011 gelding (Ogano Sitte x Fabuleux De Gamet) owned by Pasmore Show Stables BV, stopped the clock at 63.16 seconds for the win. Wilton Porter (USA) and Joli took third in 68.21 seconds.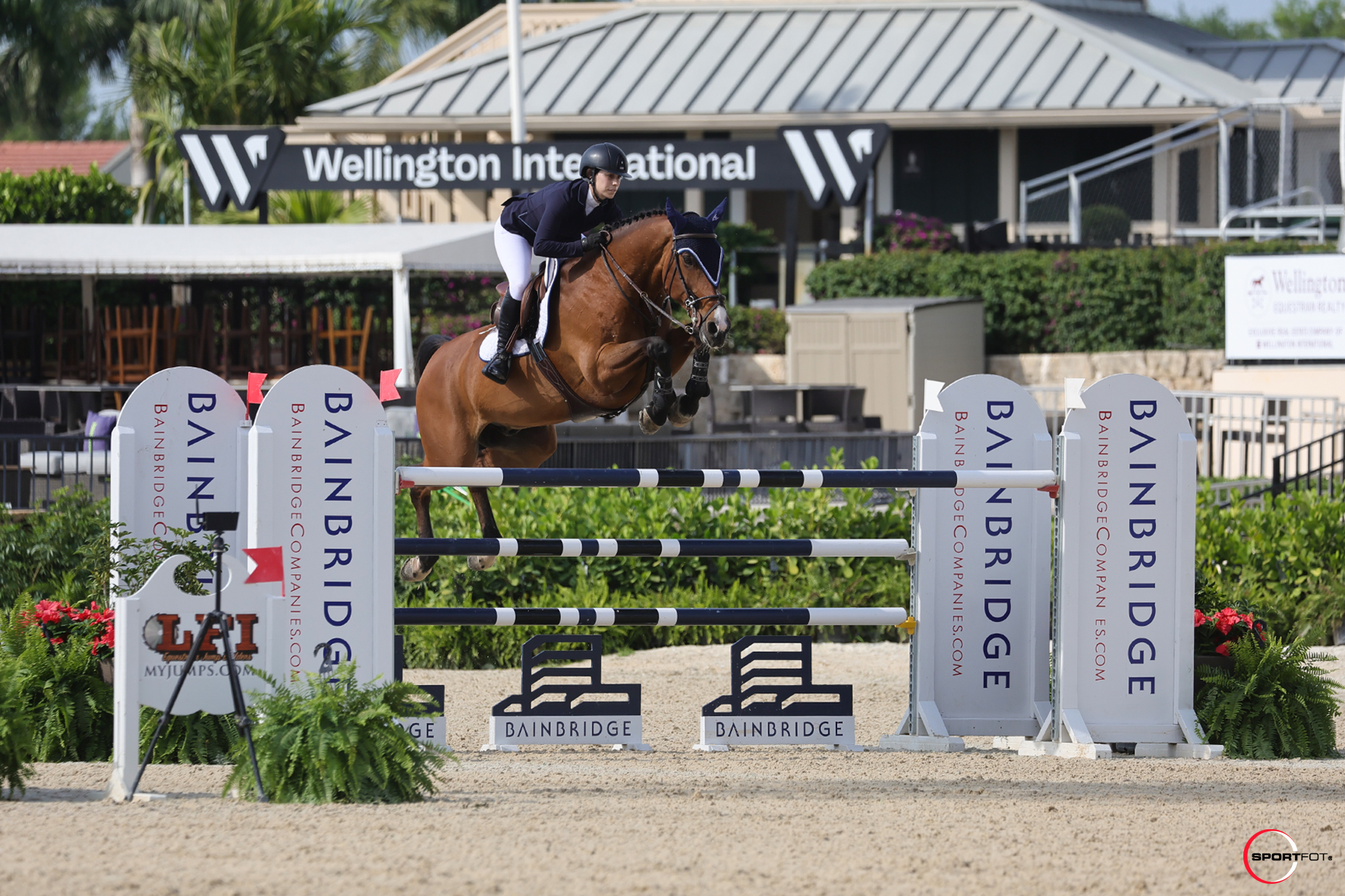 After not showing Freedom DE S.B. for three weeks, Pasmore was happy to be back in the ring on the gelding. "I wasn't sure if I was going to go for it or not, but he felt so good in the warm-up and was super relaxed when I went in. So, I thought it's good practice to try to win and that's this horse's first big win so I'm very excited."
Pasmore has had the ride for two years and describes him as, "When I got him, I put on a loose ring snaffle was so excited to ride my new horse. I went to the outdoor arena and I could not even trot around the outside with any control whatsoever. With a lot of help from Jos Comps, Leo Rauscher, Mary Elizabeth Kent and Laura Kraut, we have clicked. The whole team together has taught me so much and today I felt it all come together."