Competition in the International Ring at Wellington International drew to a close Friday afternoon with a total of 47 top hunter combinations taking to the $25,000 USHJA International Hunter Derby, presented by Perfect Products. Over a course designed by Andy Christiansen as an efficient hunt-and-go format, the lead changed hands several times throughout the one-round challenge, but ultimately the top honors were awarded to John French and eight-year-old Hanoverian gelding Milagro.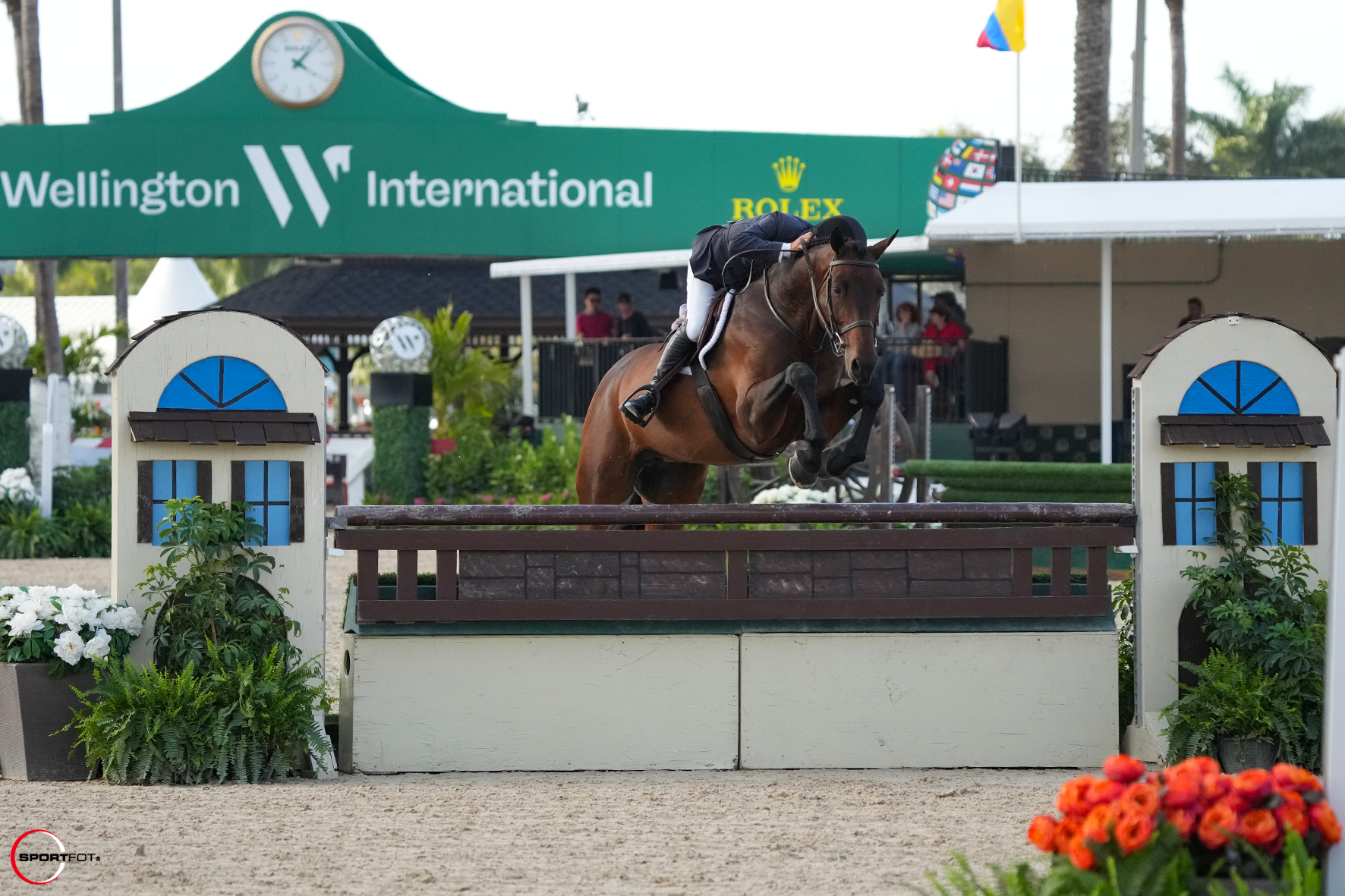 The hunt & go format consolidates two rounds into one with both a classic and a handy element. Two judging panels were responsible for producing each pair's combined score after a course that consisted of four possible high options and utilized both the expanse of the ring to allow riders to open their horses stride and incorporated a series of rollbacks and inside turns to demonstrate handiness across the second half.
Christopher Payne took the early lead aboard Reign after producing a hard-to-beat combined score of 367.50. He and the Provence, LLC-owned ten-year-old Holsteiner seemed to have it in the bag until late in the order when Kristy Herrera and John & Stephanie Ingram, LLC's ten-year-old Holsteiner gelding Caristo executed an exemplary round that earned them a new leading total of 370 combined points.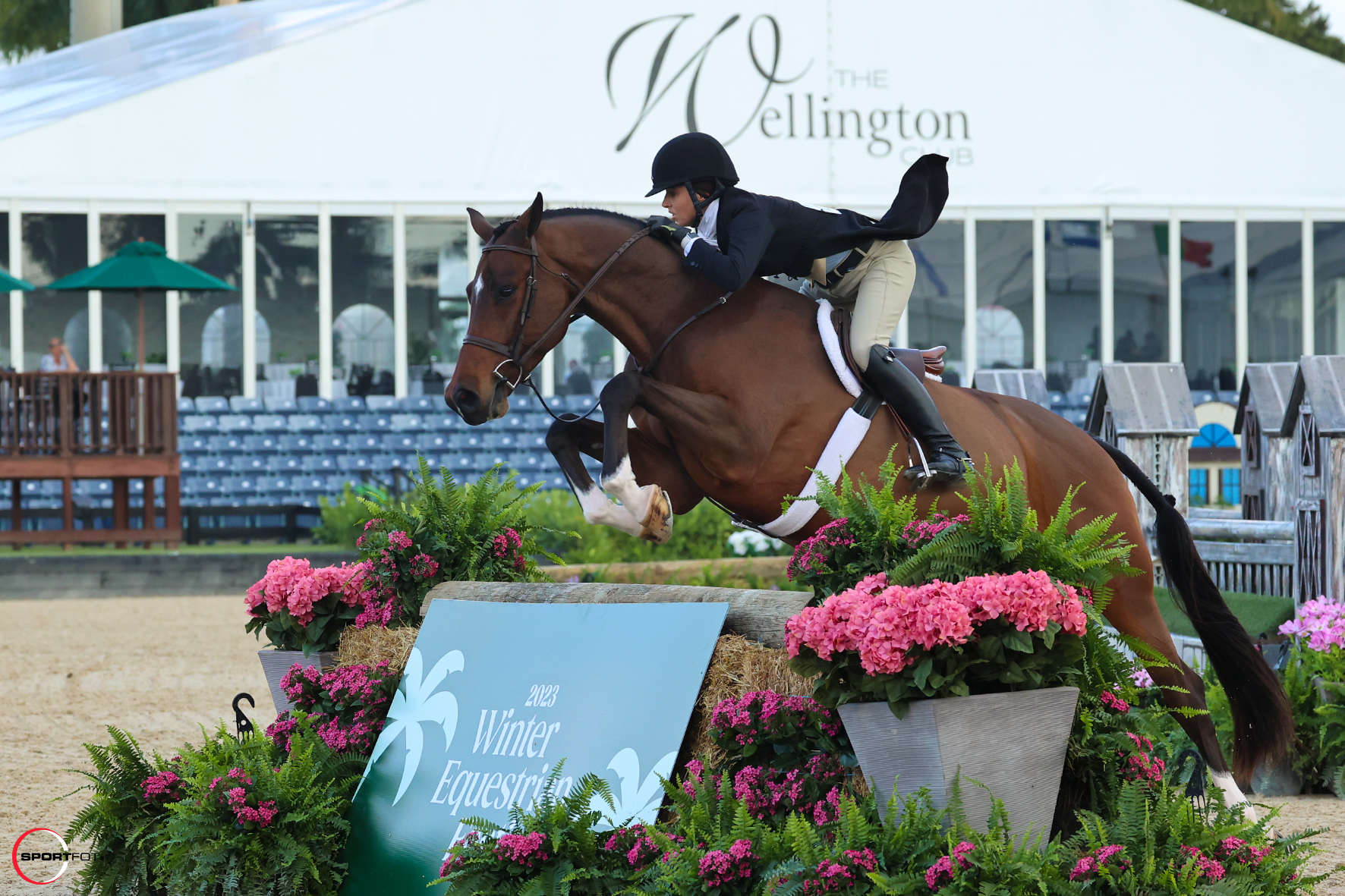 Entering in one of the final few positions with three international hunter derby wins already tucked neatly under their belts since December, French and Kent Farrington, LLC's Milagro proved they are still very much in top form and overtook the lead one final time with a score of 371.50.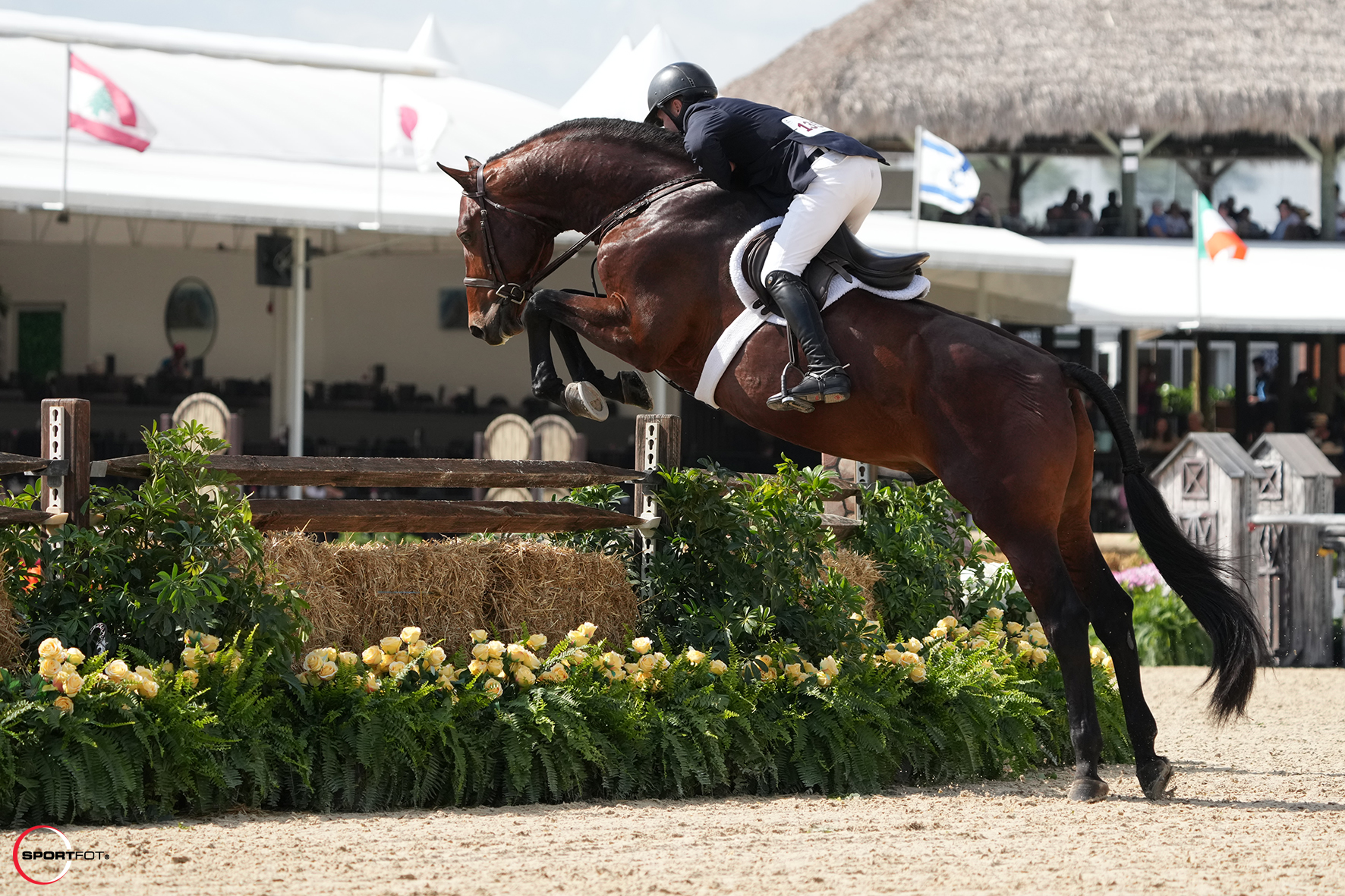 "He stands out in the hunter derbies because he has a lot of scope, he is slow in the air so I can make the tight turns on landing easily, he is very brave, and I never have to worry he's going to look at anything," French gushed of the gelding.
As no stranger to the victory gallop, once French got through the first half of the course, which he expressed had a few tests for himself, he knew that Milagro's exceptional form and athleticism would take care of the rest.
"I always worry a bit about trot fences, but I went very slow and he did it nicely," he described. "After that I took a breath because I knew the hard parts for me were over and he would be able to do the final high option, which he cleared with a couple feet to spare."
Like many others in the afternoon's event, French was grateful to use the class as preparation for World Champion Hunter Rider (WCHR) Week during WEF 6.
"This is a great opportunity to bring our horses into this ring," he continued. "I showed a couple of my first-year horses in today's class so I could get them into this arena, and I now know better how to prepare them for next time.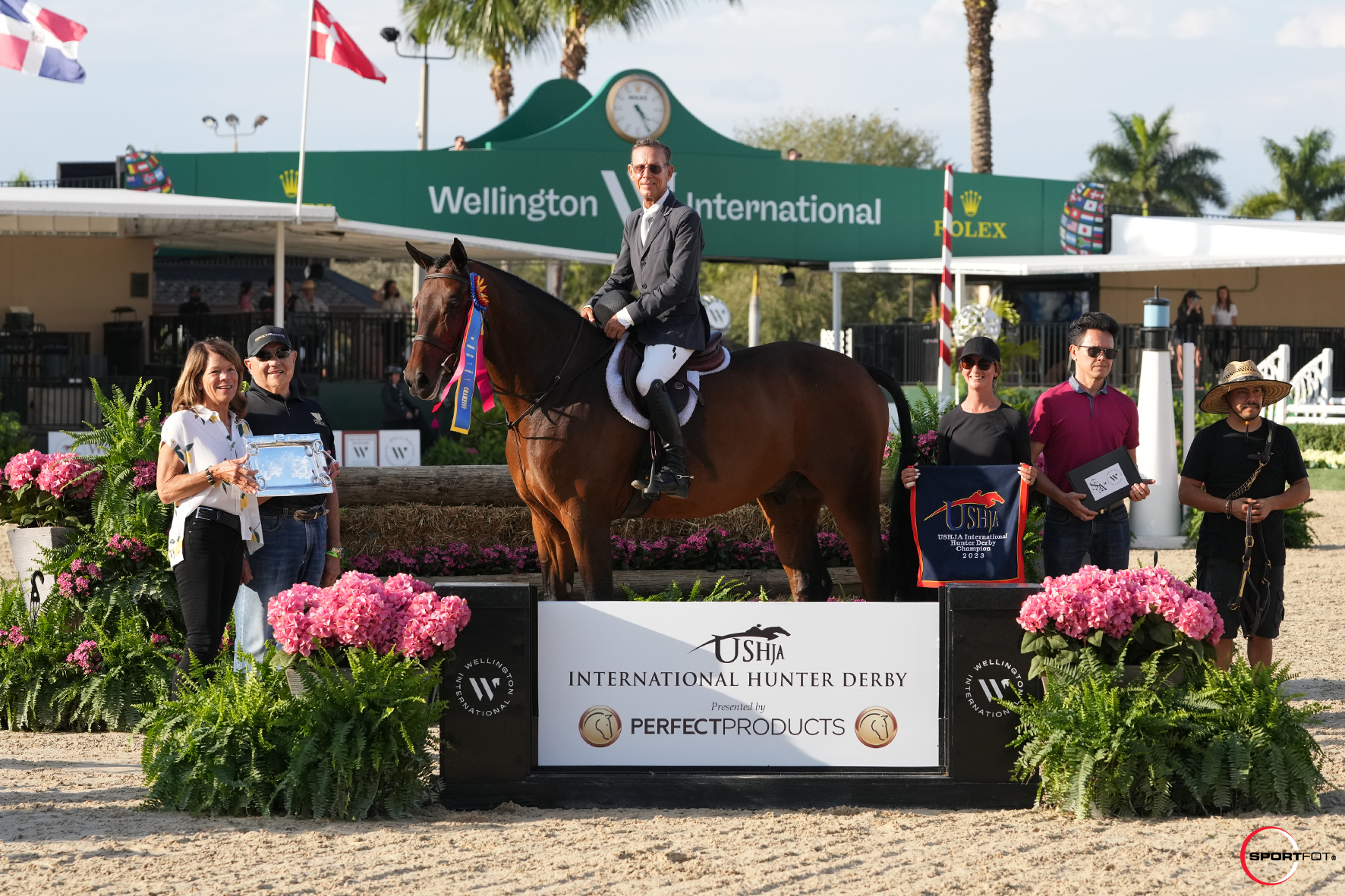 Friendship is Winning Formula in Hermès Under 25 Grand Prix Series Team Event
Cristobal Collado, Emilie Conter, Zoe Conter and Carlos Hank Guerreiro (Team C4) were determined during the CHF25,000 Hermès Under 25 Grand Prix Series Team Event. Taking center stage in the Global International Arena at Equestrian Village, 16 teams consisting of 64 up-and-coming international riders showed off in a nations' cup format event.
After posting the lowest scores from the opening round, which included performances from all four members of each team and afforded one drop score, six teams advanced to the tie-breaking second round. Returning in reverse order of the current standing, Team Ashland, JB Jumpers, C4, Straight Eh's, Ansgi & The Ladies and Cali Cartels were ultimately able to advance onward. Moving from fourth to the top, C4's Cristobal (MEX), Emilie Conter (BEL), Zoe Conter (BEL) and Hank (MEX) finished on a combined final score of just a single rail and emerged victorious.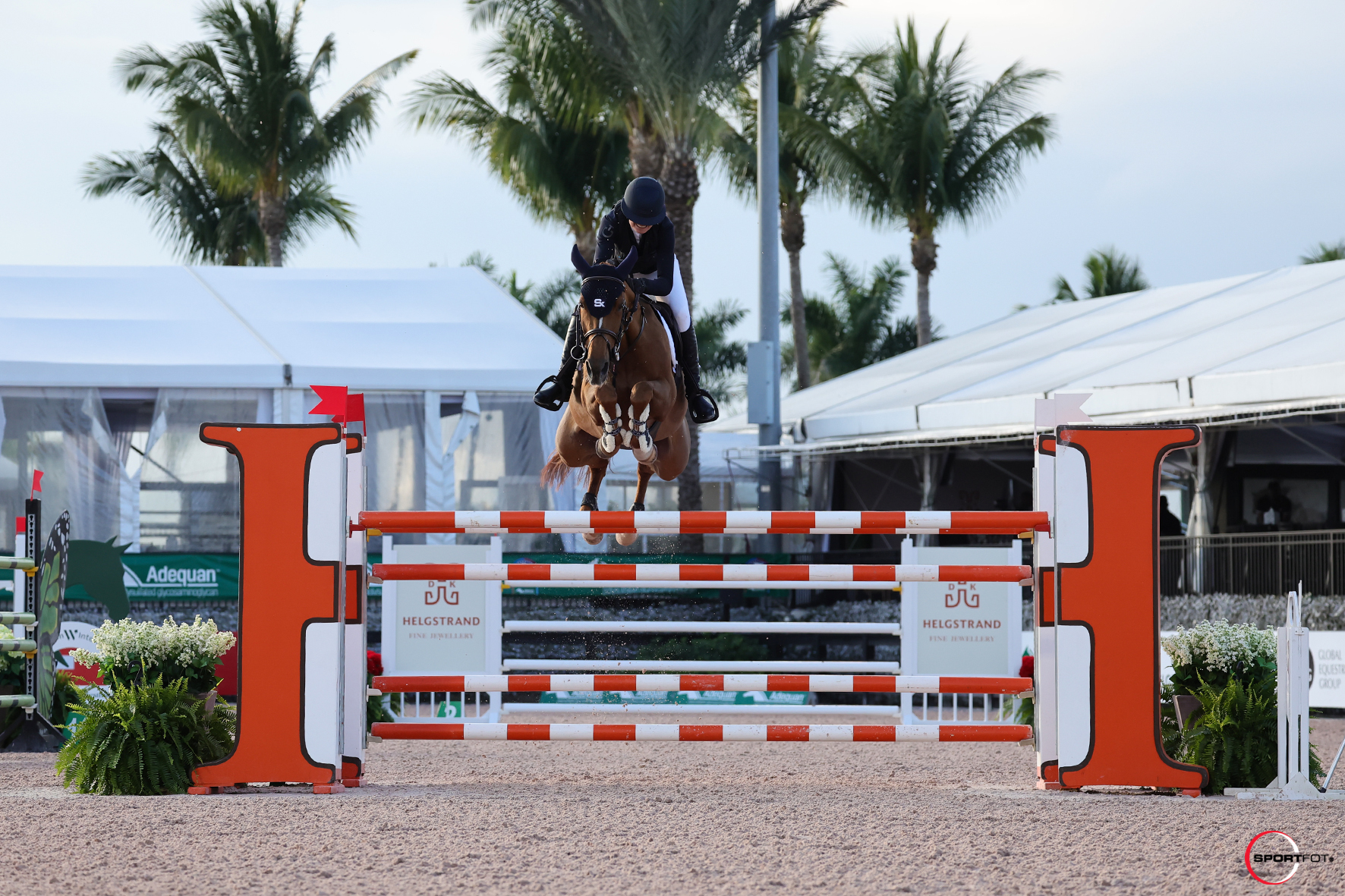 Lead-off rider Zoe Conter, 24, is going out on top during her last year in the Hermès Under 25 division. "I'm glad we could finish it on a good note. I've been doing this series for a while now and we've always been so close to winning the team event, so we were really motivated to win this year.
"There were some technical parts like to the triple and the last line which was a difficult four strides," continued Conter, who piloted her mount Lazy over the Anderson Lima-designed track. "Overall, it was a friendly but challenging track."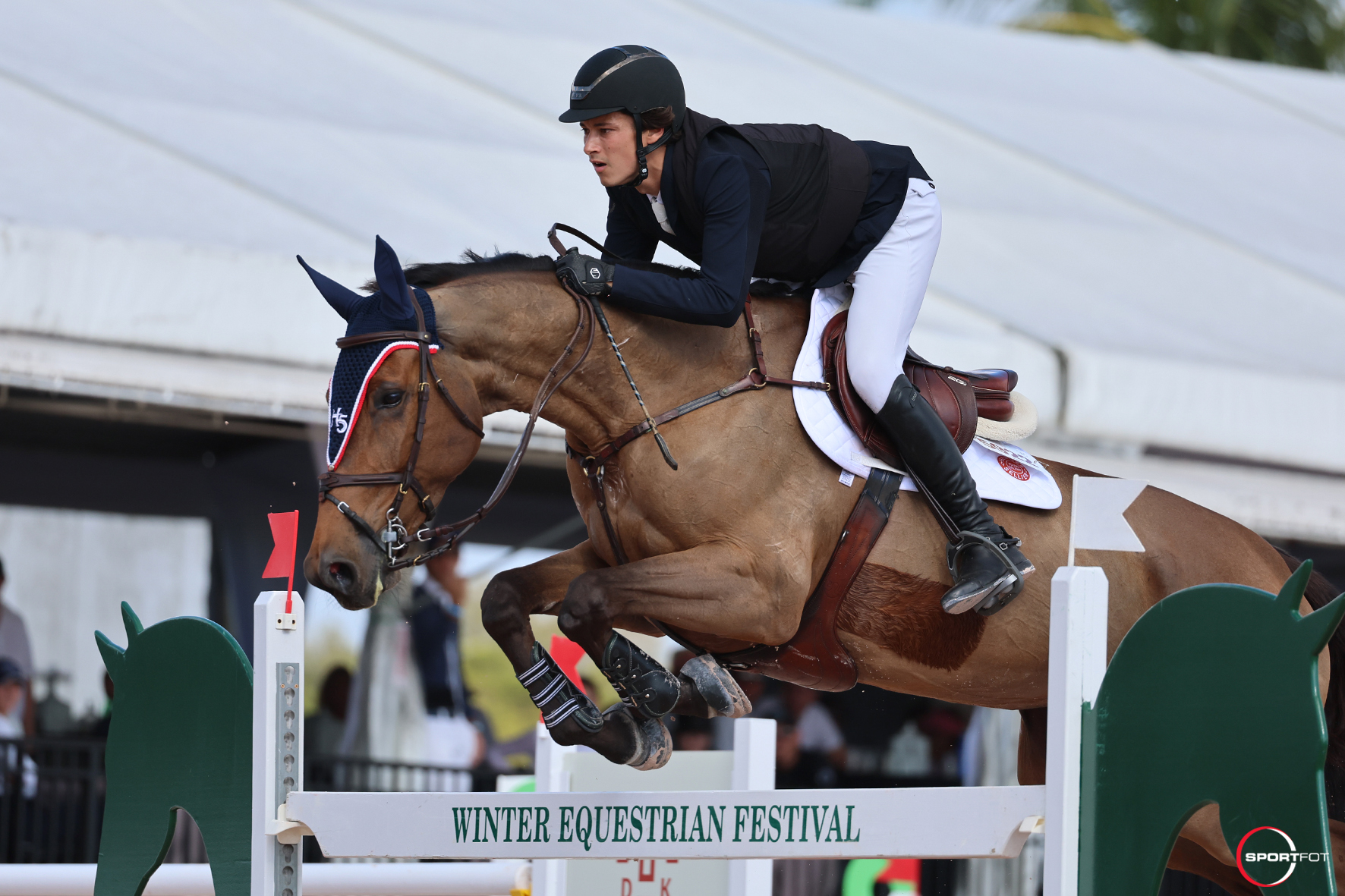 Twenty-four-year-old Collado produced two clear rounds for his team aboard Ditarca OH Z. "She's nine years old, and a really simple ride," said Collado of his mount. "I'm used to riding more difficult horses, so it's been great to have her. The plan was to sell her originally, but I'm really enjoying my time riding her.
"This was definitely my biggest competition of the year," continued Collado. "These guys are pretty professional and do the bigger stuff, so it's fun to be able to do it with all of them and we got to deliver the win together."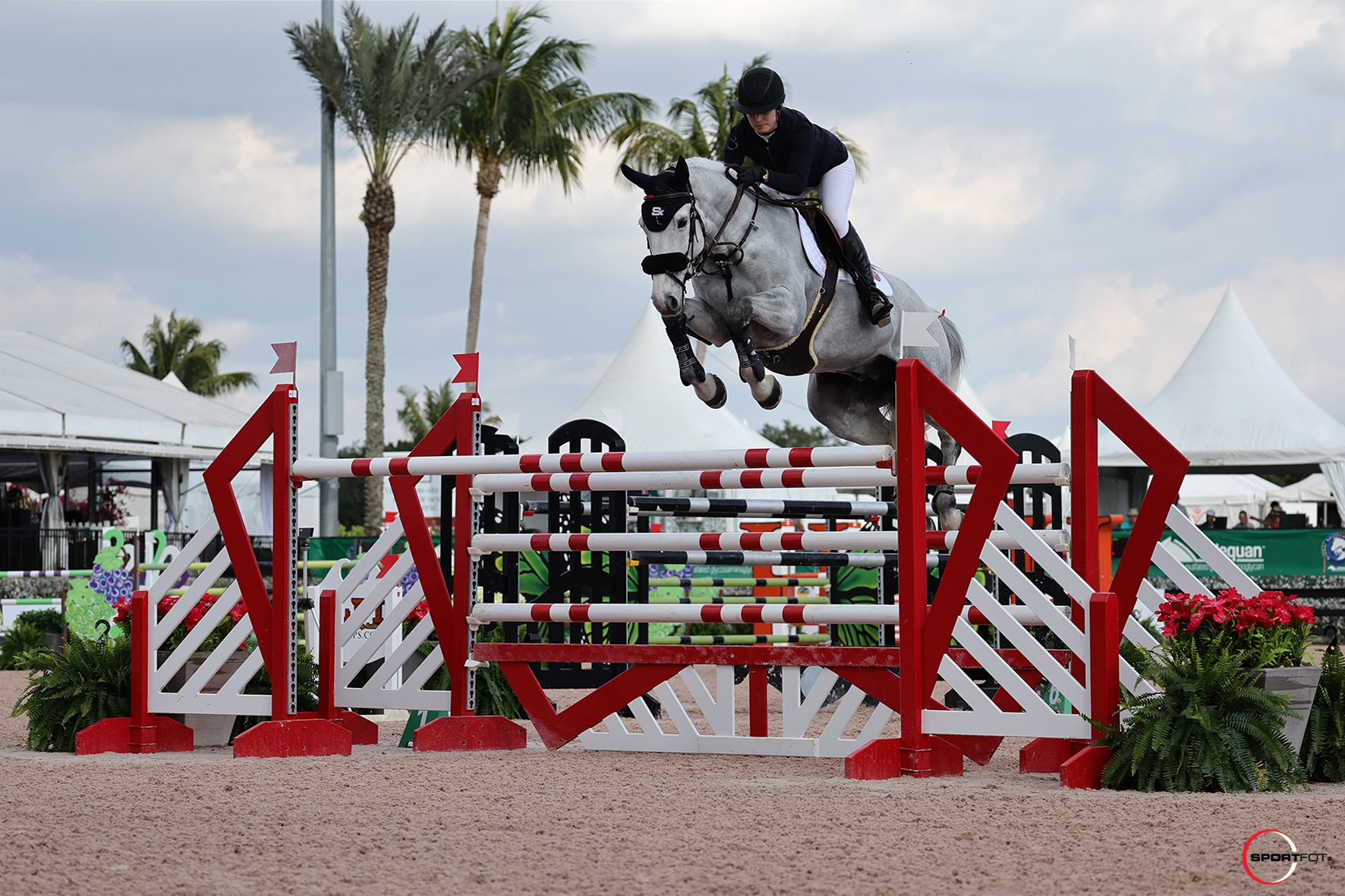 Emilie Conter, 22, guided Balento C.S. to her fourth Hermès Under 25 Team Event appearance. "It's so much fun to do a team event with close friends. It's a little more pressure which we really like. We were close last year, so we were happy to win it this year. Next, I'm hoping to be able to step up to the CSI4* and 5* level."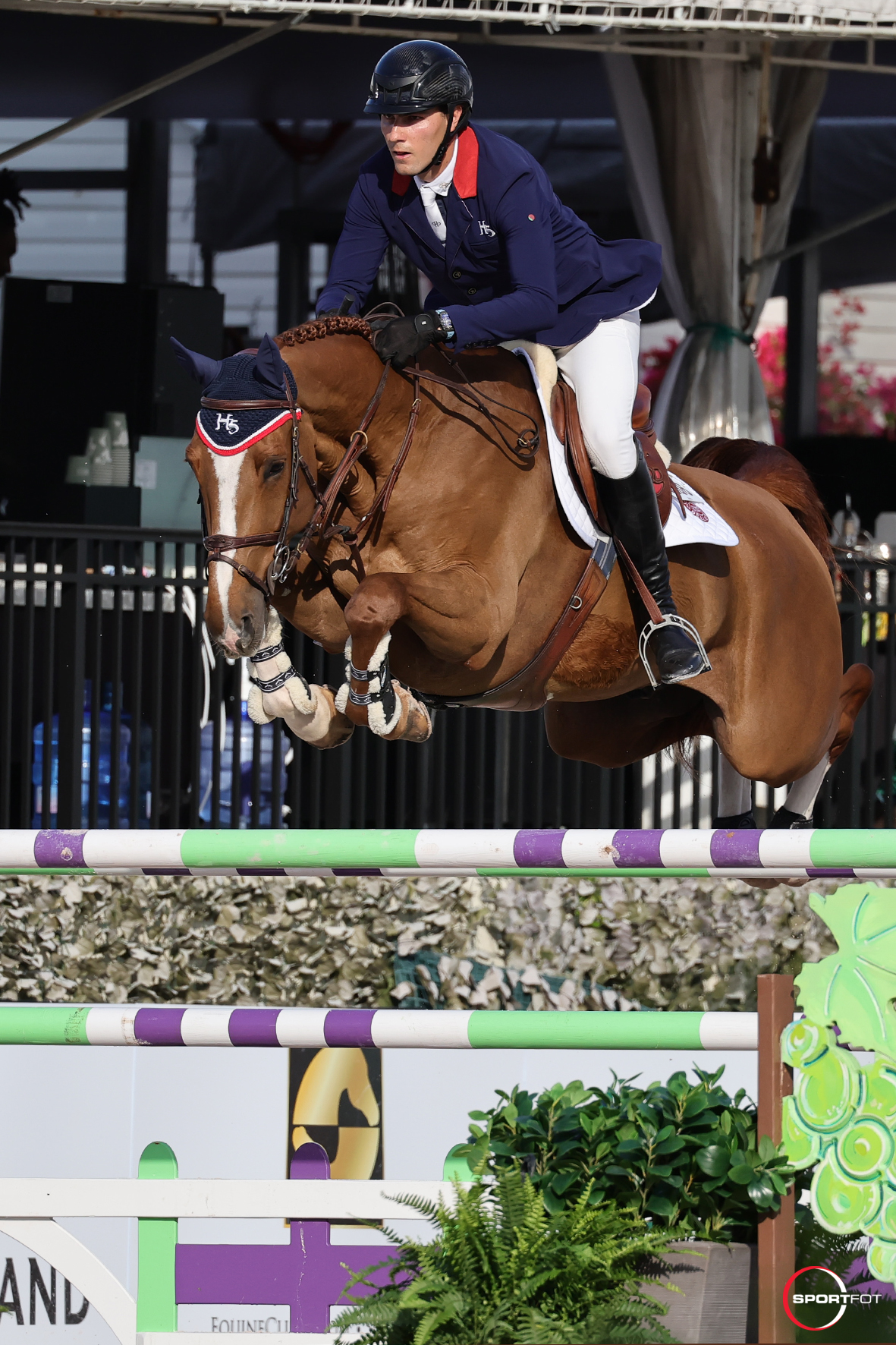 Anchor rider Hank, 22, came in clutch for his team with two clear rounds aboard H5 Nostalgie. He spoke about enjoying the opportunity to participate in a team event when show jumping is largely an individual sport.
"This ring has a big impact on our riding and on our horses," noted Hank on the indoor stadium feel of the Global International Arena. "Some horses are not use to rings like this, especially ones in America as we don't have so many indoors here. But my horse has done a few indoors in Europe so I was confident he would perform out there and I was really happy with that.
"We were very focused on this week," concluded Hank. "We all worked really hard, Emilie brought her number-one horse and we all tried to choose horses that would perform in this class. We are happy we achieved what we wanted."
WEF 4 is the second week of Under 25 competition at Wellington International. The 2023 Hermès Under 25 Grand Prix Series winner will take home an Hermès Saddle, a $10,000 store credit to Hermès, and will be invited to compete at a select show or tour in Europe, with round-trip transportation for one horse generously provided by the Dutta Corp.
Dean and Dotcom d'Authuit Dazzle in Wellington Equestrian Realty CSI4* Speed
The CHF37,000 Wellington Equestrian Realty CSI4* 1.45m Speed took center stage Friday morning on the Equestrian Village derby field during WEF 5. Athletes representing 12 international flags came together to contest Anderson Lima's (BRA) precisely designed speed track. The pair that could not be caught was Natalie Dean (USA) and her quick-footed mare Dotcom d'Authuit, a 2013 Selle Français (Diamant de Semilly x Quidam de Revel), owned by Marigold Sporthorses.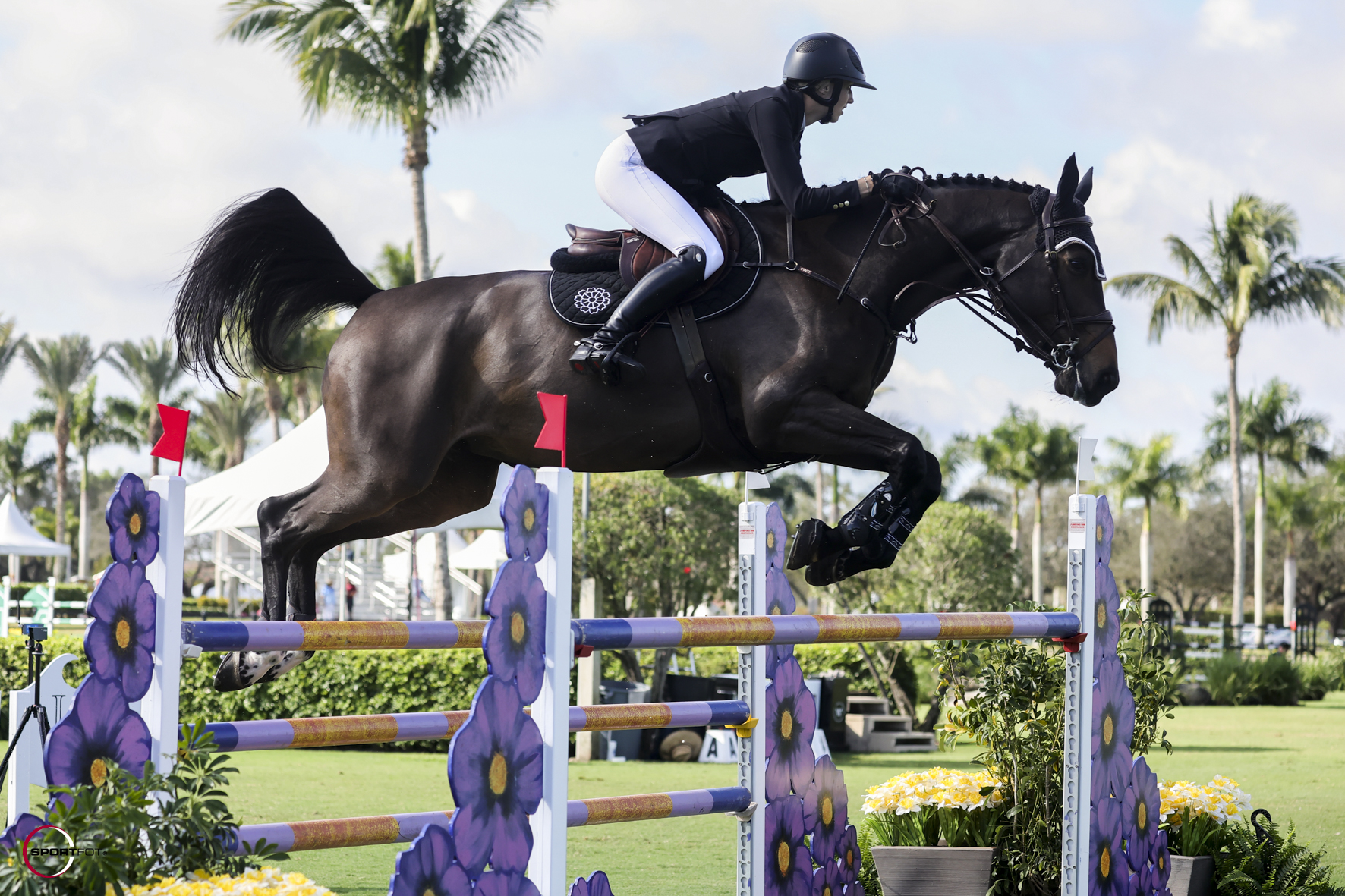 Dean, 23, clocked in at 57.46 seconds and bumped current leader Amanda Derbyshire (GBR) riding the Gochman Sport Horse owned Wonder If to second. Derbyshire and Wonder If stopped the clock at 59.51 seconds, while third place went to Daniel Coyle (IRL) and his nine-year-old mare Langley, owned by Ariel Grange, with a final time of 59.70 seconds.
Dean was beaming after her winning round and could not have been happier with her mare's enormous efforts. "She's an amazing horse. She's been off to a good start this season and she just loves this field," said Dean after earning top placings in the Hermès Under 25 division on the derby field during WEF 2, including a victory with Dotcom d'Authuit during the WEF 2 welcome and second in the grand prix.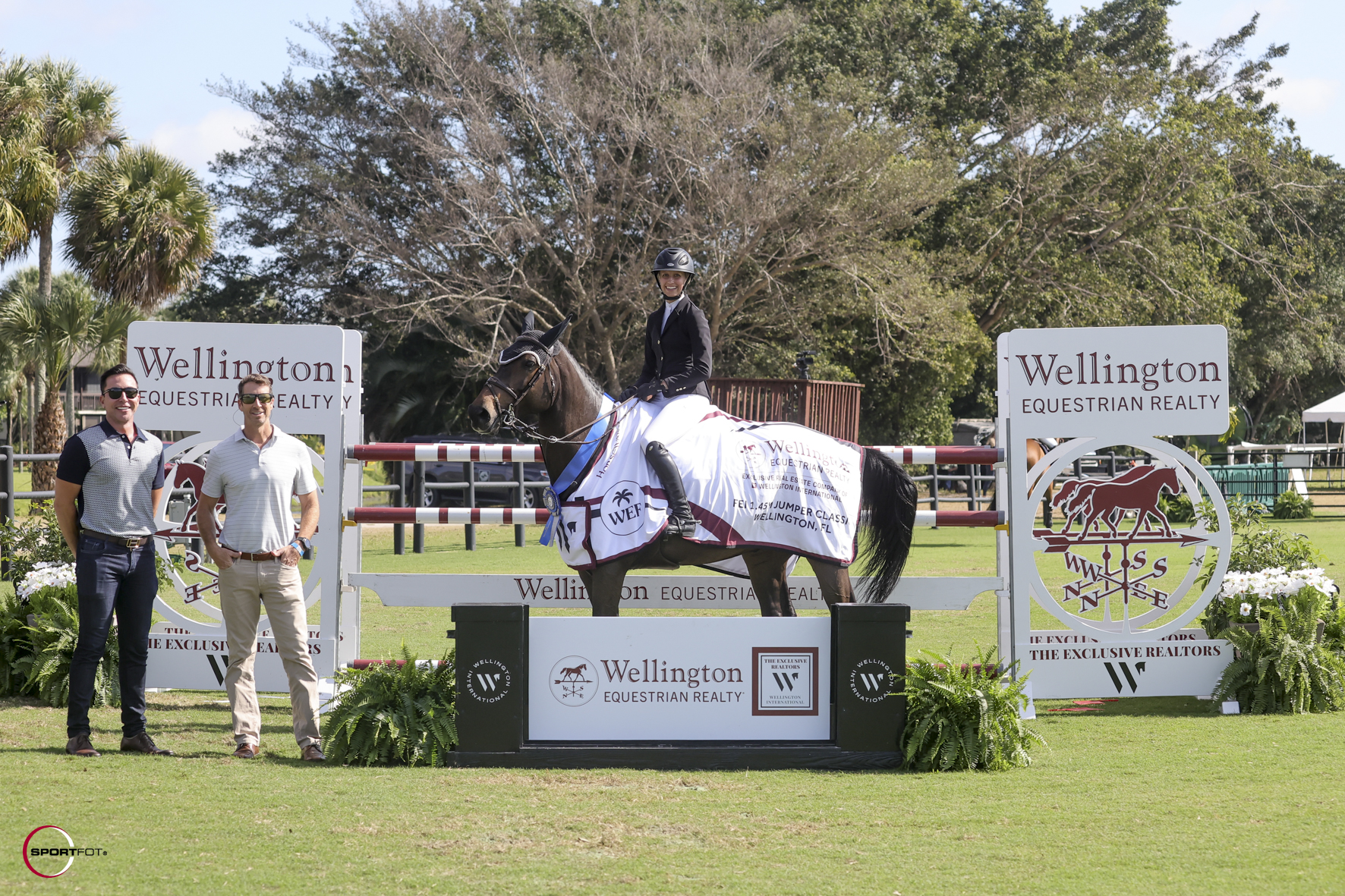 "I went pretty late in the class which was nice, and I knew they were going fast, but I tried to give it my all," continued Dean. "I knew I could do eight strides from two to three where a lot of people were doing nine, and then I used her naturally quick foot speed to make it smooth. It worked out today."
Dean and Dotcom's relationship shined through on the grass field and tremendous trust in one another was obvious. "I've had her for two and a half years; I got her as a seven-year-old, now she's ten so she's really reliable and I know I can run and she'll be careful and fast. She's a joy to ride."