The first FEI week of the 2023 Winter Equestrian Festival (WEF) season ended with the CHF37,000 CaptiveOne Advisors 1.50m Classic in the international Ring on Sunday, January 15. Jad Dana (LBN) won the day aboard After Eight as the sun set over Wellington International.
Nick Granat (USA) designed a tricky twelve-obstacle course with a time allowed of 72 seconds. Fifty-nine riders vied for a clear round to take them into the jump-off. Only ten pairs managed to make it to the second round. In the end, it was Dana,27, and his super mare, After Eight, a 2010 Swedish Warmblood (Diarado x Cardento), owned by Springhill Farm with the quickest time of 37.70 seconds. Right behind Dana came Shane Sweetnam (IRL) and Out Of The Blue SCF in 39.58 seconds for owner Spy Coast Farm.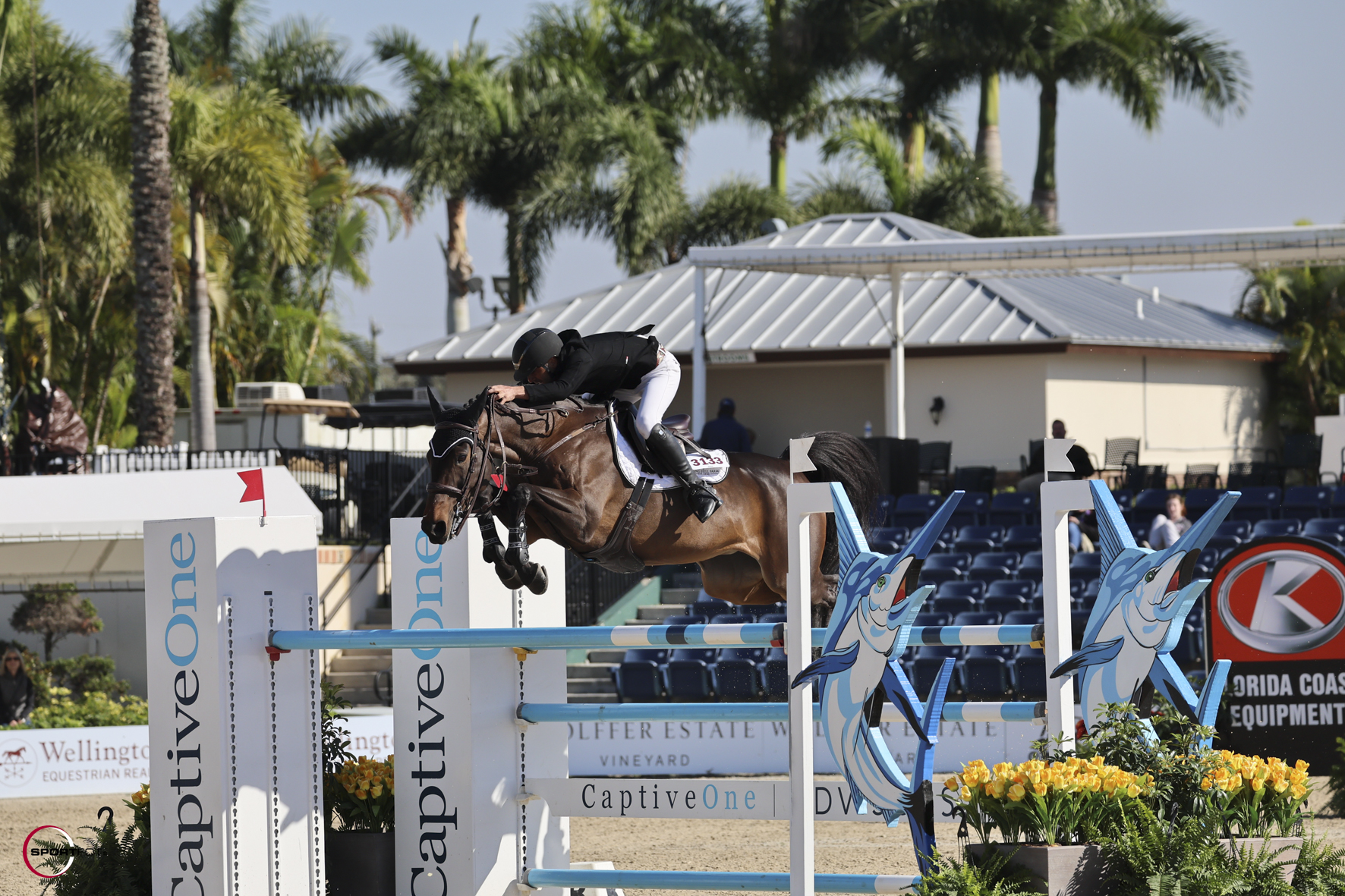 "She's amazing and she's been in top form; she won a grand prix two weeks ago and then she came out, was great in the first round and even better jump-off," said Dana of the mount he has had a little over a year. "That was so fun to ride, and she makes it fun."
Dana spoke about his unique training program at home with After Eight, saying, "She's a very complicated horse in the way she goes, but we have figured her out and our program at home is extremely simple. She's an incredible jumper; she has her own way of going and we don't actually try to change her, we work with her.
"It's a really simple program, we don't really jump school at home," continued Dana. "When we have a show, we might jump a tiny bit the week before. She doesn't do any heavy flat work or any heavy work, it's all simple. We try to keep her fit and comfortable, happy and feeling good and that's why she can do what she does."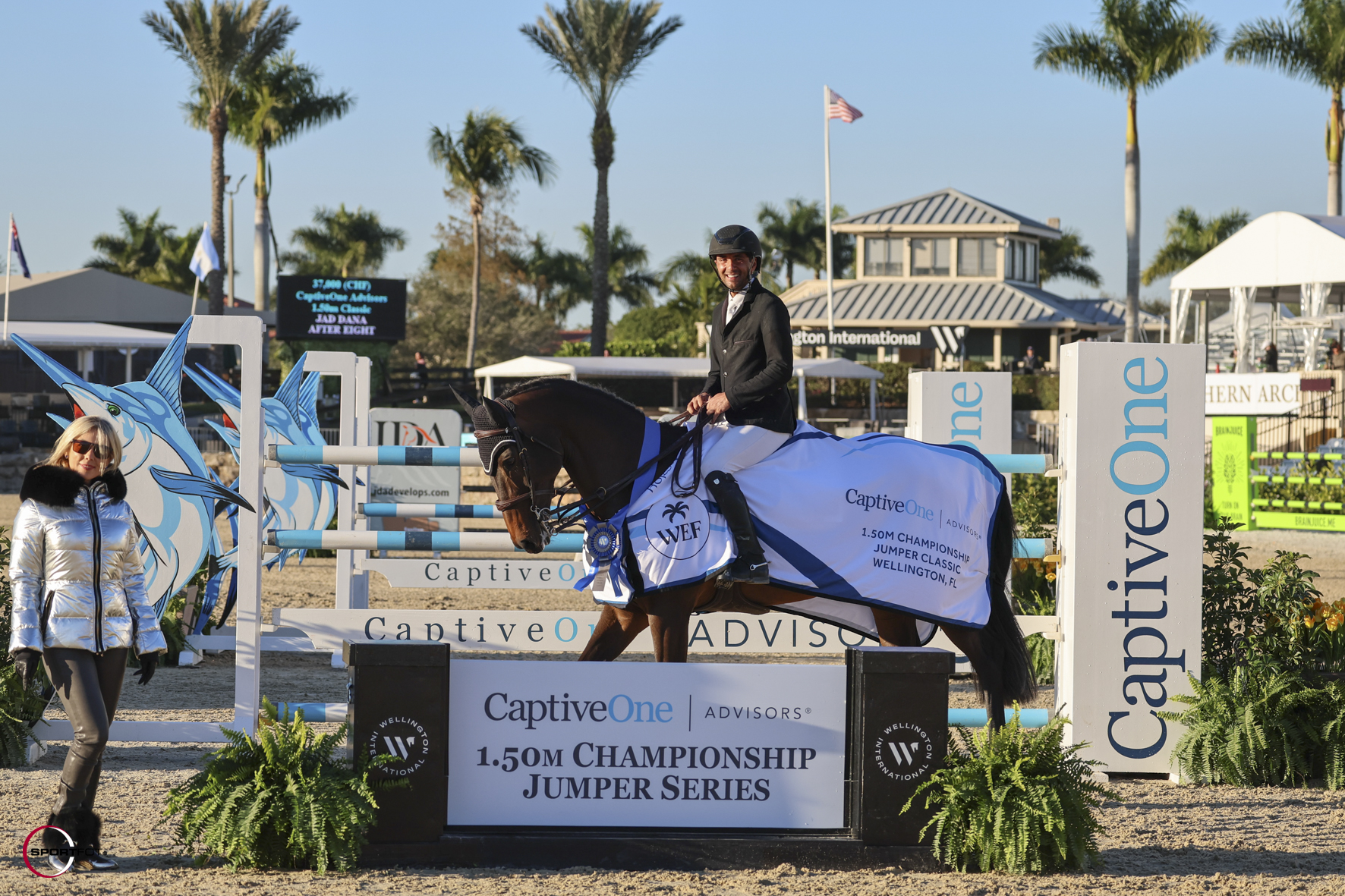 Dana and After Eight were matched by his trainer and U.S. Olympic team gold medalist Leslie Howard. Of the match, Dana said, "She gave her to me to ride and it was a great partnership. Then her owners, Springhill Farm, bought her for me to ride and keep. I'm extremely thankful for that."
Rounding out the podium behind Dana and Sweetnam, Thaisa Erwin (AUS) left the jumps intact, but picked up two time faults with Vanturo, owned by Michael and Wendy Smith.
WEF continues with a change of venue during week 2. CSI3* competition will take place on the grass derby field at Equestrian Village from January 19 through 22.
Julie Hogan Takes Adult Amateur Hunter Tri-Color
The Vogel Adult Amateur Hunter 36-49 division (Sec B) helped conclude an exciting first week for hunters at WEF. The stars of the day were Julie Hogan and her lovely mare, Latoya, a 2013 mare by Languster Prydsholm, owned by The Ridge Farm LLC.  Hogan and Latoya won three over fences classes and the under saddle to collect championship points.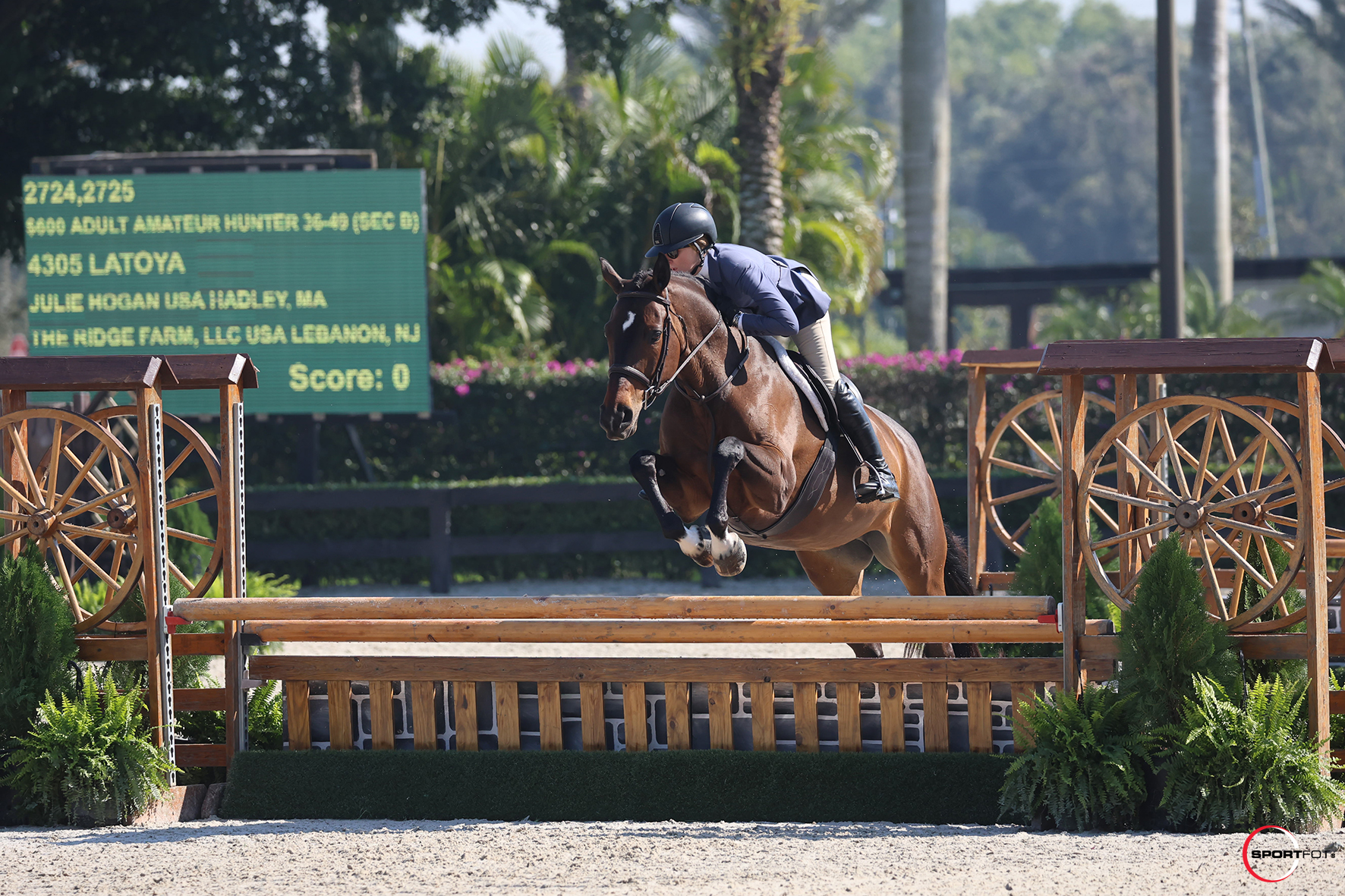 "Everything went really smoothly today," she said. "We had a really great day yesterday, winning both over fences, and we won the flat today and I just wanted to go in today and put in a solid performance in the two over fences classes. My mare jumped really well and she's a star."
Hogan and Latoya are a relatively new partnership that came together over the summer. "This is our second show," she said. "We had some success throughout the summer, so I was really looking forward to getting her here to show at WEF."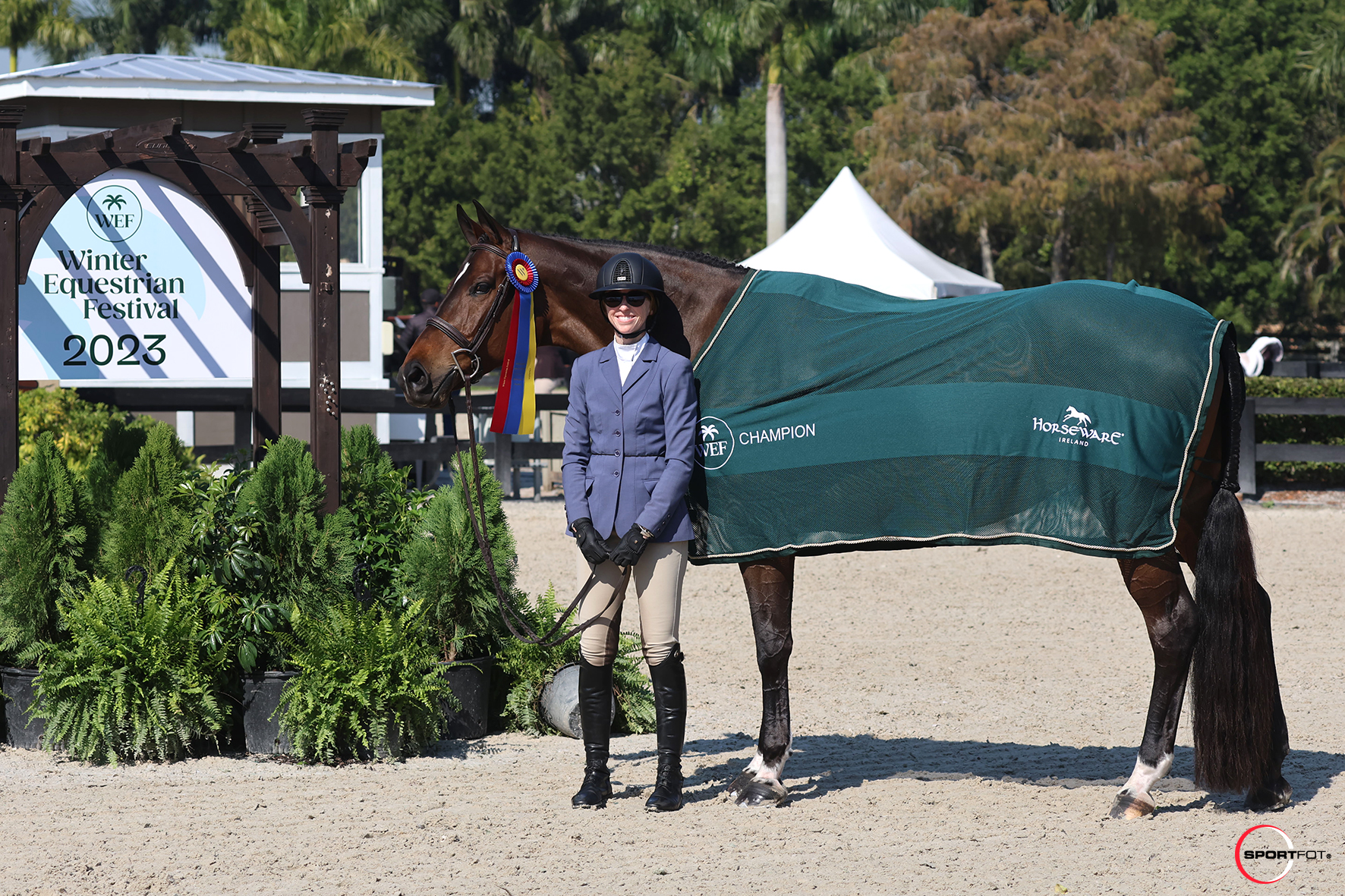 When Hogan isn't winning Hunter rounds, she's busy wearing several hats. "I am a real estate attorney and I also do equine law so I spend most of my day balancing riding and working," she said. "Sometimes I am taking calls from horseback if needed."
As far as goals for the season, Hogan noted, "I'd say just to be consistent. We are off to a great start and I'm really looking forward to World Championship Hunter Rider (WCHR) week, as well as some Derbies."
Reserve champion in the Vogel Adult Amateur Hunter 36-49 division (Sec B) went to Nicole Oliynyk and Chekandido.