A blink would have missed Ireland's Daniel Coyle and Ivory TCS in the $226,000 JTWG, Inc. CSIO4* Grand Prix on Sunday afternoon during the IDA Development sponsored Winter Equestrian Festival (WEF) Week 8 at Wellington International. The 28-year-old stole the win mounted on Dutch-bred Ivory TCS, a 10-year-old mare (Falaise de Muze x Ukato) Coyle owns together with Ariel Grange's Canadian-based Lothlorien Farm.
Four horses battled for blue in a jump-off speed duel over a course designed by Anthony D'Ambrosio (USA). Returning second, Coyle watched Beth Underhill (CAN) pull two rails and was conscious of fellow Americans Lacey Gilbertson and Mclain Ward packing a double punch of speed behind him.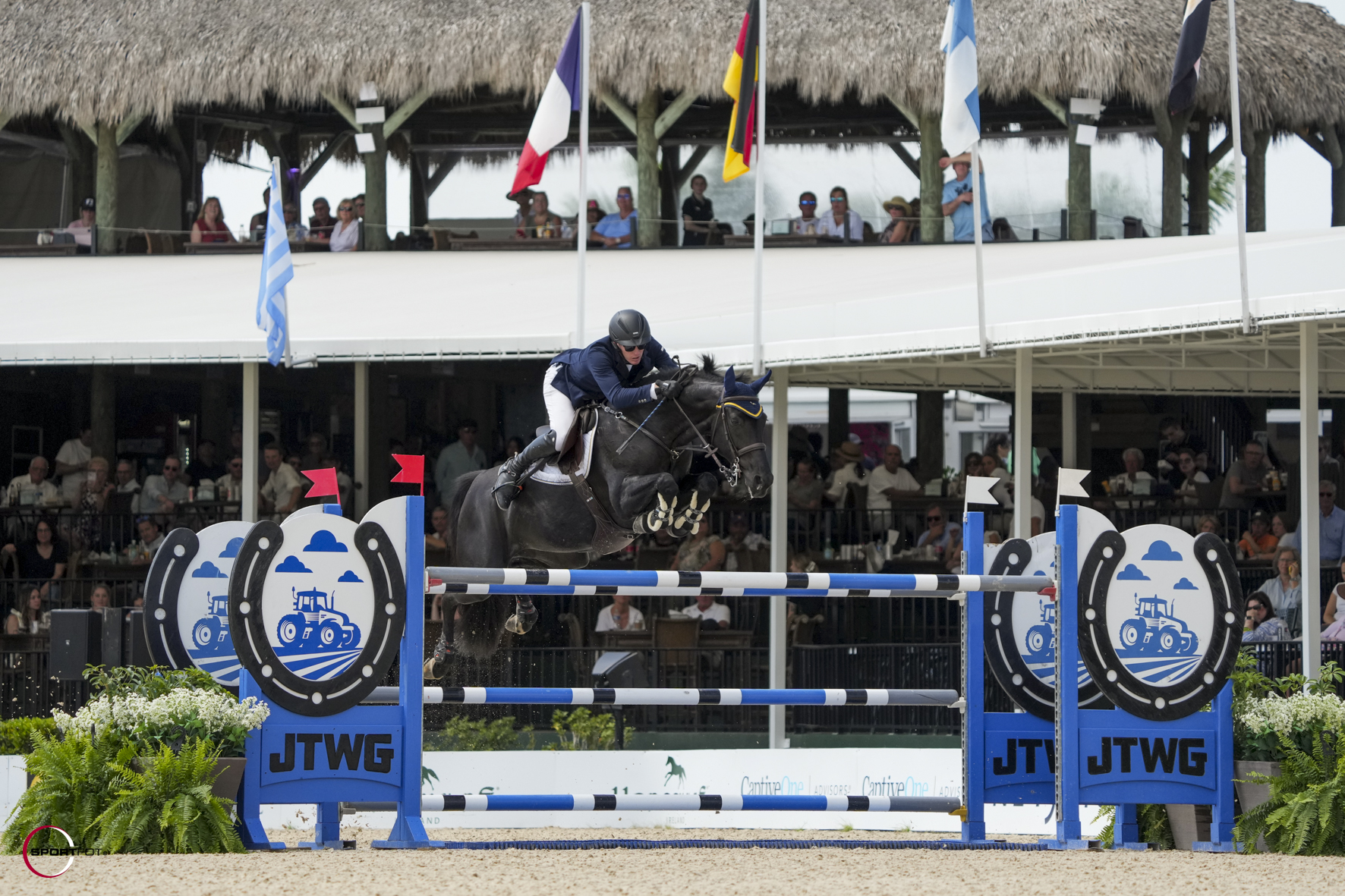 "I had to leave very little room, give them something to chase, but not leave very much," he said before stopping the jump-off clock at 38.06 seconds over the short course. "I think I was beatable but there wasn't much of a gap, which was my plan. Ivory is a very fast horse in every jump-off. She might take two extra strides than a big horse, but that doesn't mean she's necessarily slower because she does it so fast. I tried to use that today because there were no related distances; it was single fences then turn back and gallop halfway across the track, so I tried to use the quickness that she naturally has to my advantage."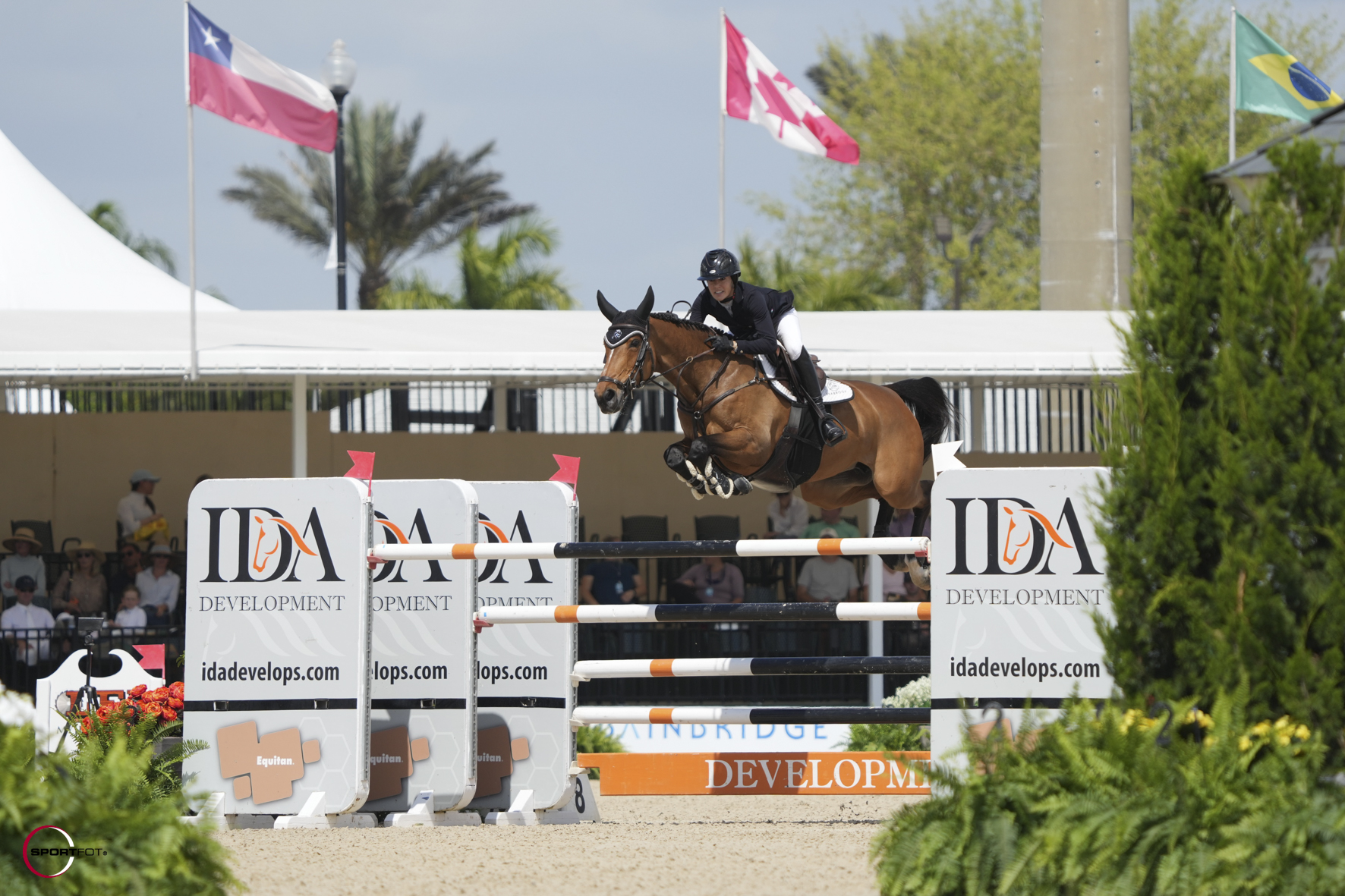 Gilbertson and Karlin van't Vennehof gave it a respectable effort, crossing the timers in 39.3 seconds to take second for owner Seabrook, LLC. Ward and Callas, owned by Beechwood Stables, LLC finished third with one rail in the jump-off.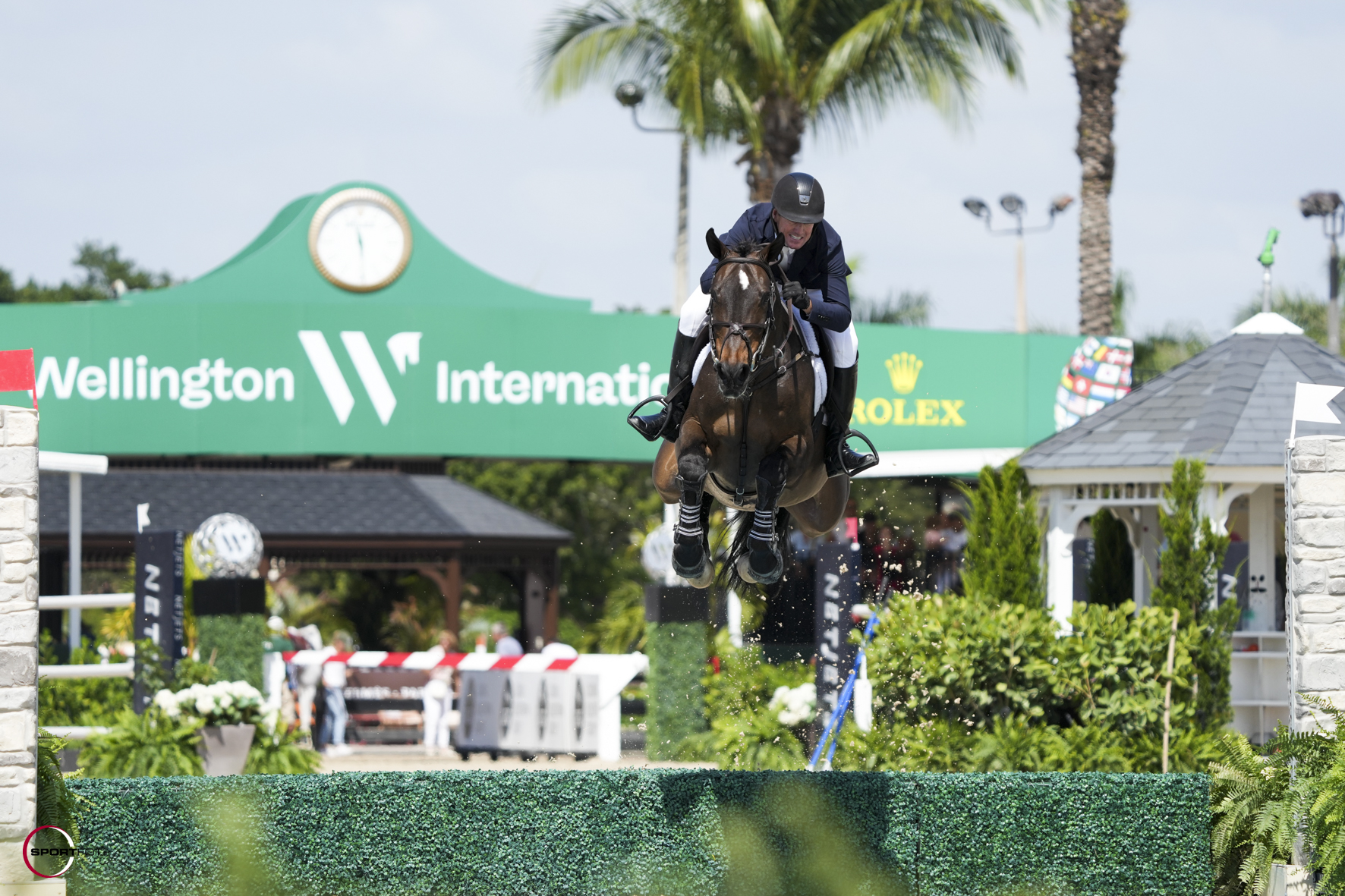 Coyle started his week with all his focus on Sunday's grand prix. "I wanted to give her a nice easy day in the qualifier. Coming out today I felt like we had a good shot. I told Ariel earlier that it might be our day and I'm thrilled that it was. Everything worked exactly to our plan."
Ivory TCS was purchased at the 2020 WEF Sport Horse Auction as a seven-year-old and has been climbing the ranks with Coyle. Their most recent successes include a CSI5* 1.50m win in Thermal, CA, and second in the CSI4*-W in Las Vegas, NV.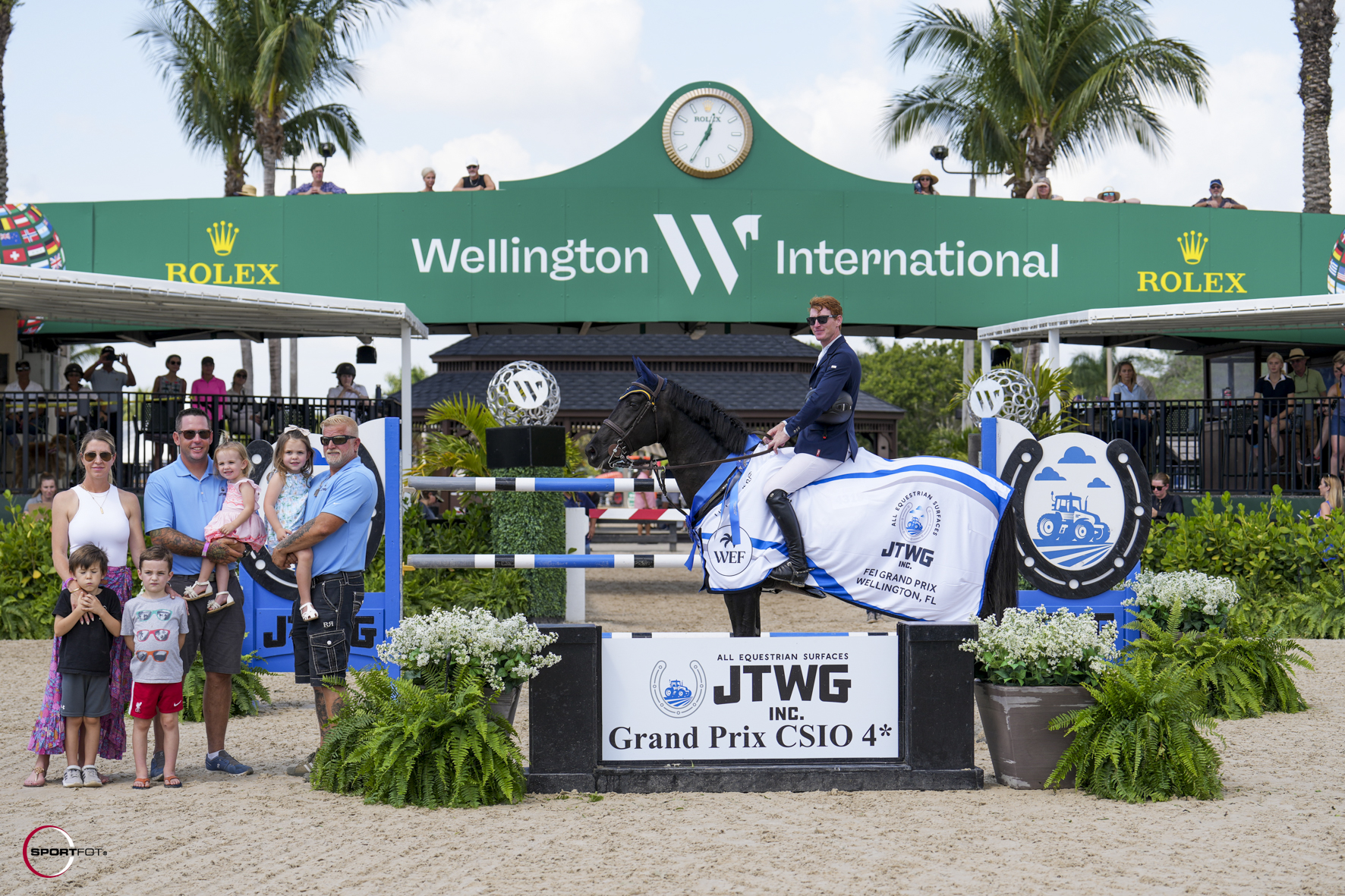 "She was bought to be sold and I've had a few people try her, but I have to say I'm delighted that she has not gone yet," admitted Coyle, who was presented as winner of the $226,000 JTWG, Inc. CSIO4* Grand Prix by Jaqui and Travis Gould, and William Harvey of JTWG, Inc.
To close the afternoon, winning groom and Ivory TCS' caretaker Greg DeBie was honored with the $500 Grooms Award, presented by Double H Farm, by Lenore Brown of Wellington International.Coyle also accepted the Niall Grimes "Sheers" Perpetual Trophy as top money-earning Irish rider during CSIO week at WEF.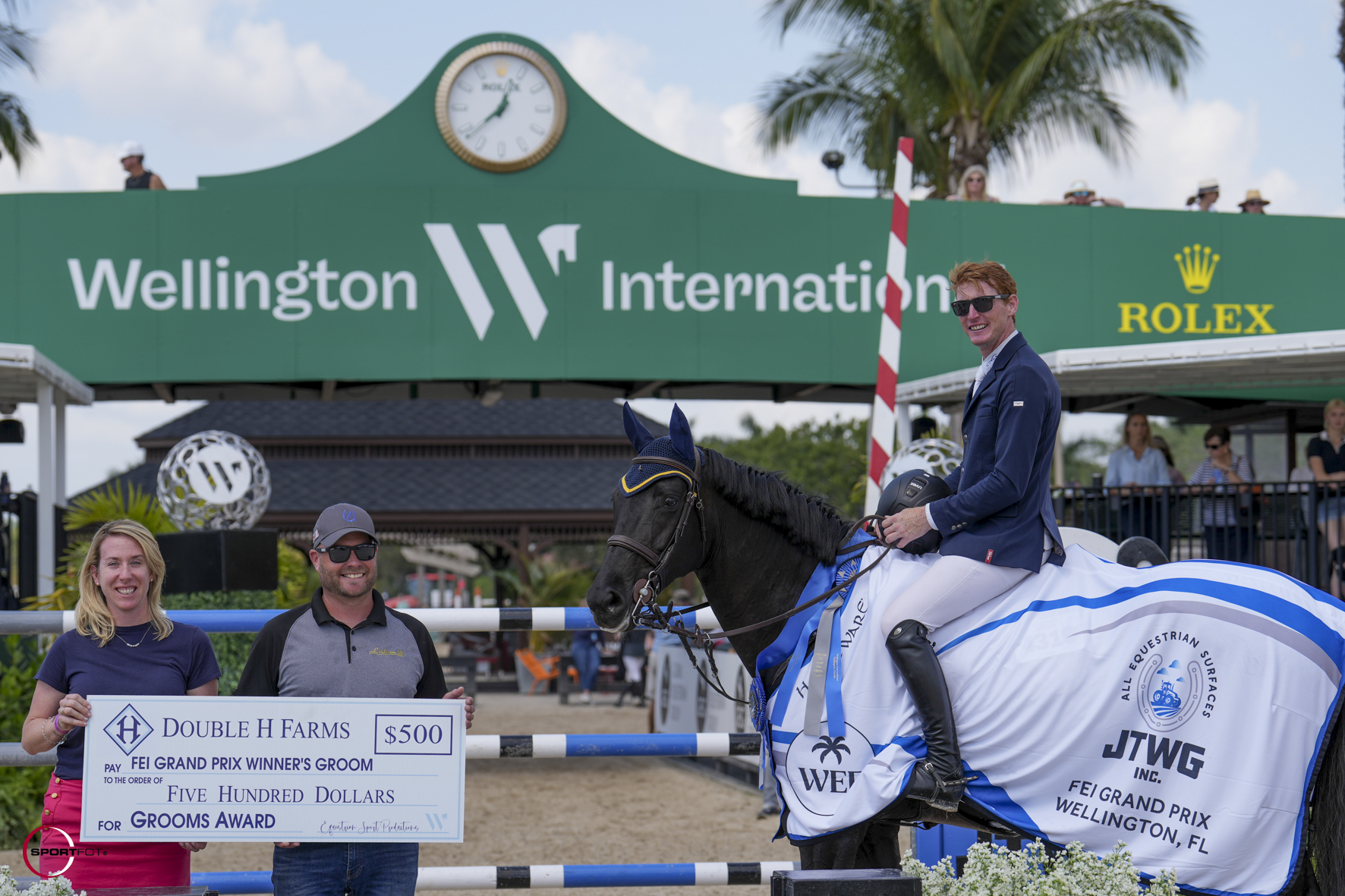 Earlier in the afternoon, Canada's Tiffany Foster was honored with the Kate Nash Boone Style Award, presented by Michael Meller, for her style of riding and ability to maintain sportsmanlike composure while competing during CSIO week at WEF.
Top five results: $226,000 JTWG, Inc. CSIO4* Grand Prix
Daniel Coyle (IRL) & Ivory TCS: 2013 Dutch Warmblood mare (Falaise de Muze x Ukato)
Owner: Ariel Grange & Daniel Coyle
Lacey Gilbertson (USA) & Karlin van't Vennehof: 2010 Belgian Warmblood mare (Fantomas de Muze x Quasimodo van de Molendreef)
Owner: Seabrook, LLC
Mclain Ward (USA) & Callas: 2008 Holsteiner mare (Casall x Coriano)
Owner: Beechwood Stables, LLC
Beth Underhill (CAN) & Nikka vd Bisschop: 2013 Belgian Warmblood mare (Emerol NOP x Nabab de Reve)
Owner: Rein Family, LLC
Daniel Bluman (ISR) & Gemma W: 2011 Dutch Warmblood mare (Luidam x Unaniem)
Blue Star Investments and Over The Top Stables, LLC
Stephanie Danhakl Sweeps Weather or Not Equestrian 3'6" Amateur-Owner Hunter 18-35 Division
The two tricolor ribbons awarded for champion and reserve in the 3'6" Amateur-Owner Hunter 18-35 division, sponsored by Weather or Not Equestrian, during WEF 8 both belonged to Stephanie Danhakl. Under the guidance of esteemed professional hunter rider Scott Stewart, Danhakl has long been a fierce competitor in the amateur hunter divisions and once again put forward multiple high-scoring rounds to rank highest in the division.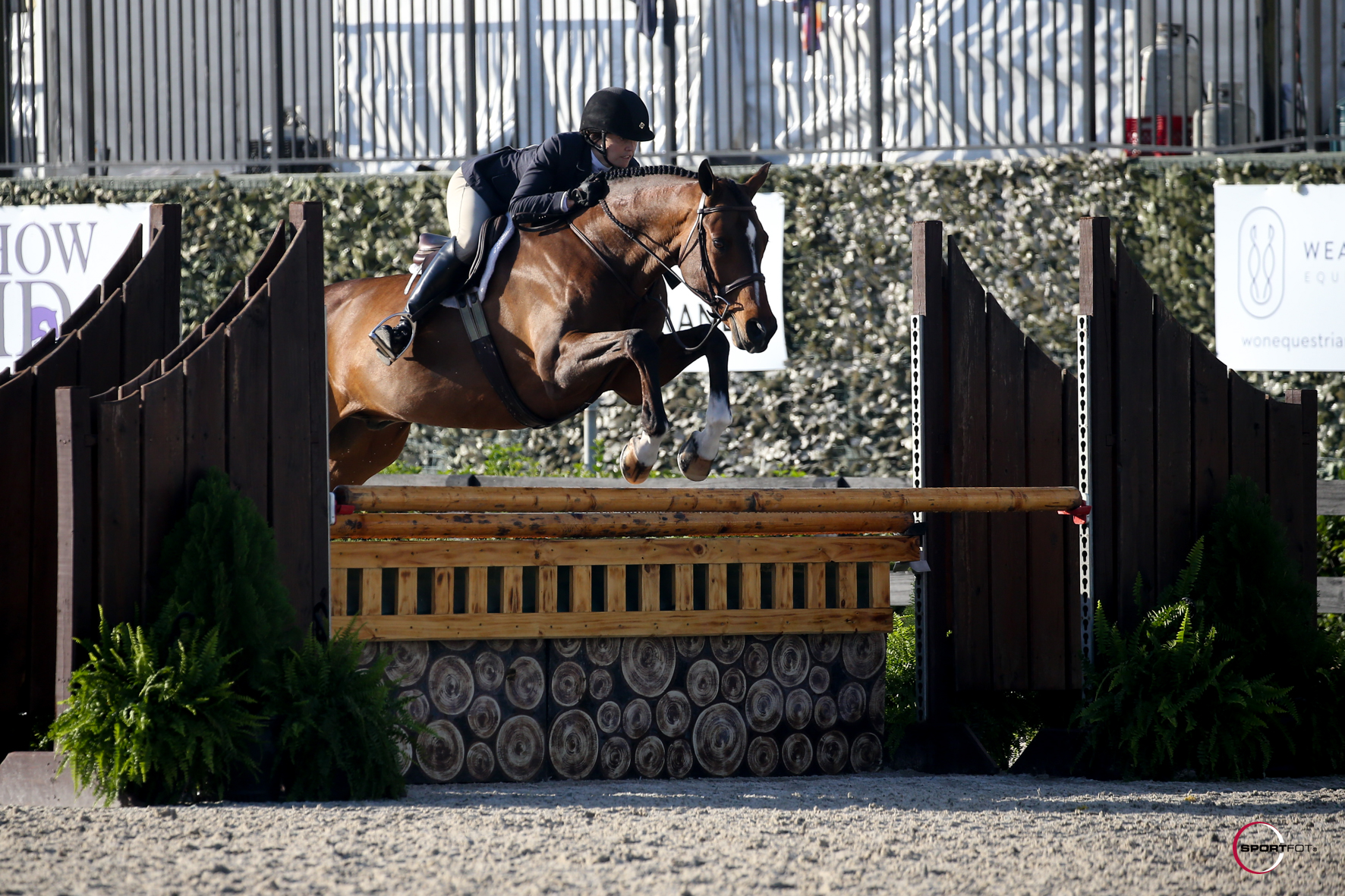 Piloting her long-time successful partner Brightside, Danhakl produced rounds that scored her two firsts, a second, and two thirds across the two-day division to take the champion title tallied from high-point scores that included an 87 and an 88. 
"The longer I've had him, the easier he has become for me," explained Danhakl of her 13-year-old Dutch Warmblood gelding. "We've had to be mindful with him because he's prone to bone bruising but as he's gotten older, he's much easier to get to the ring. That has definitely worked to his advantage this year."
Despite some of the challenges set forward with soundness, Brightside proved to be a star in the hunter ring from the first day, and Danhakl knew he was the horse for her the moment she sat on him.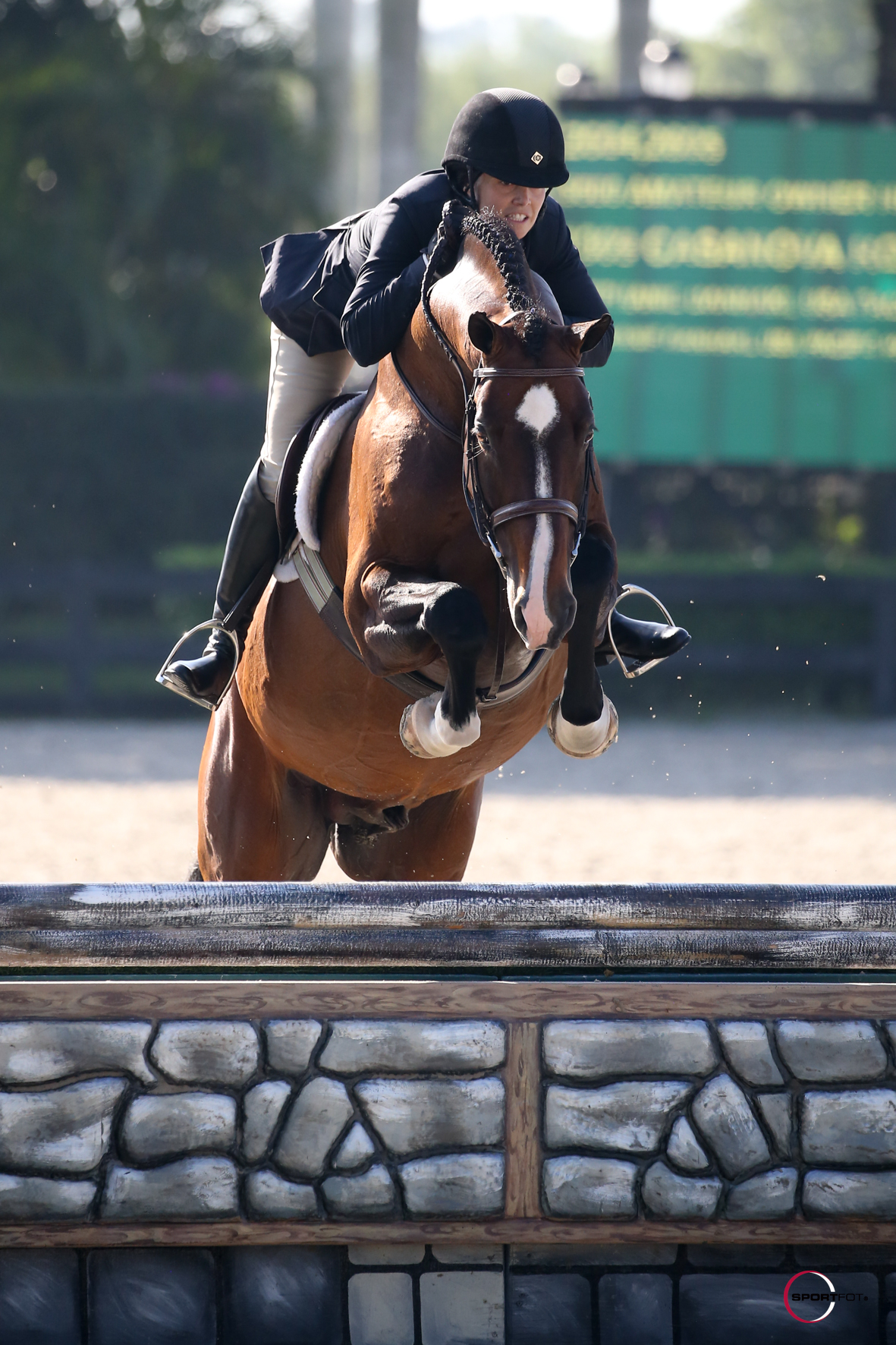 "I actually tried him all by myself when I found him because Scott and Ken were in Europe," she continued. "We clicked right away and I was immediately comfortable with him even though he was new to me."
On her less familiar mount, Casanova Royal, Danhakl found her rhythm and added up two 8th-place ribbons with two second places and topped off the class with a win over fences to secure the reserve champion ribbon. Although similar in appearance to Brightside, Casanova Royal was surprisingly a steal from the jumper ring in Europe and one that Danhakl took a bit longer getting to know. 
"He's a bit older so I think it is nice for him to have this easier job now, and he really has the brain for the hunters," Danhakl detailed of the 14-year-old Holsteiner stallion. "He has a motor from being a jumper, but if you can just sit quietly, he is the most straightforward, honest horse. If I do my job, he is guaranteed to do his."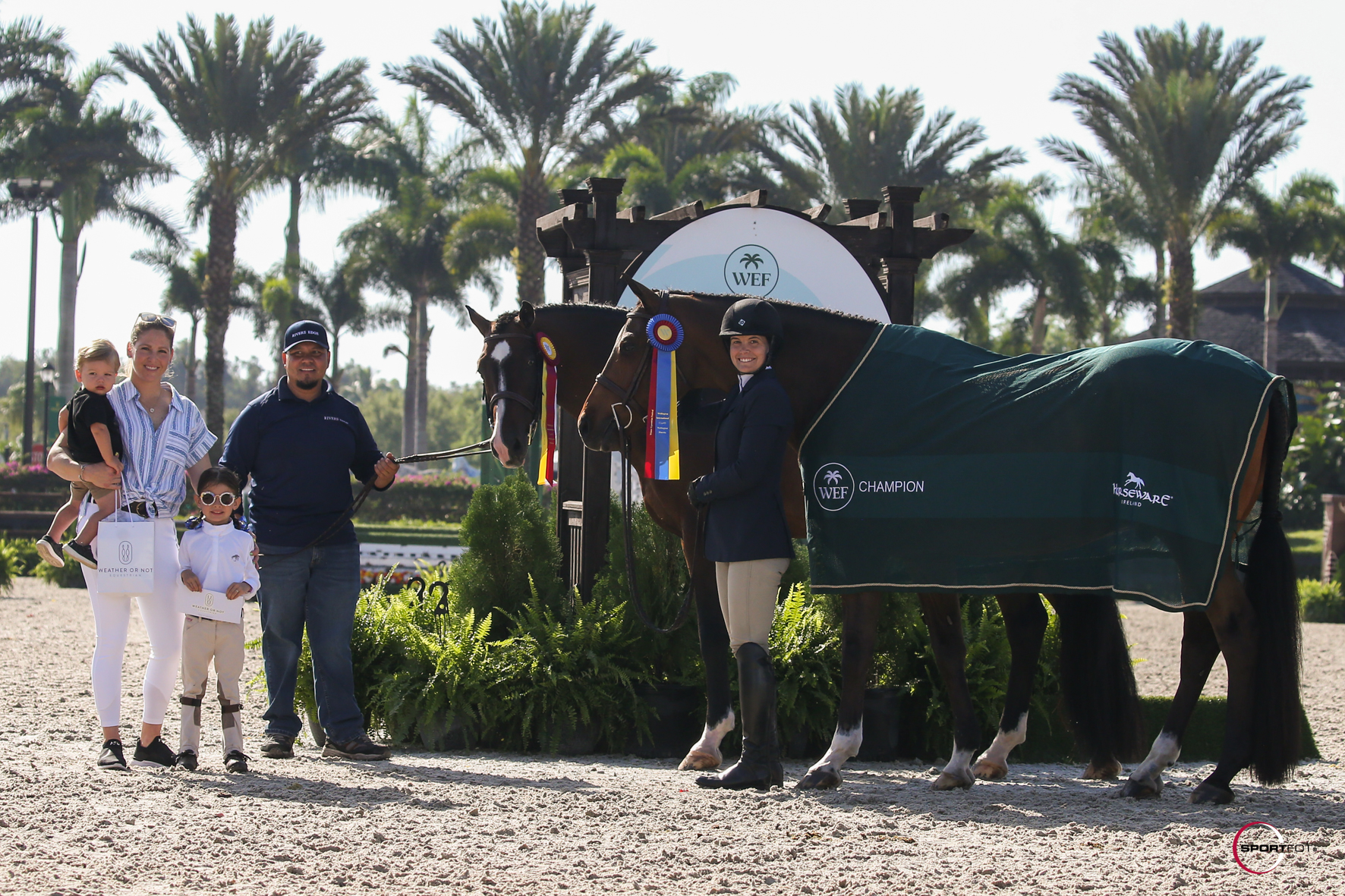 Jean McLaren's New Partnership Pays Off in $10,000 Barnwalkers NAL/WIHS Masters Jumper Classic 
Jean McLaren will be the first to tell anyone that riding and competing at her age 'is a gift,' and that gift continued to give this weekend as McLaren closed out competition in the International Ring during WEF 8 with a win in the $10,000 Barnwalkers NAL/WIHS Masters Jumper Classic.
McLaren's years of experience were put to good use as she piloted new partner Pearl Of Grey VHL to two flawless rounds and a first-place finish against 14 horse-and-rider combinations. The class was the pair's debut in the International Ring and only McLaren's second time showing the recently imported eight-year-old Dutch Warmblood mare (Cordess 2).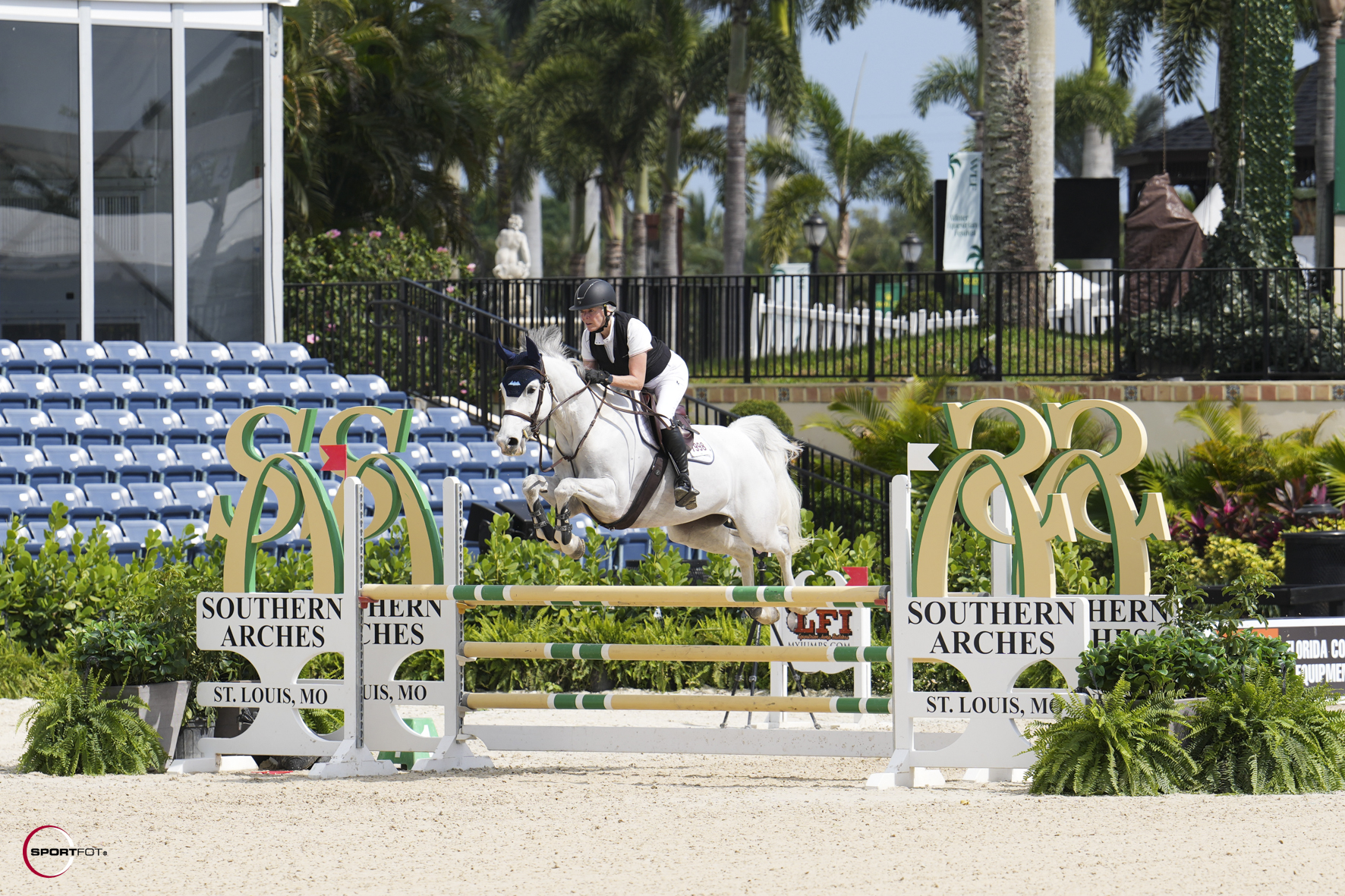 Anthony D'Ambrosio's final track of the week produced only five clears over the second course and McLaren saved the best for last as she returned towards the bottom of the order. The Masters division features jumper riders exclusively over the age of 50 and highlights them with classics taking place in the coveted International Ring. To hear McLaren tell it, it's the whole reason to come to WEF.
"To be able to ride in this ring is such a fabulous treat," she stated. "It really is the reason to come here for those of us that have been riding all of our lives and have never been able to get there under normal circumstances."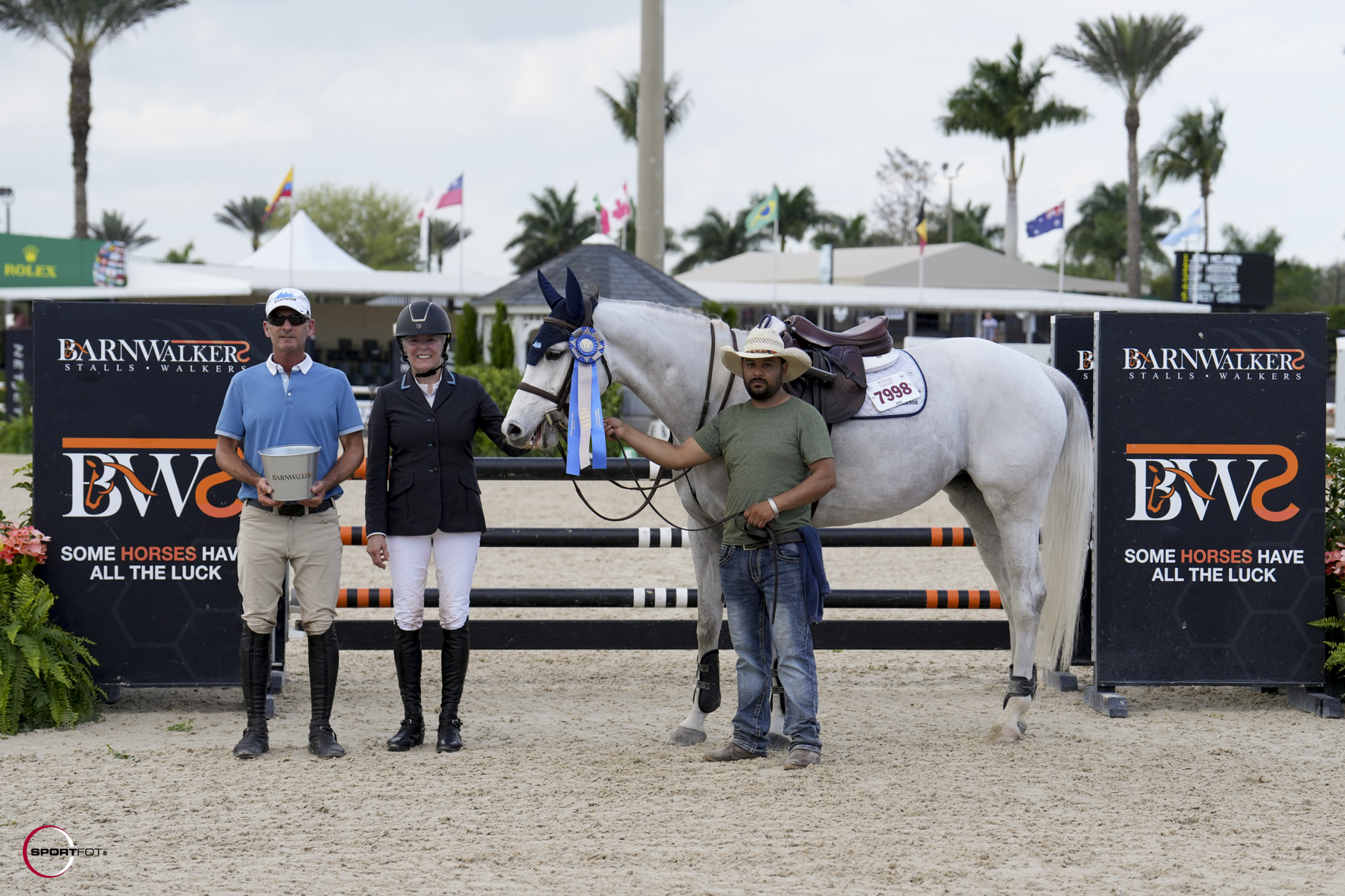 McLaren is a lifelong horsewoman, having ridden all through her junior years including competing at Maclay Finals at Madison Square Garden during her final year of eligibility. She put her time in the saddle on a ten-year hiatus as she attended school and started her career, then found her passion once again in the jumper ring. 
"To be able to come back to this sport as an adult makes you appreciate all aspects of it so much more," McLaren continued. "You are much more mature to begin with, and even though I'm not as strong as I was when I was a kid, I know I'm a much better rider now. I have more patience and more miles – age is a gift and I'm grateful for it."