Mavis Spencer, a rising star in the world of show jumping, is set to return to the Nations Cup under the lights this Saturday night as part of the NetJets U.S. Jumping Team. From her childhood in Hollywood to her current status as one of the top names in show jumping, Spencer has always been willing to work hard to achieve her goals. After a successful junior career, she became a working student and groom for some of the top equestrians in the game, including Kent Farrington and Neil Jones. Spencer attributes this time as pivotal to her current success, as she now runs her own program at Whitethrone LLC.
Spencer's recent success includes placing in the top ten in the Lugano Diamonds 5* Grand Prix with her horse Carissimo 25. As she prepares to compete for Team USA this week, we can't wait to see what she will achieve next. Read on to discover how Spencer paved her path to success, her appreciation for opportunities, and her thoughts on competing at Wellington International.
How did you get into riding?  
In the most cliche of fashions, my parents always told me that "horse" was my first word. I was the kid that made my parents pull over on the side of the road to look at the horses in the field. My aunt is actually the big horse person in the family, and she's the one that put me on my first horse. Funny enough it was the famous stallion, Galoubet, that she had retired at her farm in Massachusetts. I wasn't allowed to take lessons until I was five, so on my fifth birthday, I ran into my parents' room at six in the morning begging to get on a horse. My parents found a barn for me to ride at and from there I never gave it up.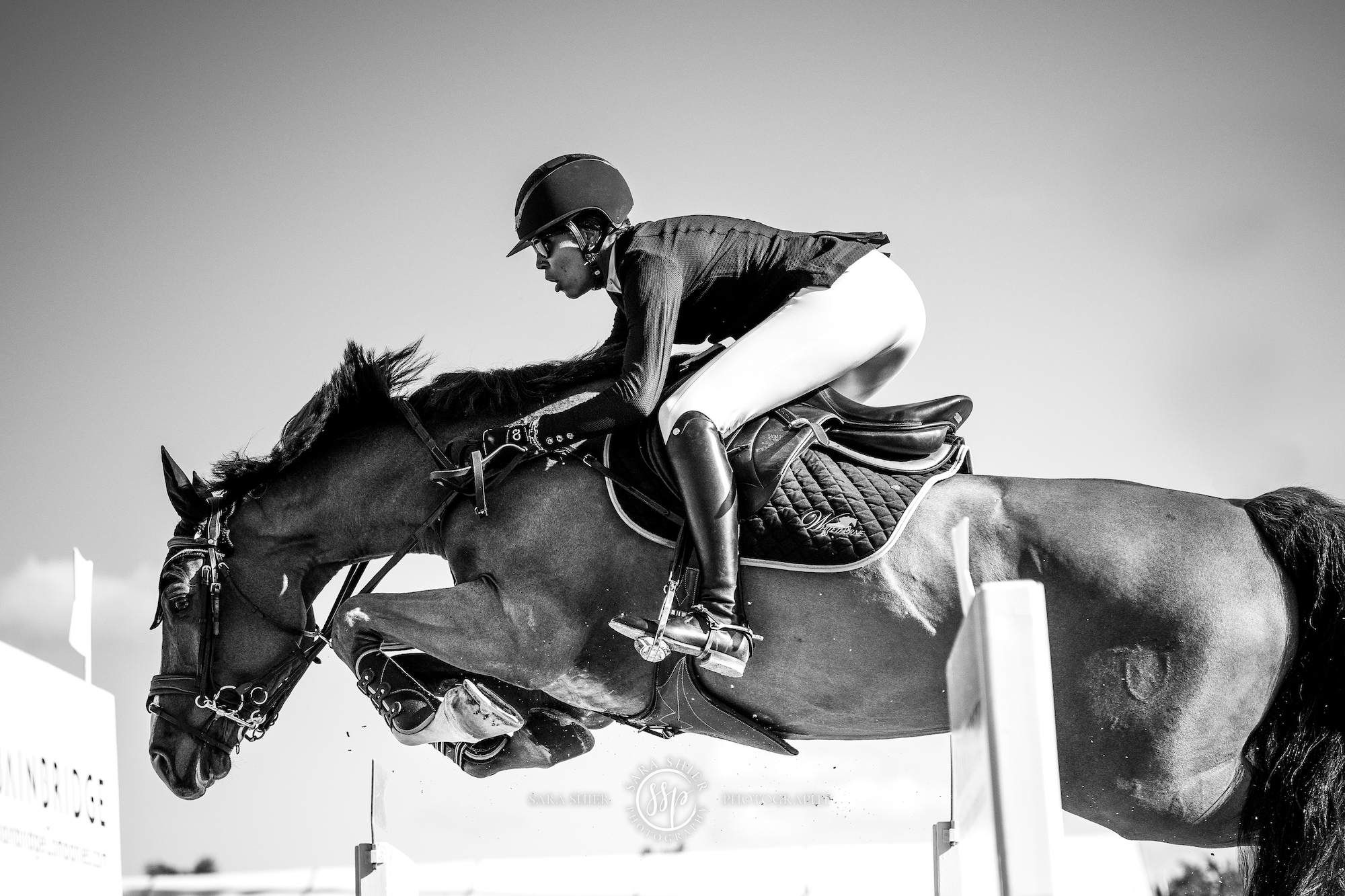 Before becoming a rider at the top of the ranks, you were grooming for those at the top. What did you take away from your time as a groom and working student?  
Working your way up in this sport is a path that I think people take for granted. I am under no illusion that I didn't have lots of opportunities as a junior, but I know I wouldn't be where I am without my time as a working student and groom. So many people just want to be a rider and don't realize that walking into the position I'm in now is so rare. I'm always open about being a working student because it taught me to always put your best foot forward and give one hundred percent to every opportunity that presents itself. Loyalty and hard work get noticed. The opportunity might not be what you want at first as far as the position goes, but I believe it's beneficial to put yourself into positions you can grow into. Hard work allows for greater opportunity. 
You've made it no secret what an honor it was for you to jump in your first Nations Cup last year at the Sunshine Tour. What did it feel like to put on the USA team jacket and compete for your country?  
When I got the phone call to be a part of the Nations Cup team for the USA during the Sunshine Tour last year, it was a big deal, especially being from the West Coast. It felt a lot like a panic attack the first time. It's such an honor and it really is such a small percentage of people that get to be a part of it, regardless of how hard you work and how lucky you are. Something that really stuck with me from the experience was how fantastic the entire group was. From my teammates to the managers, to the Chef D'équipe, everyone was out there rooting for you. For the most part, we were all in the same boat as riders. This was our first big Nations Cup, and it was a mutually expressed honor to be putting on that team coat.  As a team we all became friends so quickly, and as easy as it is to want yourself to be the best on the team and be so focused on your own performance, we were all out there rooting for each other.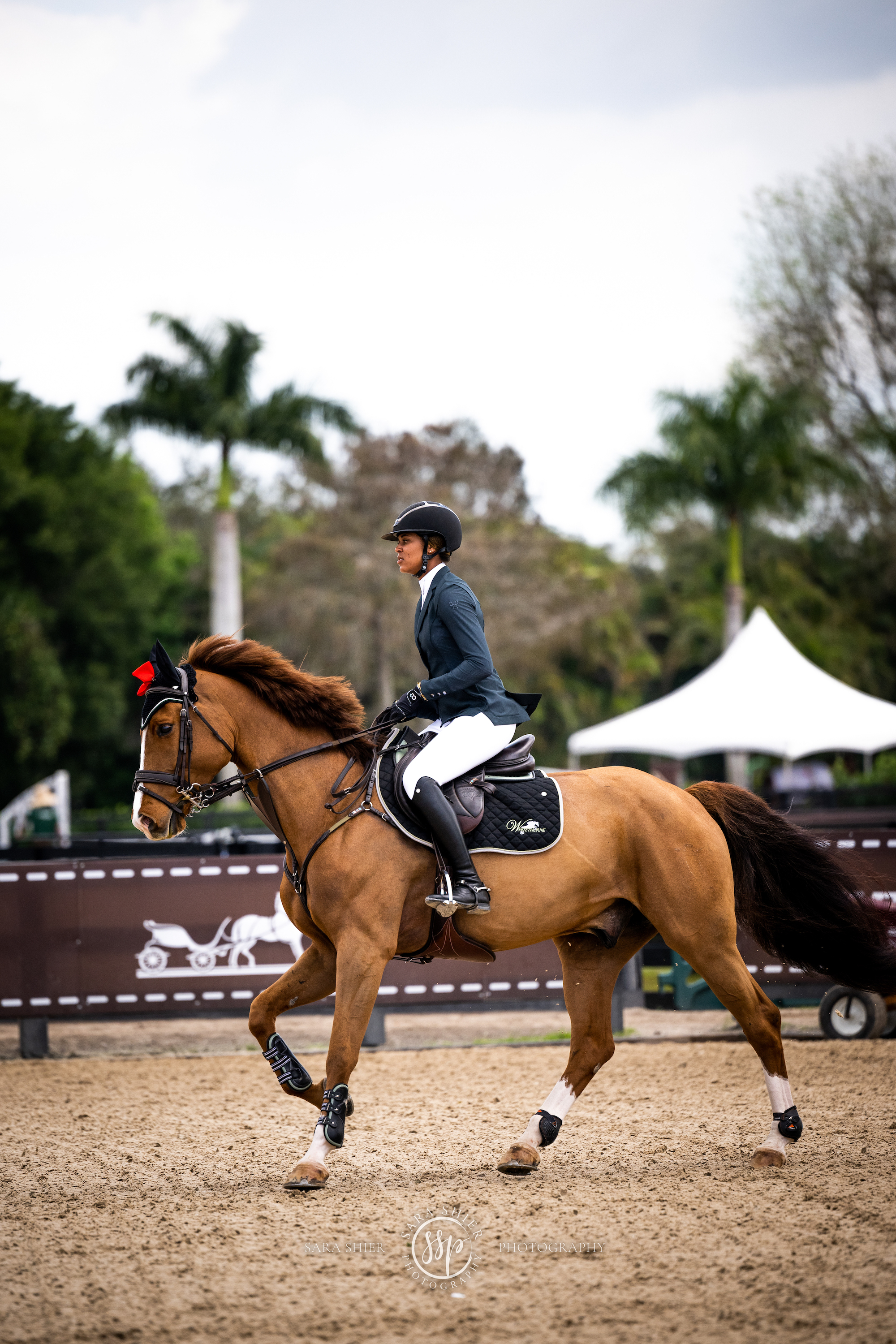 You recently jumped to a top ten placing in the Lugano Diamonds 5* Grand Prix under the lights here at Wellington International with your horse Carissimo 25 (a.k.a Curly). What qualities make horses like Curly so special?  
The thing that I love the most about him is that he's so brave. He came to me as a potential equitation horse, and he jumped his first FEI Class with me in December of 2021. When my team and I decided to turn him into a jumper, people were skeptical. I could feel his potential, it was just a matter of teaching him how to harness and use the power he already had. In the five-star here last weekend, he jumped about two-feet extra over a 1.60m wall with no hesitation. When he does things like that, I know it's not out of fear, it's because he can and because he has come to love his job.  He is a horse of trust. When he does something a bit out of the ordinary, I have to trust in his ability and in turn he will trust in mine. He always wants to give you all he's got and it's amazing what he has accomplished so far with the little experience he has. This was only his second five-star class and it's easy to say that he has surpassed every milestone we have set for him. 
How has the experience of creating your own program with Whitethorne LLC been different from working alongside other riders in the past?  
 I've either always developed young horses for somebody else or been part of the process for selling horses. The biggest thing about Whitethorne is that we're building something for the future. We have some horses that come through that we keep for a little bit of time and then they get sold, but horses like Curly and Con Calle, who I have here also, are horses for me to ride and produce and keep. Which is a position I've never really been in. When I worked for Neil Jones, that was probably the height of when I was jumping the big classes before now. He always made sure I had something to jump in the big classes, but those horses were also part of the sales program. Knowing now that most of the horses I have on my team don't have a deadline to be sold is something new for me. It has allowed me to create a deeper connection with my horses, getting to know them really well and being the one that gets to move them up in the ranks.  
What is your favorite part about traveling East for the winter season? 
The last time I competed here at WEF was in 2018. I returned here this year with a group of horses that were ready to compete at the level of competition that Wellington provides, and it makes all the difference. The caliber of show jumping and the atmosphere here is something you don't really get anywhere else, especially at this time of year. I remember jumping my first Saturday Night Lights a few years back and it being the largest two-star Grand Prix I had ever jumped. To be able to return this season, with a horse like Curly who can use this competition as experience under this belt is great for his future, and for the whole team.  
Keep an eye out for Mavis Spencer and her teammates in this week's Nations Cup!