Meet Joey Wolffer: Equestrian, Businesswoman, and More
Joey Wolffer is a unique rider at Wellington International, wearing many hats beyond being an equestrian. As a businesswoman and mom, Wolffer has found ways to balance her various passions, including her involvement in the Winter Equestrian Festival.
Wolffer's equestrian journey started at six on her family's farm. Today, she's rising in her amateur status and competing at the two-star level this season. However, Wolffer's involvement in the equestrian world extends beyond the ring. She's also involved in running 'Wolffer Wine,' a company started by her father, which has become one of the most distinct rosé brands in the nation and is a sponsor at Wellington International.
In this article, you'll learn about Wolffer's continued dreams in the equestrian sport, her experience as a successful businesswoman, and how she manages to balance her personal and professional life. Join us in celebrating the diverse backgrounds and passions of every rider at Wellington International, including Joey Wolffer.
How did you get into riding?

 
My dad bought a one-hundred-acre potato farm in the Hamptons that had a farmhouse on the property.  I was six years old and the woman who was the farm manager had a donkey and a pony. My mom had ridden horses so that piqued my interest and I started from there. I rode whatever horse I was available. I think I fell off about every day as a kid, riding ponies in the field and they would reach down for a bite of grass after a jump. We slowly developed a backyard farm on our property, but I grew up with tough European parents who for a long time didn't believe in me getting my own horse or pony, which I'm very grateful for because it helped me learn what it meant to work for something. Down the line, I ended up getting my own pony and training more seriously in the sport, but it wasn't until about 10 years ago when my father passed away that I got my own horse.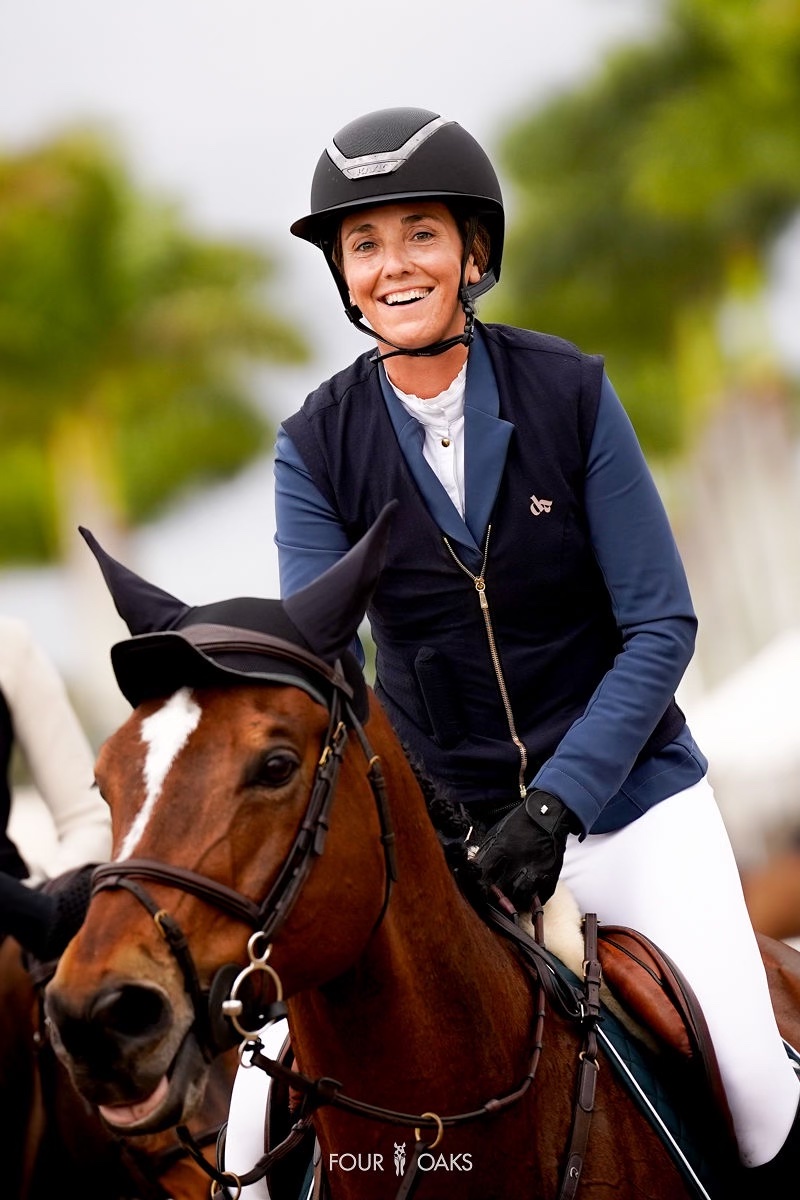 You took over your family business, Wolffer Wine, over 10 years ago. Since then, you've made it a household name in the wine business. What has it been like to work in an industry that has historically been dominated by men?  
My father started the business and when he passed away in 2008 it was handed over to my brother and I. Since then, my husband has taken the title of CEO and I have been in charge of brand strategy. When the company was handed to us it wasn't making much money, so it was in our hands to make it whatever we wanted it to be. Our approach had no expectations but big goals. Fast forward to today, I think Wolffer Wine has become its own brand and more than just a wine company. The wine industry is known to be a man's world, so to be a woman in this business and be successful is something special. As a woman in the industry, I felt like the underdog, but that's what gave me the drive to grow the business to all we had dreamed of. To have Wolffer Wine now intertwined with my passion is an indicator that my dreams for this business are coming true. 
You're a mom, a businesswoman, and an athlete. How have you been able to maintain your personal goals as a rider while juggling the rest of life?  
I'm a person who likes to work off a schedule and have a routine, and with the lifestyle I've created, I have no choice but to stay organized. I've always been a bit of an anxious person but that's what allows me to wear so many different hats. When I'm in Florida for the winter season, the work-life balance for me is actually a bit easier. I know I am here to compete, so having that consistent mental state and staying consistent in my riding helps me keep that focus. When you're in the ring, you have to remind yourself to be calm, which is so important for me because outside of the show ring things often move at a very fast pace. When I'm home for the summer it's a bit more difficult to stay consistent in my training while keeping up with work, life and family but I've had a lot of help to try and keep that balance. I'm currently training with Vasco Flores, and it's been a great fit. From our time at WEF to being back in New York for summer, he makes sure I'm keeping up with my training. He is based in New York as well during the rest of the year so he will come work with me at my farm on the quieter days and it's been an aid in keeping me in the saddle. 
 From a mental standpoint,  I have had to learn to accept that I can't be everywhere at once and I must make adequate time for everything, including myself. Saying no to certain things is okay if that means I can have more time with my kids or time to rest. Proper balance happens when you can stay focused.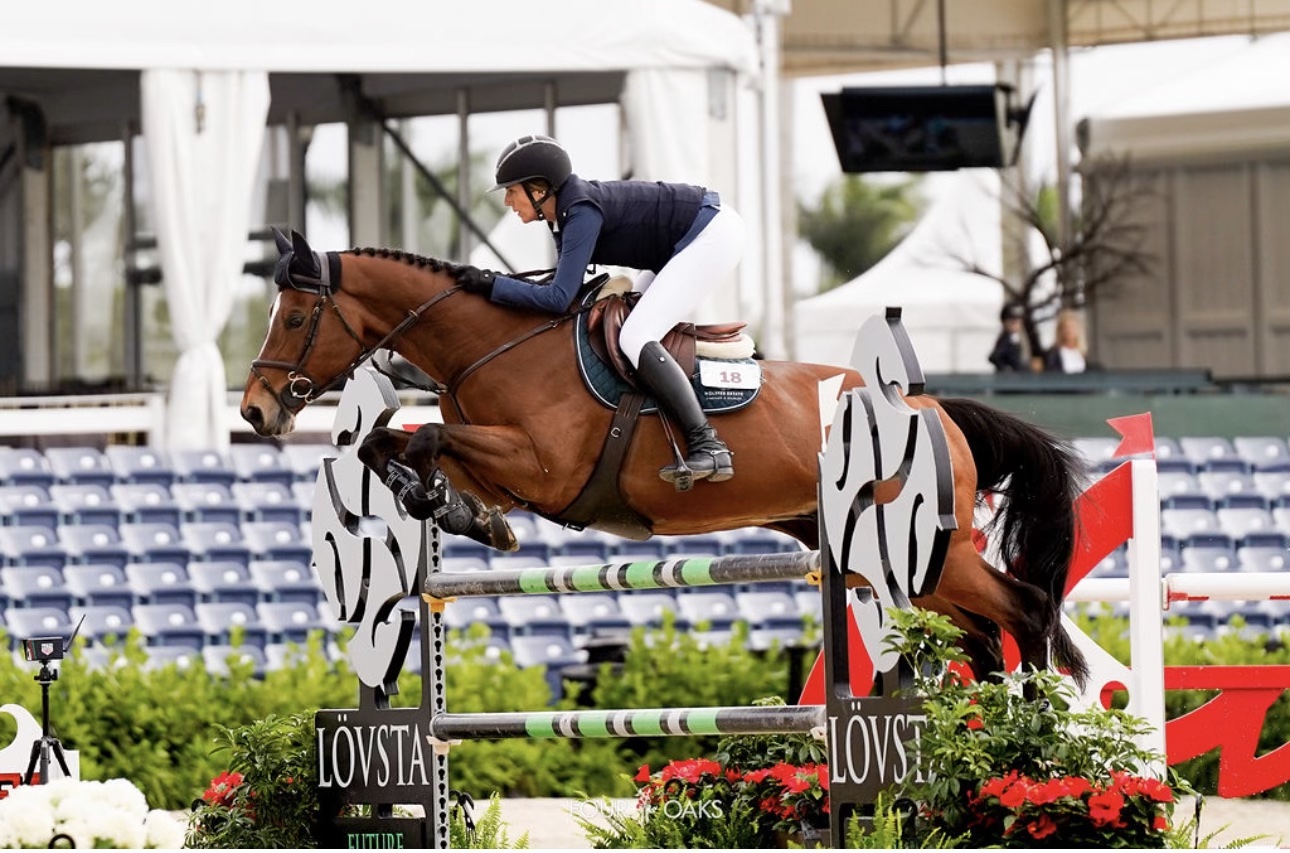 You grew up around horses, and now your kids are as well. What do you think is the importance of growing up alongside these animals?  
 There is so much to be said about what this sport and what the relationship with a horse can teach you. First of all, we are so privileged to be able to do this sport and be around these animals on a daily basis. That's really something I want my kids to understand because that understanding is one of the greatest things my parents taught me. It's so easy to get caught up in the money side of this sport, but if you put all of that aside, it comes down to the relationships with these animals. There is nothing like the bond that is formed with a horse. It is unspoken, and is built on risk, trust, love, and understanding. Learning to put yourself out there and take risks with your horse are qualities that can be carried with you anywhere. My older daughter is naturally very anxious and seeing her put her worries aside to go into a show ring and jump the jump she was afraid to go over will teach her so much in life. This sport and these animals teach you to be resilient, and I believe if you have resilience, you can do anything.  
What are your ultimate goals as a rider? 
Right now, I would say my biggest goal is to jump a three-star Grand Prix. I see that as a realistic goal for myself at the moment, and who knows that might change. I have three horses, one is a newer partnership, but he is completely capable of jumping at that level, however, I know I have to take time to build that relationship before we get there. Even if I had all the access in the world and could buy the perfect five-star level horse, I don't know that I aspire to jump at that level, but again that's the beauty of this sport, your goals can grow and adapt. I'm in a much different spot now than I was two years ago, especially on a mental level on what I believed I could achieve, so I want to keep going and achieve the goals I can attain now. 
Keep an eye out for Joey Wolffer the Wolffer Wine products throughout the rest of season!