Wellington International Announces the Return of Inaugural ESP Fall Series Horse Shows 
We are gearing up for the inaugural ESP Fall Series Horse Shows that will begin on October 5th and run through November 19th. Stall reservations and entries are now available. Space is limited. Make your reservations early! 
The Fall Series Horse Shows will feature USEF National "A" and Level 4 jumper competition. In addition, FEI CSI3* competition will be featured during the ESP Pre Charity horse show, offering more than $269,000 in prize money. Check out the 2023 ESP Fall Series Prize List below.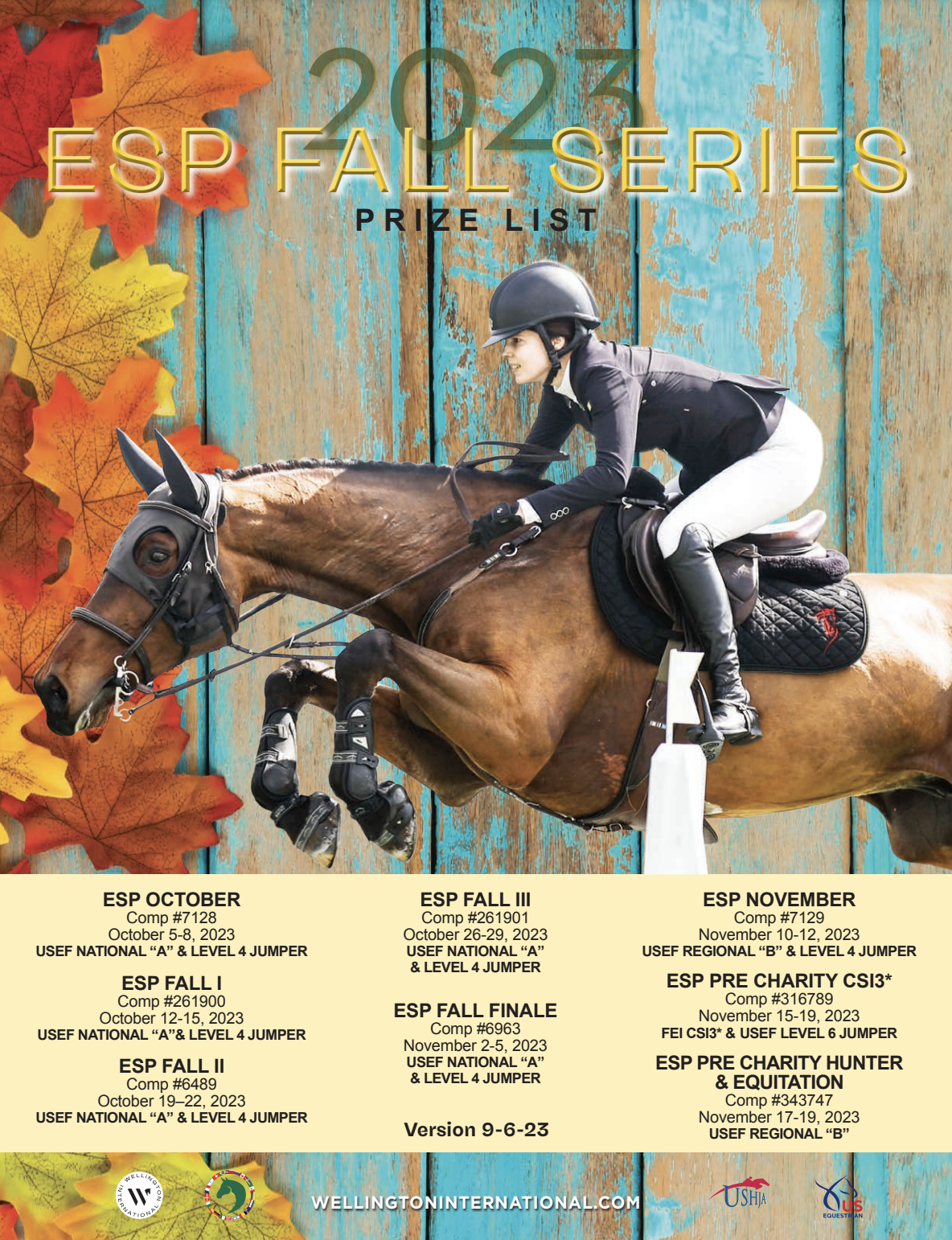 Highlight classes for the ESP Fall Series Horse Shows include: 
Multiple USHJA National Hunter Derbies each week 
$2,500 High Jr/AM Jumper Stake 
$2,500 Palm Beach Equine Clinic Medium Jr/AM Jumper Stake 
$2,500 Arion Sellier Low Jr/AM Jumper Stake 
Weekly $25,000 Grand Prix classes 
Weekly $10,000 1.40m Bainbridge Companies Open Stakes 
Young Jumper Classes 
SFHJA Junior, Pony, Children's and Adult Amateur Hunt Seat Medals 
$39,000 CSI3* 1.45m Power & Speed 
$6,000 Bainbridge Companies CSI3* 1.40m 
$39,000 FreeJump CSI3* Grand Prix Qualifier 
$39,000 Elite Horse Transport CSI3* 1.45m Speed Class 
$146,000 Flagler Insurance CSI3* Grand Prix

 

 
The ESP Fall Series Horse Shows lead up to the Holiday Series and the world-famous Winter Equestrian Festival horse shows. For more event information, entries, prize lists and schedules, visit www.WellingtonInternational.com. 
Reserve Your Tent Stabling Now!
Exhibitors joining us for the 2023 ESP Fall/Holiday or the 2024 WEF/Spring horse shows can now reserve tent stabling!
The 2023 - 2024 tent stabling plan includes four stabling options, each offering various lengths of time for stall reservation, resulting in cost-savings for long-term competitors.