The Winter Equestrian Festival's (WEF) Week 2 finished with a fantastic display of sport on the grass derby field at Equestrian Village on Sunday afternoon. U.S. Olympic team silver medalist, Kent Farrington and Landon stormed to a win in the CHF140,000 Florida Coast Equipment CIS3* Grand Prix over runner-up Daniel Coyle (IRL).
A sweeping course designed by Oscar Soberon (USA) welcomed an all-out foot race in the jump-off. The five who advanced were led off by Coyle and Ariel Grange's Gisborne VDL, a 13-year-old Dutch Warmblood stallion. They set the pace at 40.05 seconds.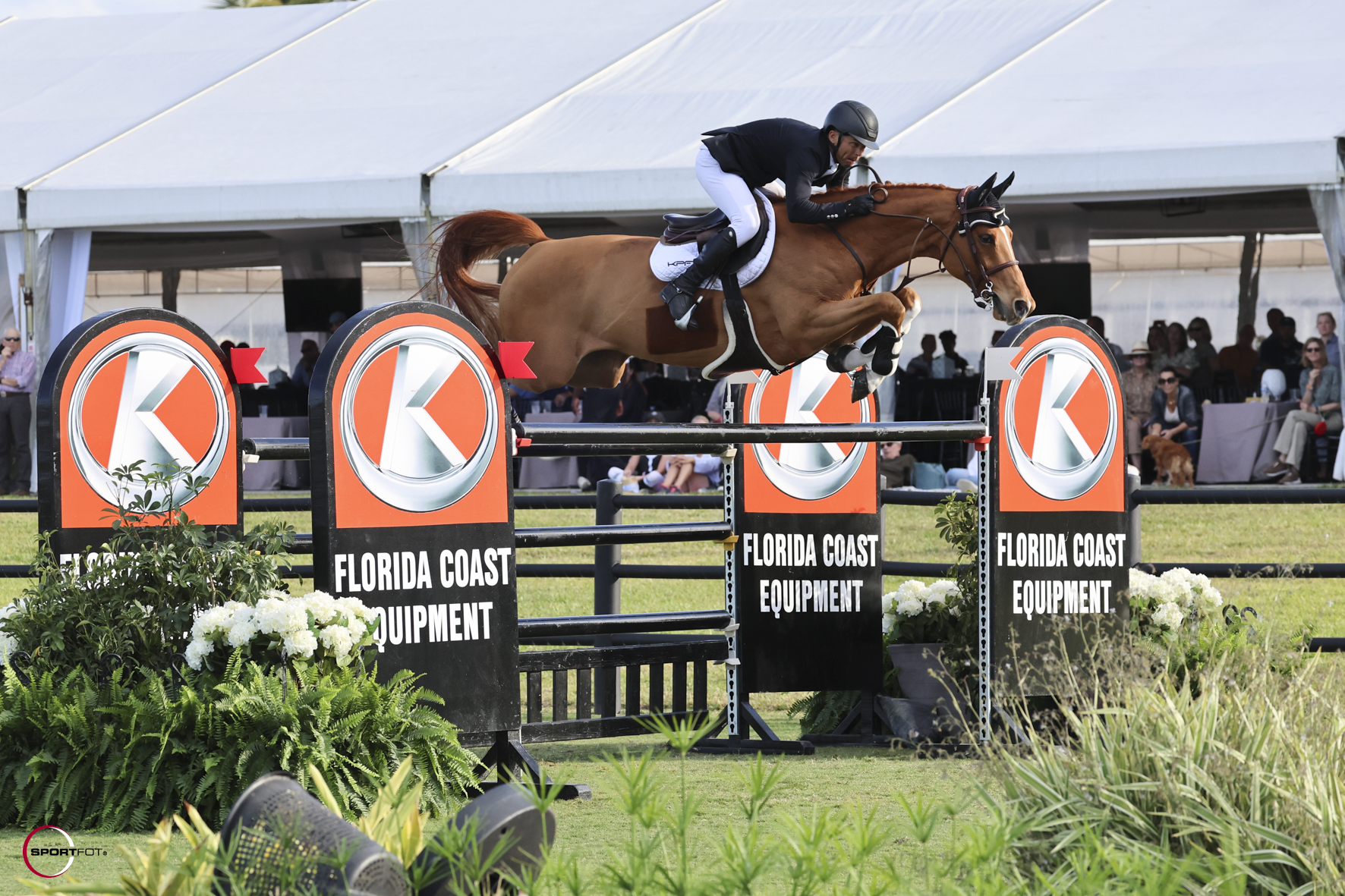 Returning immediately after, Farrington and Landon, a 10-year-old Zangersheide gelding quickly took over the lead by only fractions in 39.30 seconds. In the end, Landon, owned by Haity McNerney, could not be caught.
"Landon is a big-strided horse, but Daniel's horse is also a big-strided horse, and I thought he had an incredible round," said Farrington. "I probably have a little quicker foot speed than him, but it took a lot to beat that round today because he was dropping strides everywhere on a huge gallop the whole way around."
Landon's speed across the group proved enough to take top honors, the gelding's first grand prix win to date. "He's very careful and a competitive horse," said Farrington. "I have a great team coming up and he's one of that group, so it was an exciting day for the horse and our team."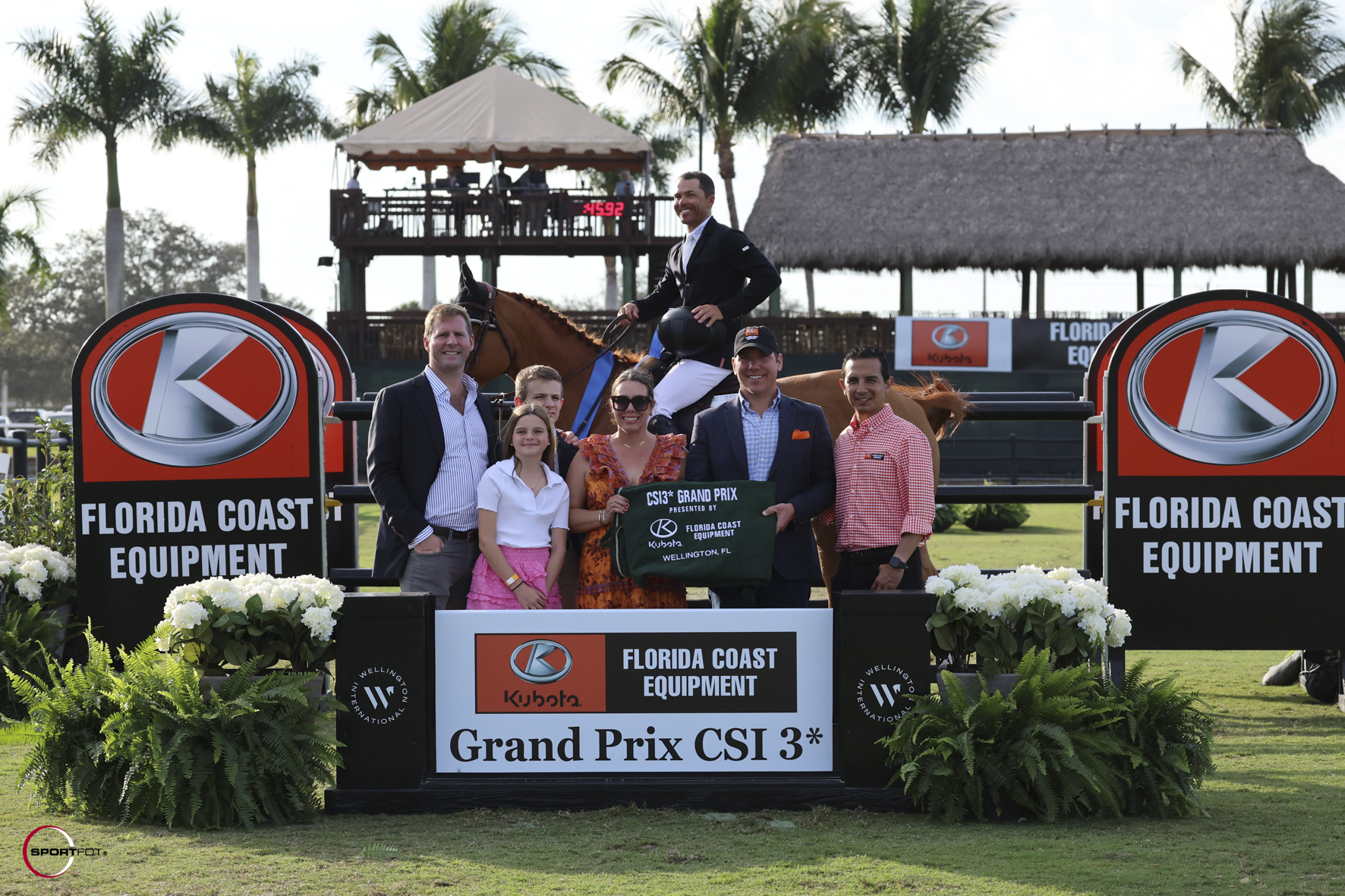 Of Landon's strengths, Farrington noted, "He has so much power and such a big stride, he has to learn to contain his power and we are starting to see that now. His rounds are getting much smoother and the jump off today I thought was great."
Coyle settled for second and Mexico's Tanimara Macari took third riding IB Chica for owner Eickendorf Horses and IB Berger GmbH.
The derby field at Equestrian Village received rave reviews during WEF 2, and Farrington echoed the sentiments, saying, "I think this is a great part of what we have here in Wellington; different venues are great not only for the sport but for the horses that are here for a long time. This is a huge grass ring and unique like an old turf field. I think it's some of the best footing you can find in the world which is a great set up for places like Spruce Meadows and Aachen. We love to jump here as often as we can."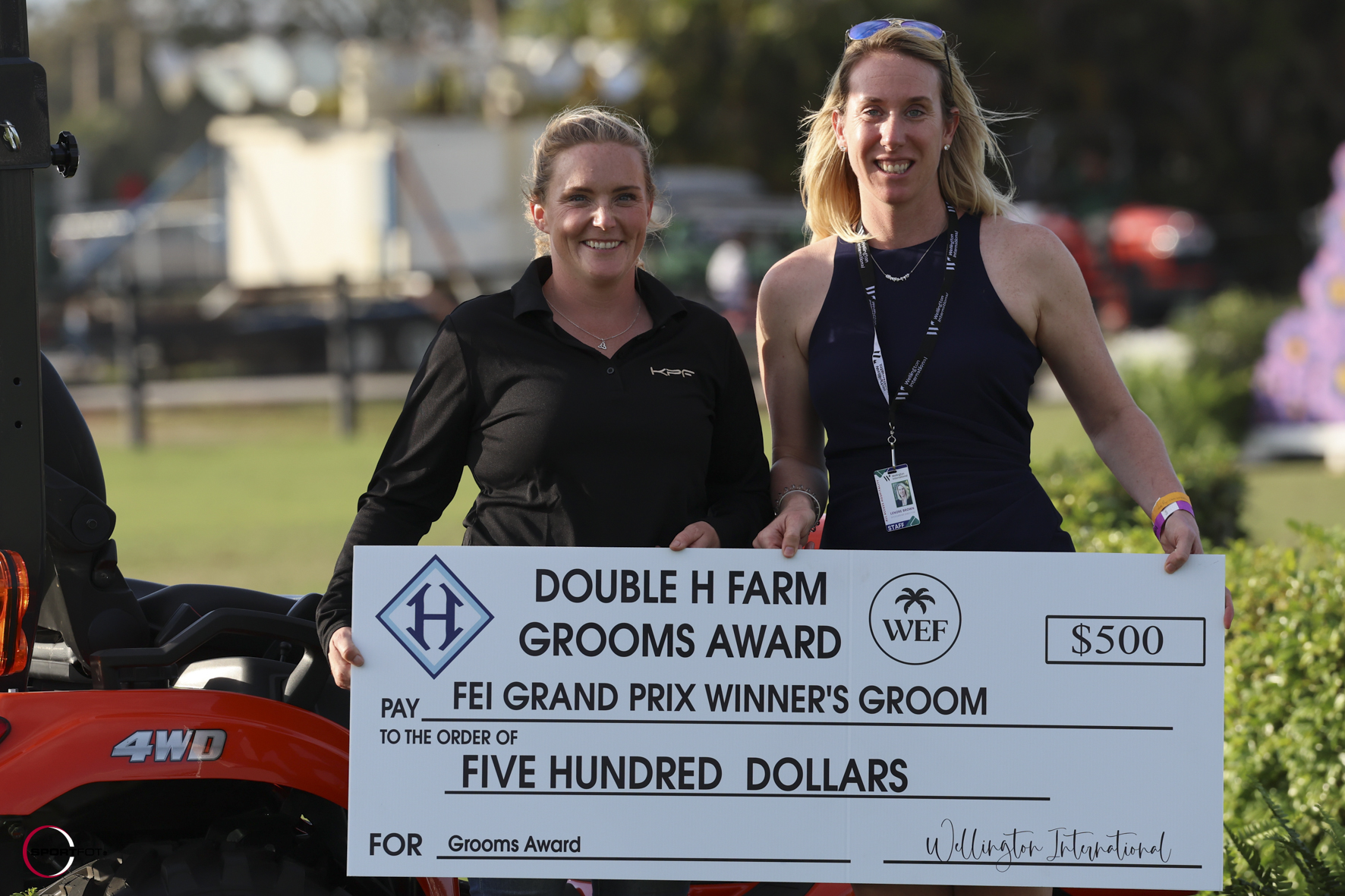 Winning groom and Landon's caretaker Denise Moriarty was honored with the $500 Grooms Award, presented by Double H Farm, by Wellington International's Director of Sponsorship, Lenore Brown.
WEF continues on January 25 with the NetJets CSI4*/CSI2*. View complete results HERE, and schedules HERE.
Top Five Results: CHF140,000 Florida Coast Equipment CIS3* Grand Prix
Kent Farrington (USA) & Landon: 2013 Zangersheide gelding (Comilfo Plus Z x Quadrillo)
Owner: Haity Mc Nerney


Daniel Coyle (IRL) & Gisborne VDL: 2011 Dutch Warmblood stallion (VDL Zirocco Blue x Goodtimes)
Owner: Ariel Grange


Tanimara Macari (MEX) & IB Chica: 2013 Hanoverian mare (Cador 5 x Escudo 19)
Owner: Eickendorf Horses & IB Berger GmbH


Charlotte Jacobs (USA) & Edocenta: 2012 Oldenburg mare (Eldorado vd Zeshoek x Dobel's Cento)
Owner: North Star


Laura Kraut (USA) & Calgary Tame: 2012 Selle Français gelding (Old Chap Tame x Kashmir van't Schuttershof)
Owner: Eugenie Angot and Stars and Stripes
Audrey Schulze Dominates CHF25,000 Hermes U25 Grand Prix
The final day of international competition during WEF 2 saw a stacked field of 75 up-and-coming show jumping combinations. The CHF25,000 Hermes Under 25 Grand Prix launched a full day of sport on the derby field. Audrey Schulze (USA) eventually emerged victorious aboard Darquito.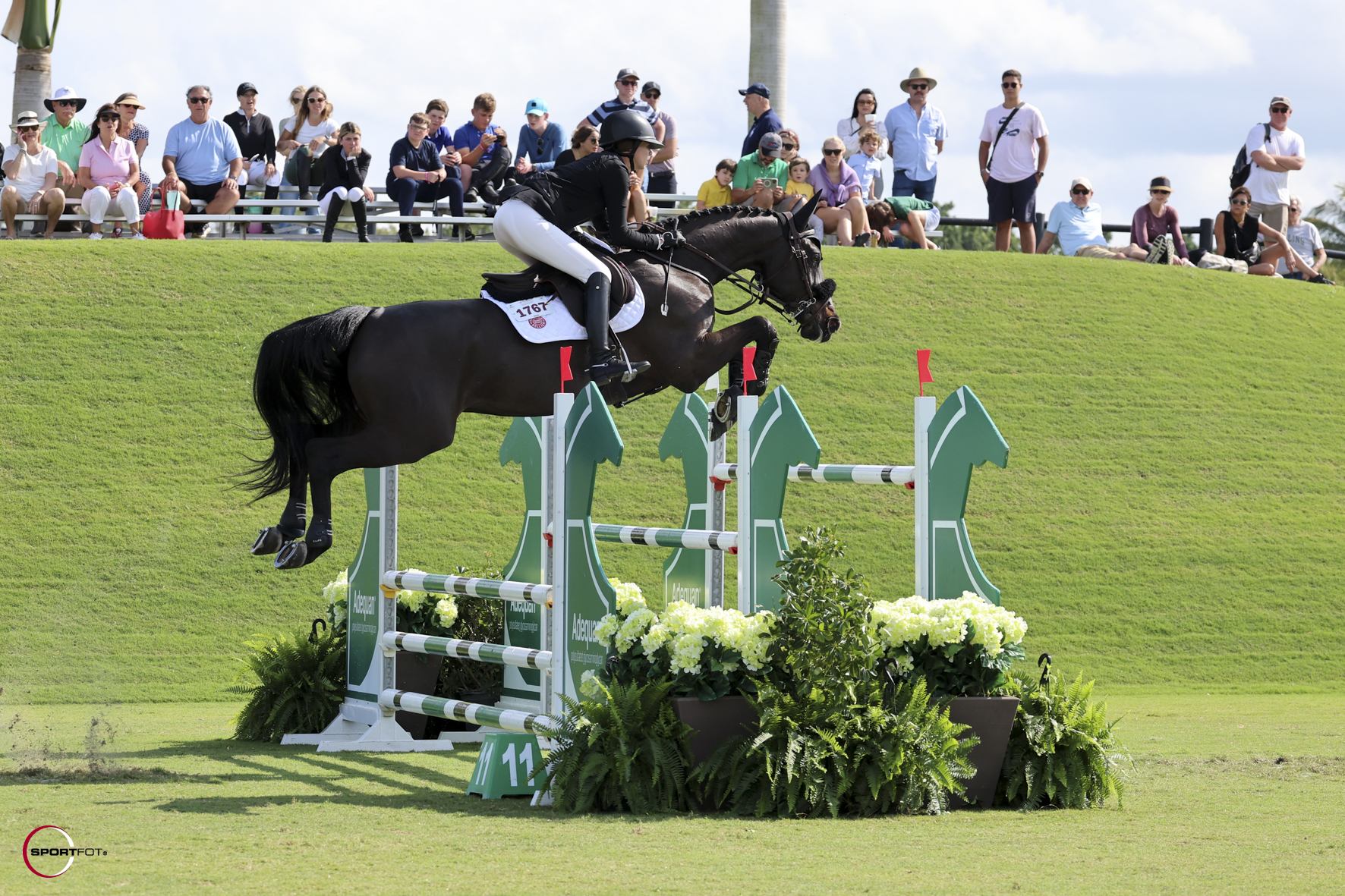 Oscar Soberon's first course utilized the expanse of the venue's grass field to advance a total of 22 combinations onto the short track. Three nations were represented in the callback order as Belgium's Zoe Conter and Ireland's Tom Wachman added their names to the otherwise-American dominated list. As the final horse landed, 13 pairs produced double-clear efforts over the two courses, but it was Schulze and Riverbrook Sport Horses' 12-year-old Hanoverian gelding Darquito (D'inzeo 6 x Contefino 2) that dashed the fastest over each of the obstacles in 38.18 seconds. 
Darquito is the former ride of Ireland's Andrew Bourns, and Bourns was the first to congratulate the pair as they left the ring.
"There were a lot of places without numbers where you just had to get on an open gallop, and luckily my horse has a huge stride where he just eats up the ground," detailed Schulze. "His stride is definitely an advantage in the jump-off because it's much bigger than any other horse I've ever ridden so it's much easier to do one less stride everywhere."
To hear Schulze tell it, the connection between the two was immediate and they had near instant success after teaming up.
"I got him in July and within the first week of showing him, we won a national grand prix," she recalled. The pair have since had success across throughout North America and represented the U.S. at the 2022 FEI Jumping Nations Cup Youth Final in Kronenberg (Netherlands). "It's been really great getting to know him at all of these different venues. He's so much fun because he's so brave and anything I ask him to do he's right there doing it."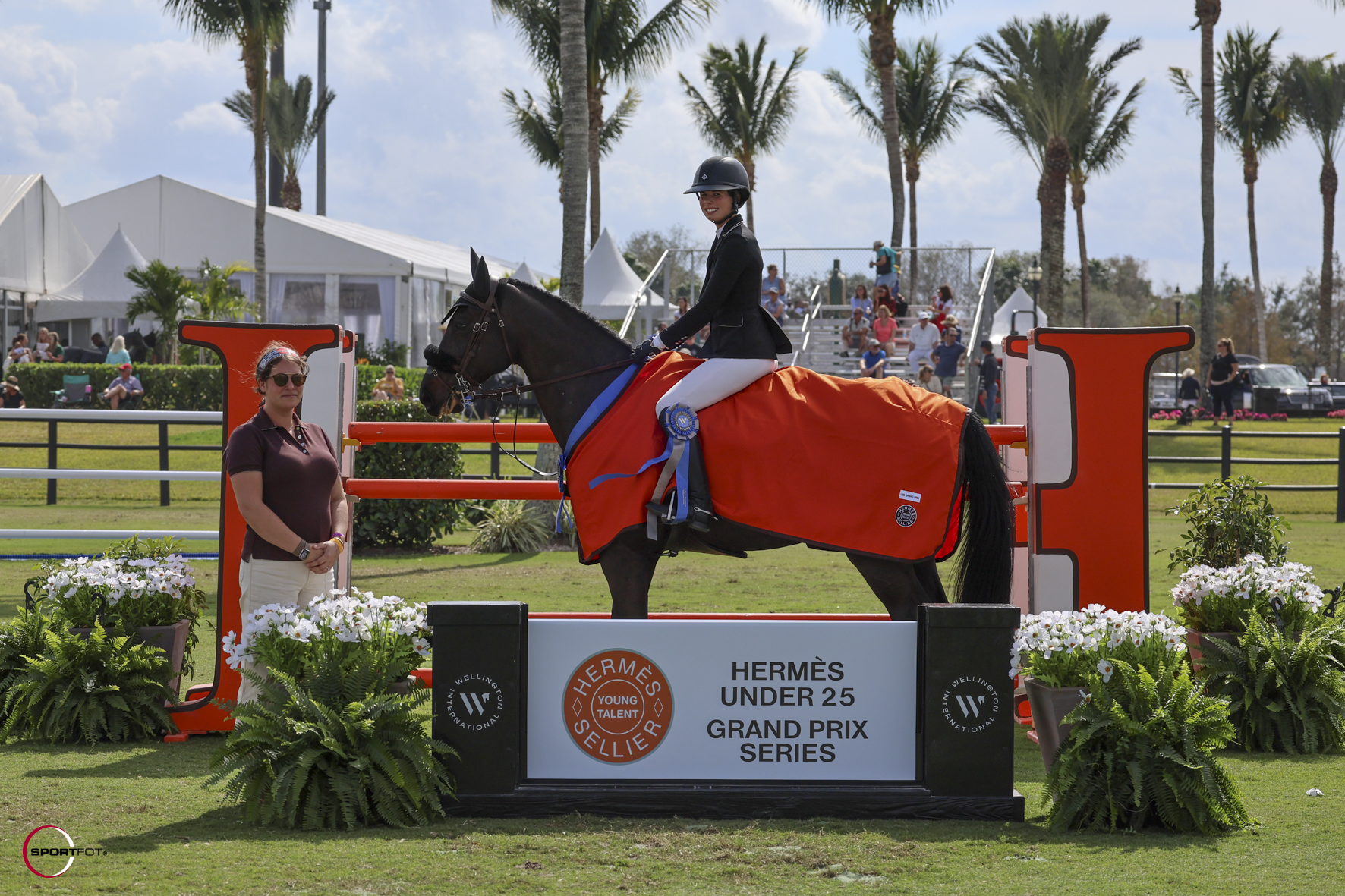 The 2023 season is the second for Schulze competing in the U25 division and the win proved to be an exciting start to the series. Natalie Dean (USA) and Marigold Sporthorses' Dotcom D'Authuit picked up the second-place ribbon landing a little over a second slower than Schulze on a time of 39.50 seconds. Mimi Gochman rounded out the all-female podium with a third-place finish from the Gochman Sport Horses' Cosmos BH.
With the first of the U25 weeks in the books, Under 25 riders are in a race for the final. The 2023 Hermès Under 25 Grand Prix Series winner will take home an Hermès Saddle, a $10,000 store credit to Hermès, and will be invited to compete at a select show or tour in Europe, with round-trip transportation for one horse generously provided by the Dutta Corp.
Top Five Results: CHF25,000 Hermes U25 Grand Prix 
Audrey Schulze (USA) & Darquito: 2011 Hanoverian gelding (D'inzeo 6 x Contefino 2)
Owner: Riverbrook Sport Horses


Natalie Dean (USA) & Dotcom D'Authuit: 2013 Selle Français mare (Diamant De Semilly x Quidam De Revel) 
Owner: Marigold Sporthorses


Mimi Gochman (USA) & Cosmos BH: 2013 Zangersheide stallion (Chellano Alpha Z x Artos Z)
Owner: Gochman Sporthorses


Tanner Korotkin (USA) & Ideal: 2012 Swedish Warmblood gelding (Cardento 933 x Cortez)
Owner: Castlewood Farm Inc & Sandalwood Farm


Zoe Conter (BEL) & La Una: 2011 Oldenburg mare (Chacco-Blue x For Pleasure) 
Owner: Stephex Stables
Gochman Impresses in Amateur-Owner Hunters
The Weather or Not Equestrian Amateur-Owner Hunter 3'6" 18-35 division concluded on Sunday during WEF 2 in the E.R. Mische Grand Hunter Ring. Sophie Gochman, a familiar face in the hunter ring from the pony ranks to the junior hunters, is now a force in the amateur-owner divisions. The 20-year-old piloted Colter, a 2014 Hanoverian gelding by Franziscus to the top tri-color ribbon.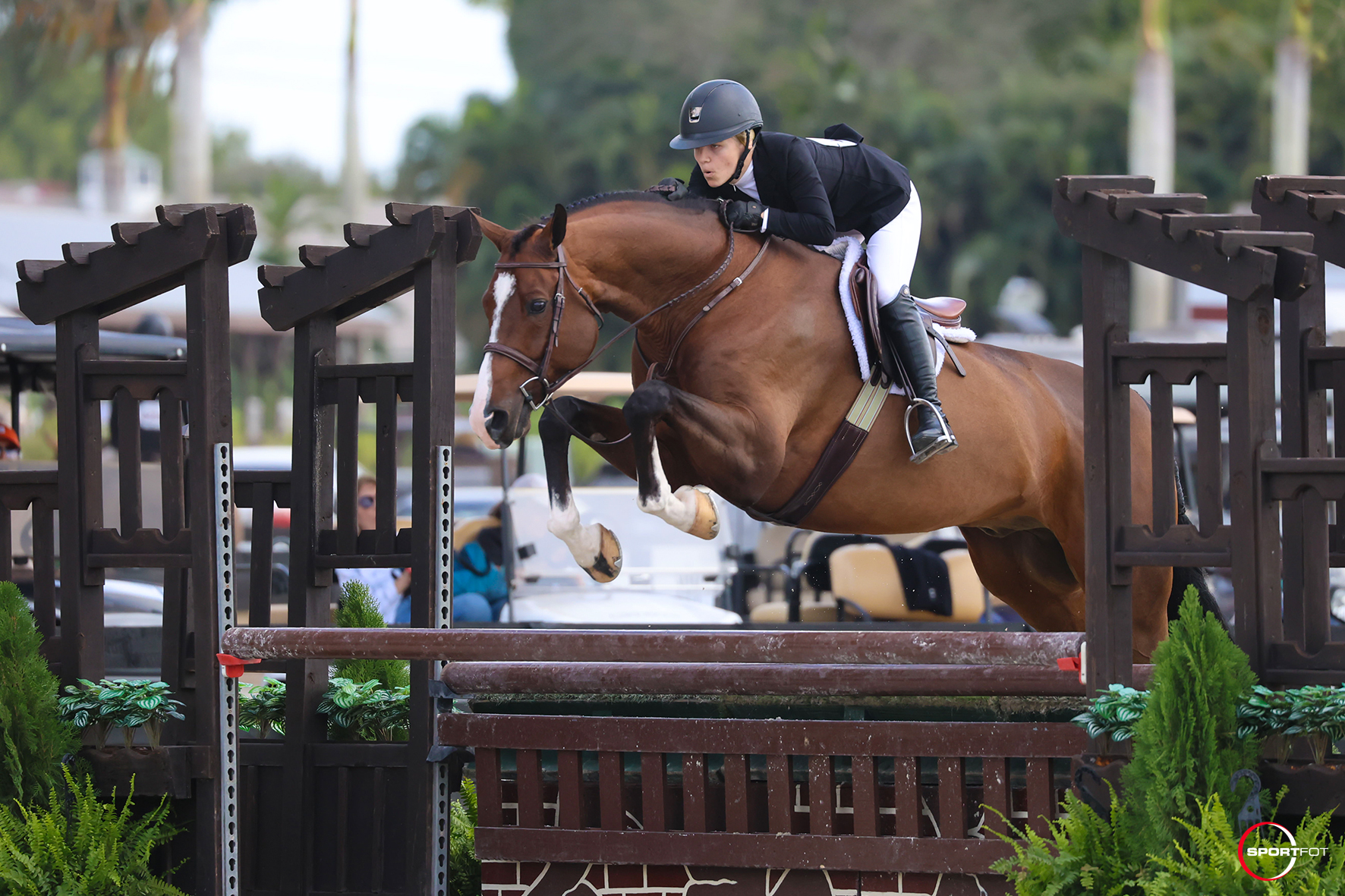 "Colter is green so I'm working on just being calm and being in the hunter rings again," said Gochman, who recently took a break from the hunter discipline show ring for a time. "I was focused on trying to be still and calm and it worked out pretty well.
"Coming back to the hunter ring after focusing on jumpers for a couple years has given me a new appreciation for it," continued Gochman. "There is so much technical work that I think I forgot about, so it's good to focus on that again."
Gochman guided Colter to two victories over fences during the division that spanned two days. Their high score bested the rest at an 89.
"This is actually my third show on him," said Gochman of the mount that came into her sting during the summer of 2022. "I got him in August but we are having a great time together."
Reserve champion honors in the Weather or Not Equestrian Amateur-Owner Hunter 3'6" 18-35 division went to Aphrodite Papandreou aboard Easton Blue.