Israel's Daniel Bluman made careful plans for Gemma W this season, plans that paid off on Thursday with a victory in the $146,000 Adequan® WEF Challenge Cup – Round 12, a qualifier for the $500,000 Rolex CSI5* Grand Prix on Saturday. The Rolex-sponsored finale of the 13-week Winter Equestrian Festival (WEF) runs through April 2.
Olympic course designer Guilherme Jorge (BRA) set the testing five-star track where 15 pairs jumped clear and represented 10 nations over the tie-breaking short course. Bluman and Gemma W, a 12-year-old Dutch Warmblood mare (Luidam x Unaniem) were uncatchable in 36.5 seconds, nearly two full second faster than the nearest challenger.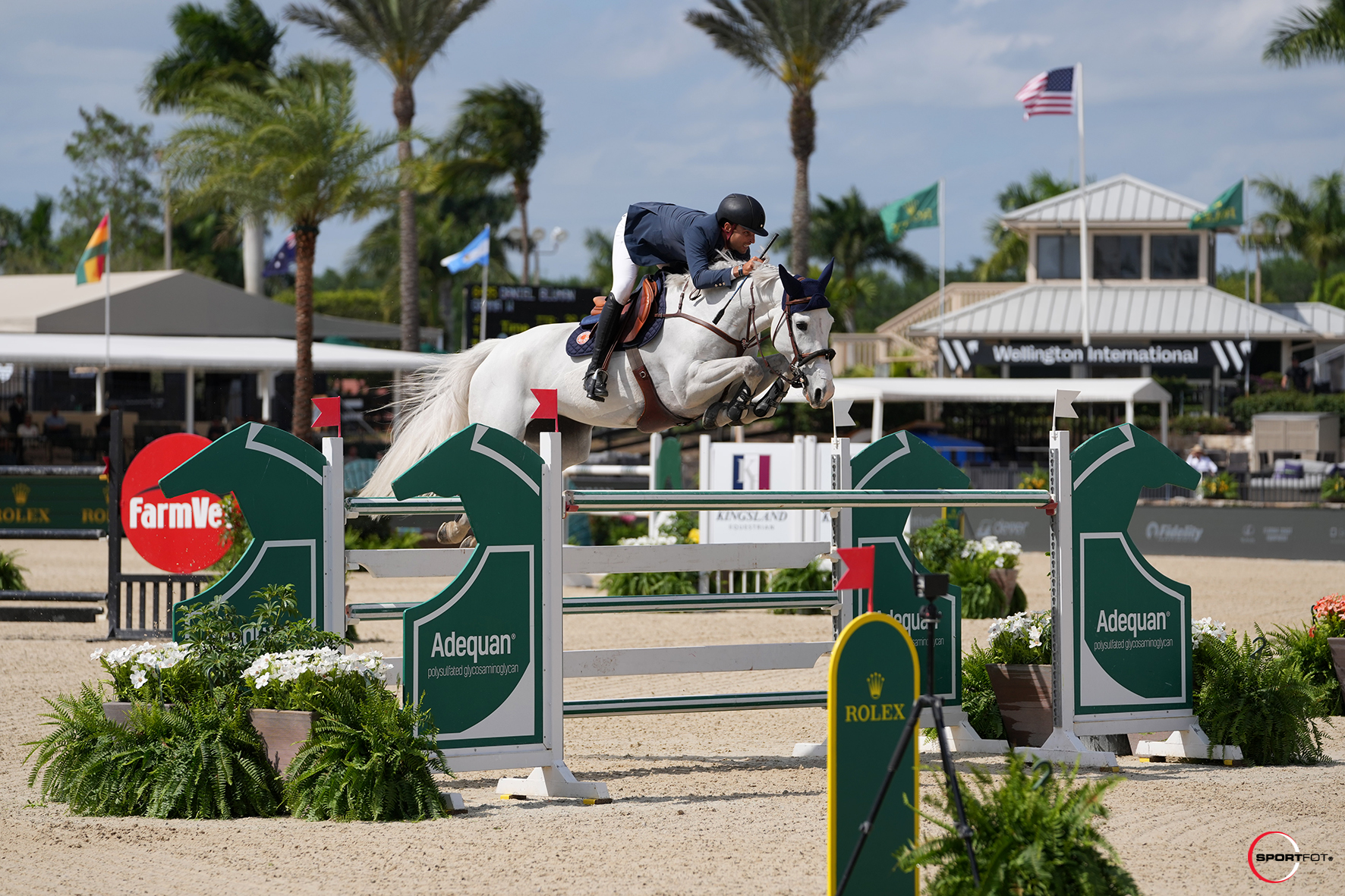 Gemma W, owned by Blue Star Investments and Over The Top Stables, picked up a top-five finish in her only other appearance at WEF this season – a CSI4* grand prix during Week 8. Since then, Bluman has had her fully focused on making a big impact during WEF 12.
"Gemma had a very successful 2022 and I've been taking it easy with her and not jumping a bunch; the plan was to have her fit and ready for this week to come and attack this grand prix qualifier," said the 33-year-old two-time Olympian. "She was fresh, and the plan was to do the leave outs everywhere and use her ground speed to put in a competitive time with enough pressure on the couple riders after me."
Bluman is no stranger to success during Rolex Week at WEF after finishing second in the Rolex CSI5* Grand Prix in 2022 on Ladriano Z and 2019 with Gemma W.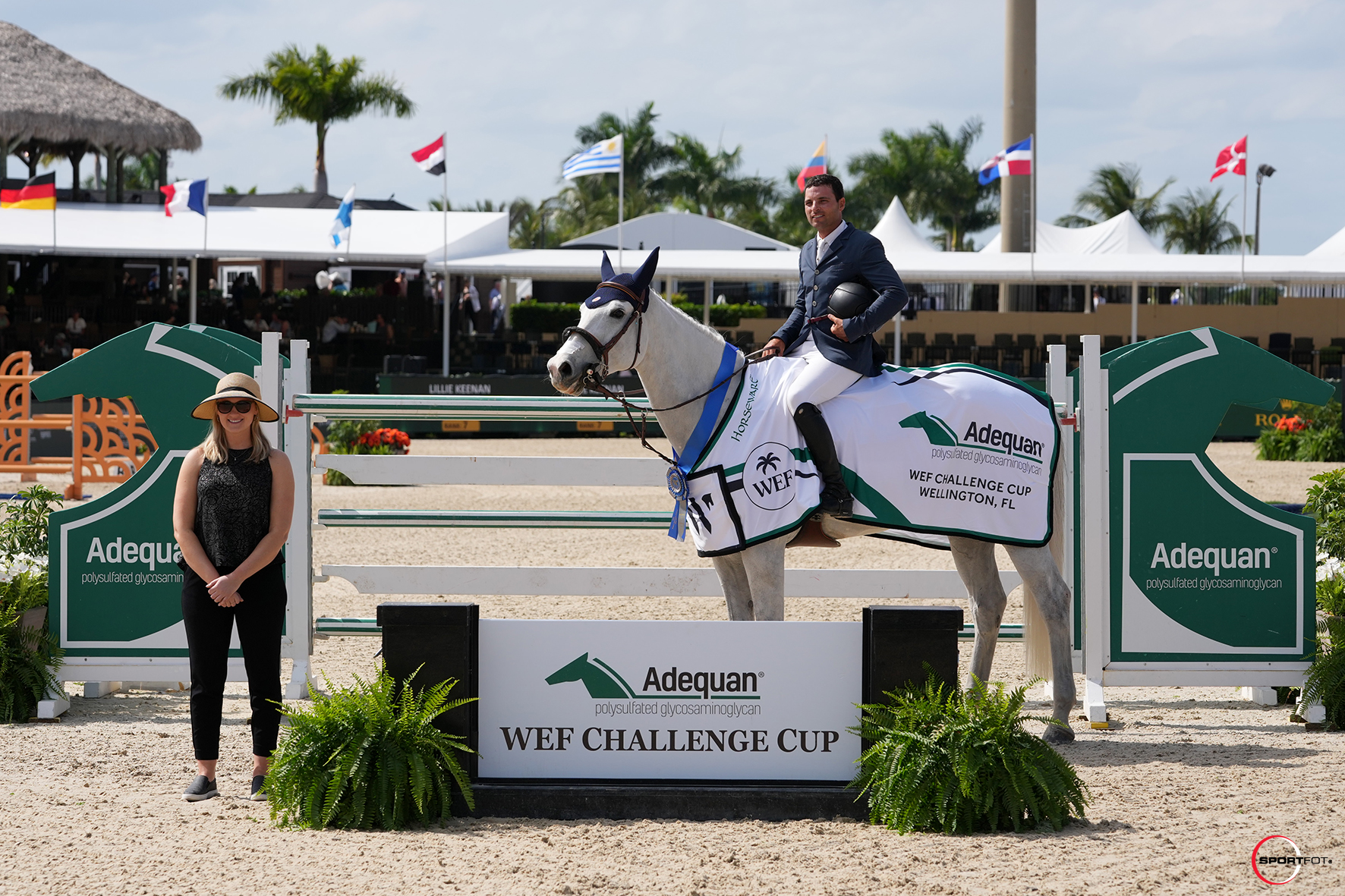 "The Rolex Grand Prix in Wellington has been my favorite class," he said. "I haven't decided the plan for Saturday yet, but I can say for sure that it will be a very exciting class with great horse-and-rider combinations and a packed house with great atmosphere here in Wellington.
"Gemma feels in top form; she feels fresh and ready to compete," continued Bluman. "Her biggest talent is her mind; she has the mind of a champion. She really knows her job and if you look at her record, she's jumped so many clear rounds throughout her career and that's phenomenal."
Brazilian Olympic champion Rodrigo Pessoa finished as runner-up in 38 seconds flat aboard the Artemis Equestrian Farm-owned Major Tom (Vagabond de la Pomme x Heartbreaker), while Bliss Heers (USA) and Antidote de Mars (Diamant de Semilly x Jarnac) took third in 38.46 seconds for owner Bridgeside Farms.
CSI5* competition continues on Friday with the Bainbridge Companies 1.45m before the Rolex CSI5* Grand Prix takes center stage under the shine of 'Saturday Night Lights' in the International Arena on April 1 at 7:30pm. View ticketing options for the Rolex Grand Prix HERE, or watch live on ESPN3 beginning at 6:30pm.
Pavlova Delights in the Equine Tack & Nutritionals Green Hunter 3'6"
California's Nick Haness and Pavlova rose to the occasion on Thursday of WEF 12 to steal the champion spot in the Equine Tack & Nutritionals Green Hunter 3'6" division in the E.R. Mische Grand Hunter Arena.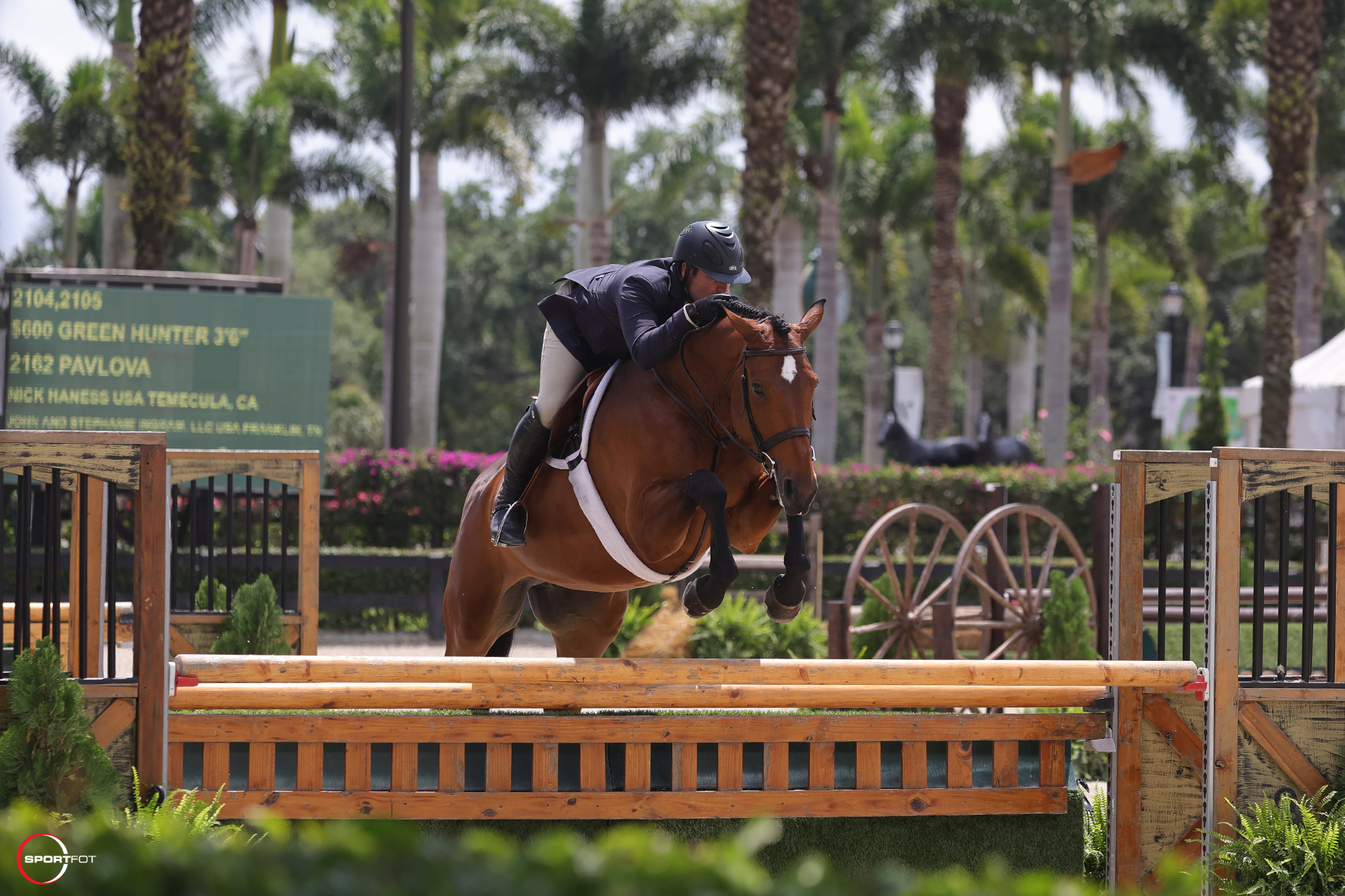 Winning two of the three classes over fences, Haness and Pavlova, an eight-year-old Oldenburg mare by Diatendro, posted a high score of 90 in the stake for owners John and Stephanie Ingram. The pair also received scores of 88 and 87 the previous day, combined with a second-place finish under saddle to earn the top tricolor.
The stunning mare only recently came into Haness' string, but he has been immediately pleased with her abilities.
"I rode Pavlova for the first time last week but she's an amazing horse to ride," said Haness, who has made a return to WEF for the final week of competition after spending time commuting between California and Florida to show this season. "She won both rounds yesterday and we were up for champion today, so I wanted to put in some good rounds. In the incentive class, she scored a 90 and was beautiful throughout the course. She's a pretty mare, a good mover and when she's into it, she can really jump her best."
Pavlova was produced by Havens Schatt who gave her a solid foundation and helped her gain a lot of valuable mileage, according to Haness, "[Pavlova's] reliable, she wants to win and it's been an honor to be able to ride her."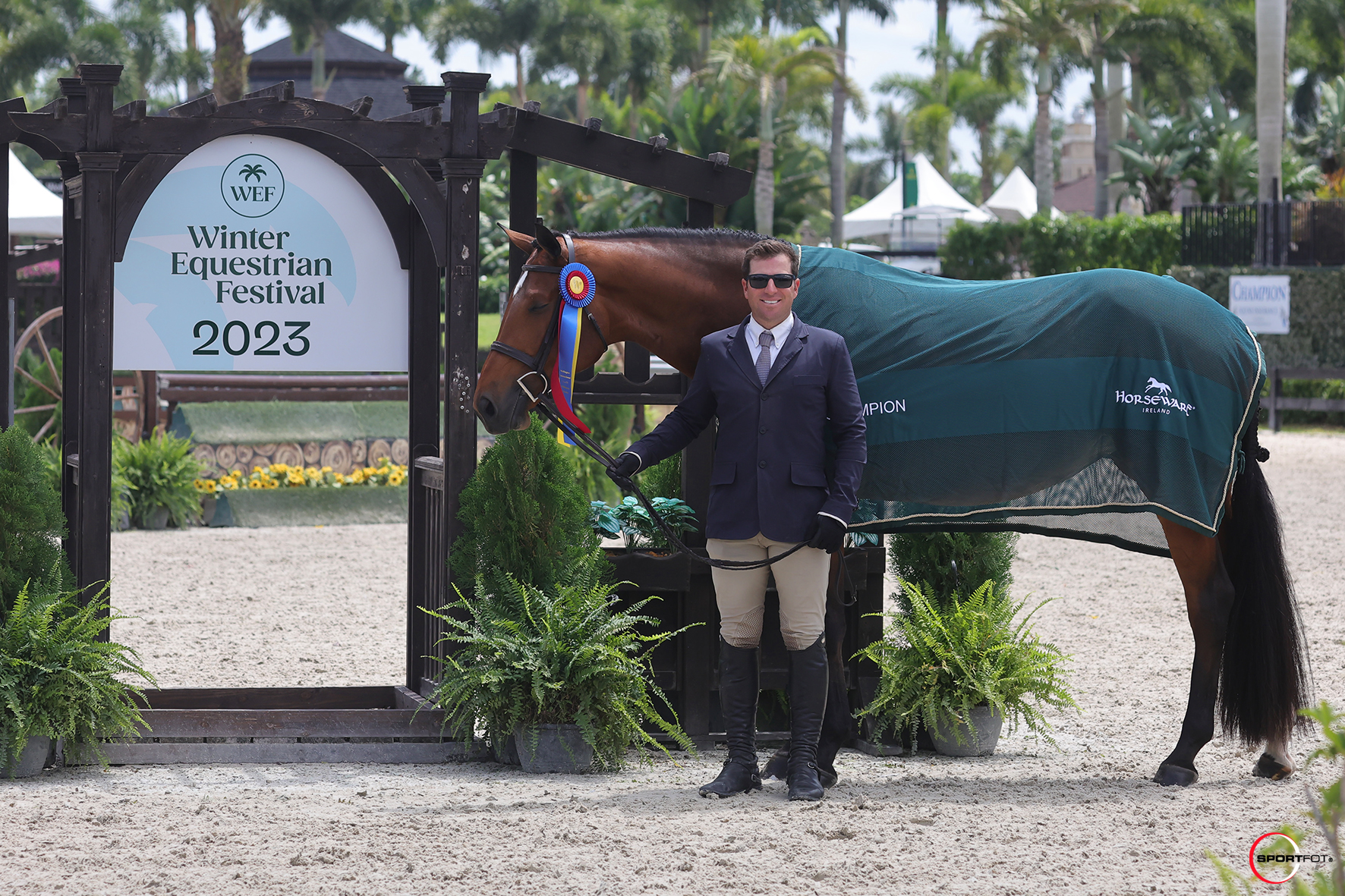 On a normal given day in California, Haness can be seen competing anywhere from forty to sixty rounds a day, though when he's showing in Wellington for a few clients the schedule tends to be on the lighter side in comparison. "Showing at WEF has been a little easier on my riding schedule," he said. "It's been a treat to have such quality horses to ride and show. Expression and kindness are the first and foremost qualities I look for in a hunter. Besides their natural beauty, I look at athleticism with a good gallop and a great jump. She has all that."