The future of U.S. show jumping took to the International Arena at Wellington International on Friday evening for the coveted WEF Equitation Championship, presented by NetJets. As the Winter Equestrian Festival (WEF) gears up for its final week kicking off on March 29, all eyes were on junior riders as 43 qualified rising stars took to the big ring.
The podium was dominated by riders based in the western U.S. with Carlee McCutcheon, 17, of Aubrey, TX, taking the victory by posting consistent scores in the 90s. Eleanor Rudnicki, 17, of The Woodlands, TX, was second and Jordan Gibbs, 16, of Colorado Springs, CO, rounded out the top three.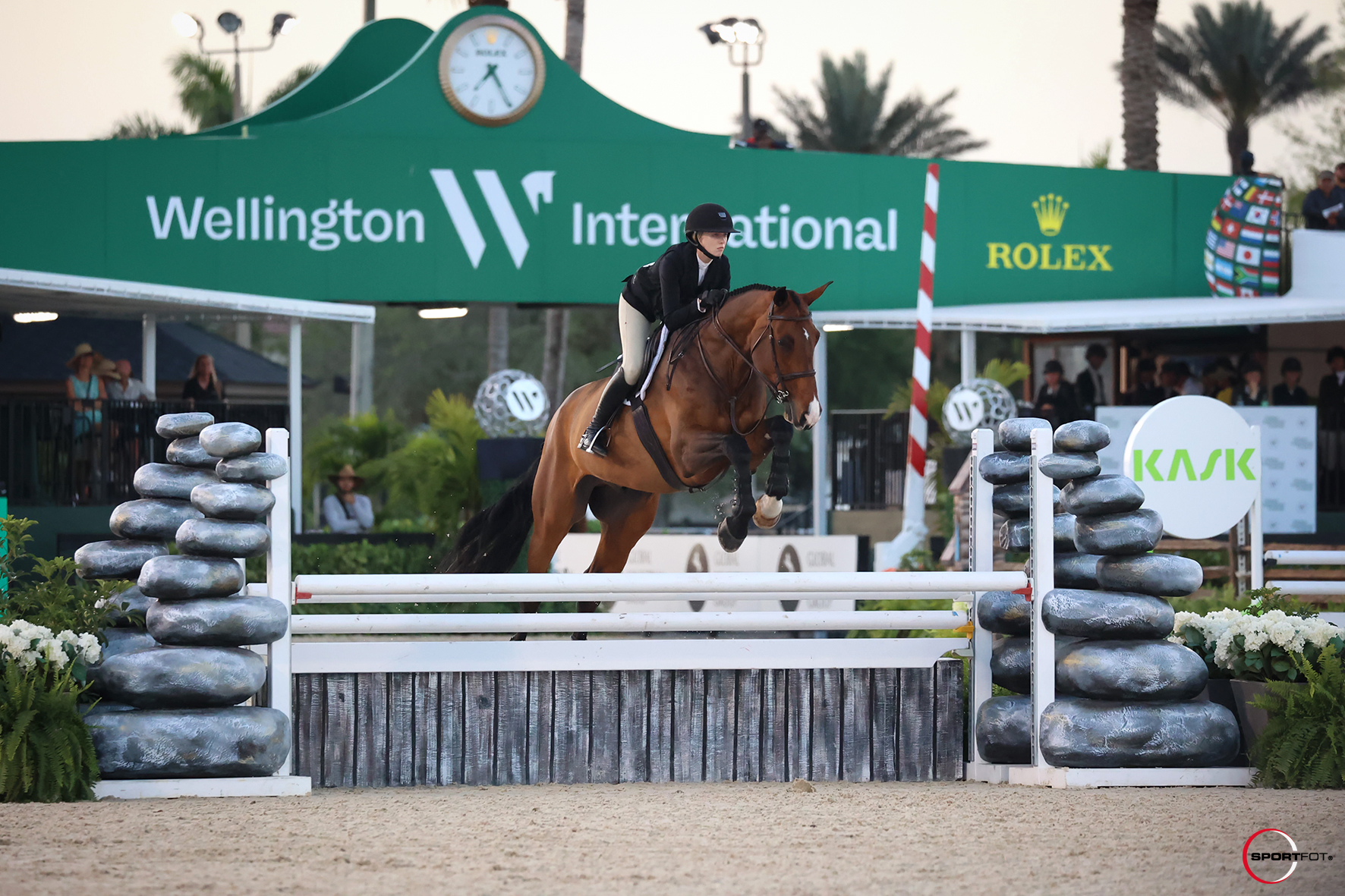 Andy Christiansen (USA) designed the equitation track, which featured a first round that included an S-line question and varying fence challenges such as a split rail option. The top 12 were called back in reverse order for a second round, which had additional challenges, including a simple change of lead. Four riders returned – without stirrups - for further testing: Gibbs, McCutcheon, Rudnicki and Tessa Downey. After the three rounds, McCutcheon was crowned winner from two judging panels made up of Archie Cox, Abby Blankenship, Tammy Provost and Lillie Keenan.
The unique format of the WEF Equestrian Championship removes trainers and all outside help from the equation. Riders must walk the course, make their plan and warm up without the assistance of a trainer. Riders hand in their cell phones at the start and can only be assisted by one groom in the schooling area.
Diane Landreville and Dan Reed observed the warm-up for the first two rounds and awarded riders a score ranging from minus two to plus two points based on their time management, horsemanship and effectiveness in the schooling area. Those point were either added or subtracted from their overall score.
"I went second in the test so I had to make a plan quickly and Jordan put in a beautiful test so I knew I'd have to do something hard, but Chacco is very talented and I think he wants to win so the harder the test, the better he is and the better he jumps," said McCutcheon of her mount Chacco Star, a 15-year-old Chacco-Blue gelding owned by Kennedy McCaulley. "I chose to land the counter lead after the wall and hold it, and I know that's one of my horse's strong suits, so I was confident I was able to do that, and then just hand gallop the last jump and stay on that without my stirrups."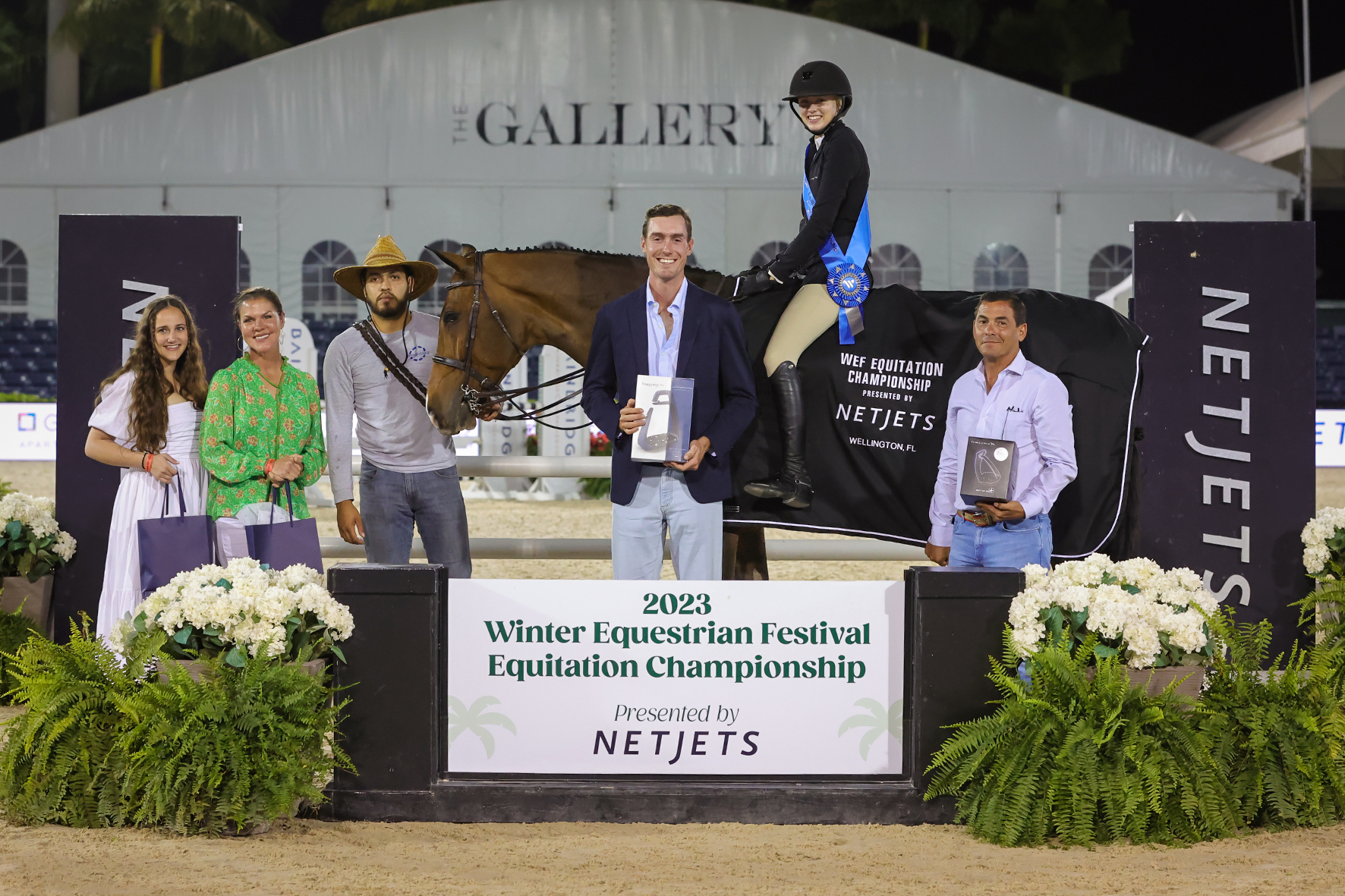 McCutcheon trains with Max Amaya and TJ O'Mara at Stonehenge Stables and her grandmother Colleen McQuay. "Winning this class doesn't feel real yet. I would like to thank TJ who puts in so much work to make these horses perfect for us and everything he does for us, and Max Amaya, and the whole team at Stonehenge. And to thank my grandparents and parents for pushing me and believing in me enough to make this all come true."
Rudnicki, who trains with Barry Porter and Linda Langmeier, rode the Rafferty Farm owned Brentwood and has competed in the WEF Equitation Challenge twice before, but this time broke into the second round and ultimately the podium. "I think it's pretty cool that we get the opportunity to practice warming ourselves up and making our own plans," said the rider who is committed to attend and ride for Auburn University in the fall. "We had to go last in the test, so I had to get out of the line and get him with me, but he was right there in the first line, the halt, and then the hand gallop was good.
Brentwood was honored with the "Best Equitation Horse" title at the conclusions of the evening.
Gibbs piloted Cent 15, the mount owned by her family's Mountain King Ranch and previously piloted to equitation glory with her older brother Dominic. She spoke about her preparation for the WEF Equitation Championship with trainer Stacia Madden of Beacon Hill Show Stables, saying, "During the WEF circuit, it's a lot of building a strong partnership with your horse. We had a flat clinic with Beezie Madden on Tuesday, then we warmed ourselves up in the Washington Hunter Phase. This morning, we did a lesson where we did everything ourselves, then got feedback from Stacia and the team afterward.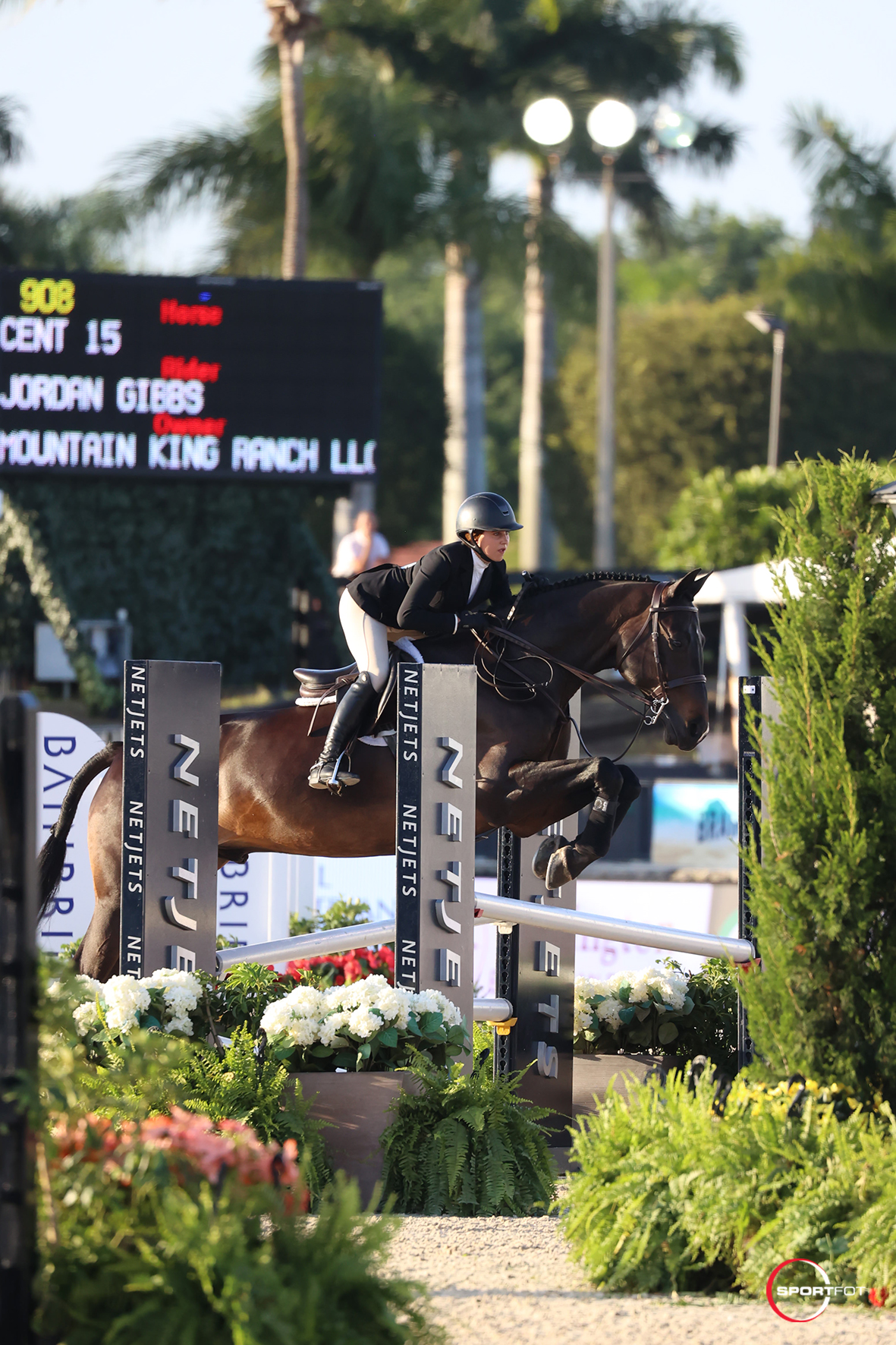 "He is a trier and he wants to win," Gibbs said about Cent 15, who was honored with the "best Turned Out" title. "He wants the blue and knows when it's important. He's an incredible horse, and I wouldn't change a thing about him. He's taught me so much about how to really get out here and be confident."
Wellington International expresses thanks to the sponsors that donated prize for the WEF Equitation Championship, presented by NetJets, including: Antarès Sellier France for providing a saddle to the winner as well as gifts for the winner's trainer and groom; FreeJump for donating stirrups for the winner and winning trainer; NetJets for providing gifts for the top 4 and the first and second place families, and Equiline for providing the winner's blanket.
Spencer Smith Scores Win in Adequan® CSI4* WEF Challenge Cup Round 11
The penultimate week of jumper action at the 2023 WEF saw the $50,000 Adequan® CSI4* WEF Challenge Cup Round 11 take place on Friday afternoon as riders vied for a spot in Sunday's four-star grand prix. From 59 entries, young professional Spencer Smith (USA) rose to the top aboard his long-time partner, Theodore Manciais.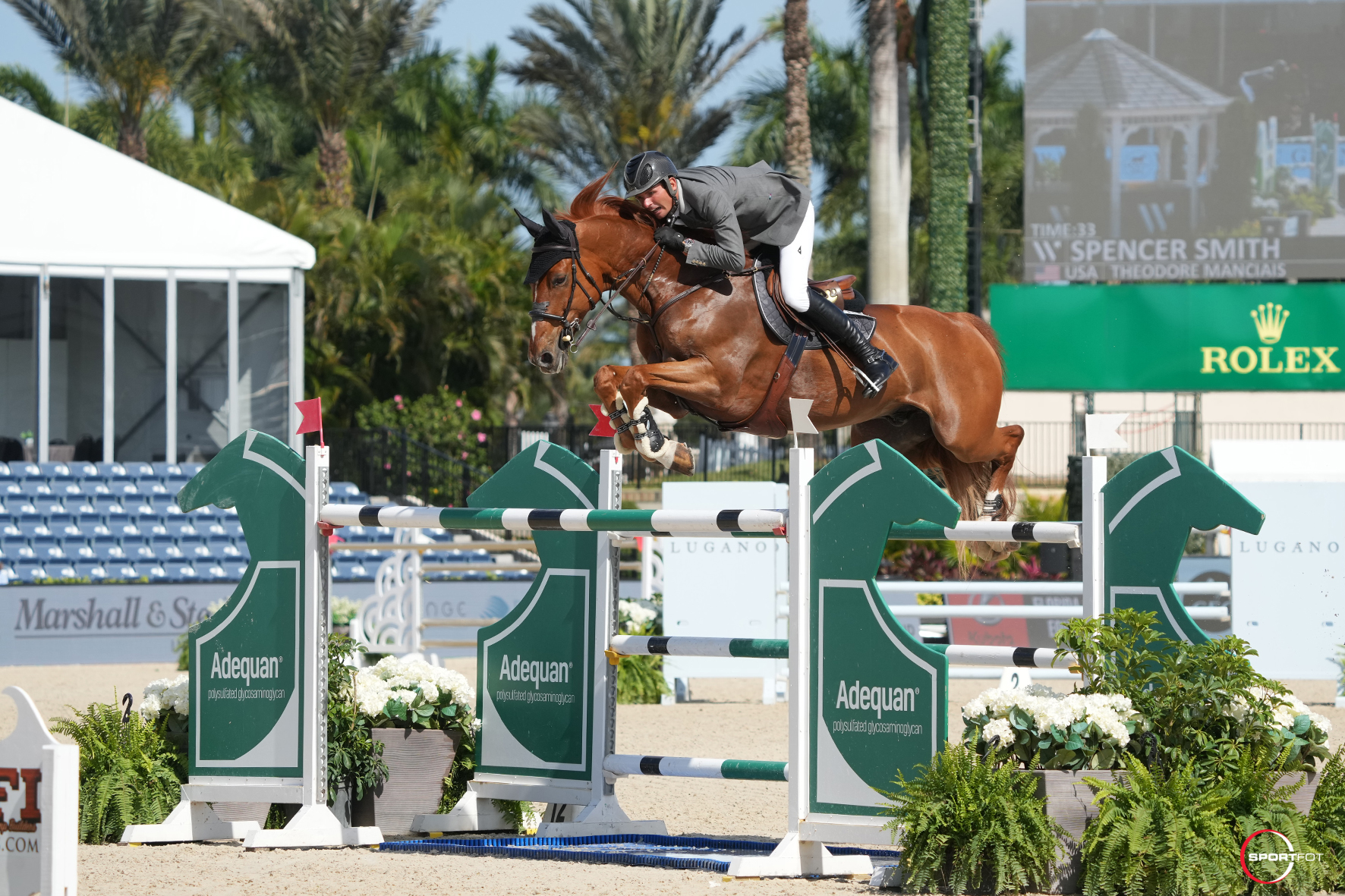 Smith was the contender in a ten horse-and-rider jump-off over Olaf Petersen Jr.'s (GER) track. The time allowed proved to be a sticking point for a little over a half-dozen competitors as only one or two penalties kept them from joining the jump-off ranks. Of the ten qualifiers, only nine elected to return as Ireland's Darragh Kenny made the decision to save the jumps on his mount, Vancouver Dreams, for future classes. As the last to deliver a clear round, Smith shaved two seconds off the previous leading time to stop the clock in 36.73 seconds. 
"This horse is for sure the best horse I've ever had," Smith explained of Ashland Farms' 16-year-old Selle Français gelding (Kashmir Van Schuttershof x Power Light). "His biggest strength is his heart; he will really do anything for me. I have been in a bit of a rut this season, so I pulled him out and he stepped up for me as always." 
The gelding has been Smith's top mount over the past several years including giving him his first grand prix and first five-star grand prix wins. 
"He is strong in every facet," added Smith. "He's super careful, has incredible scope, and can jump the biggest grand prix in the world. Today I was lucky enough to go last so I was able to watch some of the other jump-off rounds to make my plan."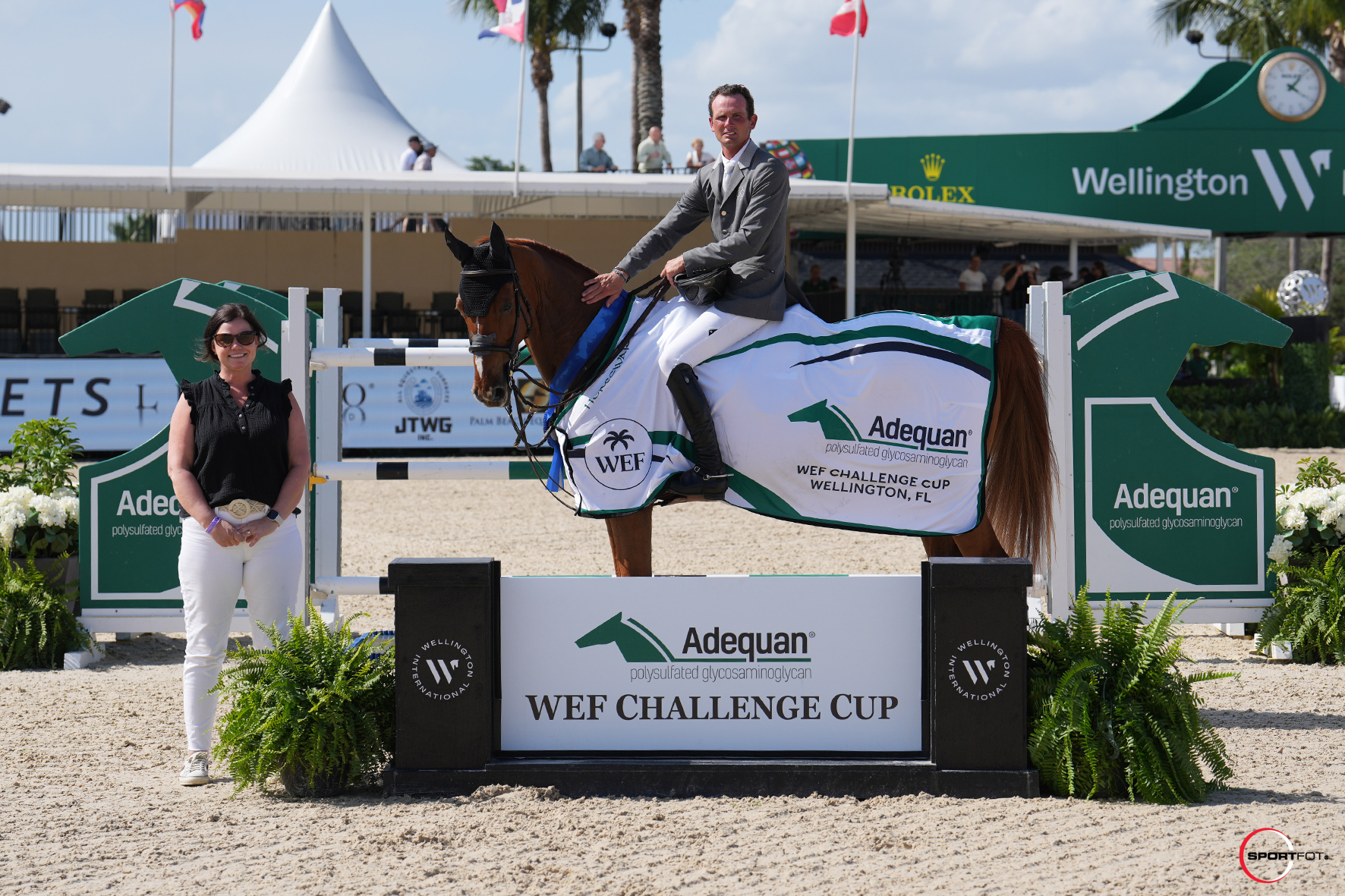 Nayel Nassar (EGY) earned the runner-up honors with a flawless finish in 38.01 seconds aboard Evergate Stables LLC's 14-year-old Holsteiner gelding Coronado (San Patrignano Cassini x Acord II), and Laura Kraut (USA) rounded out the top three finishing just slightly slower than Nassar with a time of 38.80 seconds aboard the St. Bride's Farm's 10-year-old Oldenburg gelding Dorado 212 (Tailormade Diarado's Boy).
Jumper competition during WEF 11 will resume Saturday, March 24 and culminate in the $146,000 CaptiveOne Advisors CSI4* 1.50m Series Final Classic during Saturday Night Lights. 
Hunters Take to the Derby Field
Hunter riders returned to their roots on the grass derby field at Equestrian Village on Friday for $5,000 USHJA National Hunter Derby offerings for junior and amateur riders and a $10,000 USHJA National Hunter Derby for professionals. Each class was conducted in a hunt & go format and were presented by Marshall & Sterling/Great American. Junior Emi Richard aboard Carry On and Amateur Kelly Sims on Private I claimed blues on the grass in their respective events.
The hunt and go format consolidates two rounds into one with both a classic and a handy section. Two panels of judges come up with each pairs combined score over a course with several high options and the opportunity to show some rollbacks and inside turns demonstrating the horse's handiness around the second half of the course.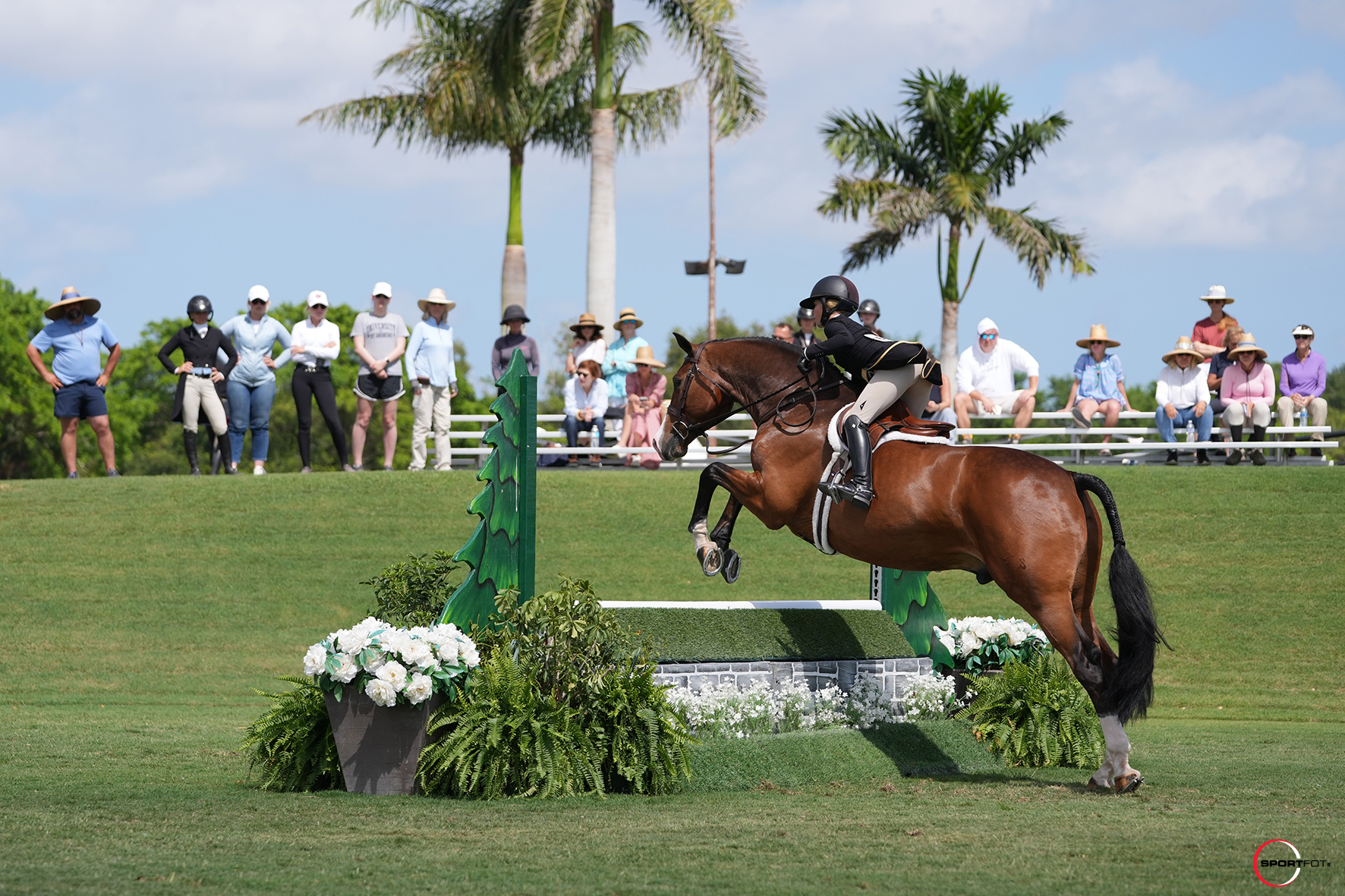 The Junior section was dominated by thirteen-year-old Richards who piloted Carry On, a 2010 Holsteiner gelding by Cancara and owned by Charlotte Rosseter and Pamela Wright, to the top of the leaderboard. They earned an 88 in round one, followed by an 87 in round two for a total of 175 putting the pair seven points ahead of second place.
Richards was all smiles after her big victory this afternoon. "I haven't been riding him for very long; maybe WEF 5 is when I started riding him, but he's been super fun for me and he has a very comfortable canter. I think my favorite part of the course was the bounce and going through the two little ponds was exciting."
Richards hails from Connecticut and is currently enrolled in online school while she focuses on her riding.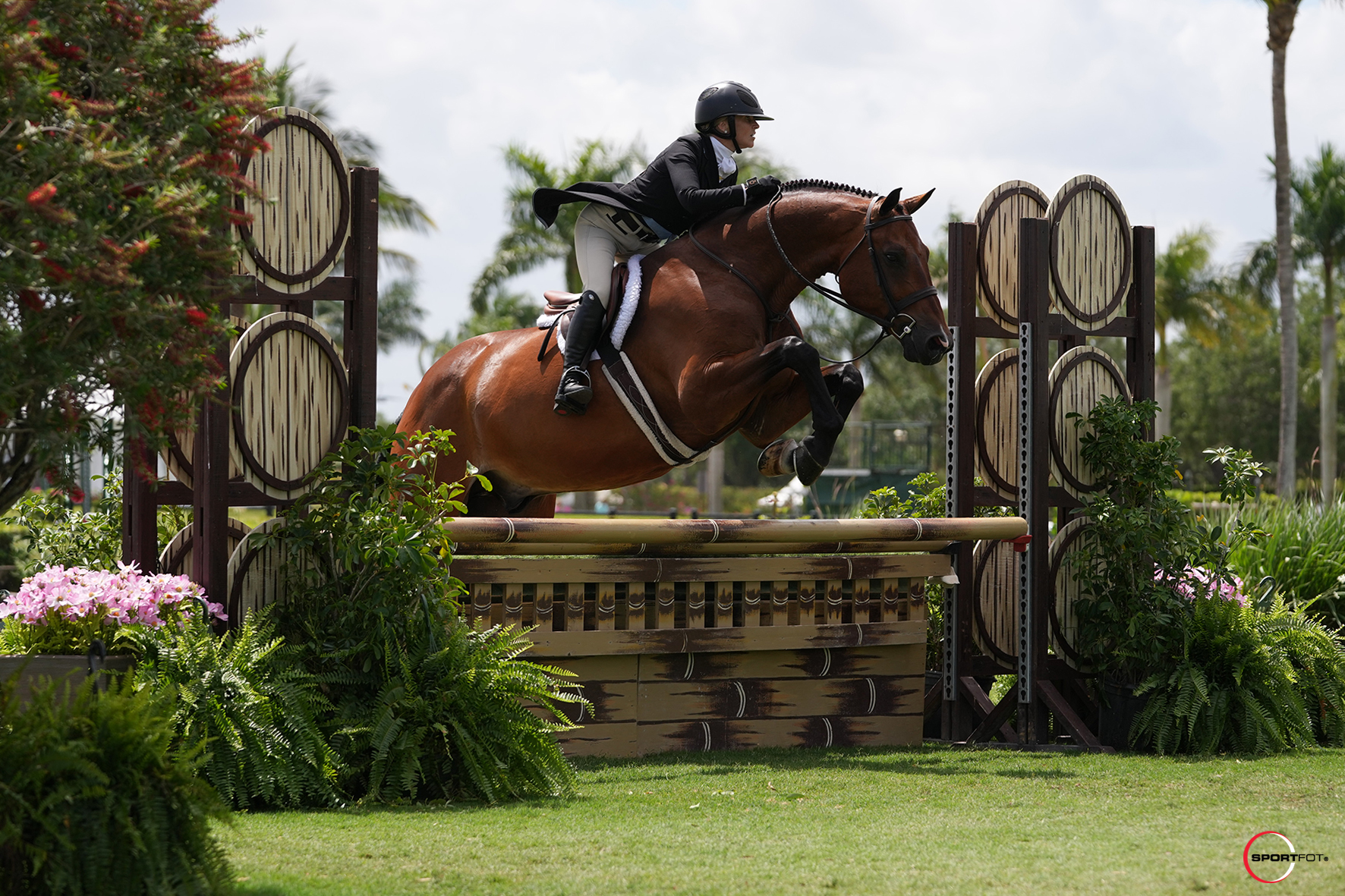 Sims and Private I, a 2012 Oldenburg gelding by Corrado, owned with Michael Britt-Leon, earned an 88 in both rounds, giving them a total score of 176 for the win.
"I feel absolutely fantastic; it was so much fun," she said. "It was a great but challenging course. Truth be told that was my first hunt & go, so I was pleased with our results and my incredible horse."
This pair shined in the new environment, and Sims described the highlights of her ride being, "The first line you definitely had to be on your game, get going right out of the gate and be on the hunt. The course rode beautifully and it was a blast."
This pair has been building a relationship for over four years and Sims describes riding him like, "Tiding a cloud. He wants you to leave him alone so he can do his job and he's just smooth with an incredible jump."
Victoria Colvin and Gabriel jumped to the top of the leaderboard in the $10,000 USHJA National Hunter Derby, presented by Marshall & Sterling/Great American laying down scores in the 90s.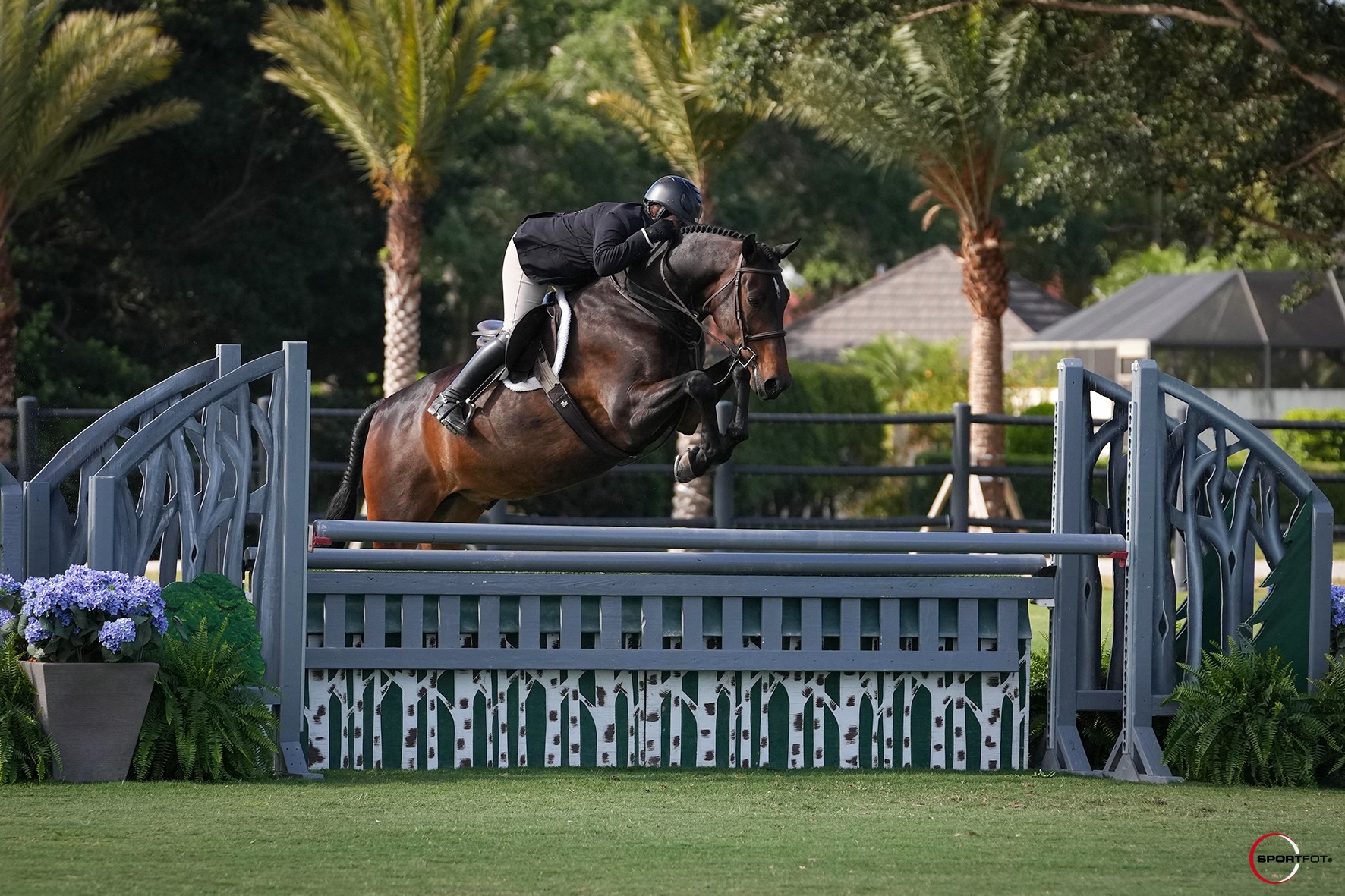 A large and competitive field of forty-five professionals gathered on the grass derby field at Equestrian Village. Colvin, no stranger to victory, showcased Gabriel, owned by JT Farm,  beautifully to seal the deal.
Colvin was thrilled with Gabriel's tremendous effort, noting, "I thought it was a lovely course and it was a bit like the one I did this morning so I knew how it might ride. I've been riding him for about five years now so I know him quite well and the course was very flowing which suits him and I loved the bounce that they added in the course, that was fun."
She went onto describe the horse's strengths, saying, "He's very brave with a great rhythmic canter, and he has the best expression, his ears are always up and he just floats around the ring. He has been a great partner over the years."
Payne and Filharmonic Find Harmony in Ari Green Hunter 3'3" 
Christopher Payne and Filharmonic made waves picking up blue ribbons left and right during WEF 11. The pair topped the Ari 3'3" Green Hunter division with a score of 90 and went on to win the $1,000 USHJA 3'3" Green Hunter Incentive with another 90. The green incentive program, open to horses eligible to compete in Green Hunters 3', 3'3", 3'6" and 3'9", was designed to encourage the development of green horses.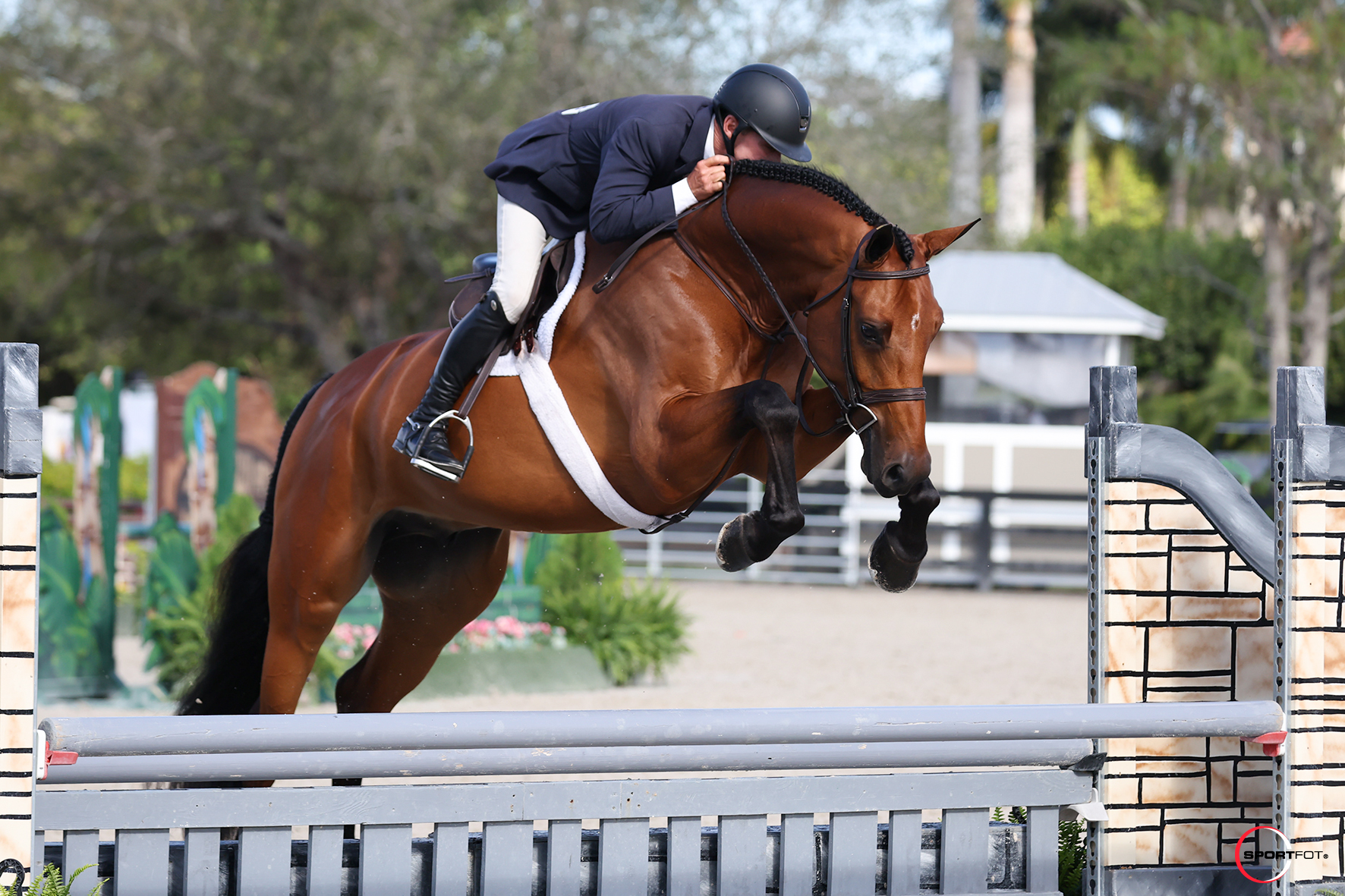 The Rost arena was buzzing as Payne and the aptly named Filharmonic, a 2017 Holsteiner gelding by Cascadello I, owned by Lexi Ferder cruised to a tricolor.
While this partnership is relatively new, the sky seems to be the limit. "This is a very new horse for me, I just started riding him over the last couple weeks and this is the first time I've shown him. He's such a sweet, wonderful horse who tries very hard and the worst thing he does is puts in too big an effort and looks for reassurance – a good problem to have."
This spectacular six-year-old gelding came into Payne's life because the owners were hopeful it would be a good match, "Ilan Ferder called and said, 'my wife and I would like to see if you'd like to help us with our young horses,' and of course I said yes. They always have great horses and a great eye for a horse, so I thought it would be a fun opportunity."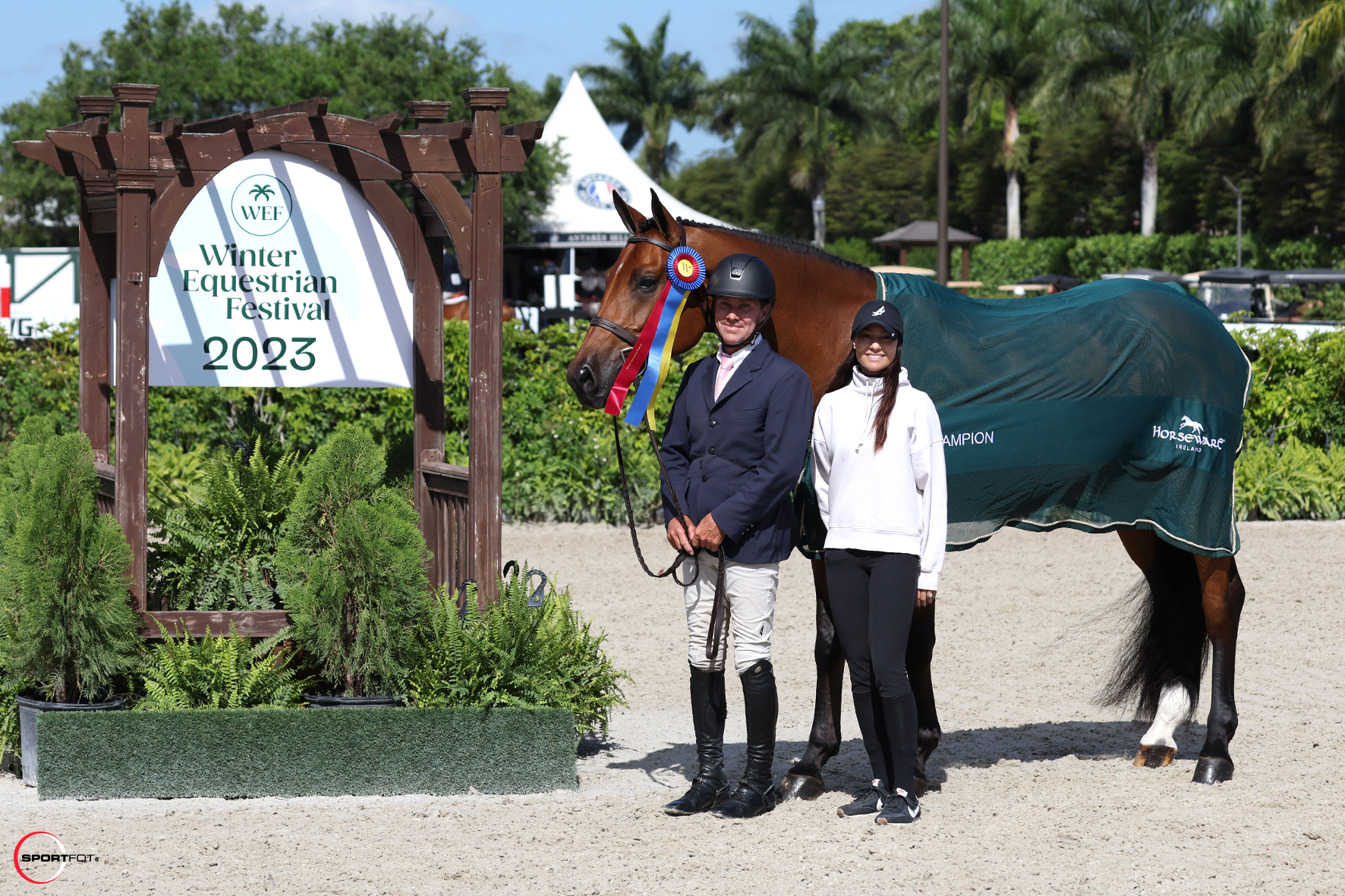 After scoring several 90s in the ring, Payne continued, "For a horse who doesn't have a lot of miles under him, I love that he goes into the ring and looks for the jumps and wants to put in a good jump every time. There's not much conversation that happens out there, you canter to the jump, you organize, he jumps the jump beautifully and he goes to the next one. He's quite delightful.
"We have some of the best riders and young horses here today and I feel honored to be able to compete with them their last week and be competitive with them," concluded Payne. "It's a great group of horses and it's a lot of fun."