Forty-four elite show jumping combinations contested the $78,000 CSI5* Adequan® WEF Challenge Cup Round 9 on Thursday at the Winter Equestrian Festival (WEF).  The battle for the win pitted riders representing the nation of Ireland against one another but it was young professional Bertram Allen who raced to the lead with his experienced partner, Pacino Amiro. 
Heavy-hitting course designer Alan Wade (IRL) produced another worthy challenge in the third of four five-star rated competitions during the Wellington Equestrian Realty-sponsored WEF 9 at Wellington International. After the completion of the first round, only three riders advanced to the jump-off. Darragh Kenny (IRL) produced the first successful effort early in round one and fellow countryman, Allen, quickly followed suit to ensure a jump-off. The two Irishmen would remain as the only successful contenders on the course until the USA's Schuyler Riley piloted Robin De Ponthual into contention.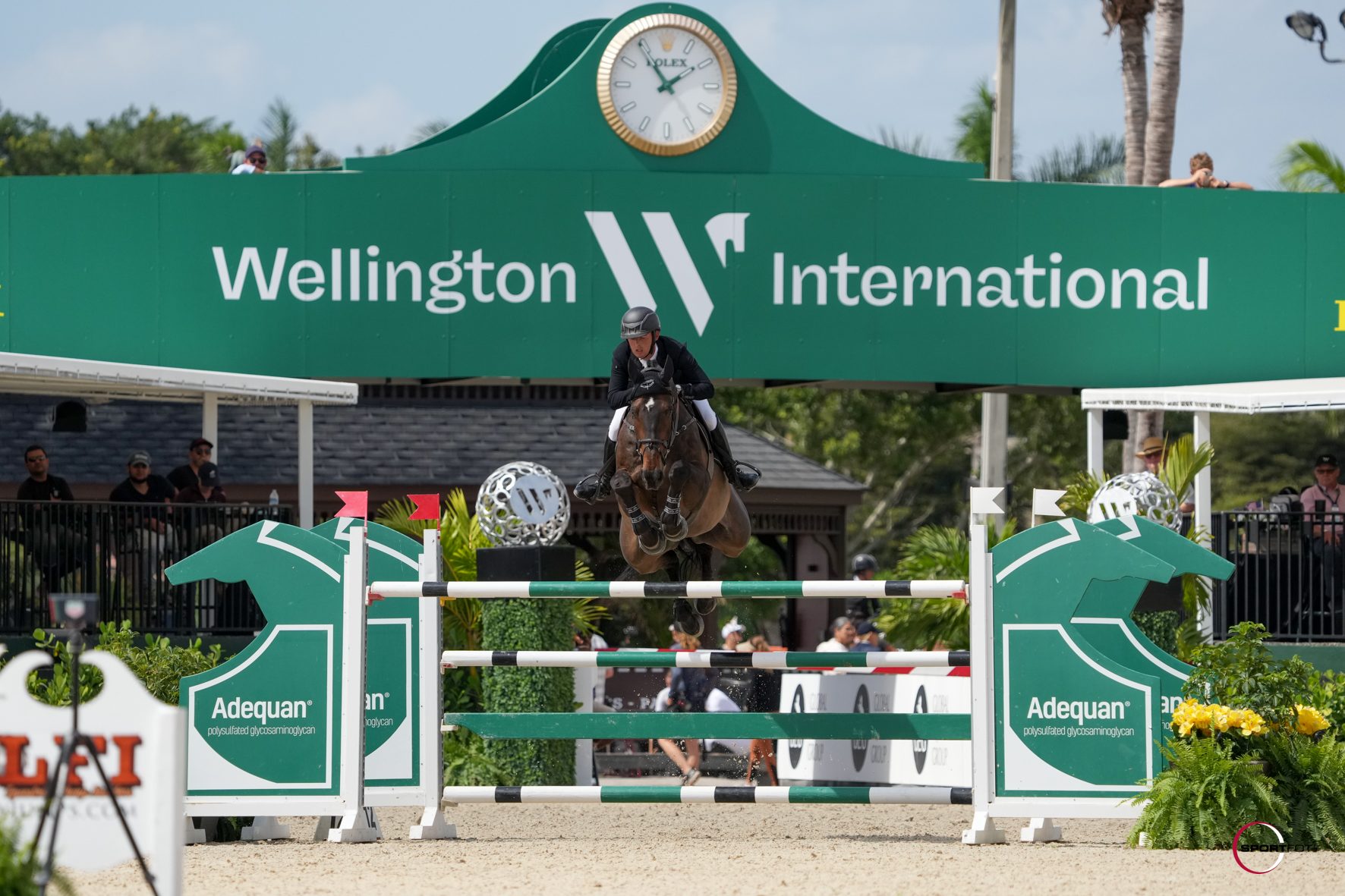 Kenny was the first to return as the first successful clear and he put the pedal down to gallop across the flowing jump-off course. Always one to watch in a jump-off, Kenny threw down the challenge with a double-clear effort that landed him across the timers in 38.65 seconds on the Vlock Show Stables' 12-year-old Westphalian stallion Chic Chic. Allen's advantage, however, came from being second in the lineup, and he dashed across the International Arena to shave a second off Kenny's time and come home in 36.94 seconds. 
"I've never seen a WEF Challenge here where only three were clear in the first round, so it was a much more tactical jump-off than normal," stated Allen. "It was a huge advantage going after Darragh because I saw one or two places in his jump-off where I could get the better of him if I left the rails up." 
Allen and Aiden McGrory's 11-year-old Irish Sport Horse gelding (Pacino x NC Amiro) are well-versed in winning five-star competitions at WEF and have already pocket two victories this season.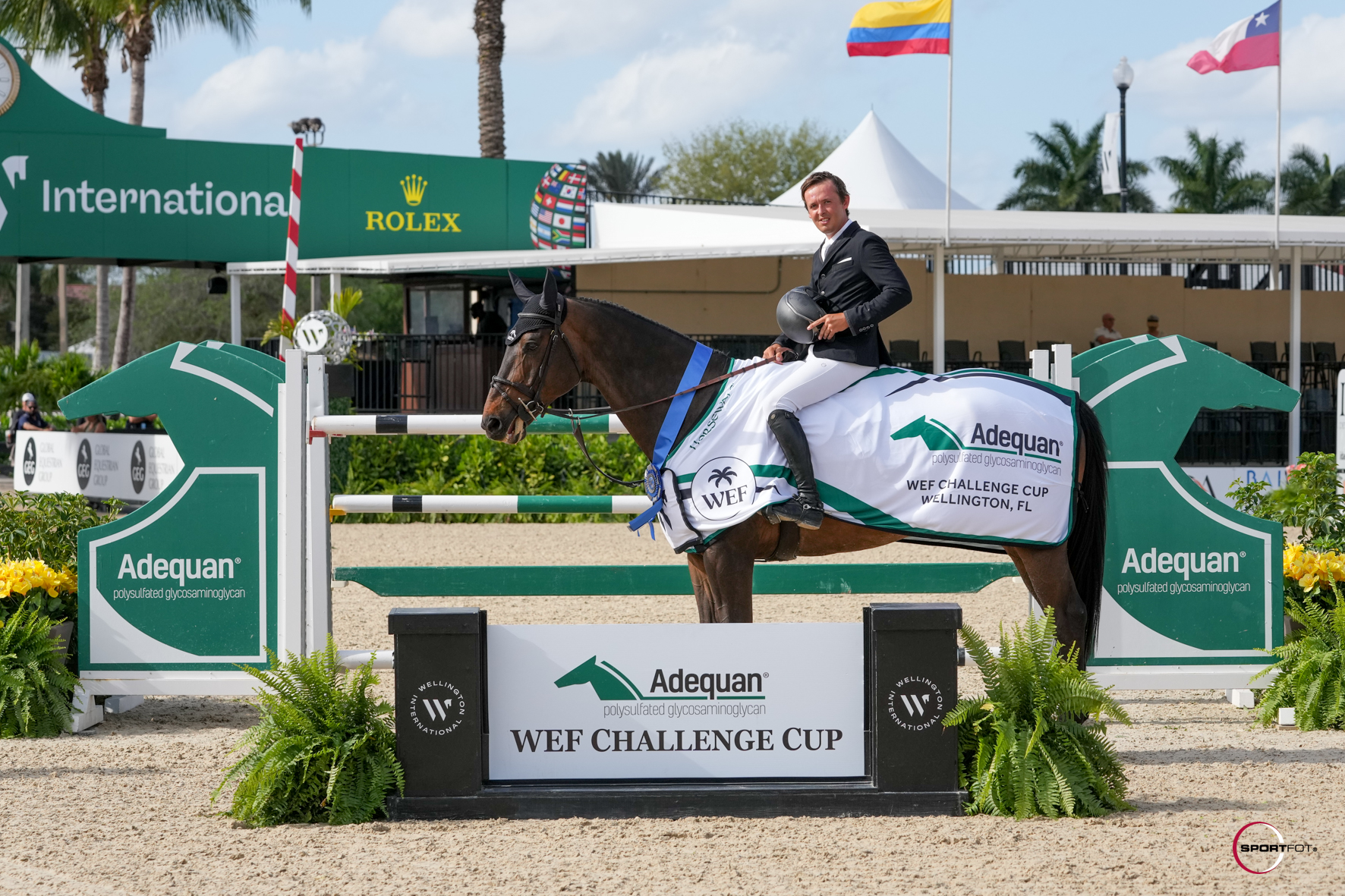 "Pacino [Amiro] is an experienced horse now whereas he was only nine when he started jumping the five-stars here," Allen continued. "He has developed and knows his job now, so we just keep him as fit and healthy as possible." 
Riley rounded out the top three with two unfortunate knockdowns in the short course on Katherin Gallagher's Selle Français stallion.
Christopher Payne Reigns in Antares High Performance Hunters 
Christopher Payne and the lovely stallion, Reign, kicked off WEF 9 on Thursday in the E.R. Mische Grand Hunter Ring with a win in the Antares High Performance Hunters.
The pair earned respectable second and fourth-place ribbons on opening day of the division on Wednesday. They came back on Thursday, however, and left nothing to chance with a pair of 90s to win both classes.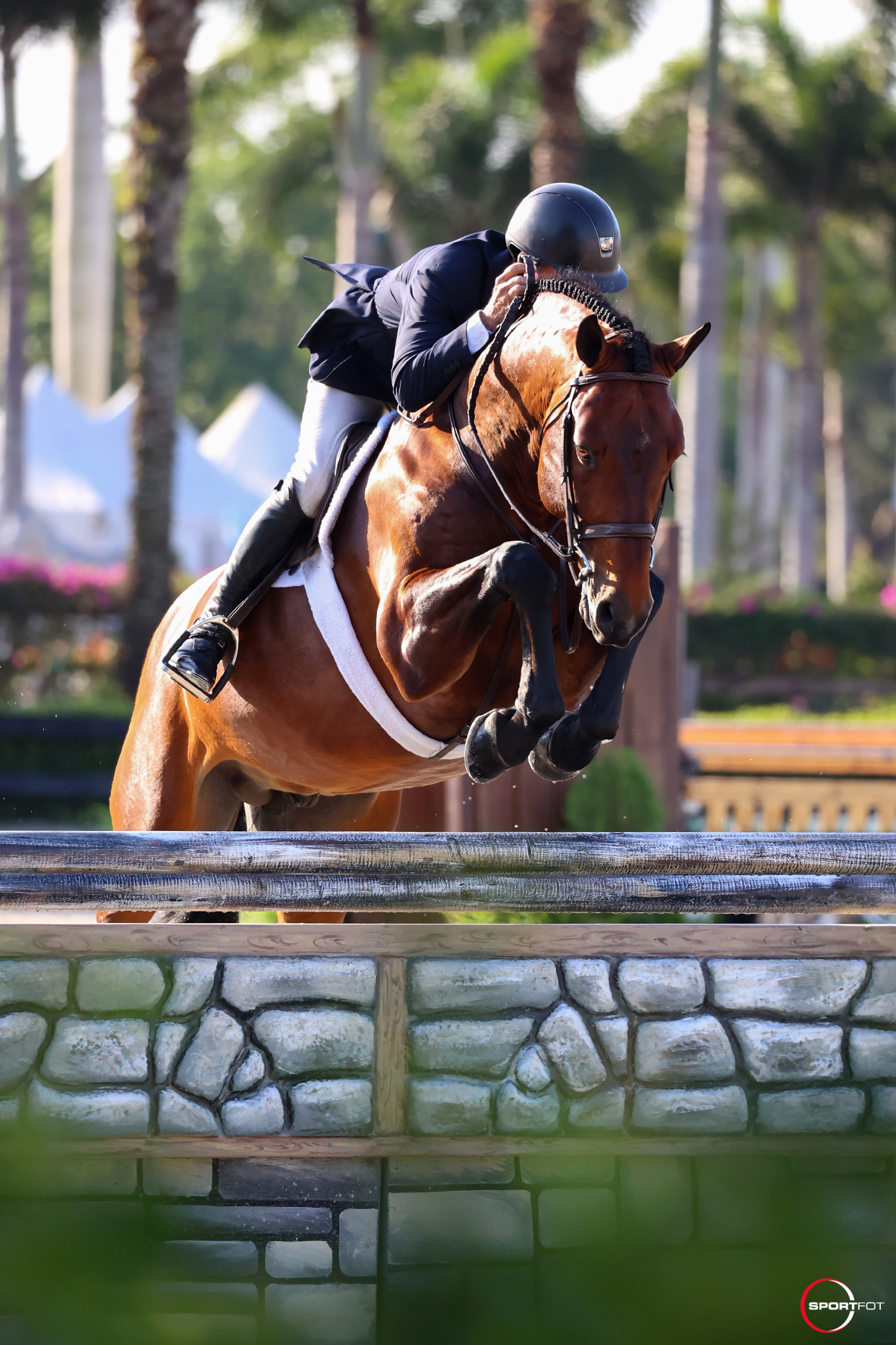 The pair earned respectable second and fourth-place ribbons on opening day of the division on Wednesday. They came back on Thursday, however, and left nothing to chance with a pair of 90s to win both classes.
Payne was very pleased with Reign, a Holsteiner stallion owned by Provence, LLC, saying, "Today he was in a great place, he was very relaxed but focused. He followed me very nicely around the course and put in beautiful efforts at the jumps, so it was really quite fun."
The duo has been developing a solid partnership for some time now after Reign joined Payne's string as a six-year-old. "I've been riding Reign for a couple years now. We imported him at six and he's only moved up to the high performance recently. I think this is his second horse show doing this class. He seems to really like the height; it makes him focus. He feels like a true hunter and when he gets to the jump he uses his whole body beautifully, which gives you such an amazing feeling in the air."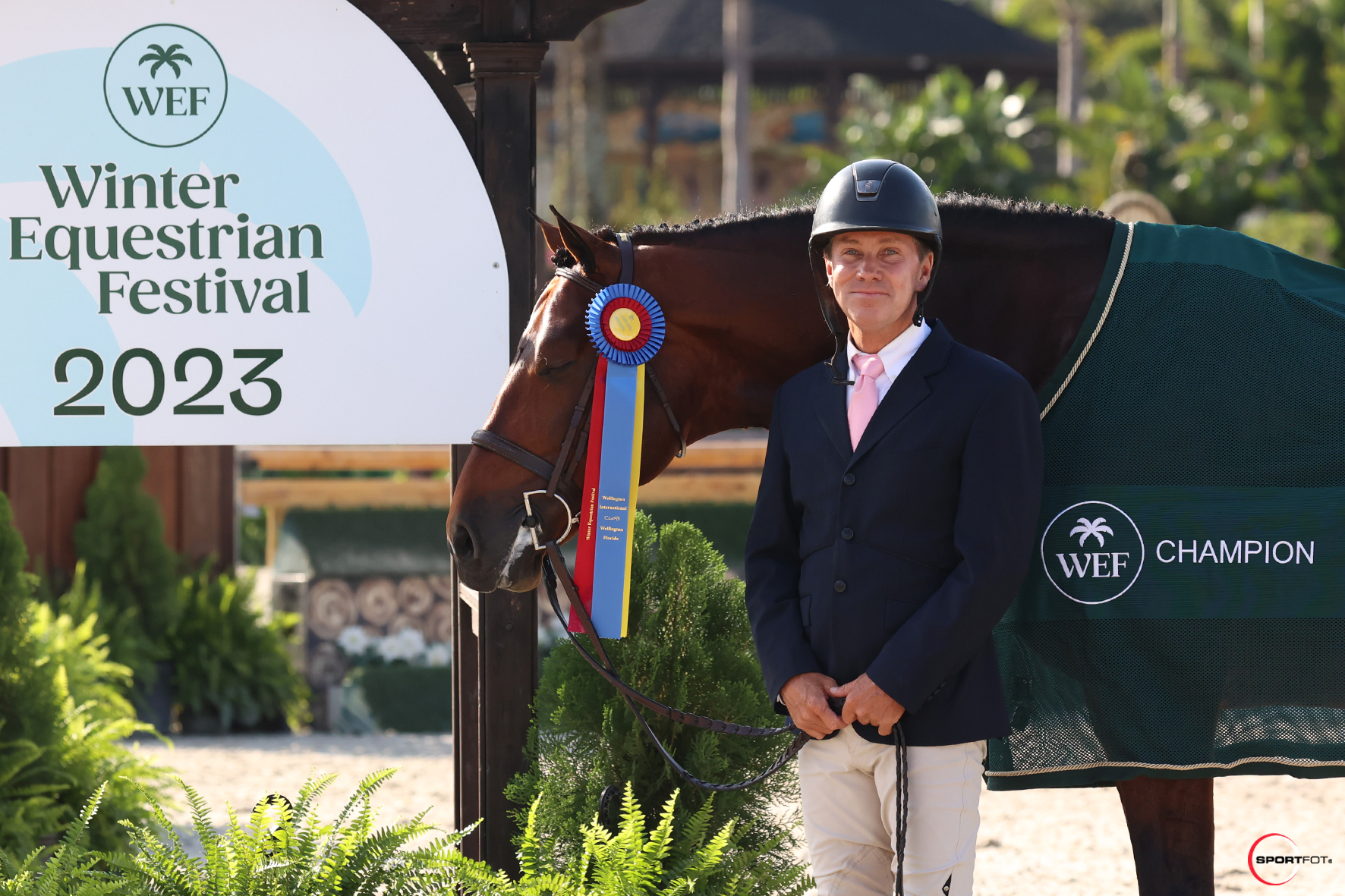 Payne will now turn his focus with Reign to the $25,000 USHJA International Hunter Derby, presented by Barnwalkers, taking place on the grass derby field at Equestrian Village on Saturday.
TJ O'Mara and Fortaleza Land Win in Florida Coast Equipment CSI2*
TJ O'Mara (USA) and Fortaleza claimed top call in the $39,000 Florida Coast Equipment CSI2* 1.45m during WEF 9 on Thursday from a competitive field of 64 entries.
A staggering 21 went head-to-head over Alan Wade's short course. Stopping the clock at 29.4 second, O'Mara guided Fortaleza, a 13-year-old Dutch Warmblood gelding (Canoso x Bmc Kigali) owned by Bluewater Farm, to the win. Second place went to Susan Horn (CAN) and Kirlo Van Den Bosrand coming in at 30.01 seconds, and third went to Veronica Tracy (USA) aboard Dakota De l'Ardrais finishing a fraction off the pace in 30.10 seconds.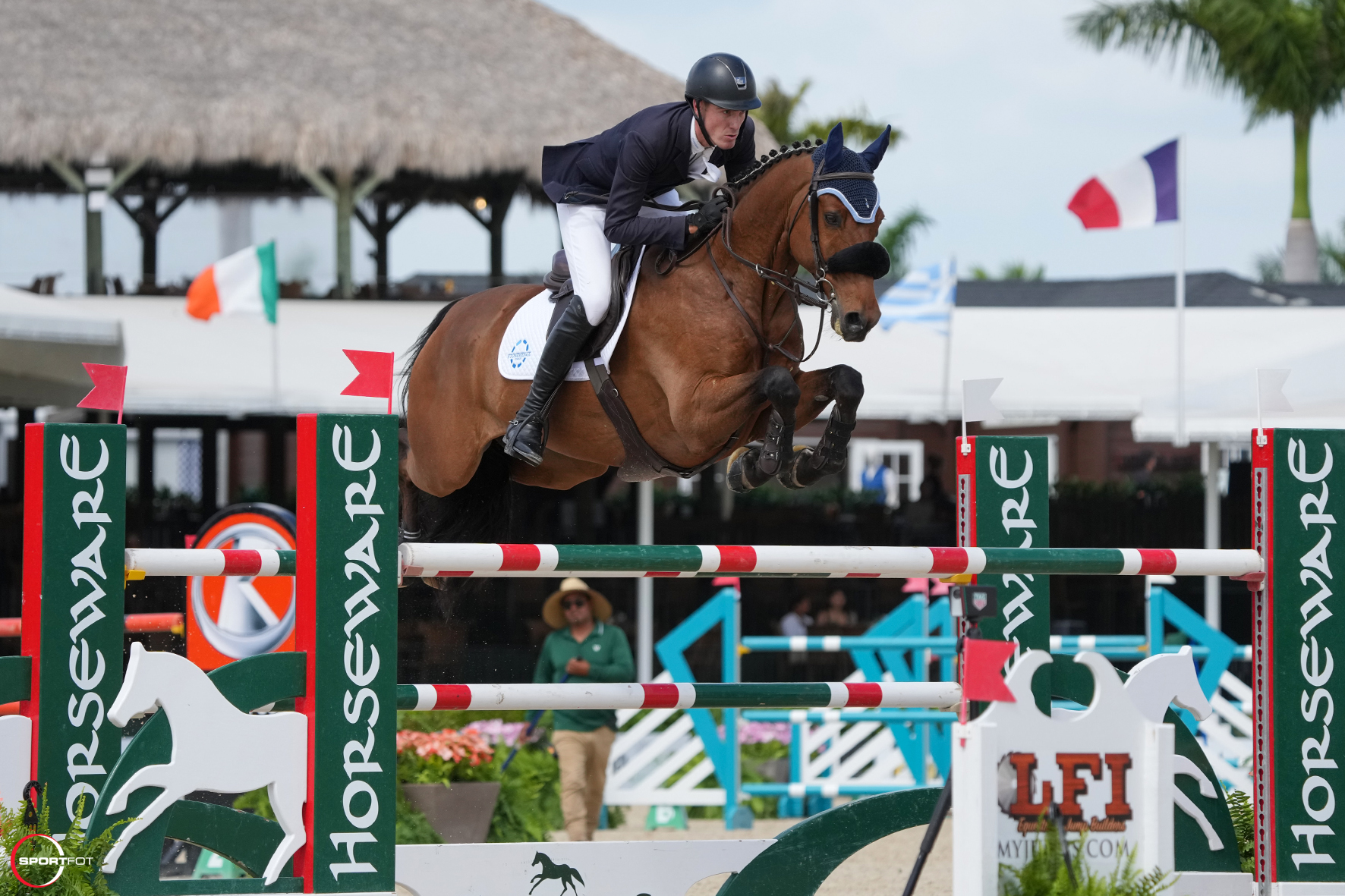 "I would say 99% went to plan in my jump-off," said O'Mara, who celebrated his first FEI win at WEF. "He's definitely my speed horse; his stride is so big, and I can do the leave outs in every single line. Fence one to two, I ended up doing seven strides where most of the class did eight, and most riders did seven strides from two to three and I did six. He turned so quickly and is so careful I could really trust him going to the double. And from the double to the vertical, I felt him shift a little to the right, so I ended up doing eight strides where I had planned on doing seven."
O'Mara, who rides for Max Amaya's Stonehenge Stables, and is thrilled to have this ride on Fortaleza. "He's actually owned by Caroline Blake and her father, Berry Blake, and they moved to us in 2020, but she recently went to college and they've been so generous letting me show him. This past summer is when I really began showing him competitively and this fall we did our first FEI class together. I click with him so well. Everyone at the barn says we are soulmates.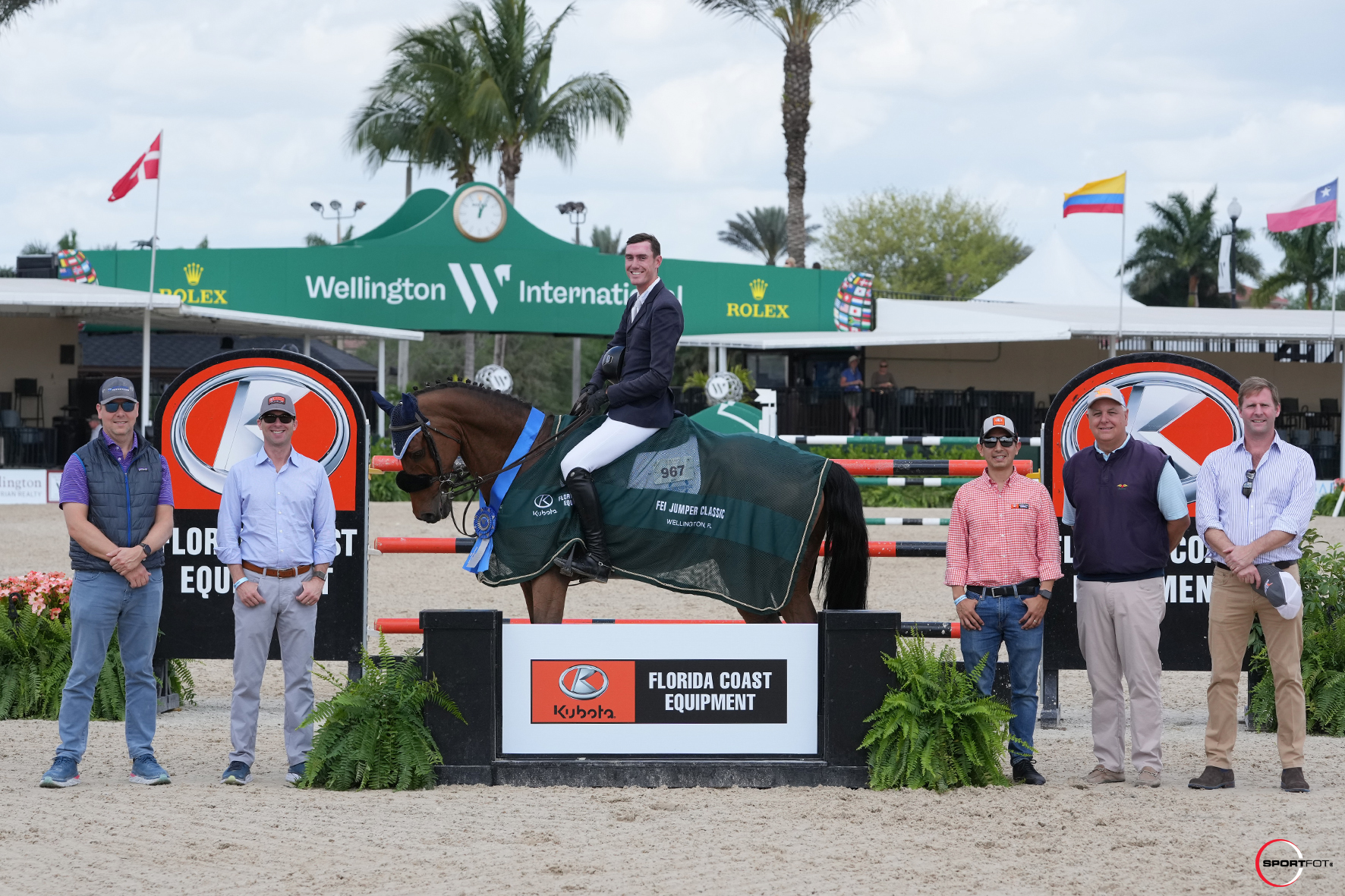 "He's one of the nicest horses to ride and to flat. He is so soft in the mouth and has a lovely canter, and he's very adjustable and elastic," continued O'Mara. "There's nothing negative to say about him."
O'Mara will now point Fortaleza at the $50,000 Florida Coast Equipment CSI2* Grand Prix on Saturday.