Amira Kettaneh Shines in Inaugural ESP Spring Equitation Challenge Presented by Arion Sellier USA 
The future of U.S. show jumping looked bright as junior equitation riders took center stage at Wellington International to compete in the Inaugural ESP Spring Equitation Challenge, presented by Arion Sellier USA, on Friday. The new annual equitation championship allowed junior riders to show in the International Arena and be judged on their execution and style. After three rounds of competition, Amira Kettaneh of Hollis, NH, was crowned the winner from two judging panels made up of Brian Lenehan, Randy Roy, Mark Jungherr, and Sissy Wickes.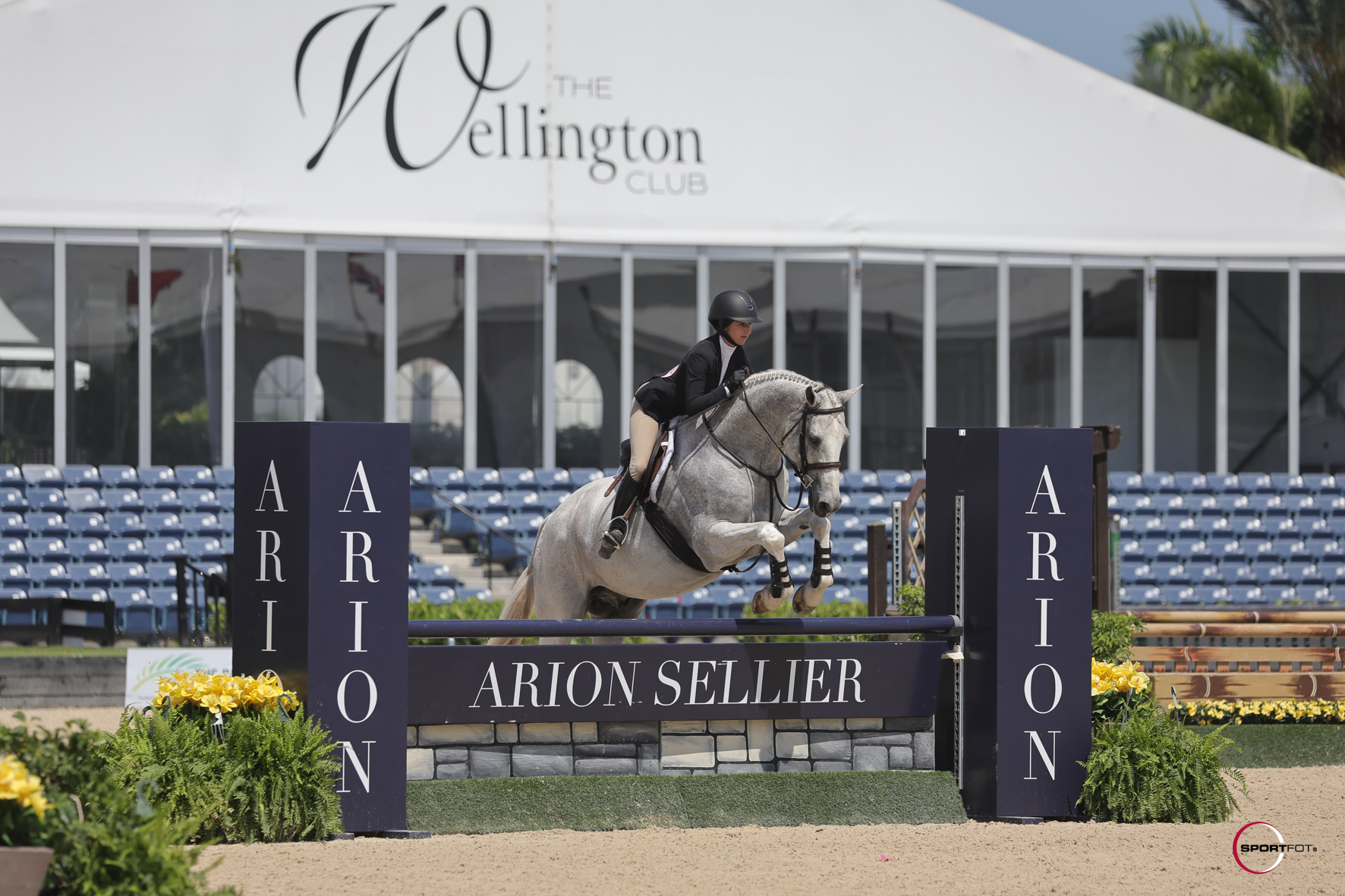 On competing in the expansive International Arena, Kettaneh shared, "I was excited to compete in the International Arena today. It's a great opportunity for juniors to be able to get in the big ring. I went in and wanted to gain confidence, not necessarily to win. At the end of the day, every round is for confidence. It's great to win, but if you're smooth and consistent, you're going to have a higher chance of winning."   
Twenty-eight qualified combinations contested the first round, designed by Danny Moore (USA). The first round featured an S-line question and varying fence challenges, including a trot fence. The top 12 were called back in reverse order for a second round, which tested the riders further with a simple change of lead between fences. Four riders returned for the final phase of testing: Kat Fuqua, Parker Peacock, Josselyn Mersereau, and Kettaneh.   
"There were a lot of different options for inside turns in the first round that people were choosing to take," commented Kettaneh, who piloted Leigh Kettaneh's Caretinhus. "I wanted to show off both of us the best I could, so I wanted smooth and consistent rounds throughout the class. I didn't opt for all the inside turns; I opted for the ones I thought we could do really well and would show both of us off the best. I had my mom helping me today, and she told me to take my time in the turns, to land straight after every jump, and to not rush anything."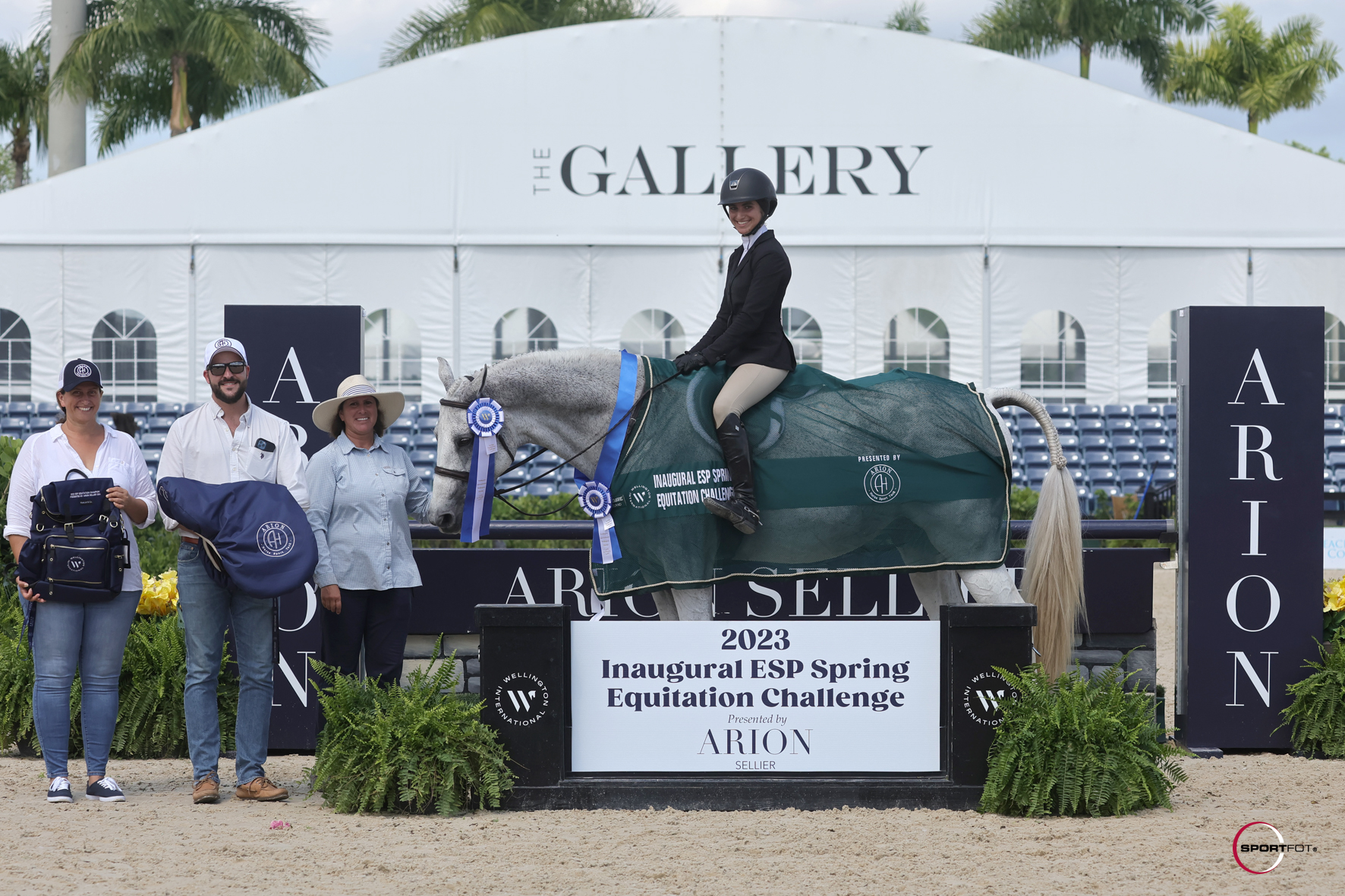 Kettaneh and Caretinhus posted consistent rounds with scores in the high 80s and a 92 in the final round to give herself a 10.5-point lead at the conclusion of the class. Josselyn Mersereau of Concord, MA, finished in second with Jeffery RW, owned by Joyce Mersereau, and a cumulative score of 347.25. Rounding out the podium was Parker Peacock of Pfafftown, NC, with a total score of 346.2 riding Chase Finizio's Empire.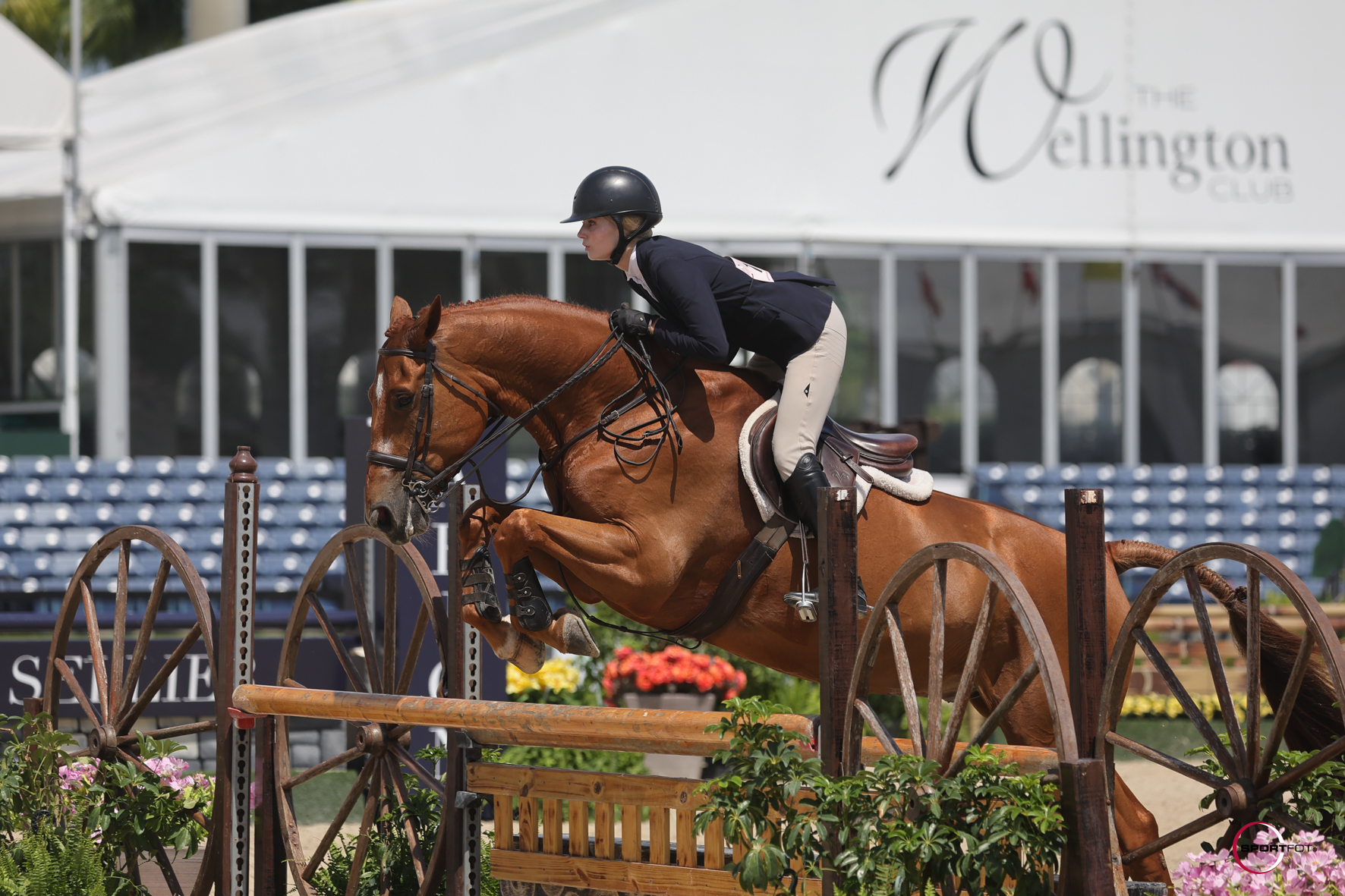 "It's obviously wonderful to be able to ride other peoples' horses but there's something really special about getting to win classes on your own horse," shared Kettaneh. "I started him as an equitation horse about a year and a half ago, so he's not new to the equitation anymore, but I feel like we've improved together which is really cool." 
Invitations to compete in the final were extended to any ribbon winners before April 2, 2023, of any 2022 ESP Holiday, 2023 Winter Equestrian Festival (WEF), or Spring 1: USEF Hunt Seat Medal, ASPCA Maclay, USEF Talent Search or WIHS Overall, Hunter Phase or Jumper Phase equitation classes. The championship offered prizes for the trainers of the top four riders. Thanks to the class's sponsor, Arion Sellier USA, the winner was presented with a new Arion saddle and backpack during the presentation ceremony.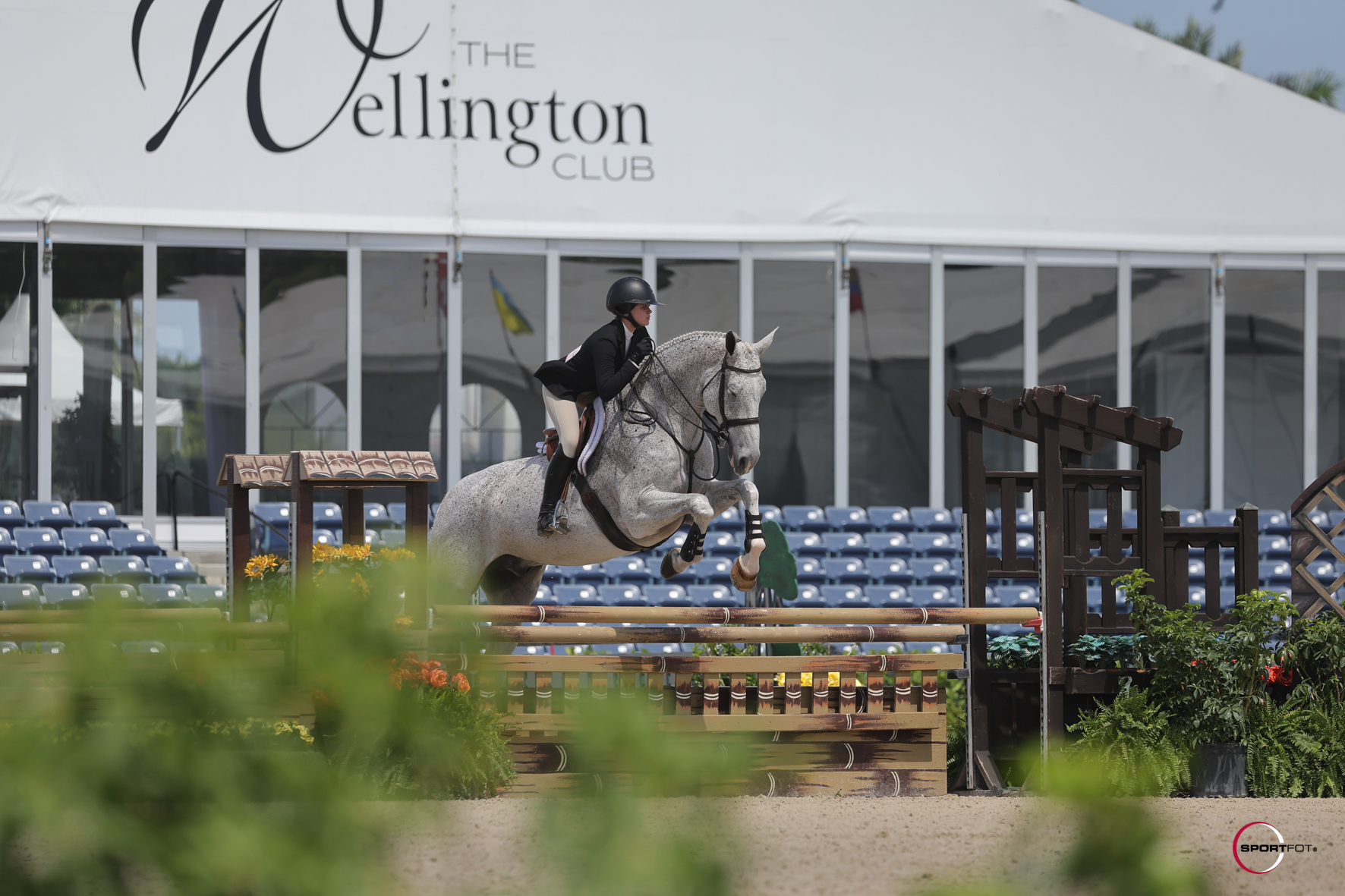 The $10,000 USHJA National Hunter Derby, presented by Perfect Products, also welcomed Hunt and Go competitors to the International Arena. J T Farm's Gabriel, ridden by Victoria Colvin of Loxahatchee, FL, claimed the blue ribbon as the highest-scoring duo, posting tallies of 92 and an 89 for a combined score of 181. With a total score of 177, Kelli Cruciotti Vanderveen of Wellington, FL, claimed second with APG Livory, owned by APG-Stables. Claiming the third spot was Jennifer Bliss of Wellington, FL, who earned a total score of 175.5 with Poker Face for Harris Hill Farm, LLC.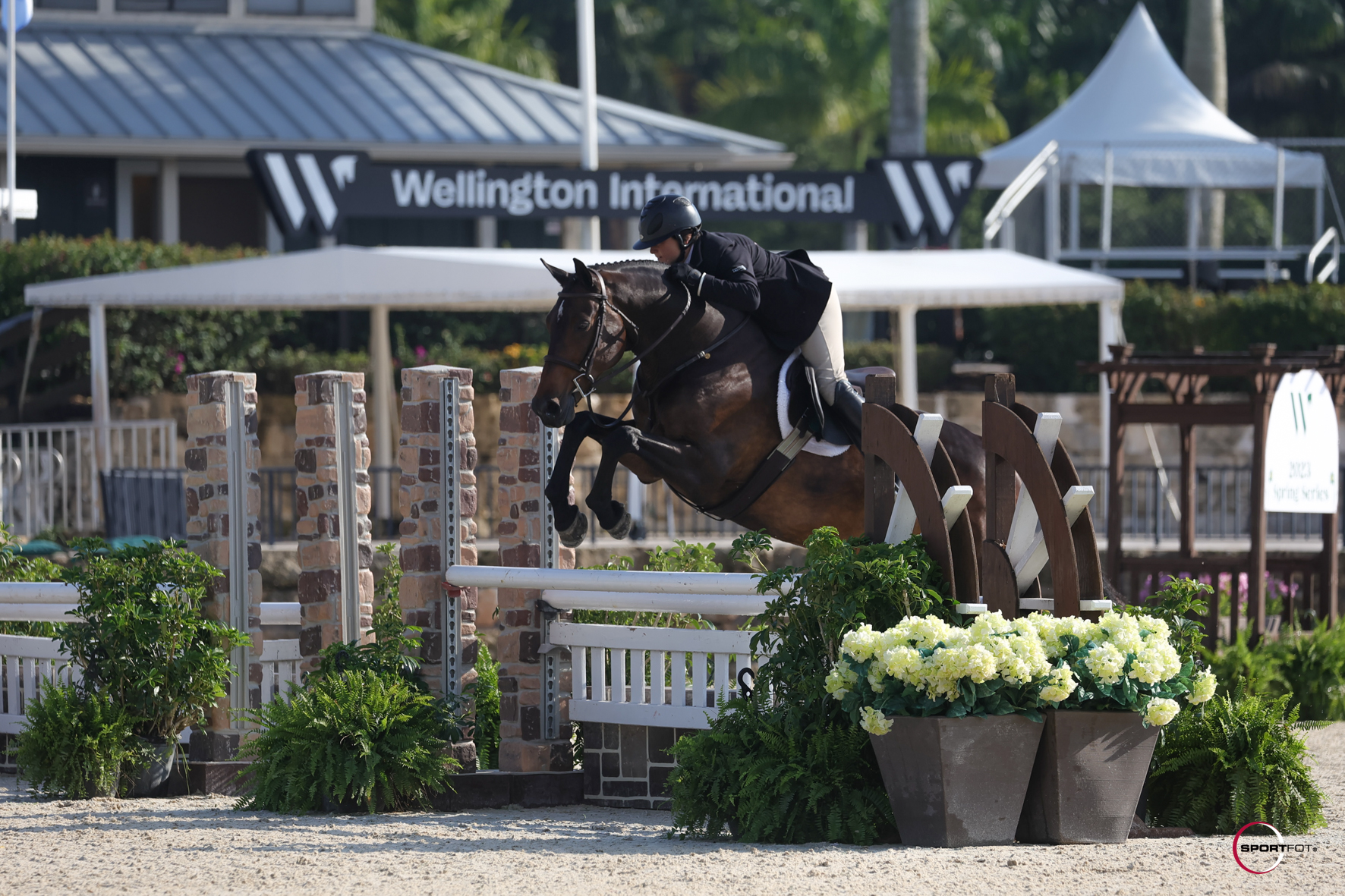 Swail Counts Another Win Aboard Count Me In 
The second week of the 2023 Spring Series, presented by Florida Coast Equipment, brought international and national show jumping competition back to Equestrian Village's grass derby field. As competition came to a close, all eyes were on Ireland's Conor Swail as he galloped to the top of the leaderboard in the $35,000 Arthramid Vet National Grand Prix, his second grand prix win of the day.  
After winning the morning's $146,000 Bainbridge Companies CSI3* Grand Prix, Swail delivered once again, but this time aboard his "horse of a lifetime," Count Me In, owned by Mannon Farm and Sandy Lupton. "It's a great day," said Swail with a smile. "I had two great horses, and they both jumped fantastic."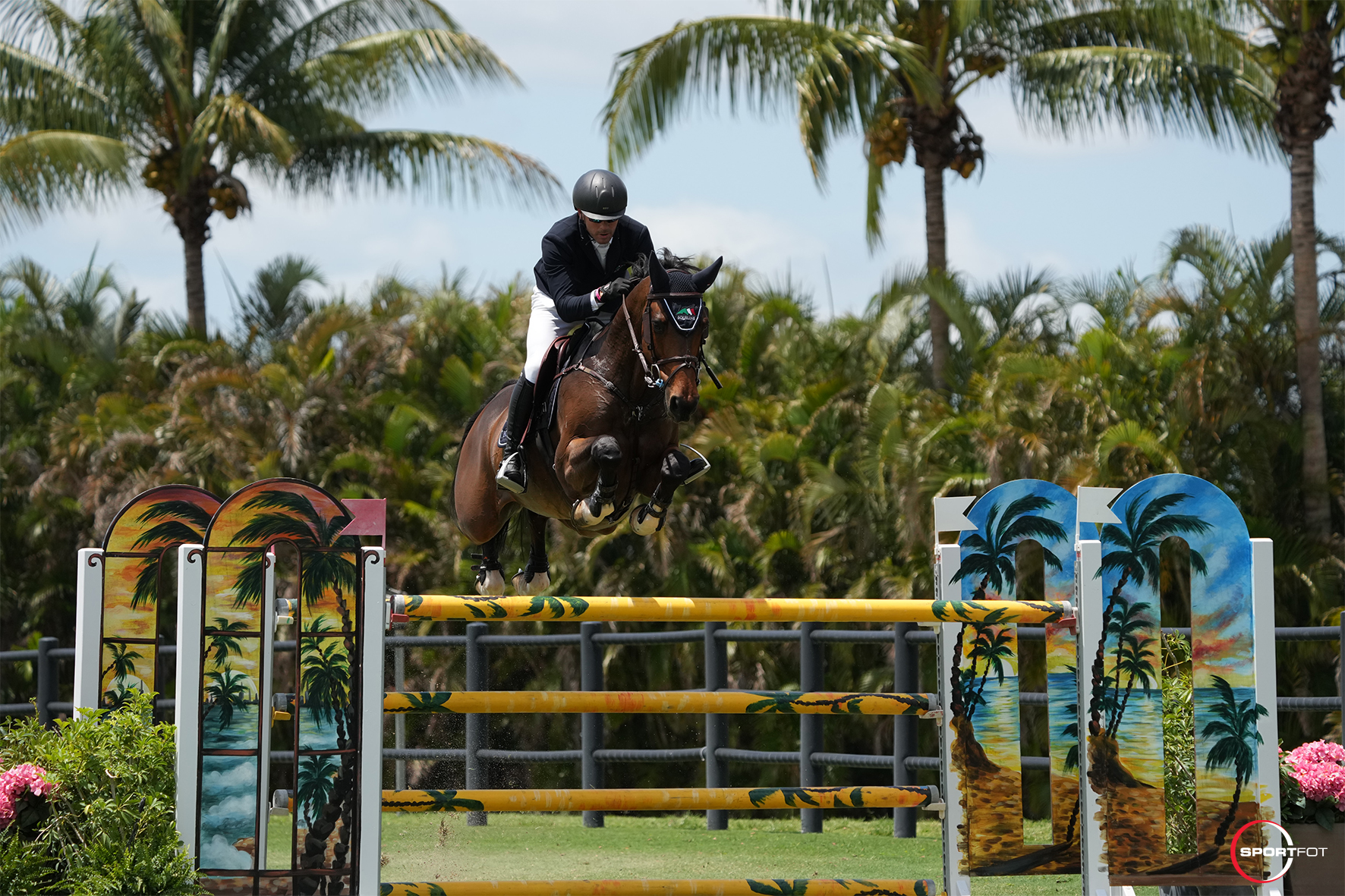 Swail and Count Me In, aka "Crosby," began their partnership in the spring of 2021 and collected several notable victories and top placings last year, including a win at CHI Geneva, a top placing in the World Cup qualifier at the Washington International Horse Show, and most notably winning the Aga Khan Nations Cup™ at The Dublin Horse Show. 
"This is probably the best horse I've ever ridden," Swail expressed. "This week, we jumped national because I'm just trying to rebuild his confidence, and we've had a good week. He jumped twice, was second in the first class, and won today. I wanted to get him back on the grass and get our season going again. He loves the field here." 
A total of 25 entries jumped course designer Ana Catalina "Catsy" Cruz's (MEX) track. Of the five pairs that advanced to the tie-breaking round, just two were double clear. Swail and Count Me In took the lead as they showed off an effortless and speedy final round, finishing nearly a full second ahead of Kent Farrington (USA) and Greya with just one pair left to challenge. 
"I thought it was a nice course," shared Swail. "The course designer didn't go overly strong, but at the same time, there was a good bit of technicality, and you had to think your way around the course."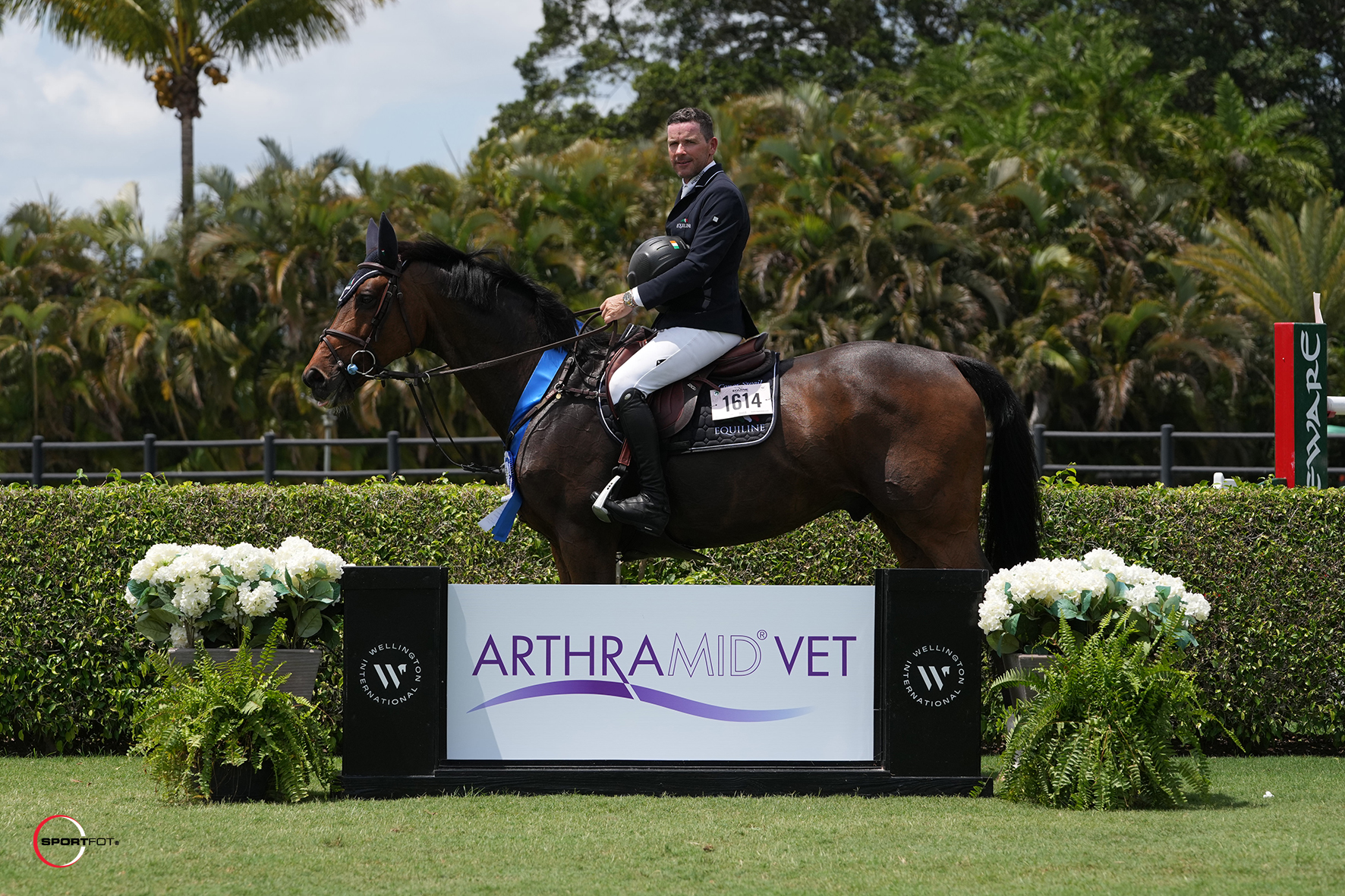 Just off the pace, Farrington and his own Greya finished in second with their double-clear time of 40.332 seconds, while Emmanuelle Greenberg (USA) and Copin's Boy, owned by Pumpkin Patch Farms II Inc, crossed the timers in 44.889 seconds with four faults to claim third place. 
The $6,000 Bainbridge Companies CSI3* 1.40m was the first class to welcome international riders to the field Thursday morning. The class, which was set in a "power and speed" format, saw a starting list of 58 combinations, with just 11 managing to make it to the second phase of the track. Quentin Judge, representing the USA, and Medarco PS flew around the track, finishing the speed portion of the course in a time of 38.39 seconds. Judge and the nine-year-old Oldenburg stallion (Messenger x Darco) owned by Gestüt Lewitz were closely followed by Emmanuelle Greenberg (USA) and Habitat BP, owned by Pumpkin Patch Farms II Inc. The second-place finishers posted a time of 38.52 seconds. Canada's Erynn Ballard rounded out the podium after clocking in at 39.62 seconds with Corner Pocket Z for The Z Group.
Highlights: Spring Series II 
Thursday continued with the $39,000  Florida Coast Equipment  1.45m CSI3* Two-Phase. 44 competitors took on the afternoon class, competing across one course in hopes of a fault-free, quick ride.  Lebanese rider, Jad Dana, and Fleur-De-Lis' Cherie, owned by the Cherie group, accomplished just that, riding right to the top of the class. Going eleventh in the order, Dana established his lead early, earning a second phase time of 30.97 seconds and a double-clear ride overall. The second spot was claimed by Nayel Nassar (EGY) and Linguini De La Pomme, owned by Evergate Stables, LLC, riding double-clear across the course but falling short on the clock with a time of 32.07 seconds in the second phase. Chasing Nassar with a second phase time of 32.51 seconds and a double-clear ride, taking third, was Luis Sabino Goncalves (PRT) and Vicki Du Croisy, owned by Sigma Stables, LLC.
Friday on the field began with the $10,000 Bainbridge Companies 1.40m Open Jumper Stake. 43 competitors took to the course with an eleven-obstacle first round followed by a six-obstacle immediate jump-off. Bringing home the blue was U.S. Olympic team gold medalist Will Simpson and Quentin VA, owned by Two Socks Farm LLC, with a double-clear round and jump-off time of 34.538 seconds. Following the lead was Conor Swail (IRL) and Count Me In, owned by Mannon Farm & Sandy Lupton, going double -clear and jumping off in a time of 36.087 seconds. Setting the pace early on in the class and ending up in the third spot was Erynn Ballard (CAN) and Mullentine Shalom, owned by Ilan Ferder. The pair was the first of the jump-off contenders, going double clear and jumping off in 36.218 seconds.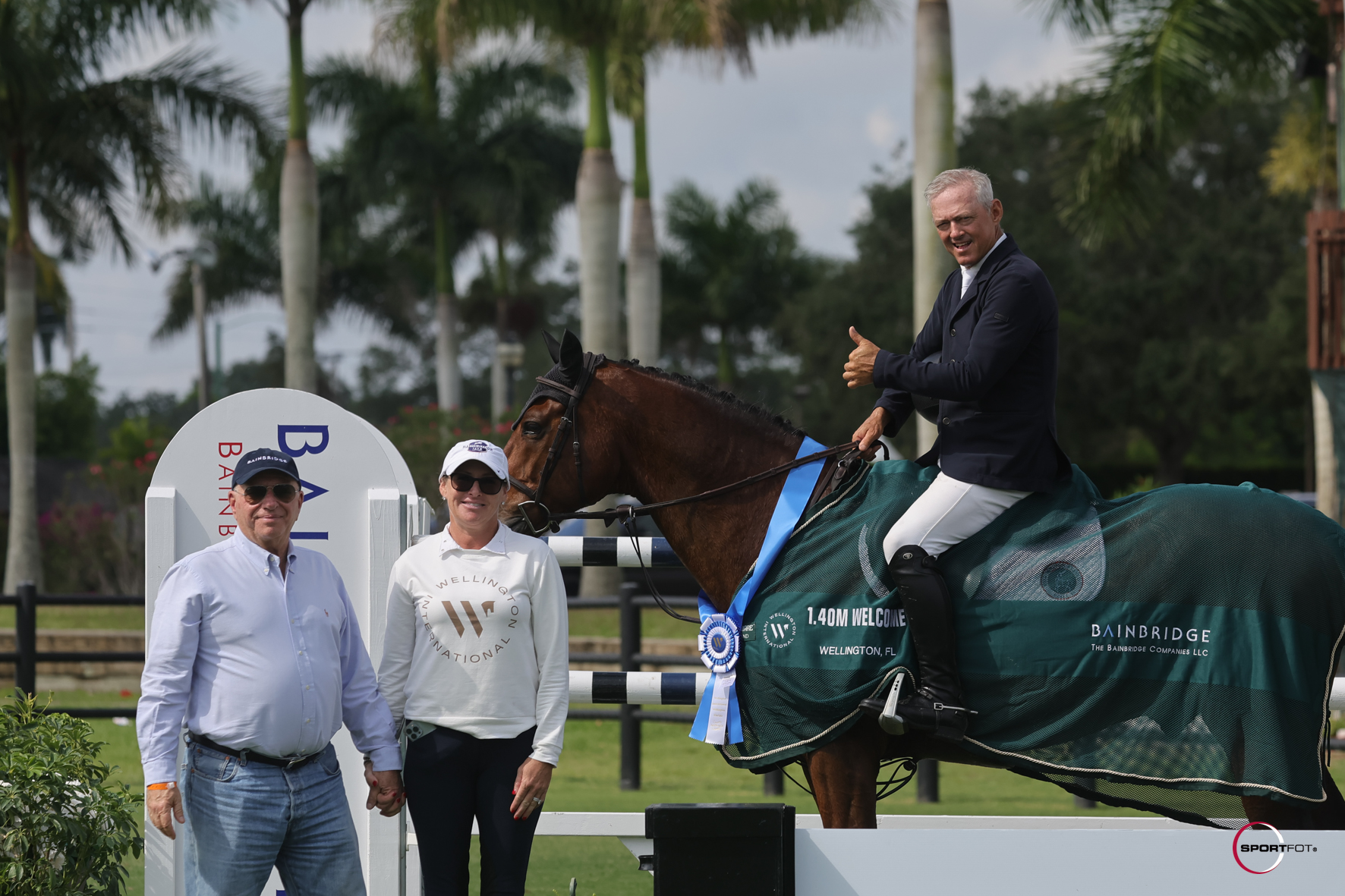 The day continued on the field with the $39,000 FreeJump CSI3* Grand Prix Qualifier. The thirteen-obstacle course was tackled by 49 riders, with 15 making it to the seven-obstacle jump-off. Out of the returning group, Portuguese rider Luis Sabino Goncalves and Vick Du Croisy, owned by Sigma Stables, LLC, took the top call. The pair rode double clear with a jump-off time of 32.96 seconds. Returning to the winner's circle for the second time on Friday, this time taking second, was Will Simpson (USA) and Chacco P, owned by Will Simpson Stables INC, performing double clear with a jump-off time of 33.05 seconds. Claiming the yellow ribbon was Simon McCarthy (IRL) and Athletix Hero Z, owned by Rock Ridge Farms, with a clear jump-off time of 34.14 seconds.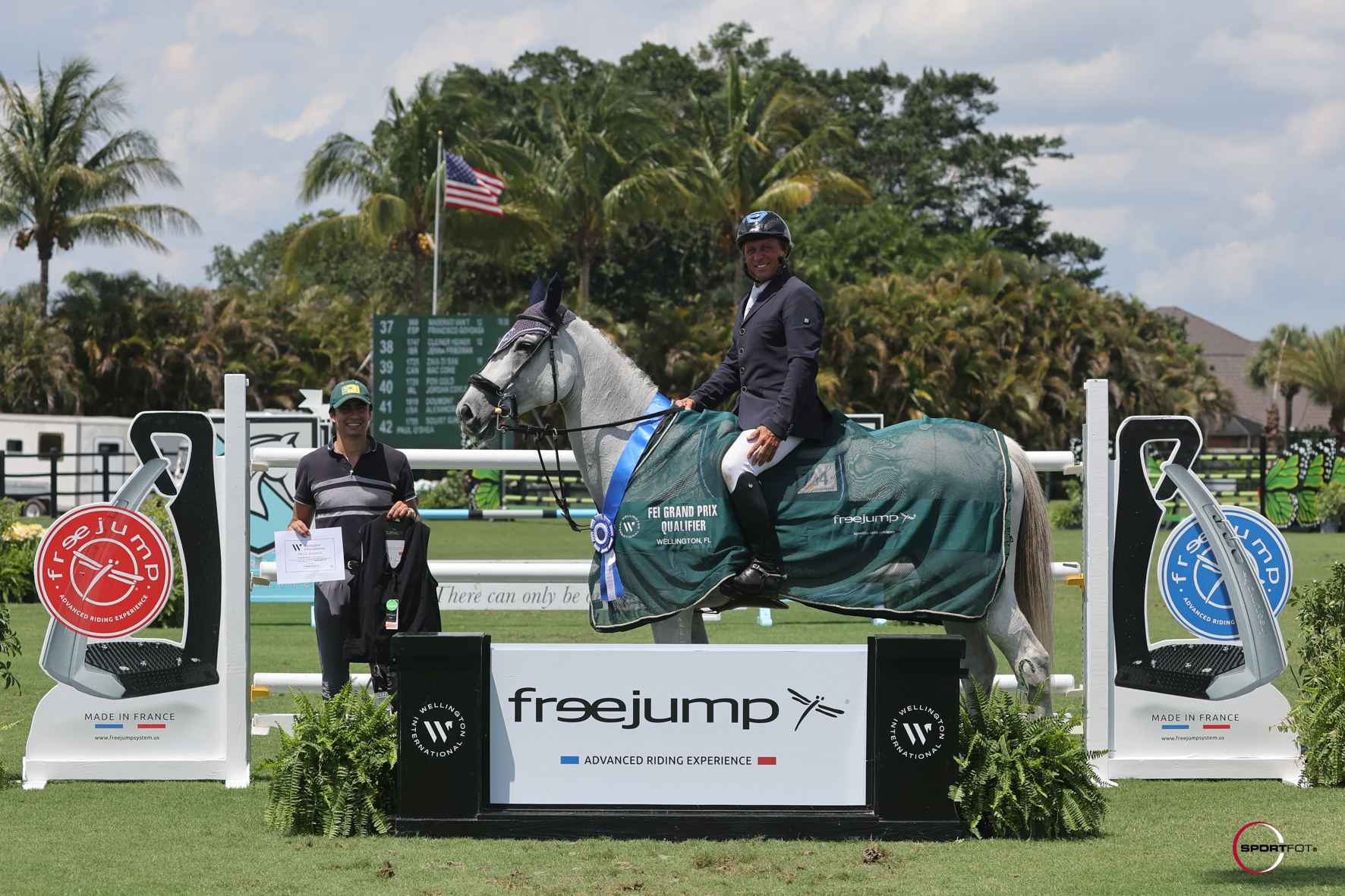 The CSI3* week continued Saturday with the $39,000 ProElite 1.45m Classic. 50 competitors took to the course with nine returning to the jump-off. Taking home the blue was Nayel Nassar (EGY) and Linguini De La Pomme, owned by Evergate Stables, LLC. The pair was the second-to-last combination to be added to the jump-off list, returning in the same order for the short course and setting the winning time to a clear 39.63 seconds. Finishing in second was Erynn Ballard (CAN) and Corner Pocket Z, owned by the Z Group, finishing double clear with a jump-off time of 40.07 seconds. Third place was awarded to Paul O'Shea (IRL) and Dirty Girl, owned by Eye Candy Jumpers, completing the jump-off clear in a time of 41.03 seconds.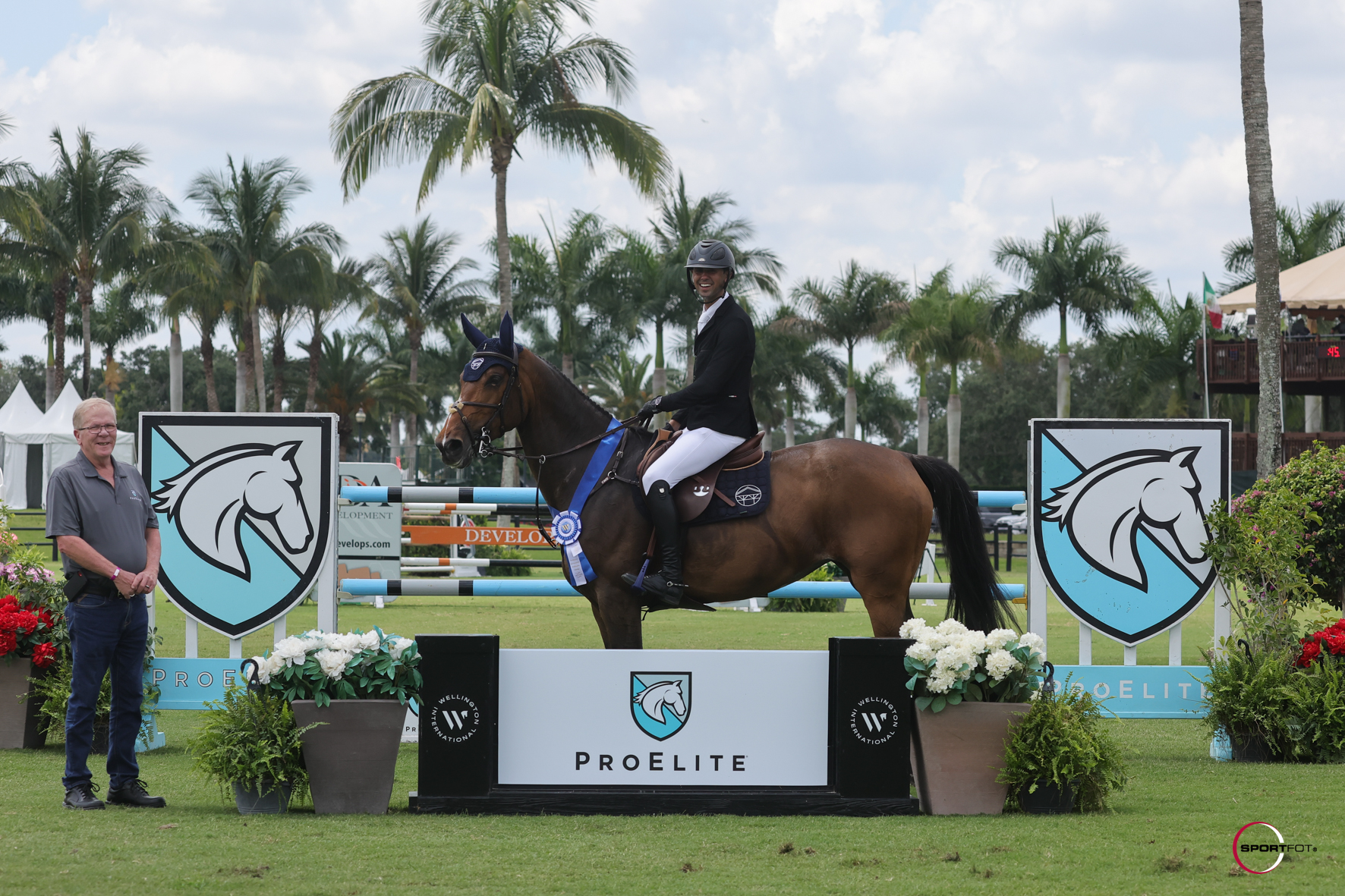 The Derby Field Annex also saw action on Saturday with the $5,000 Omega Alpha 1.35m Classic. 28 entries occupied the start list, with half qualifying for the immediate jump-off. The winning title was claimed by South African rider Johan Kachelhoffer and his own Cooper B at the end of the class, going double clear and setting the winning time of 38.947 seconds. Following in both second and third was Megan McDermott (USA), with her horses Nintendo and Bruce Z, owned by Counter Balance LLC. McDermott finished both rounds double clear, with ride times of 39.062 seconds and 39.645 seconds to round out the podium.
Sophia Mitchell (USA) and Elfy Des Equinoxes, owned by Mitchell Equine, LLC, championed the $5,000 High Junior/Amateur Jumper Stake, presented by Wellington National Golf Club, which kicked off Sunday's competition on the derby field. The duo was the only combination to post two clear rounds, clearing the jump-off in 30.599 seconds. Emmanuelle Greenberg (USA) finished second as the fastest four-fault round aboard Pumpkins Patch Farms II Inc's Dublin Van Overis and a first-round time of 74.493 seconds, while Richard Neal (USA) and his Camila 111 posted a first-round time of 74.749 seconds and four faults to claim third place.