Wellington, FL – March 12, 2022 – The penultimate day of the ninth week of competition at the Winter Equestrian Festival (WEF) concluded with its highly-anticipated "Saturday Night Lights" event. A large crowd flocked in for the $406,000 Douglas Elliman Real Estate Grand Prix CSI5* on Saturday evening. The night finished with Abdel Saïd (BEL) repeating his victory from 2021, but this time with his own Arpege Du Ru.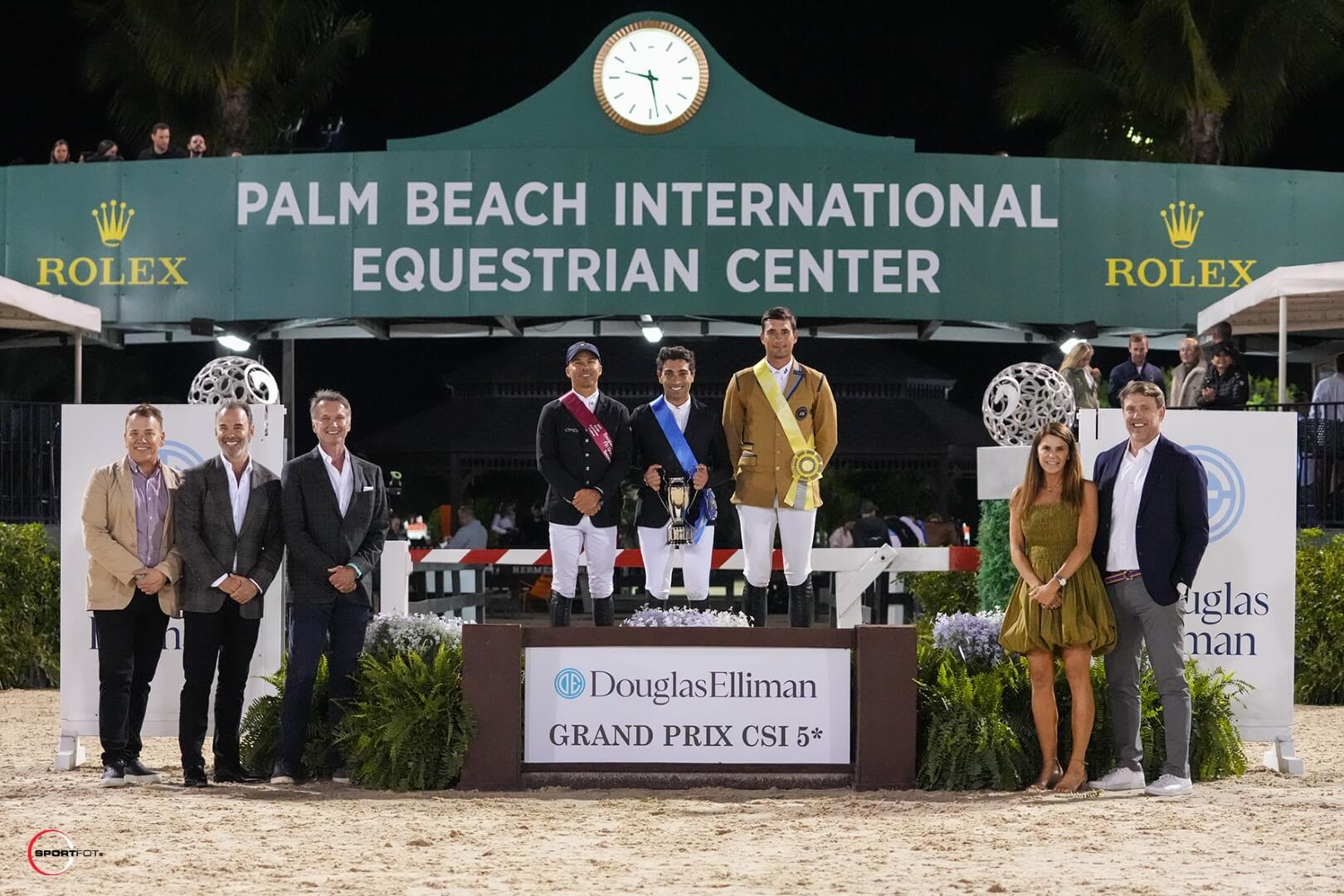 WEF 9, sponsored by Douglas Elliman Real Estate, hosts international five-star and two-star competition, sponsored by Corro, as well as hunter, jumper, and equitation divisions at the national level. The 13-week series features weekly shows through April 3, 2022.
The event featured 40 of the world's best equestrian athletes spanning 13 different nations and a significant track by world-renowned course designer Alan Wade (IRL). Wade's test for the first round included a triple bar and a triple combination early on in the course as well as an open water obstacle. 
2020 Tokyo Olympic Games team silver medalists McLain Ward (USA) and Contagious, owned by Beechwood Stables, were the class trailblazers, and they initiated the challenge with a clear round. Twelve pairs eventually found their way to a fault-free finish to contest the jump-off. The course's time allowed of 81 seconds only kept one combination from advancing to the second round, and six entries had their night cut short by a lone rail tipped out of the cups. 
As the first of the 12 to return, Ward once again led the charge but an unfortunate miscommunication at a vertical left him and Contagious on a four-fault final score for sixth place. Saïd's performance with Arpege Du Ru produced the first double-clear effort of the class and bumped the pair into the top spot with a time of 38.58 seconds. Ten more world-class athletes gave it their all, but Saïd was determined to repeat his victory of the same class that he won during WEF 2021 aboard Bandit Savoie. 
"I'm really delighted with my mare because all season she has been developing," detailed Saïd. "Every year we come to WEF, I find my horses develop further, and I'm thrilled it came together tonight. I really enjoy being here. I don't think there are many better venues in the world, especially at the beginning of the year, to set your horses up so well."
According to Saïd, he and his 12-year-old Selle Francais mare (Apache D'Adriers x Quat'sous) have been inching closer and closer to a win throughout the season, and it seems only fitting that he went two-for-two in this particular class.
"I had a time fault in the first five-star grand prix we did [at WEF]," added Saïd. "Tonight, I said, 'I will not be too slow.' I thought I might be too fast and have a rail, but the plan from the beginning was to go for it. I really wanted and needed that win for our whole team."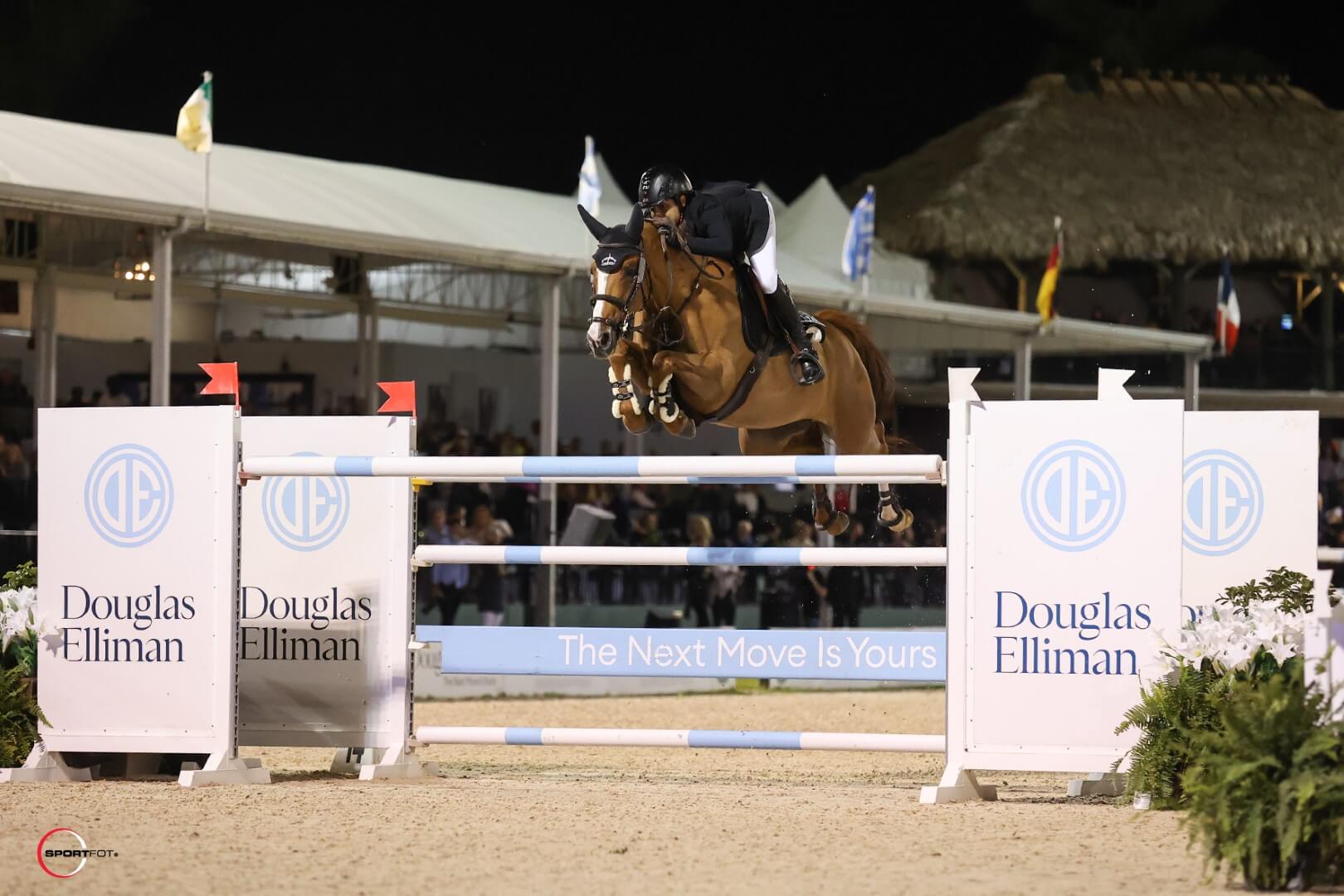 Following the class, the Herman 'Kappy' Kaplan Perpetual Memorial Trophy was presented to Abdel Saïd. The trophy was established for Kappy with fondness by the Farriers of the 1995 WEF.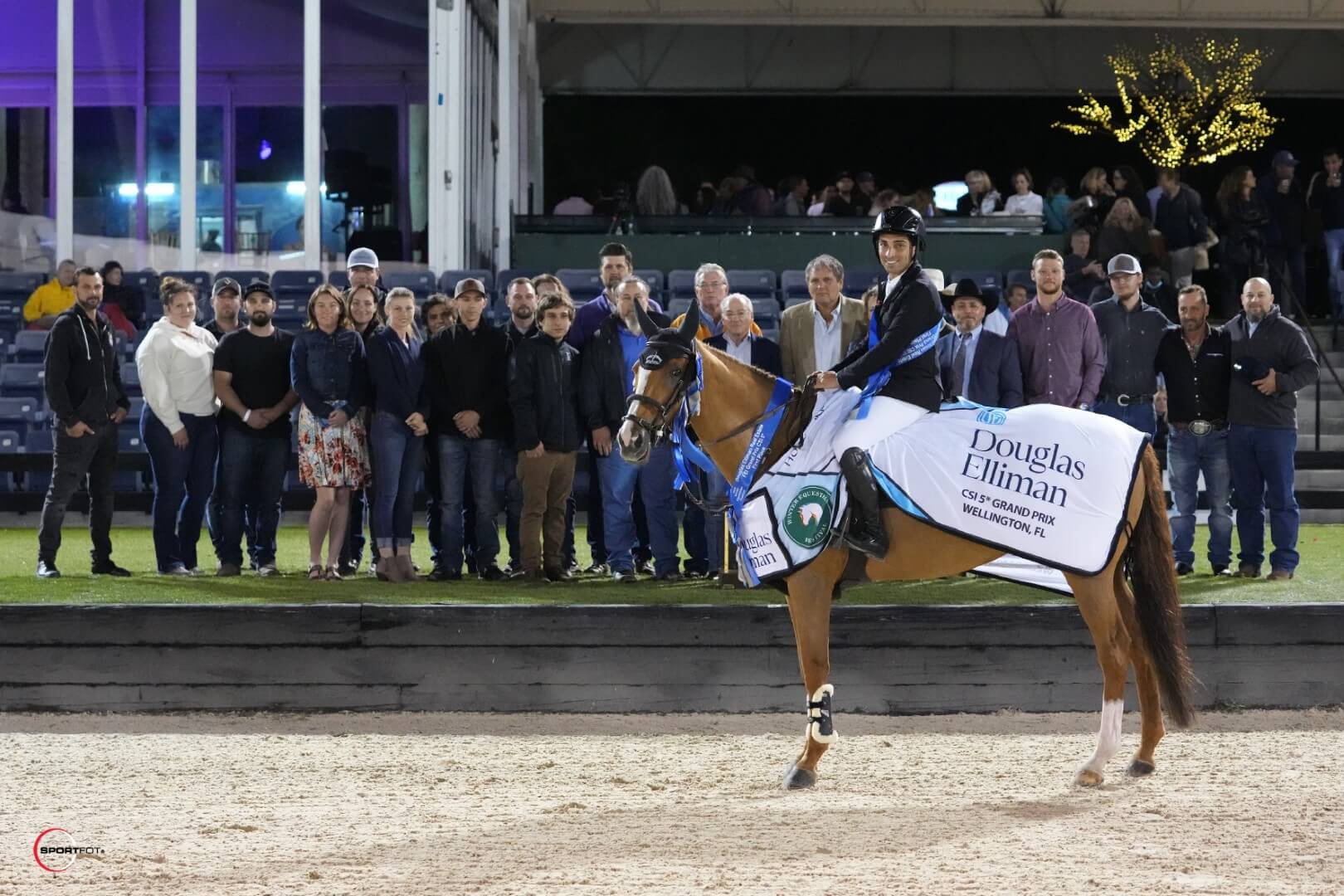 Thursday's $75,000 Adequan® WEF Challenge Cup Round IX CSI5* winners Kent Farrington (USA) and Orafina secured another memorable ribbon for the week as they put their name on the board for the runner-up honors. Farrington chased Saïd down to the wire with Kent Farrington LLC's 10-year-old KWPN mare (For Fashion x Canturo) but stopped the clock still almost two seconds off of the top time to take the red ribbon on 40.42 seconds. 
"This is only [Orafina]'s second time jumping in a five-star class, and for that I thought it was a tremendous result," stated Farrington. "It always feels better to win but I think Abdel had an incredible result, and that was going to be tough to beat on any horse.
"I like to take my time producing young horses that have a lot of talent, and I am very excited about her future," he continued of the mare he has competed internationally for one year. "She proved a lot to me here in this class, and I am hoping for big things going forward. I think we all had tremendous athletes under us, and it is unique they all happened to be mares tonight. I have had a lot of success with great mares because they have heart and a ton of try."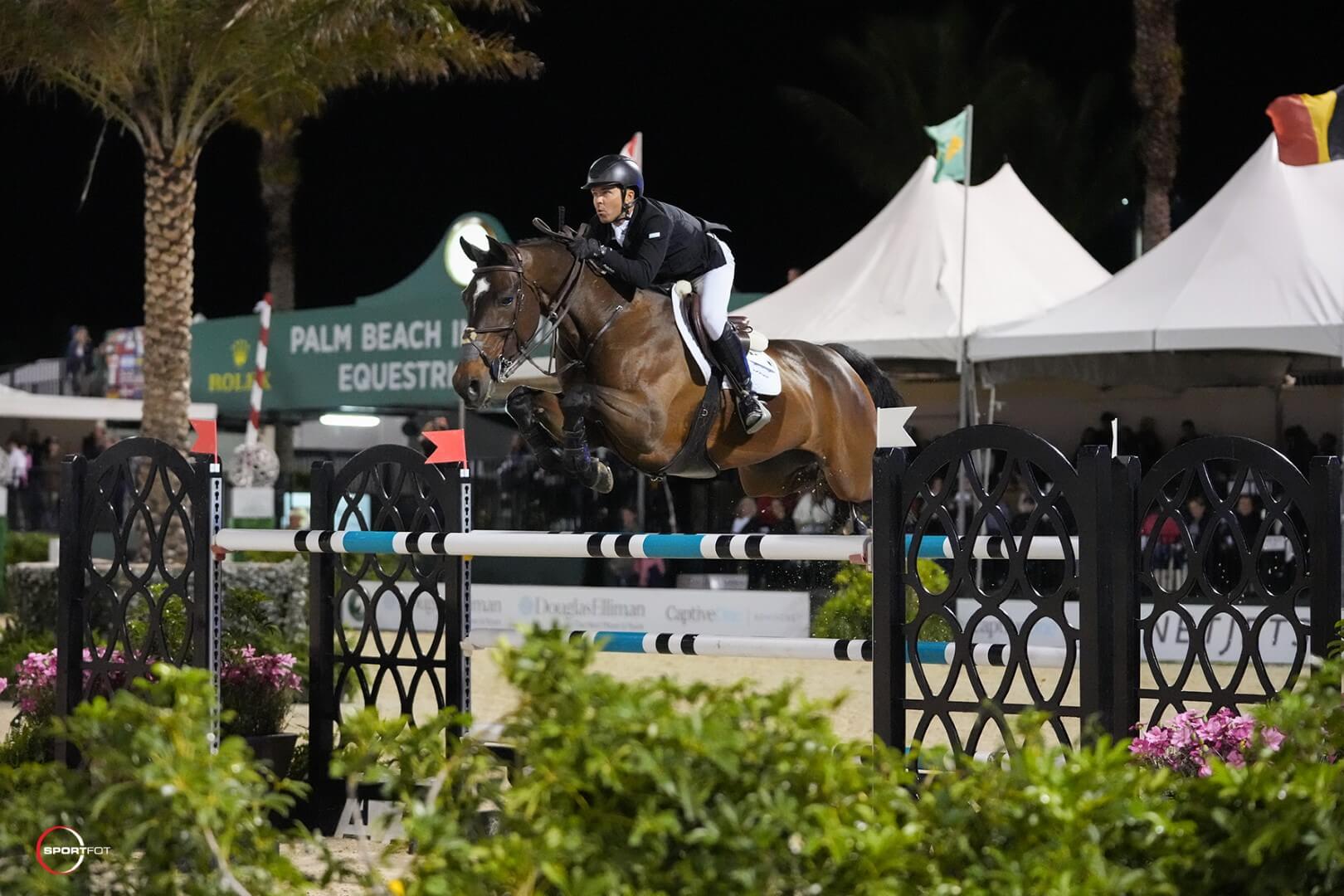 Nicola Philippaerts (BEL) joined his fellow countryman in the victory lap after piloting his 12-year-old Belgian Warmblood mare Katanga V/H Dingeshof (Cardento 933 x Tornedo FCS) to the third-fastest double clear time of 41.65 seconds.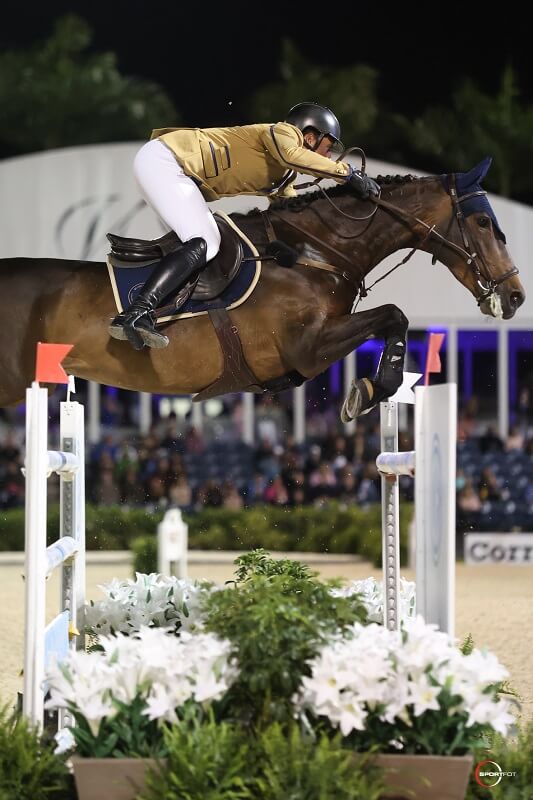 "My mare is feeling great at the moment," said Philippaerts. "She doesn't have the biggest stride, so it is not easy to go flat out in the jump-off, but I did my best. She is special because she can somehow always give something extra in the moment that it matters most." 
Don Langdon, Managing Broker of Wellington, Palm Beach, and Jupiter for Douglas Elliman Real Estate, echoed the sentiment of many when he told the top three: "I've always admired your athleticism. To be able to step aside and quiet your mind to have a peak performance at a time like this is something to be incredibly proud of."
The final double clear ride of the night was Katherine Dinan (USA) aboard Brego R'N B, owned by Grant Road Partners LLC. They were steady in 44.25 seconds for fourth place.
The Martha W. Jolicoeur Leading Lady Rider Award was presented to Adrienne Sternlicht for her top finishes this week. Sternlicht rode Benny's Legacy to 12th place in the grand prix.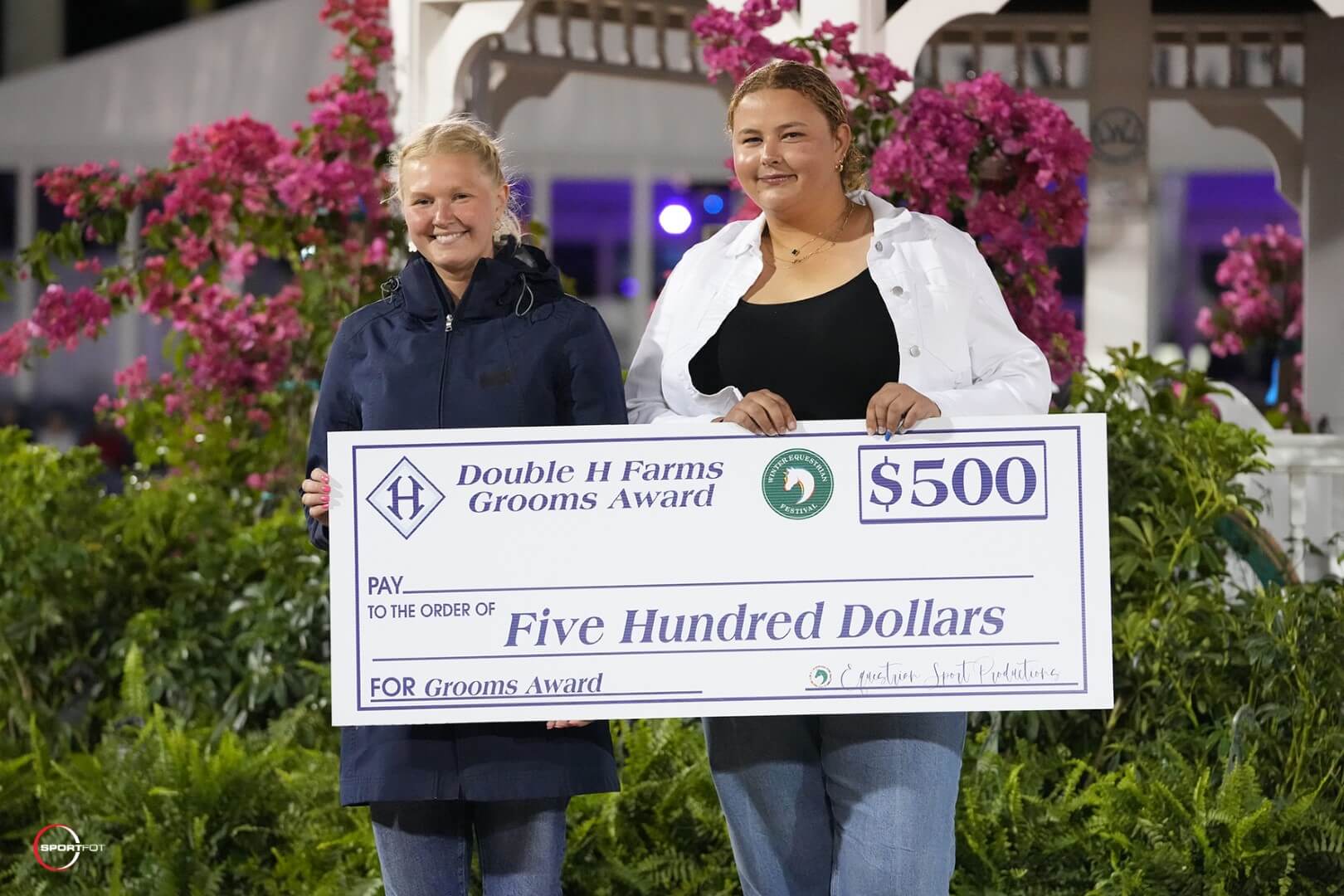 The Double H Farm Groom's Award was presented to Julia Elach, the winning groom in the grand prix for Abdel Saïd.
Final Results: $406,000 Douglas Elliman Real Estate Grand Prix CSI5* 
1. ARPEGE DU RU: 2010 Selle Français mare by Apache D'Adriers x Quat'sous
ABDEL SAÏD (BEL), Abdel Saïd: 0/0/38.58
2. ORAFINA: 2012 KWPN mare by For Fashion x Canturo
KENT FARRINGTON (USA), Kent Farrington LLC: 0/0/40.42
3. KATANGA V/H DINGESHOF: 2010 Belgian Warmblood mare by Cardento 933 x Tornedo FCS
NICOLA PHILIPPAERTS (BEL), Nicola Philippaerts: 0/0/41.65
4. BREGO R'N B: 2006 KWPN gelding by Namelus R x Gerlinus
KATHERINE DINAN (USA), Grant Road Partners LLC: 0/0/44.25
5. COBY 8: 2010 Hanoverian gelding by Contagio x Escudo 19
PHILIPP WEISHAUPT (BEL), Mariko Kato, Noyuri Ko, and Beerbaum Stables: 0/4/38.52
6. CONTAGIOUS: 2009 Rheinlander gelding by Contagio x For Keeps
MCLAIN WARD (USA), Beechwood Stables, LLC: 0/4/39.84
7. DSP CHAKARIA: 2010 Dutch Sport Horse by Chap 47 x Askari 173
ANDRE THIEME (GER), Pfudermanagement & Marketing: 0/4/40.12
8. BALOUTINUE: 2010 Hanoverian gelding by Balou du Rouet x Landor S
LAURA KRAUT (USA), St. Bride's Farm: 0/4/40.42
9. DSARIE: 2008 KWPN mare by Veron x Ahorn
BEAT MÄNDLI (SUI), Grant Road Partners GMBH: 0/4/41.02
10. ARMIK: 2009 Oldenburg gelding by Armitage 2 x Justinian xx
CAPT. BRIAN COURNANE (IRL), Mr. and Mrs. Stiller and Brian Cournane: 0/4/43.40
11. BALENTO C.S.: 2011 Oldenburg Stallion by Balou du Rouet x Cento
EMILIE CONTER (BEL), Stephex Stables: 0/8/41.86
12. BENNY'S LEGACY: 2008 Oldenburg gelding by Lupicor x Voltaire
ADRIENNE STERNLICHT (USA), Starlight Farms 1 LLC: 0/16/61.88

Darragh Kerins and Valentino Tuiliere Take Top Finish in $50,000 Corro Grand Prix CSI2* 
International competition leading up to Saturday night's event consisted of the $50,000 Corro Grand Prix CSI2*. Darragh Kerins (IRL) headed up the victory gallop as he ultimately took the win with Eve Jobs's 13-year-old Selle Francais gelding Valentino Tuiliere (Diamant De Semilly x Silvio).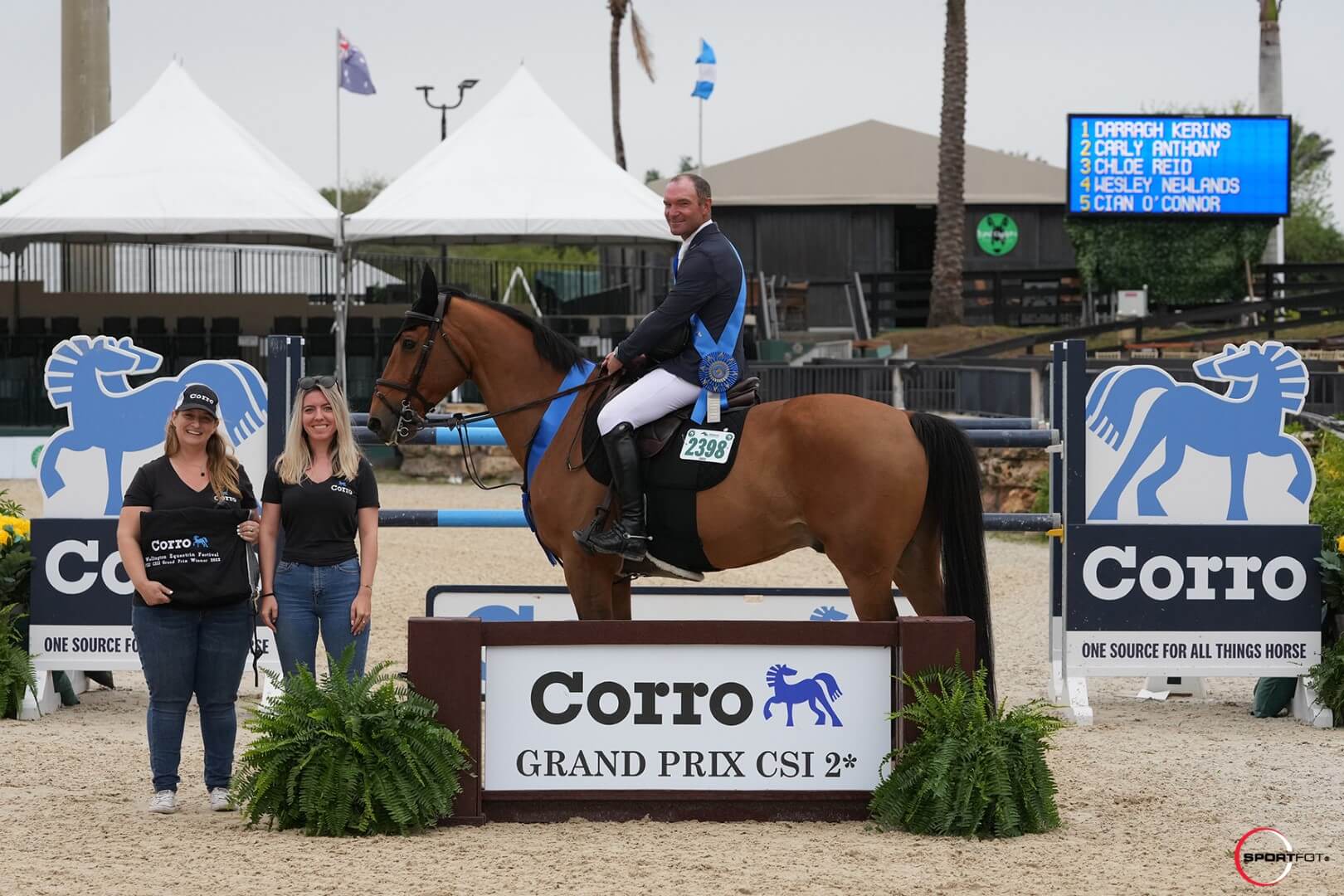 Forty-six pairings representative of 10 individual nations navigated through Wade's two-star track. Nine entries were able to produce a clear first round to qualify for the shortened track, and nine fell victim to the penalty of a downed rail. The time allowed knocked three more riders out of contention. Rebecca Conway (USA) led the way as the first to return but put four faults on the board. Ireland's Cian O'Connor followed and produced the first double-clear effort aboard Taj Mahal. The challengers got quicker as the class went on, but Kerins was the only one of the contenders to stop the clock under 41 seconds to hold on to the lead.
"I've only been riding him since the beginning of this circuit," explained Kerins. "Eve [Jobs] has done a lot of successful things with him, and she is coming in the next couple weeks, so I have just been keeping him going."
The win was extra sweet for Kerins who says he has been knocking on the door of a top finish for several weeks.
"I jumped him in a two-star grand prix a couple of weeks ago, and he was very good but just had one down," he added. "I was really disappointed because I haven't gotten into a jump-off with him before. Today when we went clear I decided I was really going to give it my best shot."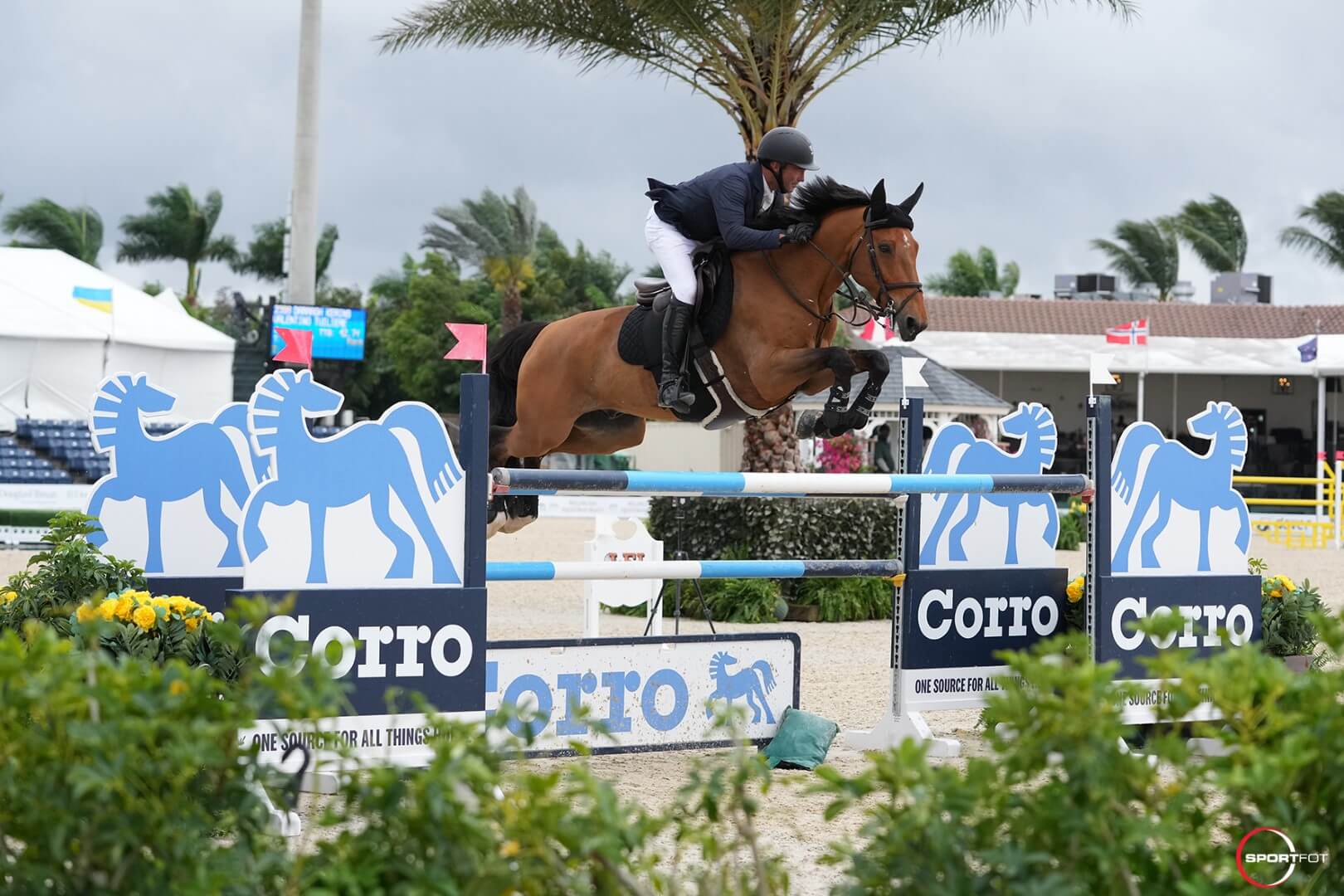 Carly Anthony (USA) and Jet Blue, who were the winners of Thursday's $37,000 Corro 1.45m Grand Prix Qualifier CSI2* class, once again produced a top performance. She and the Portfolio Horses LLC's 11-year-old KWPN gelding (VDL Zirocco Blue) clocked in at 41.13 seconds which put them just slightly above Kerins's winning time. Fellow American Chloe Reid rode the third-best round of the jump-off. Reid piloted Crossover 4, a nine-year-old Hanoverian stallion (Cascadello x Chacco-Blue) owned by Team Reid LLC, through a clear round with a time of 41.42 seconds.
Final Results: $50,000 Corro Grand Prix CSI2* 
1. VALENTINO TUILIERE: 2009 Selle Francais gelding by Diamant De Semilly x Silvio
DARRAGH KERINS (IRL), Eve Jobs: 0/0/40.78
2. JET BLUE: 2011 KWPN gelding by VDL Zirocco Blue
CARLY ANTHONY (USA), Portfolio Horses LLC: 0/0/41.13
3. CROSSOVER 4: 2013 Hanoverian stallion by Cascadello x Chacco-Blue
CHLOE REID (USA), Team Reid LLC: 0/0/41.42
4. MAESTRO VAN HET BINNENVELD: 2012 BWP stallion by Hunter's Scendix x Conan Z
WESLEY NEWLANDS (CAN), Weslands Farms: 0/0/42.74
5. TAJ MAHAL: 2013 Zangersheide stallion by Emerald Van't Ruytershof x Quannan R
CIAN O'CONNOR (IRL), Coolmore Show Jumping: 0/0/43.31
6. FAIR FIELD: 2010 KWPN gelding by VDL Zirocco Blue x Chin Chin
KATHERINE STRAUSS (USA), Katherine Strauss LLC: 0/0/44.29
7. PRIMO TROY: 2009 Irish Sport Horse gelding by Clinton x VDL Arkansas
CATHERINE TYREE (USA), Itasca Group LLC: 0/4/42.89
8. CON COLEUR: 2009 Hanoverian gelding by Contendro I x Couleur Rubin
REBECCA CONWAY (USA), Blue Hill Farm, LLC: 0/4/43.32
9. WONDER IF: 2012 mare by Cevin Z x Bolivar
AMANDA DERBYSHIRE (GBR), Gochman Ventures LLC: 0/4/44.98
10. VOODOO 10: 2010 Hanoverian gelding by Valentino 240
JOHN PEREZ BOHM (COL), Julio David Vainer: 1/75.40
11. EDOCENTA: 2012 OS mare by Eldorado VD Zeshoek x Dobel's Cento
CHARLOTTE JACOBS (USA), North Star: 1/75.57
12. HOLLYWOOD DE RASE Z: 2012 Zangersheide gelding by Hoegle Van't Bergske x Triomphe De Muze
ANGELA COVERT (CAN), Angela Covert: 3/77.08
Mindful and Jennifer Hannan Score Big in $25,000 USHJA International Hunter Derby 2*
Gusty winds and partly cloudy skies greeted a field of 40 entrants for the $25,000 USHJA International Hunter Derby 2* presented by Sam Edelman.
Eighth in the order of go, Hannan and Mindful, a Hanoverian gelding owned by Kensel, LLC, took a commanding lead with scores from panel one and two of 90 and 92 with three high options taken for a total of 188 in round one.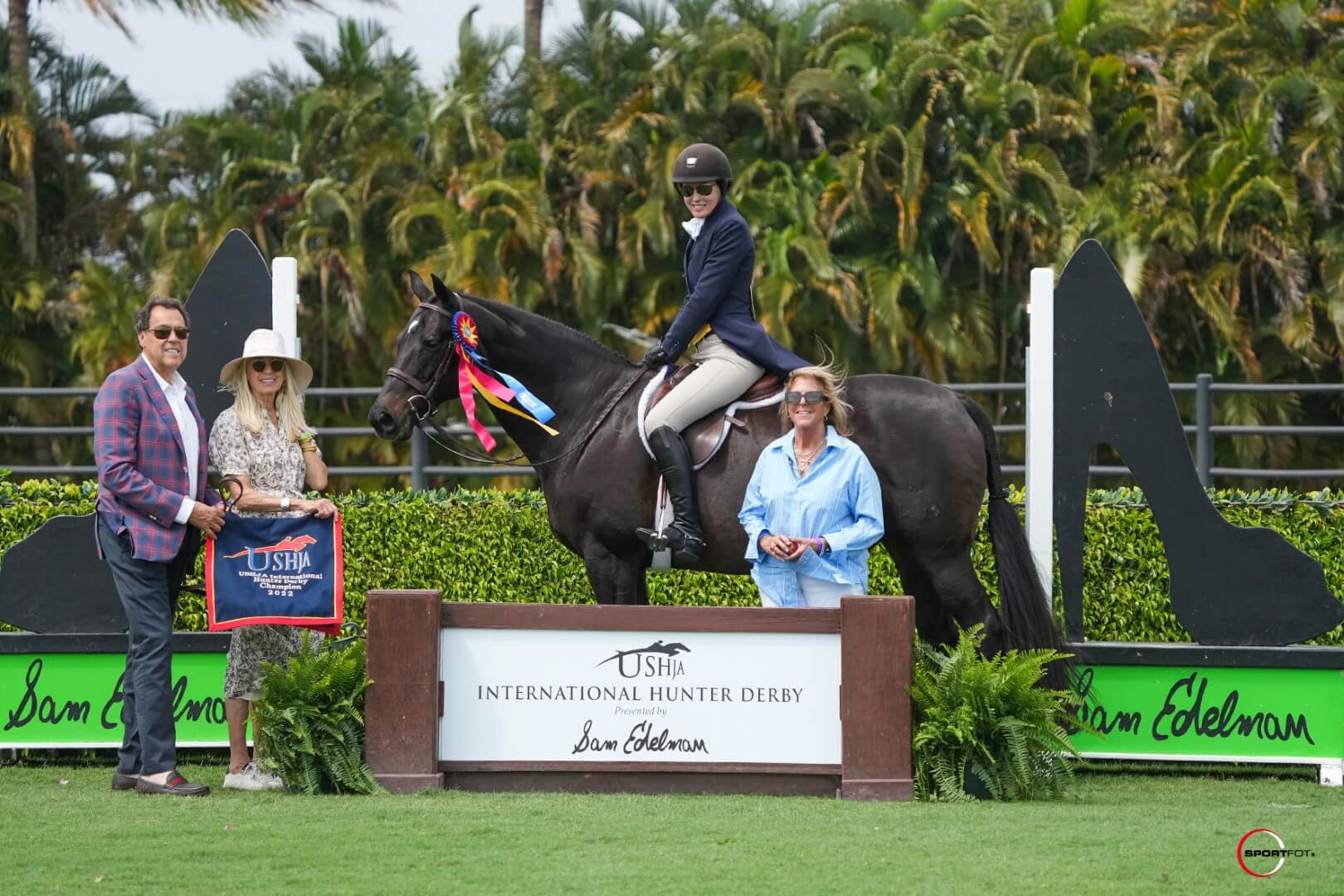 "For round one I just wanted to be smooth and really stick to my plan," said Hannan. "I know my horse really well. We're kind of on the same wavelength, so the goal was just to be smooth and put in a nice, solid round."
After round one, the top 12 horse and rider pairs returned for a handy round. The handy round would again be scored by two panels of judges with bonus "handy" points being added on to a base score along with any high options taken to give them a second-round total.
Hannan and Mindful held the top spot of those to return after being one of only two pairs to receive a base score of 90 or above in the first round. The other pair was Hannah Isop and Red Ryder, who had the second-highest returning total with 187.5 points after round one.
"There's always pressure coming back on top," said Hannan. "I knew there were no options for me. I had to take all the inside turns and jump the high options, so again my plan was just to stick to my goal, relax as much as I could, and use as slim a track as I could."
Hannan and Mindful executed their plan and earned scores of 90 and 93 with five and nine bonus points awarded respectively, with all four high options taken. Their second-round total was again the highest posted, earning an impressive 205 points and bringing their grand total to 393 points to secure the win.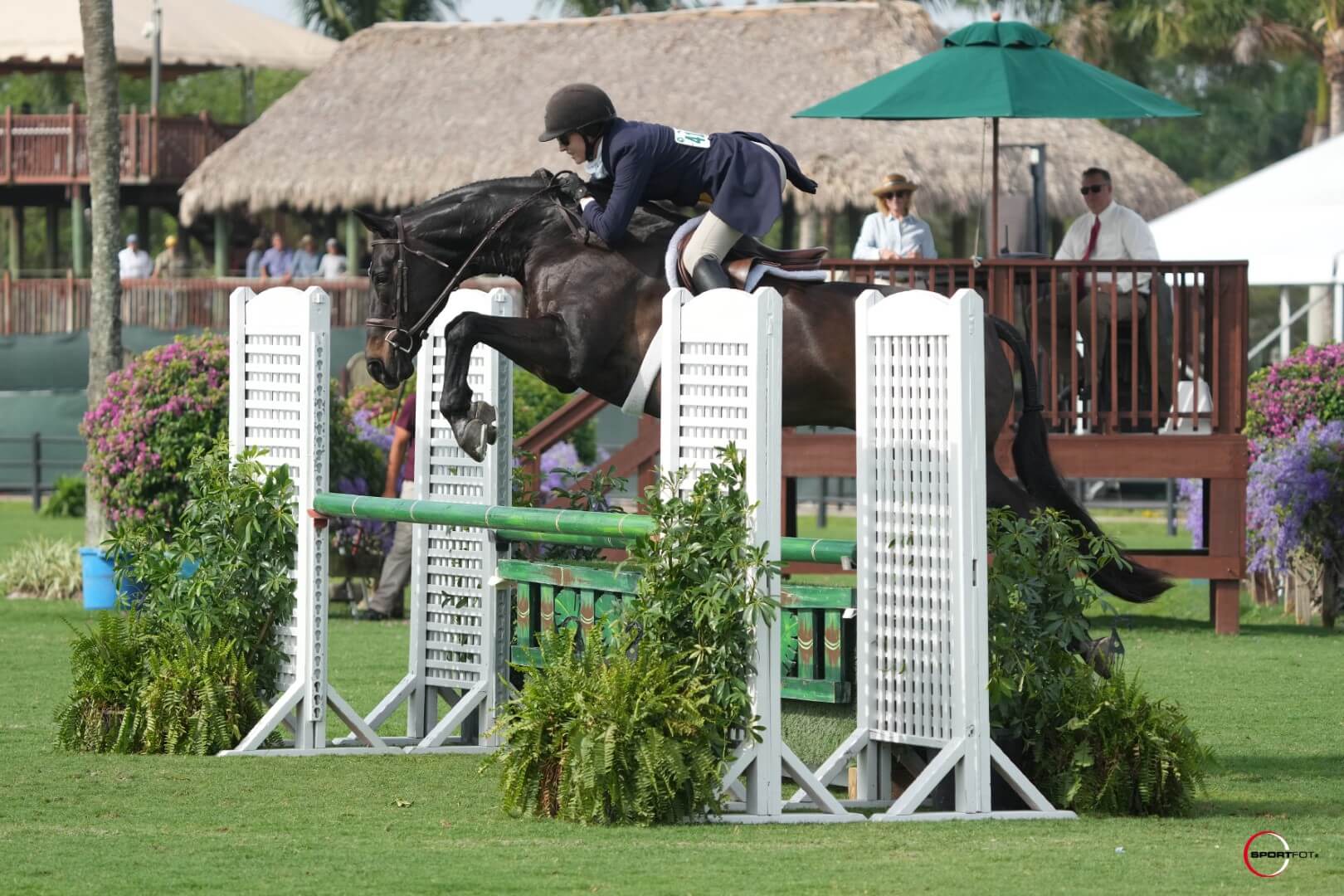 "I always feel honored to ride him," said Hannan. "He does everything well. He's really a winner, but at this point in his career, he's 18 years old, and we really aim for just these classes. We will do the $50,000 [derby] week 11, and then we'll aim to do Devon and Upperville. Those are the next steps."
Close on the heels of Hannan and Mindful after round one were Isop and Red Ryder, owned by Tracy Freels. The pair finished in second on a total of 388.5 after second-round scores of 91(+8 handy) and 87(+7 handy) with all four high options taken.
Final Results: $25,000 USHJA International Hunter Derby 2*
Horse, Rider, Owner
R1 | Handy | Total
Mindful, Jennifer Hannan, Kensel LLC
188 | 205 | 393
Red Ryder, Hannah Isop, Tracy Freels
187.5 | 201 | 388.5
Meaningful, Kelley Farmer, Emma Vandenhouten
185 | 193.5 | 378.5
Private I, Michael Britt-Leon, Kelly Sims
184 | 192 | 376
Poker Face, Jennifer Bliss, Harris Hill Farm LLC
180 | 187 | 367
Unbelievable, Jacob Pope, Forget Me Not Farm
171.5 | 195 | 366.5
El Primero, Victoria Colvin, Meralex Farm Inc
171 | 192 | 363
Milagro, John French, Kent Farrington LLC
181.25 | 180 | 361.25
Chappy, Greg Crolick, Carole Chase
177.75 | 181 | 358.75
Calisto, Greg Crolick, Jon Cotton
174.5 | 183 | 357.5
Odyssey, Eleese Shillingford, Eleese Shillingford
171.5 | 168 | 339.5
Gabriel, Victoria Colvin, J T Farm
181 | 109 | 290