Summer Grace and Sabrina Schmidt for Jennifer Wood Media, Inc.
Wellington, FL – February 5, 2022 – A picturesque South Florida day set the stage for Saturday's feature class at Week 4 of the Winter Equestrian Festival, sponsored by The Bainbridge Companies. The circuit sees some of the top riders in the world flock to the city of Wellington, Florida, for top national and international-rated hunter, jumper, and equitation competition. The $216,000 Bainbridge Companies Grand Prix CSI4* was the highlight on the Derby Field at Equestrian Village and ended with yet another victory for the home team as McLain Ward (USA) went two for two this week with his 2020 Tokyo Olympic Games mount, Contagious, owned by Beechwood Stables.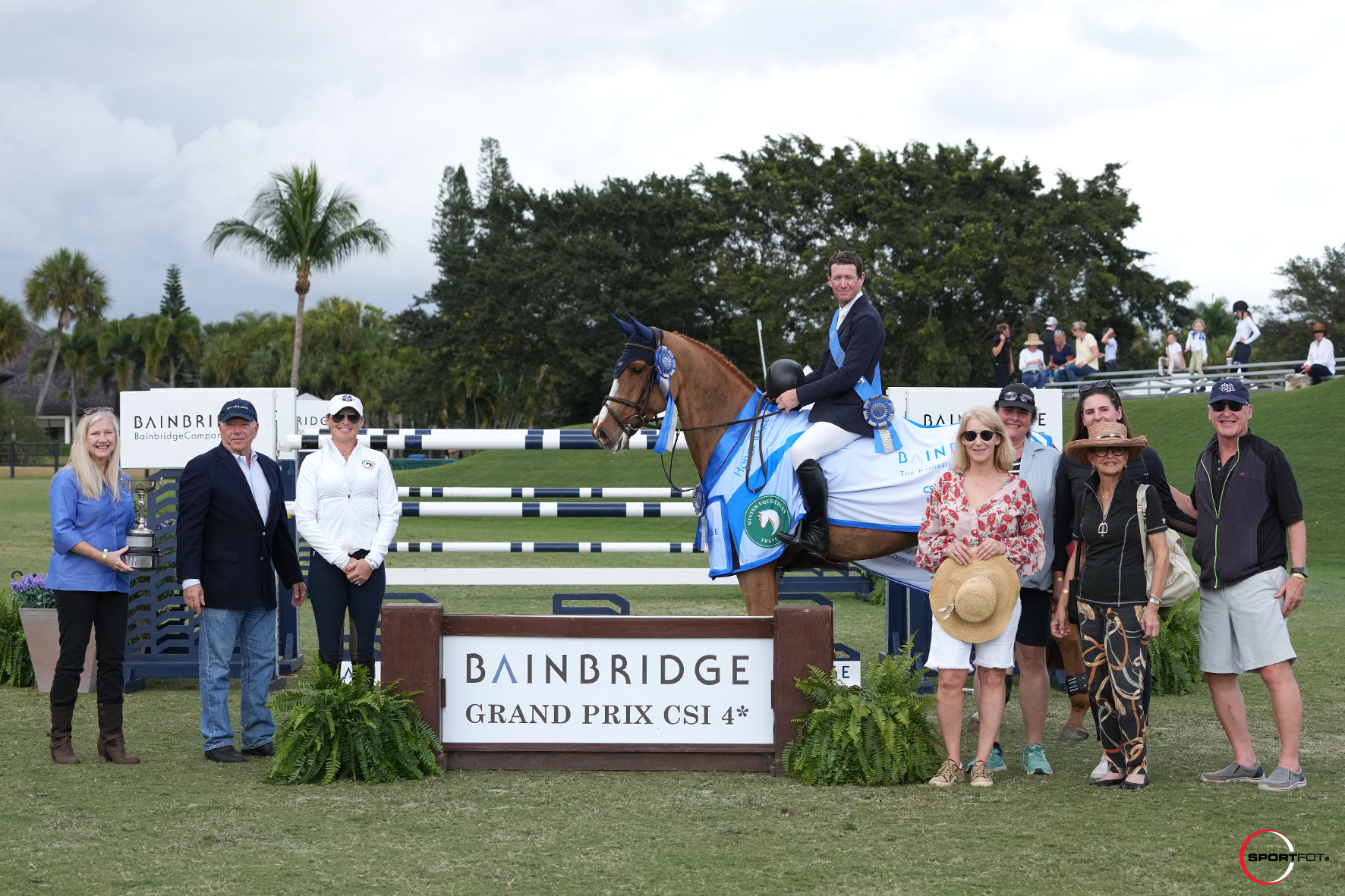 Anderson Lima (BRA) designed the course for the event, and the majority of the 46-horse starting field was unable to produce a fault-free effort. Lima's last-line triple combination proved to be the Achilles heel for a large number of riders at the wide-oxer fence, and the open water obstacle played a factor for several others. Two riders were kept from the jump-off after notching slightly over the 84-second time allowed, while an additional nine fell victim to a single unforgiving rail. As the last horse cleared the final obstacle of round one, only four entries of the original field would return to contest the jump-off. It was a battle of the elite as Ward and 2020 Olympic individual gold medalist Ben Maher (GBR) contested Ali Wolff (USA) and Zoe Conter (BEL) in round two.
Ward was the first to return and immediately left no room for error as he and the 13-year-old Rheinlander gelding (Contagio x For Keeps) flew over the field in what proved to be the fastest time of 42.95 seconds. Maher followed Ward and put forth a solid effort but took down one heartbreaking rail to end as the only four-falter in the group. Young up-and-comer Conter piloted her long-term mount Davidoff De Lassus, a 13-year-old Belgian Sport Horse stallion by Ugano Sitte owned by Stephex Stables, through another clear round as did professional Wolff with tried-and-true partner Casall. The Olympic combination proved impossible to beat with the pedal to the floor from start to finish and scored the win with over two seconds of leeway between them and the next challenger. 
"I'm incredibly lucky with Contagious because he is a super careful horse so you can take a shot like we did on Thursday, and if anything, it will give him a bit more energy or gas for the weekend," explained Ward. "It doesn't screw you up for the grand prix which is a great asset. Today's course was very challenging, and there is not a whole lot of difference between a four-star and five-star grand prix anymore. What they may lose in spread from a five-star to a four-star, they make up for in time allowed and trickier questions. It was a classic test with big jumps, and nothing is soft out here anymore. Every day we are going out to battle which is challenging but it is also brilliant and produces great sport."
With a win already to their name during WEF 4 in the $50,000 Adequan® WEF Challenge Cup Round IV CSI4* on Thursday, the partners appear to be full-steam ahead after their performance at the 2020 Tokyo Olympic Games in which they helped the U.S. win the team silver medal.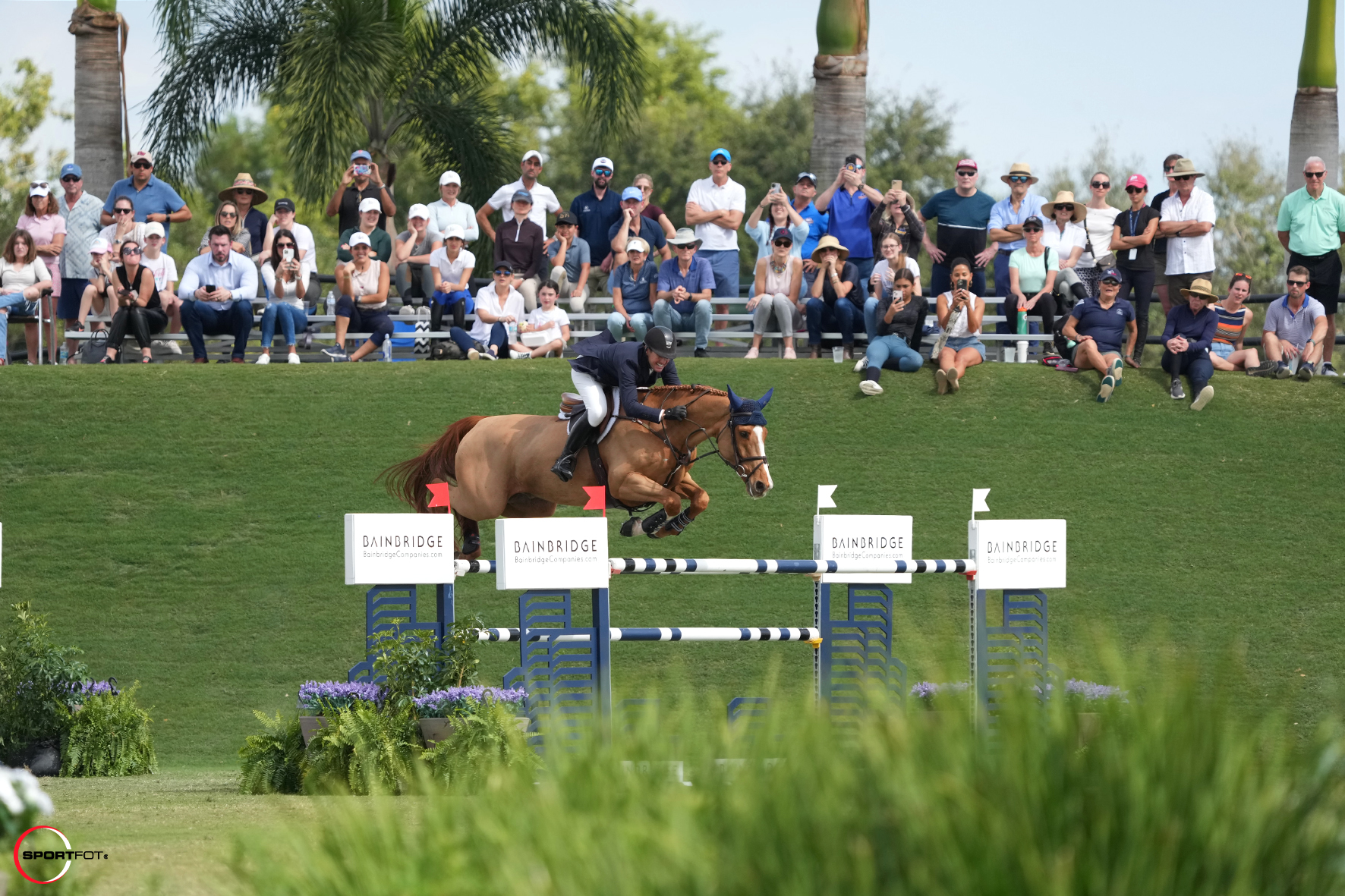 "It's funny because the first horse show I brought him back to after the Olympics, I walked up to get on him for the qualifier and said to Lee [McKeever], 'he looks different after the Games,'" recalled Ward. "I didn't originally think of him as an Olympic medalist horse, but he grew from that experience and came out a better and more confident horse, and for sure my belief in him grew after that experience as well. At this point, he is normally clear in a competition or I've made a mistake; he's got a lot of heart and is a fighter which really bodes well for him."
The victory was extra special as Contagious's owners, Lise and Annie Revers, were able to attend the event. 
Twenty-one-year-old Zoe Conter found herself in a victory gallop for one of her biggest finishes to date as she slid in just behind Ward with a time of 44.92 seconds. 
"My horse jumped his heart out for me today," stated Conter. "I've had him for quite a few years now, and he has been key to stepping into the five-star grands prix. We have a lot of confidence in each other so it's a great partnership. Today's track was very well built, and I'm just happy I can rely on him like that and that things went well today."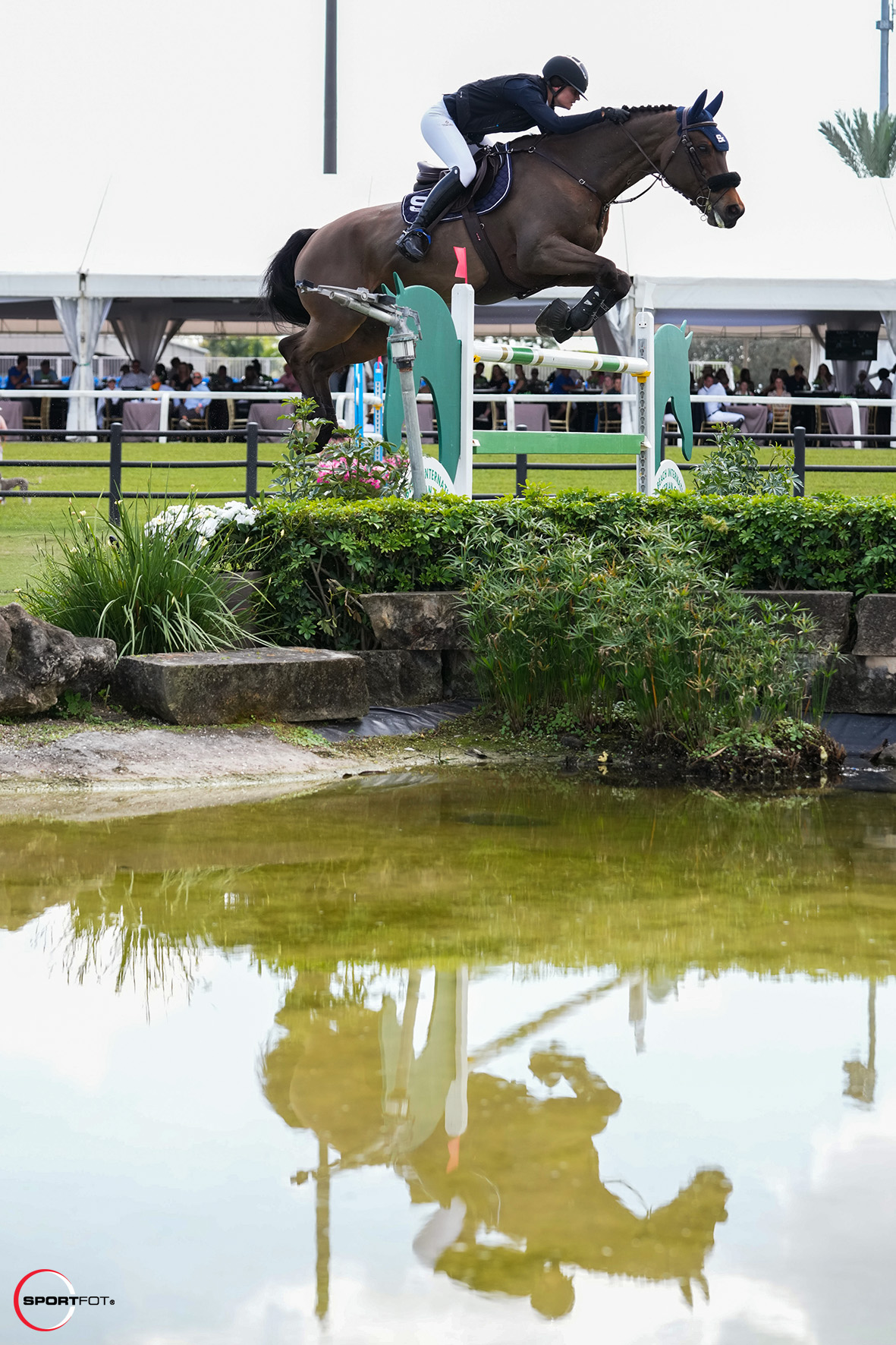 Her explanation of the feeling before she went into the ring following the challenge Ward had laid down was a colorful one. 
"Going into the jump-off, I was definitely cursing because being against McLain [Ward], Ben [Maher], and Ali [Wolff] is almost impossible," she admitted. "I went in with the mindset that I would be happy with fourth place, but to come in second behind McLain was better than I could have imagined." 
The podium was rounded out by Wolff and Blacklick Bend Farm's 17-year-old Holsteiner gelding Casall (Casall x Capitol I) who have been successful partners for many years. As the final pair to return, they produced an efficient and clean performance with a landing time of 45.70 seconds.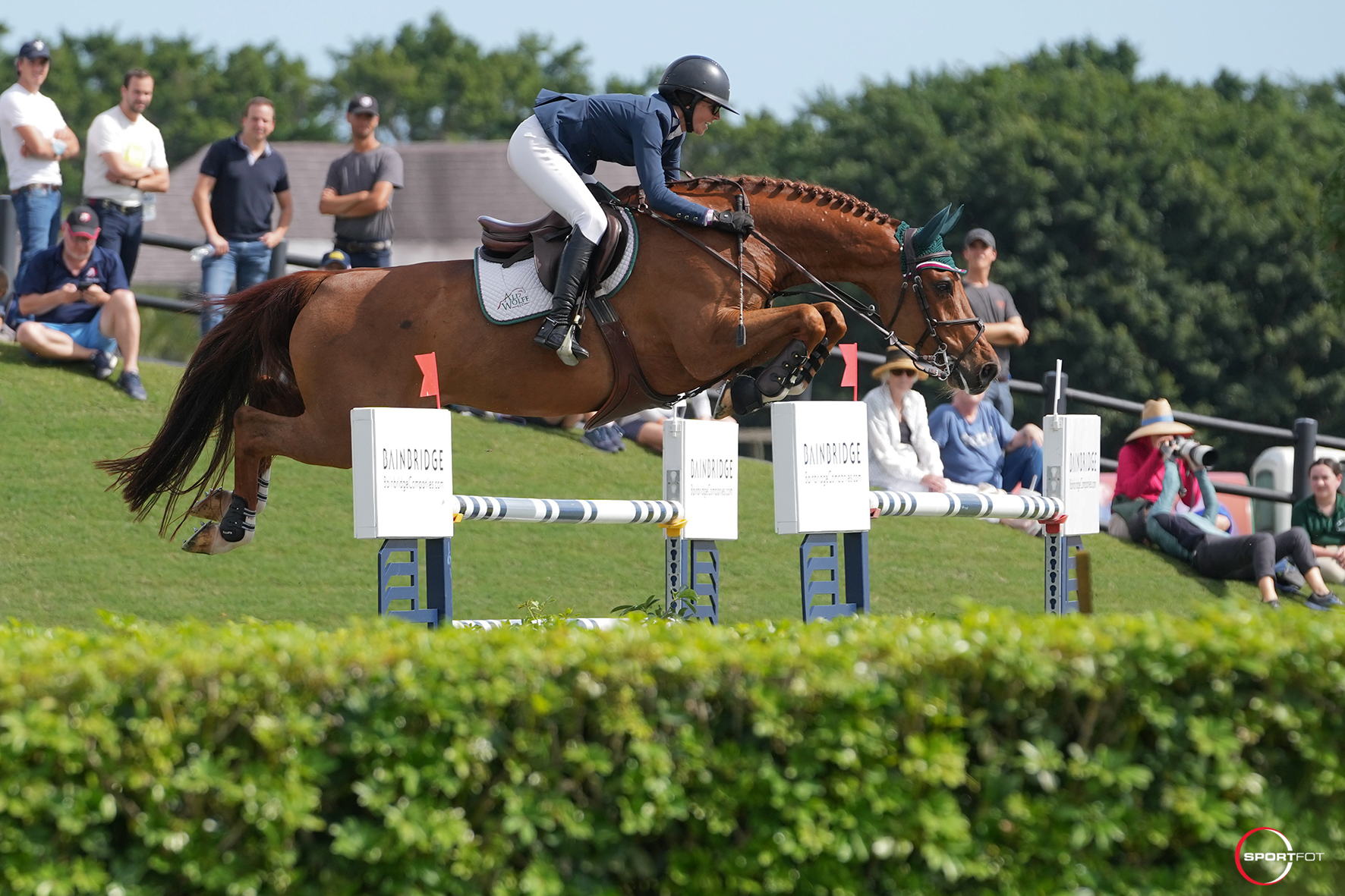 "I was the slowest of the four to jump off but I was honestly just happy that I got to return," laughed Wolff. "This horse has taken me to the top level of competition, and I am trying to maintain myself there while respecting his wishes as well. Simply put, I am thrilled my horse can still compete at this level; he is built on so much heart and trust right now and that is the only reason I got through that course."
"Anderson [Lima] is a great designer," added Wolff. "He has a good handle on how to play with the pitch of the field and how to incorporate the aesthetics of the field where he is designing."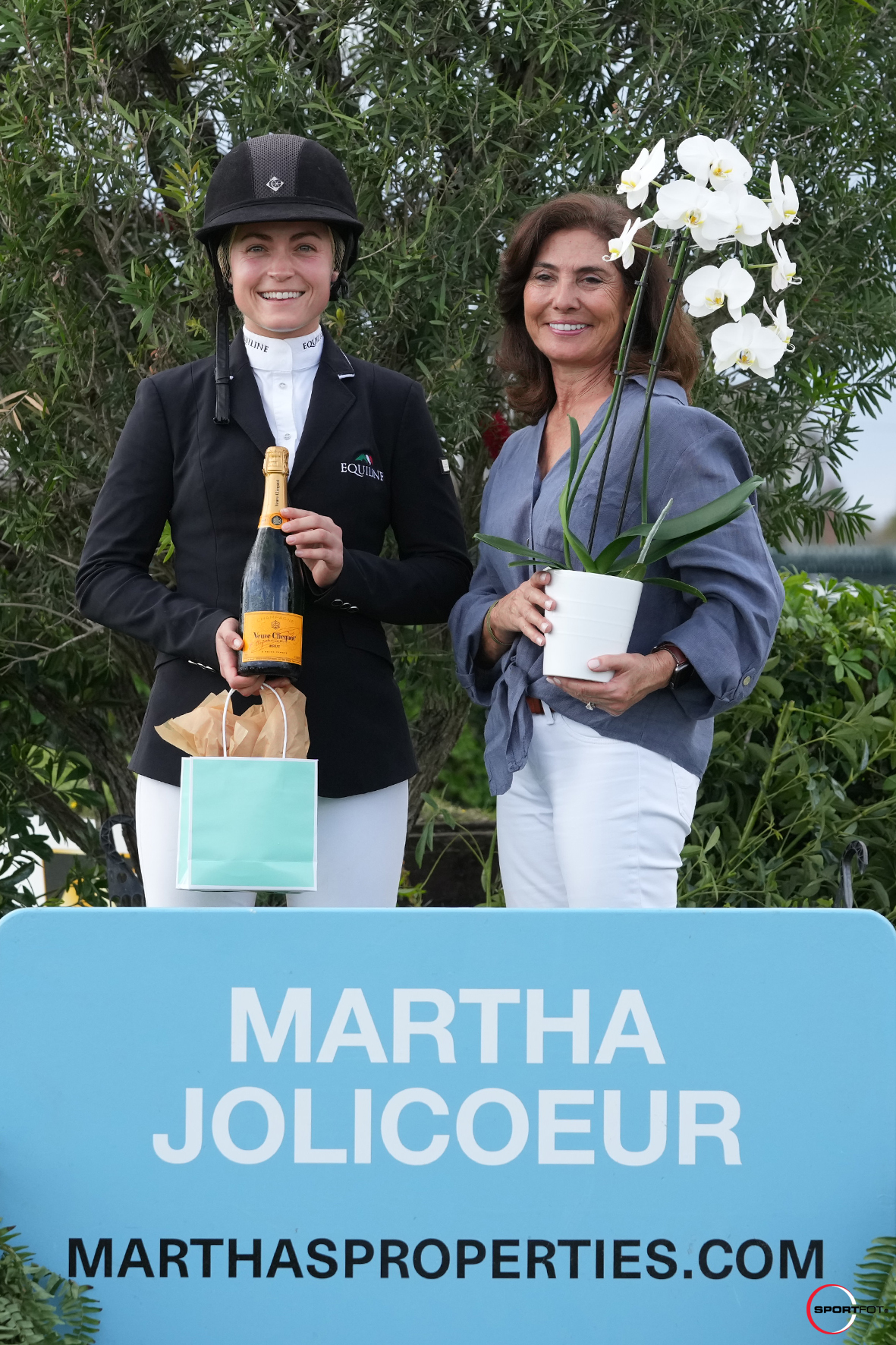 Final Results: $216,000 Bainbridge Companies Grand Prix CSI4*
1. CONTAGIOUS: 2009 Rheinlander gelding by Contagio x For KeepsMCLAIN WARD (USA), Beechwood Stables LLC: 0/0/42.95
2. DAVIDOFF DE LASSUS: 2009 Belgian Sport Horse stallion by Ugano Sitte
ZOE CONTER (BEL), Stephex Stables: 0/0/44.92
3. CASALL: 2005 Holsteiner gelding by Casall x Capitol I
ALI WOLFF (USA), Blacklick Bend Farm: 0/0/45.70
4. GINGER-BLUE: 2011 KWPN mare by Plot Blue 2 x Royal Bravour
BEN MAHER (GBR), Jane Forbes Clark: 0/4/43.22
5. COSMONA: 2011 Danish Warmblood mare by Cosmeo x Bogegardens Apollo
GIAVANNA RINALDI (USA), Anton Marano: 1/84.04
6. KILLER QUEEN VDM: 2010 Belgian Warmblood mare by Eldorado vd Zeshoek x For Pleasure
DANIEL DEUSSER (GER), Stephex Stables: 2/85.65
7. MALIBU DE MUZE: 2012 Belgian Warmblood gelding by Nabab de Reve x Tornedo FCS
SERGIO ALVAREZ MOYA (ESP), Sergio Alvarez Moya: 4/78.47
8. SOUPER SHUTTLE: 2011 Hanoverian mare by Stakkato x La Zarras 2
CHLOE REID (USA), Live Oak Plantation LLC: 4/79.35
9. PACINO AMIRO: 2012 Irish Sport Horse gelding by Pacino x NC Amiro
BERTRAM ALLEN (IRL), Aiden McGrory: 4/81.30
10. CONTAGO: 2011 Oldenburg gelding by Cornet Obolensky x Cassini II
EUGENIO GARZA PEREZ (MEX), El Milagro: 4/82.03
11. FTS KILLOSSERY KONFUSION: 2010 Irish Sport Horse gelding by SIEC Livello x Cruising
JOS VERLOOY (BEL), Eurohorse BVBA: 4/82.09
12. LEGACY: 2010 Zangersheide mare by Chippendale Z x Bon Ami
DANIEL COYLE (IRL), Ariel Grange: 4/82.52

Gigi Manigault Wins NHS/THIS Adult Medal
Saturday morning began with 14 entries in the NHS/THIS Adult Medal which took place in the Equine Tack and Nutritionals Ring 6.
Of those horse and rider combinations, Gigi Manigault, of Charleston, SC, rode to victory aboard Wizzard of Odds after entering the flat work-off sitting in third place.
"I really just wanted to keep my pace and follow my track," Manigault said of her plan going into the class.
Wizzard of Odds is a nine-year-old KWPN gelding by Chacco Blue owned by Don Stewart that Manigault has been riding for about a year.
"I started leasing him in April of last year, and he's a really good boy. We do a lot of the medals and the 3'3" Performance Hunters," she said.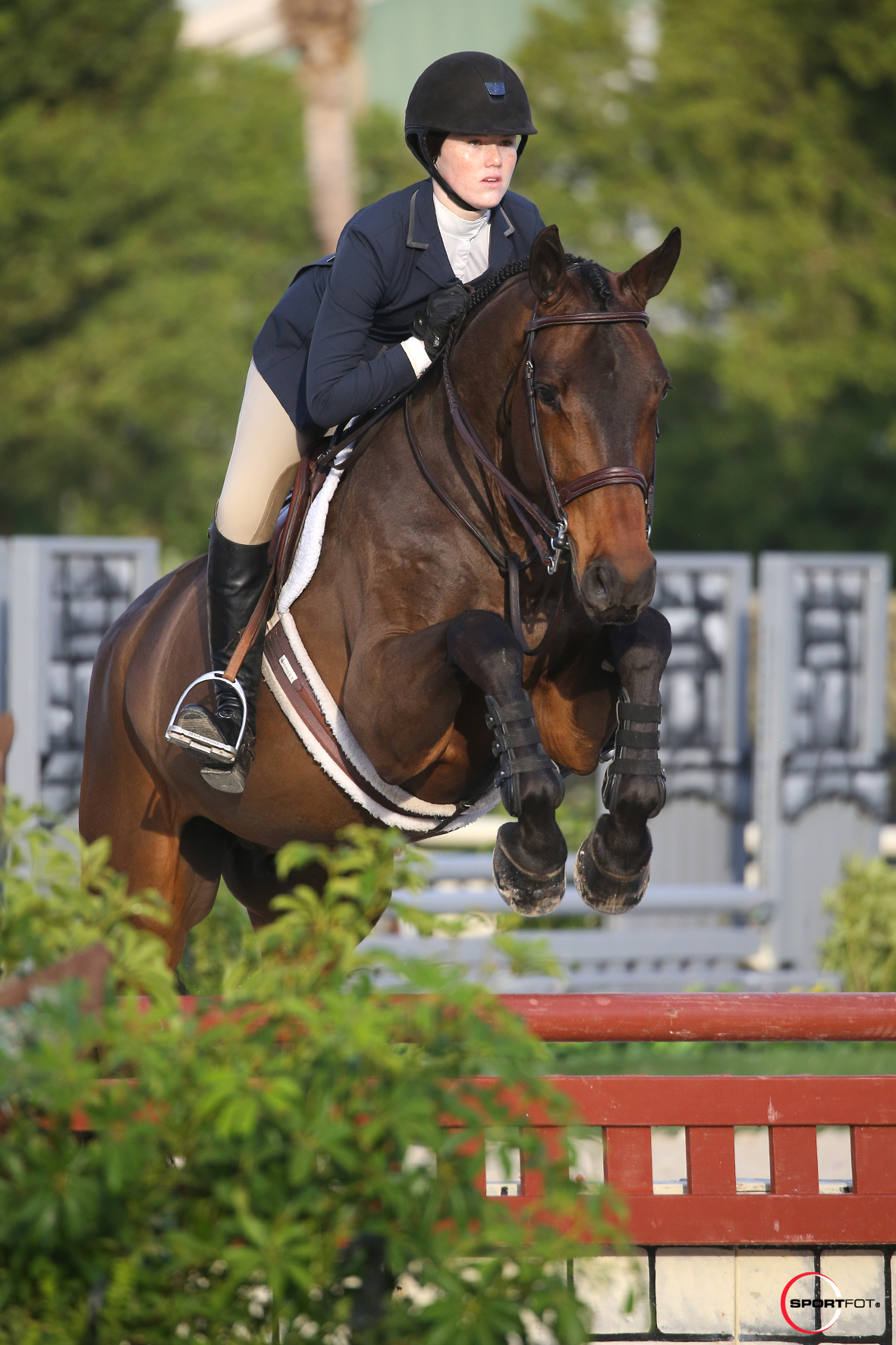 Manigault is here in Wellington for the season but has found a way to balance riding with her college career.
"I go to University of South Carolina, but with the pandemic they're still offering a lot of online classes," said Manigault. "It's nice because I'm able to rent a house down here and take my classes, but still be able to be with my horses."
When asked about her horses, Manigault said, "I have three others. Creekside is a green horse that my trainer Liza Boyd rides. I also have a 3'6" Amateur Hunter, Walk Off, who Liza rode in the derby yesterday. The other one was my junior hunter, who's getting a bit older now, so we just do some of the medal stuff on him too."
As for her plans for the rest of the year, "I'd like to be more consistent on my amateur horse and keep doing the medals," said Manigault. "I'd like to make it to Ariat National Adult Medal Final and the NHS/THIS Adult Medal Final."
After the work-off, Nancy Buzzetta of Middle Island, NY, on C.E. Believe came in second, with Jeanine Cash of Winthrop, MA, aboard Boccaccio in third.
WEF 4 concludes on Sunday, January 6, with the $75,000 CaptiveOne Advisors 1.50m Jumper Classic CSI4* on the Derby Field at 10 a.m. followed by the $50,000 Helgstrand Jewellery Grand Prix CSI2*. At PBIEC, the championships will be awarded in the Adequan® Amateur-Owner Hunter 3'3" 18-35 division.